TORONTO (Apr. 12) — After missing the playoffs in 10 of the past 11 years, the Maple Leafs return to the Stanley Cup hunt against the worst team in National Hockey League history.
Yes, without a doubt, the Washington Capitals are the most inept group of athletes to ever disgrace an arena near you. It's right there… on Page 158 of the NHL Official Guide & Record Book.
See for yourself: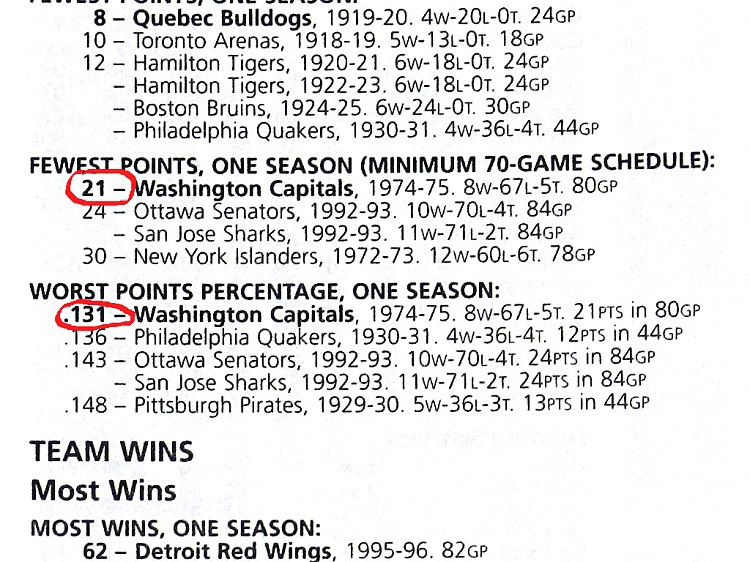 Alright… so, minor detail: it was 42 years ago.
Still, there is no debating that Washington is the worst NHL outfit of all time.
Where, prey–tell, are Dave Kryskow, Ron Lalonde, Jim Hrycuik and Bob Gryp when you need 'em? Yup… guys you've never hear of. Guys, in fact, that may never have heard of themselves. But, all key components of the expansion Capitals in 1974–75. Alas, I nearly forgot Bill Mikkelson. The lone member of that sorry squad that should be in the Hockey Hall of Fame. Solely for his worst–ever figure of minus–82 on the Washington blue–line — a mere 217 lengths beneath Bobby Orr of the Bruins, who recorded an otherworldly plus–135 that season. A couple of former Maple Leafs were ordained to be part of the '74–75 Caps: Goalie Ron Low (48 GP / 8–36–2 / 235 GA / 5.45 GAA). And, left–winger Denis Dupere (53–20–15–35 / minus–41), who finished second in team–scoring to Minnesota native Tommy Williams (58 points).
Washington joined the NHL in the fourth wave of expansion. Also coming aboard in 1974–75 was the Kansas City Scouts — later the Colorado Rockies (1976–82); today, the New Jersey Devils. Chosen as first general manager of the Capitals was Hockey Hall–of–Famer and Boston Bruins legend Milt Schmidt, who, seven years earlier, had orchestrated the most lop–sided trade in NHL history while managing his former team. As GM of the Bruins, in May 1967, Schmidt plundered Chicago counterpart Tommy Ivan for Phil Esposito, Ken Hodge and Fred Stanfield — that trio joining Orr to claim Stanley Cup titles in 1970 and 1972. Esposito became the most prolific scorer in the game's history by bagging a remarkable 76 goals in 1970–71.
He also had seasons of 68, 66, 61 and 55 goals for the Black and Gold.
Washington chose first in the 1974 NHL draft and wound up missing badly with Regina Pats defenseman Greg Joly (365 NHL games, 97 points). Hindsight — always 20/20 with respect to the draft — shows that Bryan Trottier (1,425 NHL points), Mark Howe (742 points), Danny Gare (354 NHL goals), Charlie Simmer (342 goals) and Mike Rogers (two seasons of 105 points with Hartford) were among those still available.
Though allowed the "gem" of the amateur draft, the Capitals (as all new clubs beginning in 1967) were burdened mostly with dregs from the other NHL teams. Have a gander at this sorry lot from the expansion draft, as published in the July 1974 issue of The Hockey News: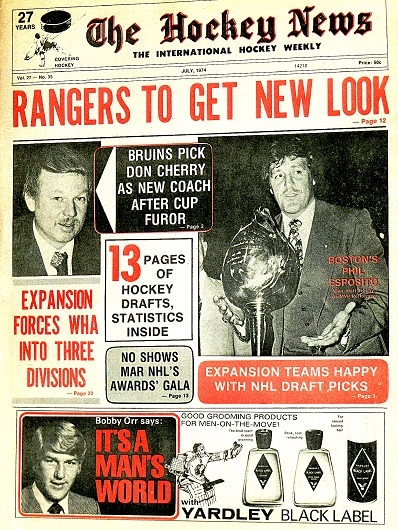 The Capitals of '74–75 were, in fact, so horrid, they generated arguably the most astonishing front–page headline (and story) in the 70–year history of The Hockey News. This from Dec. 6, 1974: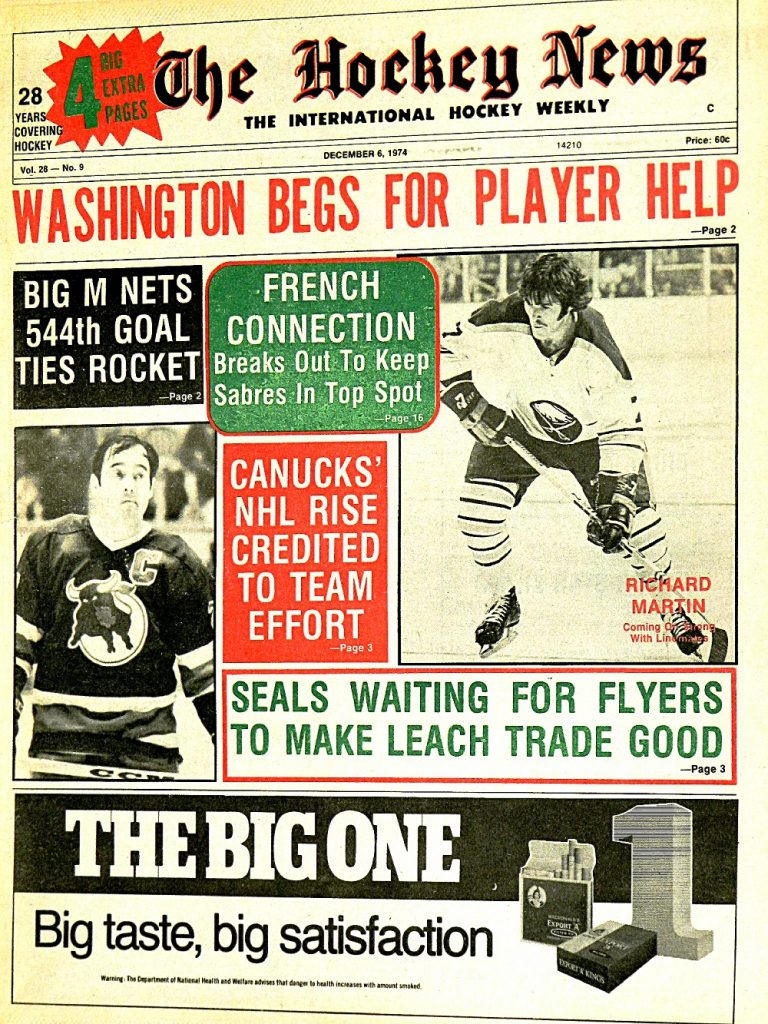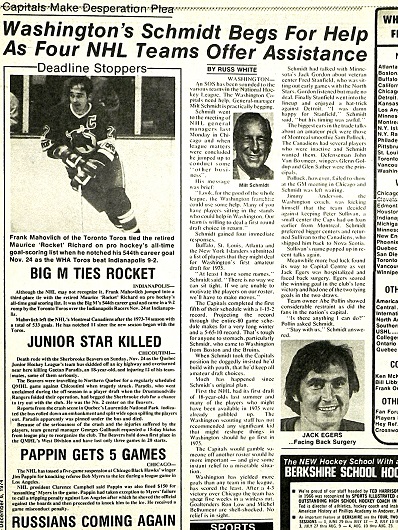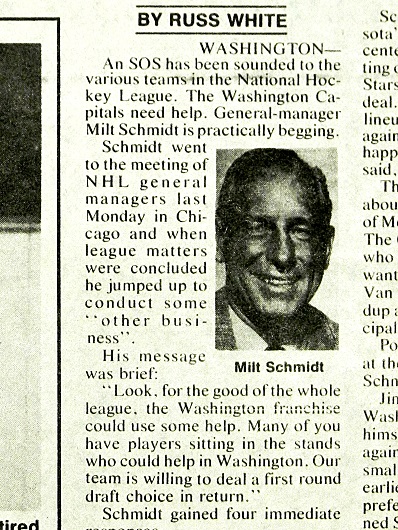 Adding to the bizarre nature of this story is that Washington actually won a game while it was being published… and, the aforementioned Dupere was somehow chosen among the two stars–of–the–week: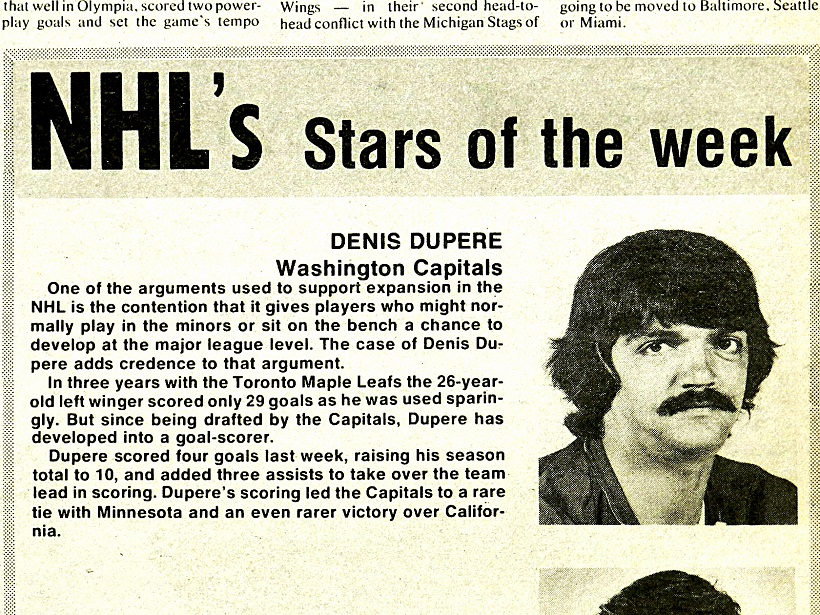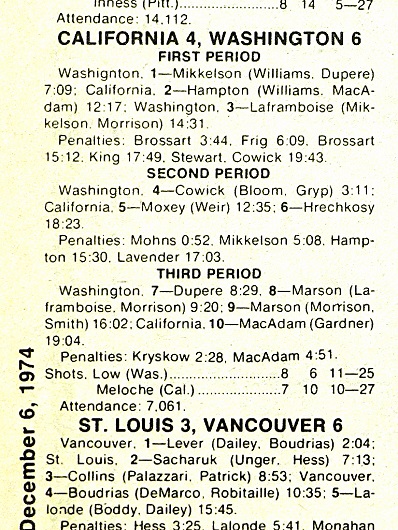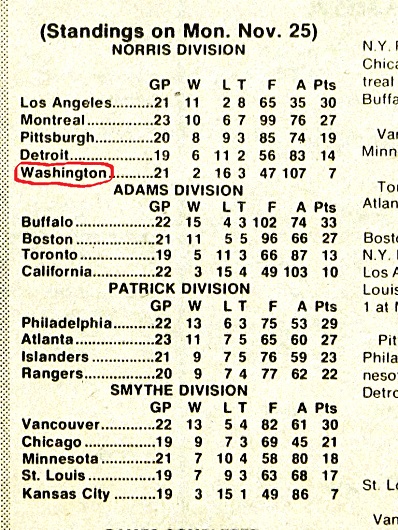 Among the players for whom Milt Schmidt was said to be "begging" included a 31–year–old native of High River, Alta. — Glen Sather — then skating on left–wing for the Montreal Canadiens. "Slats", as he is known, went on to slightly bigger and better as general manager/coach of the Edmonton Oilers/Wayne Gretzky dynasty in the mid–1980's. I emailed Glen, wondering if he remembered being dangled in front of Schmidt.
His reply:
| | |
| --- | --- |
| from: | Sather, Glen |
| to: | Howard Berger <howardlberger@gmail.com> |
| date: | Tue, Apr 11, 2017 at 2:48 PM |
| subject: |  Re: '74-75 Capitals |

Howard:
Sam asked for a first rounder for me; Milt missed the boat on that one.
I had no idea I was on the list, but I would have been proud to go!
I keep reading your work. Lots of great info. Keep it up.
Good luck to the Leafs. It would be a lot of fun to meet them.
Glen
Sather, now 73, is president and alternate–governor of the New York Rangers. The Leafs and Rangers cannot meet in the 2017 playoffs until the Eastern Conference final. No wonder Glen thinks it would be fun.
The Toronto–Washington winner will face the Pittsburgh–Columbus survivor in Round 2.
The Rangers–Canadiens victor will meet the Ottawa–Boston winner.
The Leafs and Rangers — not to get too far ahead — haven't met since the 1971 Stanley Cup quarterfinals. New York prevailed in a six–game series that is still remembered for a wild, bench–emptying brawl toward the end of Game 2 at Madison Square Garden, during which Vic Hadfield legendarily tossed Leaf goalie Bernie Parent's mask into the crowd. Jacques Plante finished up between the pipes. Sather, coincidentally, played for New York in that series, having been traded to the Big Apple from Pittsburgh at mid–season.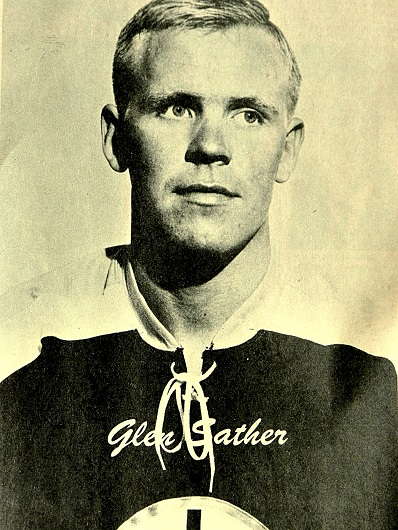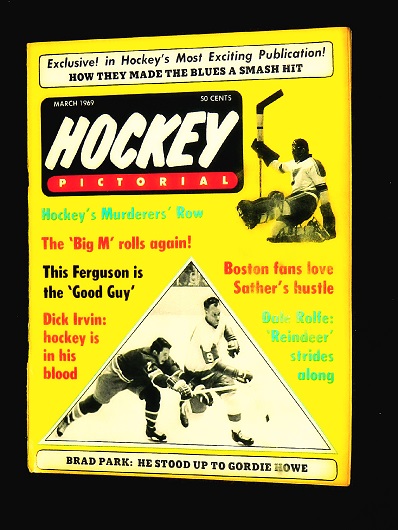 YOUNG GLEN SATHER (WITH BOSTON, HIS FIRST NHL TEAM) WAS PROFILED IN THE MARCH 1969 HOCKEY PICTORIAL.
In 1974–75, the expansion Capitals set a National Hockey League record that will likely never be broken. Netminders Michel Belhumeur, Ron Low and John Adams allowed 446 goals in 80 games (5.58 per match). The 1985–86 Detroit Red Wings (415 goals) have come closest to Washington's dubious mark.
By laughable comparison, the 1976–77 Montreal Canadiens (60–8–12 for a league–record 132 points) yielded but 171 goals — 275 fewer than the expansion Caps, or 3.44 less per game.
COULD IT HAPPEN?
Unofficially, yet undoubtedly, a Leafs conquest of Washington in the 2017 playoffs would rank among the biggest upsets in Stanley Cup history. I have searched everywhere on the Internet and cannot find a single pundit that predicted Toronto. Of course, the same assuredly applied to forecasting the first–round match–up between Washington and Montreal in 2010. The Capitals, that season, rang up 121 points — sixth–most in league annals, and a paltry 33 points more than the Canadiens. It was a truly remarkable series.
Tomas Plekanec scored at 13:19 of overtime to give Montreal a Game 1 triumph at the Verizon Center. The Canadiens led the second match, 5–4, in the final two minutes when John Carlson scored at 18:39, forcing extra time once again. On this occasion, it required only 31 seconds for Nicklas Backstrom to provide Washington an essential win. After the Capitals demolished the Canadiens 5–1 and 6–3 in consecutive games at the Bell Centre, it seemed as if the prohibitive underdog was finished. But, Montreal survived with a 2–1 victory in D.C. and then won commandingly, 4–1, back home to even the round, 3–3.
In the decisive seventh match, at Washington, the Habs overcame a 42–16 shots deficit and prevailed, 2–1, on goals by Marc–Andre Bergeron (19:40 of the first period) and Dominic Moore (16:24 of the second). Jaroslav Halak was heroic between the pipes for Montreal, which then upset Pittsburgh in the second round (a 5–2 romp in Game 7 was the final match at Mellon Arena). Out of miracles, the Habs were routed by Philadelphia in five games for the Eastern Conference title (the Flyers outscoring Montreal, 17–7).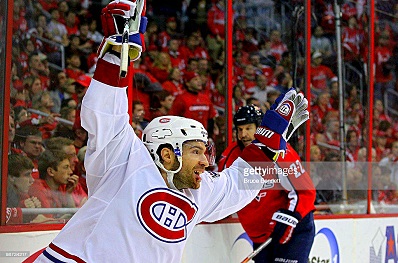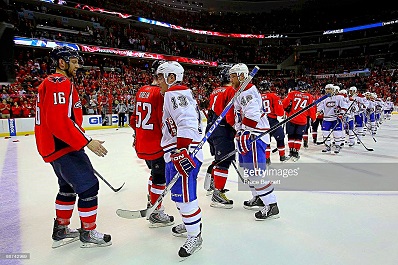 DOMINIC MOORE CELEBRATED HIS EVENTUAL WINNING GOAL IN GAME 7 OF THE 2010 MONTREAL–WASHINGTON OPENING–ROUND SERIES. BRUCE BENNETT GETTY IMAGES
For whatever it's worth, we should advise that Toronto and Washington were separated by 23 points in the standings this season — 10 fewer than the Canadiens and Caps in 2010.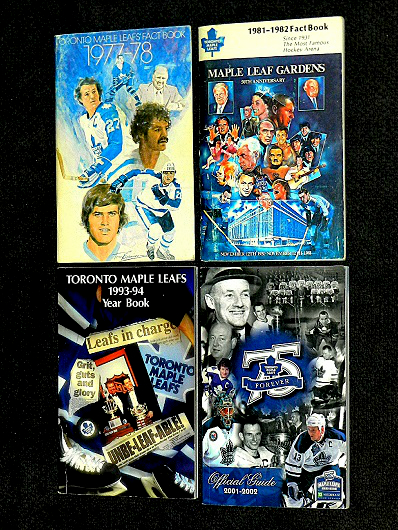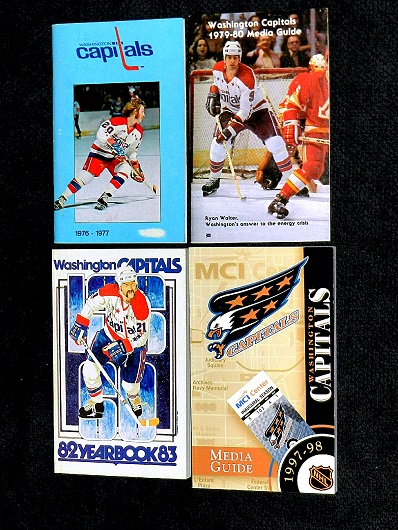 Again, my 2017 first–round picks:
WASHINGTON over TORONTO in 6.
MONTREAL over NEW YORK RANGERS in 7.
COLUMBUS over PITTSBURGH in 6.
OTTAWA over BOSTON in 6.
CHICAGO OVER NASHVILLE in 5.
ANAHEIM over CALGARY in 6.
EDMONTON over SAN JOSE in 6.
ST. LOUIS over MINNESOTA in 7.
STANLEY CUP FINAL: Washington vs. Edmonton.

EMAIL: HOWARDLBERGER@GMAIL.COM