TORONTO (Apr. 1) — Despite what you may infer, there is nothing "April Fool's" about the headline to this blog. With a bit of luck and accuracy in extra time, and some early defensive acumen in third periods, the 2016–17 Toronto Maple Leafs could have been the best regular–season club in franchise history.
That's right — the Leafs, this season, came ridiculously close to rocketing from the National Hockey League basement to the most points ever compiled by the team. Yes, virtually every playoff–bound club in the NHL can make a similar claim about points lost in the standings, and how such a shortfall impacted positioning for the Stanley Cup tournament. We can all argue about how differently points are awarded today compared to yesteryear. But, that isn't the object of this exercise. What I'm contending here is self–contained on behalf of the Maple Leafs. It shows how rather easily the club could have equaled or surpassed its all-time record of 103 points, accomplished in 2003–04 under the late Pat Quinn. Neither is it likely a coincidence that the '03–04 season marked the last time the Leafs qualified for the playoffs in a full, 82–game schedule.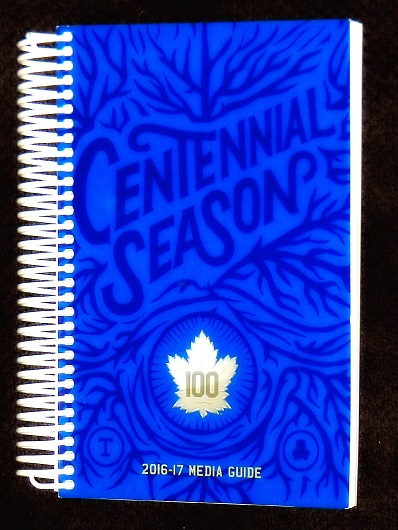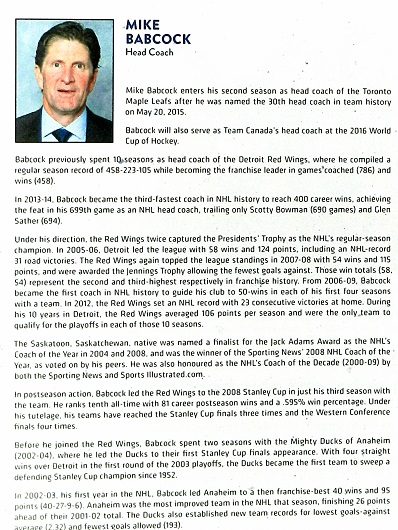 IN HIS SECOND SEASON BEHIND THE BENCH, MIKE BABCOCK HAS LED THE CENTENNIAL LEAFS TO QUITE A RENAISSANCE. BUT, THIS COULD HAVE BEEN A RECORD YEAR FOR THE FRANCHISE.
With a terrific, bounce–back record of 37–24–15 for 89 points heading into tonight's game at Detroit, the Leafs have already improved by 20 points over last season's 30th–place total. The biggest one–season improvement in franchise history is 32 points — from 1991–92 (67) to 1992–93 (99). The Leafs would have to win their remaining six games to equal that record. Just imagine, however, where the club might be with even half the points it has left on the table so far this season.
Consider the following:
• Leafs took a 4–1 lead at Winnipeg into the third period on Oct. 19 and lost 5–4 in overtime.
• Leafs led 2–1 going into the third period at Minnesota on Oct. 20 and lost 3–2 in regulation time.
• Leafs led 4–2 at Chicago on Oct. 22 with 2:28 left in regulation and lost 5–4 in a shootout.
• Leafs built a 3–0 first–period lead at New Jersey, Nov. 23, and lost 5–4 in a shootout.
• Leafs were defeated at home (Dec. 11 and 15) by the two worst teams in the NHL this season: Colorado (3–1) and Arizona (3–2 in a shootout). The Avalanche has already lost 53 games in regulation time — the most since the expansion Atlanta Thrashers recorded 57 in 1999–2000.
• Leafs led 4–2 after the second period at Washington, Jan. 3, and 5–4 with 6:05 left in regulation time. The Capitals prevailed, 6–5, in overtime on a goal by Alex Ovechkin.
• Leafs led Ottawa 2–1 with 1:11 left in regulation, Jan. 21, and lost 3–2 in overtime.
• Leafs led 2–1 and 4–2 at Brooklyn, Feb. 6, then took a 5–4 lead over the New York Islanders when William Nylander scored with 2:01 left in regulation. The Islanders won 6–5 in overtime.
• Leafs had a 3–2 lead in the third period at home to Ottawa, Feb. 18, and got hammered 6–3.
• Leafs led 2–0 going into the third period at Los Angeles, Mar. 2, and lost 3–2 in a shootout.
So, there's 11 games the Leafs could have — or should have — won in regulation. In these matches, the club accrued (and lost) eight points by going beyond 60 minutes. Another three wins could have easily been obtained before overtime. So let's, for the sake of argument, consider the points yielded (8+6=14).
Toronto has equaled a franchise record (set in 1954–55) by finishing the third period in a tie on 22 occasions this season. In overtime or the shootout, the Leafs have left 15 points on the table (including those mentioned above). For this exercise, let's consider seven of those lost points. What it shows, by factoring only 50% of the points given up in regulation or extra time, is that the Leafs could conceivably have 21 more points at this juncture of the schedule (or 111 for first place, overall, one point ahead of Washington).
Yes, that sounds ridiculous.
So, let's shave roughly half of that total (12 points). It still puts the Leafs at 99 points right now, with six games to play. Meaning that five of the available 12 points would set a franchise record of 104.
That doesn't sound ridiculous.
By running the table in their final half–dozen matches, the Leafs can finish with 43 wins and 101 points. The franchise record for wins in one season is 45 — in 1998–99; 1999–2000 and 2003–04 — all under Pat Quinn. If the Leafs compile half of their remaining wins and points, they'll finish with 40 and 95. It would represent increases of 11 and 26, respectively. A 26–point improvement would be the third–highest in club annals, behind only the '92–93 and '98–99 teams.
You may remember that both of the aforementioned played in the Stanley Cup semifinals.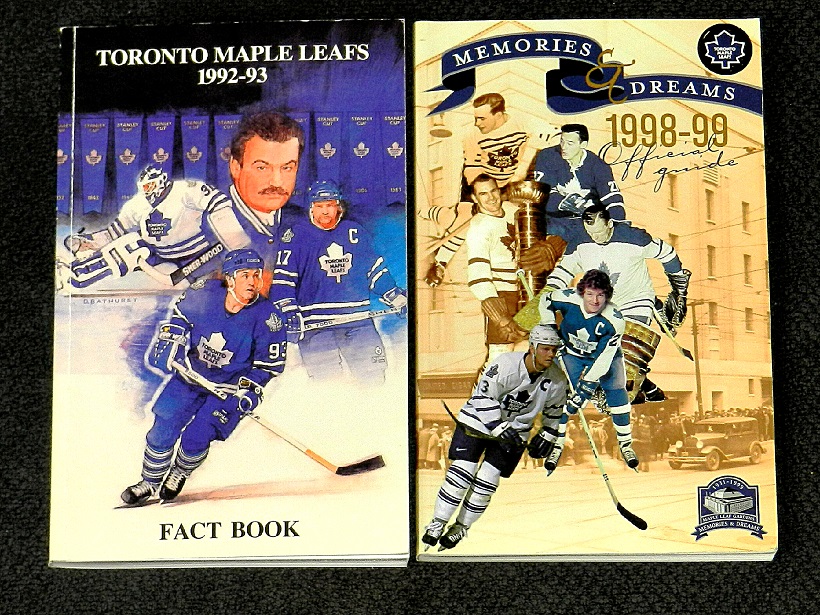 MEDIA GUIDES FROM THE TWO MOST–IMPROVED LEAF TEAMS IN FRANCHISE HISTORY.
EXPOS REUNION
Since the start of the 2005 season, the Toronto Blue Jays have been Canada's lone team in Major League Baseball. That was the year the Montreal Expos re–located in Washington, D.C. as the Nationals. From 1969–76 — in the years before the Blue Jays — the Expos were Canada's team. How easy it is for a sports fan of vintage to remember Dave Van Horne calling Expos games from old Jarry Park on CBC television in the early years of the franchise. In recent years, Montreal's Olympic Stadium has hosted a pair of Blue Jays games on the final weekend of the exhibition schedule. This spring has the Pittsburgh Pirates in town as Toronto's opponent. On Friday night, prior to the first game (a 1–1 tie in nine innings), occurred a wonderful ceremony honoring former Expos' great, Tim Raines, who enters the Baseball Hall of Fame this summer.
Prior to Raines taking a spin around the field in a golf–cart, several of his former Montreal teammates were announced to the crowd — including Steve Rogers, Warren Cromartie, Bill (Spaceman) Lee, Jeff Reardon, Al Oliver and Dennis Martinez. The ceremony was televised live across the country by Sportsnet: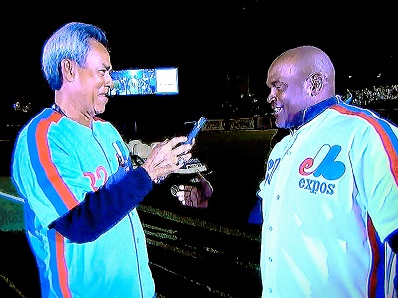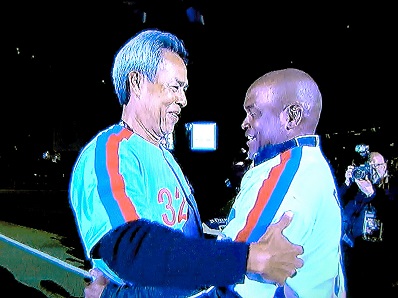 TIM RAINES IS EMBRACED BY DENNIS MARTINEZ (HOLDING AN I–PHONE). "EL PRESIDENTE", AS MARTINEZ WAS KNOWN, IS IMMORTALIZED IN EXPOS HISTORY FOR TOSSING A PERFECT GAME AGAINST LOS ANGELES, AT DODGER STADIUM, JULY 28, 1991.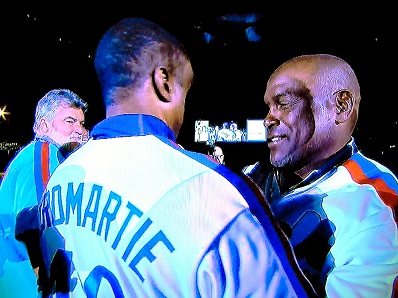 WITH BEARDED JEFF REARDON LOOKING ON, RAINES HUGS FORMER TEAMMATE WARREN CROMARTIE. REARDON HAS A ROLE IN BLUE JAYS HISTORY, TOO. WHILE PLAYING FOR THE ATLANTA BRAVES, HE SERVED UP A NINTH–INNING, TWO–RUN HOMER TO ED SPRAGUE IN GAME 2 OF THE 1992 WORLD SERIES AT OLD FULTON–COUNTY STADIUM. IT LIFTED THE JAYS TO A 5–4 VICTORY, SQUARING THE SERIES AT 1–1. IF NOT FOR SPRAGUE'S PINCH–HIT HOMER, ATLANTA WOULD HAVE TAKEN A 2–0 LEAD TO TORONTO AND LIKELY PREVENTED THE BLUE JAYS FROM BECOMING THE FIRST CANADIAN TEAM TO WIN THE MAJOR LEAGUE CHAMPIONSHIP.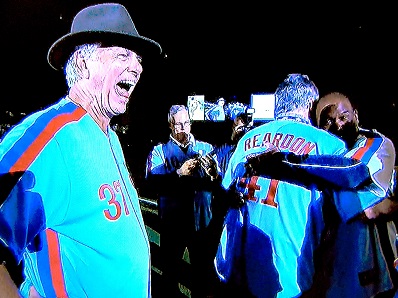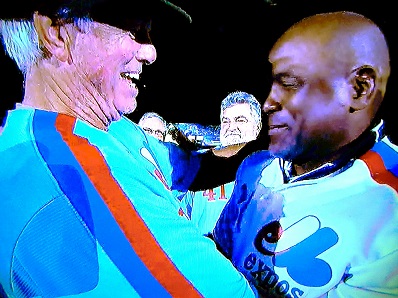 AS BILL LEE CACKLES, RAINES HUGS JEFF REARDON; HE THEN GREETS THE SPACEMAN.
MISSING MR. HOCKEY
Friday marked the first time in 90 years that Gordie Howe was not among us — Mar. 31 being his birth–date in 1928. Mr. Hockey, as he was known, died last June 10. He'll never be forgotten.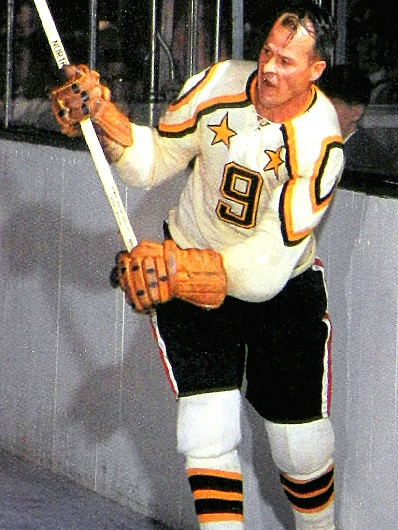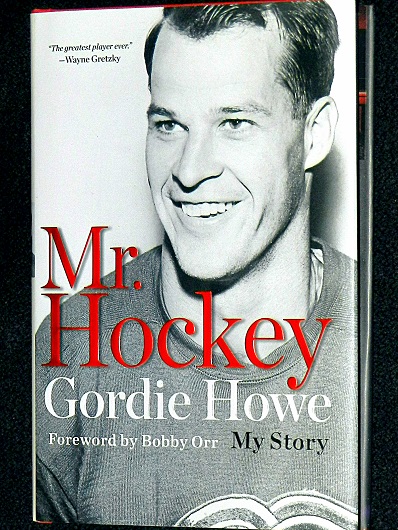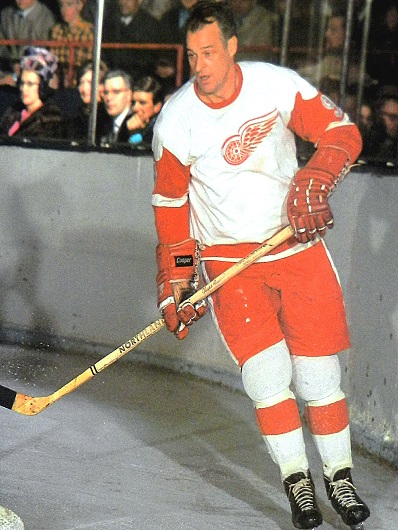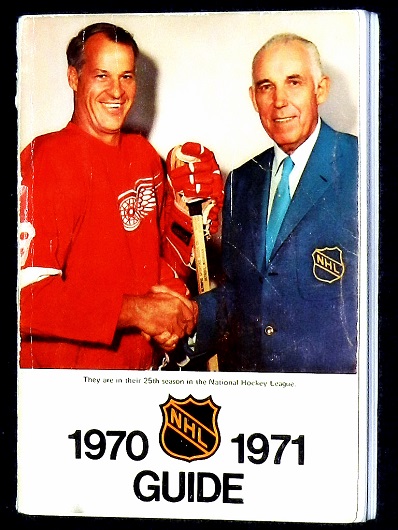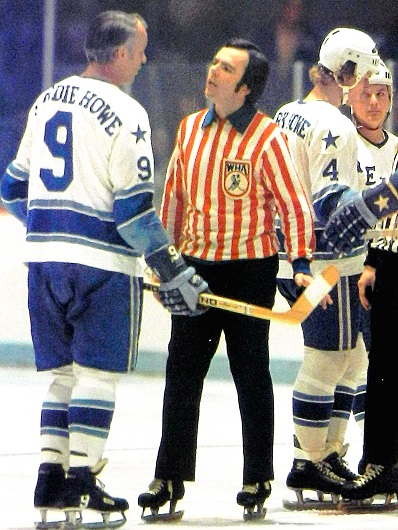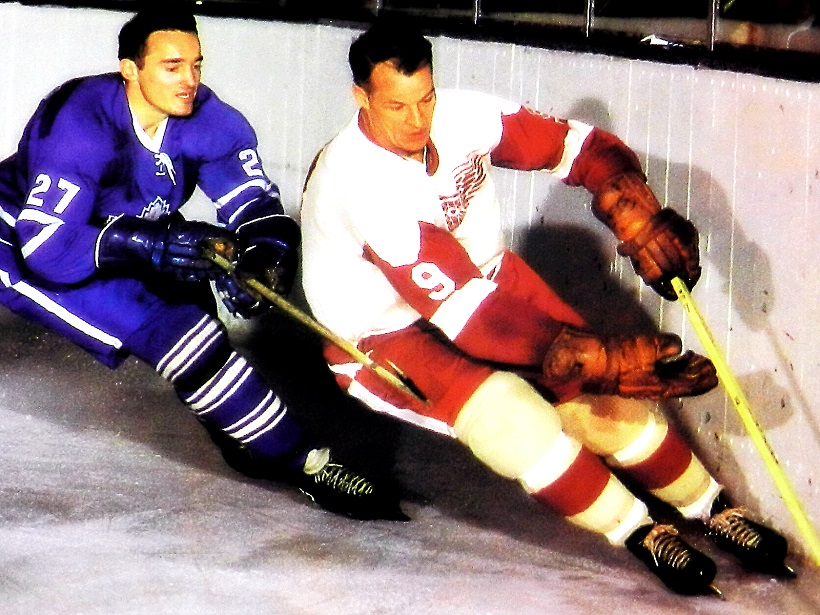 REMEMBERING RON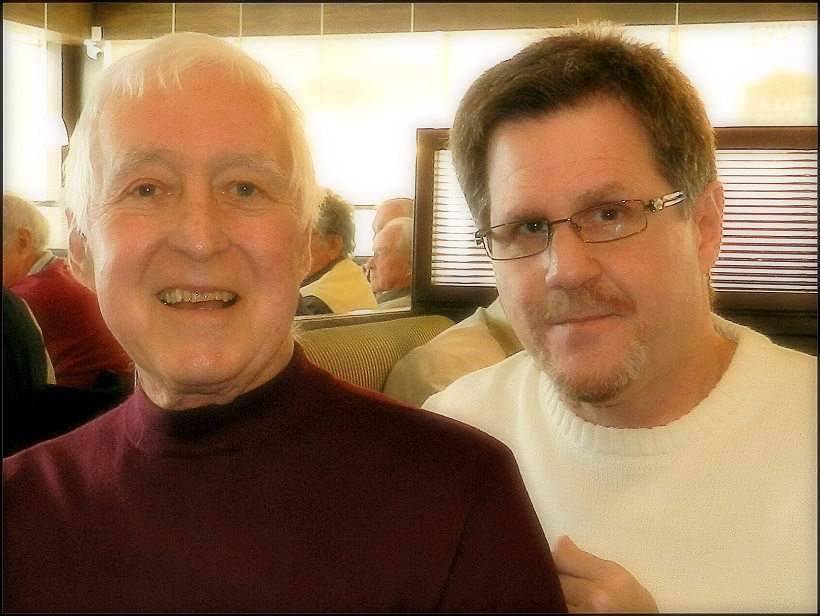 IT WAS ONE YEAR AGO TONIGHT THAT MY FRIEND RON WICKS — A LINESMAN AND REFEREE IN THE NHL FROM 1960 TO 1986 — SUCCUMBED TO CANCER. RON WAS A WARM AND SPLENDID MAN. I KNEW HIM ONLY IN THE FINAL TWO YEARS OF HIS LIFE, BUT HE MADE A LASTING IMPRESSION. MY HEART TODAY GOES OUT TO RON'S WIDOW, BARB WICKS; TO HIS CHILDREN, LISA AND BRIAN WICKS, AND TO RON'S BEST FRIEND IN HOCKEY — OUR MUTUAL PAL — FORMER NHL REFEREE BRUCE HOOD.
EMAIL: HOWARDLBERGER@GMAIL.COM