TORONTO (Apr. 16) — First, the not–so surprising: The Washington Capitals, after another season of 115–plus points in the vastly–competitive Metropolitan Division, are life–and–death to be tied, 1–1, with the wild–card Toronto Maple Leafs after two games of the opening playoff round. What else is new?
Now, the mildly–surprising: Rookie Kasperi Kapanen, acquired from Pittsburgh in the July 2015 trade for Phil Kessel, has been the Leafs most–clutch scorer in the past week — his first National Hockey League goal tying a game against his former team last Saturday at the Air Canada Centre as Toronto clinched a post–season berth; his two goals, including the decisive tally at 11:50 of double–overtime this Saturday, deadlocking the Washington series and, theoretically, claiming home–ice advantage for the Maple Leafs.
Kapanen ended a five–game playoff losing streak for Toronto in extra time, dating to 2003.
Then, the shocking: For more than 2½ periods in Game 2, Mike Babcock was forced to double–shift the defense–pairing of Jake Gardiner and Martin Marincin — gutsy fellas, but hardly a comforting sight for Frederik Andersen. And, still, the Leafs won. What's next? Signing Aki Berg out of retirement to sub for Roman Polak? Putting out an A.P.B. for Mike Komisarek? Maybe searching the Internet for the whereabouts of Jonas Frogren (remember him?). Heck, why not? It seems as if anything will work right now.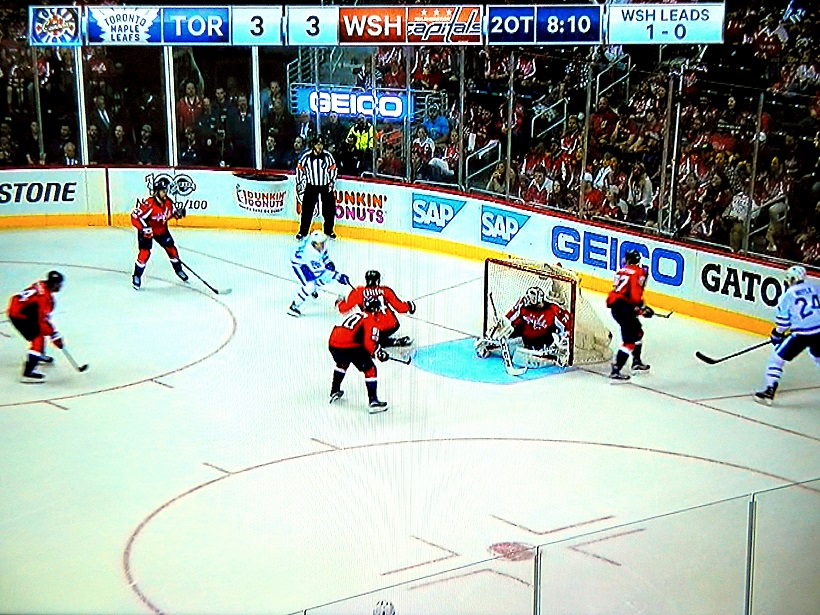 THE NET BULGES BEHIND BRADEN HOLTBY AS KASPERI KAPANEN SCORES AT 11:50 OF DOUBLE–OVERTIME SATURDAY NIGHT IN GAME 2 OF THE EASTERN QUARTERFINALS. CBC IMAGE
Once a playoff game goes beyond regulation time, it truly becomes a toss–up — irrespective of team–ranking and collective skill. The lowest–rung qualifier still has a 50/50 chance of winning. As the Leafs did on Saturday. They won because Andersen was the best player on the ice in his finest hour (and nearly 32 minutes) as a Toronto stopper. They won because a tall, veteran plugger with veritable hands–of–clay authored a moment of subterfuge on the game–ending sequence — pretending to carry the puck on his forehand behind the net, only to feed a reverse backhand out the opposite side to his open line–mate. That would be be Brian Boyle setting up Kapanen. The same Brian Boyle who took a tripping minor in the first overtime and demolished his $250 composite–stick over the crossbar, nearly decapitating Andersen. And, the Maple Leafs won because the Capitals suddenly claimed to be the 1972 Russians in that first extra frame — refusing a plethora of high–percentage shots in favor of as many low–percentage passes.
Still, this was a miracle victory for the Blue and White. Richly earned, mind you, but extraordinary nonetheless, given the absence for their two right–handed–shooting defensemen. Nikita Zaitsev was held out of the line–up once again while battling post–concussion syndrome. And, Polak's leg zigged when it should have zagged in a second–period collision with Brooks Orpik. The veteran blue–liner wailed in agony on the ice and was all–but carried to the visitors' dressing room. Not surprisingly, his season is over.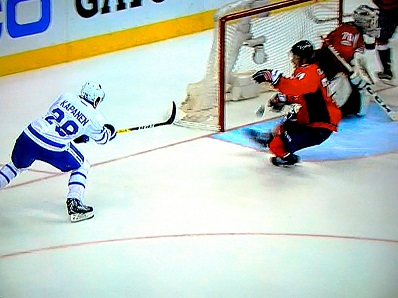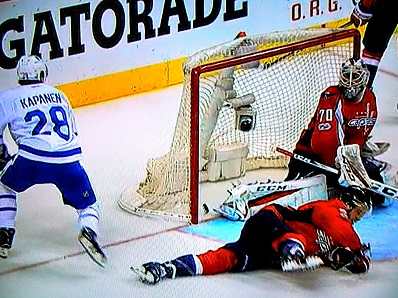 KAPANEN BEATS A SURPRISED BRADEN HOLTBY WITH THE DOUBLE–OT WINNER. CBC IMAGES
What it means is that the Leafs will either have to hurry back Zaitsev, or go into Game 3 on Monday night with Marincin and Alexey Marchenko as their fifth and sixth d–men. If the potent Capitals cannot penetrate that defensive wall, they'll be laughed out of the Stanley Cup tournament yet again. Belly–laughed, this time.
So, the Leafs still face a profound challenge. Alex Ovechkin has been rather quiet thus far — his goal on Saturday notwithstanding. Ovie is almost never quiet at the ACC. If the Leafs are down their two regular defensemen, I suspect Andersen will need to come up with another remarkable performance. Then again in Game 4. The Capitals will likely be a tad–more relaxed playing on the road. That said, I do not expect the Toronto youngsters to cower amid the luminescence of home ice. These guys haven't known enough to be afraid of anything this year. Why should that change?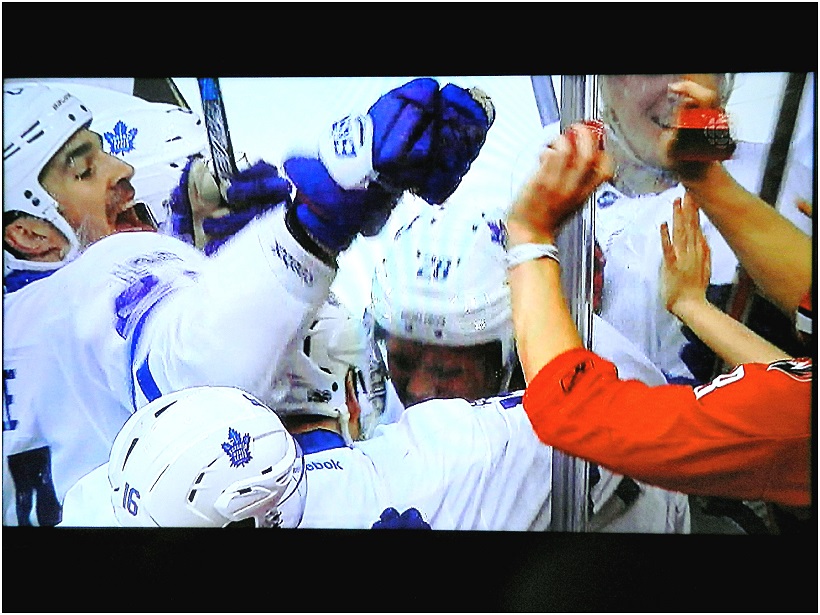 MOMENTS AFTER SETTING UP KAPANEN FOR THE OVERTIME WINNER — WHILE CELEBRATING WITH HIS TEAMMATES — BRIAN BOYLE BANGED HIS GLOVE SEVERAL TIMES AGAINST THE GLASS, MOCKING AN ANNOYED CAPITALS' FAN. CBC IMAGE
The first two games of a Toronto playoff series have gone past regulation for the first time since the 1993 Campbell Conference semifinal against St. Louis. Doug Gilmour won the opener with his legendary wrap–around goal on Curtis Joseph at Maple Leaf Gardens. Two nights later, also on Carlton Street, Blues' defenseman Jeff Brown evened the series with a slapshot in the second extra frame. The Leafs hadn't been to double–OT since Game 6 of the 2004 opening–round series against Ottawa — Mike Fisher, then with the Senators, beating Ed Belfour at the 1:47 mark in the nation's capital.
Hold onto your hats. This playoff series is revving up, big time.
EMAIL: HOWARDLBERGER@GMAIL.COM