TORONTO (Apr. 29) — Happy milestone birthday to the best Leafs goalie of the post–1967 era. Curtis Joseph turns 50 today. He was born in Keswick, Ont. (70 miles north of Toronto) the same day the Leafs and Canadiens were playing the pivotal fifth game of the 1967 Stanley Cup final at the Montreal Forum (Toronto prevailed, 4–1, and captured its most recent NHL championship three nights later at Maple Leaf Gardens).
Nearly 19 years after leaving Edmonton to sign with the Maple Leafs (July 15, 1998), Cujo remains the best free–agent acquisition of all time by the Blue and White. His arrival enabled newly–signed coach Pat Quinn to turn loose a conservative, low–scoring team that had missed the playoffs in consecutive years. The 1998–99 Leafs improved by 15 wins (30–45) and 28 points (69–97); with virtually the same cast of forwards and defensemen, the club scored 74 more goals (194–268). It knocked off Philadelphia and Pittsburgh in the first two rounds of the playoffs (Garry Valk's Game 6 overtime tally at Mellon Arena kayoing the Penguins) before hitting a wall against Dominik Hasek and the Buffalo Sabres in the Conference final (Buffalo prevailed in five and lost to Dallas in the Stanley Cup final on Brett Hull's infamous "toe–in–the–crease" overtime goal).
Toronto again made it to the Conference final with Cujo in 2002, losing to Carolina.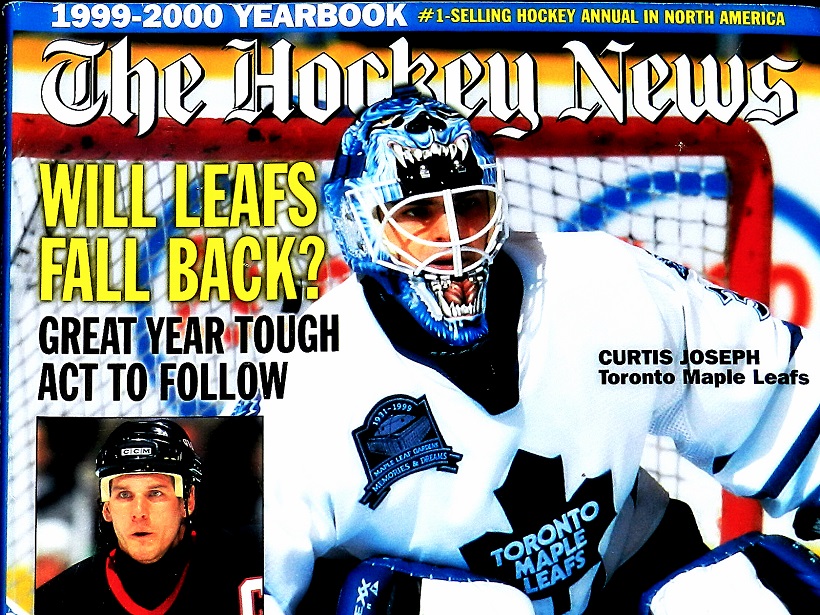 During his four seasons with the Maple Leafs (1998–99 to 2001–02), Joseph appeared in 60 playoff games.
In the 15 seasons since Joseph, the Leafs have appeared in 33 playoff matches.
With 138 regular–season victories, Cujo trails only Turk Broda (302), Johnny Bower (220) and Felix Potvin (160). With 32 playoff wins, Joseph is third, all–time, to Broda (60) and Bower (35).
39 YEARS AGO TONIGHT: On Curtish Joseph's 11th birthday (Apr. 29, 1978), Hall–of–Famer Lanny McDonald provided the Leafs and their fans the greatest moment of Harold Ballard's ownership tenure (1972–1990). McDonald scored at 4:13 of overtime in Game 7 of the Stanley Cup quarterfinals to knock off the favored New York Islanders. Machine Gun Lanny beat Glenn (Chico) Resch with a low shot to the glove side at the Nassau Coliseum, sparking bedlam among the visitors, which included Darryl Sittler, Borje Salming, Ian Turnbull, Mike Palmateer and Dave (Tiger) Williams. The late Roger Neilson was in his first year coaching the Leafs and he guided an 11–point increase in the standings. At the time, the Leafs' 92–point compilation ranked second in franchise history to the Stanley Cup–winning club of 1950–51 (95 points).
From my 1978 playoff scrapbook: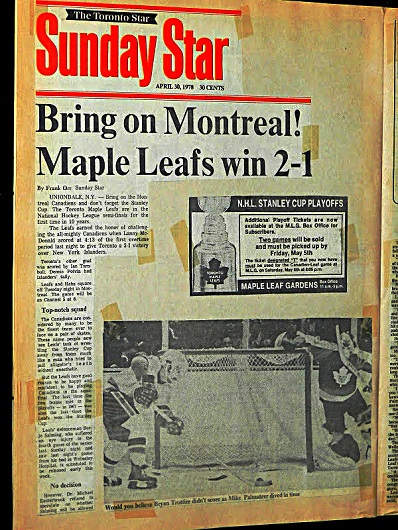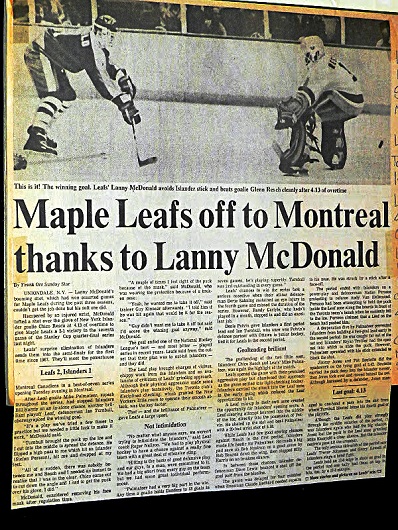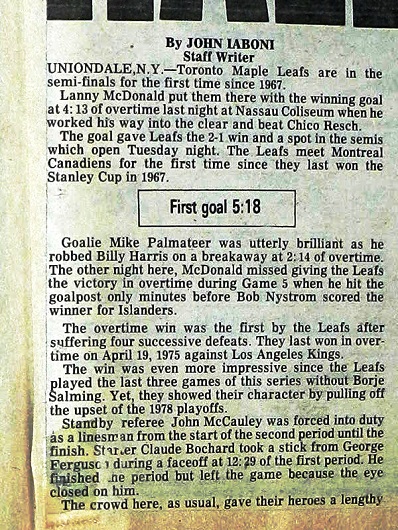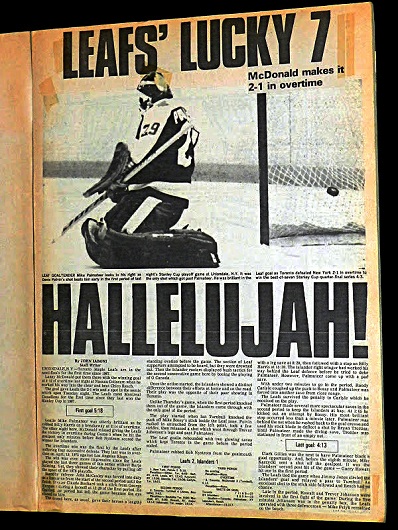 NO PEER: Erik Karlsson is the best hockey player in the world right now.
This will engender an argument from fans of the Edmonton Oilers with respect to Connor McDavid, and the Pittsburgh Penguins about Sidney Crosby. Each will have merit. Karlsson, however, plays the more challenging position — defense — and he does so better than anyone on Earth. Moreover, and as we are witnessing in the 2017 Stanley Cup tournament, he has the rare capacity to lift his performance as the stakes increase. Which truly separates the good from the elite. It's what Wayne Gretzky did at all levels of professional and international competition; what the "dynasty" stars of the modern National Hockey League were able to routinely accomplish. Such Hall–of–Famers (and future inductees) as Bobby Clarke, Bernie Parent, Guy Lafleur, Larry Robinson, Ken Dryden, Bryan Trottier, Mike Bossy, Billy Smith, Denis Potvin, Gretzky, Mark Messier, Paul Coffey, Mario Lemieux, Jaromir Jagr, Scott Niedermayer, Scott Stevens, Martin Brodeur, Nick Lidstrom, Henrik Zetterberg, Pavel Datsiuk, Patrick Kane, Jonathan Toews and Duncan Keith.
Such is the neighborhood in which Erik Karlsson resides.
Should he maintain his level of excellence over the span of 10–15 years, he'll challenge fellow–countryman Lidstrom as the best European–born player of all time (followed closely by Jagr and Dominik Hasek).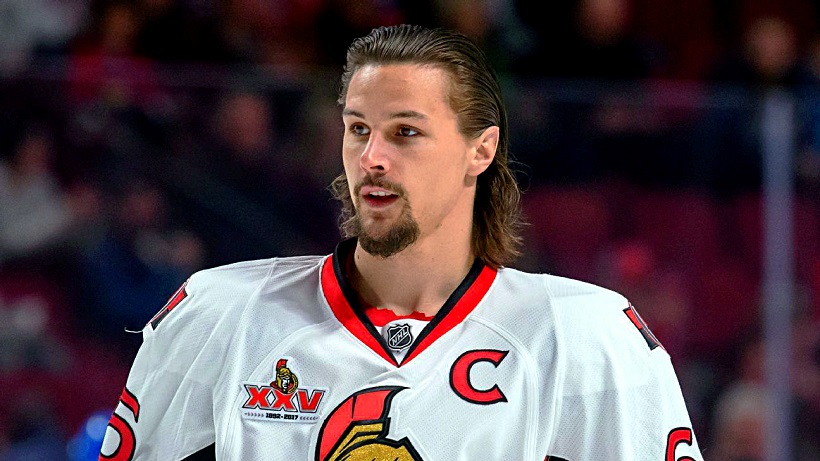 THERE IS NO BETTER HOCKEY PLAYER ON EARTH RIGHT NOW THAN ERIK KARLSSON OF OTTAWA.
And, Karlsson is the reason the Ottawa Senators would have also dispatched the Toronto Maple Leafs from the opening round of the playoffs. Quicker than did the Washington Capitals. He supplies, by many lengths, the overwhelming distinction between the Ontario–based rivals. Up front and in goal, the Leafs and Senators are virtual equals. On the blue line, Toronto has nothing that remotely compares to Karlsson. Give Morgan Rielly and Jake Gardiner mounds of credit for also raising their levels of performance in the series against Washington. Both played extremely well and proved they can be counted upon at crunch–time. But, neither has Karlsson's aptitude, especially while handling the puck. Nor does any other defenseman on the planet.
The now–legendary stretch–pass of 140 feet that landed on Mike Hoffman's stick for a breakaway goal at Boston in the opening round is Karlsson's stamp. No one in the game today, McDavid and Crosby included, could have executed such a feat; perhaps not even in practice, let alone a playoff game. For many months during the season, I felt that Brent Burns of San Jose would have no peer among Norris Trophy candidates. Given the balloting is done before the playoffs, Burns may still win the award as the NHL's top defenseman.
But, the 2017 Stanley Cup tournament is exposing the gap between Karlsson and everyone else.
He is precisely the element needed to win a Stanley Cup. The Senators may not be deep enough around Karlsson to prevail at this time. But, virtually no team will lift the silver mug without a defenseman close to Karlsson's ability. In that realm, Pierre Dorion and Guy Boucher are monumentally blessed.
HOWEVER… All of that said, I'll take umbrage with a question forwarded to Dorion, the Senators' GM, by TSN host James Duthie the other night. Citing what others have written, Duthie asked Dorion if he "agrees that Erik Karlsson is the closest thing [on defense] in the NHL to Bobby Orr." Of course, Dorion answered in the affirmative; how else could he be expected to reply? In point of fact, however, Paul Coffey is infinitely more resembling of Orr than any defenseman that has yet to live. Coffey and Orr are the two–most natural skaters (among many) in the NHL's post–expansion era (after 1967). No one, Orr included, could reach full stride as quickly and effortlessly as Coffey, who broke Orr's record for goals scored by a defenseman in one season with 48 (Edmonton, in 1985–86). As part of the dynastic Oilers, Coffey had seasons of 48, 30 and 37 goals; 138, 126 and 121 points. He won three Stanley Cups in Edmonton; then another in Pittsburgh after being traded, on Nov. 24, 1987, at the beginning of Peter Pocklington's salary purge. Coffey put up 113, 103 and 93 points in a Penguins' uniform. As dominant as Karlsson is today, he will never attain such numbers.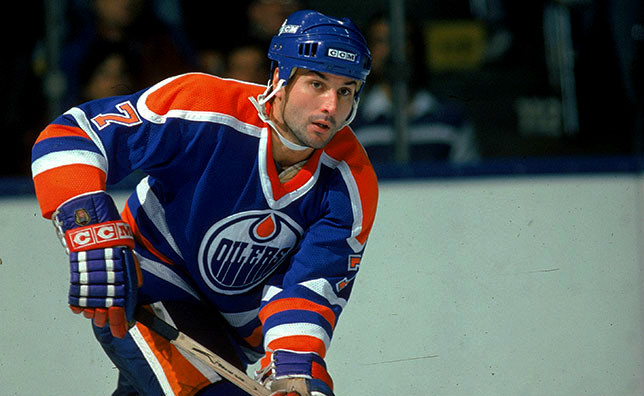 PAUL COFFEY AS A YOUNG DEFENSEMAN WITH THE EDMONTON OILERS.
Nor might any other defender.
There is only one reasonable facsimile to Bobby Orr: The great Paul Coffey.
EMAIL: HOWARDLBERGER@GMAIL.COM