TORONTO (Apr. 21) — The professional sports vibe in this city is not quite as radiant as a few days ago.
The Raptors were annihilated at Milwaukee in Game 3 of their NBA playoff last night; the Blue Jays fell to a Major League–worst 3–12 by losing in extra innings yesterday to Boston, and the Leafs are coming off their brutal first period against the Washington Capitals in a Game 4 loss at the Air Canada Centre on Wednesday.
That said, and upon ingesting much on–line in the wake of Game 4, I am standing by my gut–feel that the Leafs will upset the Capitals in Game 6 here on Sunday. Which they cannot do, of course, without winning tonight's pivotal fifth match at the Verizon Center. True, I chose Washington to prevail in six prior to the series. As did virtually every other breathing organism. But, the first three games — and, yes, even a large segment of Game 4 — convinced me otherwise. While some contend the Leafs were subdued by the "real" Capitals here on Wednesday, I say the difference was an atypically poor performance by Frederik Andersen. And, it's difficult for me to recall consecutive stinkers on behalf of the Toronto goalie this season.
Even after falling behind 4–1 in that gruesome first period, the plucky Leafs were in a position to tie the game until Andersen allowed a dreadful, short–side tally by T.J. Oshie (at 12:59 of the third) that stood up as the winner. Few observers likely envisioned a close match while the Capitals were wood–shedding Andersen in the opening frame. What it proved is the Leafs can stay with Washington in any reasonable circumstance. And, I suspect the visitors will author a more–formidable challenge tonight in the American capitol.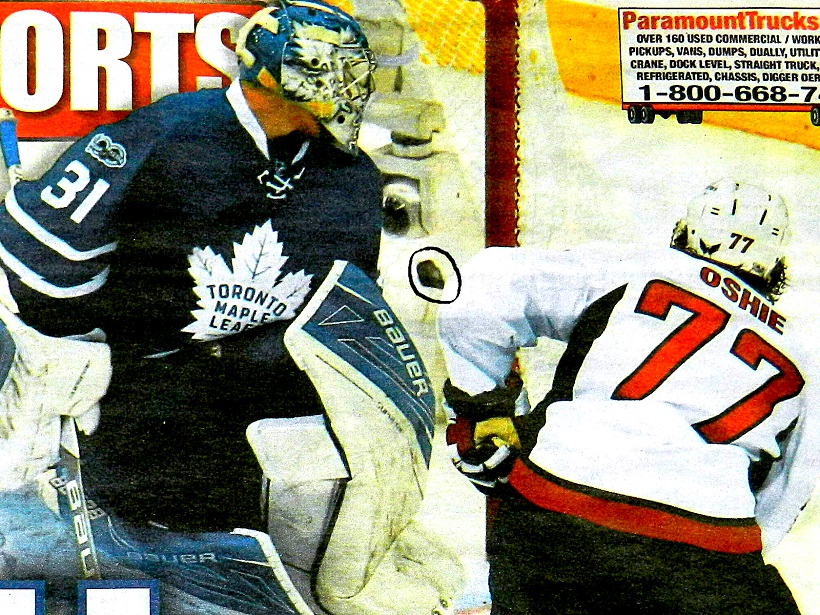 PHOTO BY JACK BOLAND OF THE TORONTO SUN SHOWS T.J. OSHIE SNEAKING THE PUCK (CIRCLED) PAST FREDERIK ANDERSEN FOR THE WINNING GOAL IN GAME 4 ON WEDNESDAY.
How important is tonight's encounter? Well, consider that 78 percent of teams winning Game 5 in the Stanley Cup playoffs ultimately prevail in a best–of–seven series. And, Game 6, in this round, would be on home ice for the Maple Leafs. Am I suggesting here that Washington is incapable of winning a second consecutive match tonight? Of course not. Given that the first three games went to overtime, the Capitals could have swept this Eastern Conference quarterfinal. But, the Leafs have controlled more of the play; have bounced up off the canvas with virtually every punch; have suffused enough doubt in the minds of Alex Ovechkin and Co., that a recovery by Andersen could easily turn the series in Toronto's direction.
Something also tells me that Mitch Marner — rather quiet in the playoffs thus far — is going to largely impact the remaining games. Starting tonight in the District of Columbia. Just watch.
THE LOCAL PAGES: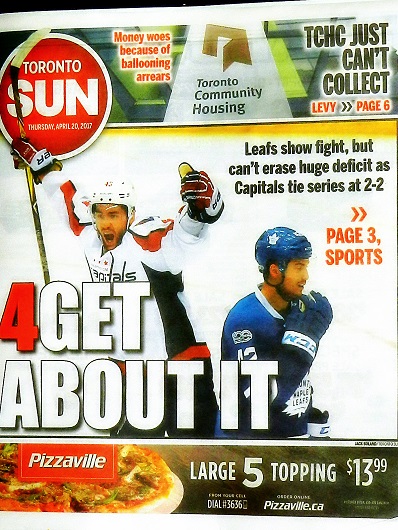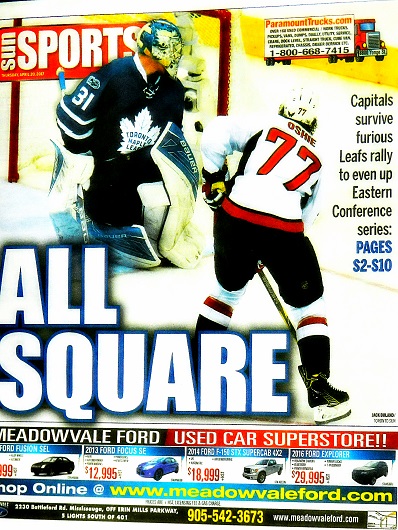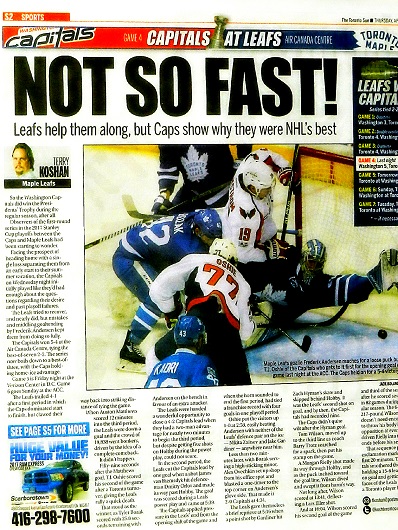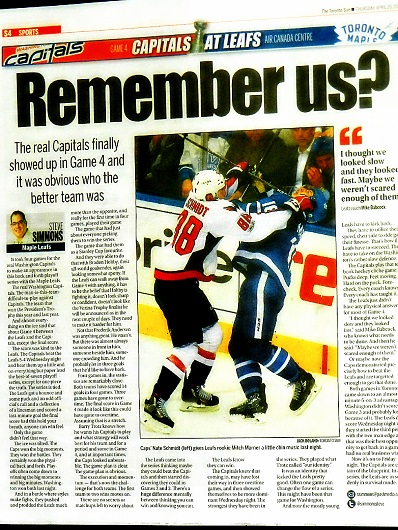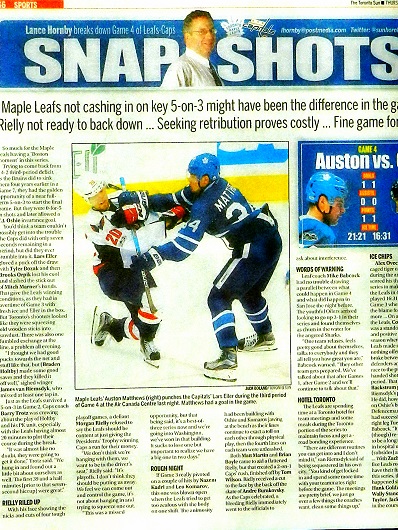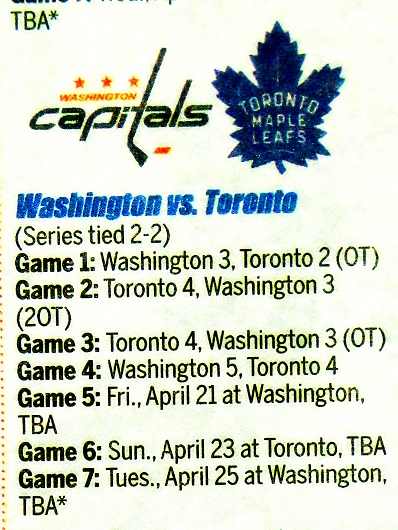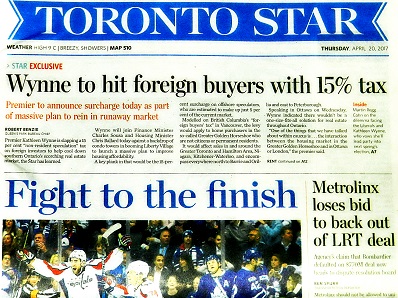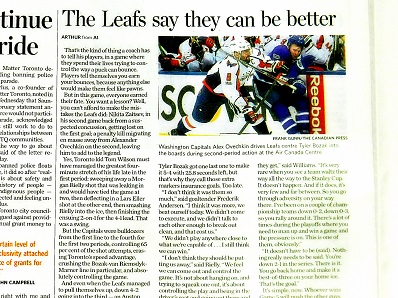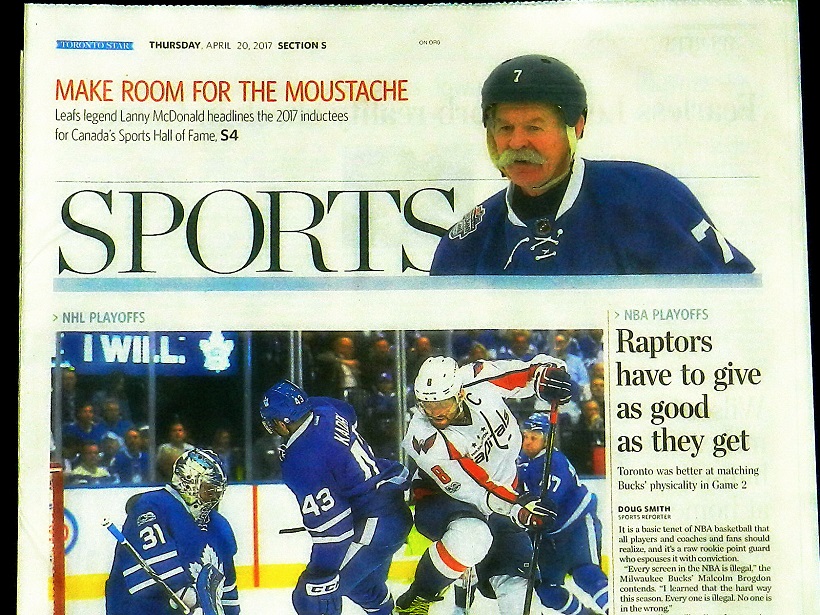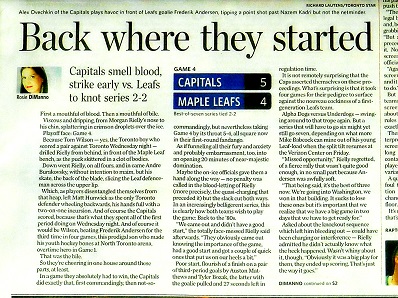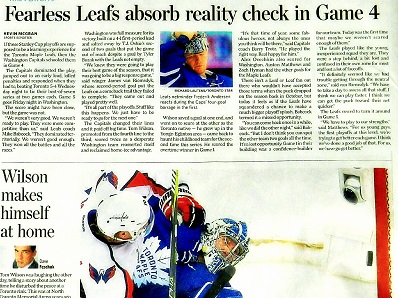 HOW TO COMPARE?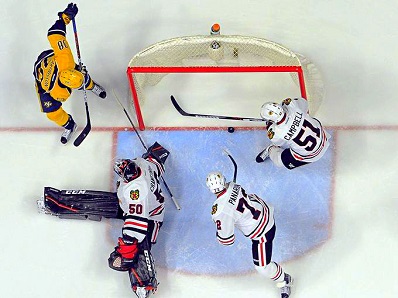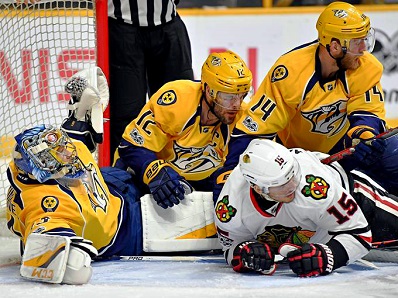 I'm not certain there has been a more shocking result during a best–of–seven series in the modern history of the Stanley Cup playoffs than the Nashville Predators sweeping… destroying… the Chicago Blackhawks.
Not even the close family–member of a Nashville player would have considered such a ridiculous scenario. But, it unfolded — thoroughly and remarkably — over the past week; culminating with last night's 4–1 victory at Bridgestone Arena. The Blackhawks, three–time Stanley Cup champion since 2010, finished a mere seven points up on the Predators this season. But, virtually all prognosticators chose Patrick Kane, Jonathan Toews, Duncan Keith et al to represent the Western Conference in the 2017 Stanley Cup final (not me, by the way; I picked Edmonton). Had Nashville eked out a close, six or seven–game triumph, it would have been considered a mild upset. Remember, Chicago lost in the opening round a year ago as well — to St. Louis. But, a four–game sweep? Which began with Nashville blanking the Hawks by a composite 7–0 in Games 1 and 2 at the United Center? Not on your life. My life. Or anyone else's.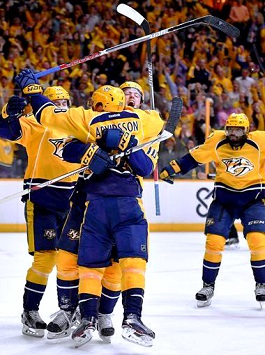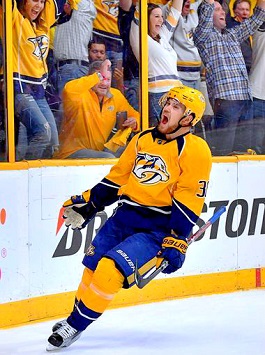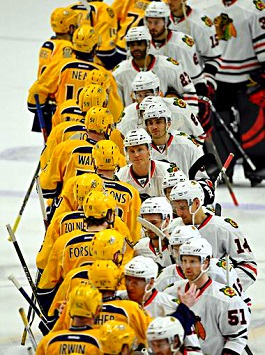 These wonderful images from photographers George Walker IV and Andrew Nelles of The Tennessean offer proof of the unimaginable rout. Wrote columnist Joe Rexrode after last night's clincher:
Viktor Arvidsson was terrorizing the Chicago Blackhawks with his speed again, and this time he left the puck for a trailing Colton Sissons. Sissons fired. The puck hit the left post. It bumped into off–balance Chicago goaltender Corey Crawford, who inadvertently brushed it back and over that red line. Arvidsson and 17,000 of his closest friends raised both arms.
And that's when you finally knew. That's when everyone knew. This night was going to end with handshakes.
"SWEEP! SWEEP! SWEEP!" the Predators fans chanted in the final stages of a 4-1 win in Game 4 Thursday at Bridgestone Arena. And that's what they got, thanks to that Sissons goal; two from Roman Josi, an Arvidsson empty–netter for emphasis and yet another masterpiece from goaltender Pekka Rinne – and despite an appropriately desperate performance from the Stanley Cup favorite Blackhawks.
I Googled "biggest Stanley Cup playoff upsets" and came upon a Top 10 list compiled several years ago by The Bleacher Report. It considered the 2006 quarterfinal victory by Edmonton over Detroit as No. 1.
The Red Wings, in 2005–06, compiled 124 points (58–16–8) — fifth–most in National Hockey League history. The Oilers, having traded for defenseman Chris Pronger, finished third in the Northwest Division with 95 points (41–28–13). Despite the 29–point gap, the Oilers forced overtime in Game 1 at Joe Louis Arena and lost at 2:39 of the second extra period on a goal by Kirk Maltby. Edmonton followed with a 4–2 regulation win in Game 2; then took the series lead at Rexall Place when Jarret Stoll scored at 8:44 of double–OT in Game 3. Detroit evened the round with a 4–2 road triumph. The pivotal fifth match, at the Joe, went Edmonton's way (3–2), and the Oilers finished the upset on home ice with a 4–3 conquest.
Undoubtedly, that was a phenomenal surprise. But, on reflection, perhaps not–so remarkable, given that Edmonton won the Western Conference championship and took Carolina to Game 7 of the 2006 Stanley Cup final. As with the current Blackhawks, Detroit, in '06, had won three fairly–recent Stanley Cup titles (1997–98–2002). So, there is a comparison to be made. It is now up to the Predators to somehow match Edmonton's 2006 playoff run. If they do, perhaps a smidgen of shock will subside from the opening–round demolition of heavily–favored Chicago. Again… perhaps.

EDMONTON UPSET DETROIT AND NEARLY DEFEATED CAROLINA (ABOVE) FOR THE 2006 NHL TITLE.
OLDEST HOCKEY MAGAZINES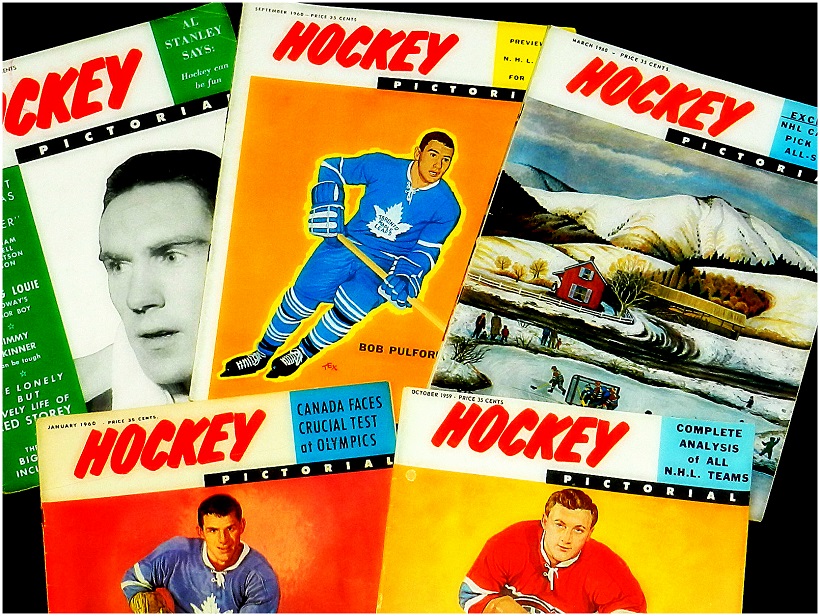 In a blog here on Apr. 8 (http://bit.ly/2oTG8QU), I featured Hockey Pictorial magazines dating from 1965 to 1967. Today, I present the oldest magazines in my collection — Hockey Pictorial issues from 1955–64. This periodical came out monthly and was published by Ken McKenzie and Ed Fitkin of The Hockey News. It featured stories and columns by writers that contributed to the weekly newspaper, now in its 70th year.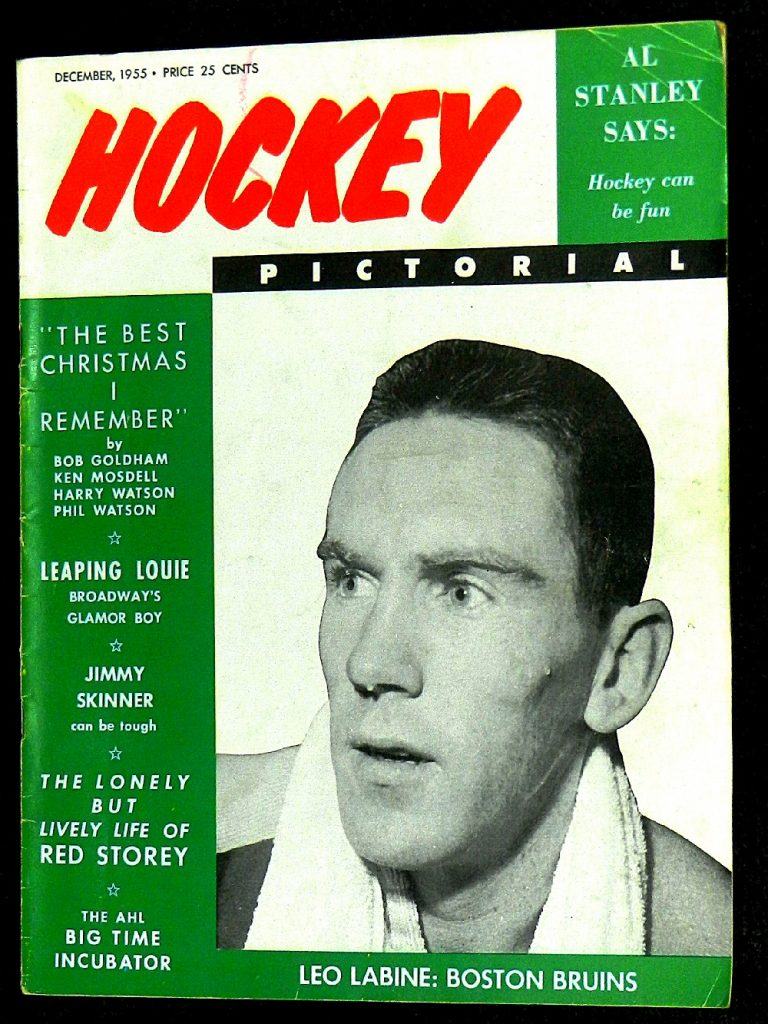 THE OLDEST HOCKEY MAGAZINE IN MY COLLECTION — FROM MORE THAN 61 YEARS AGO.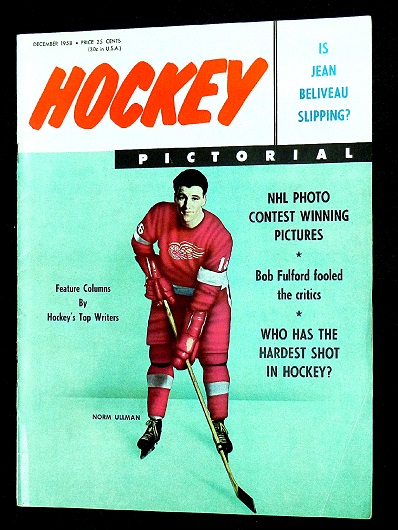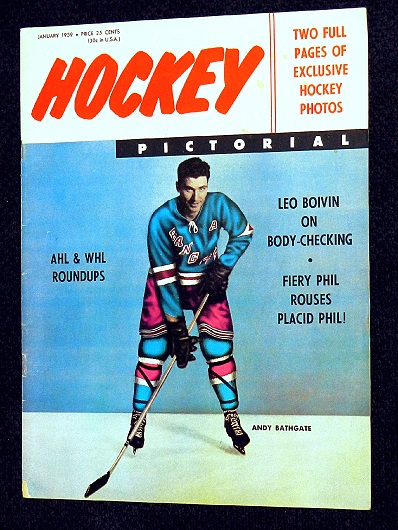 ISSUES FROM OCTOBER 1958 (LEFT) AND JANUARY 1959.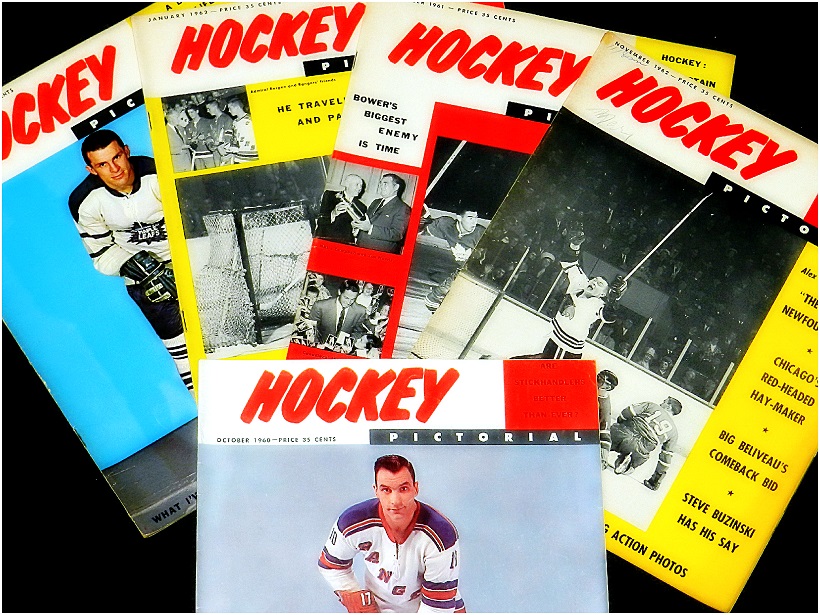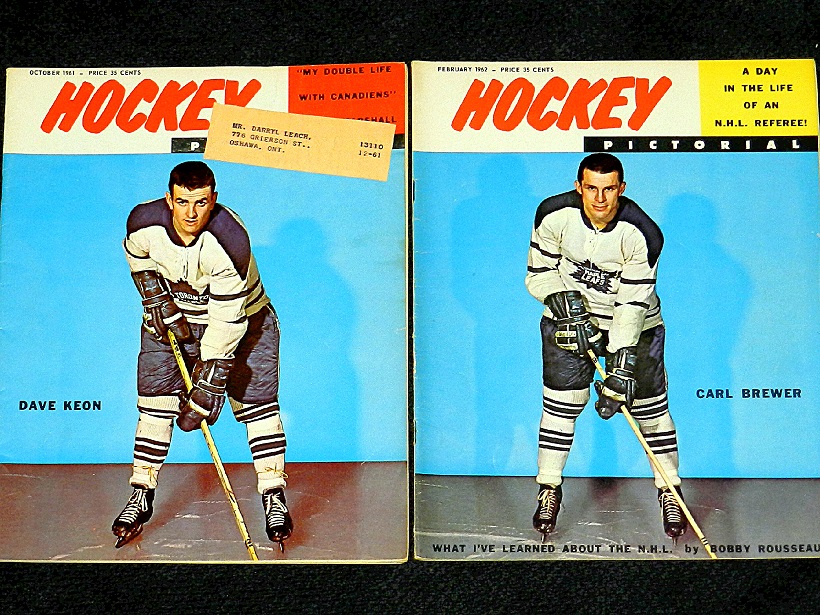 LEAFS LEGENDS ON THE COVERS OF OCTOBER 1961 (LEFT) AND FEBRUARY 1962.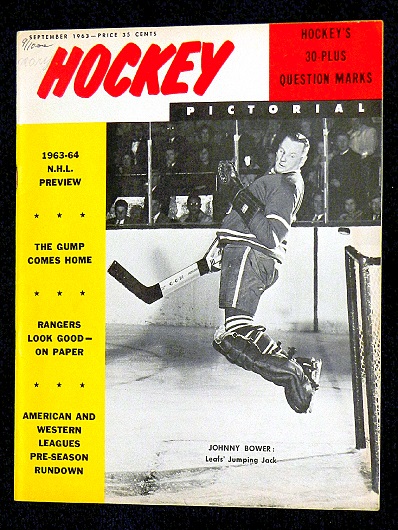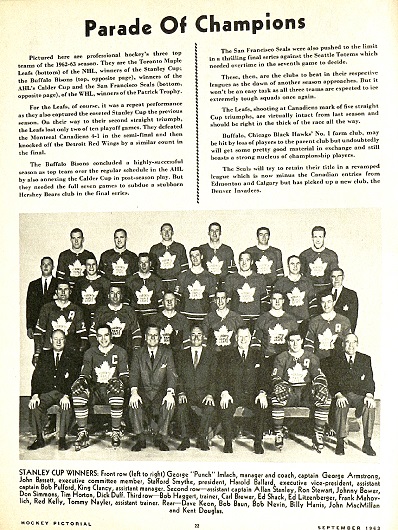 COVER (TOP–LEFT) AND CONTENTS FROM THE SEPTEMBER 1963 NHL PREVIEW ISSUE.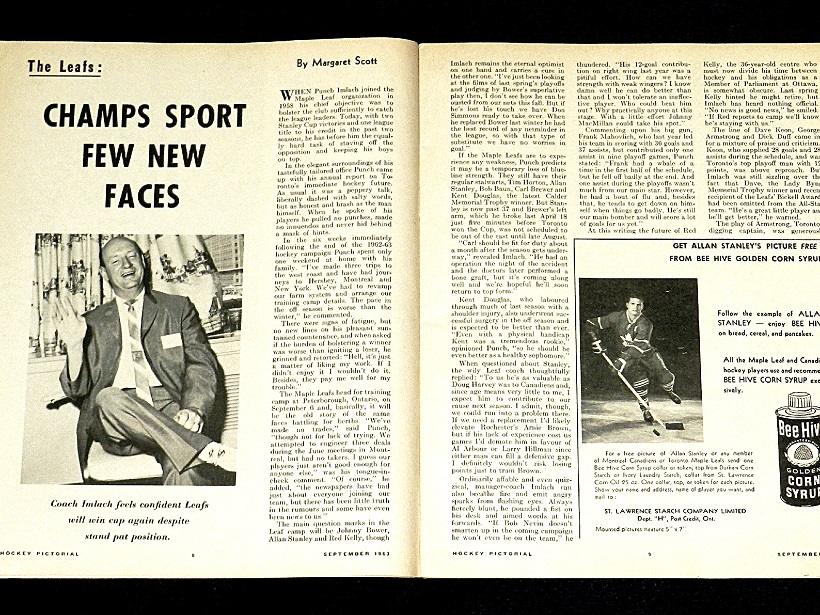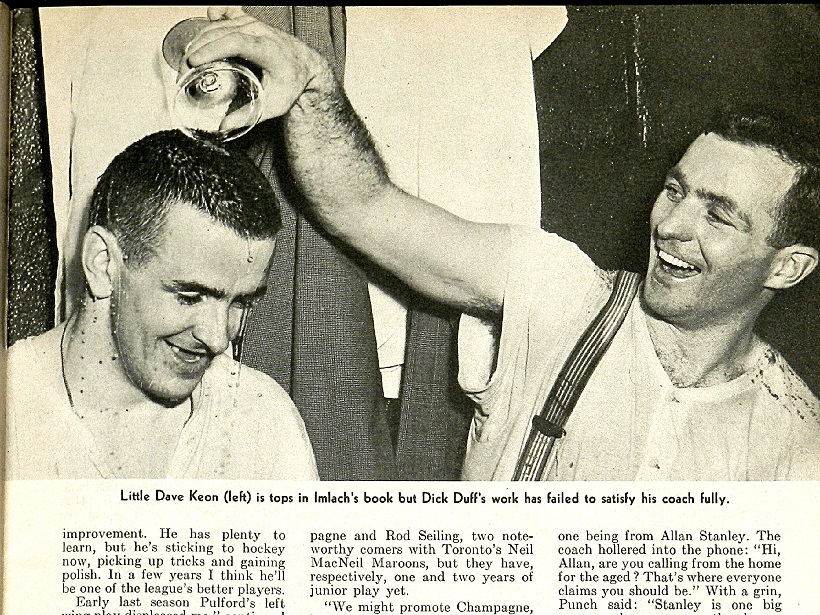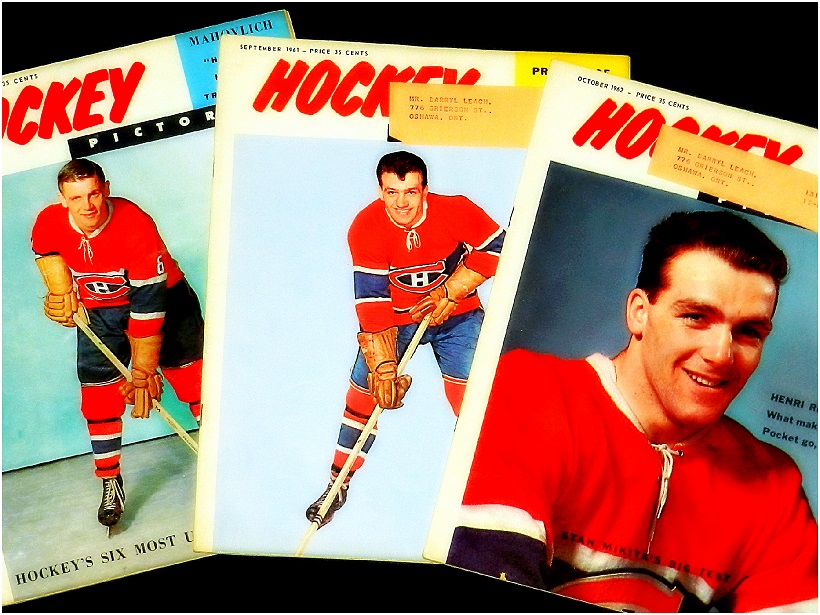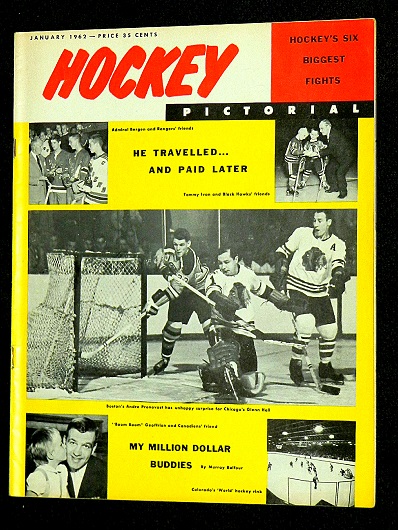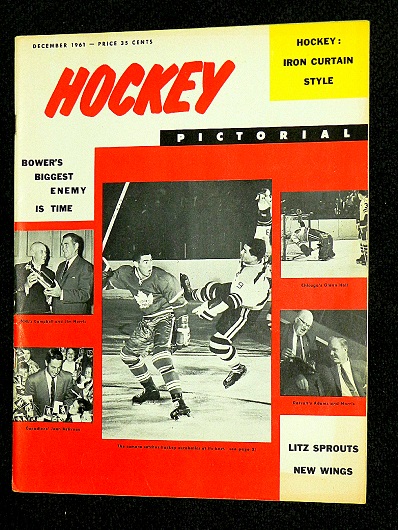 JANUARY 1963 (LEFT) AND DECEMBER 1963 ("OH WHAT A NIGHT…").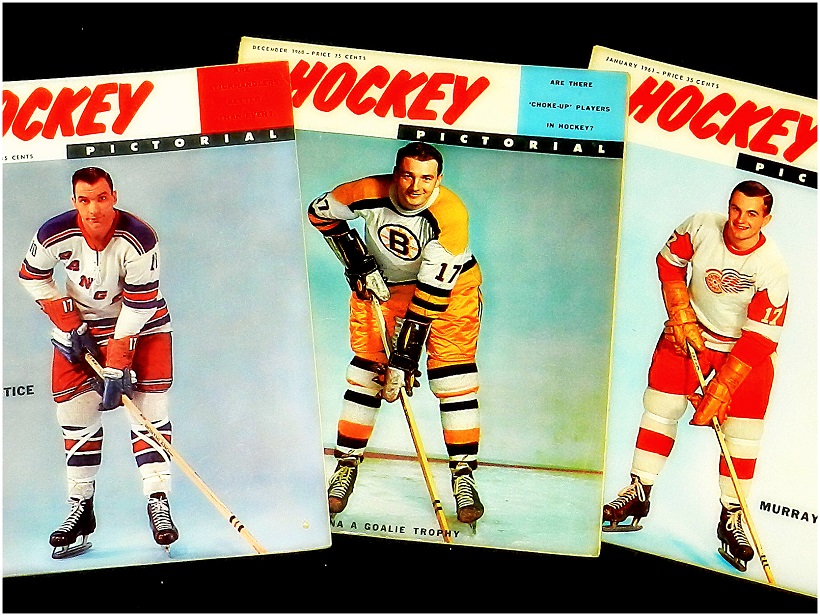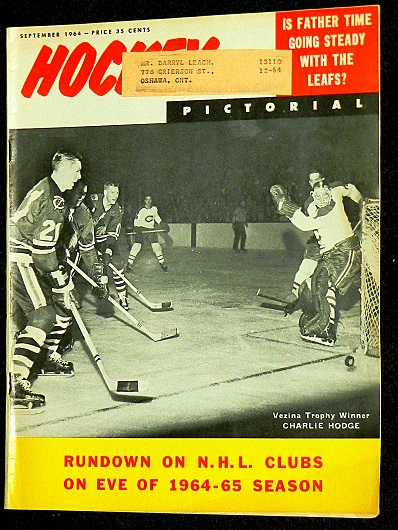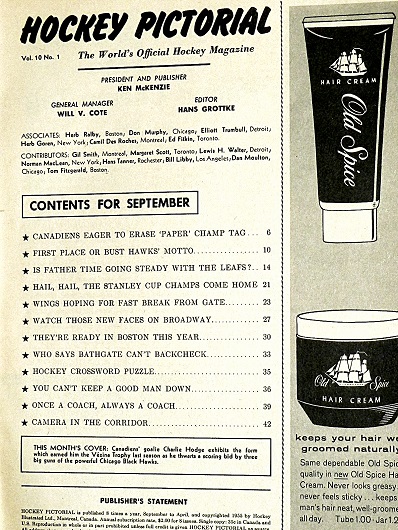 COVER (TOP–LEFT) AND CONTENTS FROM THE SEPTEMBER 1964 NHL PREVIEW ISSUE.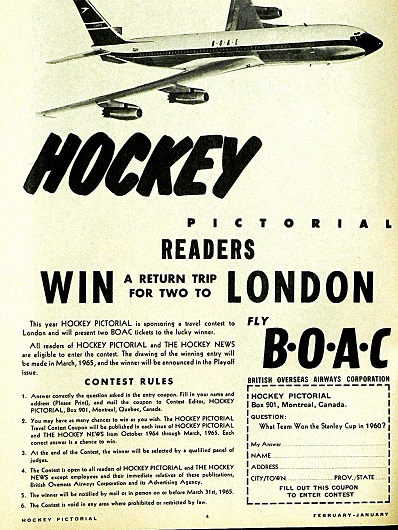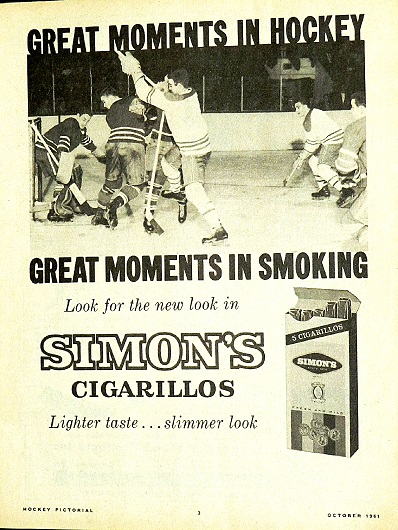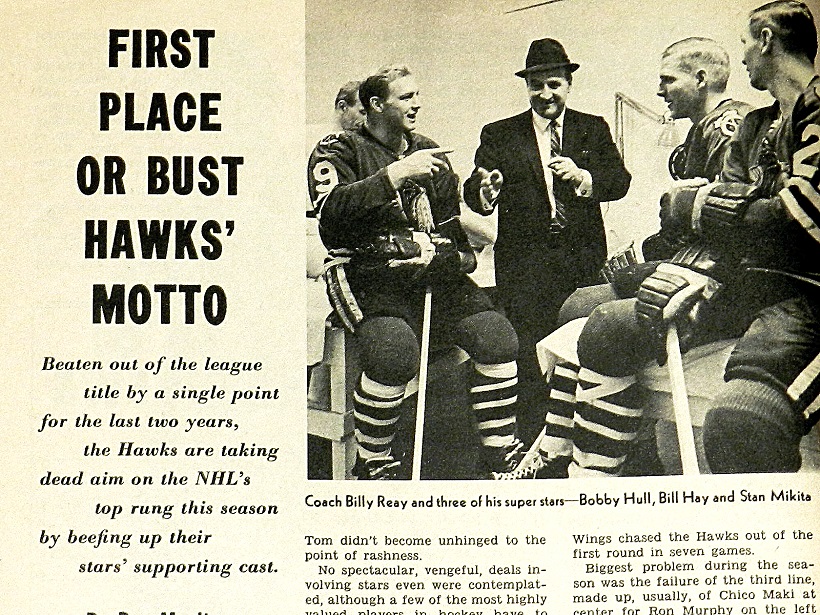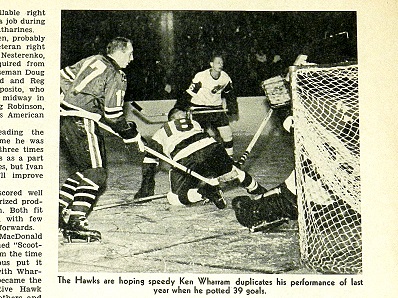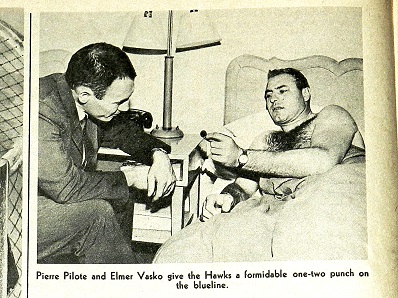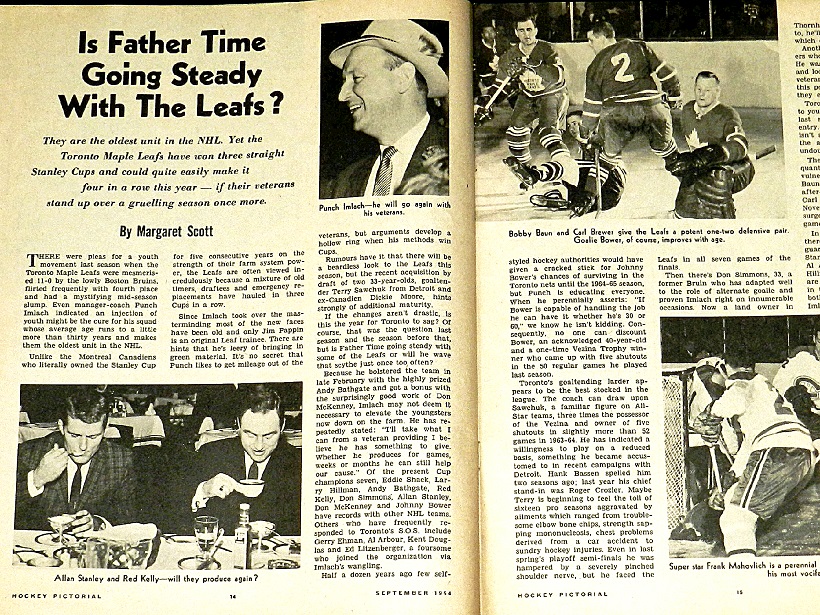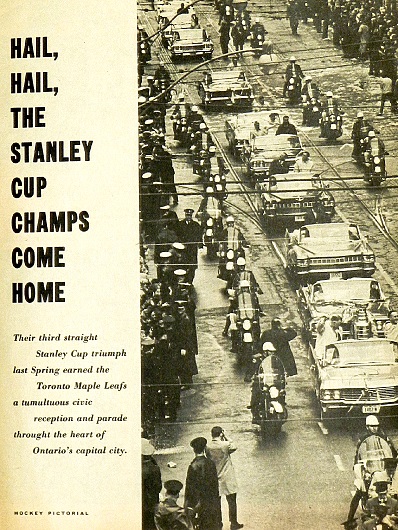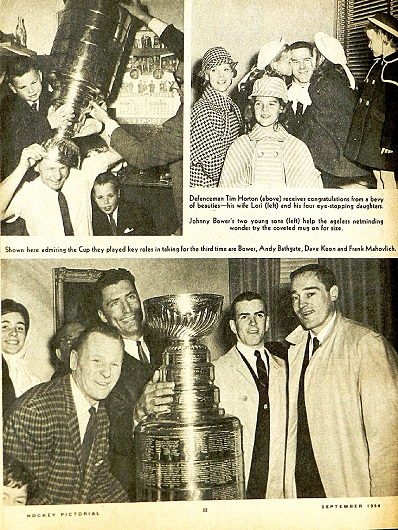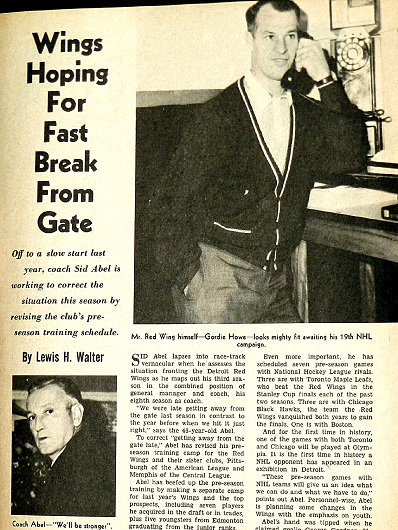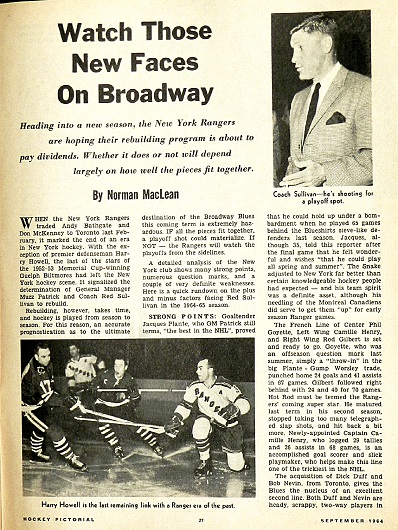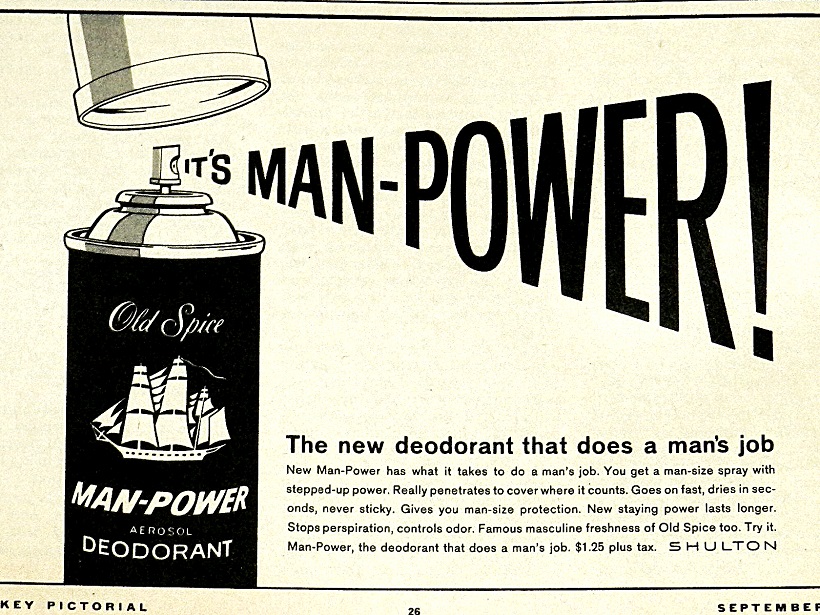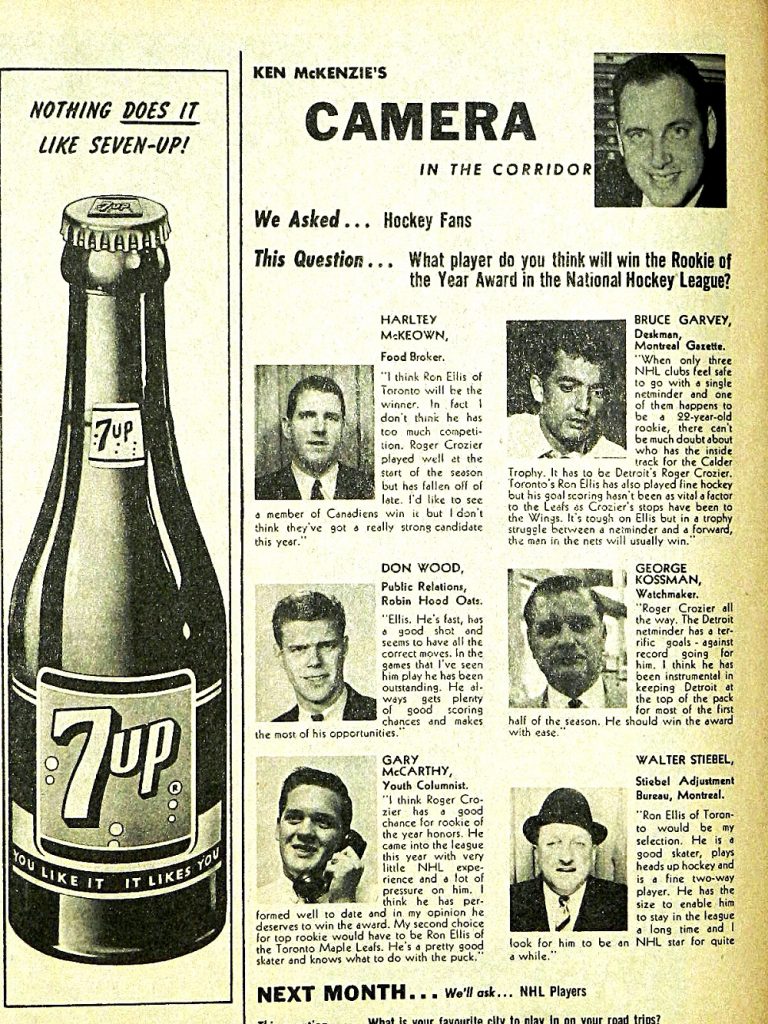 EMAIL: HOWARDLBERGER@GMAIL.COM