TORONTO (May 15) — Want to know how generally lousy it was for the Toronto Maple Leafs and their fans during the Harold Ballard administration in the 1970's and 80's? Normally, I would offer you a "let me count the ways". For this blog, however, a particular stat–correlation tells the entire story.
When Bobby Ryan scored to win Game 1 of the 2017 Eastern Conference final on Saturday night in Pittsburgh, it was the sixth overtime victory for Ottawa in a span of 28 nights, dating to Apr. 15 (the Senators are 6–1 after regulation this spring). By comparison, almost absurdly, the Maple Leafs won six playoff games in overtime between Apr. 25, 1967 and Apr. 27, 1987. That is correct. Ottawa has accomplished in the past four weeks what the Leafs achieved in 20 years and two days. Yes, there are more playoff games and playoff rounds today. But, c'mon… if that doesn't illustrate the agony of Leaf rooters in the first two decades of the current, half–century Stanley Cup drought, nothing can. Well… almost nothing. There's lots to choose from.
A Twitter sage offered this bit of rationale early today: "Howard, you have to make the playoffs before you can win a Stanley Cup game in overtime." How true. Yet, the Leafs, retched as they were, failed to qualify only six times in that 20–season span, while the National Hockey League ballooned from six to 21 teams.
In 1987, the goofy playoff format welcomed 16 of the 21 NHL clubs.
The Leafs made it with 70 points.
Today, by accumulating that total, they'd miss by nearly 25.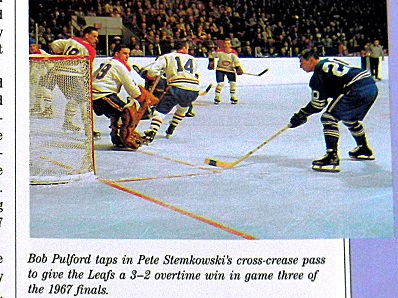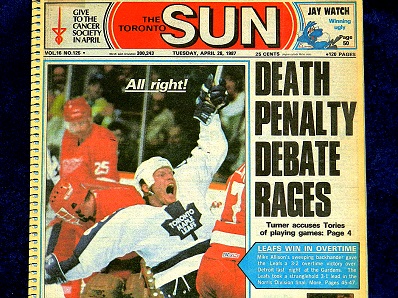 BOB PULFORD (LEFT) SCORED IN DOUBLE–OT TO WIN GAME 3 OF THE 1967 STANLEY CUP FINAL. MIKE ALLISON BEAT GLEN HANLON OF DETROIT, ALSO AT MAPLE LEAF GARDENS, IN GAME 4 OF THE 1987 NORRIS DIVISION FINAL FOR TORONTO'S SIXTH OT PLAYOFF CONQUEST IN A SPAN OF 20 YEARS.
Between Apr. 25, 1967 and Apr. 27, 1987, Toronto partook in 97 playoff games — way more–than enough to win only six in overtime. During that span, the Leafs lost 14 of 20 matches that went beyond regulation.
For posterity, here's the equivalent of what Ottawa has achieved in the past calendar month:
• APR. 25, 1967 — Montreal 2 at Toronto 3 — Stanley Cup Final (Bob Pulford beat Rogatien Vachon).
• APR. 06, 1972 — Toronto 4 at Boston 3 — Stanley Cup Quarterfinal (Jim Harrison beat Gerry Cheevers).
• APR. 10, 1975 — Los Angeles 2 at Toronto 3 — Stanley Cup Preliminary (Blaine Stoughton beat Rogie Vachon).
• APR. 29, 1978 — Toronto 2 at N.Y. Islanders 1 — Stanley Cup Quarterfinal (Lanny McDonald beat Glenn Resch).
• APR. 09, 1987 — Toronto 3 at St. Louis 2 — Norris Division Semifinal (Rick Lanz beat Greg Millen).
• APR. 27, 1987 — Detroit 2 at Toronto 3 — Norris Division Final (Mike Allison beat Glen Hanlon).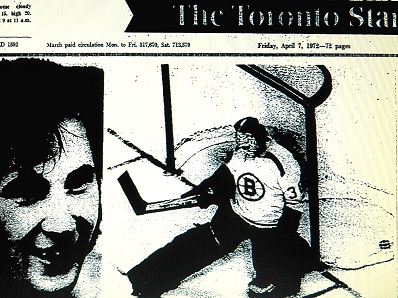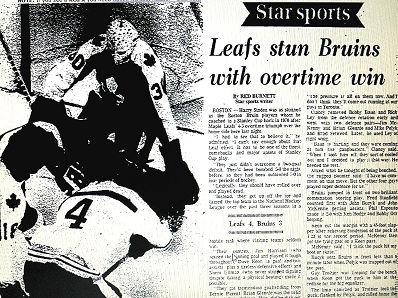 TORONTO STAR PAGES FROM APR. 7, 1972 — THE DAY AFTER JIM HARRISON SCORED ON GERRY CHEEVERS AT BOSTON FOR THE FIRST LEAFS OVERTIME VICTORY OF THE HAROLD BALLARD ERA.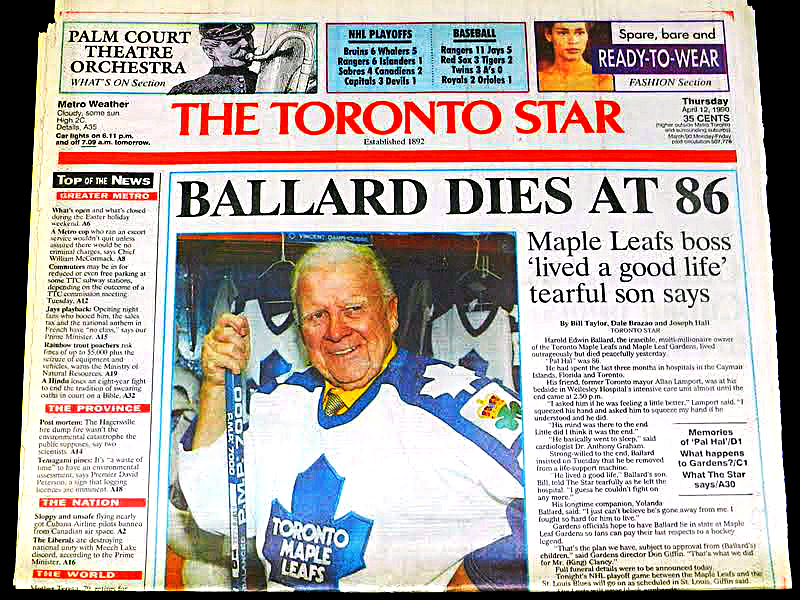 The OT situation improved rather dramatically for the Leafs after Ballard's death on April 11, 1990 (St. Louis had sent the curmudgeonly owner a parting gift three nights earlier when Sergio Momesso beat Allan Bester between the wickets from nearly 60 feet at the Gardens, winning Game 3 of a Norris Division semifinal at 6:04 of extra time; more on Ballard later). During brief flings of success under Pat Burns and Pat Quinn (a combined four trips to the Stanley Cup semifinals), the Leafs scored playoff overtime goals in bunches.
With Burns and Doug Gilmour leading the way, the club won six overtime games in just more than a calendar year — or 19 years faster than during the Ballard era. Remember these moments?
• APR. 27, 1993 — Toronto 5 at Detroit 4 — Norris Division Semifinal (Mike Foligno beat Tim Cheveldae).
• MAY 01, 1993 — Toronto 4 at Detroit 3 — Norris Division Semifinal (Nikolai Borschevsky beat Tim Cheveldae).
• MAY 03, 1993 — St. Louis 1 at Toronto 2 — Norris Division Final (Doug Gilmour beat Curtis Joseph).
• MAY 25, 1993 — Los Angeles 2 at Toronto 3 — Campbell Conference Final (Glenn Anderson beat Kelly Hrudey).
• APR. 20, 1994 — Chicago 0 at Toronto 1 — Western Conference Quarterfinal (Todd Gill beat Ed Belfour).
• MAY 12, 1994 — San Jose 2 at Toronto 3 — Western Conference Semifinal (Mike Gartner beat Arturs Irbe).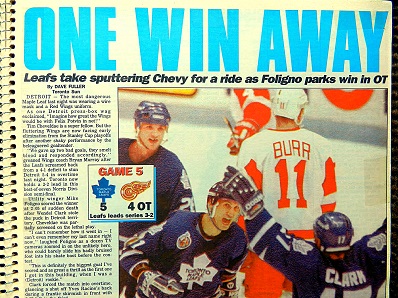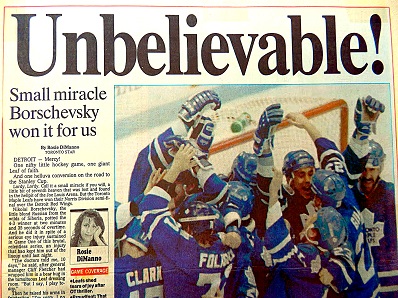 OVERTIME HIGHLIGHTS FROM THE LEAFS MAGICAL SPRING OF 1993.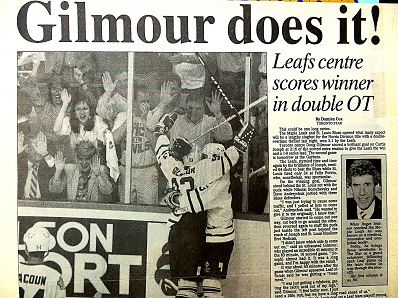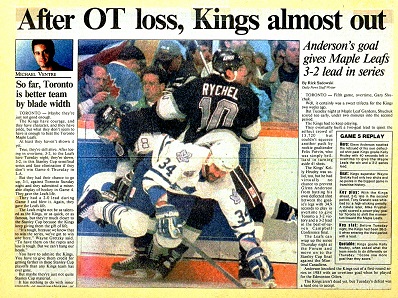 A half–dozen overtime victories also came quickly in the era of Quinn, Mats Sundin and Curtis Joseph — just less than two calendar years and a span of 28 playoff games. More recent Maple Leaf moments:
• APR. 30, 1999 — Philadelphia 1 at Toronto 2 — Eastern Conference Quarterfinal (Yanic Perreault beat John Vanbiesbrouck).
• MAY 13, 1999 — Toronto 3 at Pittsburgh 2 — Eastern Conference Semifinal (Sergei Berezin beat Tom Barrasso).
• MAY 17, 1999 — Toronto 4 at Pittsburgh 3 — Eastern Conference Semifinal (Garry Valk beat Tom Barrasso).
• APR. 22, 2000 — Ottawa 1 at Toronto 2 — Eastern Conference Quarterfinal (Steve Thomas beat Tom Barrasso).
• APR. 13, 2001 — Toronto 1 at Ottawa 0 — Eastern Conference Quarterfinal (Mats Sundin beat Patrick Lalime).
• APR. 16, 2001 — Ottawa 2 at Toronto 3 — Eastern Conference Quarterfinal (Cory Cross beat Patrick Lalime).
The all–time record for overtime victories in one playoff year — 10 — belongs to the 1993 Stanley Cup–champion Montreal Canadiens, who bettered Ottawa's current mark by 24 hours. It required 27 nights, rather than 28, for Patrick Roy and Co. to record their first six extra–time wins: Apr. 22–26; May 4–6–8–18. The Senators are one victory shy of equaling the second–most OT wins in one playoff year — 7 — shared by the 2002 Carolina Hurricanes and 2003 Mighty Ducks of Anaheim. Both clubs were defeated in the Stanley Cup final. Carolina's first six wins occurred in a span of 40 nights (Apr. 19–24; May 9–19–21–28). It required 52 nights (Apr. 10–16–24–26; May 10–31) for the '03 Ducks to win their first six OT's.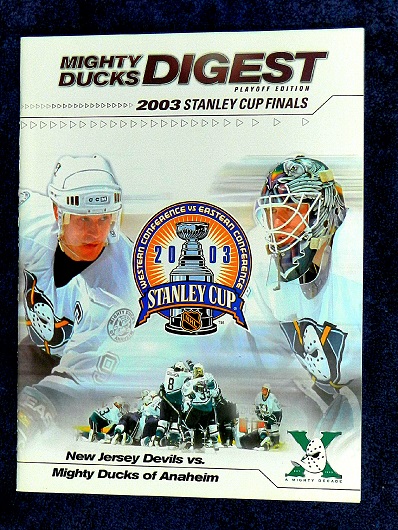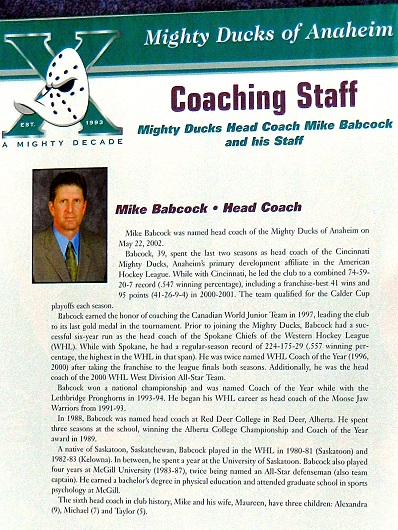 PROGRAM FROM THE ARROWHEAD POND OF ANAHEIM (NOW THE HONDA CENTER) DURING THE 2003 STANLEY CUP FINAL. THE MIGHTY DUCKS WON SEVEN OT GAMES THAT SPRING UNDER ROOKIE COACH MIKE BABCOCK, BUT LOST THE CHAMPIONSHIP TO NEW JERSEY (AND FORMER LEAF BOSS PAT BURNS).
STEEL–TOWN SATURDAY NIGHT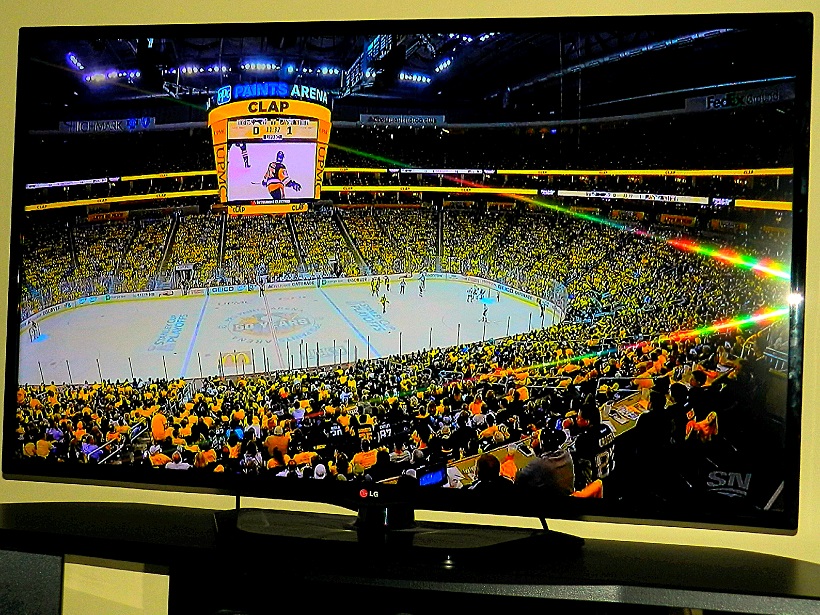 CBC AND SPORTSNET SHOWED LOTS OF GREAT STUFF DURING GAME 1 OF THE EASTERN CONFERENCE FINAL IN PITTSBURGH, INCLUDING A WIDE–ANGLE VIEW OF PPG PAINTS ARENA.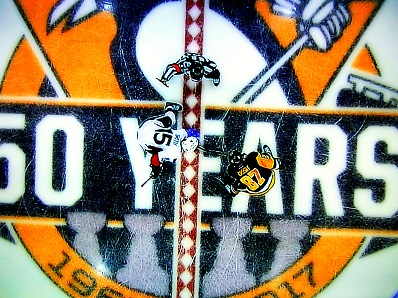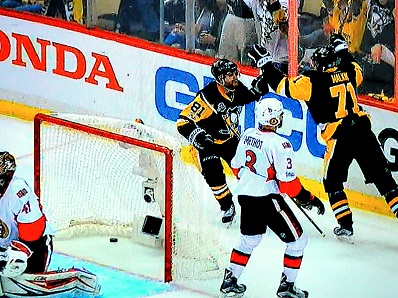 THE CENTER–LOGO COMMEMORATES THE 50th SEASON OF THE PENGUINS FRANCHISE, WHICH CAME ABOARD IN THE GREAT EXPANSION OF 1967–68. OTTAWA HELD A 1–0 LEAD UNTIL THE DYING MOMENTS OF REGULATION, WHEN EVGENI MALKIN RE–DIRECTED THE PUCK PAST CRAIG ANDERSON.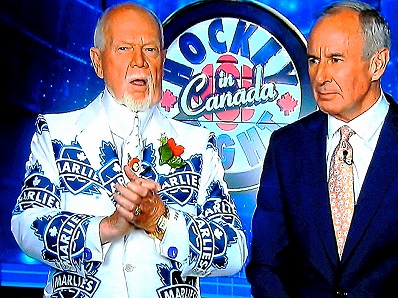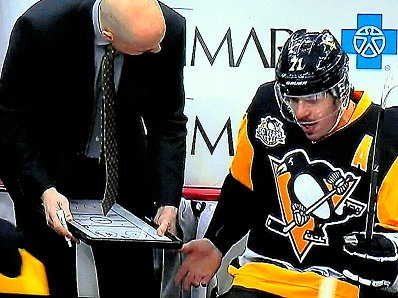 DON CHERRY BUSTED OUT A TORONTO MARLIES JACKET DURING COACH'S CORNER. GRAPES SPENT VIRTUALLY HIS ENTIRE PLAYING CAREER IN THE AMERICAN HOCKEY LEAGUE WITH ROCHESTER. AND, THE CBC CAMERA CAUGHT MALKIN GIVING RICK TOCCHET A HARD TIME, AS THE ASSISTANT COACH ATTEMPTED TO POINT OUT STRATEGY ON A MARKER–BOARD. WHY SHOULD MALKIN LISTEN TO SUCH A BUM? ALL TOCCHET DID WAS SCORE 440 NHL GOALS BETWEEN 1984 AND 2002.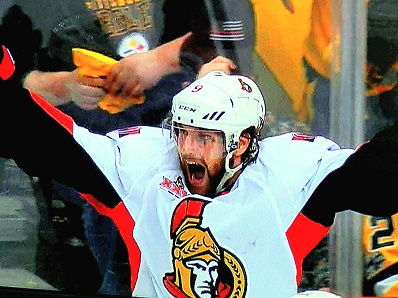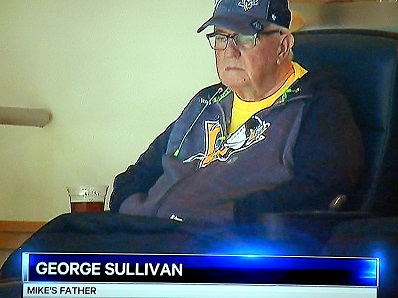 BOBBY RYAN CELEBRATED HIS WINNING GOAL EARLY IN OVERTIME. THE FATHER OF PENGUINS COACH MIKE SULLIVAN WAS SHOWN ON TV. HIS NAME PROVIDES QUITE A COINCIDENCE, AS THE FIRST COACH IN PENGUINS HISTORY WAS ALSO GEORGE SULLIVAN — BETTER KNOWN AS "RED".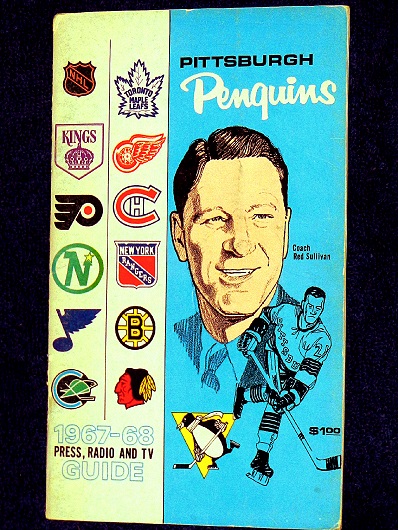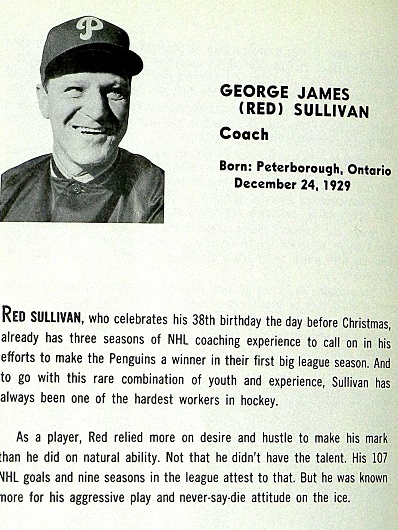 THE ORIGINAL GEORGE SULLIVAN APPEARED ON THE COVER OF THE FIRST PITTSBURGH MEDIA GUIDE IN 1967–68. I HAVE ALWAYS THOUGHT — ENDEARINGLY — THAT SULLIVAN AND SHEMP HOWARD (BELOW) OF THE THREE STOOGES WERE SEPARATED AT BIRTH.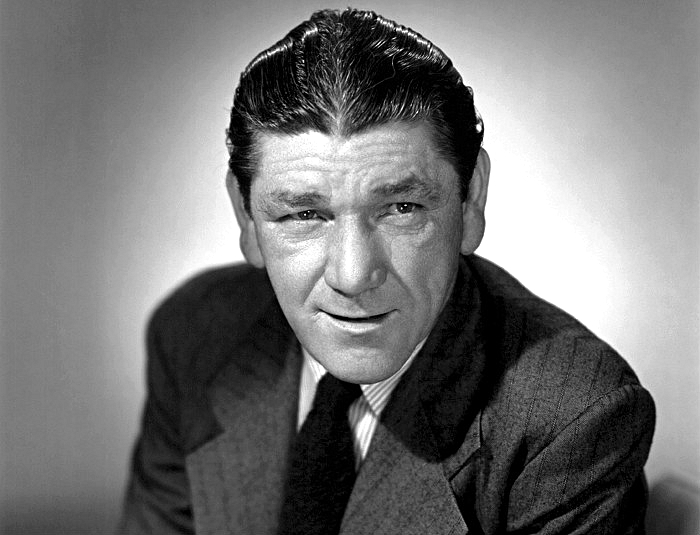 THE BALLARD ZOO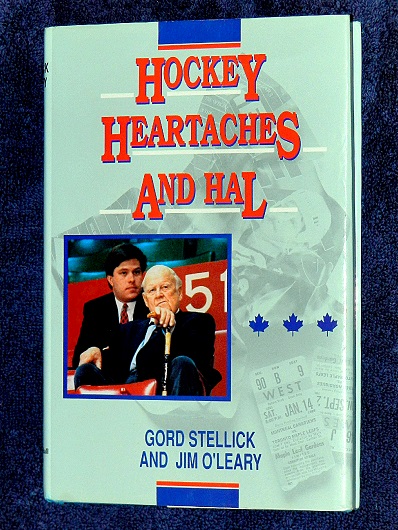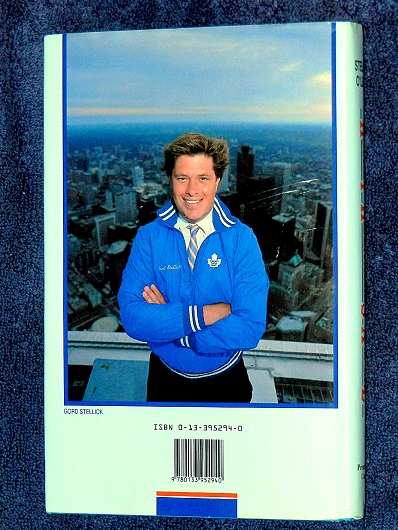 I nearly split myself in two with laughter while re–reading Gord Stellick's 1990 autobiography, and his recollections of working for Harold Ballard during the decrepit 80's. Stellick was the eighth general manager in Toronto Maple Leafs history, serving the club in 1988–89. Ballard publicly eviscerated the young GM and Stellick — to maintain dignity — had to resign from the role in August 1989. Beginning in 1975, Stellick worked as a press box runner during hockey games at Maple Leaf Gardens and he advanced through the organization as an administrative assistant to GM's Jim Gregory, Punch Imlach and Gerry McNamara.
He also traveled with the team in the first half of the 80's as its road secretary.
Gord and I then worked together for many years at The FAN–590 after his Leafs career.
A promising, yet top–heavy Leafs team in the late–70's that featured Darryl Sittler, Lanny McDonald, Borje Salming, Ian Turnbull and Mike Palmateer was torn apart by Imlach in his second term as GM (1979–81). Imlach had managed and coached the Leafs to four Stanley Cups in the 60's, but he'd morphed into a pterodactyl by the time Ballard summoned him to replace the respected Gregory. Trench warfare erupted between Imlach and the core–players in blue and white. In the book on which he collaborated with former Toronto Sun hockey writer Jim O'Leary, Stellick recounted the firing and acrimonious parting of Imlach disciple, Maple Leafs coach Joe Crozier, in January 1981:
What Ballard overlooked was the effect his petty gamesmanship had on the team. When the players realized Crozier was vulnerable, they rolled over and played dead. Crozier responded with threats and tirades, but nothing could stir his team of possums. The players couldn't get Imlach — just as Imlach couldn't get Sittler (who had a no–trade clause) — but they could get Imlach's coach. So, gleefully, they leapt at the jugular.
By early–January 1981, the Leaf season was lost and Crozier was barely hanging on. Realizing that his dismissal was imminent, he addressed the players in the dressing room, bitterly acknowledging their victory and vowing revenge when their paths crossed again.
Ian Turnbull spoke for the team when he leaned forward and loudly farted.
Then, the immediate aftermath of Crozier's dismissal:
For a full day, the Leafs had no coach at all. The media had descended on the Gardens awaiting an announcement, but none came. At one point, ducking into the office, Imlach snapped at some reporters, "You guys think you know everything. You pick the coach." A second later, Brian Williams of CBLT–TV poked his head in the door. "When we've made our decision, Punch, where can we reach you?" Even Imlach smiled.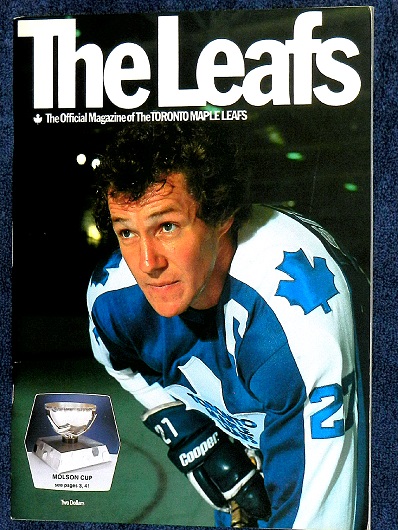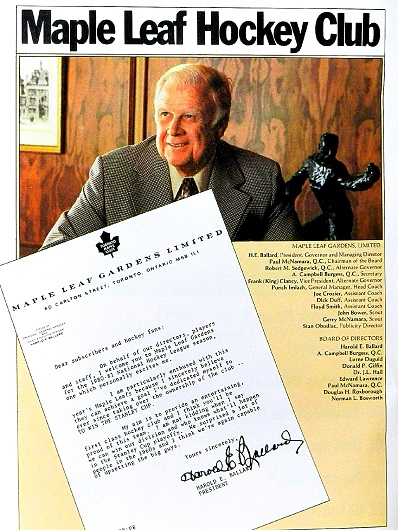 DARRYL SITTLER GRACED THE COVER OF THE MAPLE LEAFS PROGRAM FOR THE 1980–81 SEASON OPENER AT THE GARDENS (LINE–UPS, BELOW). NEW YORK, FITTINGLY, WALTZED TO AN 8–3 TRIUMPH.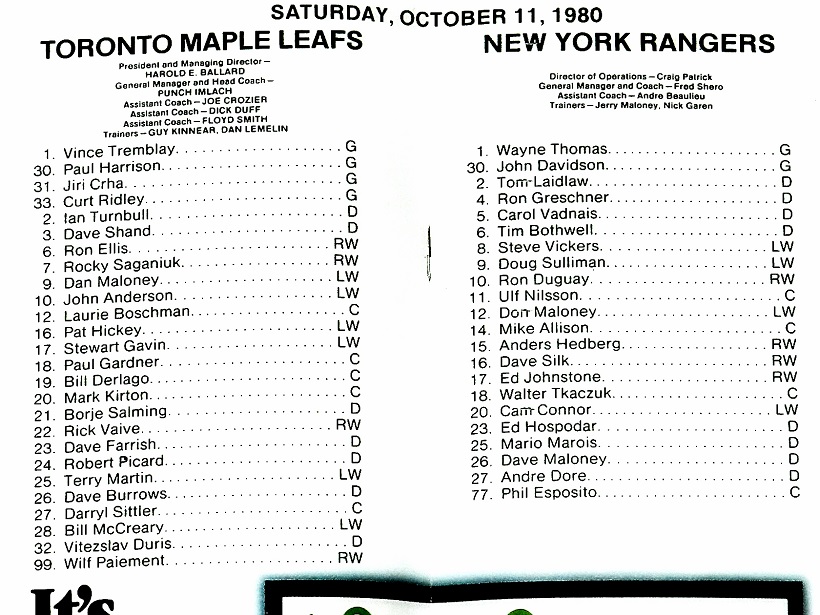 EMAIL: HOWARDLBERGER@GMAIL.COM