TORONTO (May 29) — Can a guy remember getting a haircut 25 years later — to the day? Unless you're the Rainman, probably not. Yet, I patently recall sitting in the barber's chair on this date in 1992.
As my locks were being trimmed, the radio was on in the background — tuned to my employer, CJCL AM–1430. It was still three months before we became Canada's first all–sports station. One of my colleagues broke into the music and casually mentioned that Pat Burns had been hired as coach of the Toronto Maple Leafs. I found that rather puzzling, as Burns — for all I knew — was still coach of the Montreal Canadiens. Only after scurrying from the barber–shop and making a bee–line for Maple Leaf Gardens did I learn that Burns had announced his resignation in Montreal several hours before. Which was promptly followed by word from the Maple Leafs that he'd be replacing Tom Watt behind the bench for the 1992–93 season.
The hiring of Burns by general manager Cliff Fletcher stands among the rare occasions in which a major hockey story in Toronto was not preceded by rampant conjecture. The news, in fact, came out of nowhere on the afternoon of May 29, 1992. There was considerable speculation that Burns and Montreal GM Serge Savard would part company after four years. Though Burns had led the Canadiens to first place in the Adams Division during the 1991–92 season, his club was swept aside by Boston in the second round of the playoffs (after nipping Hartford in seven games). Burns had not been able to match his rookie performance behind the bench (in 1988–89) when he guided the Habs to the Stanley Cup final, losing in six to Calgary.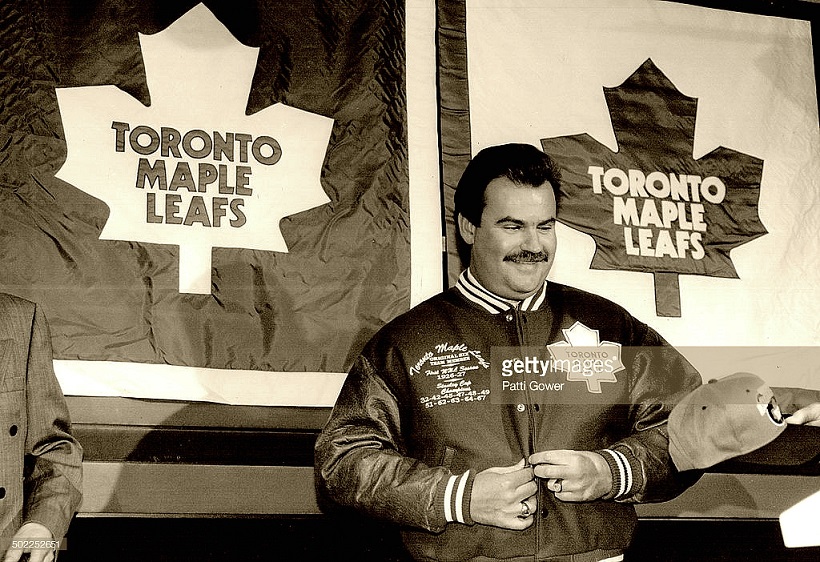 PAT BURNS SMILES AS HE TRIES ON HIS NEW LEAFS JACKET 25 YEARS AGO THIS AFTERNOON.
Tom Watt was (and is) a hockey lifer, but he couldn't do much with a lousy team in '91–92. The Leafs were an abominable 10–25–5 at the midway point of the schedule (Dec. 30) and were still reeling from a 12–1 obliteration at Pittsburgh four nights earlier. On Jan. 2, 1992, Fletcher acquired Doug Gilmour from Calgary in a record ten–player trade and the Leafs improved to 20–18–2 in the second half of the season. Included, was an 8–1–0 hot streak from Jan. 23 to Feb. 11. But, a killer, 4–1 loss to the expansion San Jose Sharks (14–47–5) on Mar. 8 — an afternoon game at the Cow Palace in San Francisco — proved the club was not playoff–worthy. And, it became all–but certain Fletcher would change coaches before the 1992–93 season.
Burns provided the Leafs the same credibility behind the bench that Fletcher had in the executive suite upon being hired from Calgary in June 1991. The '92–93 Leafs were average in every way through the first half of the season — 16–17–7 after 40 games. Then, something clicked unlike never before in club history. Gilmour went wild, establishing team records for assists (95) and points (127). Dave Andreychuk, acquired from Buffalo on Feb. 2, erupted for 25 goals in 31 games alongside Gilmour to finish with 54 on the season. The blazing–hot Leafs went 18–3–3 in 24 games between Feb. 11 and Apr. 3 to finish the 84–game schedule with 99 points — a franchise–record 32–point improvement from '91–92. But, the best was yet to come.
An almost–ethereal playoff jaunt of 21 games in 42 nights landed the Leafs within 10 minutes of the 1993 Stanley Cup final. Game 7 victories over Detroit and St. Louis put the Leafs up against Wayne Gretzky and the Los Angeles Kings for the Campbell Conference championship. It, too, went the limit and Gretzky recorded a hat–trick in the decisive match at Maple Leaf Gardens, a 5–4 L.A. victory. The playoff run featured an overtime goal by rookie Nikolai Borschevsky that eliminated the Red Wings at Joe Louis Arena and a remarkable, double–overtime, two nights later, in the opener of the St. Louis series. Curtis Joseph stopped more than 60 shots but could not corral Gilmour's helter–skelter wrap–around from behind the net.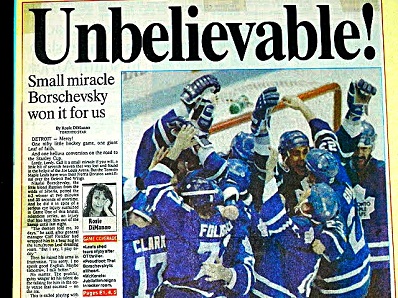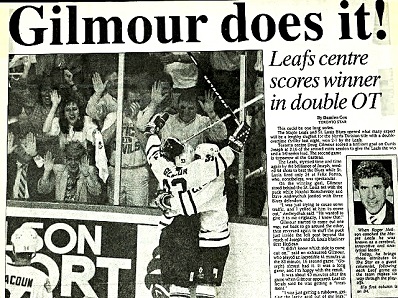 At season's end, Burns won the Jack Adams Award as NHL coach–of–the–year while Gilmour copped the Frank J. Selke Trophy as top defensive forward. The '92–93 Maple Leafs season remains the most memorable of the post–1967 era; the closest the team has come to playing for the Stanley Cup since its last victory. And, the party began 25 years ago today, when Pat Burns came aboard from Montreal.
Burns later coached in Boston and New Jersey, winning the Stanley Cup in 2003. Shortly thereafter, he was diagnosed with colon cancer, which ultimately took his life, at 58, on Nov. 10, 2010.
He was inducted posthumously into the Builders' wing of the Hockey Hall of Fame on Nov. 24, 2014.
HOW TIMES HAVE CHANGED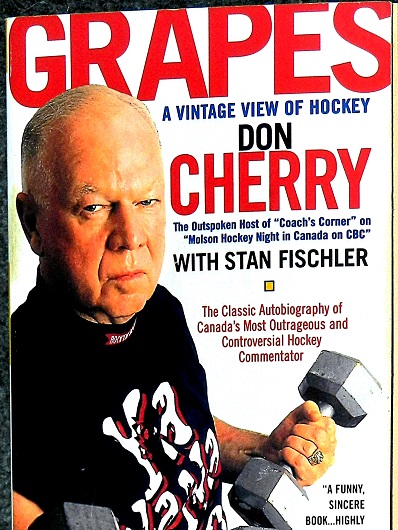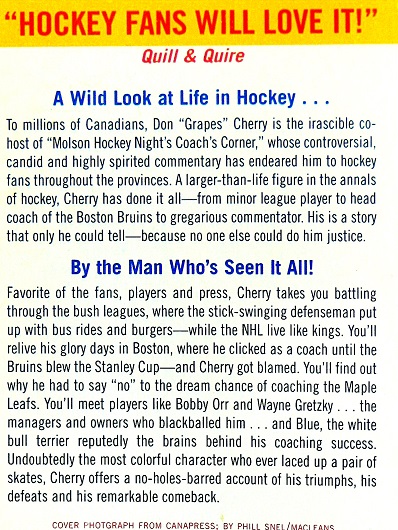 Toronto Blue Jays center–fielder Kevin Pillar made international news a couple of weeks ago when TV cameras in Atlanta caught him mouthing a homophobic slur at Braves pitcher Jason Motte. Though contrite afterward and rather mortified by his choice of words, Pillar accepted a two–game suspension by the club.
This situation came to mind as I re–read Grapes — Don Cherry's best–selling autobiography from 1982. Times were much different back then and neither Cherry nor his co–author, Stan Fischler, likely thought twice about including the paragraph circled below — as Cherry described his wardrobe for returning to Boston Garden as coach of the Colorado Rockies on Dec. 2, 1979 (a 5–3 Colorado upset):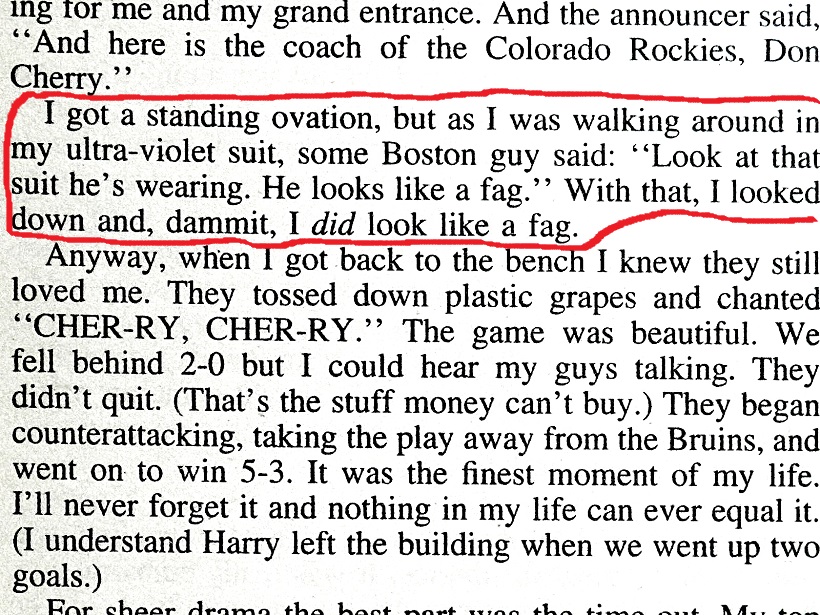 Kevin Pillar used the same word on the baseball field in Atlanta and was pilloried on both sides of the border. But, the crass synonym for a homosexual male was hardly unacceptable 35 years ago.
SKY / WEATHER PHOTOS
Man cannot strive on hockey alone. Especially while living in a 14th–floor apartment with a large balcony that offers an unobstructed view to the north. Such has been my lot here in Toronto since July 2013. I discovered that a private balcony and a NIKON Coolpix P–500 camera were wonderful mates — allowing me to photograph the rising and setting sun and all manner of weather hysteria from my midtown perch. The majority of these images have been posted on my Facebook page, prompting many to forget that I ever worked in radio or covered the Leafs. I went through my collection of photos and picked out 25 of the best:

AS MENTIONED, THE WEATHER CAN BECOME NASTY IN THESE PARTS, BUT OFTEN IN A SPECTACULAR WAY — SUCH AS THE LINE OF THUNDERSTORMS (ABOVE) THAT PASSED NORTH OF THE CITY LAST WEEK. OR, THE SOLITARY STORM–CLOUD (BOTTOM–LEFT) THAT OPENED WITH A DELUGE.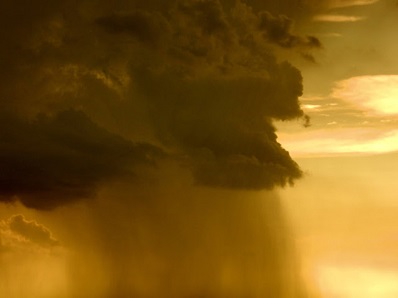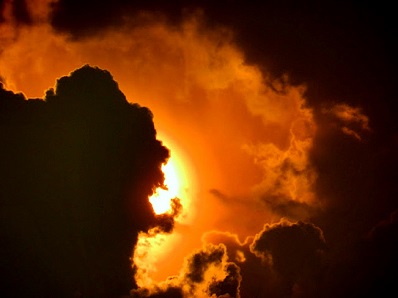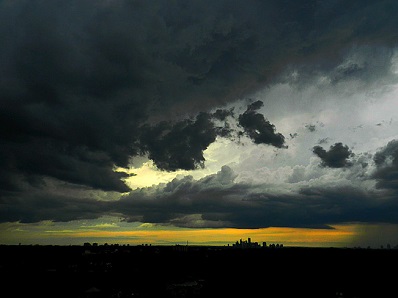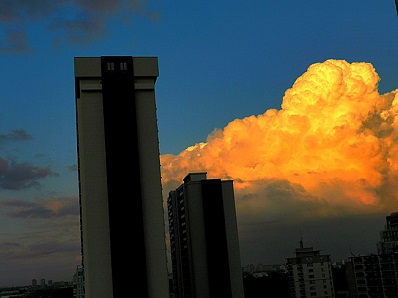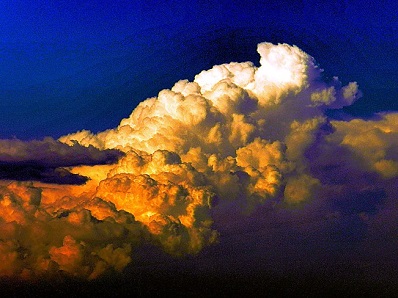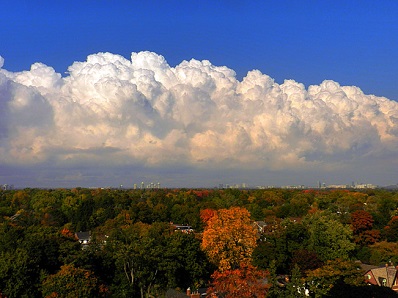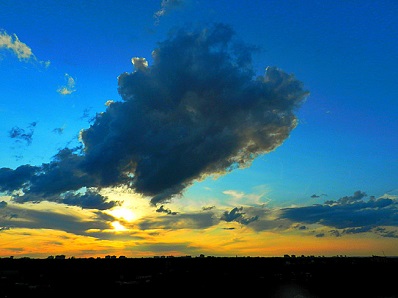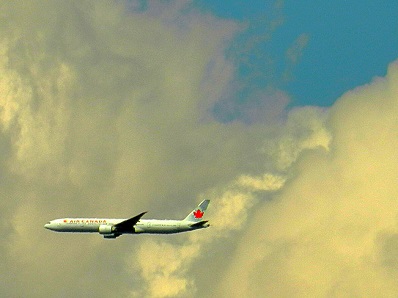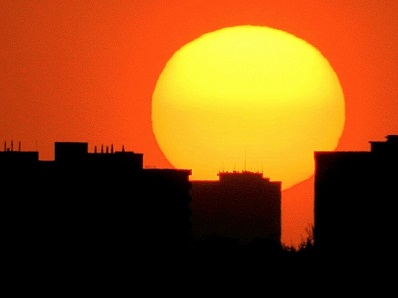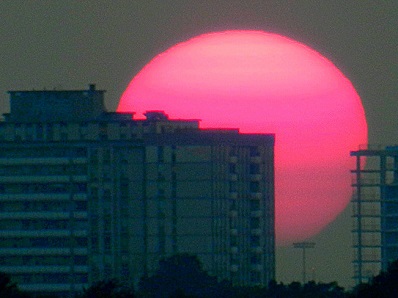 THE SUN SETS IN DIFFERING SHADES, DEPENDING ON SKY CLARITY AND THE TIME OF YEAR. WHEN SETTING (OR RISING) THROUGH HAZE, THESE IMAGES (ABOVE AND BELOW) OFTEN RESULT.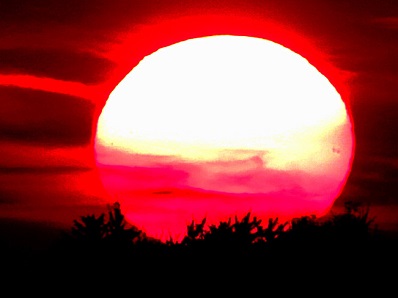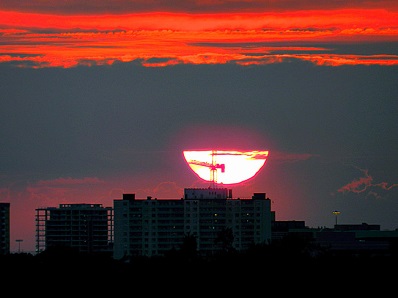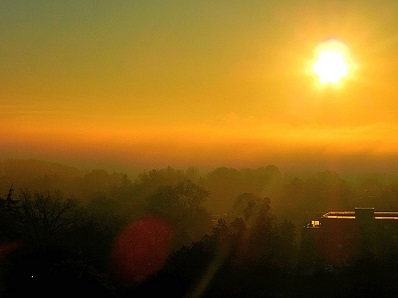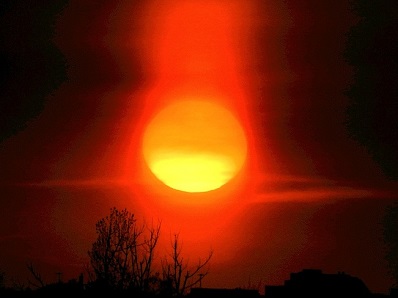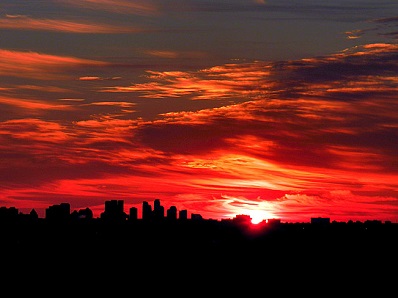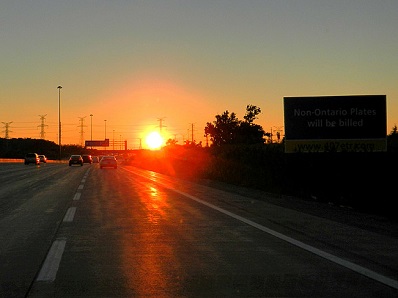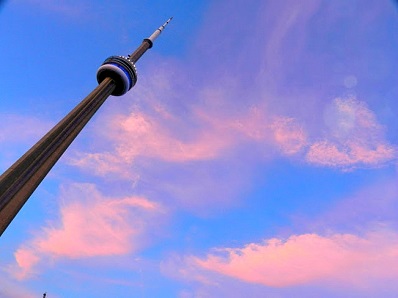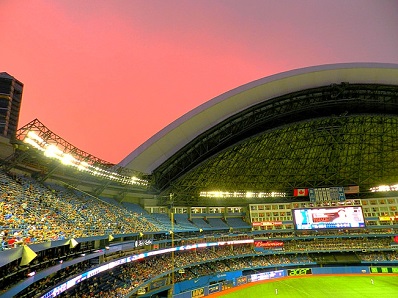 OCCASIONALLY, THE SUMMER SKY GETS RATHER PRETTY AT A TORONTO BLUE JAYS GAME (ABOVE).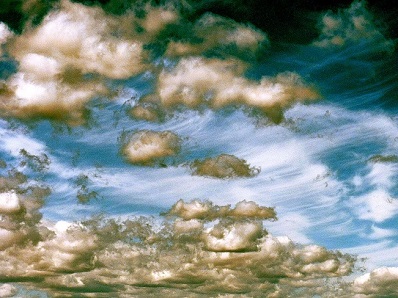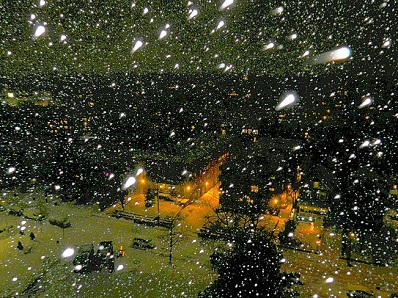 WINTER ULTIMATELY ARRIVES WITH SCATTERED CLOUD AND SNOWFLAKES (TOP–RIGHT) THAT ILLUMINATE IN A CAMERA'S FLASH. MORNINGS CAN BE GOLDEN (BOTTOM–LEFT), BUT TRY TO AVOID GETTING STUCK ON HIGHWAY 400 SOUTH OF BARRIE, ONT. IN A SNOW–SQUALL.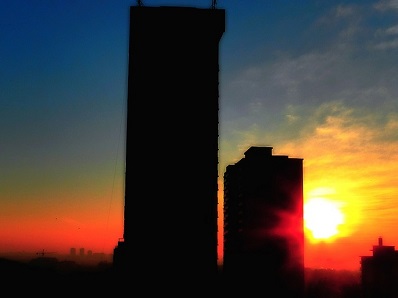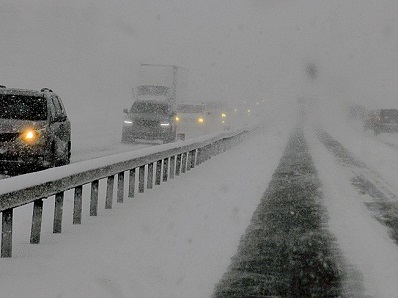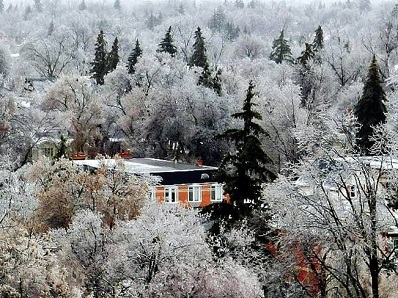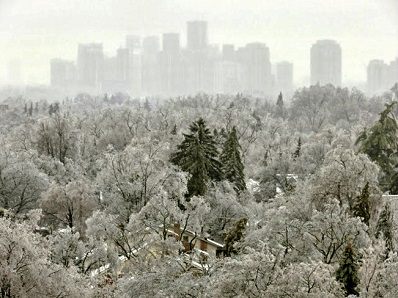 PERHAPS MY TWO MOST–SPECTACULAR IMAGES — FROM MY BALCONY ON DEC. 22, 2013, IN THE AFTERMATH OF THE MASSIVE ICE STORM THAT STOPPED OUR CITY IN ITS TRACKS.
EMAIL: HOWARDLBERGER@GMAIL.COM