TORONTO (May 9) — If you are wondering, in part, how the dramatic improvement of the Toronto Maple Leafs has influenced their loyal fans, consider this: While reacting, en masse, to a blog I wrote over the weekend, the majority of readers claimed they would not trade William Nylander to Los Angeles straight–up for Drew Doughty. You read that correctly. Maple Leaf zealots today would not accept one of the top–five defensemen in the National Hockey League — the defending Norris Trophy recipient and a two–time Stanley Cup winner — in a one–for–one swap involving Nylander, who scored 22 goals this season.
So much for what I expected. In the blog, I merely wondered if the new Kings' management — led by GM Rob Blake — would consider a dramatic change after the club missed the playoffs in consecutive years. Given that L.A.'s attack was sluggish this season, and the Leafs almost–certainly will not move into legitimate contention without a Norris Trophy threat, I proposed a trade of Nylander; defense prospect Travis Dermott, plus first and third–round draft picks for Doughty — at 27 years of age, in the prime of his brilliant career. If anything, I figured people would call me crazy for suggesting the Kings agree to such a deal. Instead, I was pilloried for mentioning Nylander to Los Angeles…  by himself. Forget about Dermott and the draft picks.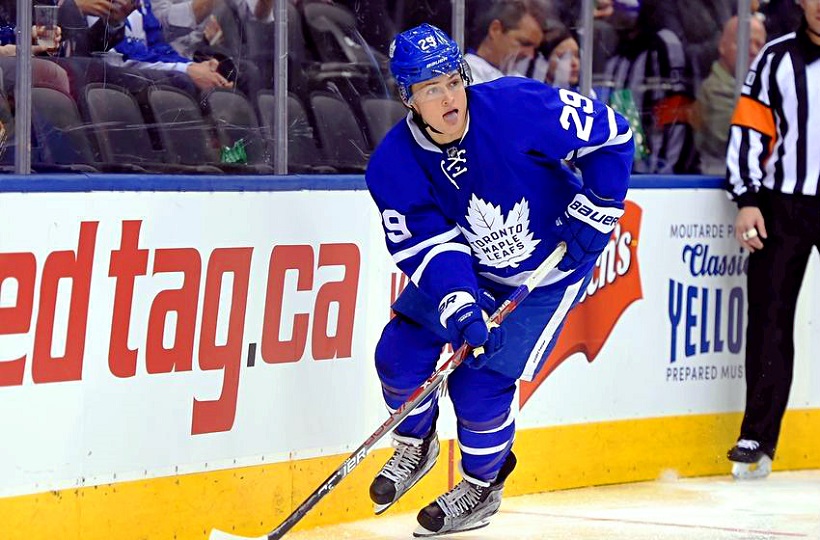 IT APPEARS LEAF FANS WOULDN'T TRADE WILLIAM NYLANDER FOR GOD. DAN HAMILTON USA TODAY

Here are email replies that range from sensible to absurd:
No way Nylander is getting traded; definitely not now. Maybe JVR, a first and more. But, not Nylander.
They would be crazy to do that.
It will take more than that. It took Taylor Hall (top–scoring LW over past three years) to get Adam Larsson. It will take Marner. And, a bad contract, too.
EDWIN RETURNS TO 'DOME
After an off–season episode that was botched by all sides, Edwin Encarnacion returned to our city on Monday needlessly in the uniform of the Cleveland Indians. It still boggles the mind that Encarnacion and the Toronto Blue Jays were unable to find common ground on a new contract, given the player and the team were looking to re–up. As it were, double–E took his booming lumber from the shore of Lake Ontario to that of Lake Erie. Like the team he left, Edwin has been sluggish early in the 2017 Major League Baseball season, but is certain to heat up with the weather. A crowd of 40,014 — roughly 8,000 shy of a sell–out — watched on Monday as Encarnacion went 2–for–3 with a walk and strikeout in the Blue Jays 4–2 victory.
I was at the game with my son, Shane, and my trusty NIKON: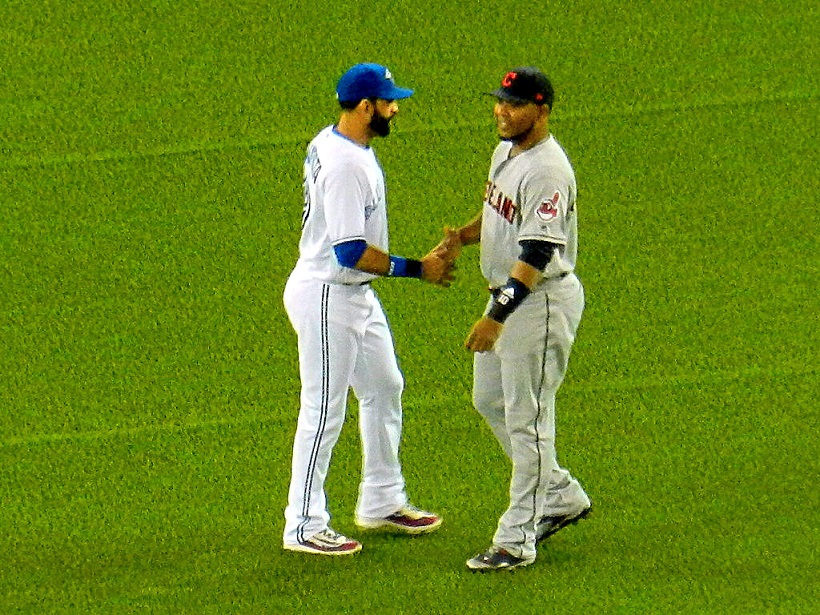 WHILE RUNNING WIND–SPRINTS PRIOR TO THE BALL GAME, ENCARNACION (RIGHT) WAS GREETED IN CENTER–FIELD BY FORMER SLUGGING MATE JOSE BAUTISTA OF THE BLUE JAYS.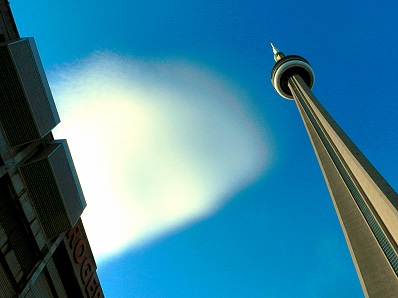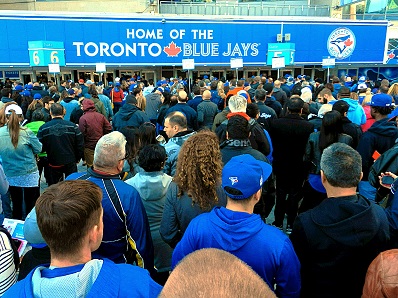 A LONE, WISPY CLOUD HOVERED OVER ROGERS CENTRE AND THE C.N. TOWER AS FANS ENDURED THE UBIQUITOUS SECURITY LINE–UPS OUTSIDE GATES 5 AND 6.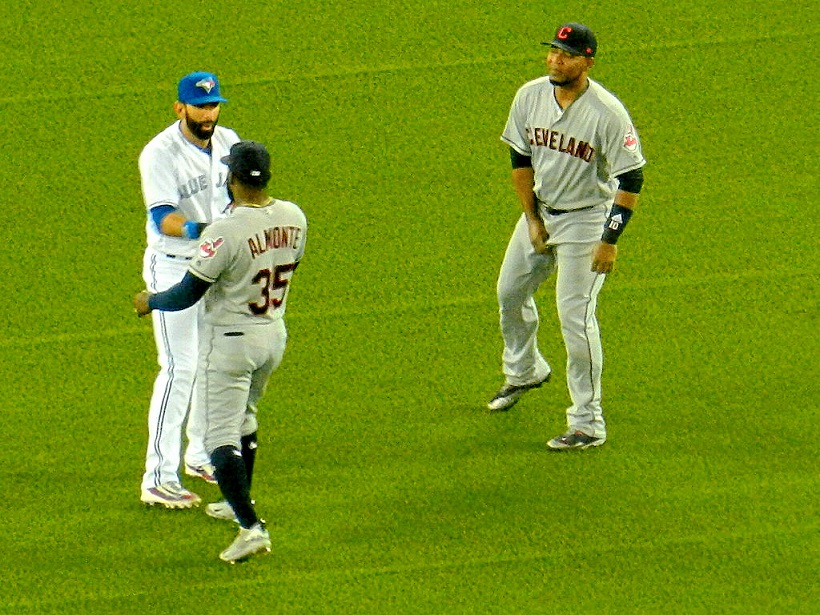 EDWIN CHECKED HIS "BELONGINGS" WHILE BAUTISTA SHOOK HANDS WITH ABRAHAM ALMONTE.
FIRST AT–BAT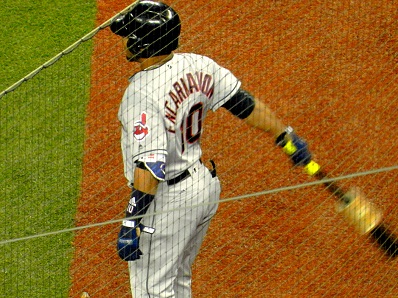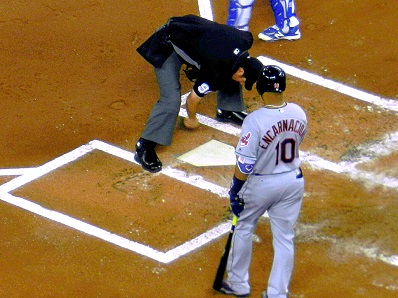 ENCARNACION BEGAN THE CLEVELAND SECOND WITH AN INFIELD SINGLE THAT DEFLECTED OFF BLUE JAYS STARTER MARCUS STROMAN. HE THEN TOOK A LEAD BESIDE EX–TEAMMATE JUSTIN SMOAK.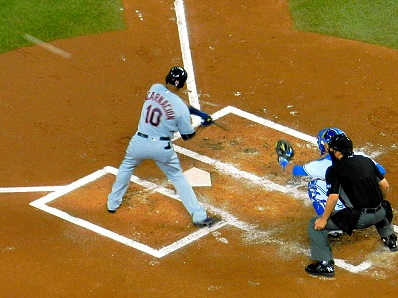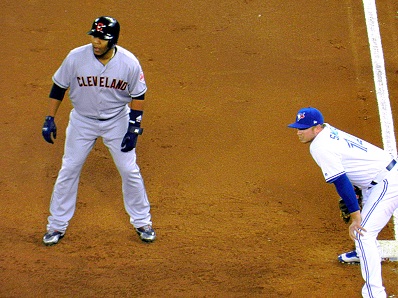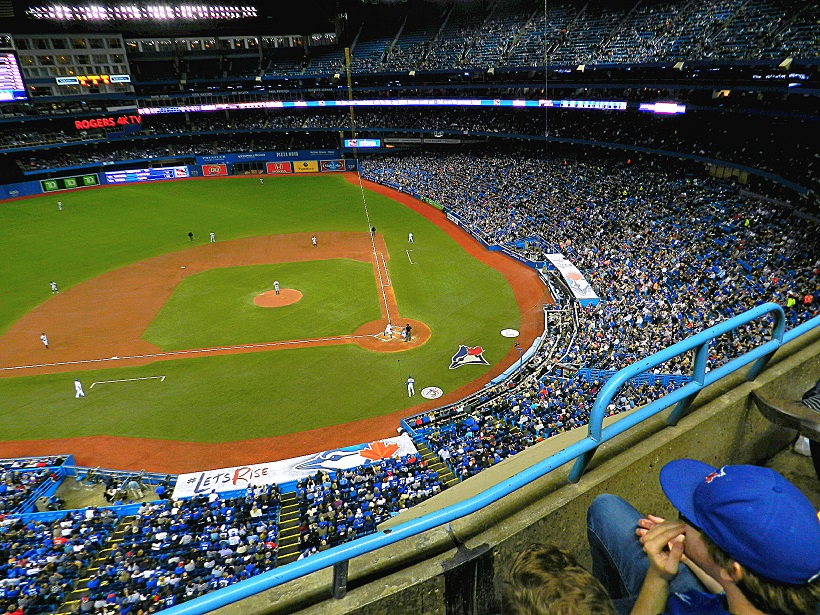 WIDE–ANGLE VIEW FROM SEC. 527, ROW 2 OF THE UPPER–DECK.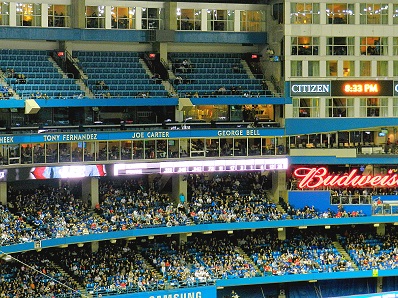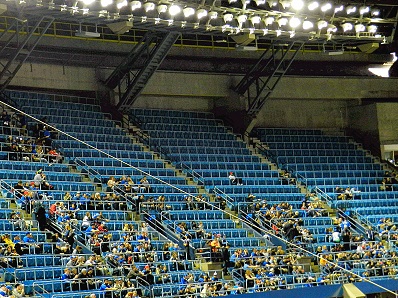 THE 100 AND 200 LEVELS OF ROGERS CENTRE WERE FILLED TO CAPACITY, THOUGH THERE WERE LARGE BLOCKS OF EMPTY SEATS IN THE FIFTH LEVEL, DOWN THE LINES.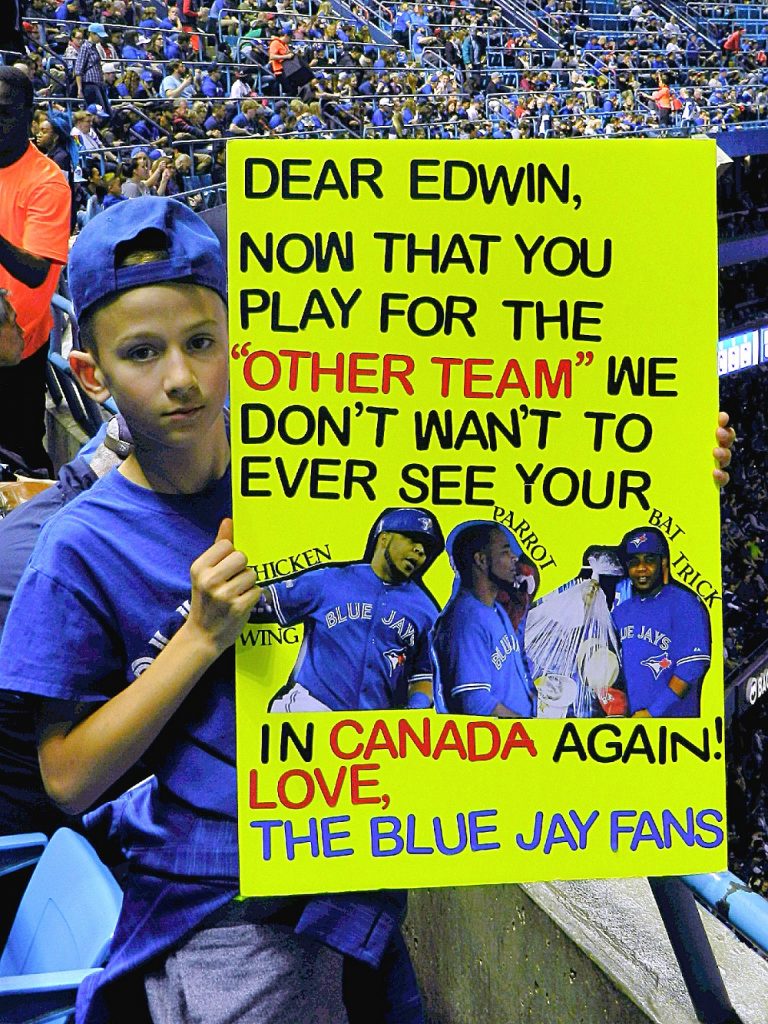 A YOUNG, CREATIVE FAN SITTING IN FRONT OF ME FLASHED HIS ARTWORK.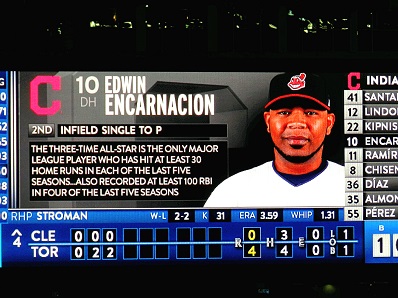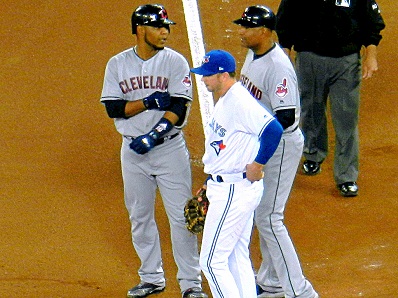 ENCARNACION SINGLED AGAIN IN THE FOURTH INNING AND WAS ERASED ON A DOUBLE–PLAY.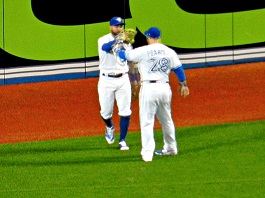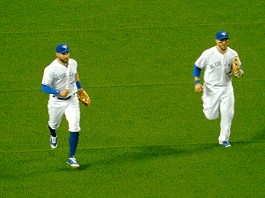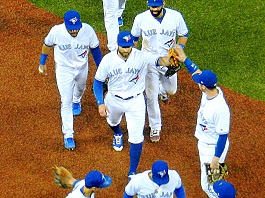 BLUE JAYS CENTER–FIELDER KEVIN PILLAR ADDED TO HIS HIGHLIGHT–REEL OF BRILLIANT CATCHES WITH AN ALL–OUT DIVE TOWARD THE FENCE IN THE SIXTH THAT ROBBED JOSE RAMIREZ OF EXTRA BASES AND SAVED TORONTO A PAIR OF RUNS. PILLAR WAS CONGRATULATED NEAR THE WARNING TRACK BY LEFT–FIELDER STEVE PEARCE AND THEN MET BY TEAMMATES NEAR THE DUGOUT.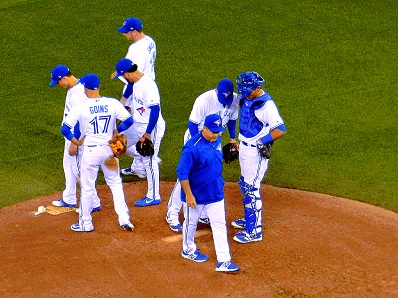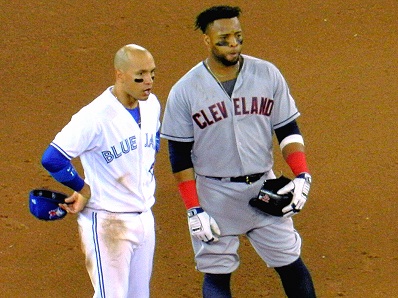 JOHN GIBBONS MADE A PITCHING CHANGE IN THE EIGHTH WHILE RYAN GOINS OF THE BLUE JAYS CHATTED WITH CARLOS SANTANA OF CLEVELAND, WHO HAD DOUBLED OFF RELIEVER DANNY BARNES.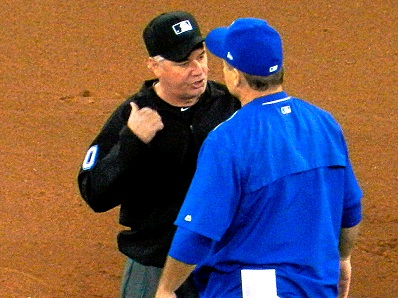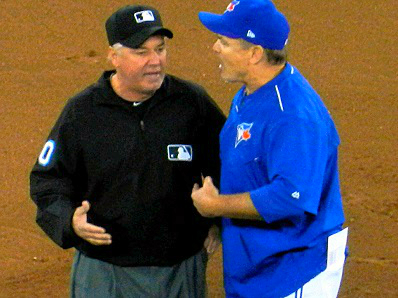 AFTER AN INTERFERENCE RULING AGAINST 2B DEVON TRAVIS OF THE BLUE JAYS, GIBBONS ARGUED AND WAS EJECTED FROM THE GAME BY SECOND–BASE UMPIRE VIC CARAPAZZA.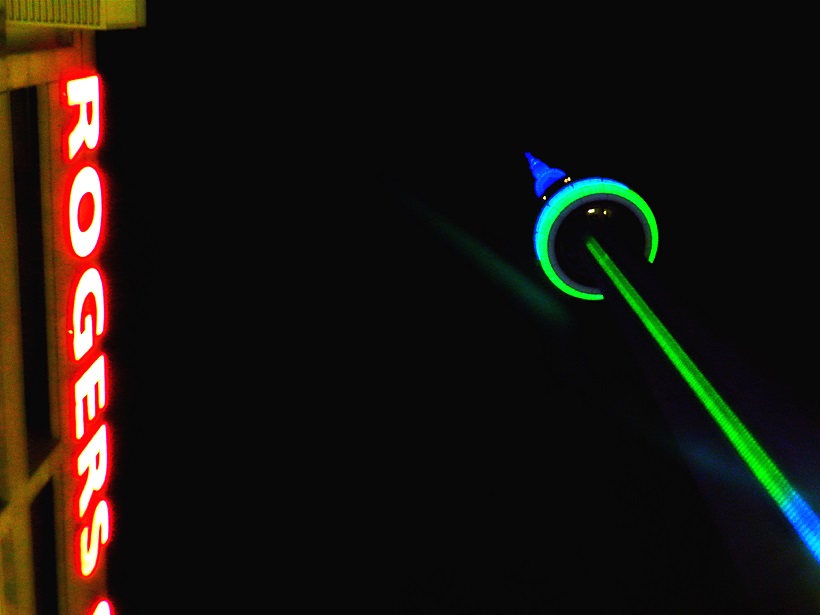 THE ROGERS CENTRE AND C.N. TOWER, BOTH ILLUMINATED AFTER THE GAME.
EMAIL: HOWARDLBERGER@GMAIL.COM