TORONTO (May 2) — It is far from the worst time since 1967 to remind fans of the Toronto Maple Leafs that their club, today, becomes the second to endure a calendar half–century without the Stanley Cup.
Yes, it was 50 years ago tonight — May 2, 1967 — at Maple Leaf Gardens that the team coached by Punch Imlach; captained by George Armstrong; backstopped by Terry Sawchuk and led, in every other way, by Dave Keon, vanquished Montreal in Game 6 of the Stanley Cup final. The 3–1 Toronto victory marked the last moment of the six–team National Hockey League. When the games next counted, just more than five months later, the NHL had doubled in size, adding the California Seals, Los Angeles Kings, Minnesota North Stars, Philadelphia Flyers, Pittsburgh Penguins and St. Louis Blues. All expansion entries other than St. Louis have since captured the Stanley Cup (one way or another). Should the Blues fail to do so this spring or next, they will become the third NHL club to span a calendar half–century without winning a championship.
Only the New York Rangers suffered longer — going 54 years before their 1994 Stanley Cup.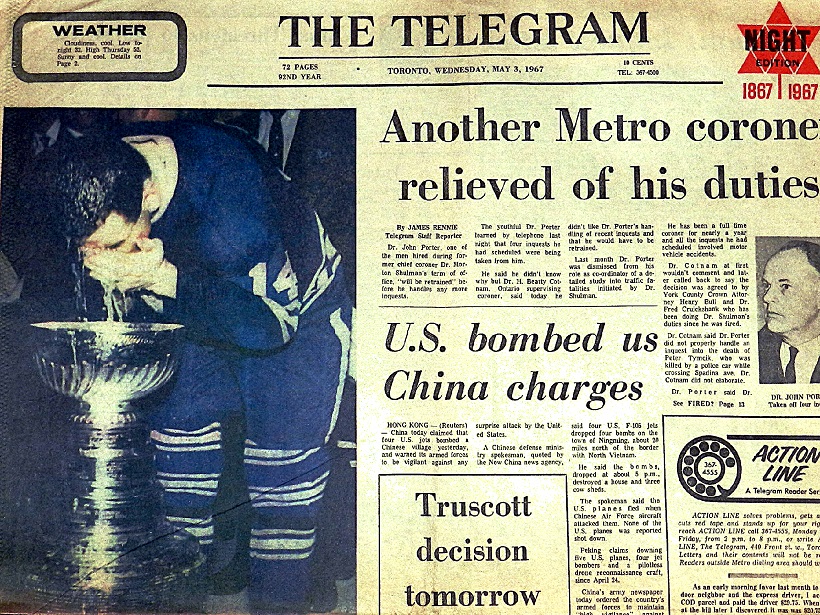 FRONT OF THE OLD TORONTO TELEGRAM ON MAY 3, 1967, THE DAY AFTER LEAFS WON THEIR MOST–RECENT STANLEY CUP. CONN SMYTHE TROPHY RECIPIENT DAVE KEON "WASHES" WITH CHAMPAGNE IN A RARE (AT THE TIME) COLOR PHOTO. THE TELEGRAM CEASED OPERATION ON OCT. 30, 1971.
Given the Maple Leafs appear to be on a franchise upswing, this is not as sorry a reminder as in most years since 1967. There is genuine optimism among fans of the hockey club that the Mike Babcock–coached team — featuring Auston Matthews, Mitch Marner, William Nylander, Nazem Kadri and Frederik Andersen — will ultimately challenge for the NHL title. Other Leaf eras of the past 50 years have offered similar hope: the 1975–1978 team of Darryl Sittler, Lanny McDonald, Borje Salming, Ian Turnbull and Mike Palmateer; the 1993–1994 outfit that featured Pat Burns, Doug Gilmour, Dave Andreychuk, Wendel Clark and Felix Potvin and the 1998–2002 club of Pat Quinn, Mats Sundin, Curtis Joseph, Gary Roberts and Darcy Tucker. None, however, made it past the Stanley Cup semifinals. The 1993 team was tied with Los Angeles late in the third period of Game 7 in the Conference final at Maple Leaf Gardens before Wayne Gretzky took over.
The Kings prevailed, 5–4, thus precluding a Cinderella Toronto–Montreal clash for the championship.
Some Leaf observers remain convinced that Toronto and St. Louis share the longest Cup drought. But, that's ridiculous. The Blues weren't yet part of the NHL when the Leafs last prevailed. St. Louis played its first–ever game on Oct. 11, 1967 and more than a full calendar year passed before the Blues were eliminated by Montreal in the 1968 Stanley Cup final (May 11) — the first spring St. Louis was eligible to complete. That's why the Blues can match Toronto's drought only by failing to win the Cup this spring and next.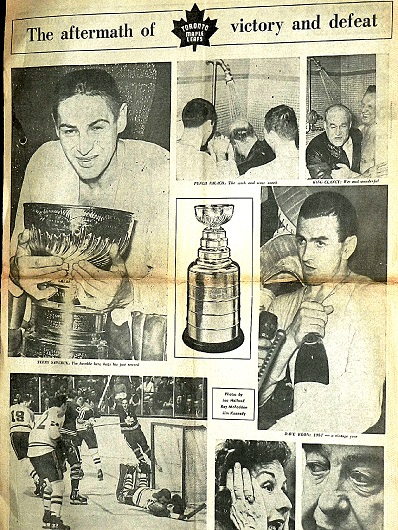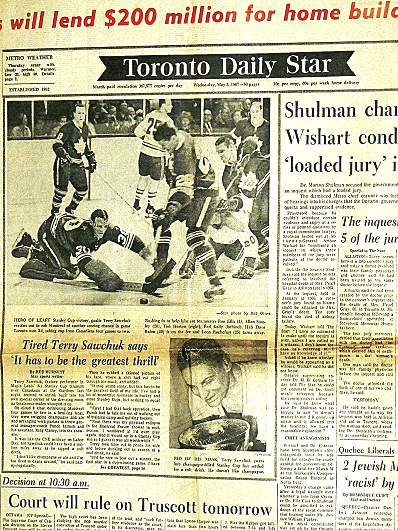 Toronto hasn't yet played for the Stanley Cup since its last triumph.
As mentioned, all of the 1967 expansion teams but St. Louis have won the NHL championship. Philadelphia (1974–1975), Pittsburgh (1991–1992–2009–2016) and Los Angeles (2012–2014) did so in their original cities. The California Seals/Minnesota North Stars achieved the goal in 1999 as the Dallas Stars. After nine fruitless years in Oakland, the Seals moved to Richfield, Ohio in 1976–77 as the Cleveland Barons. Two seasons later, in 1978–79, the Barons merged with the North Stars. In 1993, the North Stars relocated from Bloomington, Minnesota to Dallas. While still in Minnesota, the North Stars made it to the 1981 Stanley Cup final, losing to the New York Islanders. Each of the '67 expansion clubs has been to Cup final at least three times.
Teams added to the NHL since 1967 have accounted for 18 Stanley Cup titles.
Edmonton (1979–80) leads the way with five. The New York Islanders (1972–73) have four. The Kansas City Scouts (1974–75) have three, all as the New Jersey Devils. The Quebec Nordiques (1979–80) have won twice as the Colorado Avalanche. The Atlanta Flames (1972–73) have prevailed once in Calgary, as have the Hartford Whalers (1979–80) in Carolina. Tampa Bay (1992–93) and Anaheim (1993–94) each have one title.
Most disappointingly for the Leafs is that their five pre–expansion brethren have combined to win 20 Stanley Cups since '67. Montreal has 10; Detroit four; Chicago and Boston three; New York Rangers one.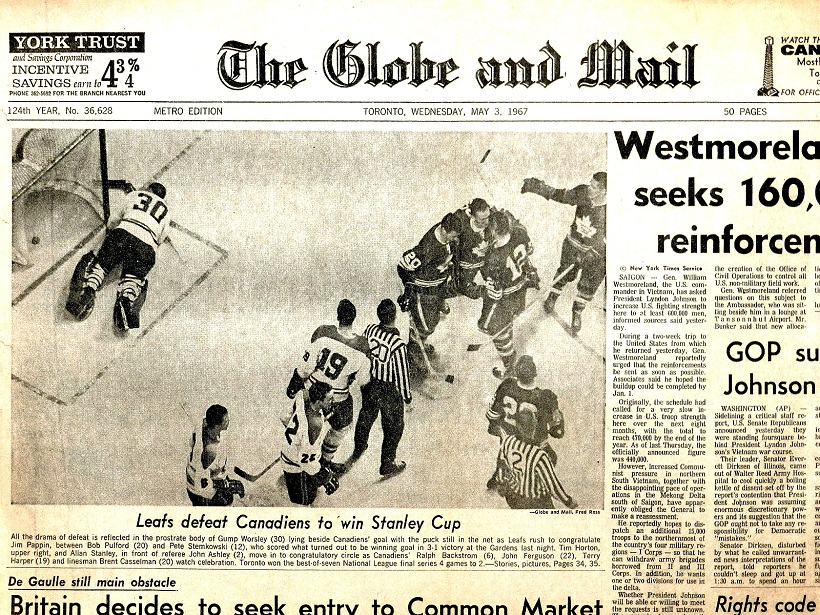 STEMKOWSKI'S HUMOR
He is 73 years old and among the babies of the last Toronto Maple Leafs Stanley Cup team.
Peter Stemkowski finished second in scoring (to line–mate Jim Pappin) with 12 points in 12 games during the 1967 Stanley Cup playoffs. Today, he resides in Long Beach, N.Y. and is bent out of shape over the Rangers trailing Ottawa, 2–0, in their Eastern Conference semifinal. He'll be at Madison Square Garden later tonight for Game 3 of the series… on the 50th anniversary of his lone NHL championship.
"Yes, it does feel like 50 years ago — especially when the players from that team get together," Stemkowski insisted over the phone yesterday. "We were all up in Toronto for that Centennial Classic thing in January. Jeez, guys were coming out in wheelchairs and walkers. Brendan Shanahan said "this is the last reunion for [the '67] team." No sh–! What, are we gonna have a 60th? Johnny Bower will be 102. Red Kelly will be 99. I'll be friggin' 83 and the youngster of the group. So, yeah, we probably got together for the last time in January.
"But, what a wonderful bunch of fellows."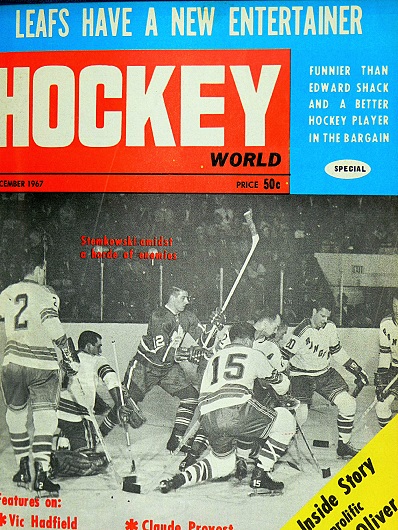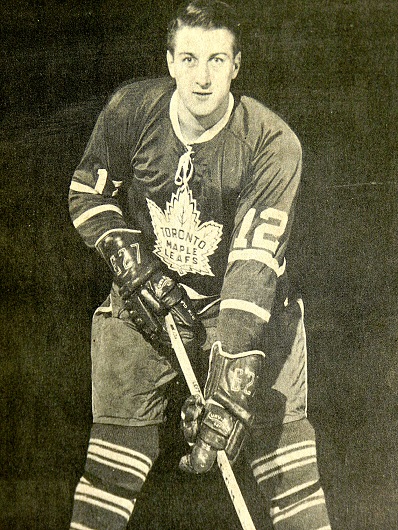 THE LEAFS "NEW ENTERTAINER" WAS PROFILED IN THE DECEMBER 1967 ISSUE OF HOCKEY WORLD.
Stemkowski has always been known — and tolerated — for his gallows sense of humor. He was the only young player on the mid–60's Maple Leafs that had the nerve to mock Terry Sawchuk's delicate gait.
"Ukey shuffled along like a really old man — all bent over," Stemkowski recalled of the temperamental Hall–of–Fame goalie. "I used to sneak up beside and mimic him. He'd look over, smile, and shake his head. For whatever reason, he allowed me to do it. I got along well with Terry. He wasn't the Good Humor Man."
Should you wish to have a brief conversation with Stemkowski, do not bring up the age of his 1967 teammates. "How old is Johnny Bower?" Stemmer asked. "He walked by a cemetery the other day and two guys started chasing him with shovels. I hear that Red Kelly was in Las Vegas a few weeks ago, playing the slot machines. He pulled the lever and four prunes came out. Yeah, we had an older group, no doubt.
"And, most of us are still around."
Indeed they are. Of the 20 players that suited up against Montreal in the 1967 Stanley Cup final, only seven are deceased. Sawchuk died young, in May 1970. Tim Horton was killed in a single–car mishap in February 1974. Marcel Pronovost, Milan Marcetta, Aut Erickson, Allan Stanley and goalie Al Smith succumbed to natural causes. Though Bower was hobbling on a pulled hamstring and could not play in Game 6, Punch Imlach insisted he dress fully and sit on the bench. Smith was also in uniform — stashed in the Hockey Night In Canada TV studio, were Sawchuk to be injured. Still alive from the '67 Leafs are Bower, 92; Larry Hillman, 80; Kelly, 89; Ron Ellis, 72; George Armstrong, 86; Stemkowski, 73; Dave Keon, 77; Mike Walton, 72; Jim Pappin, 77; Bob Pulford, 81; Bob Baun, 80; Brian Conacher, 75; Eddie Shack, 80 and Frank Mahovlich, 79.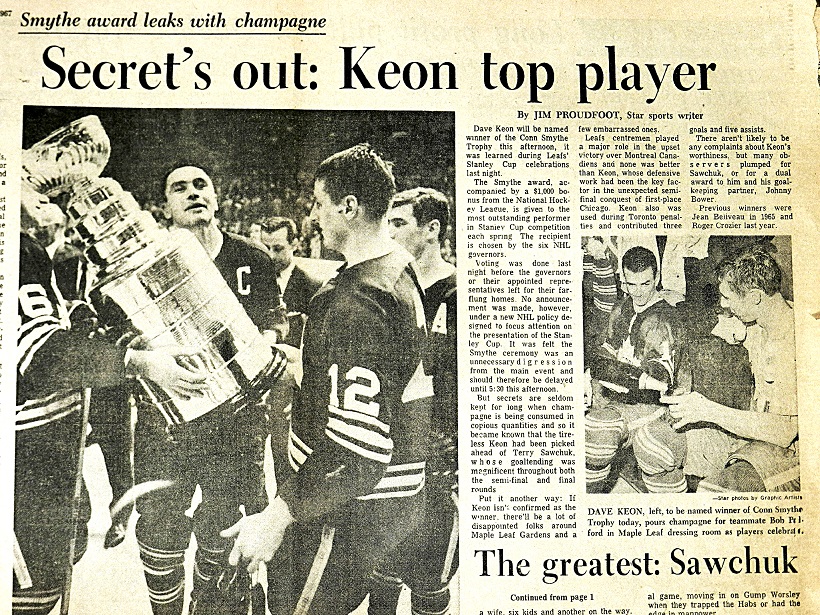 FROM THE TORONTO STAR OF MAY 3, 1967: PETER STEMKOWSKI (12) TOUCHES BOTTOM OF THE STANLEY CUP WHILE THE TROPHY IS IN THE ARMS OF MAPLE LEAFS CAPTAIN GEORGE ARMSTRONG.
30th ANNIVERSARY VIDEO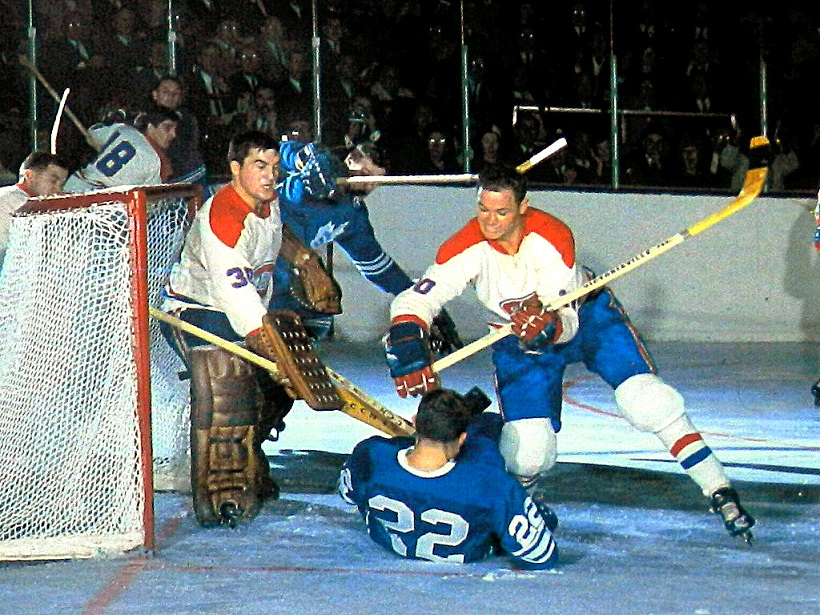 On May 1, 1997, members of the 1967 Stanley Cup team united in Toronto for a 30th anniversary dinner in support of Down Syndrome. I attended the pre–dinner activity, as the players gathered for a photo–op. Among those in this brief video I shot are Eddie Shack, Bob Baun, Marcel Pronovost, Johnny Bower, Frank Mahovlich, Dave Keon, Jim Pappin, Peter Stemkowski, Larry Hillman, Mike Walton and Larry Jeffrey… 
And, here is a film — set to music — taken by a fan sitting in the Red seats at ice level on the west side of Maple Leaf Gardens 50 years ago tonight… http://bit.ly/2p33rYb.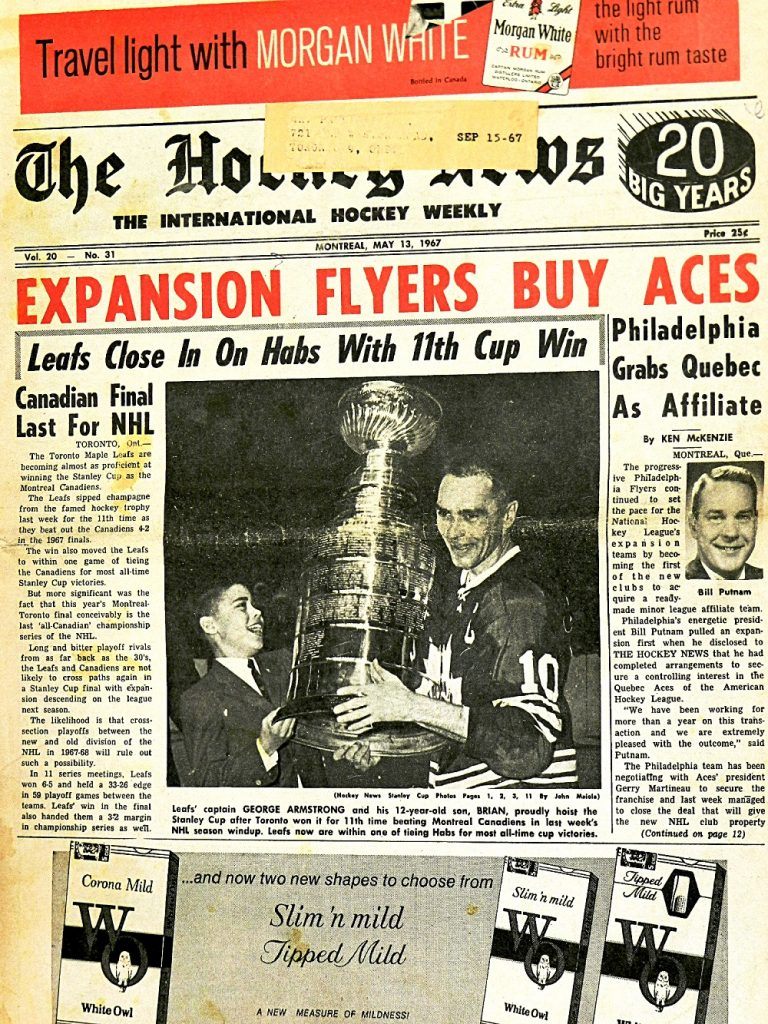 COVER OF THE HOCKEY NEWS AFTER THE MAPLE LEAFS STANLEY CUP WIN. AND, THE SUMMARY (BOTTOM–RIGHT) FROM GAME 6 AT MAPLE LEAF GARDENS ON MAY 2, 1967.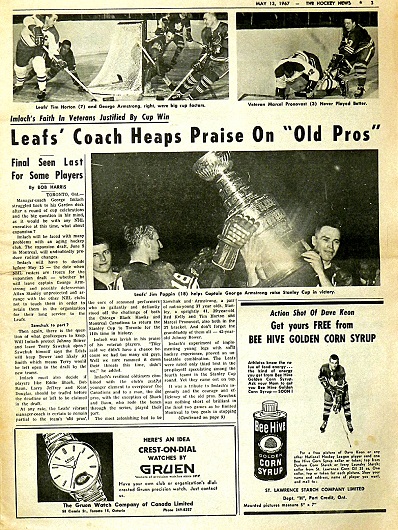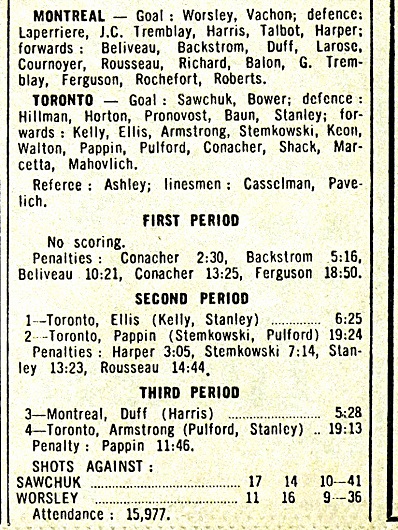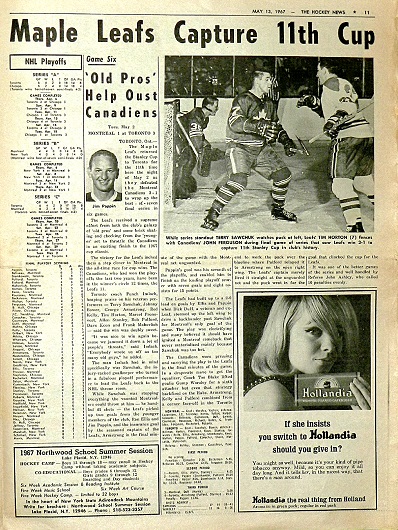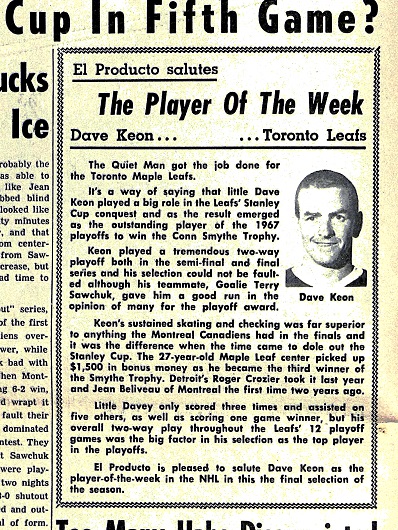 EMAIL: HOWARDLBERGER@GMAIL.COM