"Randy Carlyle can coach; Dion Phaneuf can play effectively with lots of ice time and Phil Kessel can score with the best of them. Individually, they would be sound elements of any team in the NHL. As a tandem, and as we've sufficiently witnessed, they couldn't lead a starving man to the dinner table."
TORONTO (May 11) — Yes, I wrote the above passage. Coincidentally, three years ago today (May 11, 2014), after Carlyle had been retained as coach by former general manager David Nonis.
In a blog entitled WHEN MIGHT THE TRILOGY END?
Now, fast–forward 36 months. There is a 75 percent chance that one of Carlyle, Kessel or Phaneuf will raise the Stanley Cup this spring. The flawed and failed nucleus of the 2012–2015 Toronto Maple Leafs represents three of the four remaining clubs in the 2017 playoffs: Anaheim, Pittsburgh and Ottawa.
Should the Ducks defeat Nashville in the Western Conference final, that percentage will rise to 100. Another Penguins triumph would allow Kessel to handle the mug for a second time in as many years.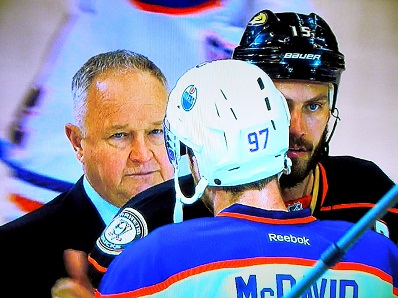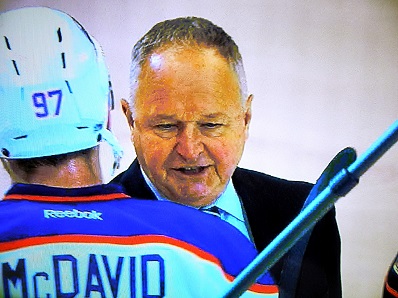 ANAHEIM COACH RANDY CARLYLE WAITS (LEFT) AS CAPTAINS RYAN GETZLAF AND CONNOR McDAVID SHAKE HANDS AFTER LAST NIGHT'S GAME 7 VICTORY BY THE DUCKS OVER EDMONTON AT THE HONDA CENTER. CARLYLE THEN GREETS McDAVID. SPORTSNET IMAGES
But, imagine not, Leafs fans. It would never have happened here. Or, anywhere else, for that matter. Not with Carlyle, Kessel and Phaneuf on the same National Hockey League payroll — one the coach; one the captain; one holding the big stick. This unhealthy amalgam oversaw several of the most humiliating moments in recent franchise history. In case you've forgotten — or are new to the local hockey scene — here is a gory reminder from the blog I wrote in this space 15 months ago (Feb. 10, 2016), entitled LEAFS TRIUMVIRATE DISSOLVED — FINALLY; posted the day after Lou Lamoriello traded Phaneuf to Ottawa:
It began with the collapse of February 2012 — a 1–9–1 free–fall that quickly destroyed a club competing not only for the playoffs, but for home–ice advantage in the opening round. Ron Wilson took the bullet after a 5–4 loss at Chicago on Feb. 29 and was replaced as coach by another ex–Leafs defenseman, Randy Carlyle.
Then came the sadly–Eureka moment for an entire generation of hockey fans in Toronto — the third–period melt–down in Game 7 of the Stanley Cup tournament, May 13, 2013. A 4–1 stranglehold on the Boston Bruins at TD Garden coughed up, resulting in a 5–4 overtime defeat and first–round elimination.
The final straw for yours truly was the late–season collapse of March/April 2014. Twelve regulation–time losses in 14 games to end the schedule. After a near–historic run for the franchise (15–4–3) between Jan. 12 and Mar. 13. Again, the Leafs plummeted from solid playoff footing. A dreadful piece of judgement by Carlyle — allowing Jonathan Bernier to tend goal at Los Angeles against his former team with an existing groin injury — removed the scathing–hot goalie for six games. It, alone, should have cost the coach his job.
Abject inability to perform in the clutch was a hallmark of the Leafs with Kessel, Phaneuf and Carlyle. Incredibly, and even with a new hockey president (Brendan Shanahan), this triumvirate returned for the start of the 2014–15 schedule. As if ordained by a higher force, all previous collapses became a footnote when the Leafs — after an inexplicable 10–1–1 romp through November and December — crumbled spectacularly. A 2–7–0 slide from Dec. 18 to Jan. 6 removed Part 1 of the failed nucleus. Carlyle was fired and replaced as interim coach by assistant Peter Horachek. The most shameful Toronto outfit in the post–Harold Ballard era greeted its new man behind the bench with a 1–11–1 mark, continuing the death–spiral.

Finally; mercifully, the Leafs had seen enough.

The arrival of Mike Babcock as coach last May 21 was accompanied by a clause — perhaps not written into his eight–year, $50–million contract, but surely agreed upon with Shanahan. Under no circumstance would Babcock step behind the Toronto bench with No. 81 still wearing blue and white. Otherwise, a homicide threatened. On July 1, Shanahan worked with interim-general manager Kyle Dubas and shipped Kessel to Pittsburgh. Coming back from the Penguins were the proverbial "five guys named Moe" and one legitimate prospect — Finnish forward Kasperi Kapanen. Part 2 of the failed Toronto nucleus was gone.
Part 3 survived seven further months of anticipated "pain."
Babcock had reportedly asked Ken Holland to acquire Phaneuf for the Detroit Red Wings at the trade deadline last season. God knows what the Leafs requested in return but it was far–too much. As such, Phaneuf careened precariously through the current schedule with a club that had no chance of venturing beyond the nether regions of the NHL. Four years of a $7 million cap hit remained on the defenseman's docket after this season. The prospect, therefore, of completely excising the failed nucleus appeared dim. Then came a Leafs trip to Ottawa last weekend and a gathering of veteran GM's. Lou Lamoriello and Bryan Murray worked out a complicated array of salary dumps that resulted in Phaneuf becoming a Senator.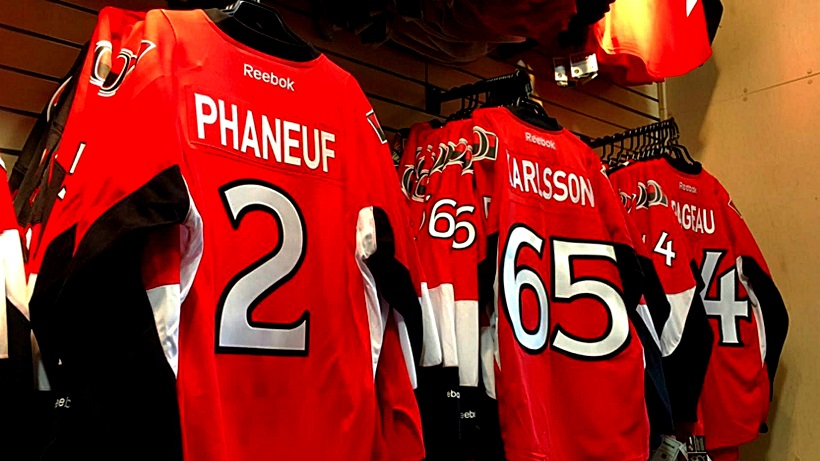 With that, a six–and–a–half–year chapter of hockey hell ended here in Toronto. It began Sep. 18, 2009 when Brian Burke traded a pair of first–round draft choices to Boston for Kessel (one of them infamously becoming prolific scorer Tyler Seguin); continued Jan. 31, 2010 when Burke cleaned house and acquired Phaneuf in a multi–player deal with Calgary, and ended yesterday on the 16th anniversary of Pat Quinn trading for the popular Darcy Tucker (Feb. 9, 2000 from Tampa Bay for future TSN star Mike Johnson).
Only now, can the Maple Leafs truly begin to move forward with the "Shanaplan."
So, yes, the promising Maple Leafs team today is largely the result of addition by subtraction. The muted response to Phaneuf signing his seven–year, $49–million contract extension on New Year's Eve 2013 — as the Leafs were in Ann Arbor, Mich. to play Detroit in the Bridgestone Winter Classic — spoke volumes. It portended doom for the Blue and White; stagnating the careers of the captain, the coach and the sniper.
Today, all parties are happy. Including the NHL's most–resilient fan–base.
THE SAME MOVIE — AGAIN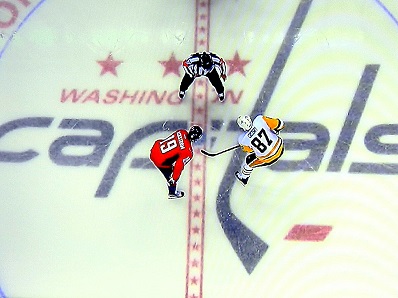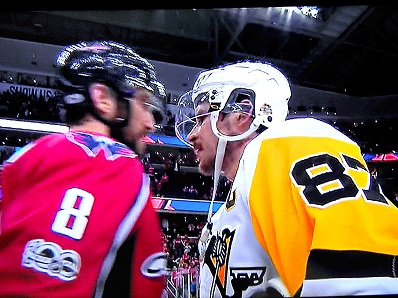 You've got to believe that fans of the Washington Capitals slept fitfully overnight, dreaming about rivers, steel and guys named Sid. Each year, at this time, those poor souls watch a re–run of The Wizard of Oz, expecting Dorothy to be annihilated by the Wicked Witch of the West.
And, every time, that pail of water melts the old hag.
As such, I considered the following passage to be rather profound; written for today's Washington Post by sports columnist Barry Svrluga. It begins with veteran Brooks Orpik obviously responding to a question about the "same old" Capitals — loser of Game 7 last night at home to the Penguins:
"I don't really look at it that way, to be honest with you," defenseman Brooks Orpik said. "Every year you come in, it's a different group. And obviously some guys have endured more of those tough losses than other guys. But I think every year you're kind of taking the challenge upon ourselves with a different group."
You know what group doesn't change, Brooks? The fans. The Caps, over the years, have tried to convince us that the cumulative pain of all these losses — and make no mistake, they were the heavy favorite Wednesday night, from Vegas to Adams Morgan to Squirrel Hill — doesn't matter to the players.
They come and go. They block out the noise.
That might be a fine strategy when you're playing a series. But in the immediate aftermath, it's disrespectful to the regular people who keep showing up, year after year after year.
Even if there's no such thing as a curse — and we can debate that for the next, oh, decade or so — there are enough open wounds here to make the people who keep buying tickets, who keep pulling on the jerseys of players present and past, who have filled Verizon Center every night for the better part of a decade to wonder about making such an emotional investment. The players, the coaches — they're paid. They have to do it. But buying in for the fans and the town: That's optional, isn't it?
Ah, yes… the paying customer for hockey. Will he endure in the American capitol?
EMAIL: HOWARDLBERGER@GMAIL.COM