***UPDATE: The Toronto Blue Jays suspended Kevin Pillar for two games on Thursday afternoon.***
TORONTO (May 18) — Let me begin today by stressing that I have long admired Kevin Pillar.
Until Wednesday night, there was nothing to not admire about the Toronto Blue Jays center–fielder — a spectacular defensive player who has worked toward becoming a skillful lead–off batter. His reputation, on the field and in the community, was exemplary. But, then came what appeared to be a lamentable choice of words upon being struck out by a clever quick–pitch from Atlanta reliever Jason Motte to end the top of the seventh inning Wednesday at the Braves' new stadium, Sun Trust Park. Atlanta won the game, 8–4.
After swinging and missing, Pillar glared at Motte. A television close–up of Pillar indicated that he mouthed the words "you faggot" to Motte, who, incidentally, is heterosexual and married to a woman named Caitlin. The incident — now widely reported — first came to light during Mike Wilner's post–game call–in show on the Blue Jays' flagship radio station, Sportsnet–590. After wrapping up the network portion of the show, Wilner returned at 11:05 p.m. EDT and took a local call from a young man who insisted, rather emotionally, that Pillar had used the homophobic slur while reacting to Motte's surprise maneuver. Wilner listened patiently and responded by suggesting that neither he nor the caller was a professional lip–reader and that the caller could have been mistaken. Wilner was then apprised by his producer that Sportsnet–590 had audio of Pillar's post–game interview from Sun Trust Park, which was aired in its entirety.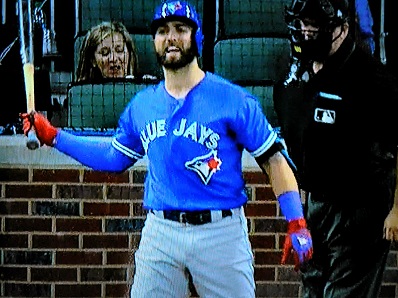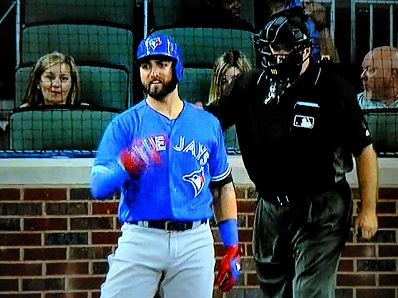 BLUE JAYS CENTER–FIELDER KEVIN PILLAR YELLS AT BRAVES RELIEF PITCHER JASON MOTTE AFTER STRIKING OUT TO END THE TOP OF THE SEVENTH INNING ON WEDNESDAY NIGHT AT SUN TRUST PARK IN ATLANTA. PILLAR THEN HURLS HIS BATTING HELMET (BELOW) IN FRUSTRATION. SPORTSNET IMAGES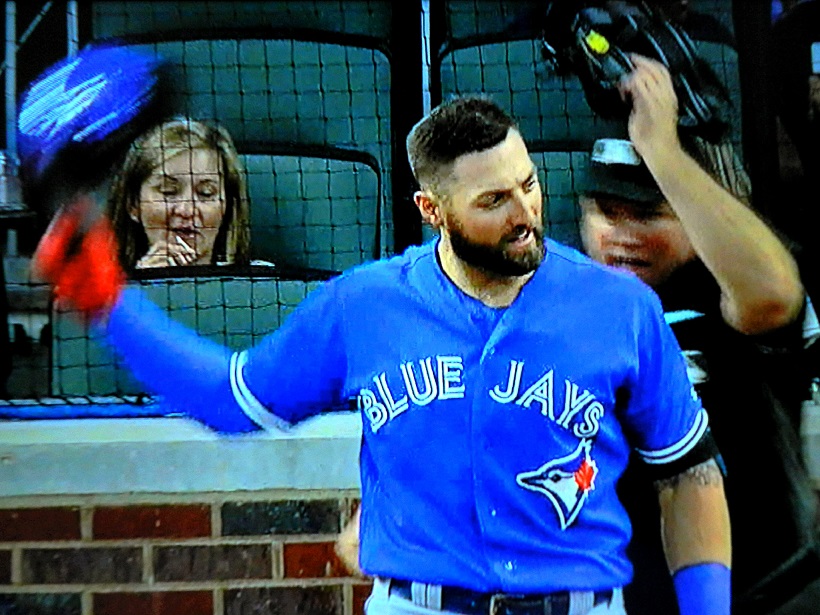 During the three–minute segment, Pillar made it clear he had offered Motte more than a common profanity.
"Yeah, I mean, obviously that [the quick–pitch] was the initial thing I was upset about," he began, "but I think it just stems from a little frustration in myself and just the way this series has been going [Atlanta, a struggling team, has defeated Toronto on three consecutive days — the first two at Rogers Centre]. It was immature; it was stupid; it was uncalled for. It's part of the game, it's just, I'm a competitive guy… obviously I'm going to do whatever I've got to do to reach out and apologize and let him know he didn't do anything wrong; it was all me. Obviously something to learn from, something to move on from. Don't let it define me but really I think it was just frustration from coming off a really good home–stand and really just not even being in any of these ball games; just coming out flat and not being able to build on what we [did] against Seattle [a four–game sweep last weekend, in Toronto]. That just all came out in that moment."
When the audio portion ended, Wilner seemed aghast. Though he did not commend the caller for an apparently–accurate appraisal of Pillar's comment, the veteran host — known concurrently as a knowledgeable baseball broadcaster and a staunch defender of the Blue Jays — could not find any words to defend Pillar (and I am paraphrasing): "Kevin says it was part of the game… a result of the frustration from the past few days," commented Wilner. "Such words are not a part of baseball. If he uttered them, they are inexcusable." Subsequent callers, not sensing the moment, chose to talk about baseball generalities.
Initial reports from Toronto media covering the game in Atlanta did not make mention of what Pillar had apparently said to Motte — outlining merely that it upset both the pitcher and Braves catcher, Kurt Suzuki, who began walking toward Atlanta's first–base dugout, only to stop in their tracks after Pillar's comment. Motte and Suzuki retraced their steps and a minor altercation ensued, which emptied the dugouts and each bullpen (baseball comes across so amateurish by allowing players to invade the field with impunity — the equivalent of the old bench–emptying incidents in hockey that have long–been outlawed; nothing in sport is more ridiculous than the sight of relief pitchers sprinting toward an altercation from the outfield).
The first local report of Pillar's comment appeared after 7 a.m. today on the Toronto Star's website, in a story by baseball writer Laura Armstrong entitled JAYS KEVIN PILLAR APPEARS TO YELL HOMOPHOBIC SLUR AT BRAVES PITCHER. At 7:40 a.m., Rob Longley of the Toronto Sun followed with an update to his original game–story, entitled JAYS' PILAR: "IT WAS IMMATURE". At 10:57 a.m., the Globe and Mail, which is not staffing the Blue Jays two–game trip to Atlanta, published a Canadian Press wire–report headlined BASEBALL OFFICIALS INVESTIGATING PILLAR'S APPARENT USE OF HOMOPHOBIC SLUR. Of all the local media reports (Wilner's live commentary included), only the Star's Armstrong suggested the actual phrase Pillar all–but–certainly uttered. "I'm not going to say the words," Wilner insisted on his post–game radio show.
This is the second–such incident involving the Blue Jays in recent years. During a September 2012 game against Boston at Rogers Centre, shortstop Yunel Escobar appeared on a TV close–up with the Spanish phrase TU ERE MARCION painted in eye–black. The common English translation is "you are a faggot". Escobar was handed a three–game suspension and currently plays for the Los Angeles Angels.
It should be noted that Jason Motte, now 34, has done splendid work off the field during his Major League career, which began at St. Louis from 2008 to 2014. As mentioned in his Wikipedia profile:
"Motte is married to Caitlin Motte. The couple runs two foundations, the Jason Motte Foundation, and a cancer awareness foundation called "Strikeout Childhood Cancer." While recovering from Tommy John surgery in 2013, Motte disclosed that his encounters with numerous people stricken with cancer – from his grandfather to Cardinals fans, including many children – moved him to visit and encourage them. As a result, Motte and the Cardinals organized a pediatric cancer awareness day on September 23, 2013, to set aside 5,000 game tickets at the pavilion that cost $10.00 each, with $3.00 per ticket going to the Jason Motte Foundation. An additional 1,000 tickets were donated to pediatric cancer patients just released from the hospital. For those unable to go to Busch Stadium, Motte organized a group of several of his teammates to see the children in person."
EMAIL: HOWARDLBERGER@GMAIL.COM