TORONTO (May 27) — After 100 years in the National Hockey League, the Toronto Maple Leafs are affiliated with numerous dates on the Gregorian calendar. Among the 10 most significant:
• Feb. 14 — 1927 — Conn Smythe changes the franchise name from St. Patricks to Maple Leafs.
• Nov. 12 — 1931 — Maple Leaf Gardens opens with Chicago defeating the Leafs, 3–1.
• May 02 — 1967 — Toronto wins its most–recent Stanley Cup with a 3–1 victory over Montreal at the Gardens.
• Mar. 03 — 1968 — Frank Mahovlich goes to Detroit in the most astounding Leafs trade of all time.
• Feb. 07 — 1976 — Darryl Sittler erupts for a record 10 points (six goals, four assists) against Boston at MLG.
• Feb. 02 — 1977 — Ian Turnbull sets record for defensemen by scoring five goals against Detroit at the Gardens.
• Jan. 02 — 1992 — Leafs acquire Doug Gilmour from Calgary in NHL–record 10–player trade.
• Jun. 28 — 1994 — Leafs acquire Mats Sundin from Quebec prior to the NHL draft in Hartford.
• Feb. 13 — 1999 — Chicago routs Toronto 6–2 in the final NHL game at Maple Leaf Gardens.
• Feb. 20 — 1999 — Leafs defeat Montreal 3–2 in overtime (Steve Thomas) to win first game at Air Canada Centre.
Then there's today's date, May 27. In 1993. Twenty–four years ago tonight. On the Berger calendar, it ranks as highly any of the aforementioned, for it remains the most compelling game involving the Maple Leafs that yours truly has attended — as a fan or a reporter. I was in the Los Angeles Forum that eve with a horde of fellow media and 16,005 rabid spectators. Covering Game 6 of the Stanley Cup semifinals for The FAN–590. Back home, the Toronto Star posted a headline… its first–such exclamation in more than 26 years: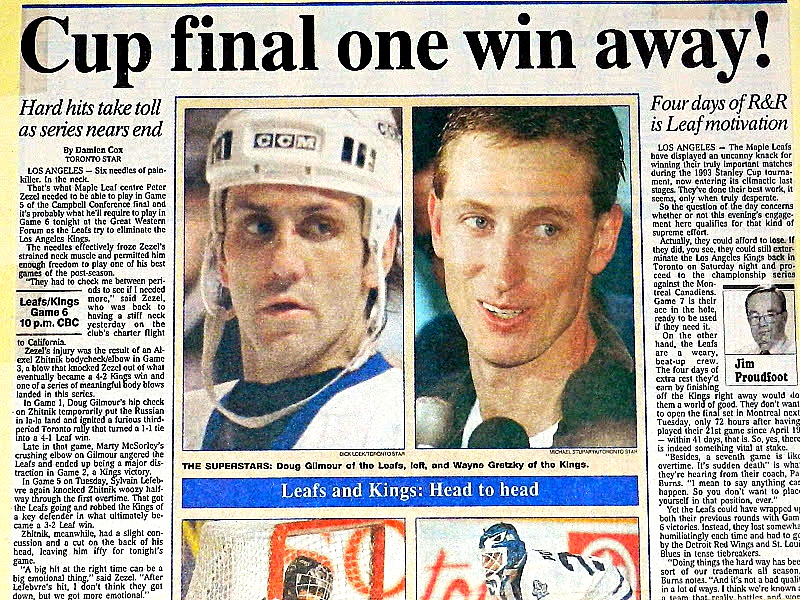 Nearly a quarter–century onward, fans of the Maple Leafs remember Game 6 as The Night Kerry Fraser Froze. But, it was much more than that. Above all else, the Leafs have not been so close to playing for the Stanley Cup since 1967. It remains the lone example of the post–'67 era in which the club was one goal away from The Dance. Had the Leafs scored in overtime, a Cup final clash with the Canadiens would have followed. Beginning three nights later at the Montreal Forum. Instead, the Los Angeles Kings moved on to face Patrick Roy and Co. Not 24 years ago this eve. That victory, authored, contentiously, on the powerplay by Wayne Gretzky, kept the Kings alive. It was two nights later, in Maple Leaf Gardens, that Gretzky consumed the heart of the Blue and White — and its expectant followers — with a 5–4 triumph in Game 7.
Until, however, the Leafs minimally appear in the Stanley Cup final, their fans will neither forgive nor forget what happened in Inglewood, Calif. on this date in 1993. The tale is timeworn by now, yet it never fails to ignite passion among Leaf supporters — those that remember watching the game on TV; those that were alive but too young to remember the game, and even such fans as my son, Shane, who hadn't yet been conceived. I've known Kerry Fraser for more than 30 years and can attest that he's a wonderful fellow. Yet, Kerry, among all–time referees, has long been the sworn enemy of Leafs Nation. His decision to keep Gretzky in the game after No. 99 had sliced open Doug Gilmour's chin with the follow–through of a pass continues to haunt the Blue and White — enhanced by Gretzky scoring on Felix Potvin to prolong the series.
Frequently overlooked, or forgotten, is a terrible boarding penalty late in regulation by Glenn Anderson of the Leafs, who carelessly ran at Kings defenseman Rob Blake. Had Gretzky been banished in overtime, it would have temporarily evened the manpower situation and, of course, prevented him from playing hero. But, it was Anderson's dumb penalty that carried over from the end of the third period.
The Forum, built just east of Los Angeles International Airport in 1967 by Canadian entrepreneur (and Kings owner) Jack Kent Cooke, was a scene of contrasting emotions 24 years ago tonight. Loud and tumultuous when the Kings had a 4–2 lead midway through the third period; shocked and stupefied after Wendel Clark came off the bench to tie the count with 1:21 left in regulation and Potvin replaced by an extra attacker (Clark completing a natural hat–trick in one of the big–time performances of his career). That 10–minute mood–swing — on the road — with the Leafs building toward a berth in the Stanley Cup final, cemented Game 6 of the '93 Conference championship as the most memorable in my years covering the team.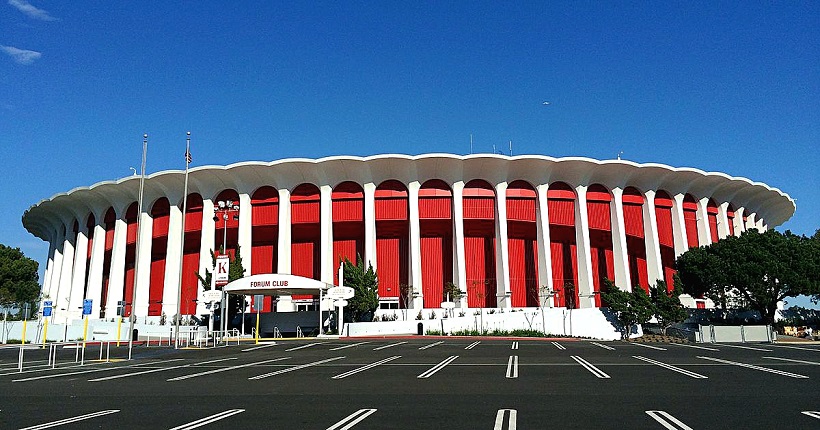 THE FORUM IN INGLEWOOD, CALIF. — AS IT APPEARS TODAY, NEARLY 50 YEARS AFTER OPENING.
Imagine how modern Leafs history might have changed that night…
IF the Kings hadn't held a marked edge in play through the first 50 minutes of regulation…
IF Glenn Anderson had used his head — and copious playoff experience while winning five Stanley Cups with the Edmonton Oilers — and held up rather than plastering Rob Blake into the end boards…
IF Kerry Fraser had given Gretzky a five–minute major and game misconduct for cutting Gilmour…
IF a visiting player had scored in overtime to end the series.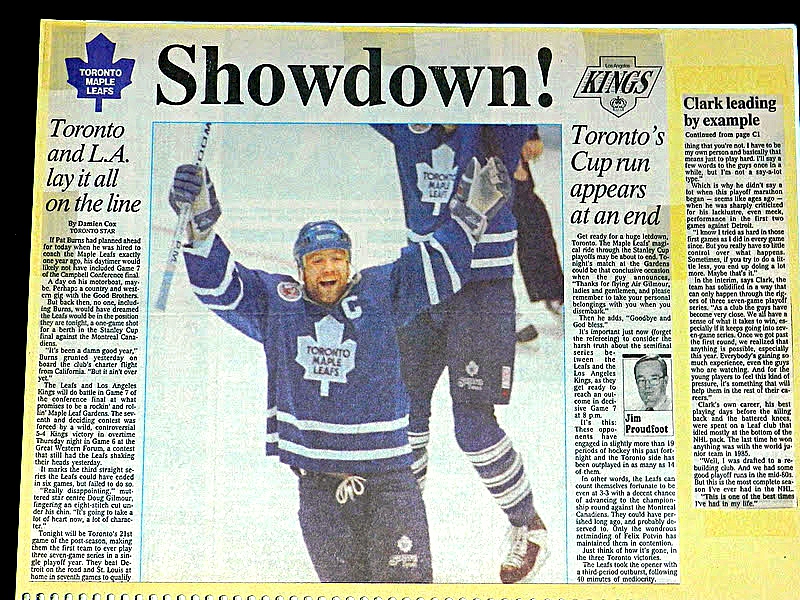 As it were, the Game 7 showdown at Maple Leaf Gardens was nearly anti–climactic. Though the Leafs and Kings were tied, 3–3, late in regulation, you never really had a sense that Gretzky would be denied. One way or another (in fact, several ways), he was going to vanquish the team he grew up cheering for. That's why the match two nights earlier in Los Angeles still has no peer among Leaf games of the post–1967 era.
And, why May 27 ranks with any date in the modern history of Toronto's NHL franchise.
CONSISTENCY THE KEY (SIGH)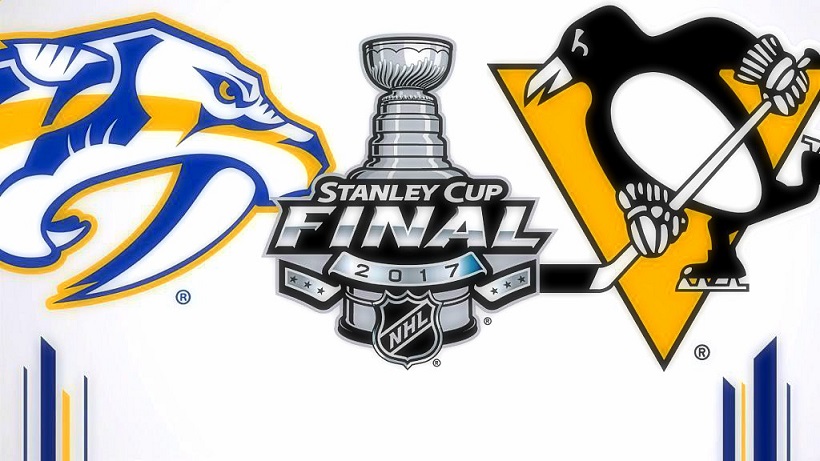 "Those who do not learn from history are doomed to repeat it."
Yeah… I know. Nor am I paying attention. Fans of the Pittsburgh Penguins are now imploring me, on Facebook, to pick against their team in the Stanley Cup final. "That will ensure that we beat Nashville," offered one smarty–pants. Not that I blame the guy. I've been predicting doom for the defending champion since the start of the 2017 playoffs. I didn't think the Penguins would get past Columbus in the opening round. Cripes, I even picked Washington to prevail in Round 2. If that didn't teach me a lesson, what can? Then, it was Ottawa in the Eastern Conference final. "Senators in 6" I confidently proclaimed. Now, it's Nashville for the silver mug. Surely, I won't take the collar this spring. Or, will I? An 0–for–4 with the eventual Cup winner would look rather pitiable. Hmmmmm. Alas… and as per the norm, I cannot help myself.
George Santayana — the speaker of history's warning — would wag a disapproving finger. But, Nashville has been the best team in the 2017 Stanley Cup tournament. Since Day 1, when it began a systematic, four–game demolition of the profusely–favored Chicago Blackhawks. With P.K. Subban, Roman Josi and Ryan Ellis, the Predators sport the deepest blue–line trio in the NHL. If the Conn Smythe Trophy were awarded today, Preds' goalie Pekka Rinne would be the runaway winner. That could change sometime in the next two–plus weeks. But, I doubt it. Nashville was far from the NHL's top club in the regular season. But, no team has been so splendid since the second week of April. And, what else really matters?
Yes, Pittsburgh fans, you can rejoice. I'm sticking with my pattern of the 2017 playoffs.
It will be Smashville winning the Stanley Cup on home ice in Game 6. Grab your wallets.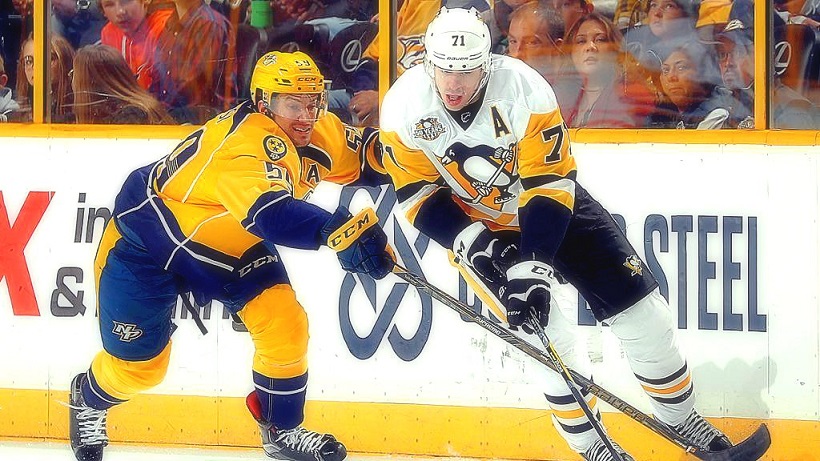 ROMAN JOSI vs. EVGENI MALKIN: AMONG THE COMPELLING MATCH–UPS IN THE STANLEY CUP FINAL.
STANLEY CUP FINAL SCHEDULE
Game 1: Nashville at Pittsburgh, Mon. May 29, 8 p.m., CBC, NBC
Game 2: Nashville at Pittsburgh, Wed. May 31, 8 p.m., CBC, NBCSN
Game 3: Pittsburgh at Nashville, Sat. June 3, 8 p.m., CBC, NBCSN
Game 4: Pittsburgh at Nashville, Mon. June 5, 8 p.m., CBC, NBC
Game 5: Nashville at Pittsburgh, Thu. June 8, 8 p.m., CBC, NBC (if necessary)
Game 6: Pittsburgh at Nashville, Sun. June 11, 8 p.m., CBC, NBC (if necessary)
Game 7: Nashville at Pittsburgh, Wed. June 14, 8 p.m., CBC, NBC (if necessary)
EXECUTIVE TITANS
The Stanley Cup battle between Pittsburgh and Nashville involves a couple of future Hall–of–Famers in jacket–and–tie. Jim Rutherford and David Poile — the respective general managers — will undoubtedly be enshrined at some point in the Builders' category for their splendid career achievements.
The 2016–17 Penguins is the fourth team that Rutherford has guided to the Stanley Cup final in the past 15 seasons. While in Carolina, he lost the 2002 championship round to Detroit; then returned in 2006 and beat Edmonton for the only title in the 28–year history of the Hartford Whalers/Carolina Hurricanes franchise. The 'Canes made a deep run again in 2009, losing the Eastern Conference final to Pittsburgh. With the Penguins, Rutherford won the Stanley Cup last season and will now look to become the first repeat–champion since the 1997 and 1998 Detroit Red Wings. Prior to his brilliant managerial career, Rutherford played goal in the NHL for Detroit, Pittsburgh, Toronto and Los Angeles between 1970 and 1983.
I've been privileged to know Jim for the past 25 years and we've often chatted about my first exposure to him — as a goalie for the Junior–A Hamilton Red Wings of the Ontario Hockey Association (now the OHL) in 1967–68 and 1968–69. During that era, the independent TV station, CHCH Channel 11, aired Red Wings games from the old Hamilton Forum, on Barton St. Live Thursday night with a repeat early Sunday morning. Brought to you by Wilkinson Sword razor–blades. Norm Marshall called the play; Sandy Hoyt, provided color and Joe Watkins of the Hamilton Spectator was featured during intermissions. All have long–since passed.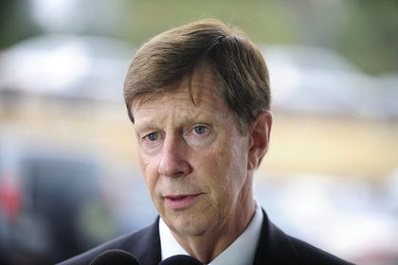 2017 STANLEY CUP GM's JIM RUTHERFORD OF PITTSBURGH (LEFT) AND DAVID POILE OF NASHVILLE.
I met Poile in early–1982 while working briefly at the Calgary Sun. He was Cliff Fletcher's right–hand man with the Flames, having been hired as a 22–year–old administrative assistant after Atlanta joined the NHL in 1972 (the club re–located in Calgary for the 1980–81 season). His father, Norman (Bud) Poile, coached in the old Western Hockey League with Edmonton and San Francisco from 1952–66. He later had the distinction of being the first GM of two NHL expansion teams: Philadelphia in 1967 and Vancouver in 1970.
David Poile was named GM of the Washington Capitals in 1982–83 and he more–than–likely saved hockey in the Beltway region. The Capitals had been a disaster since coming into the NHL in the fourth wave of expansion (1974–75, with the Kansas City Scouts). The inaugural club remains the most inept in league history, having won eight of 80 games while yielding a preposterous 446 goals. Washington missed the playoffs in its first eight seasons and Poile was spirited out of Calgary to replace ex–goalie Roger Crozier.
Just as training camp was about to open — on Sep. 9, 1982 — David pulled off the most important trade in Capitals history. He sent forward Ryan Walter and defenseman Rick Green to Montreal for forwards Doug Jarvis and Craig Laughlin; defensemen Rod Langway and Brian Engblom. It quickly turned into a heist for Washington. Langway won the Norris Trophy as the NHL's top blue–liner in 1983 and 1984. The Capitals improved by 29 points (65–94) and made the playoffs for the first time — losing a best–of–five preliminary round in four games to the three–time defending Stanley Cup–champion New York Islanders. In Poile's 15 seasons as general manager,  Washington missed the playoffs only once (his final year: 1996–97) and made it to the Wales Conference championship in 1990, losing to Boston.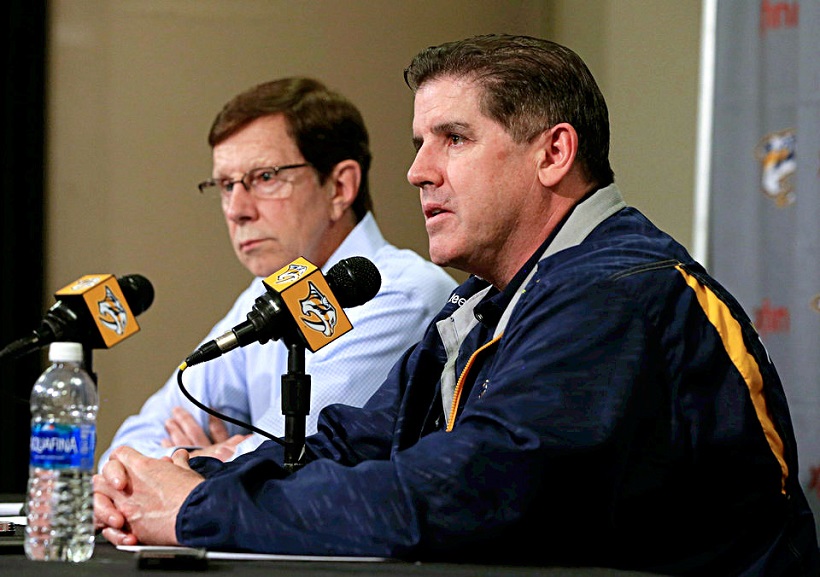 DAVID POILE (BACKGROUND) IN A PRESS CONFERENCE WITH NASHVILLE COACH PETER LAVIOLETTE.
Poile, not surprisingly, is the only GM in Predators history, dating to the franchise inception for the 1998–99 season. Not surprisingly because his 18–year tenure matches that of Fletcher, who ran the Atlanta/Calgary Flames for the same juncture as first GM. Only Bill Torrey has a longer streak from the birth of an expansion team, managing the New York Islanders in their first 20 years — 1972–73 to 1991–92. Poile must hang around in Music City USA for three more seasons to equal Torrey's record; accounting for the 2004–05 schedule that was lost, in its entirety, to labor strife. Is there anyone willing to bet that he won't make it?
I didn't think so.
With images taken from media guides, here is a pictorial history of the 2017 Stanley Cup GM's:
DAVID POILE — NASHVILLE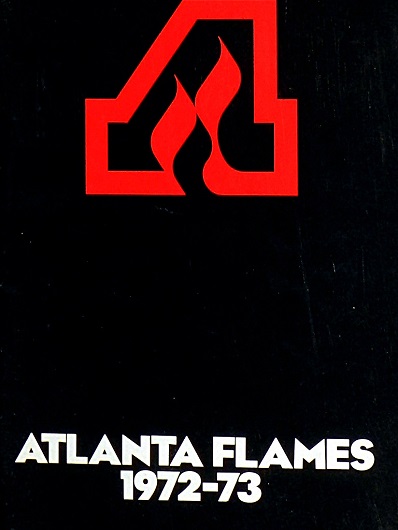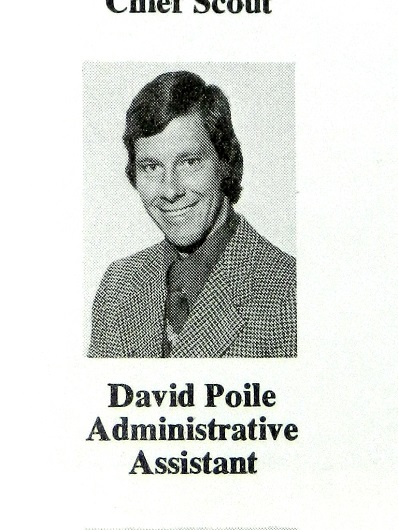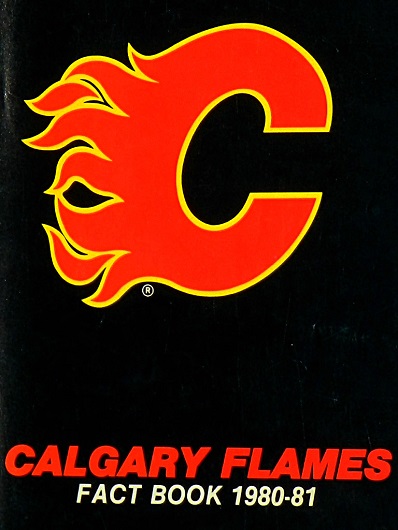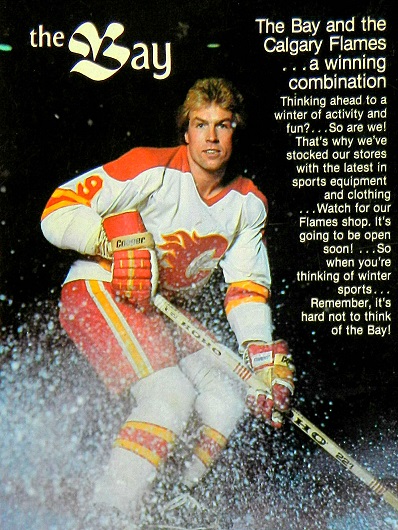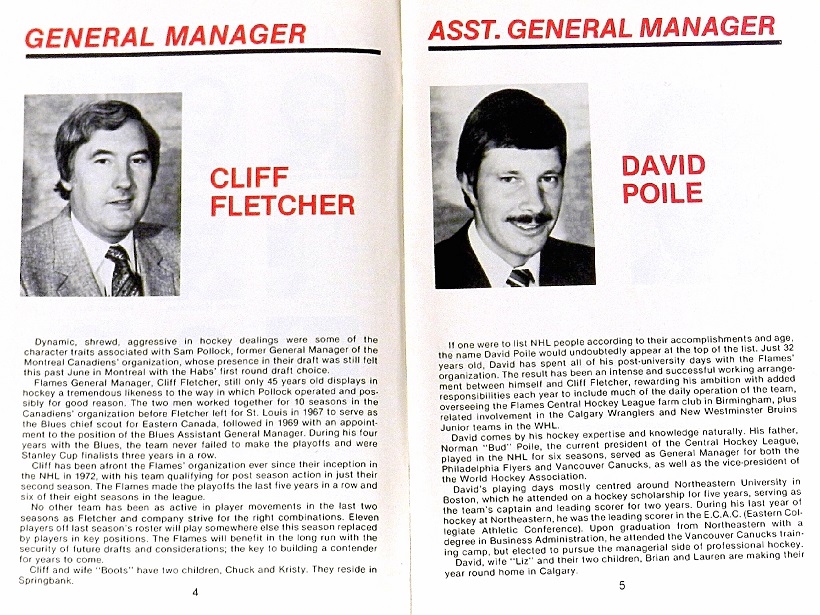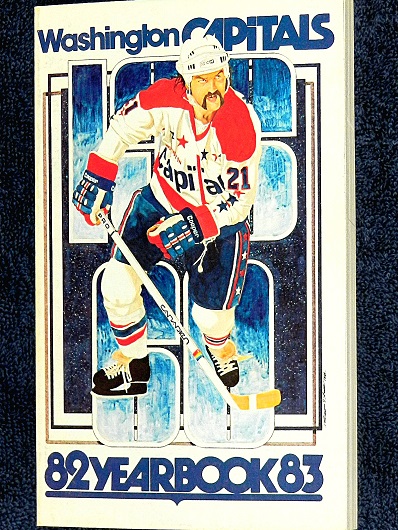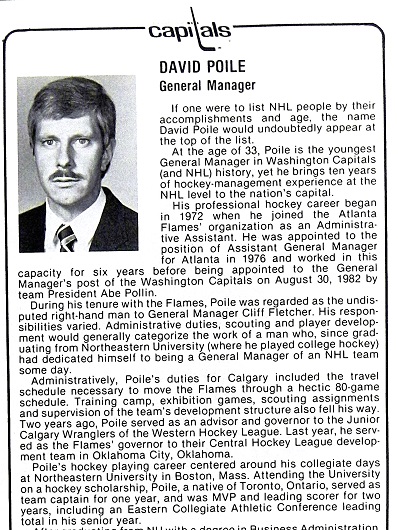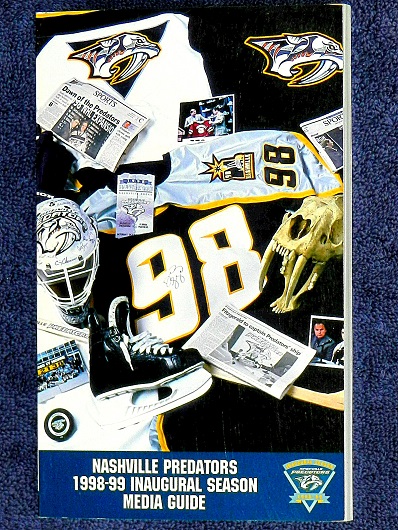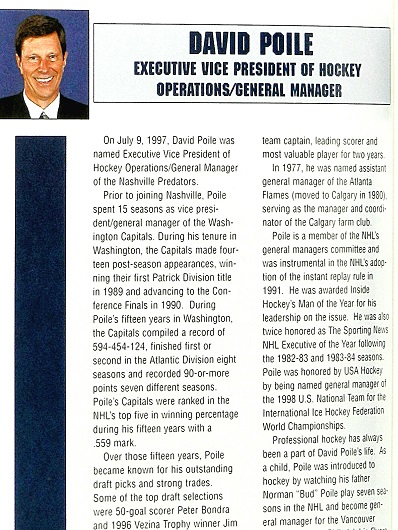 NORMAN (BUD) POILE
As mentioned, David's father, Bud Poile, was first GM of the Philadelphia Flyers and Vancouver Canucks.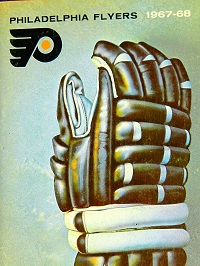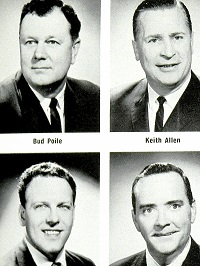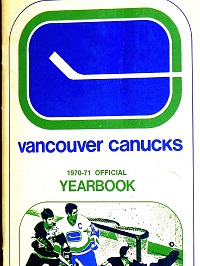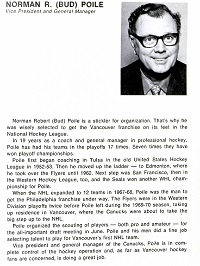 JIM RUTHERFORD — PITTSBURGH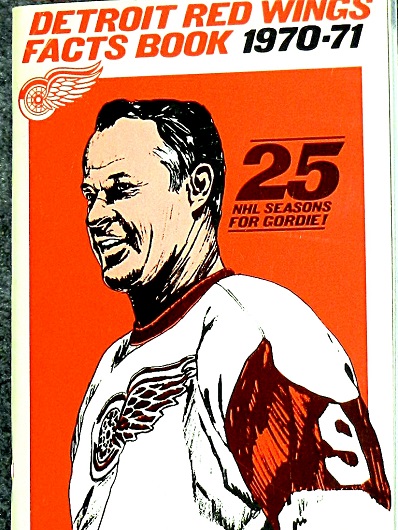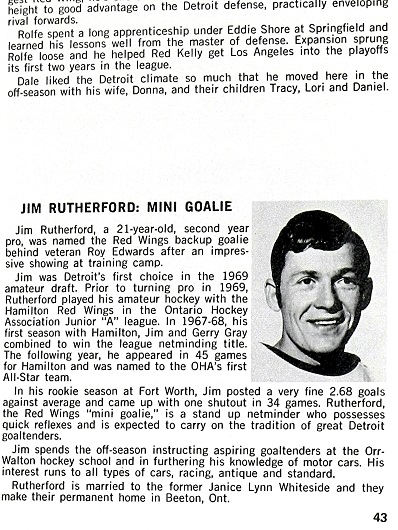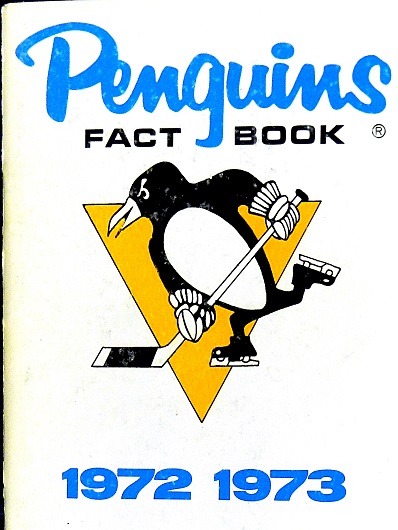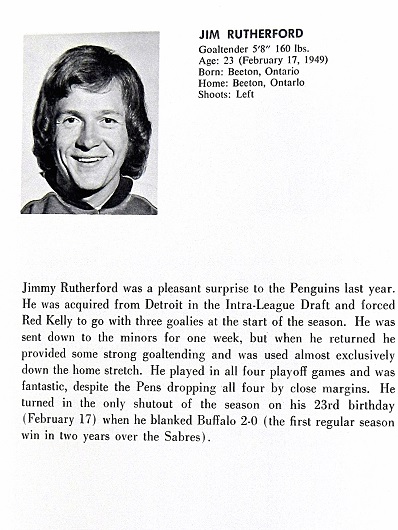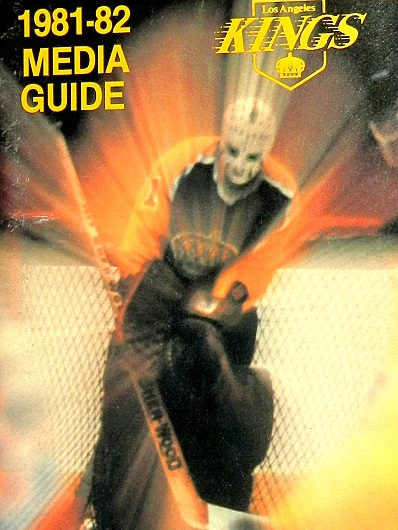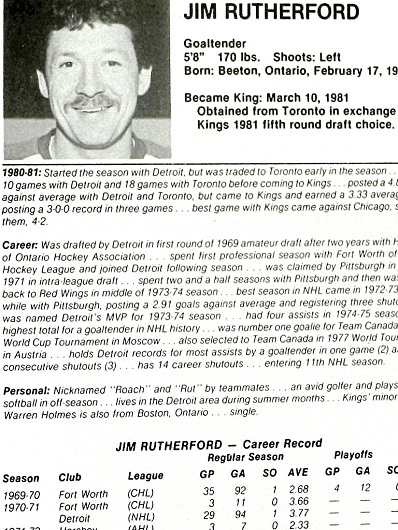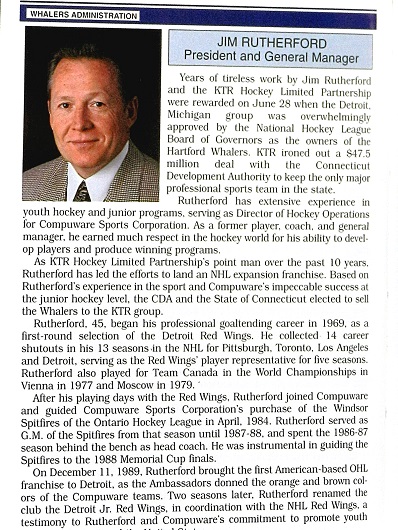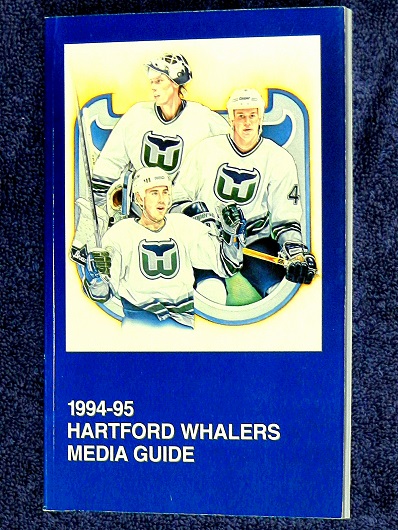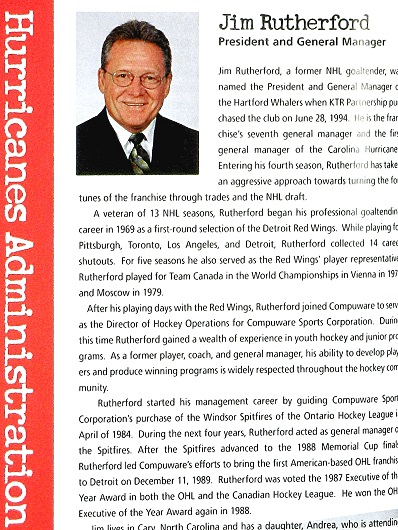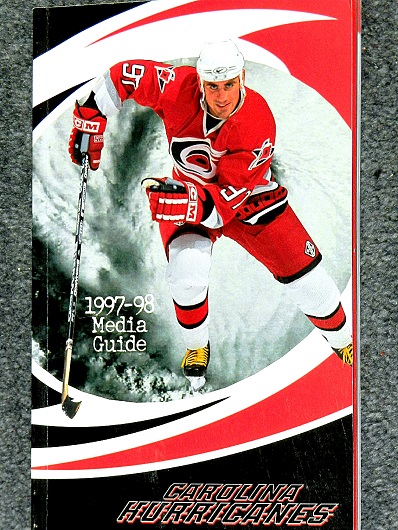 EMAIL: HOWARDLBERGER@GMAIL.COM