TORONTO (May 6) — If I were Lou Lamoriello, GM of the Toronto Maple Leafs, my thought–process during the summer would be two–fold: a) hoping that the elite youngsters on the hockey club can follow up their rookie efforts in the always–more–challenging second year. And, b) wondering how to acquire the missing link between the vastly–improved team of 2016–17 and legitimate Stanley Cup contention — a Norris Trophy threat the club has lacked since Hall–of–Famer Borje Salming was in his prime 40 years ago.
There isn't much Lou can do about the former. Progress among such sophomore players as Auston Matthews, Mitch Marner, William Nylander, Connor Brown, Kasperi Kapanen and Nikita Zaitsev needs to come from within, accompanied by the savvy guidance of coach Mike Babcock. "Toronto has great, young talent; I love watching those kids play," said former Leafs winger Pete Stemkowski, a key figure on the 1967 Stanley Cup team. "As long as they don't say to themselves 'okay, I'm here' and minimize the difficulty of Year 2. That team won't be sneaking up on anyone and opposing players will crack down on Matthews, Marner and Nylander. The other factor is strength. It's no different today than when I broke into the league [in the mid–60's]. Guys 19 and 20 are still boys. They become much stronger, physically, between the ages of 21 and 23. Which bodes very well for the young Leaf players, providing, again, their heads are on straight."
As for somehow gleaning a top–dog blue–liner, Lamoriello can be patient for another year. He can also explore every potential option — including one that wouldn't have previously been considered. Morgan Rielly and Jake Gardiner made strides during the playoff series against Washington. Both took their games to another level. Of course, Gardiner did the same against Boston in the 2013 opening round, lugging the puck from the defensive zone as if someone had cast a Bobby Orr spell over him. But, his apparent progress stagnated the following year. He and Rielly can be mainstays of a contending team, yet neither has proven worthy of Norris Trophy consideration. The final, big piece of the Toronto hockey puzzle will therefore be the most challenging to accrue. And, the longest current Stanley Cup drought will continue until it's in place.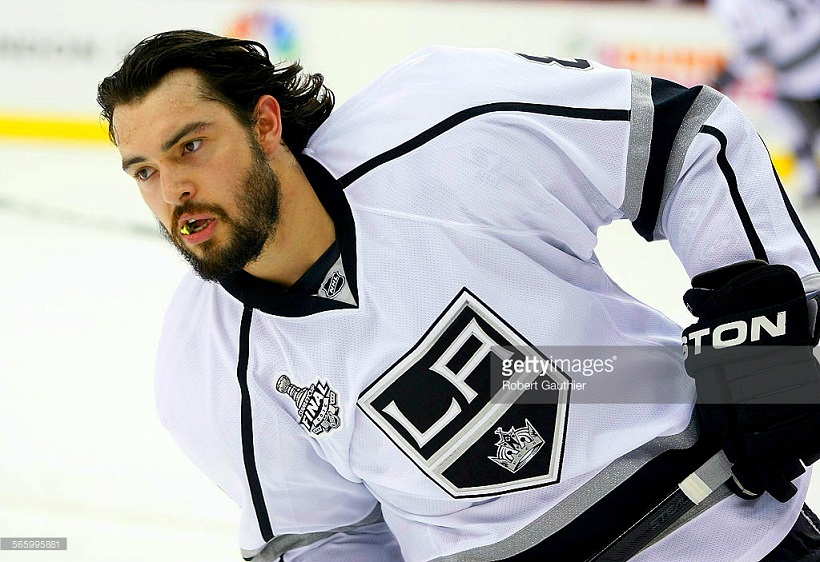 As such, the Leafs have two choices: Go big. Or keep going home early.
If I'm Lou, my first call is to Los Angeles and new Kings' GM Rob Blake, whose team couldn't have scored in the Playboy Mansion this season. Nylander can put the puck in the net. So, apparently, can Kapanen. Both can skate. The Leafs have a decent prospect on defense in Travis Dermott. They have their first–round draft pick. And, lots of cap space. It would cost Lamoriello nothing to ask Blake what he'd need to consider moving Drew Doughty. Seems ridiculous on the surface, but L.A., with Doughty, has missed the playoffs in consecutive years. Perhaps it's time to revamp the Stanley Cup gang of 2012 and 2014.
Lamoriello could offer the Kings Nylander; Dermott; first and third–round picks. With Kapanen, Matthews, Marner, Kadri, Brown and James van Riemsdyk still on board, the Leafs can afford to deal Nylander in the right situation. Doughty is among the top half–dozen blue–liners in the National Hockey League and would more than compensate for losing Dermott's potential. Los Angeles has a bright defense prospect in Kale Clague (Brandon WHL), chosen in the second round of last year's draft. With a good offensive upside.
Doughty has two years left on a contract with a $7 million cap–hit and no trade restrictions (according to all related websites). It's a pact the Leafs could easily assume, knowing (in part) that Nylander would not have to be signed out of entry–level restriction next summer. Maybe there's a fit. Maybe not.
Without question, it is worth a long–distance call by Lamoriello.
TSN's Bob McKenzie weighed in on this topic last month. "I would think [Doughty] is an untouchable for the L.A. Kings," he said. "And if he were available in trade, the trade would be more likely a year from now than it would be now. A year this July 1 they can go to Drew Doughty and do an extension. And if the Kings go to Drew Doughty and want to extend him, then they'll get an indication from him, 'Yeah, I want to stay here and I want to get extended.' And they'll know better what their situation is. 'Are we in a rebuilding phase,' or whatever. So all that goes into the hopper for both the Kings and Drew Doughty to decide on what their future is. But that doesn't happen for another full year."
Bob could be bang on. As usual. But, maybe such a deal from the Leafs' end wouldn't be on the table next year. Another hockey season offers the potential for injury. Lots can happen between now and then.
Doughty would provide the Leafs that missing link between improvement and contention. Along with Rielly, Gardiner and Zaitsev, the Leafs would boast a deep and gifted blue line. Capable of challenging for hockey's biggest prize. To land such a fish as Doughty, a club needs a fat worm. The Leafs have that in Nylander.
Do they, however, possess the urgency and fortitude to go big? Really big.
As always, only time will tell.
MONTREAL FORUM — 1968–69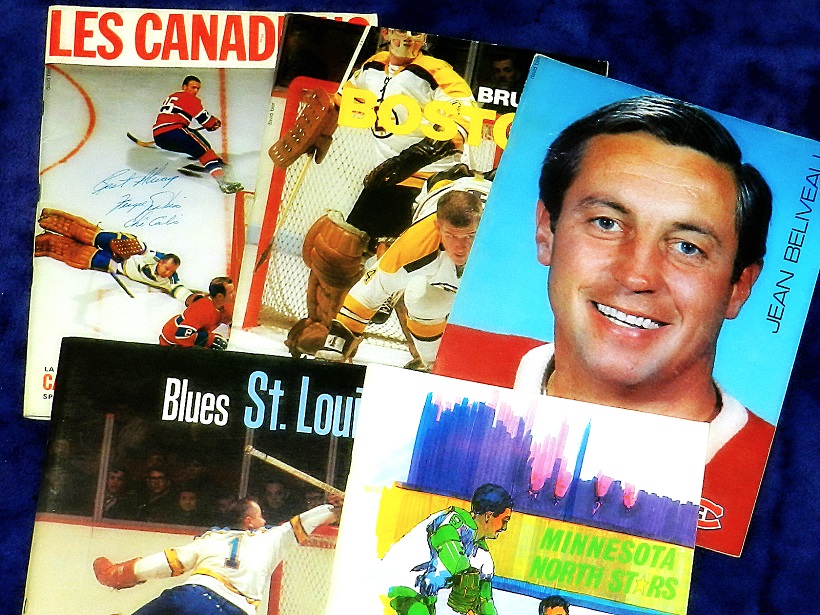 Some years ago, at a sports collectors show here in town, my eyes popped out when looking at a full set of NHL team albums from the Montreal Forum in 1968–69. It was the Canadiens 60th season and they started with an eight–game road trip (Oct. 12–30) while Forum renovations were being completed. Extensive work began on the old arena minutes after the Habs won the Stanley Cup over St. Louis on May 11, 1968. During the long season–opening trip to Pittsburgh, Minnesota, St. Louis, Detroit, Los Angeles, Oakland, Boston and Toronto, the Canadiens went 6–1–1; their only loss to the Bruins. Finally, on Nov. 2, 1968 (a Saturday night), the club debuted in the refurbished Forum with a 2–1 triumph over Gordie Howe and the Red Wings.
I don't recall how much the set of nine Forum programs cost me. but likely more than I could afford. Discipline is frequently impossible in the memorabilia business. The Canadiens, in 1968–69, published albums featuring their own club; the Toronto Maple Leafs; Boston Bruins; Detroit Red Wings; Chicago Black Hawks; New York Rangers; St. Louis Blues; Minnesota North Stars and celebrated captain, Jean Beliveau.
I have them all, including two St. Louis editions.
The program featured here is the Maple Leafs issue, from a game on Dec. 26, 1968 that Montreal won, 4–2. It was an historic time away from hockey. Just two nights earlier, on Christmas Eve, the crew of Apollo 8 (Frank Borman, Jim Lovell, Bill Anders) became the first to orbit the moon — sending back live TV images from its spacecraft while reading, dramatically, from the Book of Genesis. I remember that moment as if it were yesterday (just prior to my 10th birthday). In July 1969, Neil Armstrong and Buzz Aldrin became the first human beings to walk on the moon. The Canadiens, again, were Stanley Cup champs.
Here's some neat hockey history from nearly half–a–century ago:

FRONT AND REAR COVERS OF THE TORONTO MAPLE LEAFS ALBUM. AUTOGRAPHS (LEFT) WERE FROM MONTREAL GOALIE GUMP WORSLEY AND DEFENSEMAN TERRY HARPER. ALL-TIME LEGENDS GRACED THE BACK: JEAN BELIVEAU OF THE CANADIENS; TIM HORTON (7) AND JOHNNY BOWER OF THE LEAFS.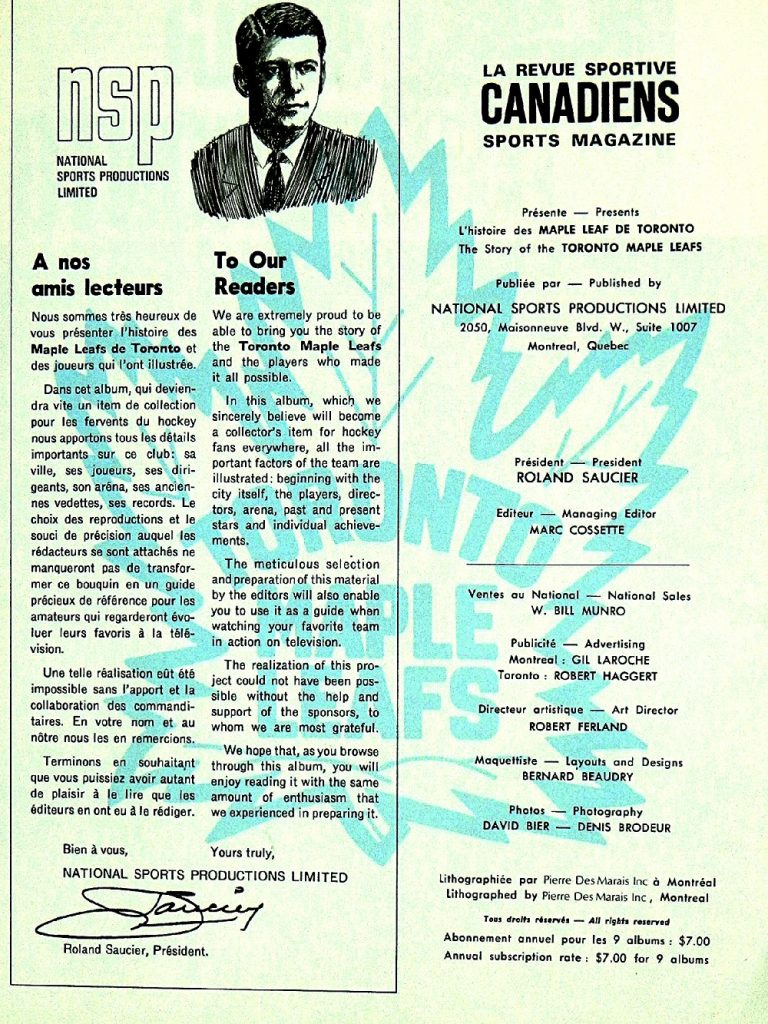 AMONG THE PHOTOGRAPHERS (BOTTOM RIGHT) WAS DENIS BRODEUR, FATHER OF GOALIE MARTIN BRODEUR.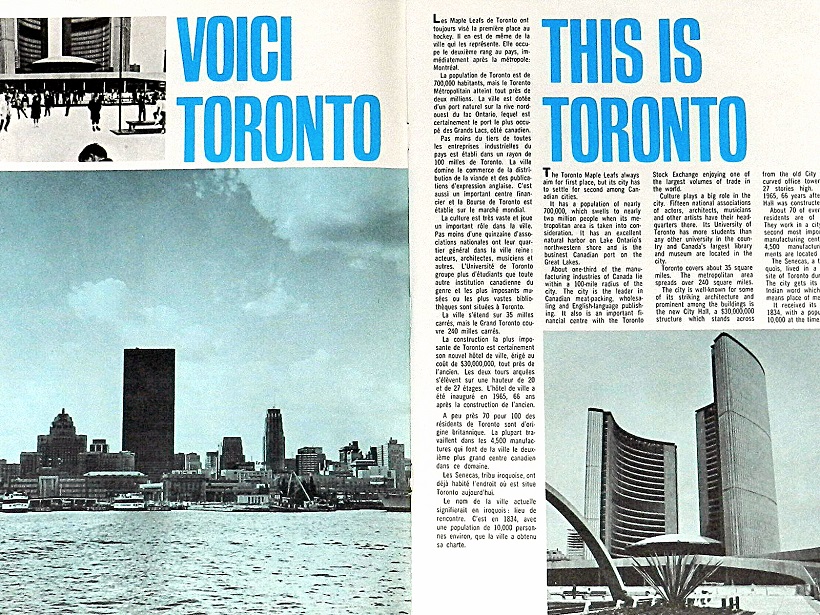 THE REMARKABLY BARREN TORONTO SKYLINE IN 1968, AS SEEN FROM LAKE ONTARIO. IT FEATURED THE ROYAL YORK HOTEL (FAR–LEFT) AND THE FIRST OF THE TORONTO DOMINION CENTER TOWERS, A 56–FLOOR BUILDING, OPENED IN 1967. THE NEW TORONTO CITY HALL (RIGHT) OPENED SEP. 13, 1965.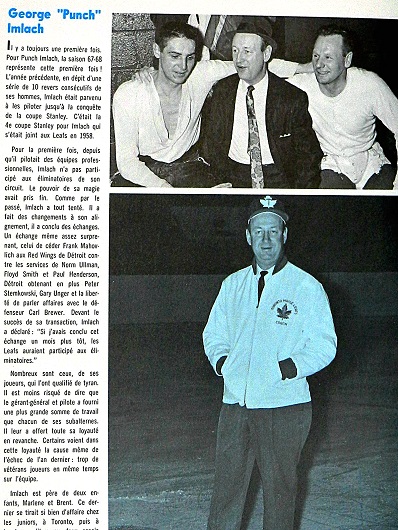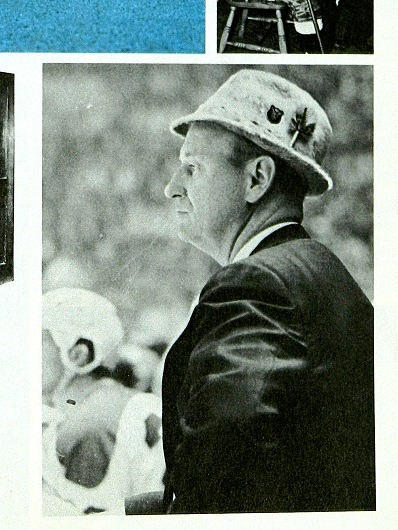 1968–69 WOULD BE THE 11th AND FINAL SEASON FOR PUNCH IMLACH AS GM AND COACH. THE LEAFS FINISHED FOURTH IN THE OLD EAST DIVISION WITH A 35–26–15 RECORD FOR 85 POINTS, A NINE–POINT IMPROVEMENT OVER 1967–68. BUT, THE CLUB WAS DESTROYED BY BOSTON IN THE FIRST ROUND OF THE PLAYOFFS. MINUTES AFTER THE BRUINS' FOUR–GAME SWEEP — AT MAPLE LEAF GARDENS ON APR. 6, 1969 — PRESIDENT STAFFORD SMYTHE UNCEREMONIOUSLY FIRED IMLACH.

LEGENDARY DEFENSEMAN TIM HORTON WAS ALSO IN HIS FINAL SEASON (OF 20) WITH THE MAPLE LEAFS. ON MAR. 3, 1970, HE WOULD BE DEALT TO THE NEW YORK RANGERS. JUST FEWER THAN FOUR YEARS AFTER THAT — ON FEB. 21, 1974 — HORTON DIED IN A SINGLE–CAR CRASH ON THE QUEEN ELIZABETH WAY (QEW) NEAR ST. CATHARINES, ONT. HE WAS 44. HOURS EARLIER, HE HAD PLAYED FOR THE BUFFALO SABRES, AGAINST TORONTO, AT MAPLE LEAF GARDENS.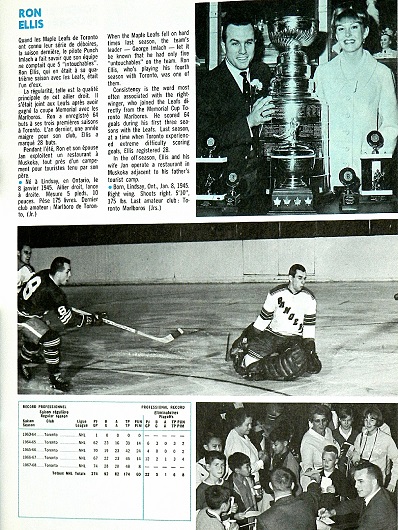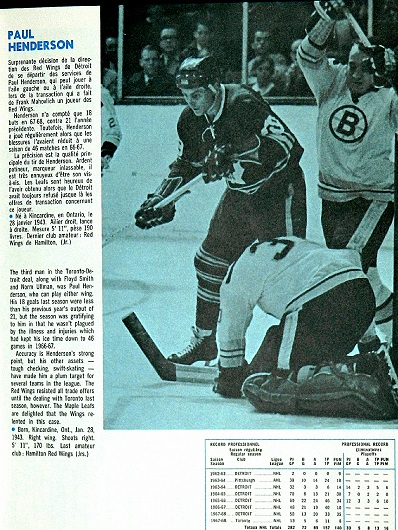 RON ELLIS AND PAUL HENDERSON BECAME LEAF TEAMMATES ON MAR. 3, 1968 IN THE BLOCKBUSTER TRADE THAT SENT FRANK MAHOVLICH TO DETROIT. ELLIS AND HENDERSON WOULD FLANK NORM ULLMAN ON A GOOD SCORING LINE FOR THE NEXT SIX YEARS. DURING THAT TIME — IN SEPTEMBER 1972 — THEY WERE BOBBY CLARKE'S WINGERS DURING THE FAMED CANADA–RUSSIA SERIES THAT HENDERSON DECIDED WITH 34 SECONDS LEFT IN THE EIGHTH AND FINAL MATCH.

AFTER CAPTAINING THE LEAFS TO THEIR FOUR STANLEY CUP TITLES IN THE 60's, GEORGE ARMSTRONG CAME OUT OF RETIREMENT TO PLAY 53 GAMES IN 1968–69. DAVE KEON TOOK OVER AS CAPTAIN IN 1969–70, AND ARMSTRONG RETIRED FOR GOOD FOLLOWING THE 1970–71 SEASON.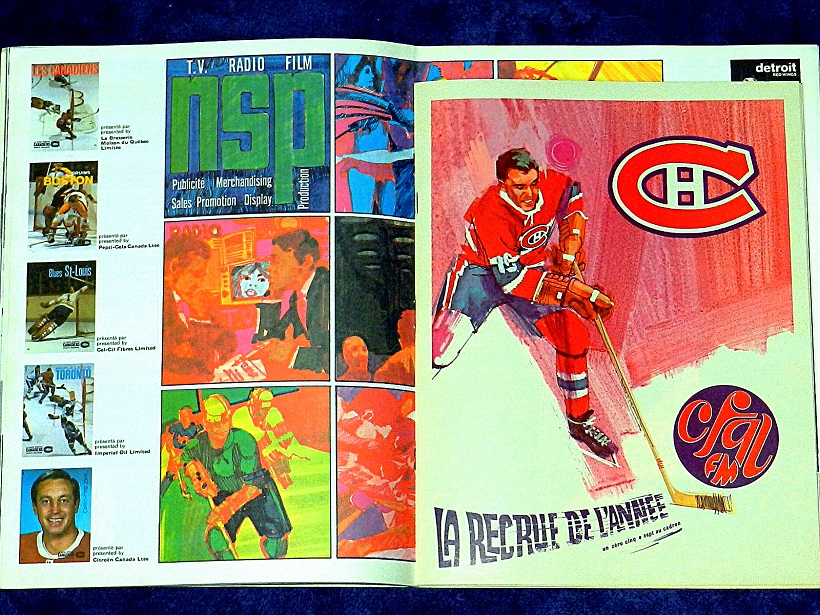 THE CENTER–SPREAD OF THE PROGRAM, WITH COVERS OF FIVE 1968–69 FORUM ALBUMS ON THE LEFT, AND FRONT OF THE PROGRAM–INSERT ON THE RIGHT–HAND SIDE.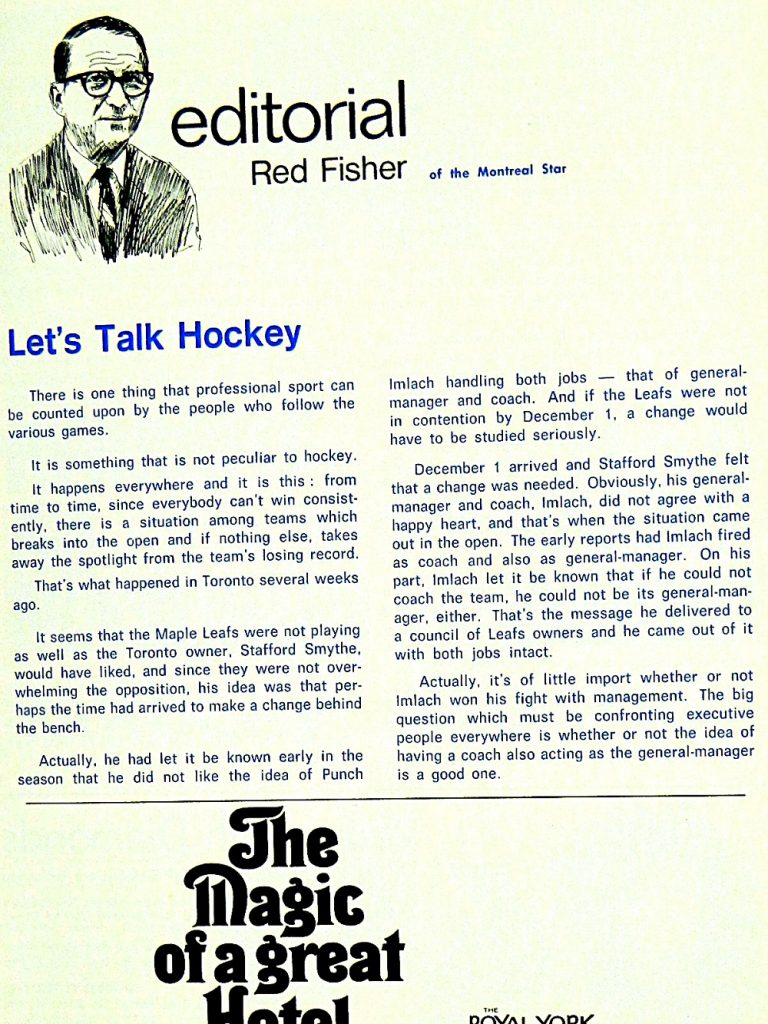 RED FISHER, CURRENTLY 90 YEARS OF AGE (PROGRAM COLUMN ABOVE AND BELOW), COVERED THE CANADIENS FROM 1954 UNTIL HIS RETIREMENT IN 2012 — FIRST FOR THE MONTREAL STAR (1869–1979), THEN THE MONTREAL GAZETTE. HE IS THE ALL–TIME DEAN OF HOCKEY WRITERS.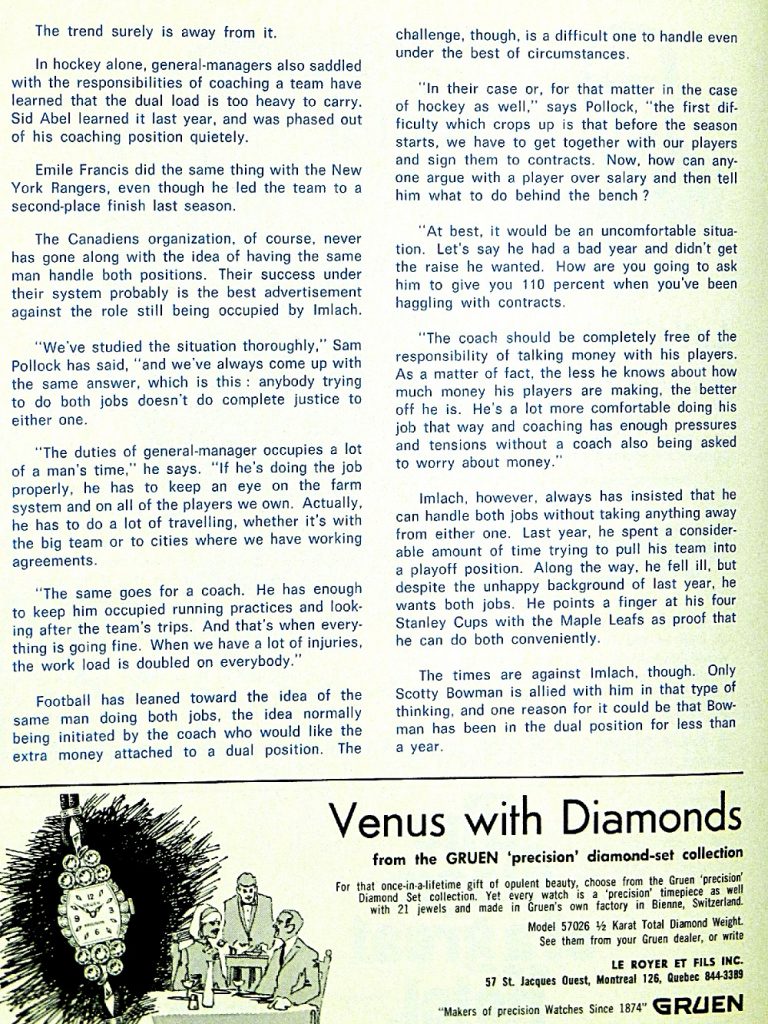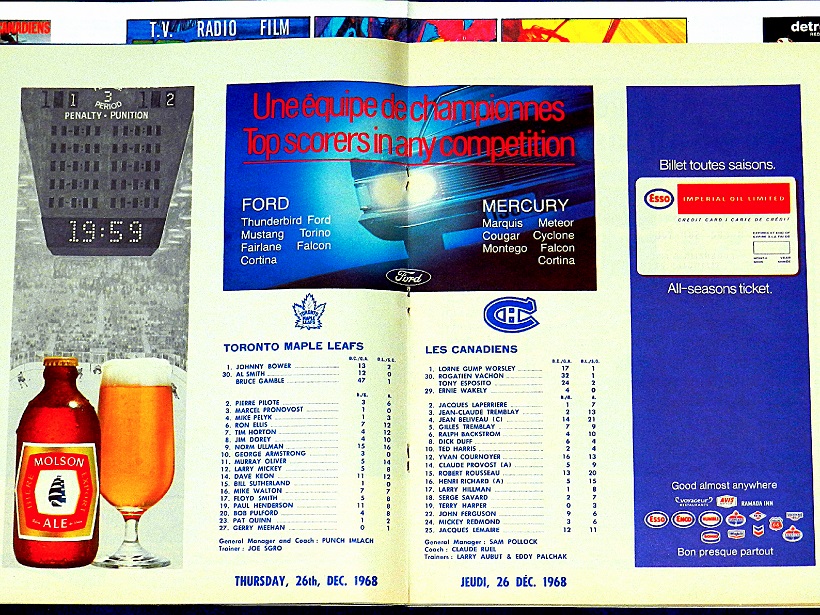 THE GAME OF DEC. 26, 1968 FEATURED FOUR GOALIES THAT WOULD END UP IN THE HOCKEY HALL OF FAME — JOHNNY BOWER OF THE LEAFS; GUMP WORSLEY, ROGATIEN VACHON AND TONY ESPOSITO OF MONTREAL. ESPOSITO WENT TO CHICAGO IN THE INTER–LEAGUE WAIVER DRAFT ON JUNE 11, 1969. THE FOLLOWING YEAR (1969–70) WITH THE BLACK HAWKS, HE ESTABLISHED THE EXISTING SINGLE–SEASON RECORD OF 15 SHUTOUTS; WON THE CALDER TROPHY AS NHL ROOKIE–OF–THE–YEAR; THE VEZINA TROPHY AS TOP GOALTENDER, AND FINISHED RUNNER–UP TO BOBBY ORR FOR THE HART TROPHY AS LEAGUE MVP. THE LATE PAT QUINN WAS A ROOKIE ON THE MAPLE LEAFS BLUE LINE.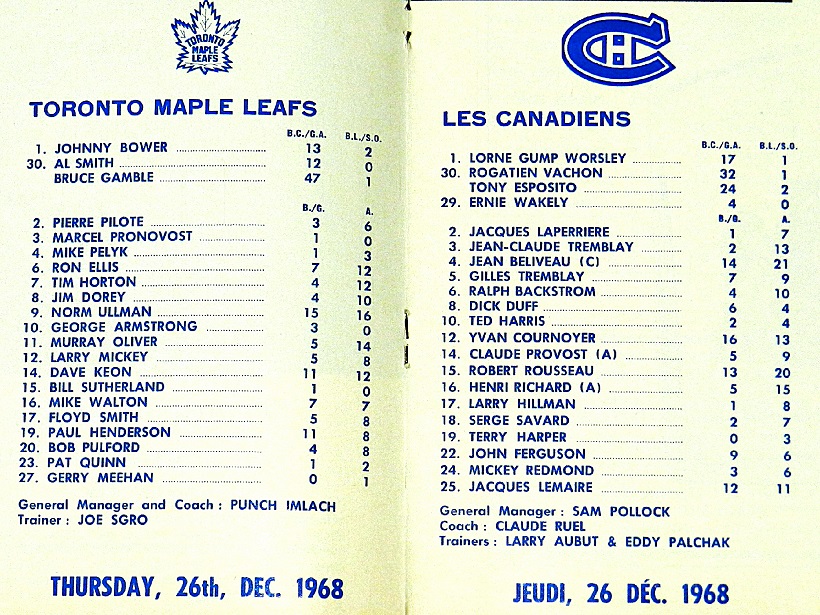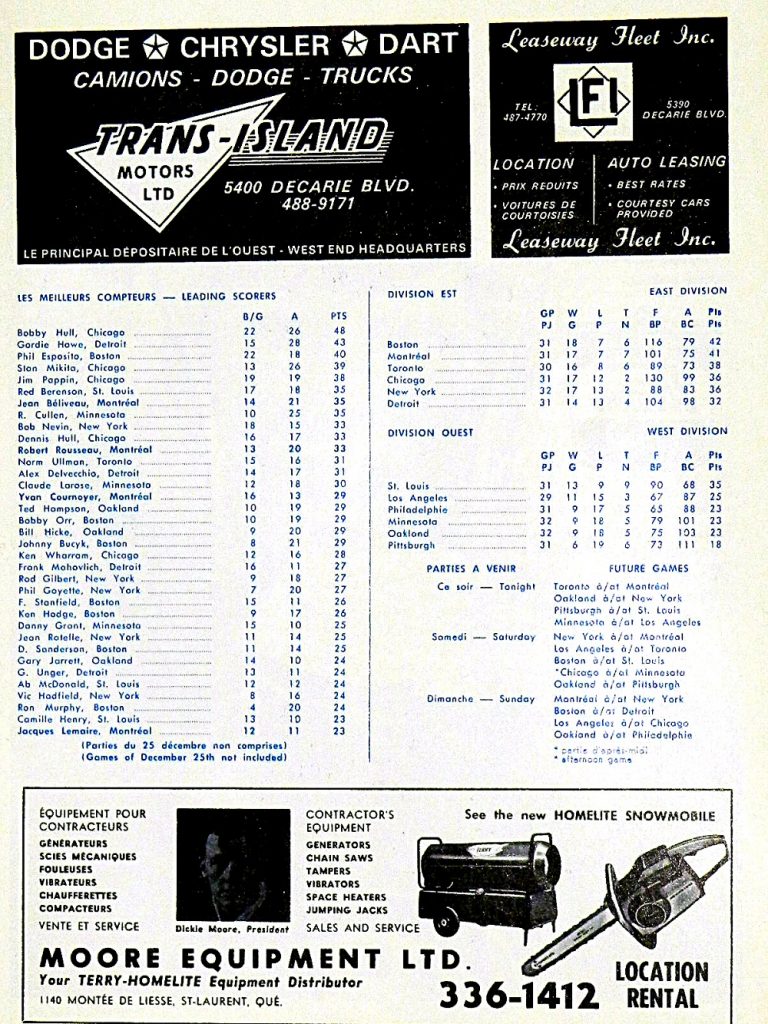 NHL STATS AND STANDINGS AT CHRISTMAS 1968.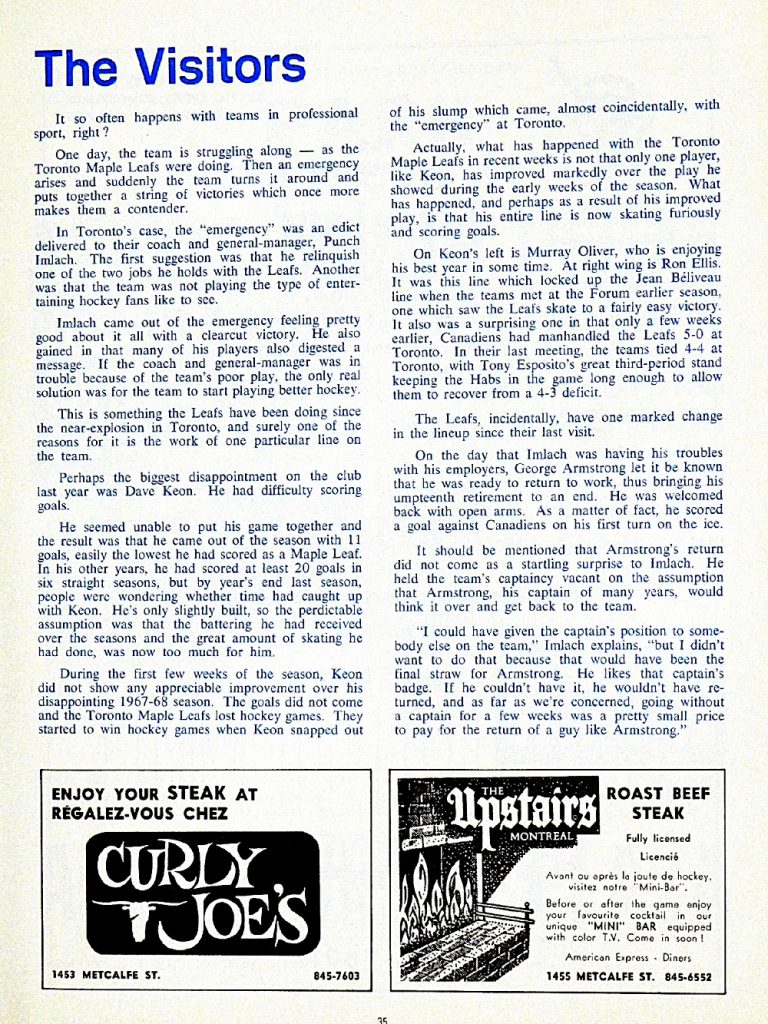 PROGRAM STORY ON THE 1968–69 TORONTO MAPLE LEAFS.

RIGHT SIDE OF THE PROGRAM CENTER–SPREAD, WITH FOUR MORE TEAM–ALBUM COVERS AT FAR–RIGHT, AND REAR OF THE PROGRAM–INSERT ON THE LEFT (YES, THERE WERE CIGARETTE ADS).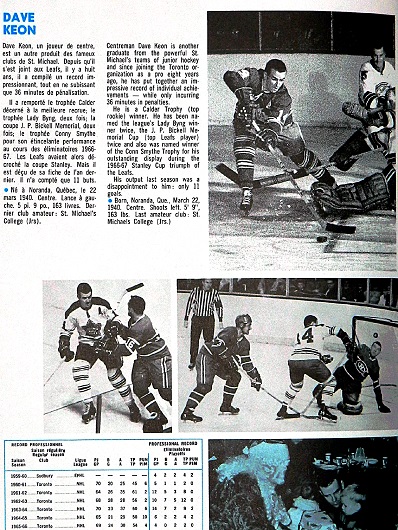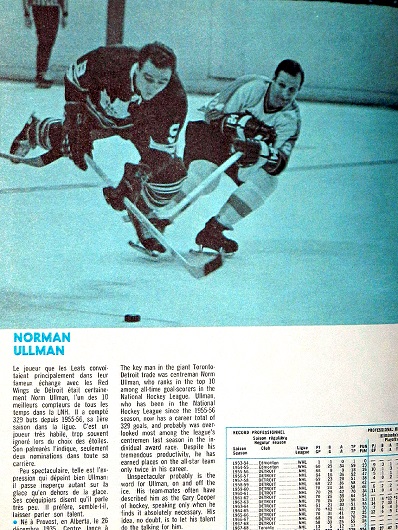 THROUGHOUT THE 1960's, DAVE KEON AND NORM ULLMAN WERE AMONG THE BEST, TWO–WAY CENTERS IN THE NHL. ULLMAN CAME TO THE LEAFS IN THE FRANK MAHOVLICH TRADE WITH DETROIT (MAR. 3, 1968). KEON AND ULLMAN — FUTURE HALL–OF–FAMERS — WERE CRASSLY DISCARDED BY MAPLE LEAFS OWNER HAROLD BALLARD AFTER THE 1974–75 SEASON.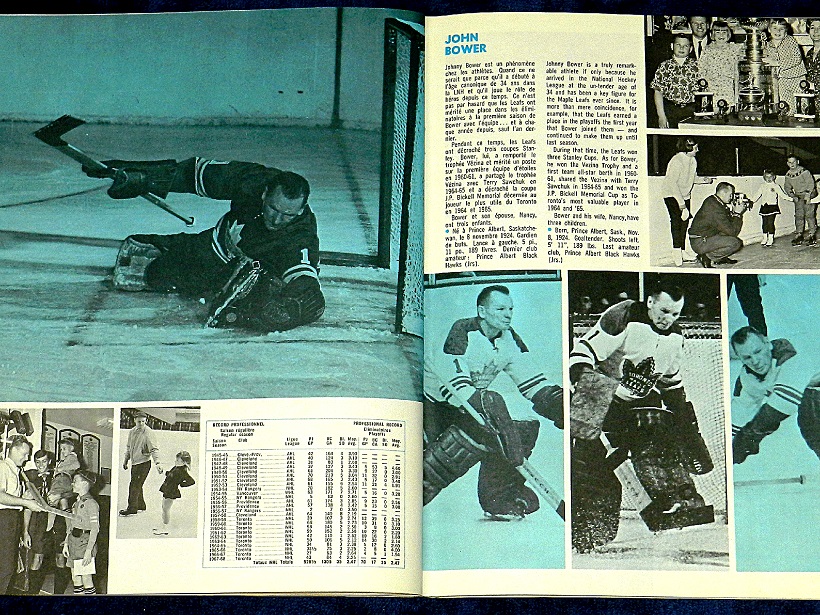 THE MOST BELOVED FIGURE IN MAPLE LEAFS HISTORY WAS IN HIS LAST FULL SEASON WITH THE CLUB. JOHNNY BOWER APPEARED IN 20 GAMES IN 1968–69, SPLITTING CHORES WITH BRUCE GAMBLE AND AL SMITH. IN DECEMBER OF THE FOLLOWING SEASON (1969–70), BOWER RETIRED. AT 92, HE IS CURRENTLY THE SECOND–OLDEST SURVIVING LEAFS PLAYER… TO HOWIE MEEKER, 93.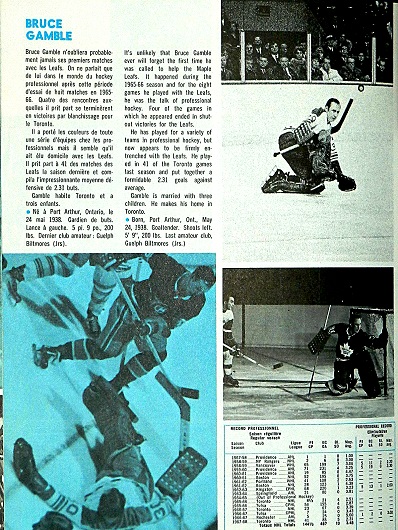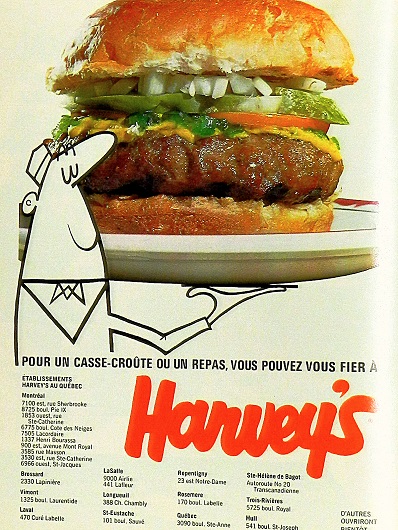 BRUCE GAMBLE (d. Dec. 29, 1982) WAS THE LEAFS NO. 1 GOALIE IN 1968–69, PLAYING IN 61 GAMES. AND, WHO CAN FORGET THAT LUSCIOUS–LOOKING HAMBURGER IN THE HARVEY'S AD THAT APPEARED IN MONTREAL AND TORONTO PROGRAMS DURING THE LATE–60's AND EARLY–70's?
EMAIL: HOWARDLBERGER@GMAIL.COM