TORONTO (June 28) — Imagine the Toronto Maple Leafs in three years with John Tavares, Auston Matthews, William Nylander and Mitch Marner all making beyond–entry–level cash; with a Norris Trophy–caliber defenseman eating up close to $10 million in cap space and with Frederik Andersen needing to be re–signed as an unrestricted free agent. Now, imagine, as well, the salary cap at $150 million per team.
Both, of course, are figments of any hockey observer's imagination.
Let's assume, for the sake of argument, that Leafs management has at least a sketchy plan for the 2020–21 season. Incomprehensible stuff can happen between now and then; three years is an eternity in the cap universe. The Leafs, nonetheless, will have a decision to make: Maintain the current nucleus, or break it up.
The former would allow for Nylander, Marner and Matthews to be locked up, long–term, with salaries near the apex of that allowed per player. Or close to $30 million… roughly 40 per cent of the current cap figure ($75 million per club). Still required — and despite the rarity achieved this spring by the Pittsburgh Penguins — would be the Norris candidate essential to a Stanley Cup challenge. Or, as mentioned, another $8–10 million. A starting goalie, be it Andersen or someone else, will eat up an additional $6 million. That's $46 million for five players, with roughly $30 million allotted to the remaining 18 members of the 23–man roster.
Good luck.
The second option would be to lose at least one member of the Big 3 drafted since 2014. And, to take a healthy run at Tavares next summer, in the unlikely event he's available on the open market. One would assume the New York Islanders will either extend Tavares beyond his prime NHL years, or trade him before the deadline next March to a team that will do the same. It's nearly incomprehensible that he'll be un–tethered on July 1, 2018. As it was Steven Stamkos two years ago. With Tavares and without, say, Marner, the Leafs would still need a Norris guy and a re–signed, or new, No. 1 goalie. Which brings the math virtually equal to the first scenario. Again… good luck — to the Leafs or any team if the cap stays relatively flat.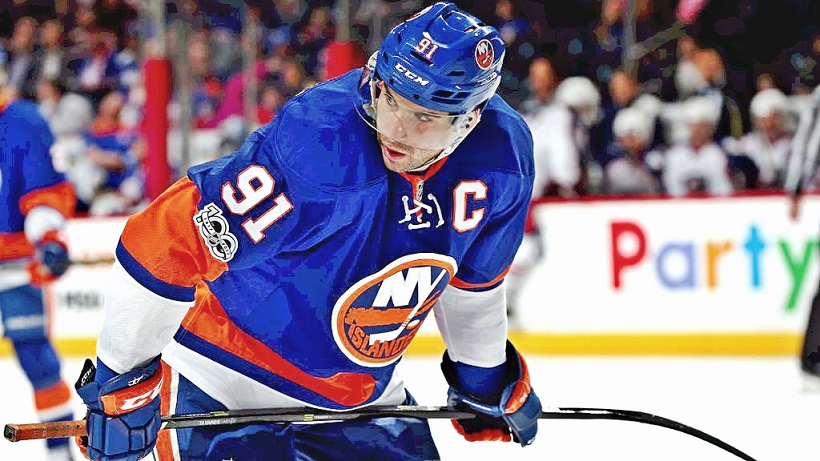 DIFFICULT TO IMAGINE JOHN TAVARES MAKING IT TO UNRESTRICTED FREE AGENCY NEXT SUMMER.
This is what Lou Lamoriello faces, should he remain as general manager of the Blue and White.
Leafs are in the honeymoon phase of their development right now, with Nylander, Marner and Matthews playing under entry–level restriction (yet another reason why a team should almost never trade a first–round draft pick). The more complicated phase begins next summer when Nylander is up for renewal. It then shifts into overdrive in 2019 when the M & M boys come off entry–level. Can the Leafs evolve into a legitimate Stanley Cup threat by locking up all three and merely adding depth to their blue–line? Or, as overwhelmingly evidenced in the post–expansion era — and, specifically, since 1970 — will Toronto require a Top–5 NHL defenseman to end its interminable championship drought?
The 2017 Pittsburgh model suggested a blue–line–by–committee can get the job done. Yet, it's important to know that the Penguins were only the fifth team since 1970 to win the Stanley Cup in the absence of a Norris Trophy candidate and/or future Hall–of–Famer on defense. As I've pointed out on several occasions, only the 1974 and 1975 Philadelphia Flyers; the 1993 Montreal Canadiens and the 2006 Carolina Hurricanes accomplished the feat prior to this spring. The Flyers went back–to–back with all–time goalie Bernie Parent twice winning the Conn Smythe Trophy. The '93 Habs and '06 Hurricanes were one and done. So, I would think the Leafs plan, moving toward 2021, had best include a Top–5 NHL rearguard — developed or acquired. Either way, an expensive component, and nearly impossible to carry with three potential superstar forwards locked up. So, something will have to give here in Leaf Land during the next two or three years.
As the Chicago Blackhawks have regularly discovered, the NHL's salary cap penalizes clubs that spend money to properly develop talent. It will be no different for the Maple Leafs. What the Hawks, of course, have that the Leafs do not is three Stanley Cup titles since 2010. If you are, therefore, a Toronto fan, enjoy next season as you did last. And, maybe avoid marrying yourself emotionally to the current nucleus. It will not be easy to keep this captivating group together… and move into solid Stanley Cup contention.
Much roster juggling is ahead in the not–too–distant future.
WOULD LEAFS TARGET THE CAPITALS?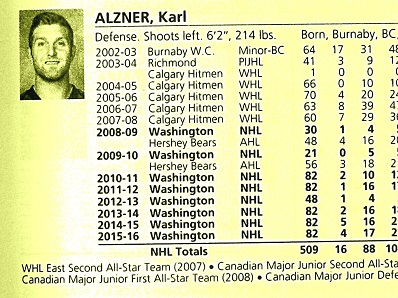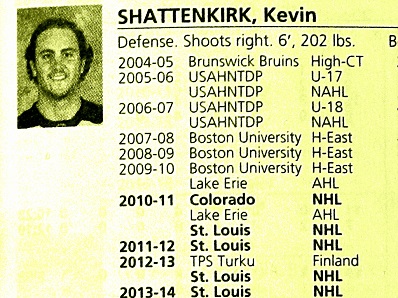 After engaging in a razor–tight playoff battle that featured a Stanley Cup–tying five overtimes in six games, might the Leafs and Washington Capitals do battle again in free agency? It is no secret that Toronto needs to add depth to its blue–line and — ultimately — a premier NHL defenseman. Both gaps could be filled, beginning Saturday, by opening the vault to raid the Capitals of Karl Alzner and Kevin Shattenkirk. Such a prospect, of course, is difficult to envision, as the Leafs aren't likely to assume roughly a $13 million cap burden on July 1. That said, the notion is hardly ridiculous. It would solidify the blue–line for the next half–decade and the Leafs (according to capfriendly.com) have just more than $14 million to play with. From that amount, however, must come the cash to re–sign restricted free agents Connor Brown and Zach Hyman; perhaps UFA Brian Boyle… and to acquire a No. 2 goalie. So, even if Lamoriello were to unload, say, the contracts of James van Riemsdyk and Tyler Bozak before next season (an accumulative $8.45 million), which would weaken the club up front, more paring would need to be done. A more reasonable pursuit in free agency would be one of Alzner or Shattenkirk. Alzner, a big, shut–down defenseman that can play top–pairing minutes has reportedly been interviewed by Montreal. Shattenkirk, moved by St. Louis to Washington before the trade deadline in March, is the most talented blue–liner on the market. He put up a career–best 56 points for the Blues and Capitals last season, but I wasn't impressed by his playoff performance (one goal and six points in 13 games). And, given he is undeniably the cream of an otherwise middling UFA crop, Kevin is likely to be over–compensated with salary and term. Therefore, if I were Lamoriello, I might pursue Alzner and wait to see whether Los Angeles struggles again and possibly makes Drew Doughty available before next summer (he's a UFA in 2019). Oliver Ekman–Larsson could also be available two summers from now, though it's difficult to imagine Arizona not locking him up beforehand. Another potential trade option would be Tyson Barrie from Colorado and his manageable $5.5–million cap hit through 2019–20. But, the Leafs would have to yield a first–round draft pick and an established player; if I were Joe Sakic, I'd demand Nazem Kadri. As such, this is an unlikely scenario.
WHY DEBATE ANDREYCHUK?
The names and the numbers stare at you and make for a perfect argument.
Dave Andreychuk belongs in the Hockey Hall of Fame — as elected, finally, in his ninth year of eligibility on Monday. It stares at you, in bold–print, on Page 174 of the 2017 NHL Official Guide & Record Book: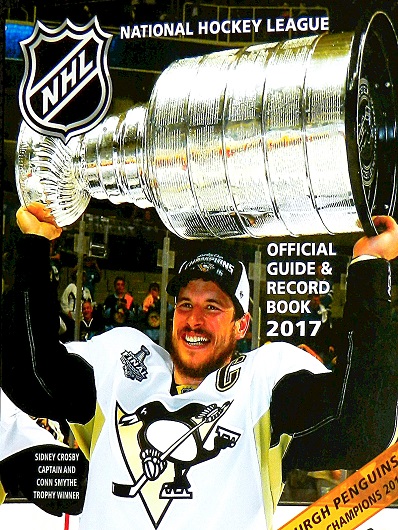 Among the thousands of players that have passed through the NHL in its 100–year history, there sits Andreychuk in 14th spot on the all–time goal–scoring list. Every player ahead of him is already in the Hall of Fame; or, in the case of Jaromir Jagr, will eventually be, on the first ballot. Same applies to those beneath him on the above list. All are honored members, with Jarome Iginla to follow. So, why not Andreychuk? And, why has it taken nine years? He scored 640 goals and is one of only 19 players to reach the 600–goal plateau. He won a Stanley Cup as captain of the 2004 Tampa Bay Lightning. His mid–season acquisition from Buffalo in 1992–93 — and placement on Doug Gilmour's flank — helped to propel the Maple Leafs as far as they've advanced in the playoffs since their last championship, in 1967. All that could possibly be held against Dave is a .390 goals–per–game ratio — lowest among the top 20 all–time scorers. Big deal. Mark Messier was .395. Did that prevent him from appearing at the top of every ballot in 2007 election? Of course not.
Adding to Andreychuk's Hall–of–Fame legacy is the cover photo on the 2005 NHL Official Guide & Record Book. Dave will forever adorn the league's "information superstar" in the year there was no hockey: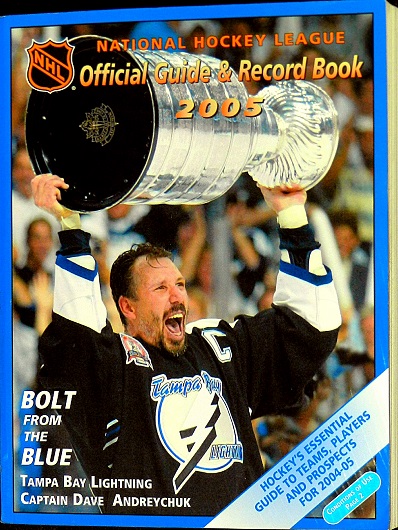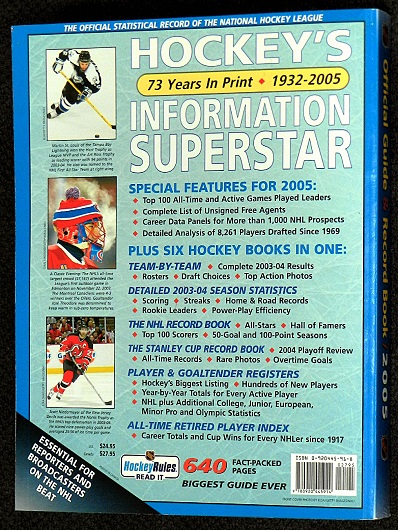 Congrats, Dave, on your Hall election. It was a pleasure to cover you as a reporter with the most memorable Leafs playoff team since 1967. And, on the night you won the Stanley Cup in Tampa. Great memories, both.
ARGOS EXPERIENCE ENJOYABLE
Nearly 48 years after attending my first Canadian Football League game, I still get a rush from going to see the Toronto Argonauts. The experience, in many ways, is more enjoyable than ever, given the Argos play at the best stadium in their long, storied history. Sight–lines at BMO Field are wonderful, particularly from the upper–deck on the east side. Which is where I sat on Sunday afternoon with my son, Shane, and best pal, Joel Colomby, to watch Argos defeat the Hamilton Tiger–Cats, 32–15, in their 2017 season opener.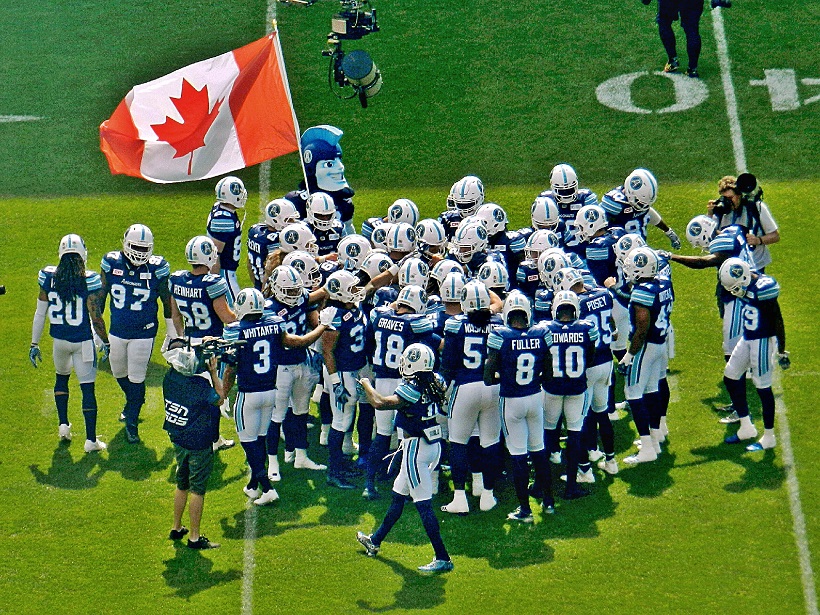 For me, the Argonauts engender nostalgia. I still vividly remember Dad taking me to my first game at CNE Stadium — which stood just yards south of BMO Field — to see the Argos and Ottawa Rough Riders on Sep. 20, 1969, two months to the night of the first moon–landing (Apollo 11). I was ten, and we sat way up in the northwest corner of the old 20,000–seat grandstand. As always, Ottawa quarterback Russ Jackson ruined the night for Argo fans, engineering a late drive to win the game 34–27. But, I was hooked on the CFL… for life.
I had my trusty NIKON with me on Sunday afternoon at BMO Field.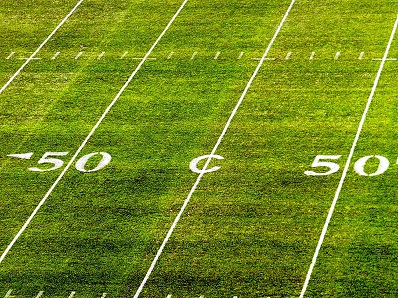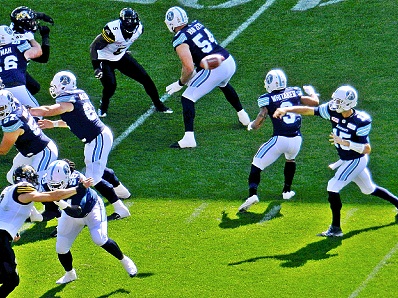 THERE'S NOTHING QUITE LIKE WATCHING A FOOTBALL GAME ON NATURAL GRASS, WHICH COVERS ALL BUT THE NORTH END ZONE AT BMO FIELD. ARGOS QUARTERBACK RICKY RAY ENJOYED THE MOST PROLIFIC DAY OF HIS LONG CAREER, PASSING FOR 506 YARDS AGAINST THE TIGER–CATS.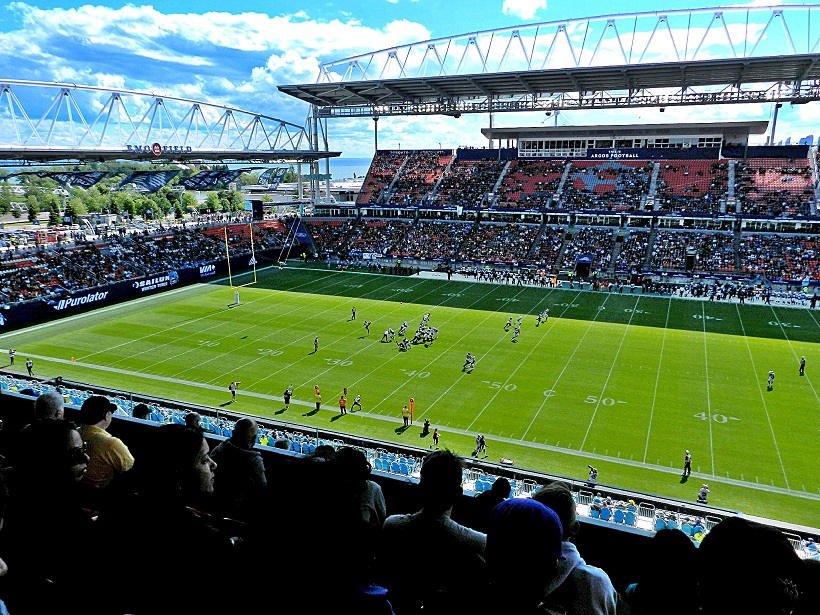 THE VIEW FROM SEC. 206, ROW 10 OF THE UPPER-DECK ON THE EAST SIDE OF BMO FIELD. AS GOOD AS ANY LOCATION IN THE CURRENT CFL. AND THE BEST OF ANY ARGOS STADIUM IN HISTORY.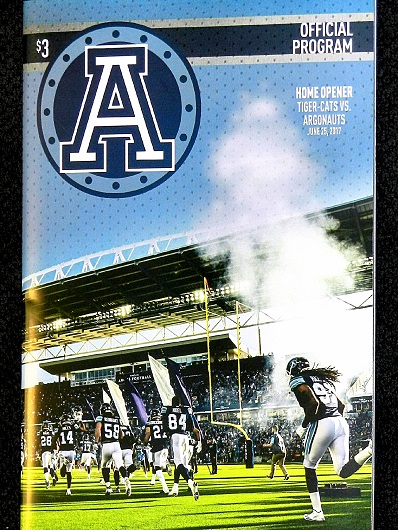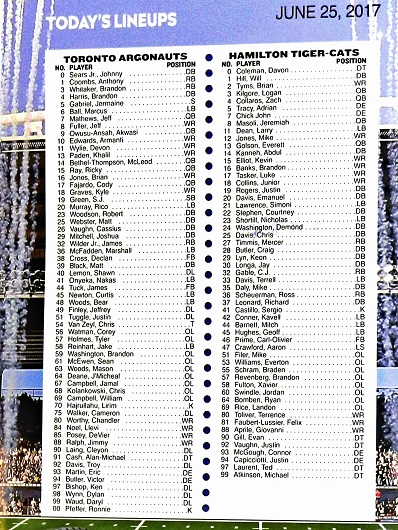 PERHAPS A SMALL TOUCH, BUT SIGNIFICANT TO ME (ABOVE) WAS THE RETURN OF A DEDICATED PROGRAM AFTER YEARS OF HANDING OUT A PAMPHLET WITH THE TEAM LINE–UPS. ANOTHER NICE ADDITION (BELOW) ARE GREY CUP BANNERS ABOVE THE SOUTH END ZONE SEATS; IN THIS PHOTO, THE LAST FOUR ARGONAUT CHAMPIONS, INCLUDING THE BEST CLUB IN FRANCHISE HISTORY: 1997.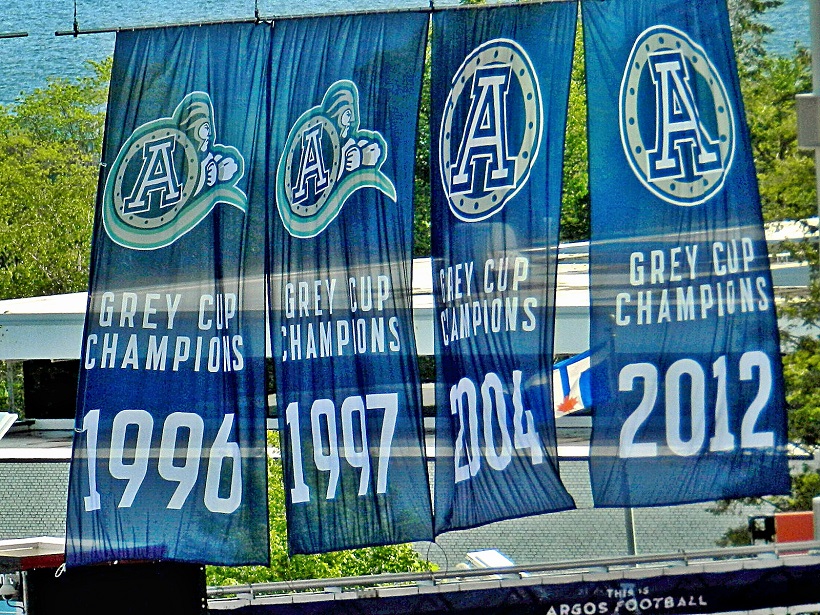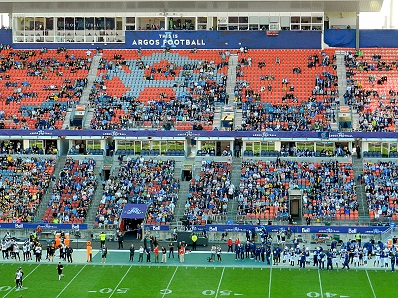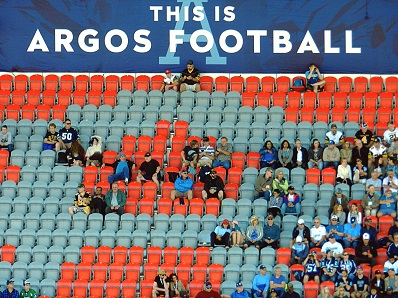 ATTENDANCE IS STILL A FRONT–LINE ISSUE FOR THE ARGOS. JUST MORE THAN 13,000 SHOWED UP TO WATCH SUNDAY'S GAME AND A MAJORITY OF THE BEST SEATS ON THE SHADED WEST SIDE OF THE STADIUM WERE VACANT, AS PER THE ABOVE PHOTOS. WHICH INDICATES THEY ARE OVERPRICED AT THE MOMENT. A COMPETITIVE, WINNING TEAM WILL HELP DRAW MORE FANS AS SUMMER MORPHS INTO AUTUMN. AND, WHAT THE ARGONAUTS NEED, QUITE FRANKLY, ARE MORE PEOPLE LIKE MY 20–YEAR–OLD SON, WHO BECAME AN AVID FOLLOWER BY VIRTUE OF HIS FATHER'S INTEREST.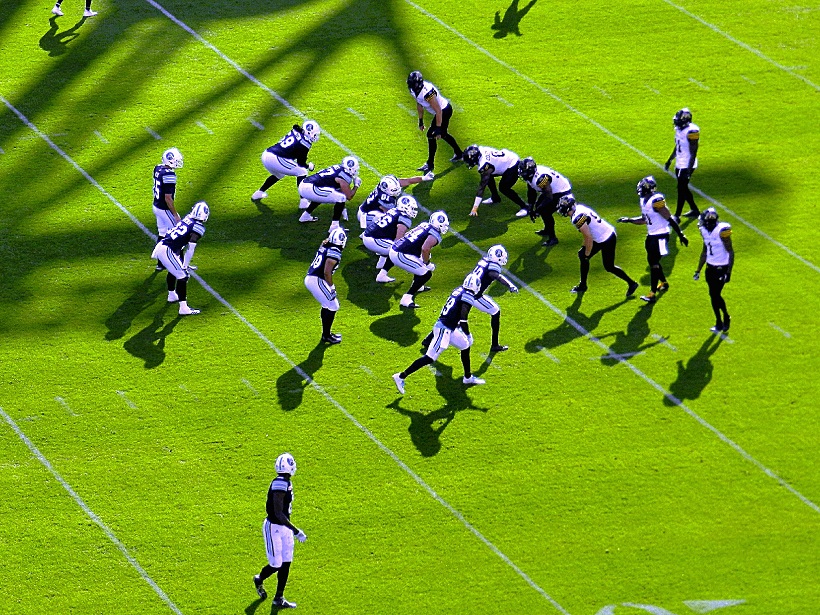 ANOTHER EXAMPLE OF THE UNPARALLELED SIGHT–LINES AT BMO FIELD.
ONE DRAWBACK: The lone, tricky issue on Sunday was parking. With the CNE installing concrete barriers and portable stands for the Indy car race in July, the Princes' Gates entrance at the east end of Exhibition Place was closed. A large lot north of the Gates on Strachan Ave. was once attended to by human beings. Fans could therefore be told (via signage) when it was full. Today, it is automated and the aggravation of meandering in and about other vehicles looking for zero parking spots is one I'll be sure to avoid in the future. Doubling back to Lakeshore Blvd., I turned into the first entrance of the CNE (Newfoundland Rd.). I followed a sign that said ARGOS PARKING, with an arrow pointing left. Turning left, however, brought me to a dead end and a remarkably attractive woman–cop who advised to me try the next entrance off Lakeshore… which just happened to be a one–way exit (sigh). The third (and final) entrance to the CNE — off Ontario Drive — finally led to the best parking spot I've ever had for an Argos game, roughly 50 meters from the southernmost entrance to BMO Field. Absolutely perfect. So, therein lies the key: Whether or not the Princes' Gates are open, follow westbound Lakeshore Blvd. to Ontario Drive… and you cannot go wrong.
EMAIL: HOWARDLBERGER@GMAIL.COM