TORONTO (June 30) — Perhaps it was merely the inference of an editor. Or, maybe Lou Lamoriello did laugh. Whatever the case, the headline to a story in Friday's Toronto Sun, written by Lance Hornby, reflected dimly on the veteran Maple Leafs general manager — a strict disciplinarian, yet someone I've never considered haughty. Read the banner: MAPLE LEAFS LAMORIELLO LAUGHS AT 'WIN–NOW' NOTION.
Beginning in the second paragraph, Hornby wrote: The Maple Leaf general manager gave a hearty laugh at the notion free–agency shopping would tempt him to accelerate with willy–nilly signings instead of William Nylander–type drafting. To those who insist the Stanley Cup window is a small one in the post–lockout NHL, Lamoriello had a wry comeback on Thursday. "Well, that was fast. To go from where we were (30th place last year) to the window closing … I don't think so. First of all, you (sign UFA's) if it makes sense; there has to be a reason for it. I think it's very important to be mentioned we've added three free agents already, two defencemen and a forward." He was referring to Andreas Borgman and Calle Rosen from Sweden and former Anaheim draft pick forward Miro Aaltonen. All have entry-level deals.
Though the Leafs, under the leadership of Brendan Shanahan, have devised and executed a plan that unfolded spectacularly last season, I'm not sure I'd be "laughing" at any idea or notion. Not at this point, anyway. While there was finally some progress, let's try to remember that the Leafs made the playoffs in a full National Hockey League season for the first time in 11 years… and didn't get beyond the opening round.
To think that management now has it all figured out, from top to bottom, might be a stretch. As I've written previously, nothing overly scientific has contributed the the club's improvement. After nearly a decade of unintentional failure, those running the Leafs finally became copy–cats. They tanked for a couple of seasons and drafted in the top five for three consecutive years. At the same time, ownership used its financial might and signed one of the premier NHL coaches to the largest contract in history. Nylander, Mitch Marner and Auston Matthews were clever choices; in 2014 and 2015, others could have been selected. So, let's give credit where it's due. That said, Lamoriello, Mark Hunter and Co. would have had to screw up royally in order to not move the club forward. Virtually the only way to build in the salary–cap era is to fail on purpose for a period of time and grab a couple or three can't–miss kids in the draft. Though essential, it isn't a complicated process. And, the Leafs, at last, have acted accordingly. They've done the easy part rather well.

LOU LAMORIELLO, SHOWN HERE (AT RIGHT) WITH LEAFS PRESIDENT BRENDAN SHANAHAN, IS A NICE MAN WHO ALWAYS ENJOYS A HEARTY CHUCKLE. BUT, BUILDING A STANLEY CUP CONTENDER IS NO LAUGHING MATTER. OPPORTUNITY ISN'T GUARANTEED — AT ANY TIME.
But, before Lamoriello begins to "laugh" at the notion of an early window for success, perhaps he should tend to the unavoidable challenges that lay ahead. Which he didn't particularly ace while running the New Jersey Devils in the post–2005 lockout era. Yes, New Jersey went to the Stanley Cup final in 2012… but died a precipitous death afterward. Even before the Cup final appearance, the Devils had missed the playoffs once and gotten kayoed three other times in the opening round. So, Lou isn't exactly the poster–GM of the salary cap era. The beauty of the current Collective Bargaining Agreement, for teams, is that elite draft picks perform under entry–level salary restriction for three years. The cap–hit for Nylander, Marner and Matthews (according to capfriendly.com) will be a combined $2,713,334 USD next season. Nylander's hit, alone, could nearly triple that amount in 2018–19. The M & M boys follow in 2019–20. Who knows what Lamoriello — or any GM — will be able to accomplish with the Leafs when the Big 3 are gobbling up close to $30 million?
Only then can we truly begin to determine what is, or was, an opportunity for the club. No one, in fact, can say for certain whether or not right now is the best chance for the Leafs to make a move. To merely assume the window will expand — or even remain open — during the convoluted process of roster juggling two and three years down the line is foolhardy. It doesn't mean Lamoriello should embark on a maniacal binge in free agency or start trading for older, established players. But, he won't be drafting the same caliber of prospect as in the "tanking" years and the Maple Leafs are still glaringly devoid of an elite NHL defenseman (not to mention a reliable back–up goalie rather than cheap fill–ins — as throughout last season).
So, all the real grunt–work lies ahead for the Blue and White.
And, I'm not here to suggest the club will fail. Who knows? Eagle–eyed Hunter might churn out a succession of draft jewels, enabling the Leafs to move forward with good, young players under ELC restriction — difficult, yes, but an absolute best–case scenario in the current NHL. Maybe Tim Liljegren will reclaim his prospect–status of a year ago and evolve into a quasi–Nick Lidstrom. Perhaps Lamoriello, who traded cleverly with Anaheim for Frederik Andersen, will pull off another good deal. All of the above could happen.
But, before it does, why laugh with a reporter that asks, even rhetorically, about an early window of opportunity? In my view, any–such window in pro sport should be capitalized on rather than scoffed at.
SUMMERTIMES PAST IN THE NHL
Combing through my collection of The Hockey News, I came across several of the big, summer transactions that occurred after the first owners' lockout in 1994 and ultimately led to the entire lost season of 2004–05. In particular, the New York Rangers going hog–wild during the free agent signing period in 1999. Included in the following images is the best free agent catch to this point in Toronto Maple Leafs history. And, how the NHL came out of the lost '04–05 season with Sidney Crosby leading the way among draft prospects.
You'll notice some really big names in this photo–section:
SUMMER 1997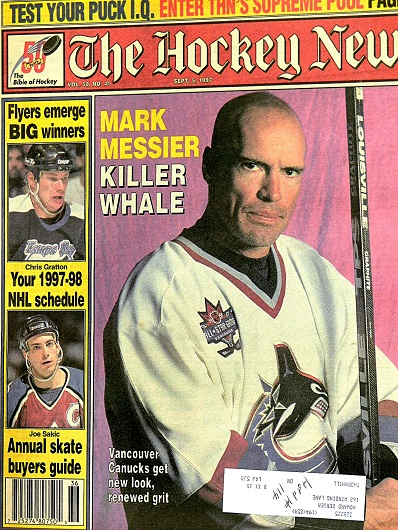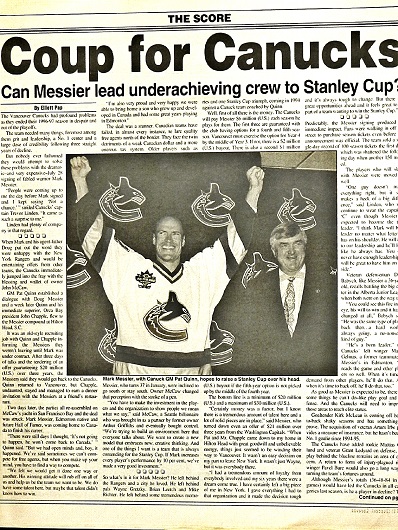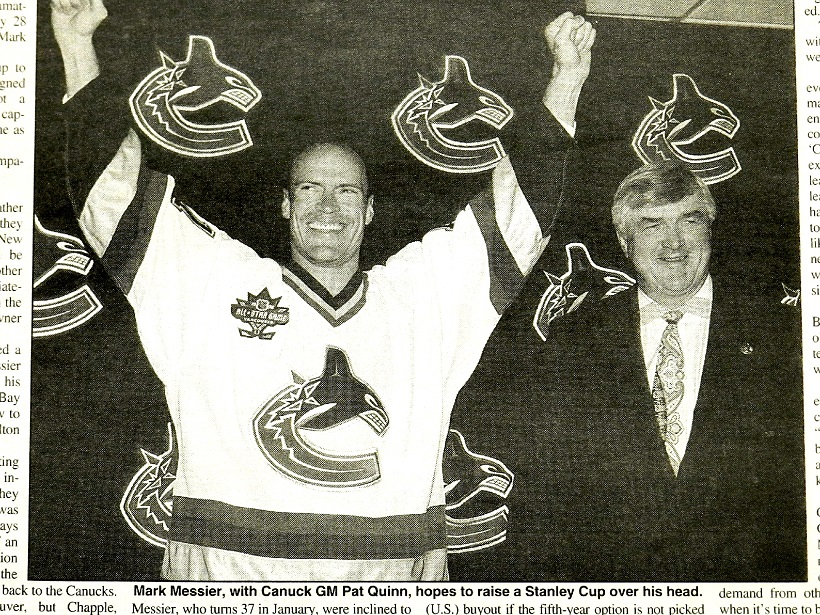 SUMMER 1998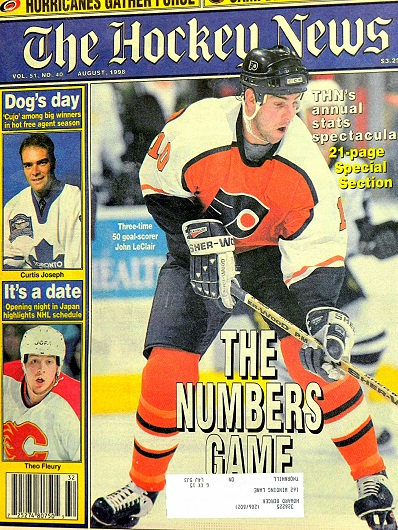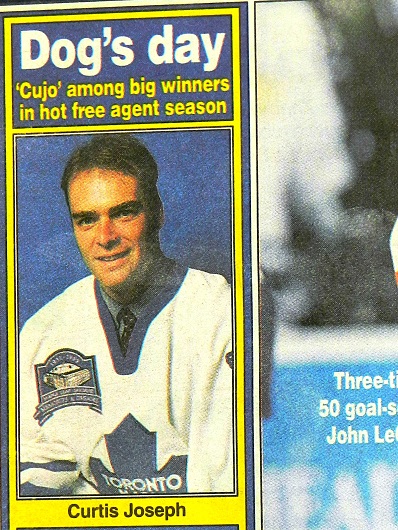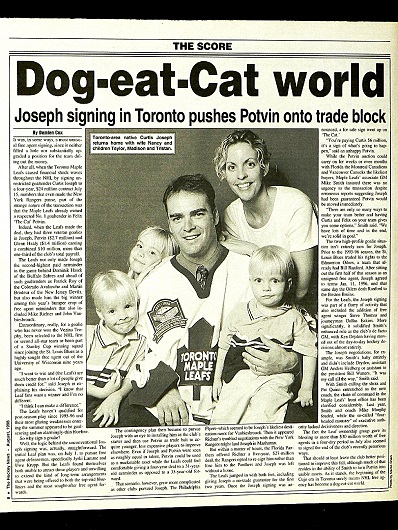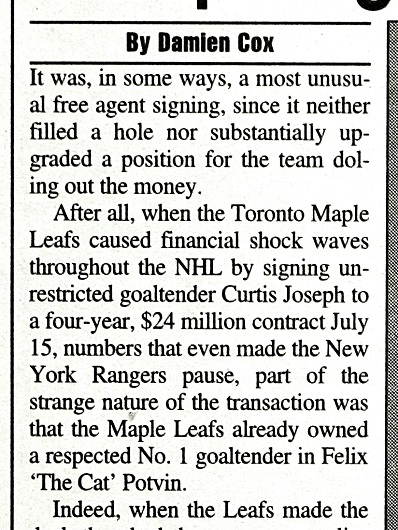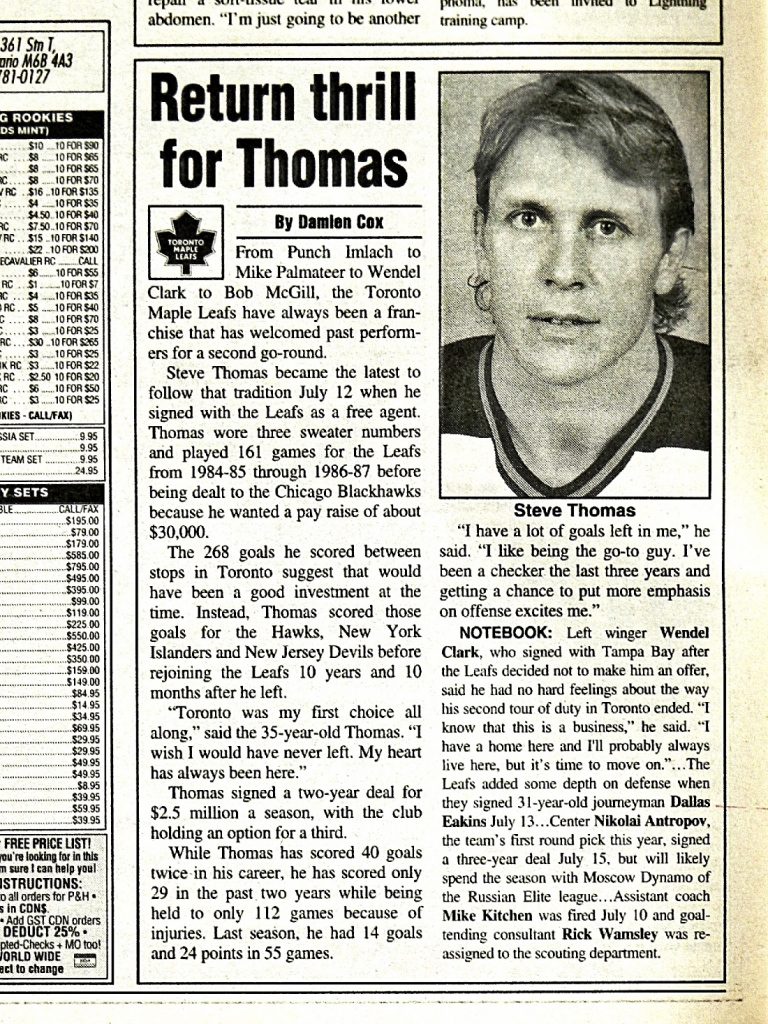 SUMMER 1999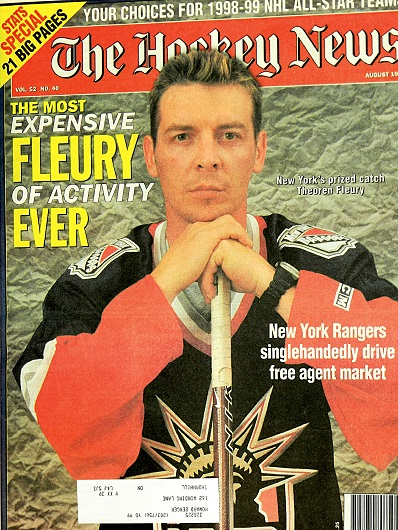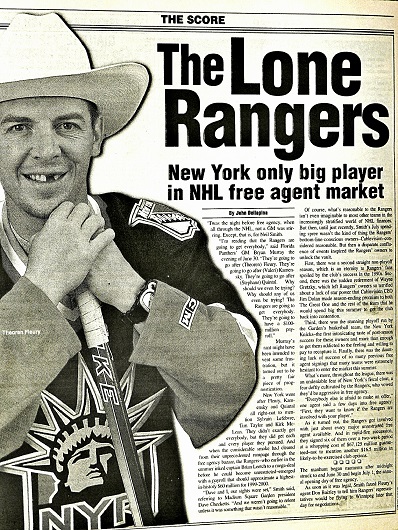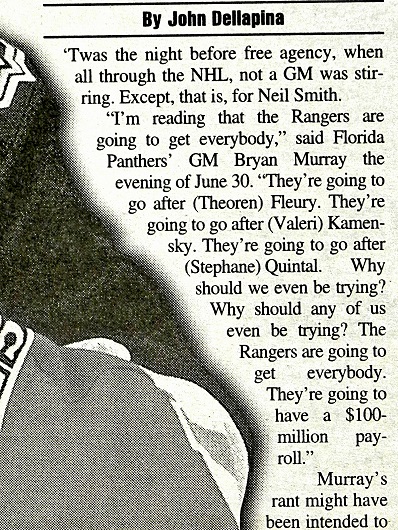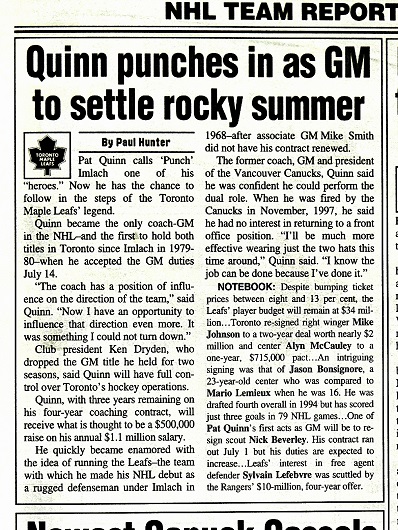 SUMMER 2001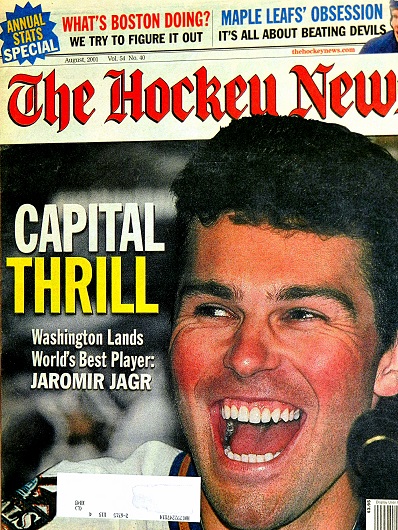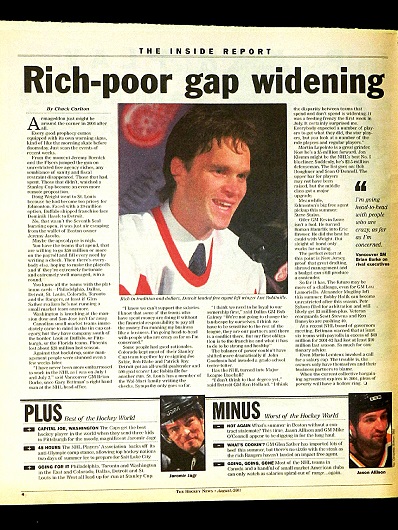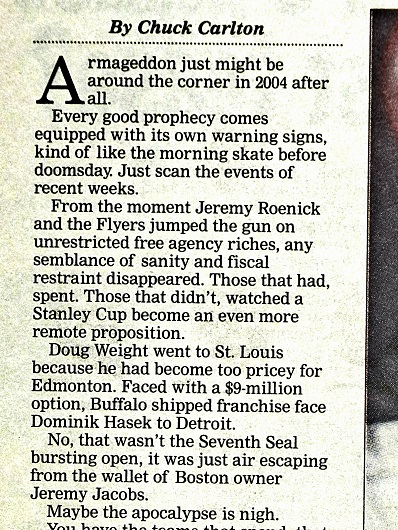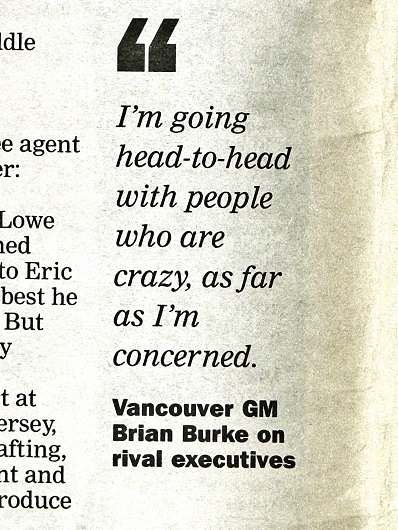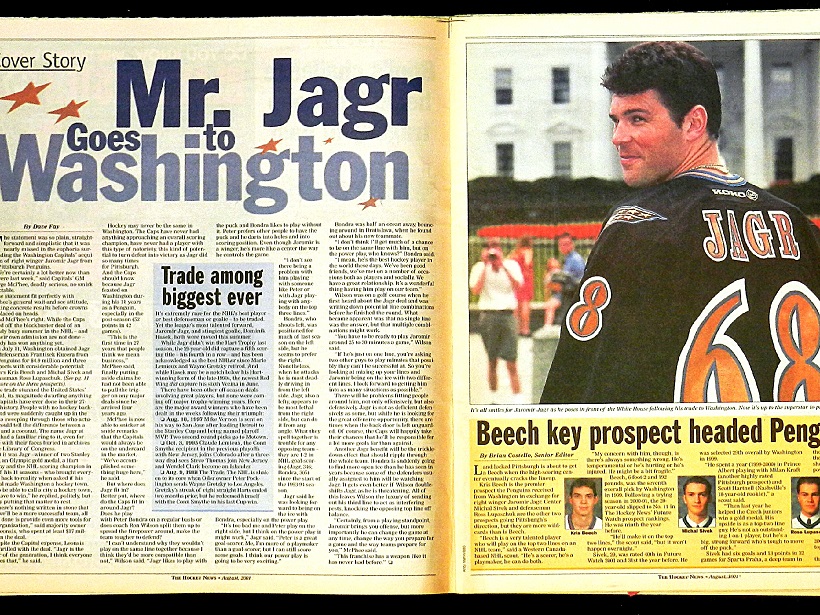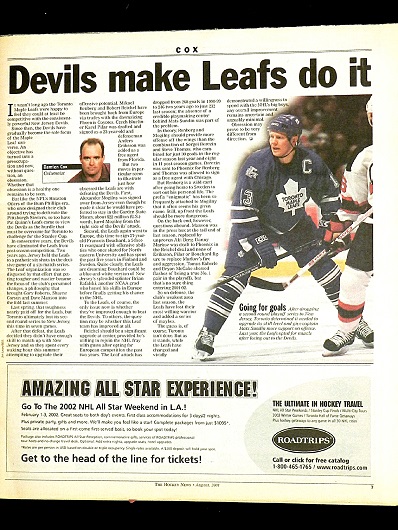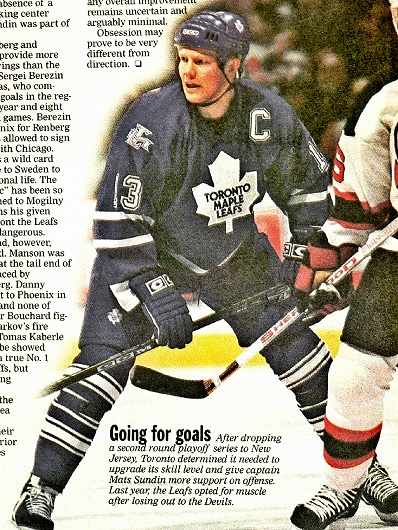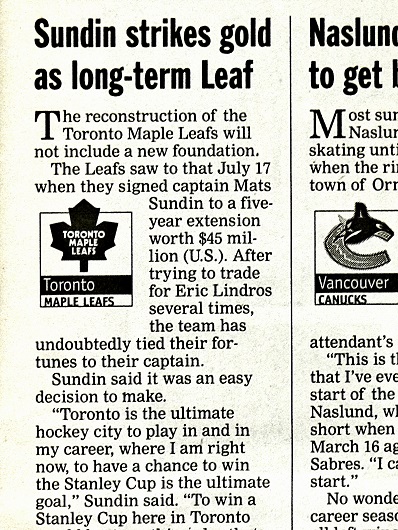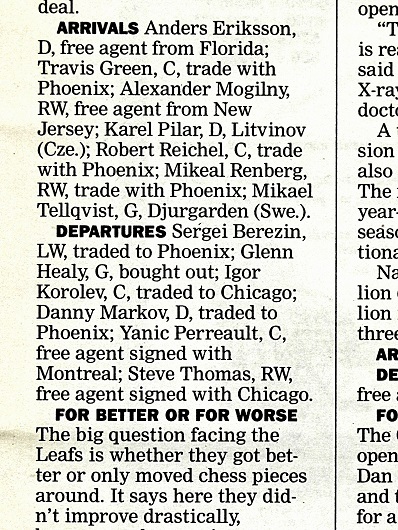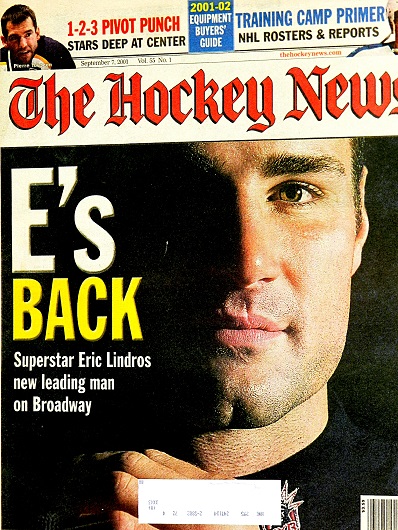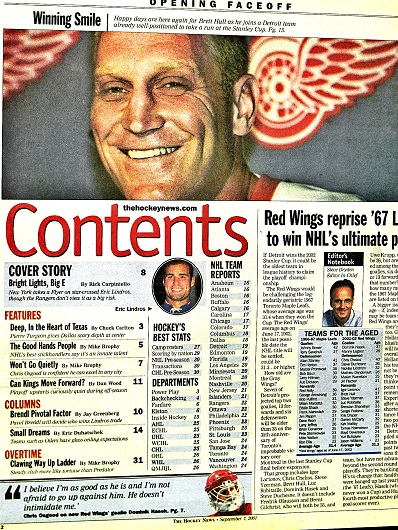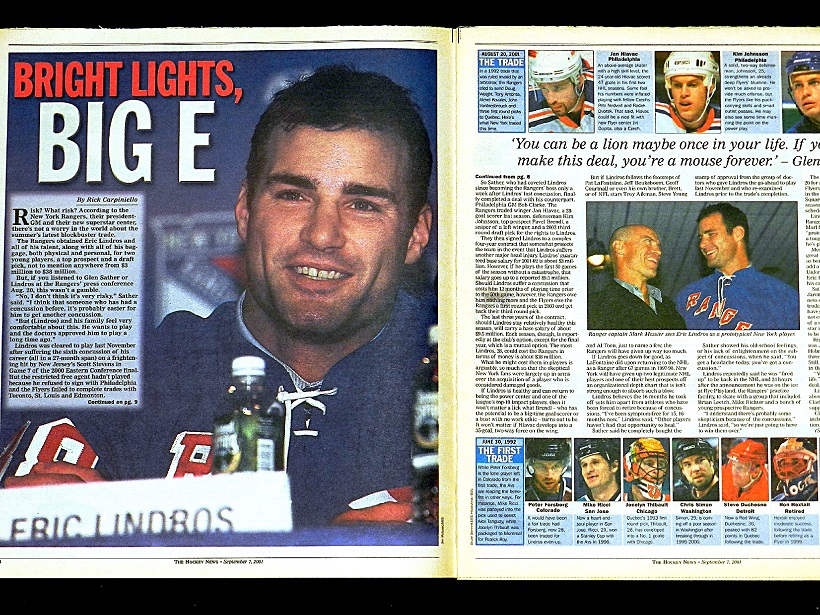 SUMMER 2002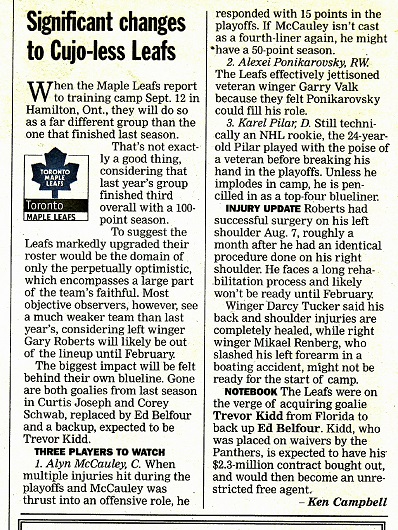 SUMMER 2005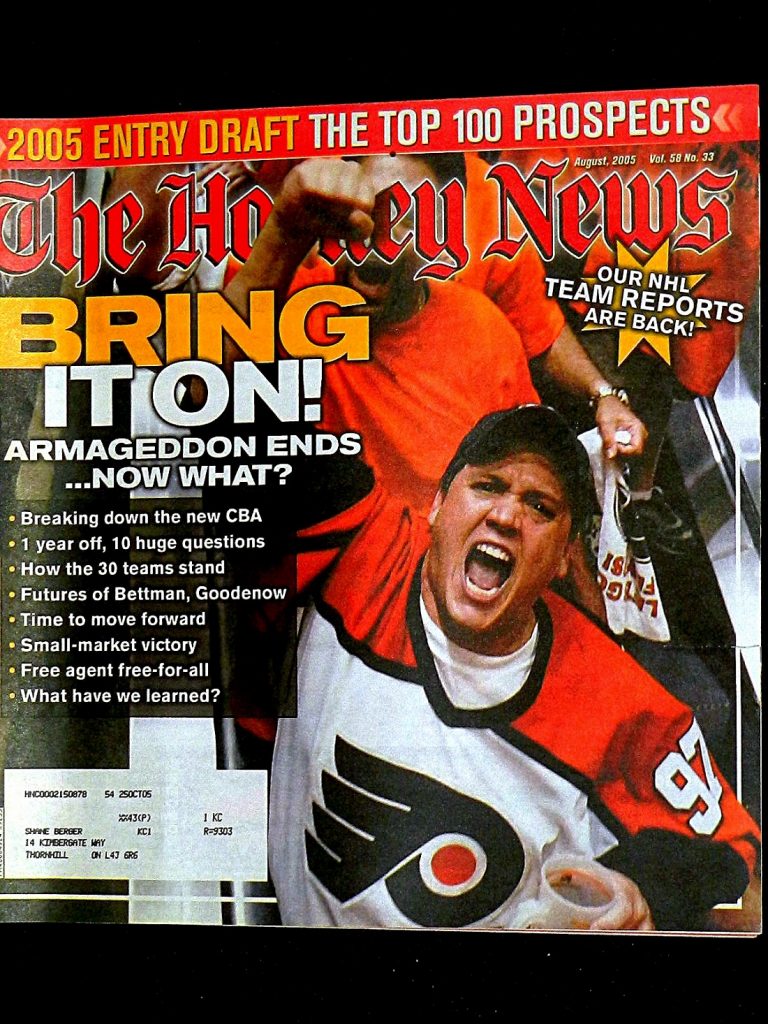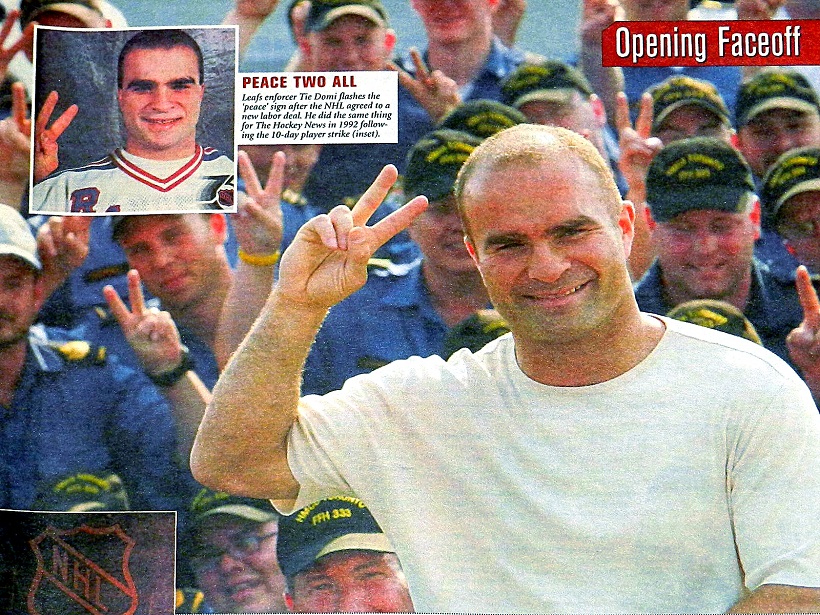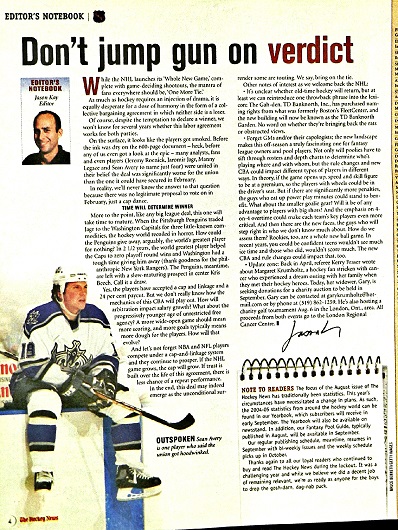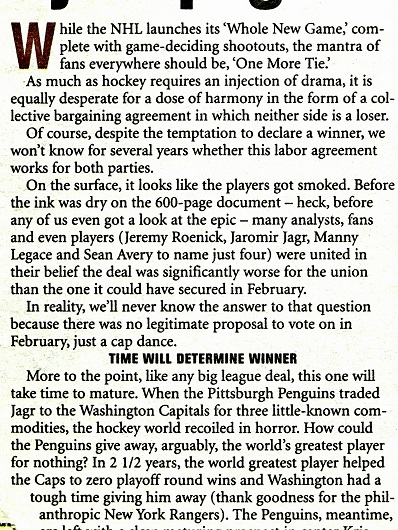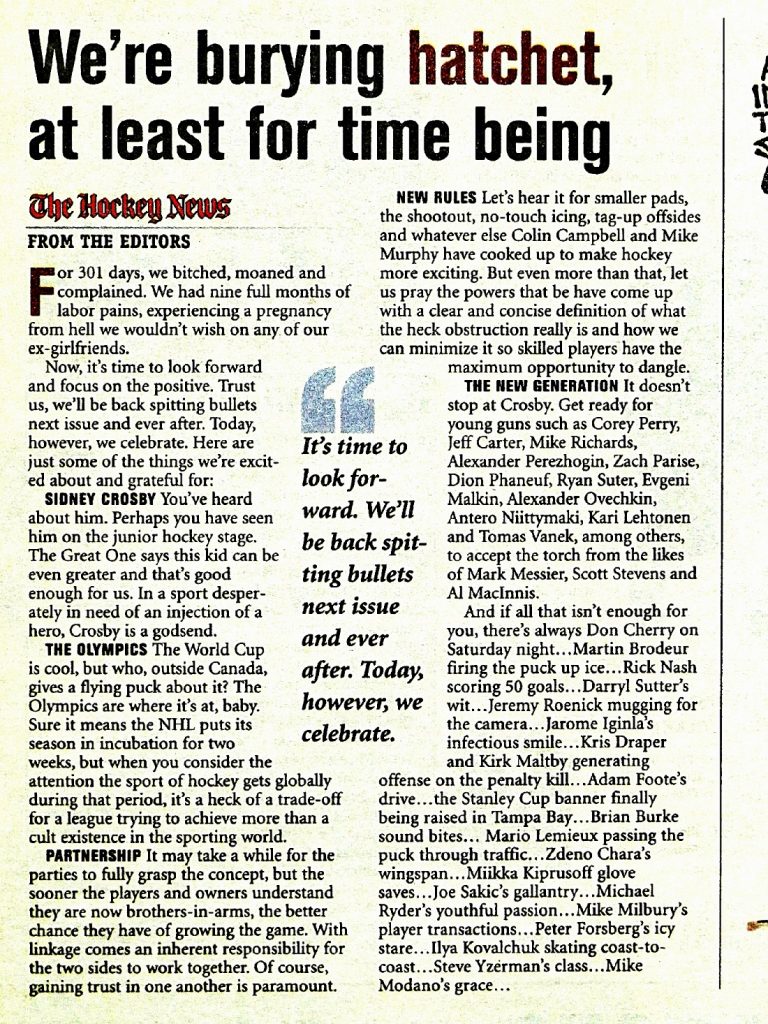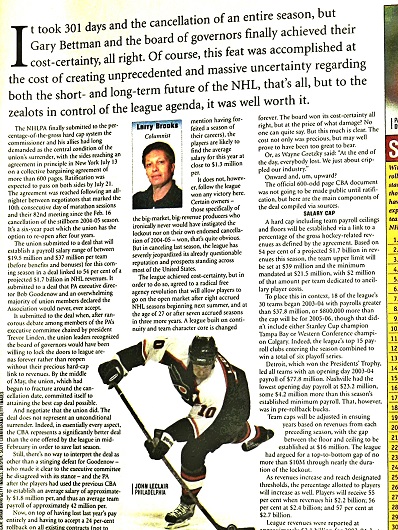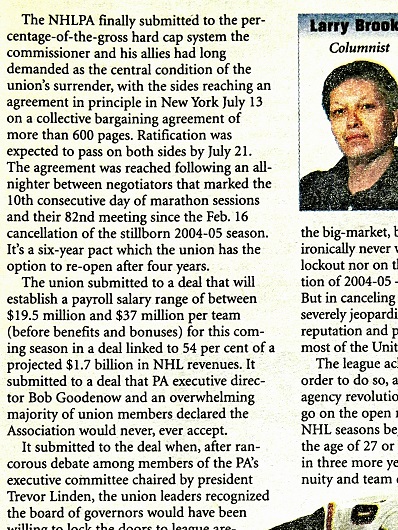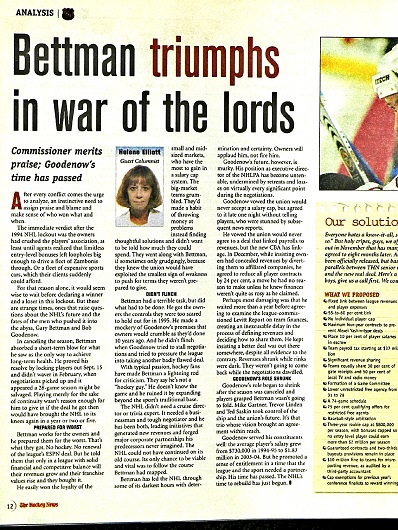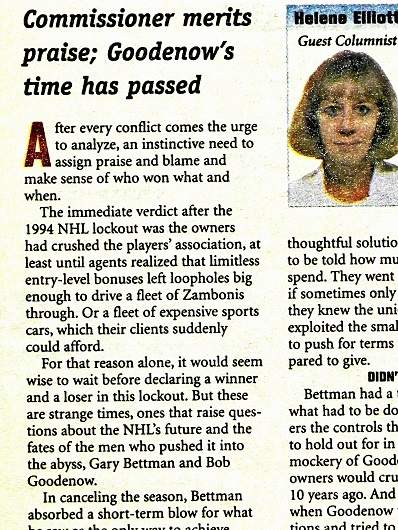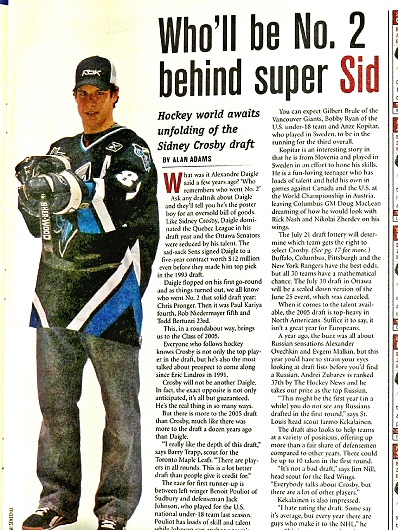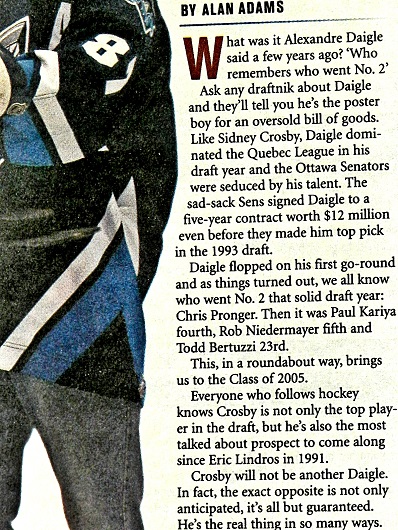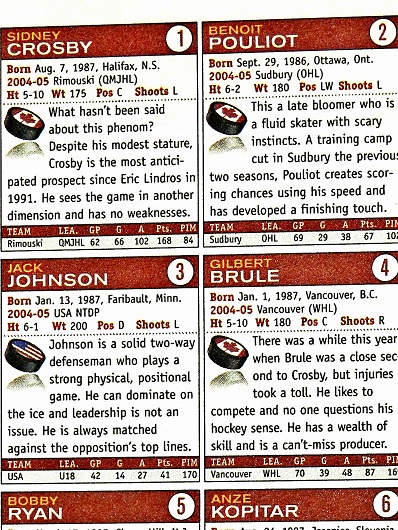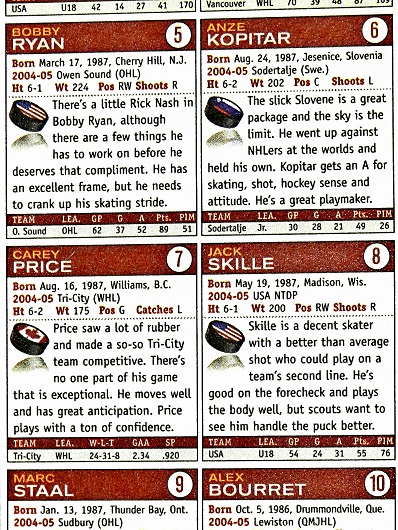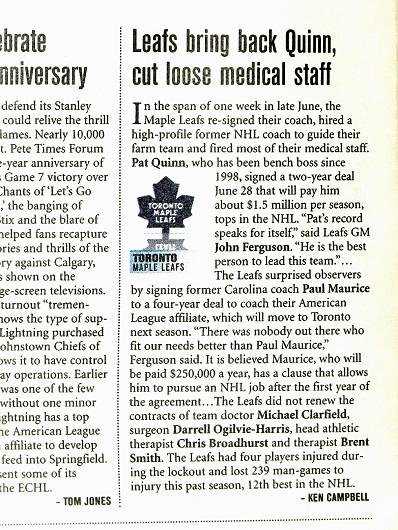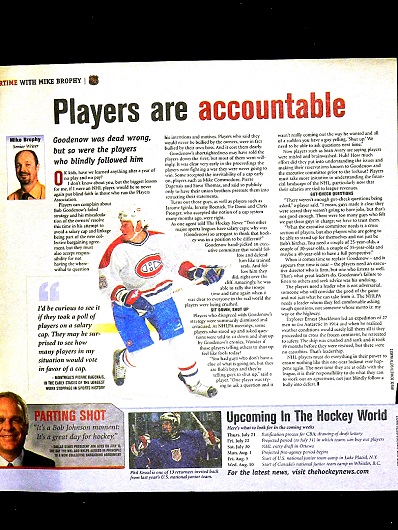 EMAIL: HOWARDLBERGER@GMAIL.COM