TORONTO (June 11) — Given multiple reports in the past ten days of their interest in veteran forward Ilya Kovalchuk, it appears the Maple Leafs may not be willing to sit around and "look pretty" next season.
The majority of the club's fan–base is content to move forward with the current roster… while expecting another huge rise in the standings. But, Leafs management understands that further amendment is necessary. Moreover, looking at Kovalchuk indicates that Brendan Shanahan and Lou Lamoriello are thinking outside the box. And, you have to know the Toronto brain–trust is keeping a stern eye on the John Tavares situation in Brooklyn. Tavares has apparently indicated to the New York Islanders that he is willing to "be patient" before signing a long–term contract extension. As of this moment, however, one of the National Hockey League's top centers is 12½ months from unrestricted free agency. Tavares is represented by Los Angeles–based Pat Brisson, also the agent of Leafs center Auston Matthews. Throw in the necessity to acquire a legitimate No. 1 defenseman, and there is lots on the table for the improved Blue and White.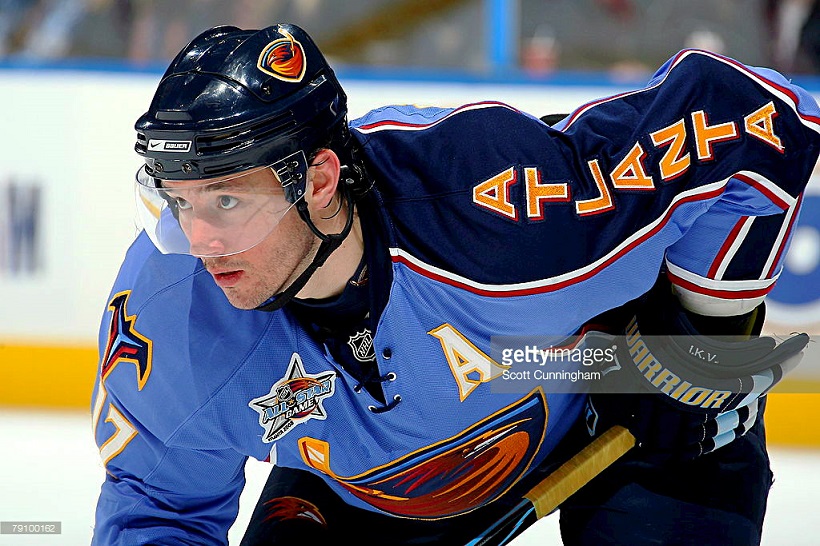 ILYA KOVALCHUK BECAME A SCORING STAR IN THE NHL WITH THE OLD ATLANTA THRASHERS.
Of course, bringing Kovalchuk, now 34, back to the NHL from the Kontinental Hockey League in Russia, and/or signing Tavares next summer as an unrestricted free agent, will be challenging amid the salary cap — expected to be relatively flat for 2017–18 (perhaps an increase from $73 to $76 million per team). According to the website capfriendly.com, the Leafs have just more than $12 million in cap space. Out of that, they must sign restricted free agents Connor Brown and Zach Hyman; consider re–signing UFA center Bryan Boyle, and acquire a back–up goalie (Curtis McElhinney is also a UFA). A deep bank account will be required if the Leafs are intent on maintaining their current nucleus of forwards. William Nylander comes off entry–level restriction next summer; Matthews and Mitch Marner in 2019. Jake Gardiner is a UFA in 2019 as well.
But, the Leafs do have removable parts. After next season, the contracts of Joffrey Lupul, James van Riemsdyk, Tyler Bozak, Leo Komarov and Eric Fehr come off the books — an accumulation of $18.65 million in cap space. JVR, Bozak and Komarov are potential trade chips; Kovalchuk would need to be acquired in a swap with New Jersey, which owns his NHL rights. As such, and strictly from a cap perspective, adding Kovalchuk to the mix for next season is quite doable (pending, of course, salary and term). Alternately, the Leafs could wait until next summer and take a healthy run at Tavares, should he become available on the open market. The notion, however, of the Leafs keeping Nylander, Matthews and Marner, while adding one of Kovalchuk or Tavares — and, at some point, that Norris Trophy type on the blue line — is pure fantasy.
As proven with the Chicago Blackhawks since 2010, a team can win the Stanley Cup by maintaining a three–player nucleus (Jonathan Toews, Patrick Kane and Duncan Keith), but only if lesser components are discarded (Dustin Byfuglien, Andrew Ladd, David Boland, Patrick Sharp, Nick Leddy, Teuvo Teravainen and Brandon Saad among them). So, the Leafs — with Nylander, Matthews and Marner under long–term deals — will likely need to execute similar roster paring. Given that the Toronto nucleus does not include a defenseman, it will be difficult to maintain… and challenge for the Stanley Cup. As such, my thought to consider trading Nylander before next summer, should that caliber of blue–liner come available.
In any event, I find it refreshing that the Leafs are thinking outside the box (with Kovalchuk), while recognizing they cannot stand pat; look "pretty", and expect to continue their ascent through the NHL.
WHAT MIGHT HAVE BEEN…
THE 1971–72 TORONTO MAPLE LEAFS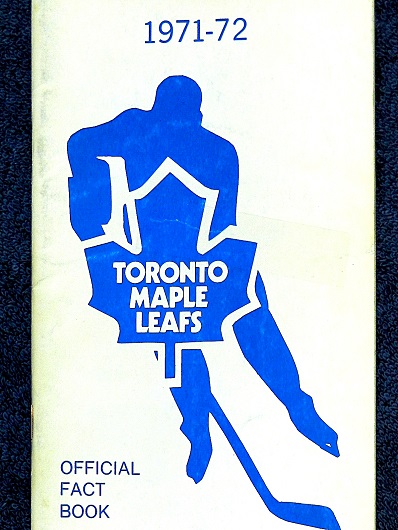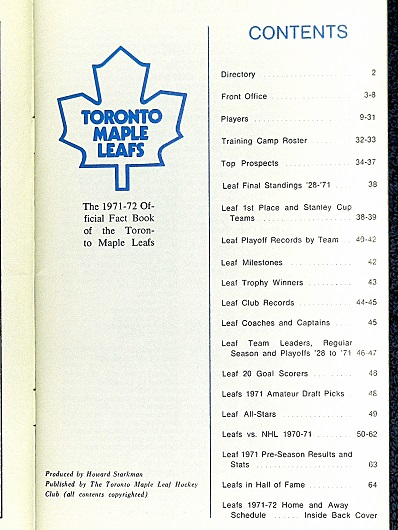 This was the promising Leafs team early in Harold Ballard's flawed presidency — and a year before Ballard went to jail near Kingston, Ont. for misappropriation of Maple Leaf Gardens' funds — that got torn apart by the World Hockey Association. Ballard's partner–in–crime, Stafford Smythe (son of Leafs founder, Conn Smythe), drank himself to death rather than face trial. He passed away on the morning of the club's home opener against Detroit (Oct. 13, 1971) and the game was postponed to Nov. 1. A mostly–youthful team made the playoffs with a record of 33–31–14 for 80 points and lost in five games to Boston in the opening round (Bobby Orr, Phil Esposito and Co. would go on to win the '72 Stanley Cup over the New York Rangers).
Not unlike many of his fellow National Hockey League execs, Ballard had little faith in the WHA launching for the 1972–73 season. As such, he called the bluff of young goalie Bernie Parent, who flew to Florida with his agent on an off–day in the Leafs schedule (Feb. 27, 1972) and signed with the Miami Screaming Eagles. Even that didn't faze the Leafs owner, whose underestimation of the fledgling league would later cost the team young defensemen Jim Dorey (traded to the Rangers for Pierre Jarry after making known his intention to defect), Brad Selwood and Rick Ley. Rugged center Jim Harrison also bolted to the WHA. And, veteran winger Paul Henderson would soon follow. As such, the eviscerated Maple Leafs of 1972–73 finished with the worst record to that time in franchise history — 27–41–10 for 64 points, a 16–point plunge from the previous year.
Here are some contents from the Leafs 1971–72 media guide: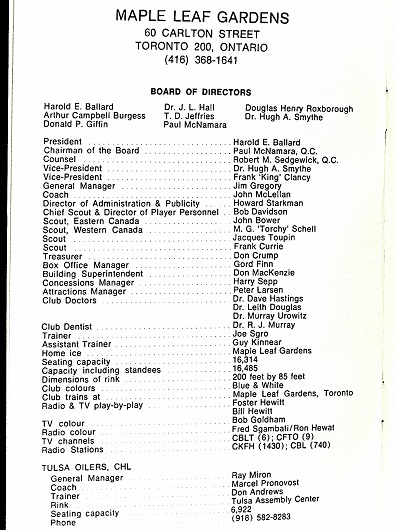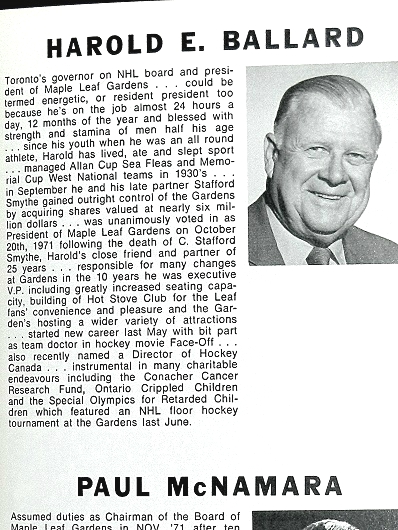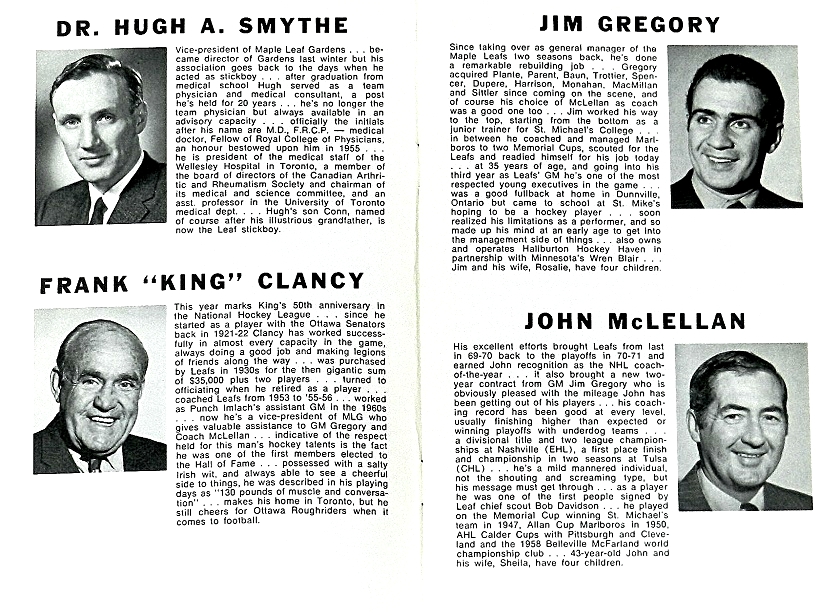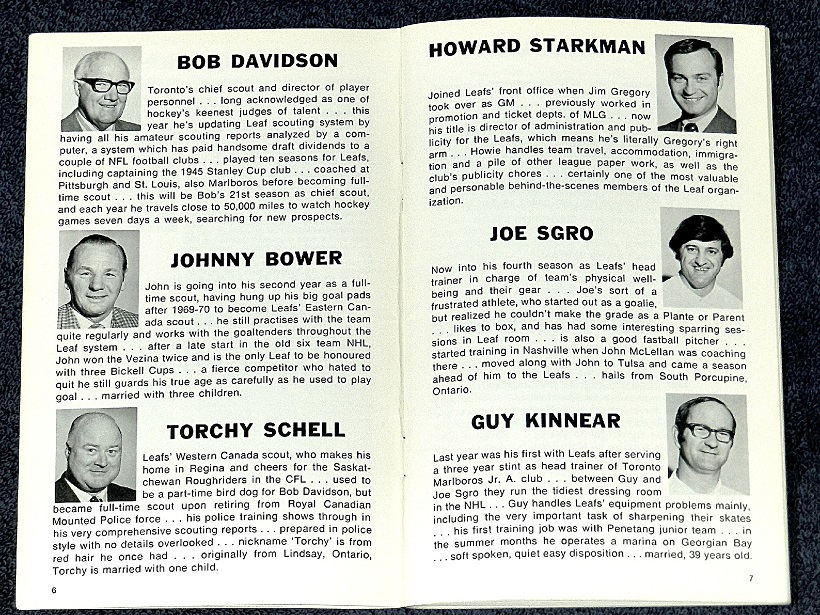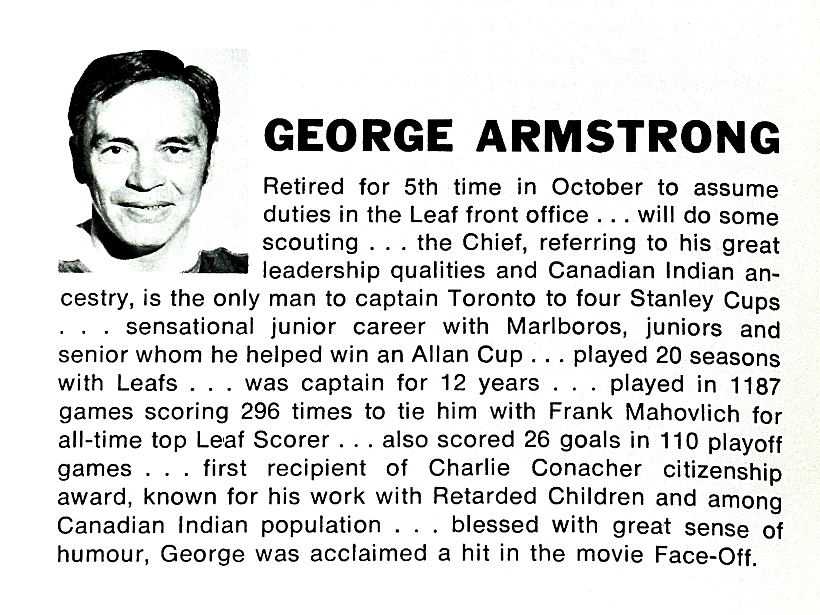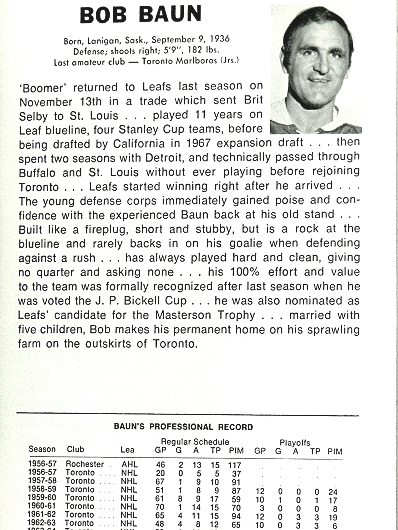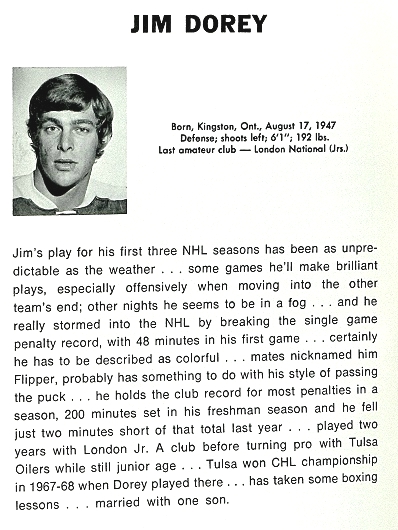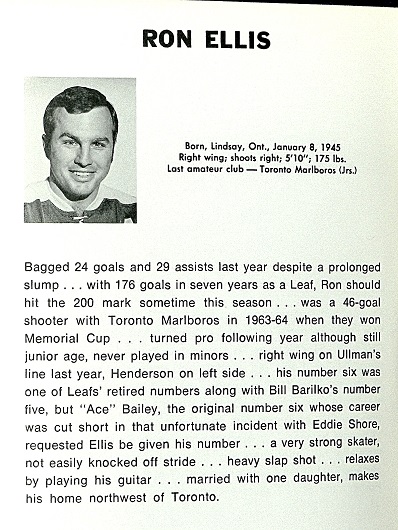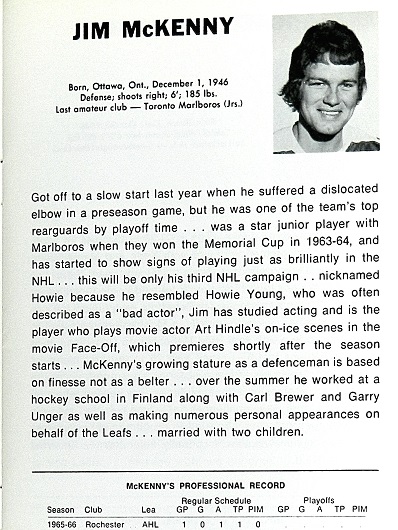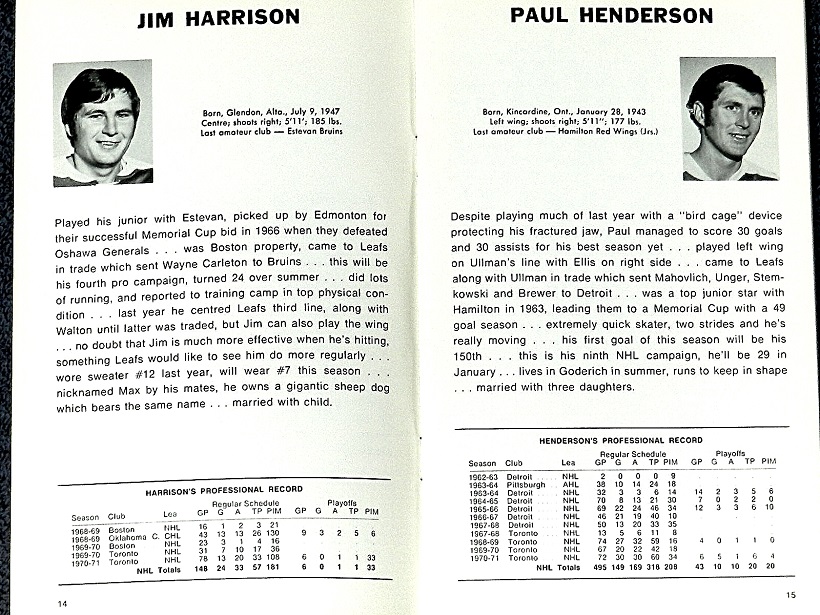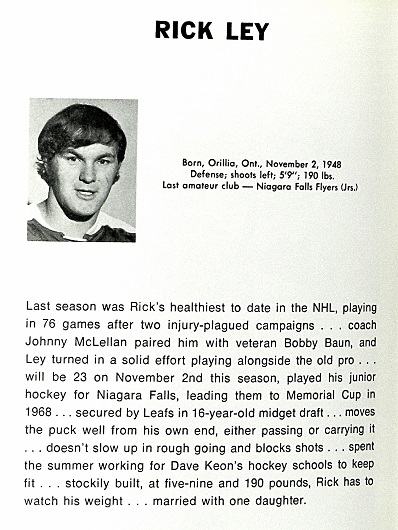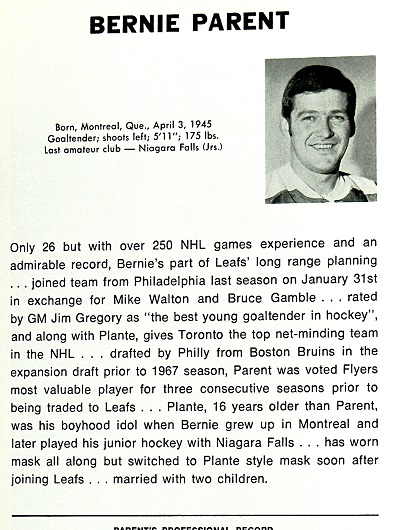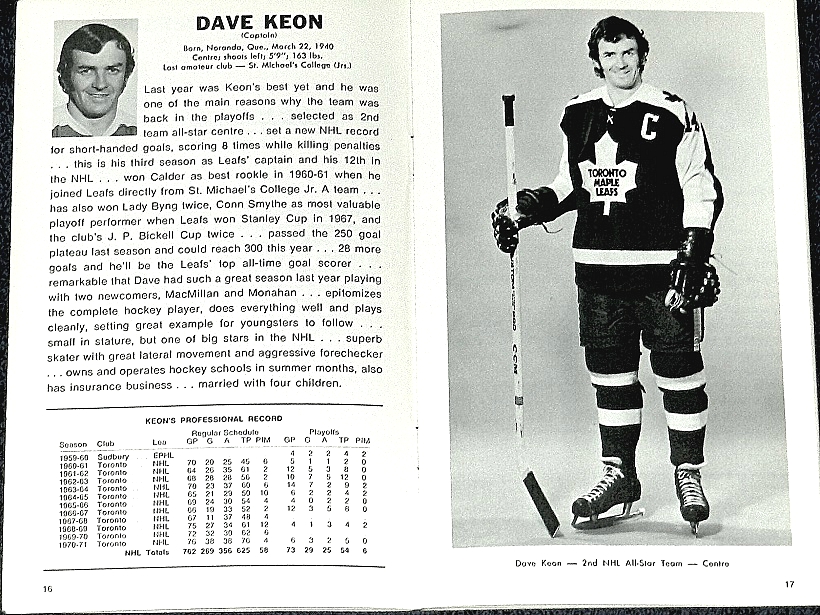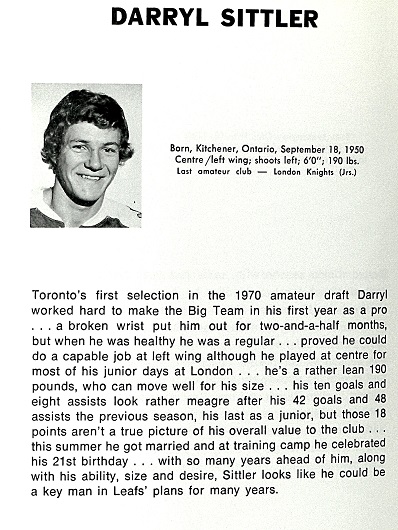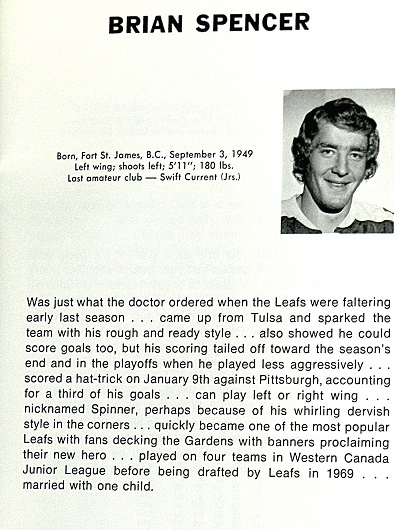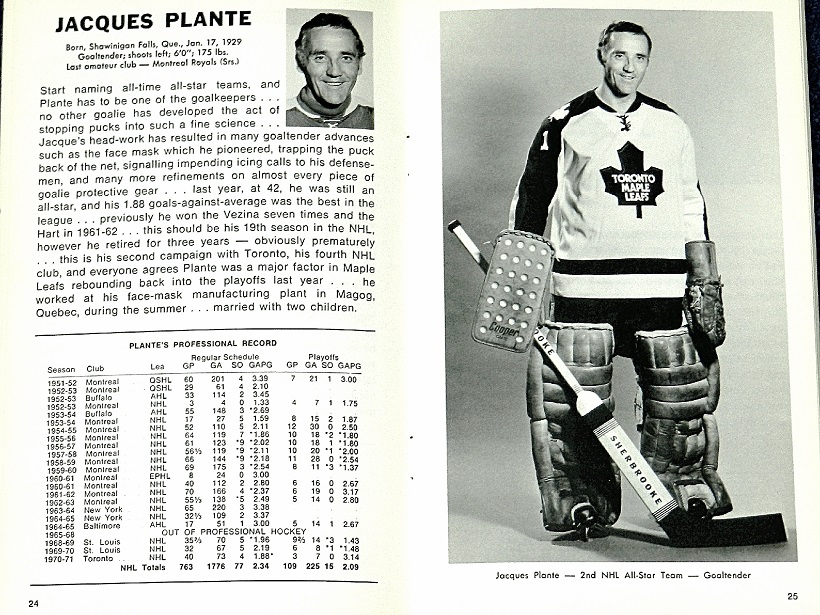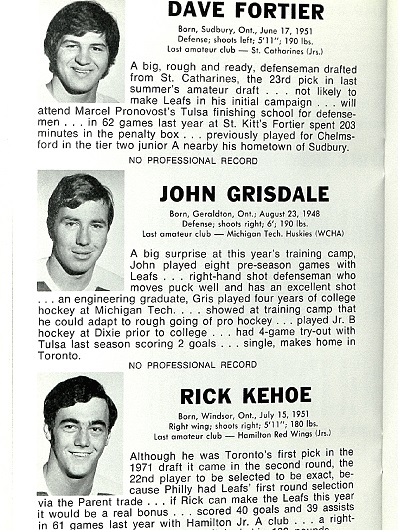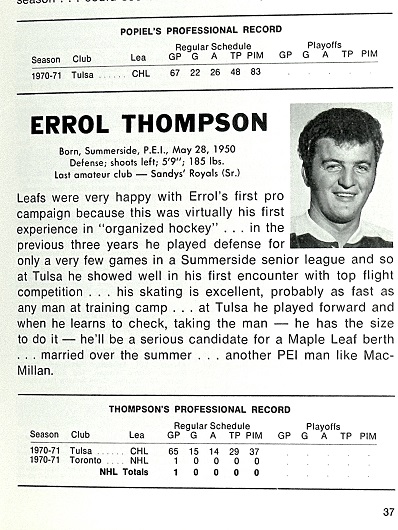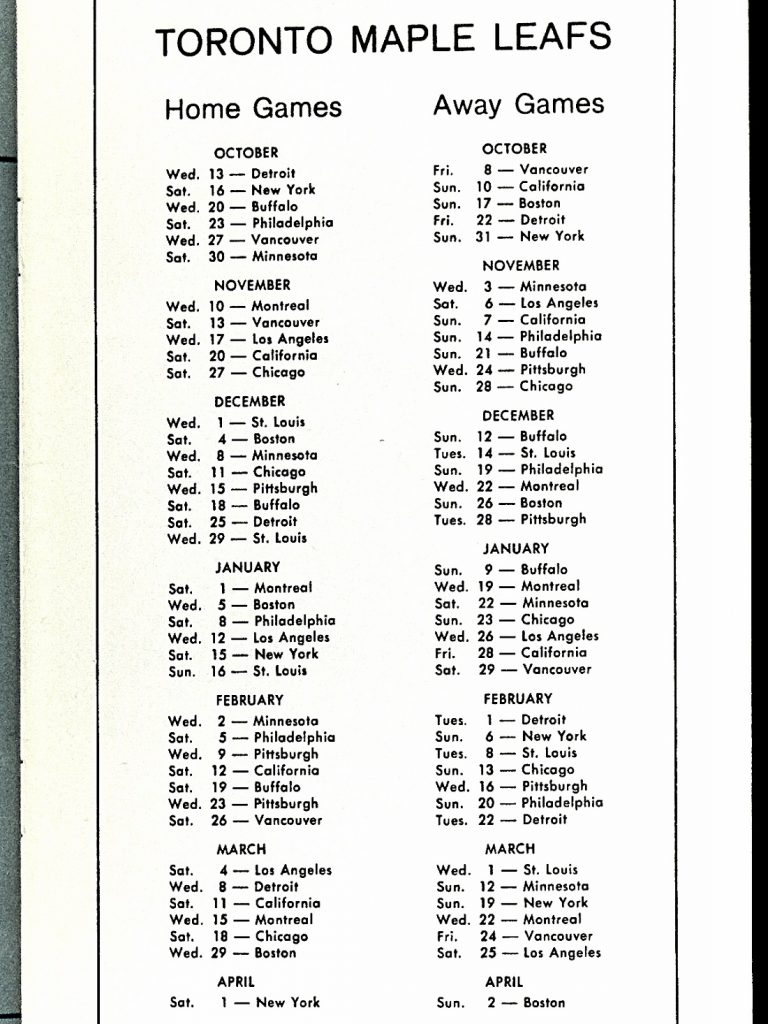 EMAIL: HOWARDLBERGER@GMAIL.COM