TORONTO (June 5) — In early–1998, it was announced by the National Hockey League that the Toronto Maple Leafs would be moving to the Eastern Conference after 16 years of geographic displacement in the West. For reasons unexplained, the NHL said the switch would not occur until 2000 or 2001.
At a Board of Governors meeting soon afterward, the Leafs, led by president Ken Dryden, made an impassioned bid to enact the move immediately, for the 1998–99 season. In the course of that gathering, the Hall–of–Fame goalie was asked, "why should we carry out this decision so quickly?" To which he simply replied, "why not?" The confused looks and deafening silence that followed spoke volumes. There was no reason to wait two or three years, as planned, and the Leafs were promptly aligned into the Northeast Division with Boston, Buffalo, Ottawa and Montreal — re–establishing essential, long–dormant rivalries.
The moral of this story relates wholeheartedly to Auston Matthews.
In a blog here on Friday (http://bit.ly/2qL5aGv), I suggested the Leafs should name their franchise player captain before the start of next season. I did so primarily in response to general manager Lou Lamoriello telling Pierre LeBrun of TSN that the club was in no particular hurry to fill the void left by Dion Phaneuf's departure in February 2016. Hardly a surprise, the reaction to my blog was profoundly in favor of the team's position. For as long as anyone can remember, fans in this city have been a wagging–tail to the Leafs' dog. "Why rush and put pressure on such a young player in only his second NHL season?" they scolded me in email and Twitter waves. Yet, the exchange withered quite noticeably when I invoked the Ken Dryden principle and responded, "why not?" As with the 1998 realignment issue, there was no counter–argument.
And, it's easy to understand why. Think about it for a moment and ask yourself "how could Matthews conceivably encounter more onus than being the No. 1 selection in the draft by the Maple Leafs, coming off a last–place finish in the NHL and having not made the playoffs in a full 82–game schedule since 2004?" There was crushing expectation of the 19–year–old Arizona native, yet he responded by poring in a team rookie–record 40 goals and will likely win the Calder Trophy as the league's top freshman. Time and again, the kid proved he had antifreeze for blood. Now, if a letter is stitched to his jersey, he's going to fold up and succumb to the "pressure" of being captain? How does that claim hold a drop of water? Was there even a smidgen of evidence, under the most intense spotlight, that Matthews can be unnerved? Of course not.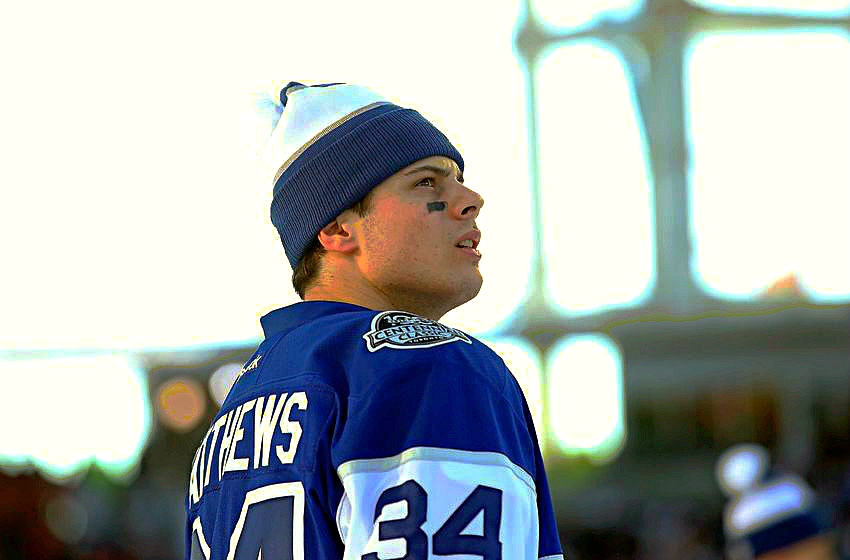 AUSTON MATTHEWS OFFERED NO EVIDENCE, AS ARGUABLY THE BEST ROOKIE IN THE NHL, THAT HE WOULD WITHER IF NAMED CAPTAIN OF THE LEAFS NEXT SEASON. Tom Szczerbowski USA TODAY
Making him captain, as did Edmonton with Connor McDavid in his second year, would provide Auston with more stature and confidence. Fundamentally, nothing would change from his rookie season, when he quickly became the most sought–after Leaf by fans and media. After virtually every practice; morning–skate and game, Matthews answered questions from reporters, as per the captain of any team. Only Lamoriello's puzzling rule that prevents rookies from being interviewed on TV outside the dressing room during games limited Matthews' exposure. Lou has a thing about "protecting" young players, but the TV doctrine is a bit over–the–top. As the season progressed, and Matthews showed he is indisputably a front–line player, hockey analysts on TSN and Sportsnet argued he was ready for the captaincy. Yes, it was that obvious.
Among the people that contended, without evidence, that Matthews should not be named captain, many pointed to the apparent havoc thrust upon Phaneuf as a result of wearing the 'C' here in Toronto. Truth be known, Dion was an exemplary captain — respected by teammates; available to media in any situation and active in the community. No one could have executed the role more impeccably. His problem as a Leaf resulted from being paid $7 million a season as a legitimate No. 1 defenseman. Which could never be justified on the ice. Brian Burke had the right idea by making Phaneuf captain; David Nonis the misguided belief that Dion was in the genre of Duncan Keith, Drew Doughty and Victor Hedman. Thus, the mega contract–extension of New Year's Eve 2013. Phaneuf's actual position is now crystal–clear in Ottawa, where he's a No. 2–a or 3 blue–liner — behind the unparalleled Erik Karlsson and alongside Marc Methot. In that role, he played the best and most–meaningful hockey of his career during the Senators lengthy playoff run.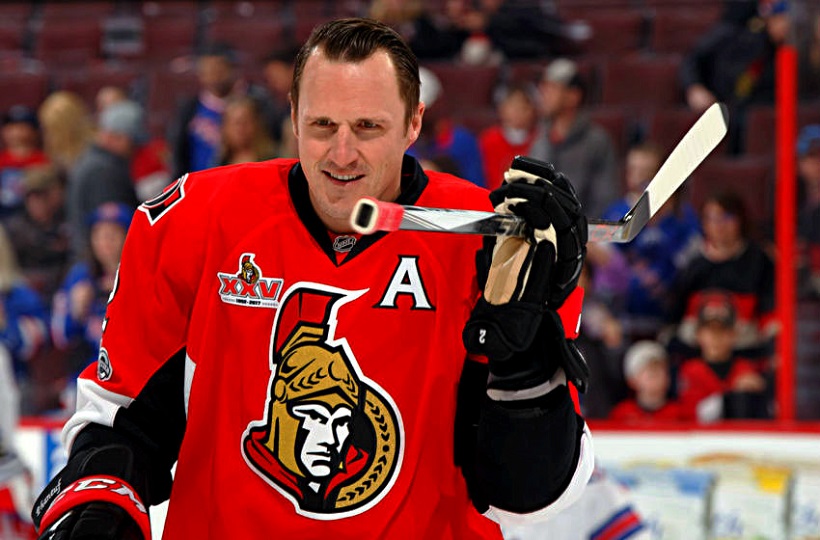 DION PHANEUF WAS A MONSTER FOR THE SENATORS IN THE 2017 STANLEY CUP PLAYOFFS.
There is no–such concern about Matthews. Once he comes off entry–level restriction in the summer of 2019, he'll be locked into a multi–year, maximum–salary contract, which he'll easily justify with performance.
The lone, possible argument against naming him captain for next season was brought forth by a Facebook "friend" in the wake of my Friday blog. If Matthews has communicated to the Leafs that he doesn't wish to be captain so early in his career, then the team should either go in another direction (Morgan Rielly?) or continue to keep the position open. Obviously, I cannot tell you whether such a request has been made. But, it certainly wouldn't jibe with the remarkable poise and confidence he showed in his rookie season.
From what I've seen, Auston would likely welcome — and execute — the role enthusiastically.
CALIFORNIA GOLDEN SEALS REUNION
It is everyone's favorite defunct team; infinitely more popular in death than ever in life.
As part of the National Hockey League's "Great Expansion" in 1967, it lasted for only nine seasons and had four names: the California Seals; Oakland Seals; Bay Area Seals and California Golden Seals. To this day — more than 41 years after playing its final game — the team has an active Booster Club that meets regularly near San Francisco. A large–volume book has been written about the ill–fated franchise. And, now, a 90–minute documentary, The California Golden Seals Story, is available on I–Tunes (http://apple.co/2qMUAL2).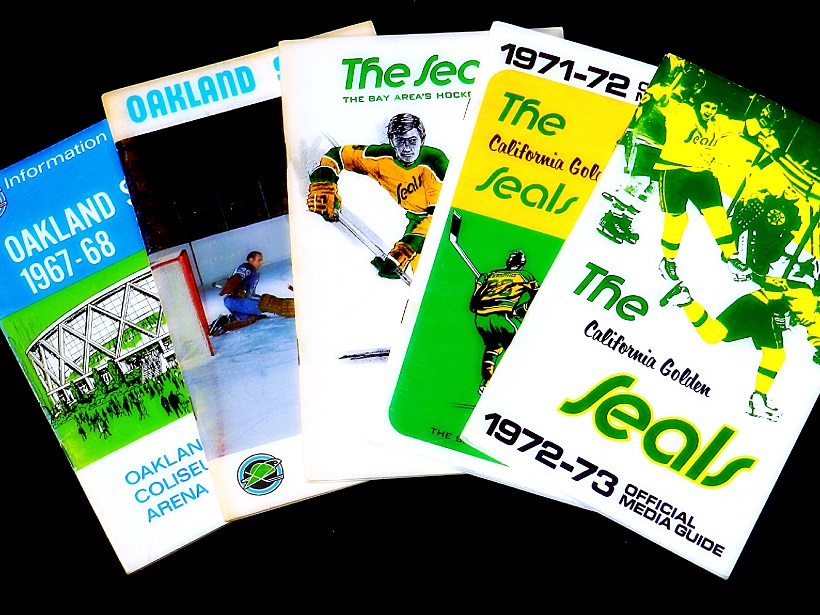 A screening of the movie — produced and written by one–time Seals fan and current Los Angeles resident Mark Greczmiel — took place on Saturday afternoon at the Forest Hill home/hockey museum of Mike Wilson, also known as The Ultimate Leafs Fan. In attendance were seven former members of the Seals: Players Joey Johnston, Ron Stackhouse, Walt McKechnie, Marv Edwards, Rick Kessell and Dennis Maruk, along with media–relations guru Leonard Shapiro (who came in from San Francisco). Also on hand was Detroit Red Wings executive and Hall–of–Famer Jimmy Devellano; New York Rangers professional scout (and former GM of the World Hockey Association Toronto Toros) Gilles Leger. And, of course, the ubiquitous one: Toronto archivist and hockey historian Paul Patskou, who never misses such an event.
I was privileged to be in attendance, as well. Mike, The Ultimate Leafs Fan, is the ultimate host — always putting on a first–class show for those invited to his home. Naturally, I had my trusty NIKON with me. As such, the following images from the Seals documentary–reunion… and more history from my collection: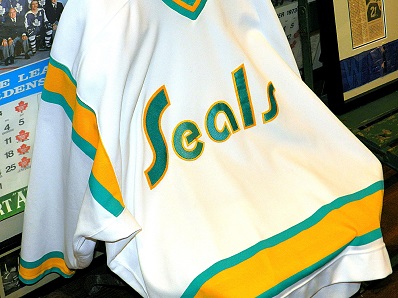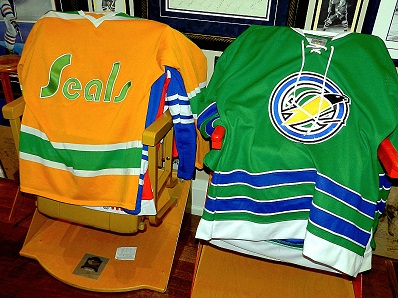 THE THREE JERSEYS THE SEALS WORE AT HOME IN THE OAKLAND COLISEUM–ARENA WERE ON DISPLAY (ABOVE). THE COLISEUM–ARENA — NOW CALLED ORACLE ARENA (BELOW) — REMAINS IN THE SPOTLIGHT AS HOME OF THE GOLDEN STATE WARRIORS, CURRENTLY FACING CLEVELAND FOR THE NATIONAL BASKETBALL ASSOCIATION CHAMPIONSHIP. IT OPENED IN NOVEMBER 1966.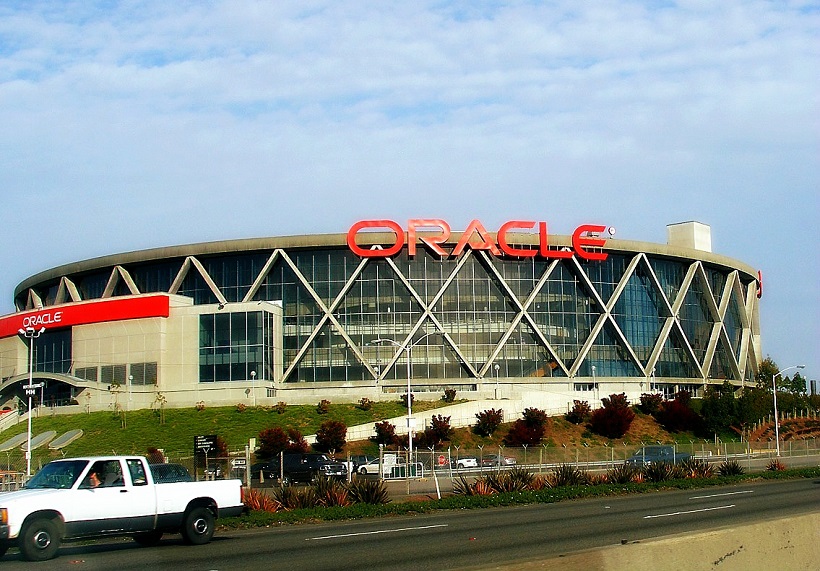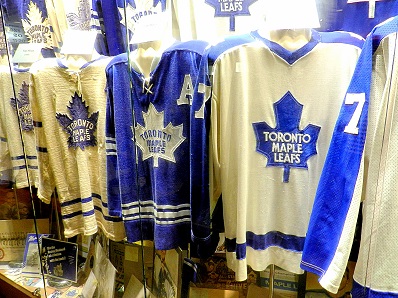 MIKE WILSON'S MUSEUM FEATURES A GLASSED–IN WALL OF GAME–WORN LEAFS JERSEYS.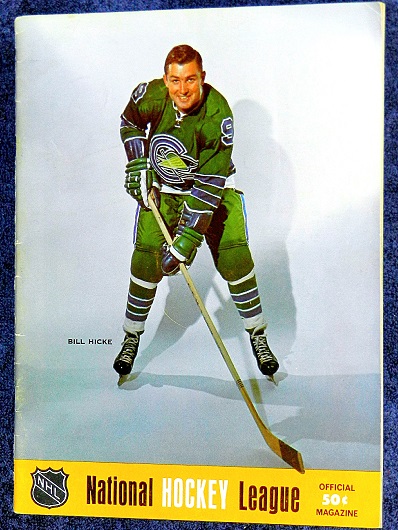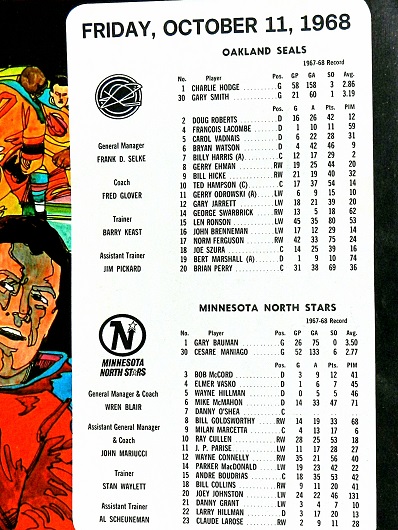 PROGRAM–COVER (PLAYER BILL HICKE) AND LINE–UPS FROM THE OPENING NIGHT OF THE 1968–69 SEASON — MINNESOTA AT OAKLAND. IT WAS THE SEALS SECOND YEAR IN THE NHL.
JOEY AND WALT
Joey Johnston and Walt McKechnie were teammates with the Seals for three seasons: 1971–72 to 1973–74. Both provided good offensive numbers. Johnston scored 28 goals in '72–73; 27 goals and 67 points in '73–74.
McKechnie had seasons of 54 and 52 points.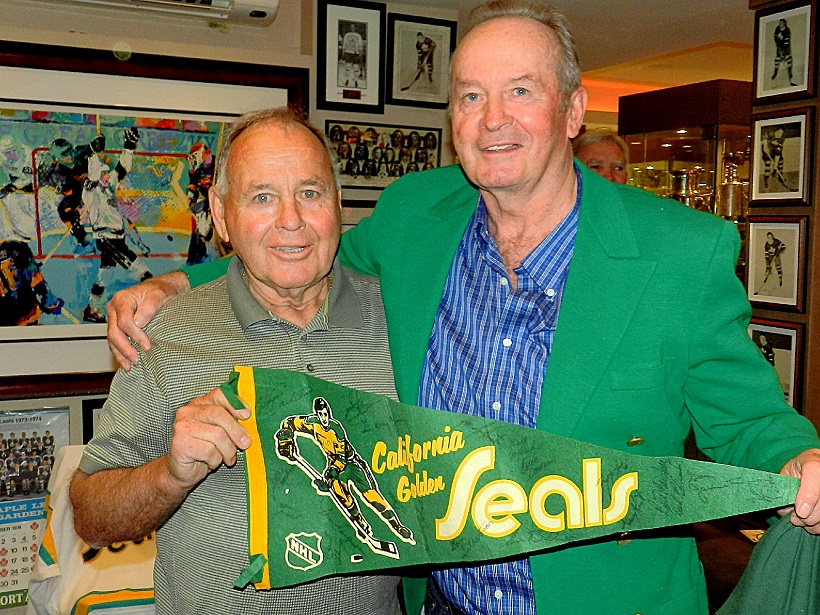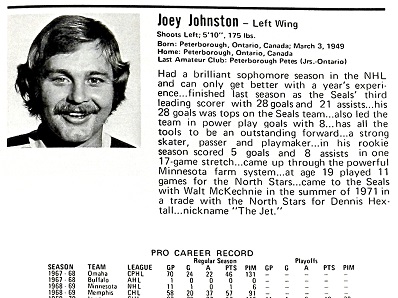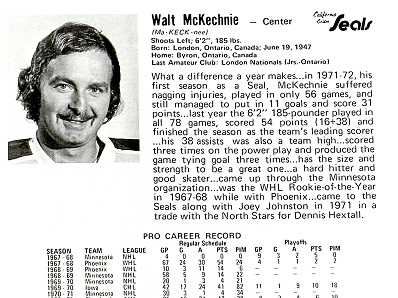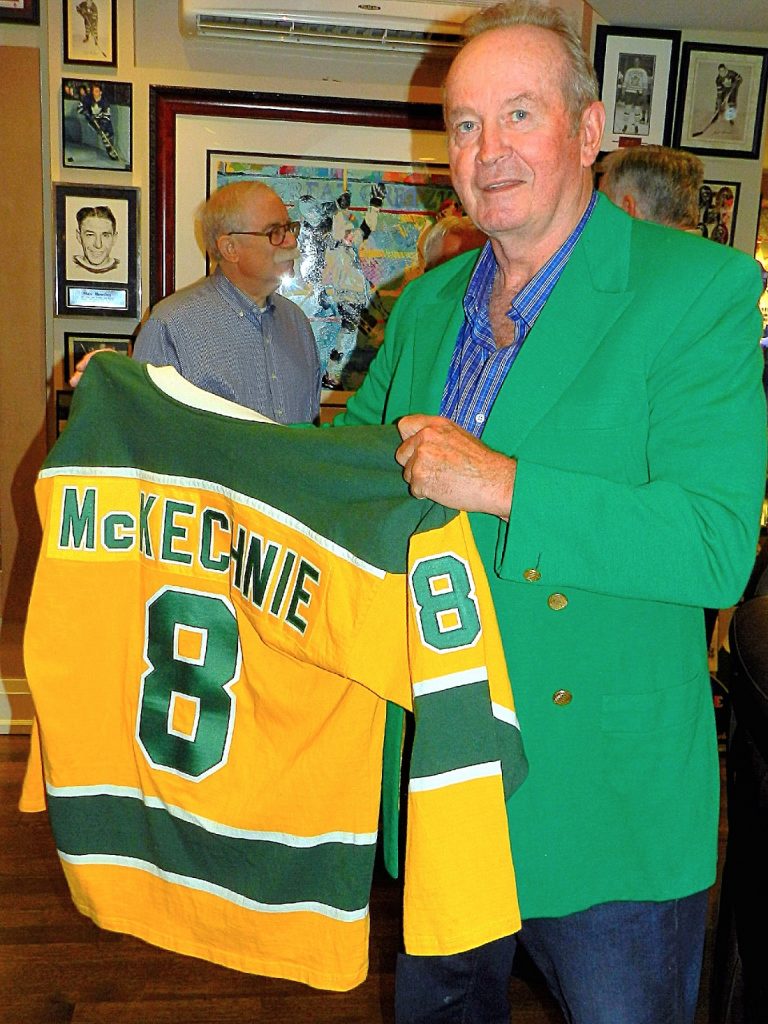 WALT SOMEHOW MANAGED TO FINAGLE HIS SEALS HOME JERSEY FROM 1971–72 — OBVIOUSLY WITHOUT THE KNOWLEDGE OF THE CLUB'S ECCENTRIC AND FRUGAL OWNER, CHARLES O. FINLEY. "I PAID THE TRAINERS," McKECHNIE LAUGHED. WALT STILL HAS HIS TEAM–ISSUED SUITCASE (BELOW).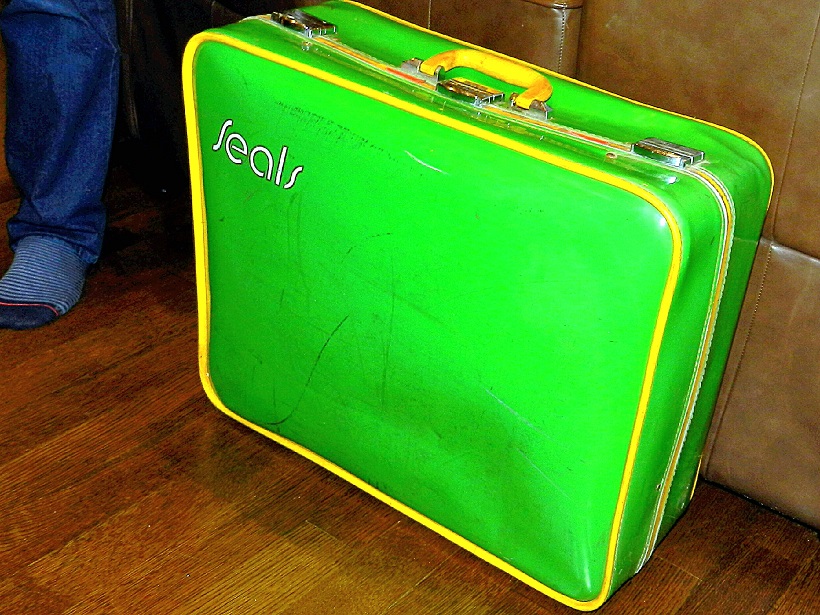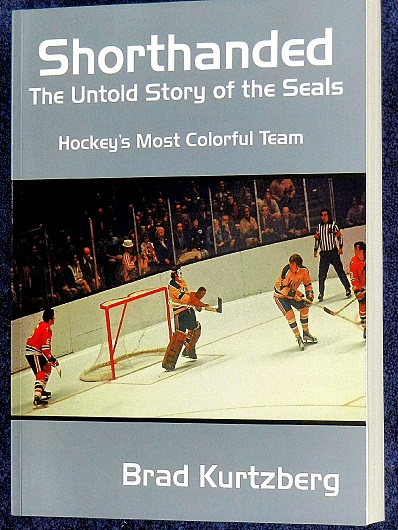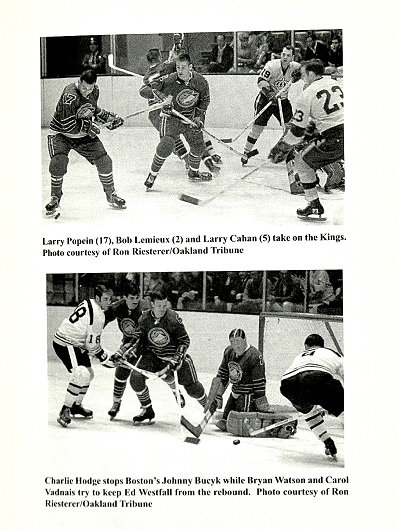 IN 2006, LONG ISLAND, N.Y. RESIDENT BRAD KURTZBERG PRODUCED THIS 319–PAGE EPIC ON THE SEALS, TALKING WITH VIRTUALLY ALL SURVIVING PLAYERS IN FRANCHISE HISTORY.
RICK AND RON
He was the original Kessell (two L's) in the NHL… and also with Pittsburgh, playing in 83 games for the Penguins from 1970–73. Rick Kessell scored only four goals, yet one of them occurred in his first NHL game: Chicago at Pittsburgh on Mar. 21, 1970. California claimed Rick in the inter–league waiver draft and he suited up in 51 games for the Golden Seals in 1973–74, scoring twice. Ron Stackhouse was a lanky and gifted offensive defenseman in the NHL from 1970–82. As a rookie, he played in all 78 games with the Seals during the 1970–71 season. He was traded to Detroit (Oct. 22, 1971) and Pittsburgh (Jan. 18, 1974). With an explosive Penguins team in 1975–76, that included Pierre Larouche (53 goals), Jean Pronovost (52 goals) and Syl Apps Jr. (99 points), Ron enjoyed his most productive NHL season with 10 goals and 71 points.
Kessell and Stachouse pose, below, with Joey Johnston.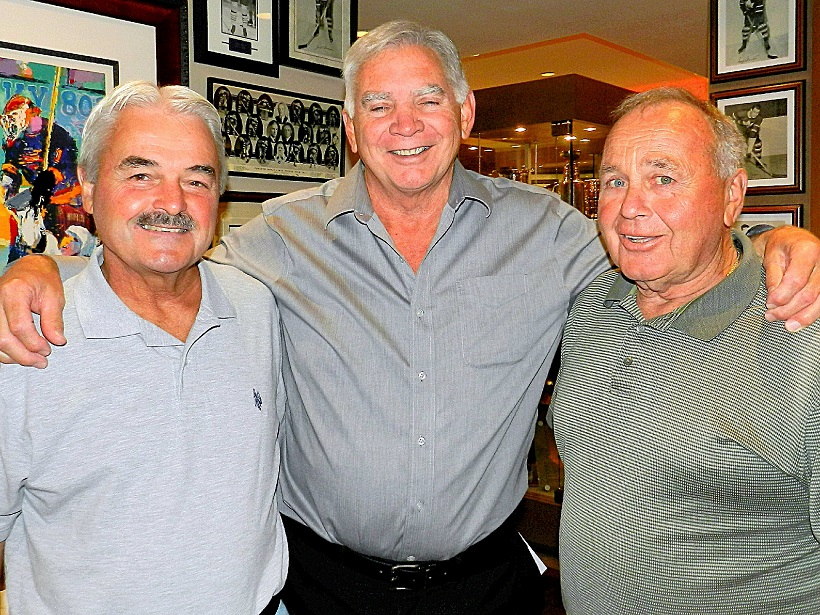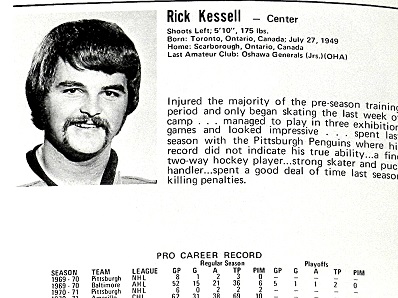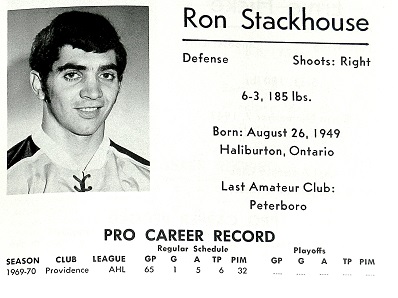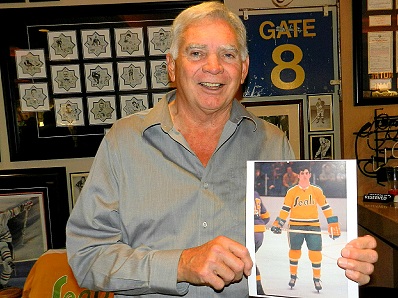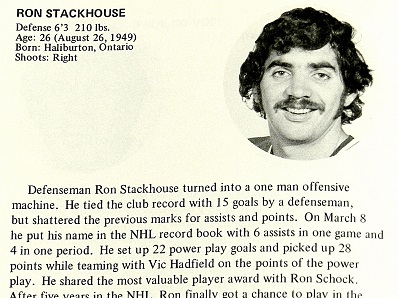 RON STACKHOUSE HOLDS UP A PHOTO OF HIMSELF AS A ROOKIE WITH THE GOLDEN SEALS.
THE OLDEST SEAL?
I haven't gone through every player in team history, but I'm fairly certain Marv Edwards, at 81, is among the oldest surviving Seals. The St. Catharines, Ont. native appeared in 35 games as a goalie with California during the 1972–73 and 1973–74 seasons. Here, he poses between Joey Johnston and Walt McKechnie.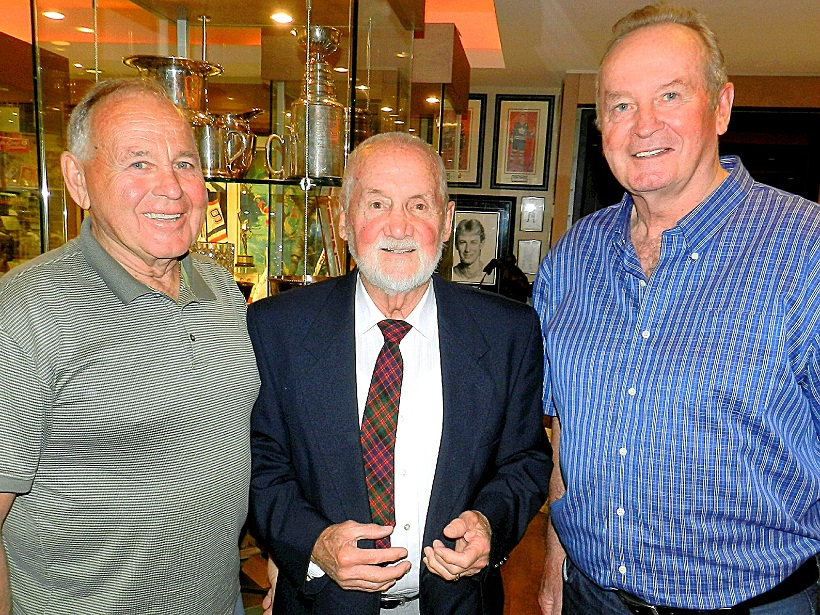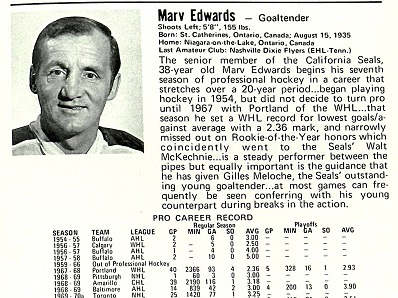 IT WAS A PLEASURE TO MEET MARV. WHEN I WAS 10 YEARS OLD (IN 1969–70), HE PLAYED 25 GAMES IN GOAL FOR THE MAPLE LEAFS, SPLITTING TIME WITH BRUCE GAMBLE (52 GAMES), GERRY McNAMARA (TWO GAMES) AND JOHNNY BOWER (WHO PLAYED ONLY ONCE — HIS FINAL NHL GAME, AT MONTREAL, ON DEC. 10, 1969). EDWARDS HAD A 10–9–4 RECORD AND 3.25 GOALS–AGAINST AVERAGE.
THE GIANT PEE–WEE
During their final season in Oakland (1975–76), the Seals featured, undoubtedly, the most gifted player in franchise history. After scoring 66 goals and 145 points for the London of the Ontario Hockey Association, Dennis (Pee–Wee) Maruk went to the Seals 21st overall in the 1975 NHL draft. His lack of size (5–foot–8, 165 pounds) dissuaded other teams, which opted, instead, for such historic flops as Barry Dean (Kansas City), Bryan Maxwell (Minnesota), Greg Vaydik (Chicago) and Alex Forsyth (Washington). Maruk made the first 20 selectors look foolish by scoring 30 goals and 62 points as a rookie. He moved with the Seals to Cleveland (as the Barons) and later had seasons of 50 and 60 goals for the Washington Capitals.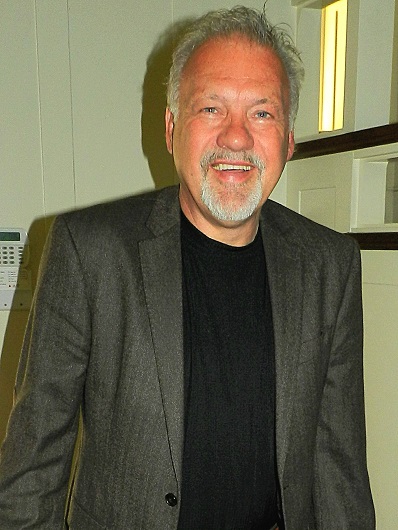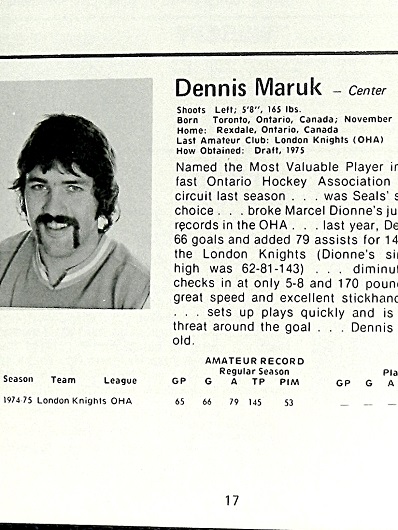 Toward the end of last year — and despite remaining in top physical condition — Dennis was shocked to learn he had four blocked arteries. In January, he underwent quadruple–bypass surgery and is still in recovery mode. He attends numerous charity functions with the NHL alumni and is an epic story–teller.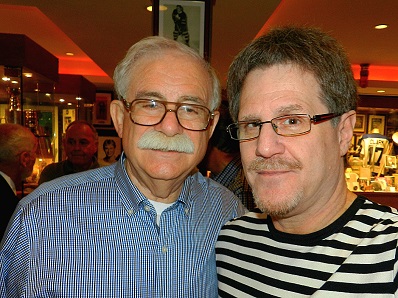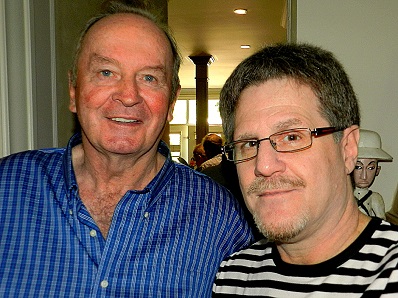 SELFIES WITH MY GOOD PAL, LEN SHAPIRO (LEFT), WHO TRIED TO DRUM UP MEDIA PUBLICITY FOR THE SEALS IN THEIR FINAL NHL SEASON. I LAST SAW LEN WHILE ON VACATION IN SAN FRANCISCO IN DECEMBER 2014. WE HAD A GREAT CHINESE DINNER AT HOUSE OF NANKING. AND, WALT McKECHNIE (RIGHT), WHO I REMEMBER WATCHING WITH THE MAPLE LEAFS (BELOW) IN 1978–79, AS NO. 2 CENTER BEHIND DARRYL SITTLER, WALT HAD A TERRIFIC SEASON WITH 25 GOALS AND 61 POINTS.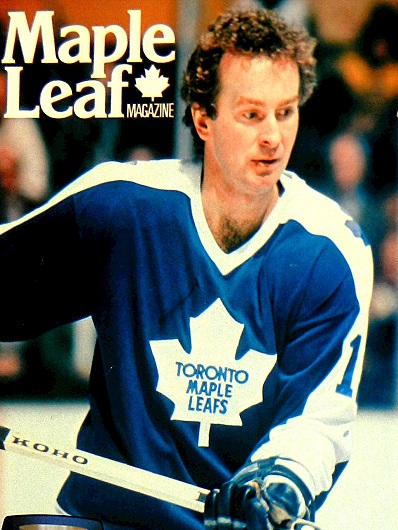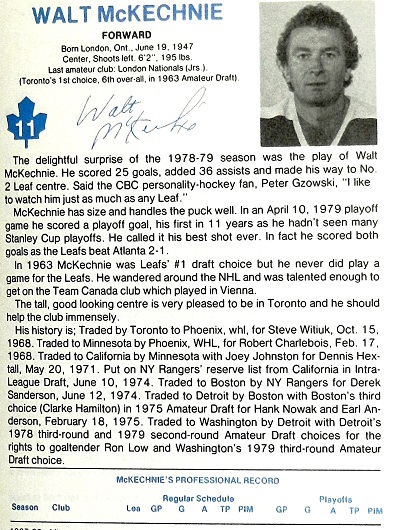 SEALS MEDIA GUIDES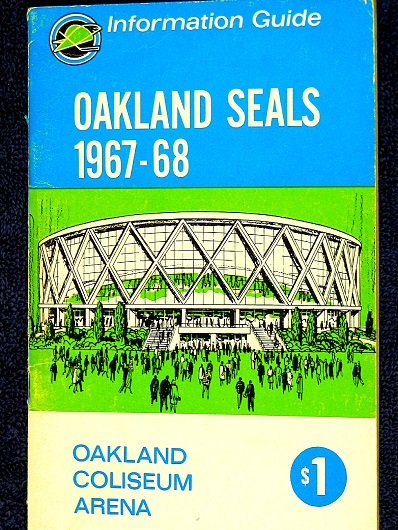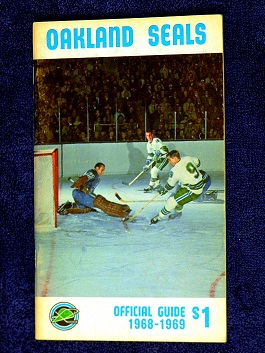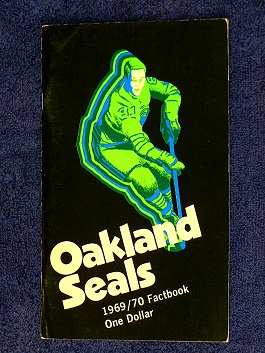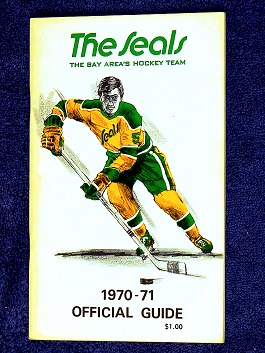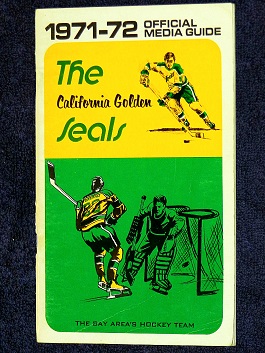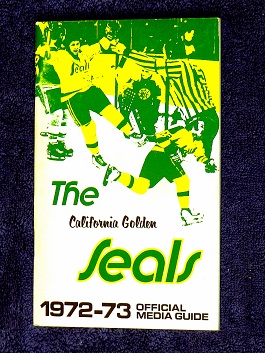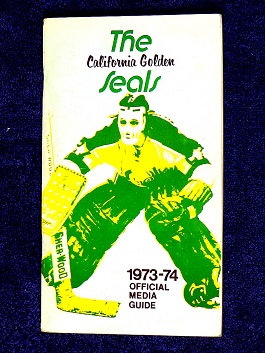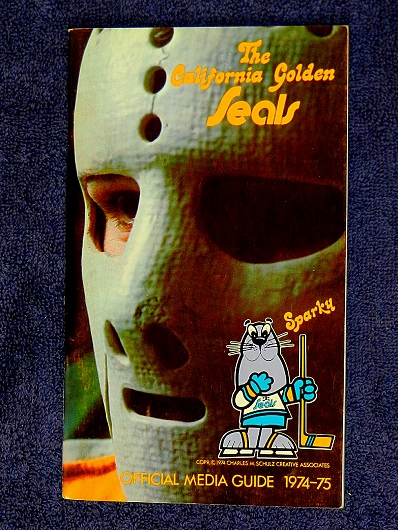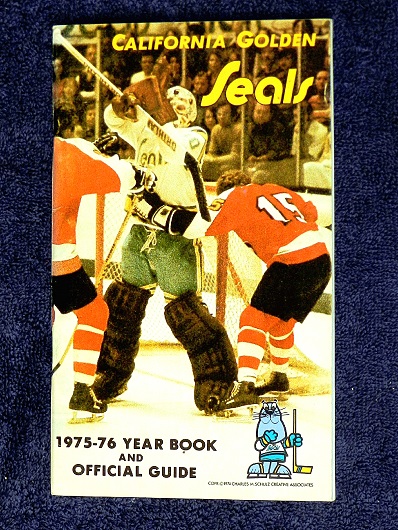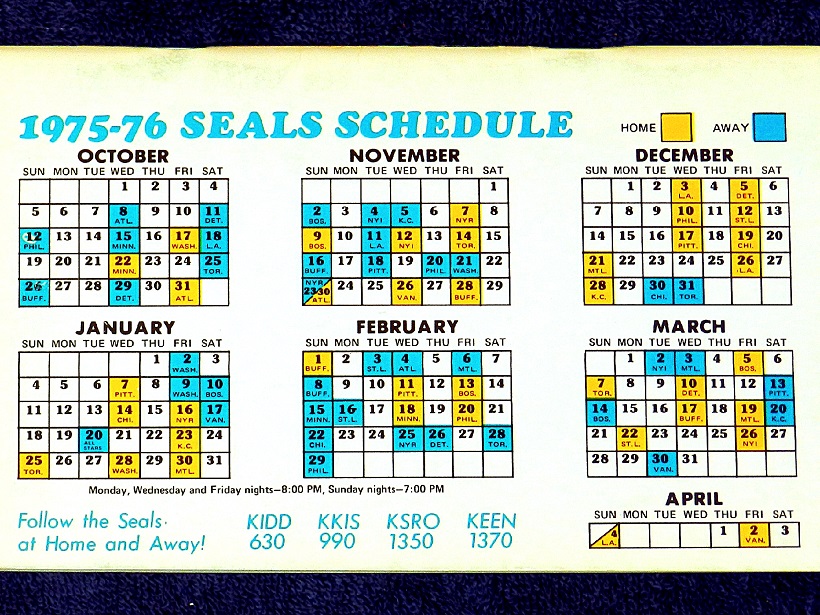 THE DOCUMENTARY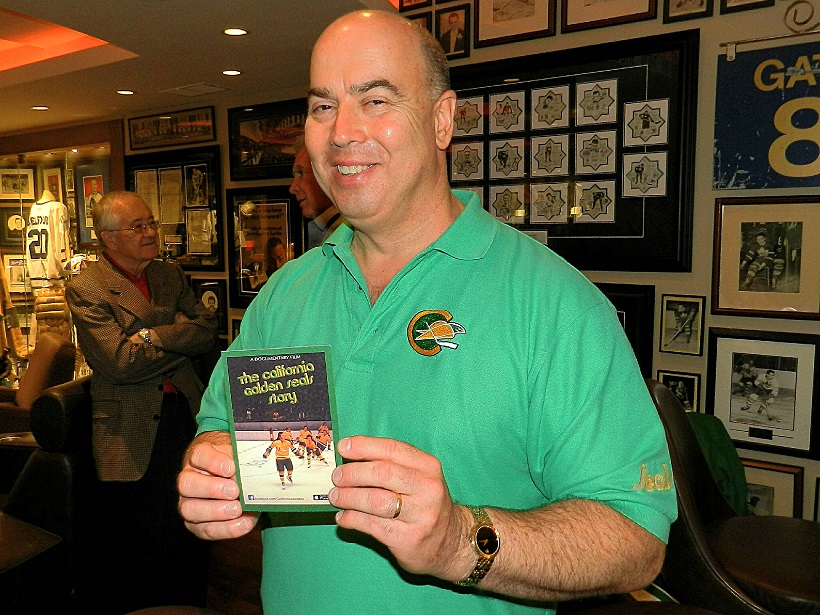 CREATOR OF THE CALIFORNIA GOLDEN SEALS STORY, LOS ANGELES RESIDENT MARK GRECZMIEL, HOLDS UP A PROMO CARD FOR HIS SPLENDID, 90–MINUTE PRODUCTION.
IMAGES FROM THE DOCUMENTARY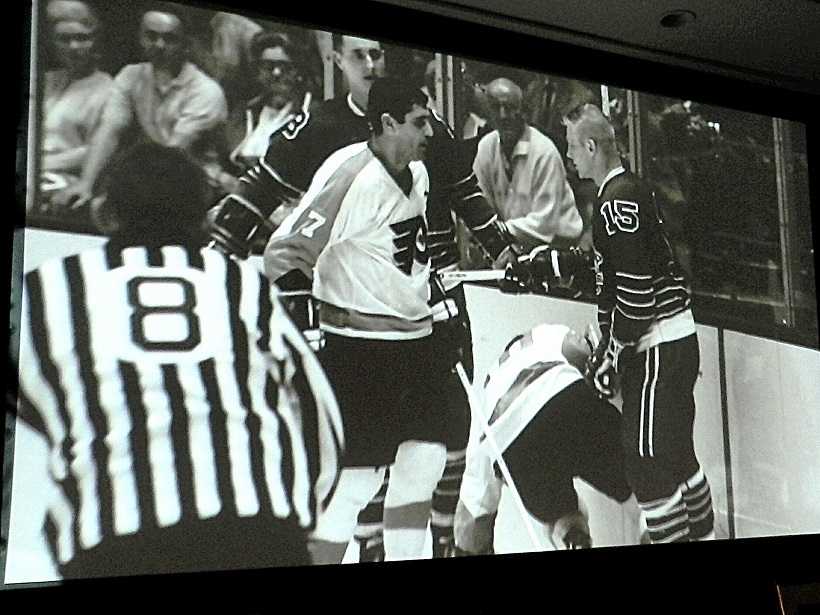 A RARE PHOTO FROM THE SEALS FIRST GAME IN THE NHL; ALSO THE DEBUT OF THE PHILADELPHIA FLYERS. THE SEALS PREVAILED, 5–1, AT THE OAKLAND COLISEUM–ARENA ON OCT. 11, 1967. IT WAS ARGUABLY THE HIGH POINT OF AN OTHERWISE MISERABLE SEASON (THE CLUB FINISHED DEAD–LAST IN THE 12–TEAM NHL WITH A RECORD OF 15–42–17 FOR 47 POINTS). IN THIS PHOTO, FLYERS CAPTAIN LOU ANGOTTI (7) STARES AT SEALS DEFENSEMAN RON HARRIS (15). THE LINESMAN WEARING NO. 8 IS NEIL ARMSTRONG, NOW 84, AND FATHER OF ST. LOUIS BLUES GM DOUG ARMSTRONG.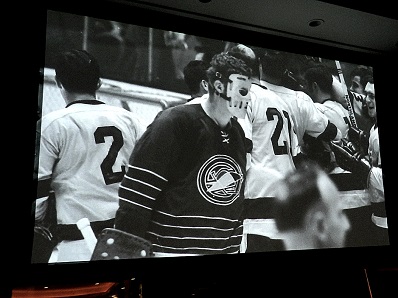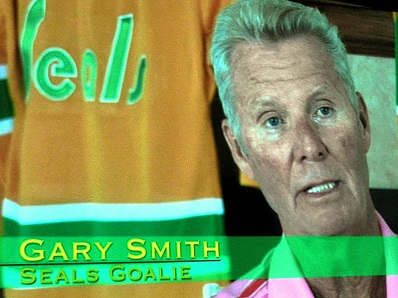 GARY (SUITCASE) SMITH PLAYED GOAL IN 211 GAMES FOR THE SEALS FROM 1967–68 TO 1970–71, INCLUDING 71 APPEARANCES IN THE LATTER SEASON. HE WAS TRADED TO CHICAGO ON SEP. 9, 1971 AND LATER PLAYED IN THE NHL WITH VANCOUVER, MINNESOTA, WASHINGTON AND WINNIPEG. GARY IS STILL LOOKING GOOD AT 73 YEARS OF AGE (RIGHT).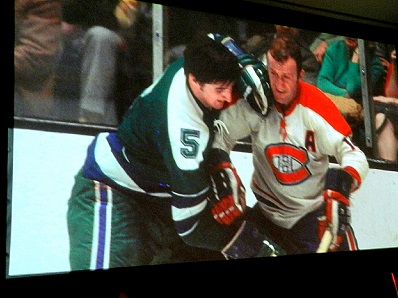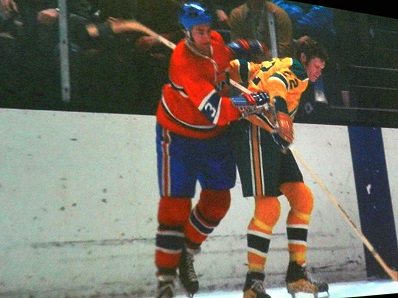 LEFT: SEALS DEFENSEMAN CAROL VADNAIS (d. Aug. 31, 2014) BATTLES WITH MONTREAL FORWARD (AND EX–TEAMMATE) CLAUDE PROVOST (d. Apr. 17, 1984) IN OAKLAND DURING THE 1969–70 SEASON. RIGHT: CANADIENS DEFENSEMAN J.C. TREMBLAY (d. Dec. 7, 1994) PUSHES FORWARD DENNIS HEXTALL (NOW 74) OF THE SEALS THE FOLLOWING YEAR, 1970–71, IN WHICH TEAMS BEGAN TO WEAR BASIC COLORED JERSEYS ON THE ROAD. THE PRACTICE CONTINUED UNTIL THE 2003–04 SEASON, WHEN HOME TEAMS AGAIN DONNED COLORED UNIFORMS, AS THEY DO TODAY.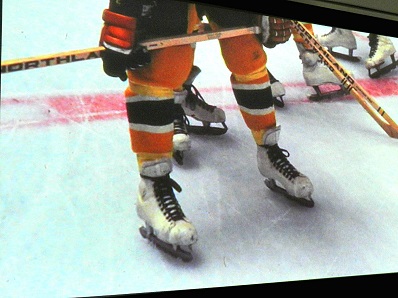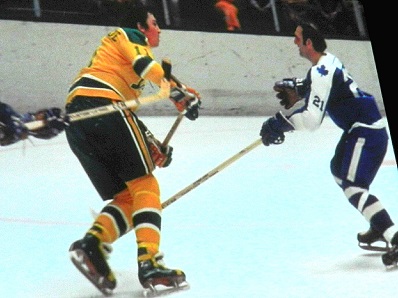 OTHER THAN LOSING GAMES AND SMALL HOME CROWDS, NOTHING IN SEALS HISTORY IS BETTER–REMEMBERED THAN THE PLAYERS WEARING WHITE–PAINTED SKATES (LEFT) DURING THE EARLY–70's. AN ORIGINAL SEAL FROM 1967 WAS BOB BAUN, SHOWN AT RIGHT DEFENDING AGAINST WINGER DON O'DONOGHUE IN A 1970–71 TORONTO AT CALIFORNIA GAME.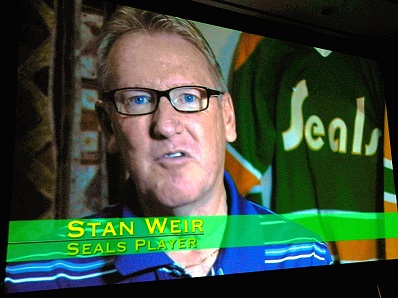 AN INTERESTED OBSERVER OF A FLYERS–SEALS ALTERCATION IN OAKLAND DURING THE 1973–74 SEASON (LEFT) WAS WINGER REGGIE LEACH (7) OF CALIFORNIA. HE WOULD BE DEALT TO PHILADELPHIA ON MAY 24, 1974 AND HELP THE FLYERS WIN THEIR SECOND CONSECUTIVE STANLEY CUP, WHILE PLAYING ON A POTENT–SCORING LINE WITH BOBBY CLARKE AND BILL BARBER. STAN WEIR (RIGHT, NOW 65) WAS A SEALS CENTER FROM 1972–75. HE THEN PLAYED THREE SEASONS WITH THE MAPLE LEAFS, SCORING 42 GOALS (SIX MORE IN THE PLAYOFFS) FOR COACHES RED KELLY AND ROGER NEILSON.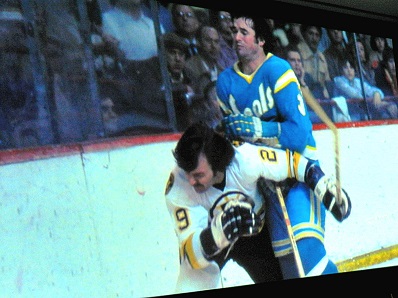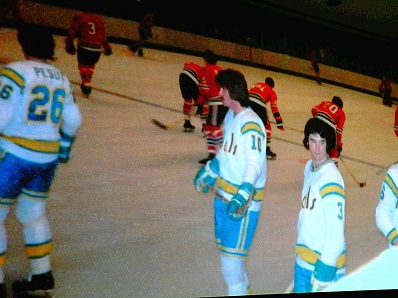 FOR THEIR FINAL TWO SEASONS, THE SEALS ALTERED THEIR UNIFORMS. THE NEW COLOR–COMBO WAS "PACIFIC BLUE" AND GOLD. THE CALIFORNIA PLAYER (RIGHT) WEARING NO. 10 DURING A WARM–UP IN OAKLAND WAS CHARLIE SIMMER. HE WOULD BE SIGNED AS A FREE AGENT BY LOS ANGELES ON AUG. 8, 1977 AND HAVE SEASONS OF 56 (TWICE) AND 44 GOALS FOR THE KINGS, PLAYING LEFT–WING ON THE "TRIPLE CROWN" LINE WITH MARCEL DIONNE AND DAVE TAYLOR.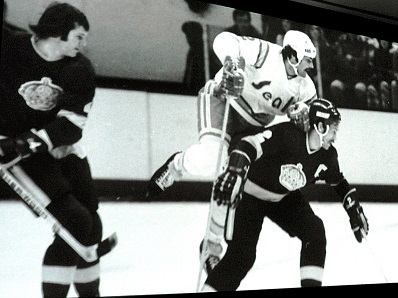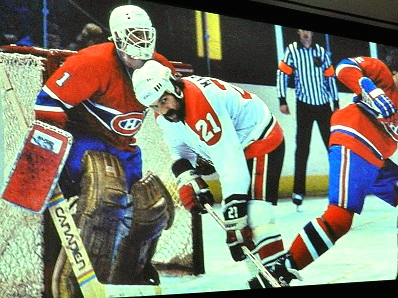 PHOTO AT LEFT FROM THE FINAL SEALS GAME — AGAINST LOS ANGELES AT THE OAKLAND COLISEUM–ARENA ON APR. 4, 1976. THE SEALS PREVAILED, 5–2. FOR 1976–77, THE FRANCHISE RE–LOCATED IN RICHFIELD, OHIO AND BECAME THE CLEVELAND BARONS. IN THE 1977 PHOTO AT RIGHT, DENNIS MARUK (21) HASSLES MONTREAL GOALIE MICHEL (BUNNY) LAROCQUE (d. July 29, 1992) AT THE CAVERNOUS, 20,000–SEAT RICHFIELD COLISEUM. THE BARONS ALSO PLAYED BEFORE SPARSE AUDIENCES FOR TWO SEASONS AND MERGED WITH THE MINNESOTA NORTH STARS FOR 1978–79.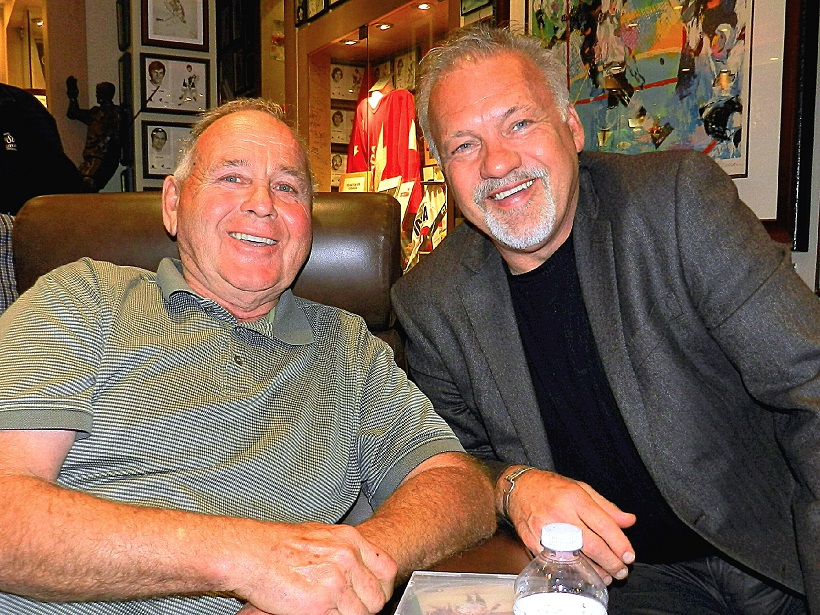 JOEY JOHNSTON (LEFT) AND DENNIS MARUK AFTER VIEWING THE DOCUMENTARY.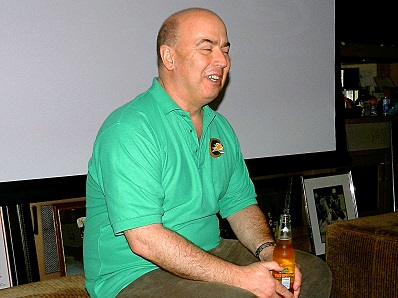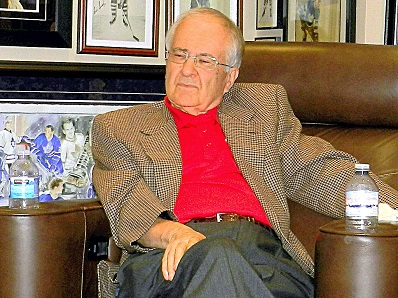 MARK GRECZMIEL TALKS TO THE INVITED GUESTS, AMONG WHOM, AT RIGHT, WAS DETROIT RED WINGS EXECUTIVE VICE–PRESIDENT (AND HOCKEY HALL–OF–FAMER) JIMMY DEVELLANO.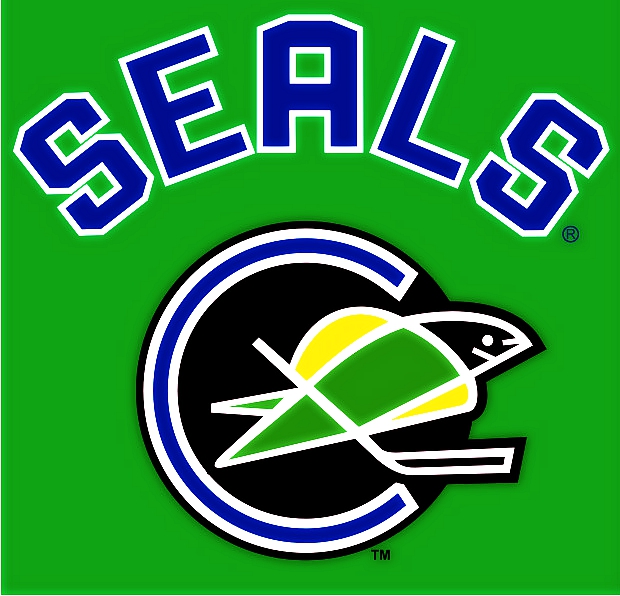 EXPANSION TEAMS FORMED: Speaking of the Seals, tomorrow marks the 50th anniversary of the NHL's first expansion draft, which took place at the Queen Elizabeth Hotel in Montreal on June 6, 1967 to fill rosters of the Seals, Los Angeles Kings, Minnesota North Stars, Philadelphia Flyers, Pittsburgh Penguins and St. Louis Blues. A draft of goalies was followed by the selection of position–players.


Terry Sawchuk, left unprotected by the Stanley Cup–champion Maple Leafs, went first in the goalies draft, to Los Angeles. The first skater chosen — also by the Kings — was center Gordon Labossiere, unprotected by Montreal. Without question, the best pick of the '67 expansion draft was made by Philadelphia, which took goalie Bernie Parent from Boston one selection after Sawchuk. Though the Flyers foolishly traded Parent to the Leafs in February 1971, they re–acquired him for the 1973–74 season. Parent won the Conn Smythe Trophy as playoff MVP in consecutive years, backstopping the Flyers to Stanley Cup titles in 1974 and 1975.
Bernie, now 72, was inducted into the Hockey Hall of Fame in 1984.
EMAIL: HOWARDLBERGER@GMAIL.COM