TORONTO (July 31) — With Leafs Nation ominously assuring itself that all draft components will remain in place beyond 2019, and media wondering if the addition of Patrick Marleau indicates the club is "going for it" now, here's a question that's flying under the radar: Does Toronto have Stanley Cup–caliber goaltending?
Frederik Andersen is clearly the most–talented stopper the club has deployed since Hall–of–Famer Ed Belfour in 2004, but the bar isn't particularly high in the salary–cap era. After the lost season of 2004–05, Belfour returned and was a shell of his former self in the Leafs net (wins dropping from 34 to 22; average rising from 2.19 to 3.29). He played one additional year with the Florida Panthers before retiring. Since Belfour, and prior to Andersen, the Toronto goalscrease was a revolving door of aging veterans, cheap fill–in's and youthful never–will–be's; 17 in all that included Mikael Tellqvist, Jean–Sebastien Aubin, Andrew Raycroft, Vesa Toskala, Scott Clemmensen, Martin Gerber, Curtis Joseph, Justin Pogge, Jean–Sebastien Giguere, Jonas Gustavsson, Joey MacDonald, James Reimer, Ben Scrivens, Jussi Rynas, Jonathan Bernier, Drew MacIntyre and Garret Sparks. Except for a couple of good stretches from Reimer, the position was a wasteland. As such, Andersen came aboard in a clever trade by Lou Lamoriello with virtually no act to follow.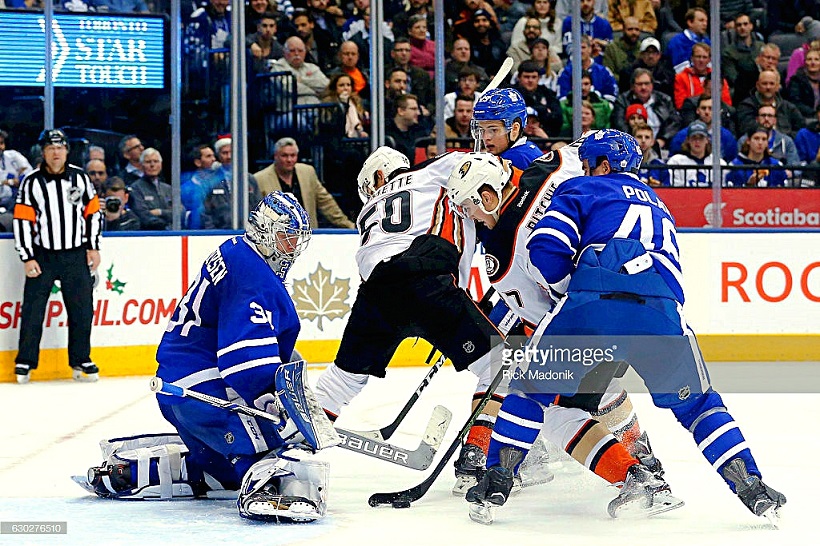 FREDDY ANDERSEN HAD A GOOD FIRST SEASON IN GOAL FOR THE MAPLE LEAFS, THOUGH HE LOST TO HIS FORMER TEAM, ANAHEIM, IN THIS GAME (3–2) AT THE AIR CANADA CENTRE, DEC. 19. RICK MADONIK TORONTO STAR
He performed well amid a heavy workload (2.67 goals–against average in 66 games), the most appearances for any Leafs netminder since Toskala also played 66 in 2007–08 (2.74 GAA) and Raycroft appeared in 72 games in 2006–07 (2.99 GAA). Not since Curtis Joseph compiled a 2.39 GAA in 68 games during the 2000–01 schedule had a Toronto goalie posted such–efficient numbers in 65–plus appearances. Andersen's stats were virtually identical during the Leafs' opening–round playoff loss to Washington (2.68 GAA). He stole Game 2 at the Verizon Center with a brilliant effort and cost the Leafs Game 4 at Air Canada Centre with a sub–standard performance. In summation, however, he was the best Toronto stopper of the salary–cap era.
After Pittsburgh won its second consecutive Stanley Cup this spring, much of the talk surrounded the Penguins prevailing with a fairly pedestrian blue line; one devoid of a Norris Trophy threat. Less of a topic was Pittsburgh's goaltending depth — how Marc–Andre Fleury got the club through the first two playoff rounds before giving way to Matt Murray. Few teams possess such a luxury, and the Penguins, as expected, lost Fleury to Las Vegas in the expansion draft. The overwhelming majority of National Hockey League champions are backstopped by a particular goalie; his reserve playing a limited role, if at all. So, the question remains: Is Frederik Andersen of such quality? And, has Lamoriello provided the Leafs with enough depth by re–signing Curtis McElhinney as No. 2? Are you, as a fan of the hockey club, confident that McElhinney — a journeyman stopper — can perform up to standard while subbing for Andersen on 15–20 occasions?
Moreover, can McElhinney properly spell off Andersen during a long playoff run?
The Leafs would likely be in some peril were Andersen injured for a lengthy spell, but we can say the same for just about any club in the absence of its No. 1 goalie. And, McElhinney provided, undoubtedly, the most significant moment of the 2016–17 Leaf season when he stuck out his left pad to thwart a Sidney Crosby one–timer with 49 seconds left in the club's penultimate game, Apr. 8. Auston Matthews then cemented a 5–3 victory with an empty–net marker and the Leafs clinched a playoff spot. Had Crosby scored and the Leafs gained just a point against Pittsburgh — then lost at home to Columbus the following night, as happened — the New York Islanders would have secured the eighth and final post–season berth in the Eastern Conference. The Leafs and Islanders each had 39 ROW's (regulation/overtime wins). The second tie–breaker is points gained in head–to–head meetings, and New York held a 4–3 edge over Toronto in three games.
So, McElhinney effectively stole a playoff rung for the Leafs with his dazzling save on Crosby.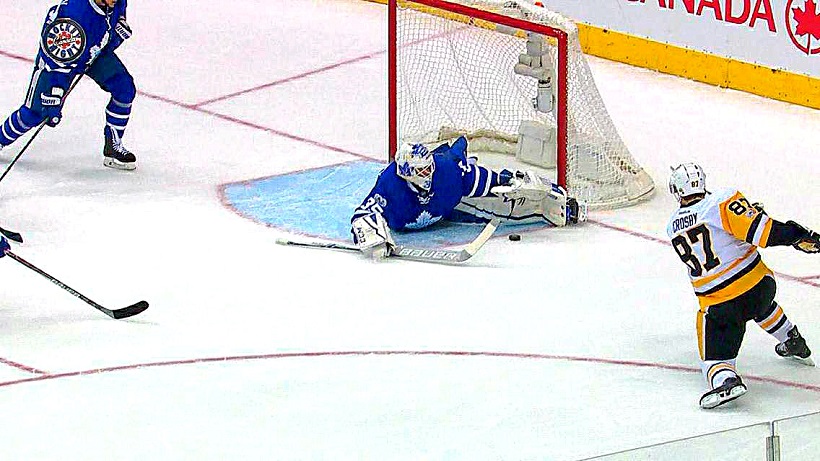 CURTIS McELHINNEY'S PLAYOFF–CLINCHING SAVE OFF SIDNEY CROSBY, APR. 8, AT AIR CANADA CENTRE. CBC IMAGE
Perhaps that is why Lamoriello re–upped with the goalie he claimed off waivers from Columbus on Jan. 8. It certainly provided the veteran GM a lasting memory. But, still to be determined — though strangely left unspoken by fans and media — is whether the Andersen–McElhinney duo can get the Leafs beyond Round 1 of the Stanley Cup tournament. Given the utter silence on the issue, it appears to be a foregone conclusion.
Time, of course, will provide the answer.
UMPIRE ARGUMENT JADED
Everyone, it seemed, was in a bad mood at the Rogers Centre here in Toronto last Thursday when the Blue Jays doubled the Oakland A's 8–4. The game ended in marvelous fashion for the home team, as left–fielder Steve Pearce hit a walk–off grand slam in the 10th inning; Pearce, remarkably, did the same on Sunday against the Los Angeles Angels to cap an 11–10 Toronto comeback in the ninth (the Blue Jays were down 10–4 after 8½). But, the seven–game home–stand will be remembered, equally, for a bizarre bottom of the fifth against the Athletics on Thursday. And, how the events were reported by those on hand.
With Oakland ahead, 3–1, a sell–out crowd of 47,484 was up in arms after three members of the home team were ejected within a span of 75 seconds — all by plate–umpire Will Little. First, it was manager John Gibbons, for repeatedly arguing balls and strikes from the dugout. Then, starting pitcher Marcus Stroman got the heave–ho for yelling at Little from the mound; followed quickly by catcher Russell Martin for turning around to confront Little. It was widely reported that Little baited Stroman by removing his mask and stepping out from behind the plate. Which, in fact, happened. Not reported (or unnoticed) was that Stroman yelled something at Little before the umpire removed his mask. It was easily loud enough for me to hear while sitting 14 rows behind and to the left of the batter's box. Only then did Little confront Stroman and dare him to say something else. The hot–headed pitcher complied and was thrown out of the game.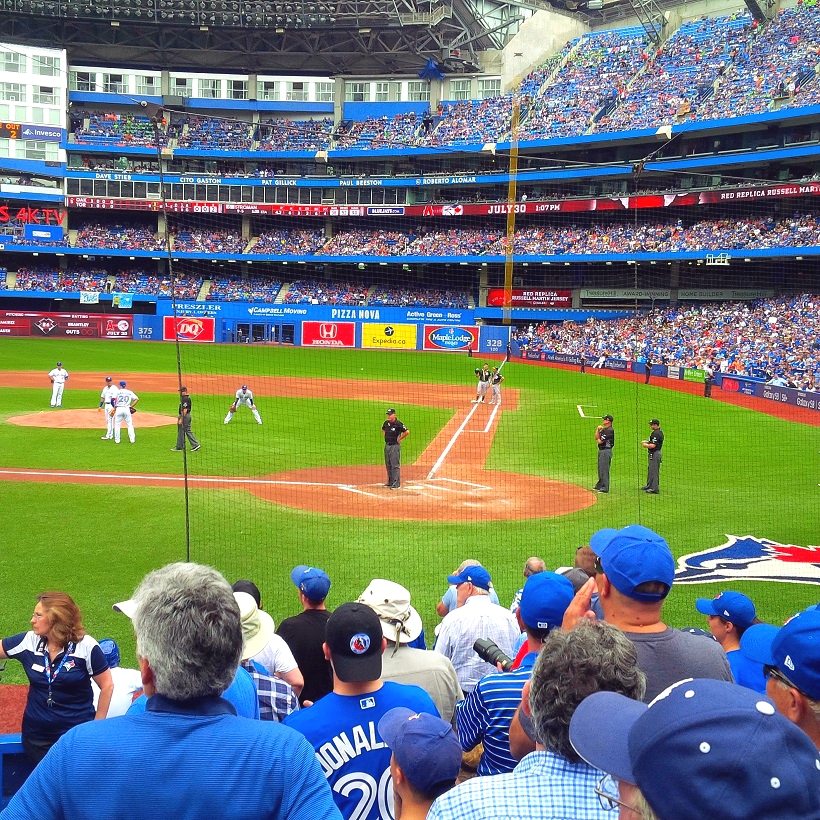 PHOTO I TOOK FROM MY SEAT IN SEC. 124, ROW 14, AT ROGERS CENTRE ON THURSDAY, MOMENTS AFTER JOHN GIBBONS, MARCUS STROMAN AND RUSSELL MARTIN OF THE BLUE JAYS WERE EJECTED BY WILL LITTLE (AT FAR–RIGHT). FANS WERE UP, OUT OF THEIR SEATS, AND LOUDLY JEERING THE HOME–PLATE UMPIRE. YET, I HAD A PERFECT ANGLE TO HEAR STROMAN YELL SOMETHING AT LITTLE BEFORE THE UMP REMOVED HIS MASK AND DARED THE PITCHER TO SAY ANOTHER WORD.
Predictably, post–game columns and blogs were replete with the common charge that people do not attend baseball games to see umpires become part of the show. Oh, really? Just as fans, I suppose, do not attend automobile races with the anticipation of a wreck; that hockey denizens turn away from a good scrap, or those watching a bull–fight detest blood? Fact is that nothing gets the crowd, and those in the press box, more involved in a baseball game than an old–fashioned rhubarb involving the umpires. Old–fashioned simply because the human element has been all–but eliminated on the diamond. Base umpires have become the equivalent of goal–judges in hockey. They are essentially figureheads; all of their decisions subject to video review (as at the plate). The lone remaining human factor is ball–and–strike calls by the man behind the plate. As such, he is now the only person subject to verbal abuse from players and fans.
No longer are we treated to the spectacle of a Billy Martin or Earl Weaver storming unhinged from the dugout to argue a call at second or third base. We have absolutely no chance of seeing a manager kick dirt on an umpire (ala Martin) or go nose–to–nose (ala Weaver). Today, virtually every play on the base–path is followed by a manager holding up one hand at the umpire while his bench–coach (in the allotted 30 seconds) communicates with a video–man in the clubhouse, watching the game on TV. If the video–man determines a review is warranted, he passes it along. Otherwise, the manager waves off the request.
Not wanting to see the "umpire become part of the show" merely spawned a post–game column by Richard Griffin in the Toronto Star; an impassioned blog the following day by Star colleague Doug Smith, and likely consumed 90 percent of the conversation during Mike Wilner's post–game exercise on Sportsnet–590.
Not too shabby for a subject that apparently interests no one.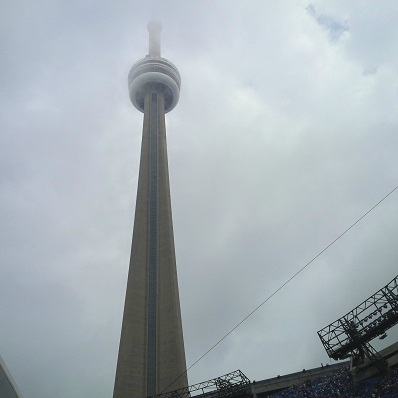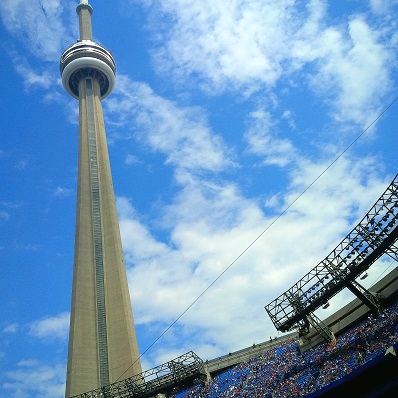 A CLOUDY AFTERNOON ON THURSDAY GAVE WAY TO BRILLIANT SUNSHINE DURING THE BLUE JAYS–OAKLAND GAME. STILL, EVERYONE AT ROGERS CENTER WAS IN A FOUL MOOD.
TICKET HIKE (HEIST?)
Finally, we can understand the Blue Jays slogan for 2017: "Let's Rise."
It never had anything to do with position in the American League standings. Ultimately, it foreshadowed another corporate decision by Rogers Communications — to inflate ticket prices by 7 to 17 percent for home games in the 2018 season. But, let's give the poobahs in the ivory tower at Jarvis and Bloor some credit. Business conclusions, though unpopular and often near–sighted, are not arrived at haphazardly.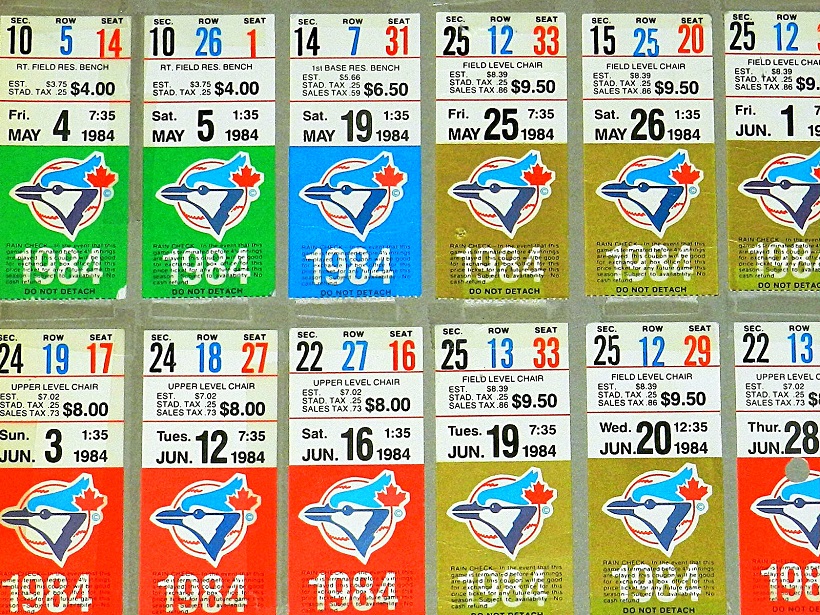 FROM MY SCRAPBOOK: EXHIBITION STADIUM TICKET STUBS IN 1984, THE BLUE JAYS EIGHTH MAJOR LEAGUE SEASON.
A fan or observer of the Blue Jays can view the club this way: Since Oct. 23, 1993, when Joe Carter's home run at SkyDome provided a second consecutive World Series triumph, the Jays have had three prolific moments. They occurred Nov. 28, 2014; July 28, 2015 and July 30, 2015. Three moments of franchise accomplishment in roughly 7,880 days. All authored by outgoing general manager Alex Anthopoulos. The first saw the Blue Jays pilfer third–baseman Josh Donaldson from the Oakland Athletics. Good move, but nothing that created upward mobility on its own. The second brought All–Star shortstop Troy Tulowitzki to Toronto from Colorado. And, the third landed starting pitcher David Price from the Detroit Tigers.
In September 2000, when it purchased 80 percent of the Blue Jays, Rogers began a 15–year run of shoddy ownership. At no point during that time did the club threaten to make the playoffs. Attendance dwindled at the Dome and an entire generation of prospective fans grew up either ignoring the team or suffering en masse. Just when it appeared that a 16th season would be added to the ledger, the pocketbook suddenly opened — moths scurrying in every direction. The contracts of Tulowitzki, Price and outfielder Ben Revere were added before the non–waiver trade deadline. And, presto, a new generation of ticket–buyers evolved.
In the span of just more than a month, the Blue Jays embarked on a 24–5 tear, finishing the post–deadline portion of the schedule with a record of 42–15. And, made the playoffs for the first time since 1993.  Against Texas in the American League Division Series, Toronto became the first team to prevail in a best–of–five round after losing the first two games at home. The craziest inning in club history — the silly seventh in Game 5 at Rogers Centre — featured Jose Bautista's iconic bat–flip. An unsuccessful American League Championship Series against Kansas City hardly mattered. Delirious fans, either not–yet born when Carter hit his home run, or too young to recall, had their first experience with pennant and playoff fever.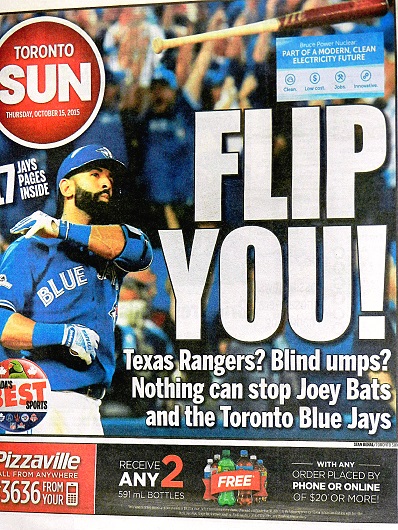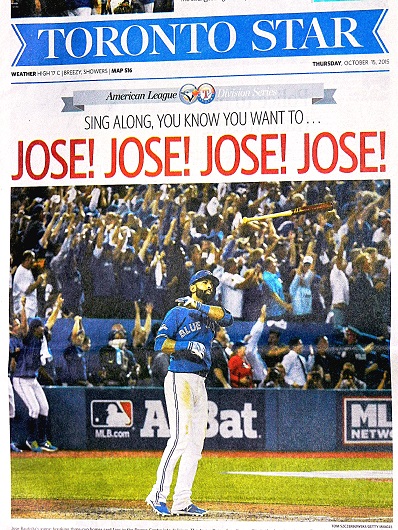 This momentum carried through the 2016 season and a second march to the ALCS. Toronto, which established Major League attendance records in the early–SkyDome era, ignited again at the box office. Sadly for fans that hoarded tickets in pre–sale last winter, anticipating a third playoff charge, the Blue Jays fell to earth with a resounding plop. Older, slower and terribly injury–prone, the current team began the season 6–17 after 23 games. It has owned or shared last place in the American League East since Day 1.
Now for the apparent business plan.
The bean–counters at Jarvis and Bloor probably sense they can bleed one more year of energy from the momentum established in 2015. On the field, the Jays will soon have to re–build from the bottom up. And, given the 15–year trend that began when Rogers purchased control of the team in 2000, one would expect a decline in attendance and enthusiasm. As such, ownership is bent on wringing every available dollar from the fan–base. In my view, Rogers has accurately wagered that a large–enough segment of its new baseball following will pony up for at least one further year of hope. Thus the 7–17% ticket–hike for next season.
Yes, the scheme could backfire. But, likely not fast enough for inertia to prevail. As mentioned — and like it or not — the tall foreheads at Rogers understand business. At any cost to the consumer.
… AND MORE GROUSING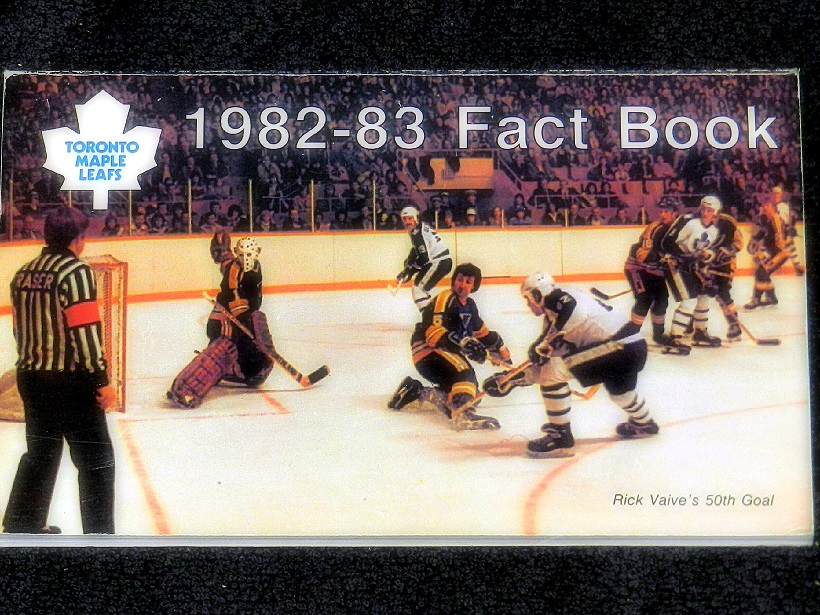 Okay, this made me laugh. In the late–70's and throughout the 80's, Frank Orr of the Toronto Star was the preeminent hockey writer in Canada; perhaps in all of North America. I learned so much by watching the way Frank comported himself among players and executives… and by talking to him about the game. His perspective was always unique and informative. Frank also had an occasionally–warped sense of humor. I'll never forget leaning on my elbows in the Maple Leaf Gardens press box during a monotonous game in the early–1980's. The Leafs were terrible and the clock tended to drag. At one point, I felt a palm on my left shoulder and Frank leaned in toward my ear. While pointing down at a pair of vacant wheelchairs behind the corner glass, he said, "this game is so bad, even the quadriplegics have gotten up and left."
Only Frank.
The devilish side of Mr. Orr prompted this tongue–in–cheek review of the 1982–83 Toronto Maple Leafs media guide — composed and written by then–Gardens' publicist Stan Obodiac.
It appeared in the Dec. 3, 1982 edition of The Hockey News: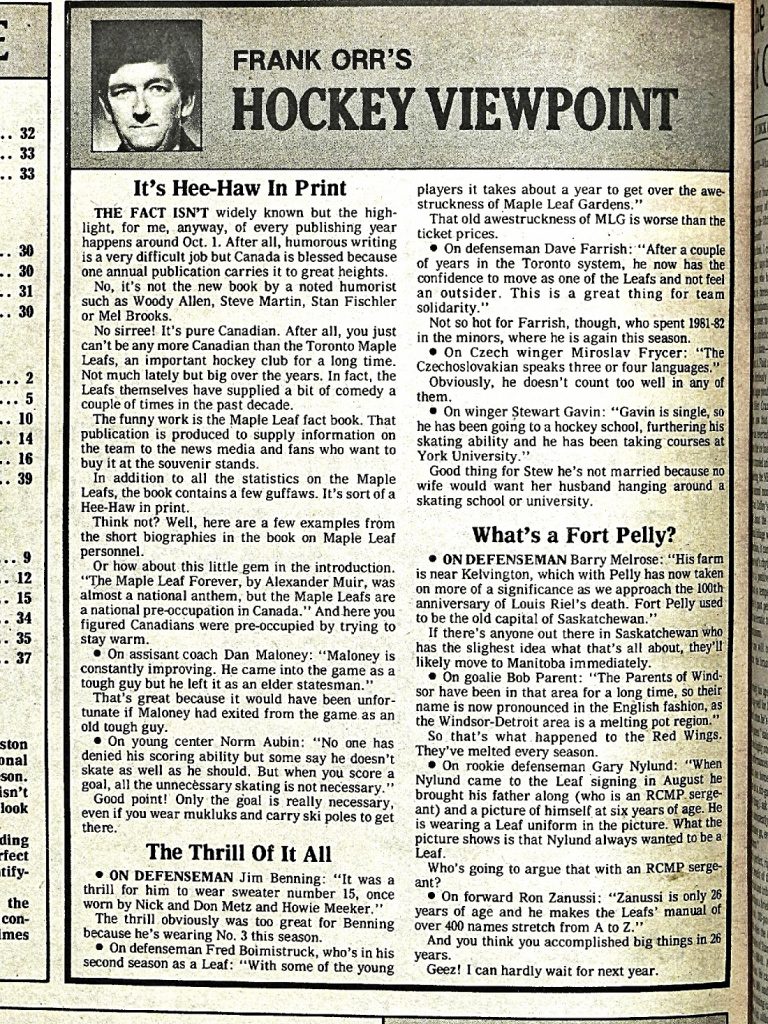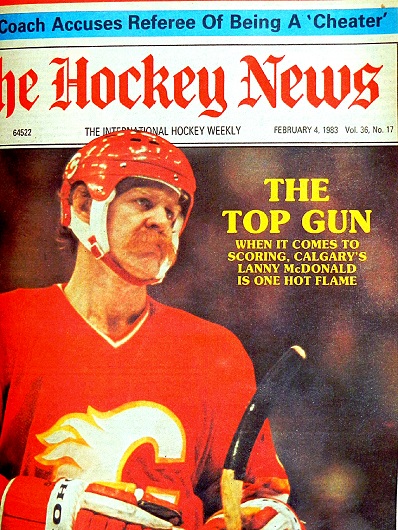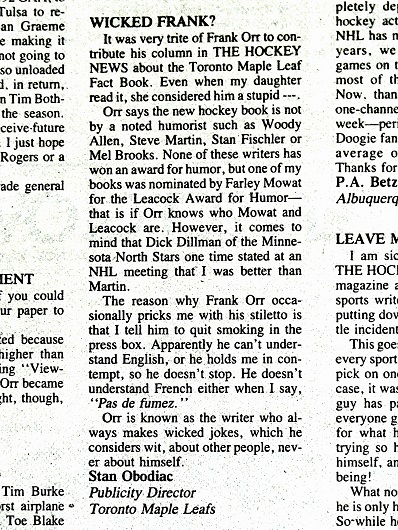 Stan Obodiac was a very nice man; a bit awkward and peculiar, but universally liked by the media. When dying of cancer in 1984, he gave me a stack of NHL media guides that had long–been collecting dust in his office; among them, editions from the early–expansion era (1967–1969). I have the guides to this day — each with Stan's signature on the cover. He was also profoundly loyal to Maple Leafs owner Harold Ballard, who compensated and often treated him poorly. Nonetheless, Stan rose up when he felt abused by others. As such, his letter–to–the–editor retort (above) to Frank Orr in the Feb. 4, 1983 issue of The Hockey News.
That edition of the paper was consumed by vitriol.
My ol' friend, Tom Watt, who would coach the Leafs from 1990–92, took a run at referee Bob Myers while still at the helm of the Winnipeg Jets. Myers was a particularly–awful referee, but likely not a "cheater":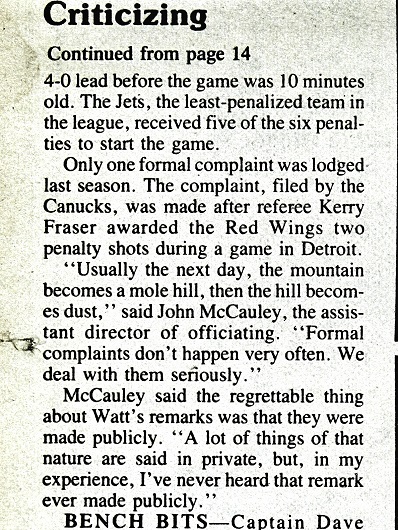 Then there was The Maven. Stan Fischler, in New York, had a full page in The Hockey News of that era and rarely took it easy when deriding NHL referees. Occasionally, he got some help, as with this effort: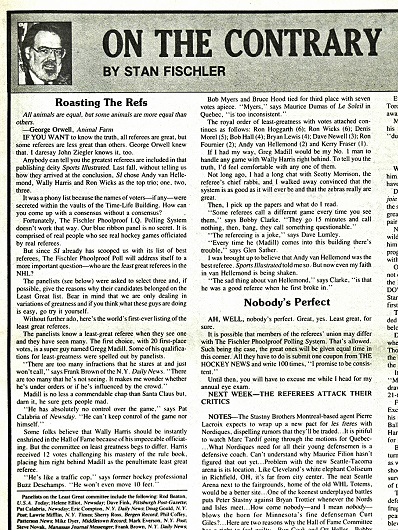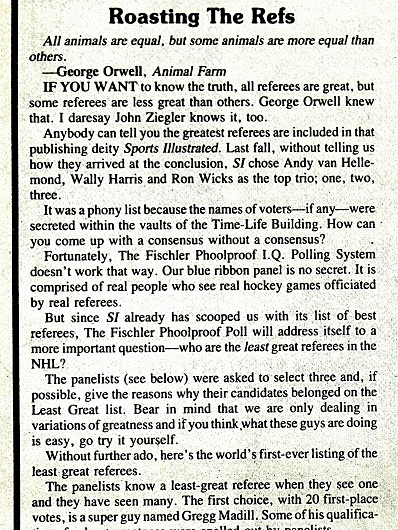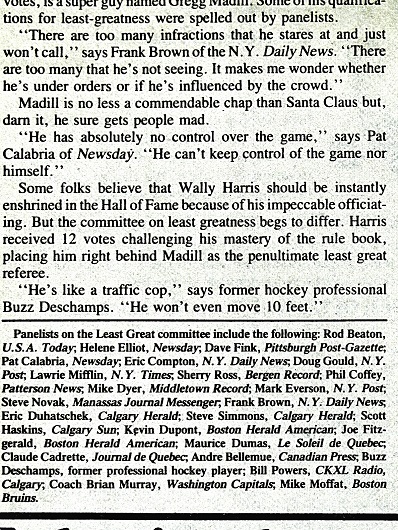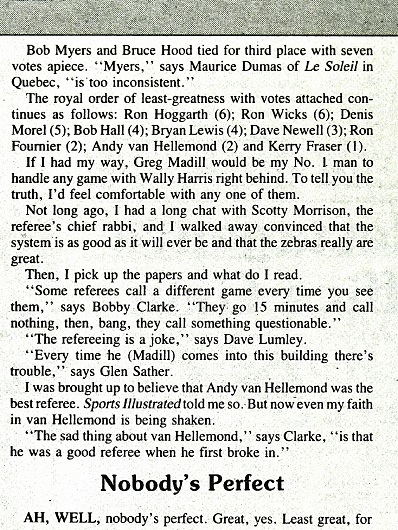 1969 TORONTO ARGONAUTS
I've been in a Canadian football kind of mood the past week, ever since Doug Flutie and the unparalleled Toronto Argonaut teams of 1996 and 1997 were feted in a 20th anniversary commemoration. My favorite professional sports teams ever were the Argos of the late–60's and early–70's — coached by Leo Cahill and led by such franchise legends as Joe Theismann, Mel Profit, Bill Symons, Dave Raimey, Dick Thornton, Marv Luster, Jim Stillwagon and Jim Corrigall. For five seasons, beginning in 1969, it was very difficult to obtain Argo tickets at the old, 33,135–seat CNE Stadium. But, I did get to my first CFL games during that '69 season — Ottawa Rough Riders at Toronto (with Dad) on Sep. 20 and Montreal Alouettes at Toronto (with my close pal, Jeffrey Spiegelman) in a constant downpour, Nov. 2. Thankfully, Jeff and I were in the covered north grandstand on that miserable afternoon and remained dry. I remember the Alouettes were still wearing white road jerseys with red pants, and white helmets with red lark–wings on each side.
As per these 1969 photos from a game at Lansdowne Park in Ottawa: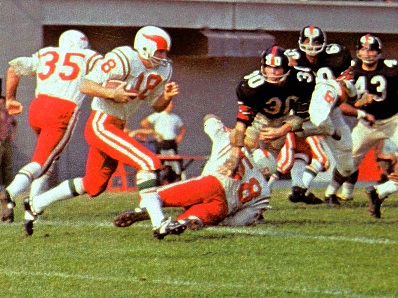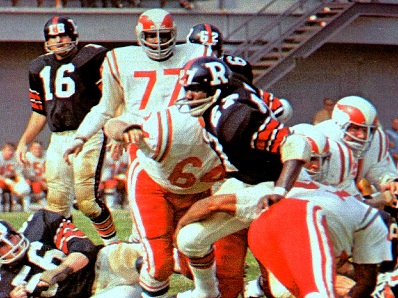 The Argonauts' logo from that era is among my all–time favorites — pictured here on a ball cap: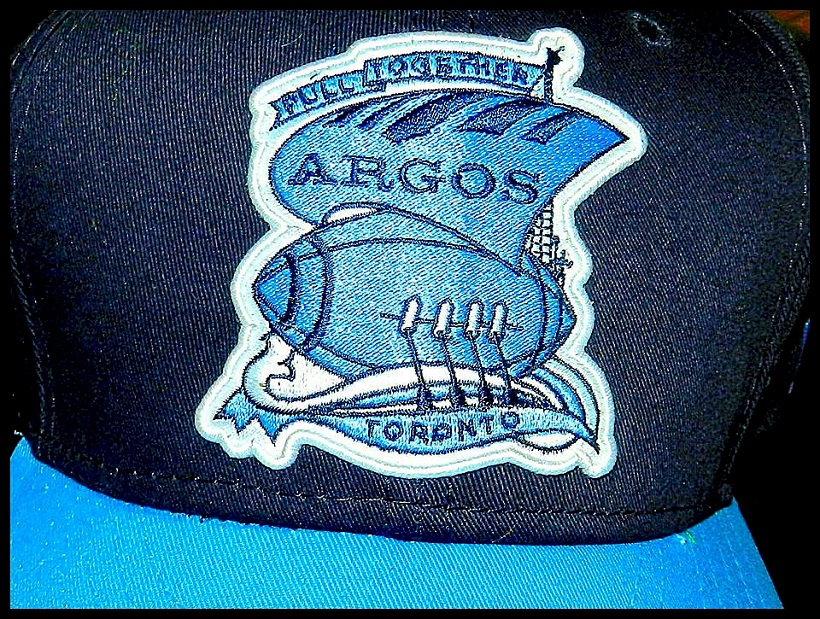 1969 CNE STADIUM PROGRAMS
From 1960 to 1976, the CFL schedule featured grueling doubleheaders. East teams would go west, and vise versa, for a pair of games in a 48–to–72–hour span. An example here involved the Saskatchewan Roughriders, who played in Toronto on Sep. 7, 1969 (a Sunday afternoon), then at Montreal on Sep. 10 (a Wednesday night). This cruel and unusual punishment finally ended in 1977.
SASKATCHEWAN at TORONTO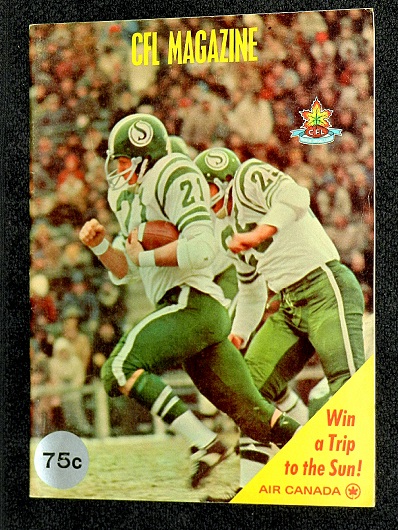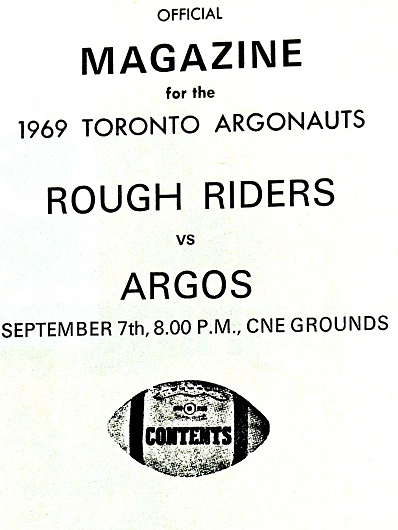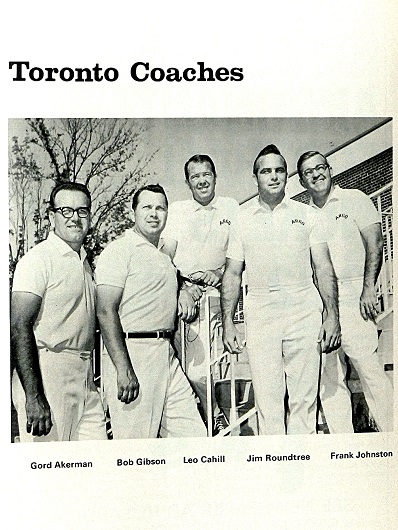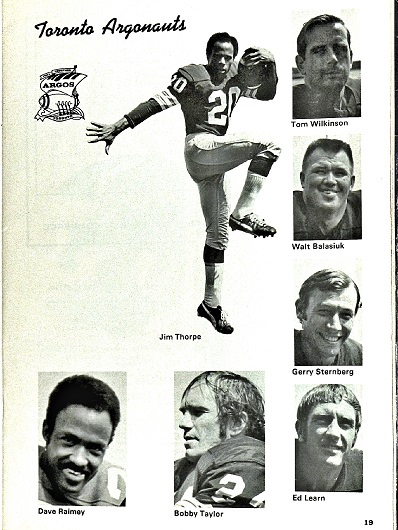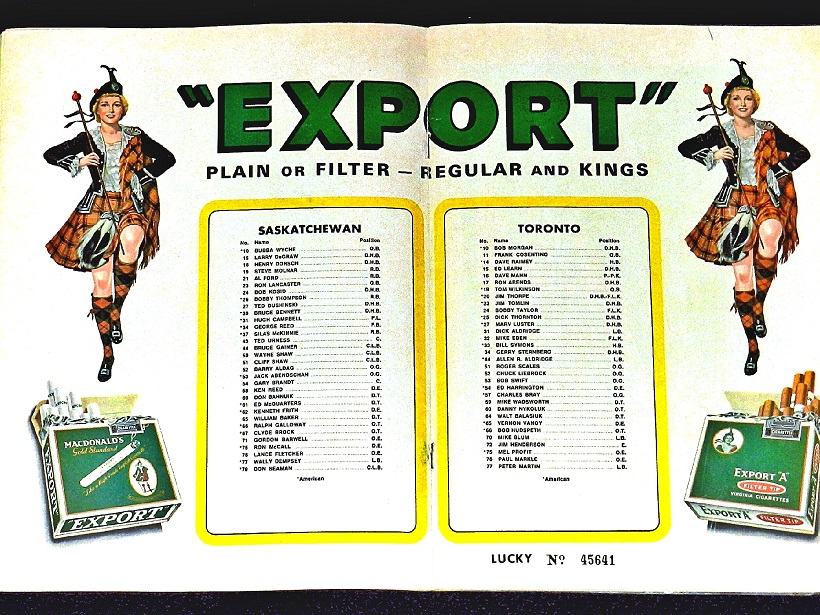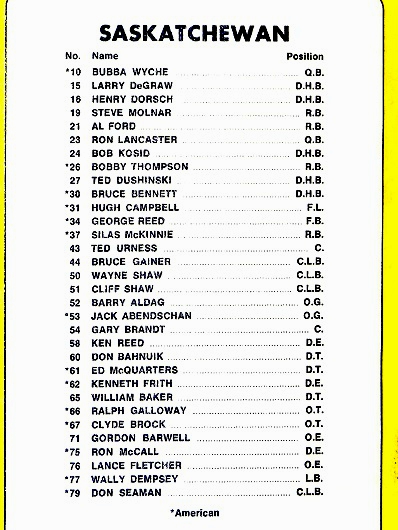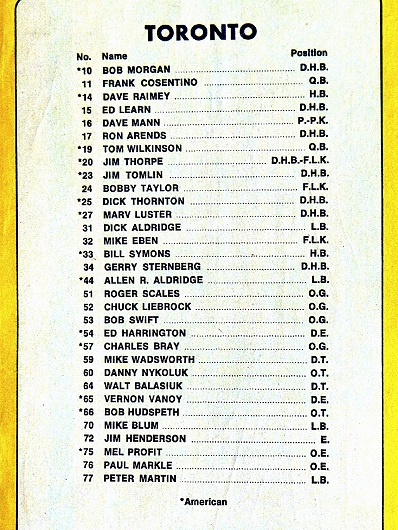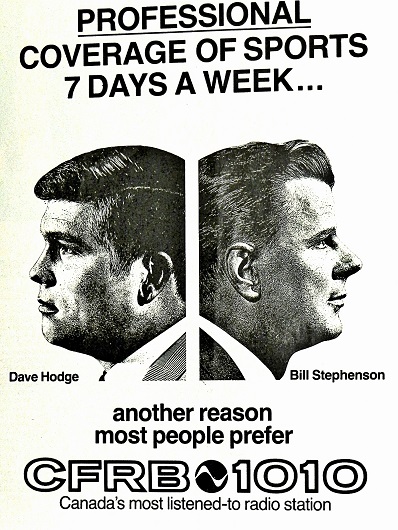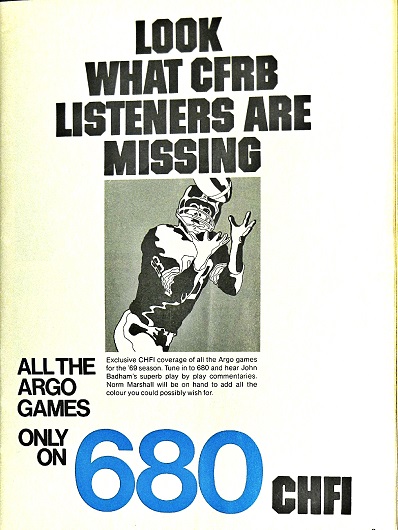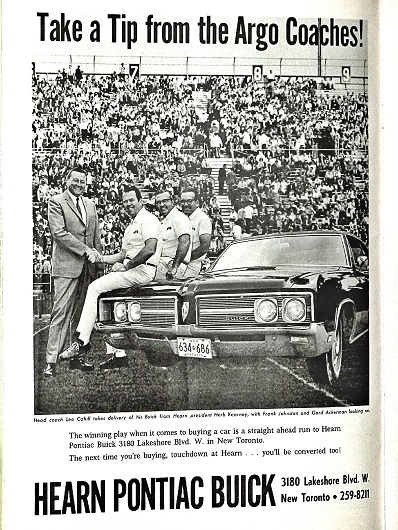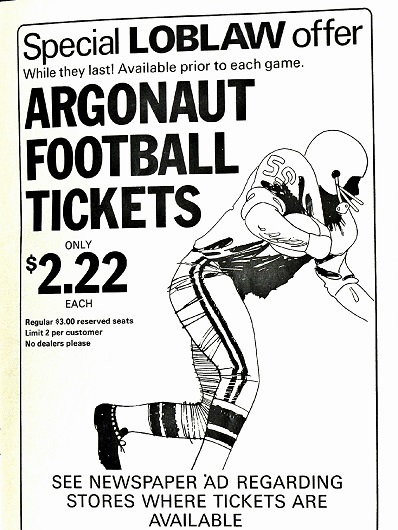 SASKATCHEWAN at MONTREAL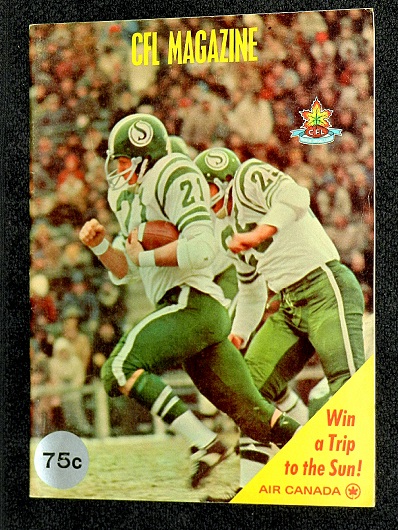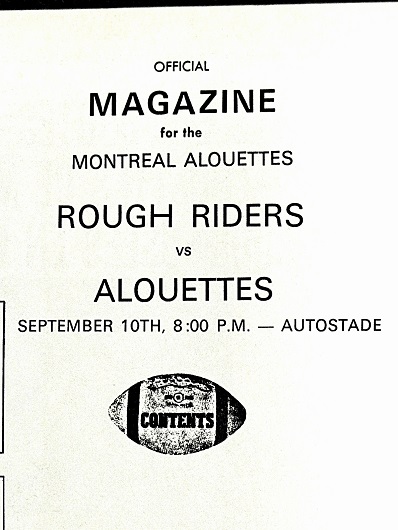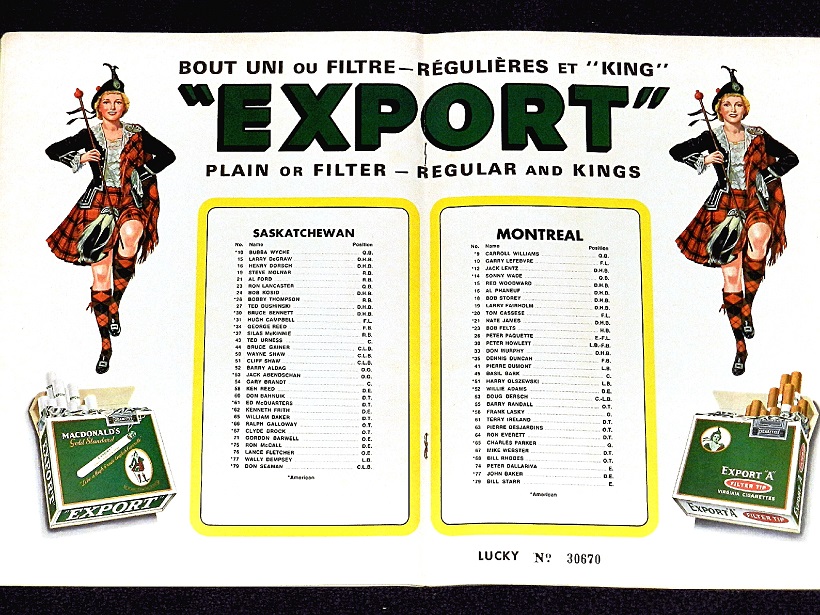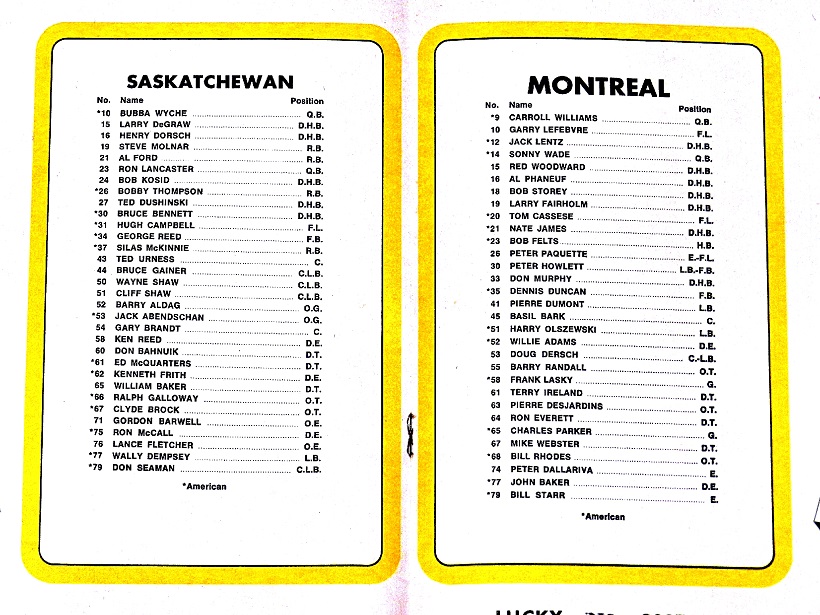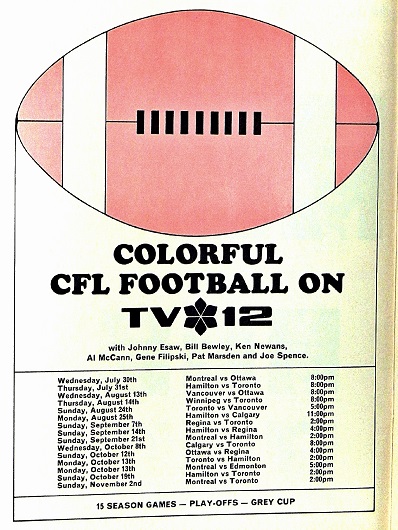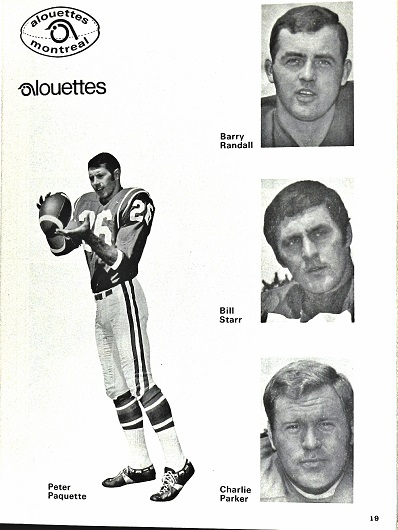 CALGARY at TORONTO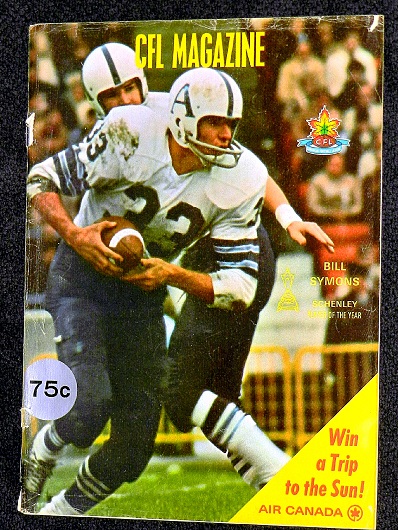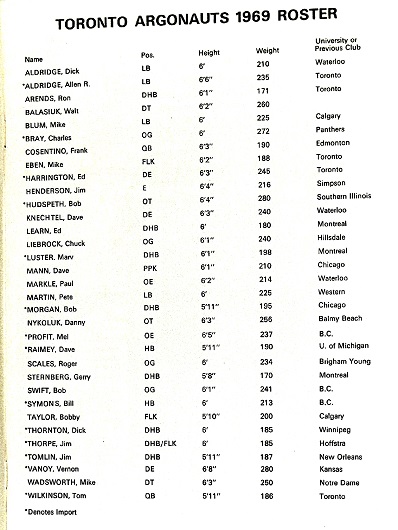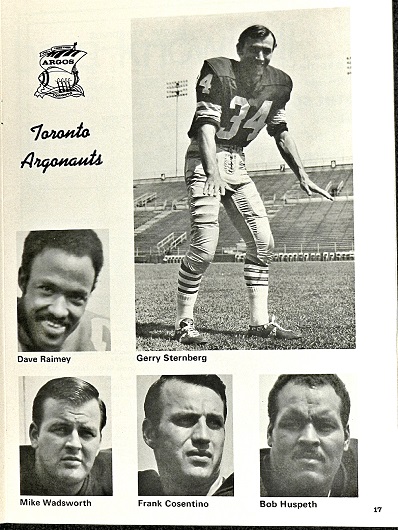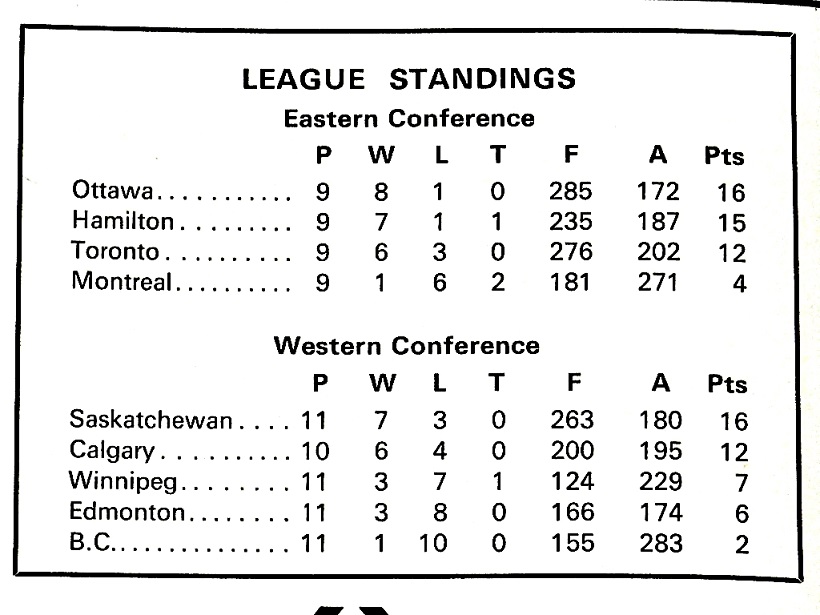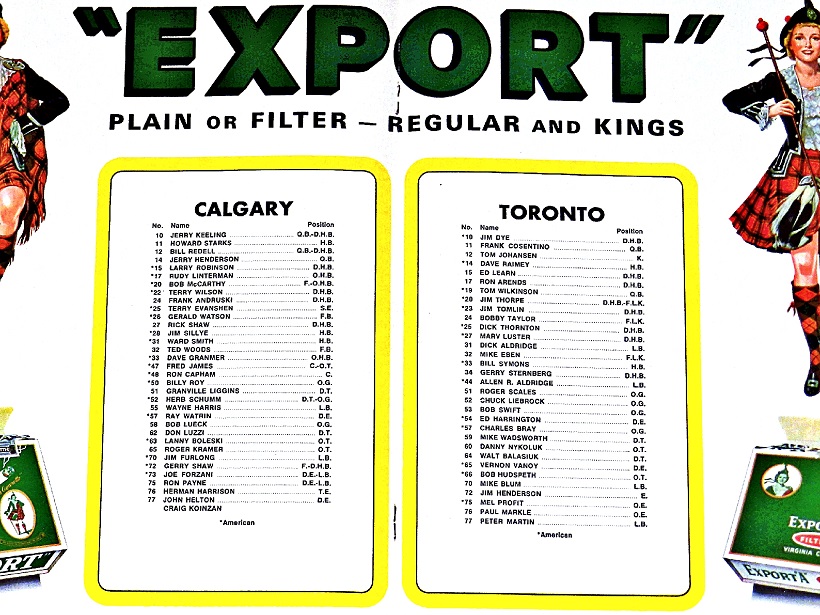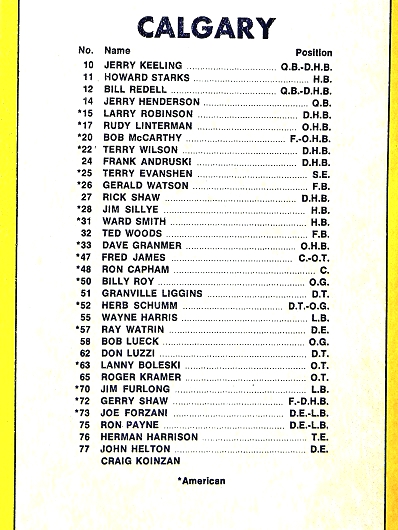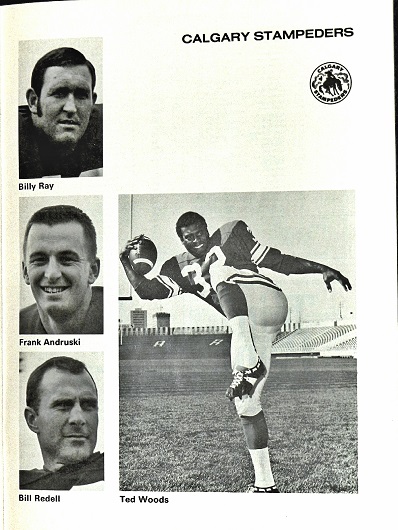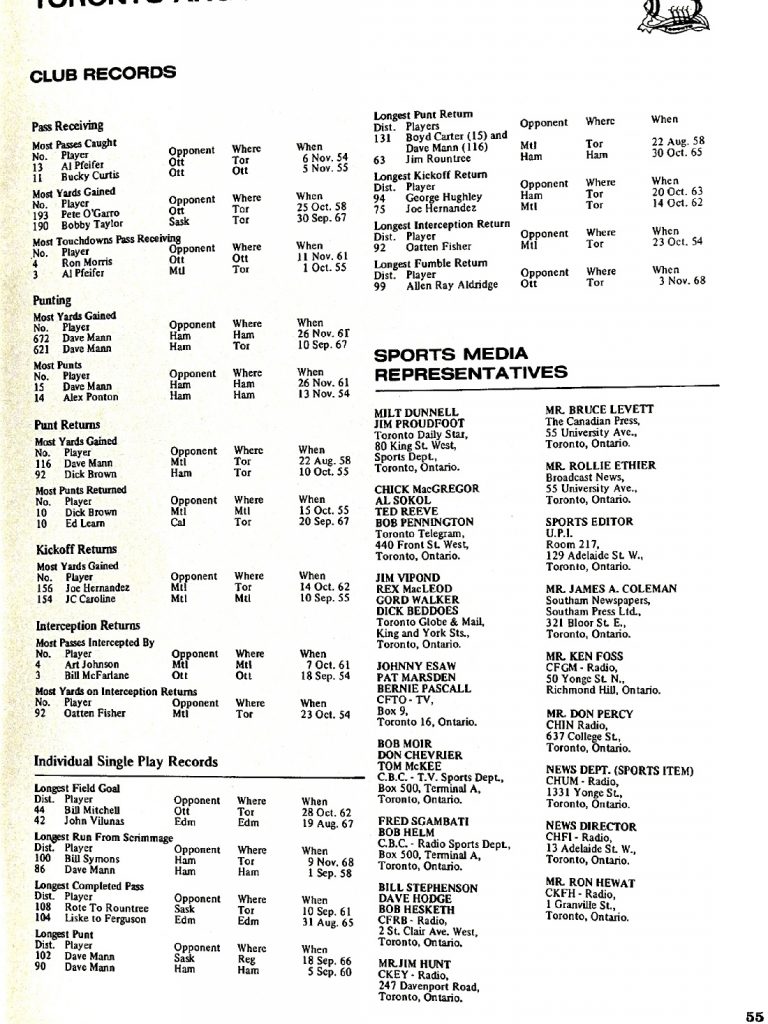 1969 BOOKS ON THE CFL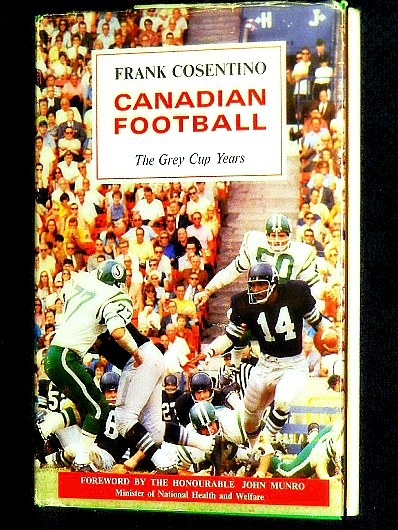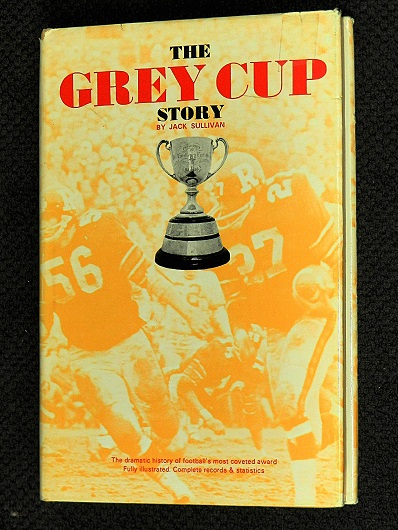 At the end of 1969, these cloth–cover books were released.
Frank Cosentino (top–left) spent the '69 season as understudy to Argos' No. 1 quarterback Tom Wilkinson. He then wrote a chronological history of the Canadian Football League. The cover–photo of Dave Raimey (14) carrying the ball was from the Sep. 7 Saskatchewan at Toronto game at CNE Stadium.
EMAIL: HOWARDLBERGER@GMAIL.COM