TORONTO (July 24) — Only once in the modern history of the Maple Leafs has a coach changed the position of an established star in the National Hockey League. The result was four Stanley Cup championships in a six–year span. Of course, no salary cap existed when Punch Imlach turned Red Kelly from a Norris Trophy–winning defenseman to a clever, play–making center in 1960. But, the result was spectacular.
Now, access your imagination for a moment. What if — somehow — the current Maple Leafs were able to convert William Nylander from forward to defense? This will likely not happen for two reasons: a) teams do not think outside the box as during the old, six–team NHL, and b) it is theoretically more difficult for a player to switch from forward to defense than vise versa. But, suppose Mike Babcock decided to experiment with a sure–fire way to help his team, under grueling cap conditions in 2019, keep all of Nylander, Mitch Marner and Auston Matthews, while simultaneously plugging the biggest gap on the roster. The notion of Nylander — with superb ice–vision; skating; play–making and shooting ability — anchoring the Maple Leafs (and their powerplay) from the back end has to minimally give pause for thought. The best hockey player on the planet right now (Erik Karlsson), and the most indispensable component of Babcock's Detroit teams (Nick Lidstrom), share lineage with Nylander; each hailing from Sweden. They also share a remarkable skill–set.
This may seem rather hair–brained to followers of the Blue and White, particularly the large segment that spends hours juggling figures and convincing itself the Leafs can pay Nylander, Marner, Matthews… and a Norris Trophy–type (in the very unlikely event one becomes available). There is also Patrick Marleau's guaranteed $6.25–million in 2019–20. Without a substantial increase in the cap ceiling, this will not be possible. And, even if the Leafs were to dole out $25–$30 million for their draft jewels of 2014–16, there will be too wide a gap between front–line and support players. Without balance, the club almost–certainly will not win the Stanley Cup (thus my contention one of the Big 3 will have to be exchanged for parts elsewhere).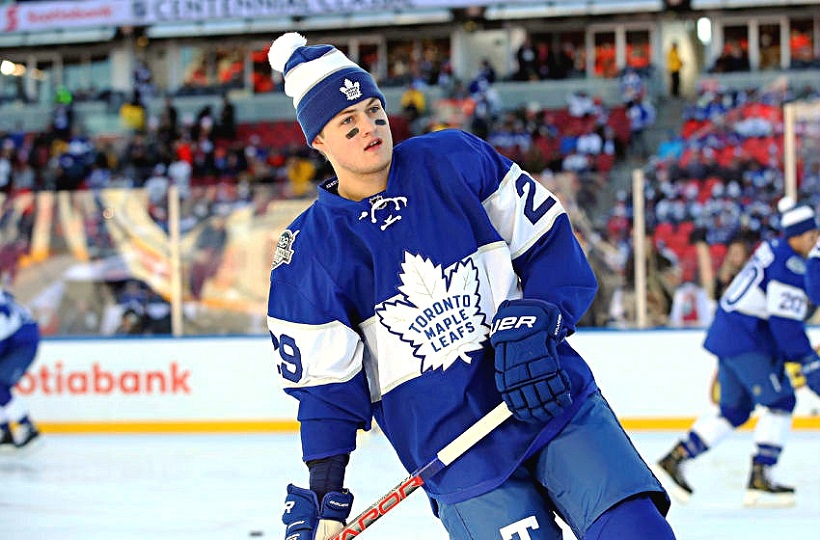 STRICTLY FROM A TALENT PERSPECTIVE, WILLIE NYLANDER MIGHT BE CAPABLE OF FILLING AN ENORMOUS GAP ON THE BLUE LINE. BUT, DO LEAFS HAVE THE GUMPTION? TOM SZCZEBOWSKI USA TODAY
So, why not explore every current possibility? With respect to skill, Nylander is at the apex of the Leafs roster. Matthews may be more lethal around the net; Marner more creative on the attack–side of the center red–line. But, no player can match Nylander for innate ability. To suggest it would be impossible for him to switch from forward to defense at this infant stage of his career is inaccurate — for it hasn't been disproved.
Currently, the gold standard among NHLers that work both positions is Dustin Byfuglien of Winnipeg. Though completely different than Nylander in body and style, Byfuglien has been switching between forward and defense throughout his 12–season career with Chicago, Atlanta and the Jets. He could have won the Conn Smythe Trophy in the spring of 2010 when he scored 11 goals in 22 playoff games for the Stanley Cup–winning Blackhawks. Instead, the award went to teammate Jonathan Toews (29 points).
Nylander is already familiar with handling the puck at the blue line; he has often manned the point under Babcock on the Maple Leafs powerplay. Whether or not he can master the full complexity of the defense position isn't known. Clearly, it would present the 21–year–old with a challenge, yet it's quite easy to imagine Nylander smartly head–manning the puck (making that important first pass from the defensive zone); lugging the puck through the neutral zone, and — most certainly — letting fly with his hard, accurate shot.
It says here that acquiring the caliber of defenseman that all but a handful of teams since 1970 have required to win the Stanley Cup will be at least as demanding as trying to convert Nylander. And, one hell of a lot more complicated from a cap perspective. Really, the Leafs have nothing to lose. If it doesn't work, they revert to Plan A (whatever that is). If it does work, they're sittin' pretty… on the ice and in their cap shuffle.
SIMPLY THE BEST
What a splendid few hours it was on Sunday amid players that formed one of the greatest professional teams in Toronto sports history. The Argonauts of the Canadian Football League romped to consecutive Grey Cup championships in 1996 and 1997 under the guidance of coach Don Matthews and the utter brilliance of quarterback Doug Flutie. Sadly, Matthews died of cancer on June 14 at 78. Flutie, 54, could take the field here in the Great White North and perhaps still be among the dominant players under center; a football version of Gordie Howe, who finished his legendary hockey career at 52 with the Hartford Whalers. As Matthews often said about his '96–'97 champions, "there was nothing quite like the Flutie magic."
Later tonight, at halftime of the Toronto–Ottawa game at BMO Field, Flutie will be recognized as an all–time Argo. Some might refer to him as the all–time Argo, even though he played but two years in our city. Same could be said, coincidentally, about another Doug — Gilmour — who performed, over two seasons (1992–93 and 1993–94), at a higher level than any player in Maple Leafs history. While marching the Argonauts up and down the field, Flutie compiled a phenomenal record of 38–6 (including pre–season, regular–season and playoff matches). He joined many of his Grey Cup teammates for a reunion–dinner Sunday at The Keg restaurant on York St. — one block west of the Bay St. parade venue for both Argonaut triumphs. The full '96 and '97 teams will also be recognized in a ceremony at halftime of tonight's game at BMO.

TORONTO QUARTERBACK DOUG FLUTIE EVADES AN EDMONTON TACKLER DURING THE LEGENDARY "SNOW BOWL" GREY CUP GAME OF NOV. 24, 1996. PLAYED DURING A BLIZZARD AT THE OLD IVOR WYNNE STADIUM IN HAMILTON, THE TEAMS SOMEHOW COMBINED FOR 80 POINTS — ARGOS OUTLASTING THE ESKIMOS 43–37. TORONTO STAR PHOTO
Flutie gained international renown for his "Hail Mary" pass to teammate Gerard Phelan of Boston College at the Orange Bowl in Miami on Nov. 23, 1984. That last–second completion lifted B.C. over the University of Miami Hurricanes in one of the most memorable sporting events in the decade. Flutie sandwiched his unparalleled CFL career around two stints in the National Football League — with New England and Chicago beforehand; then, more prolifically, with Buffalo, San Diego and New England to end his career in 2005.
While north of the border, he won three Grey Cup titles (his first with the Calgary Stampeders in 1992) and six most–valuable–player awards in just eight seasons. I was privileged to be at the Argo reunion on Sunday with my trusty NIKON. As I look forward to attending tonight's football game at BMO Field.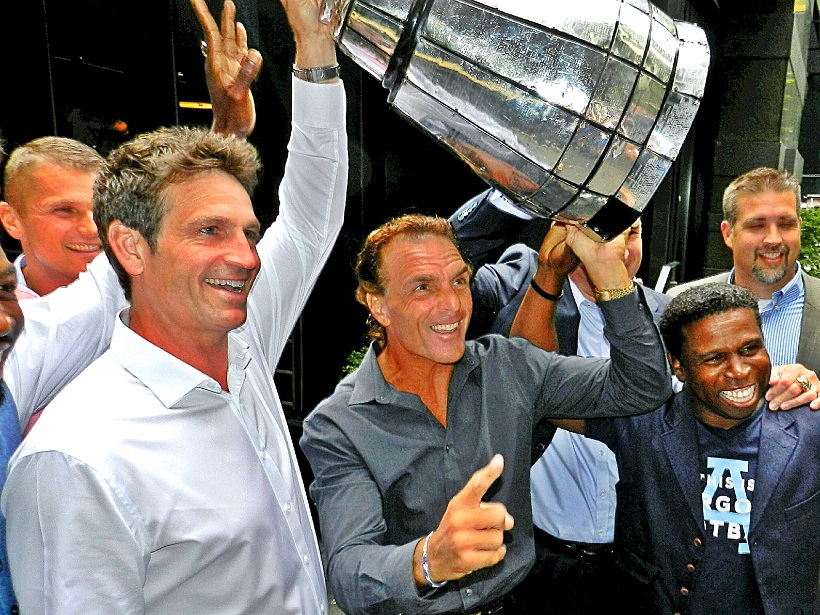 TORONTO SUN PHOTOGRAPHER STAN BEHAL ARRANGED A REPRODUCTION, IF YOU WILL, OF THE ICONIC IMAGE ON THE FRONT OF HIS TABLOID THE DAY AFTER THE ARGOS' 1996 GREY CUP WIN OVER EDMONTON. ABOVE: AT THE REUNION ON SUNDAY, PLAYERS (LEFT–TO–RIGHT) PAUL MASOTTI, DOUG FLUTIE AND MIKE (PINBALL) CLEMONS HOIST THE GREY CUP IN THE SAME FORMATION AS BELOW — FLUTIE IMITATING HIS "WE'RE NO. 1" FINGER–WAG THAT ADORNED NEWSPAPERS ACROSS THE COUNTRY ON NOV. 25, 1996. "I WAS GESTURING AT MY WIFE," THE QUARTERBACK EXPLAINED. TODAY, FLUTIE LIVES IN MELBOURNE BEACH, FLA. (26 MILES SOUTH OF CAPE CANAVERAL) AND CONTINUES TO ANALYZE NCAA COLLEGE FOOTBALL FOR NBC.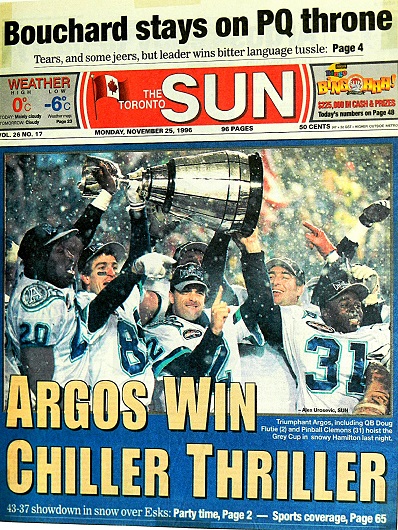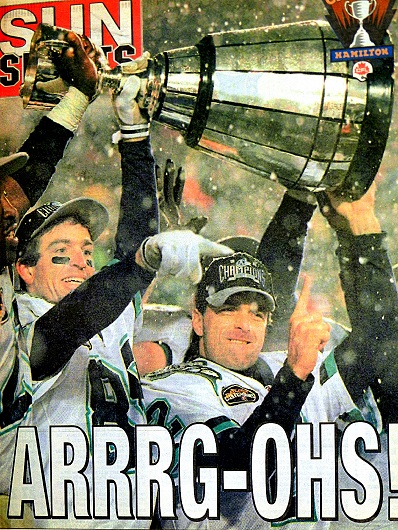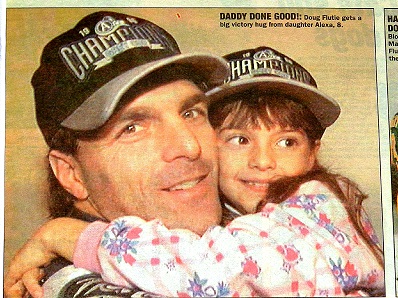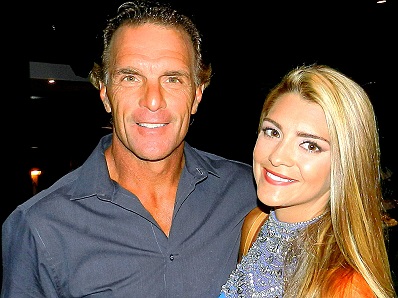 EIGHT–YEAR–OLD ALEXA FLUTIE GIVES HER DADDY A HUG (LEFT) AFTER THE '96 GREY CUP TRIUMPH, AS PHOTOGRAPHED BY THE TORONTO SUN. THE BEAUTIFUL, 28–YEAR–OLD ALEXA (RIGHT) HAS TODAY ACCOMPANIED HER FATHER TO TORONTO FOR HIS ALL–TIME–ARGO INDUCTION.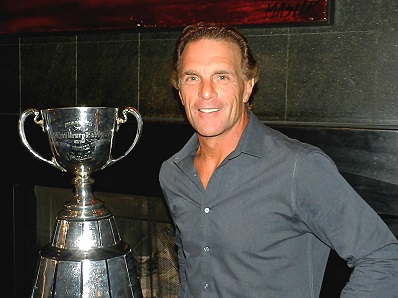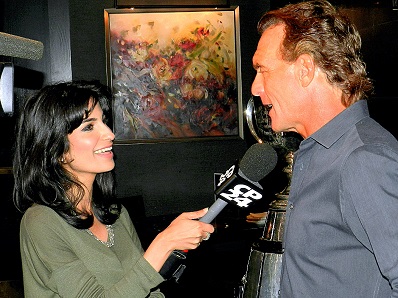 FLUTIE POSES ON SUNDAY NEXT TO THE GREY CUP AND IS THEN INTERVIEWED LIVE BY TELEVISION REPORTER LEENA LATAFAT ON CP–24 HERE IN TORONTO.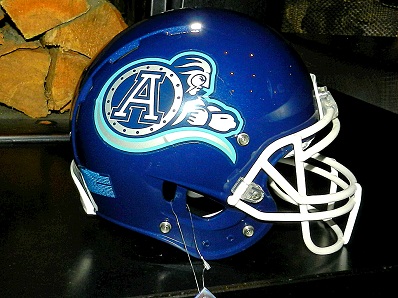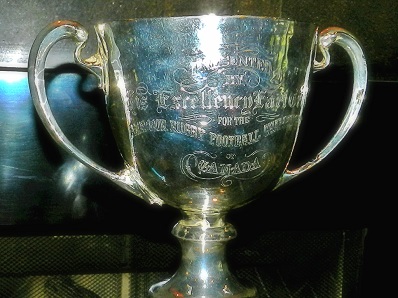 THE HELMET (LEFT) WORN BY THE TORONTO ARGONAUTS WHILE WINNING THE CFL CHAMPIONSHIP IN 1996 AND 1997. AND, TOP–PORTION (RIGHT) OF THE HISTORIC GREY CUP TROPHY.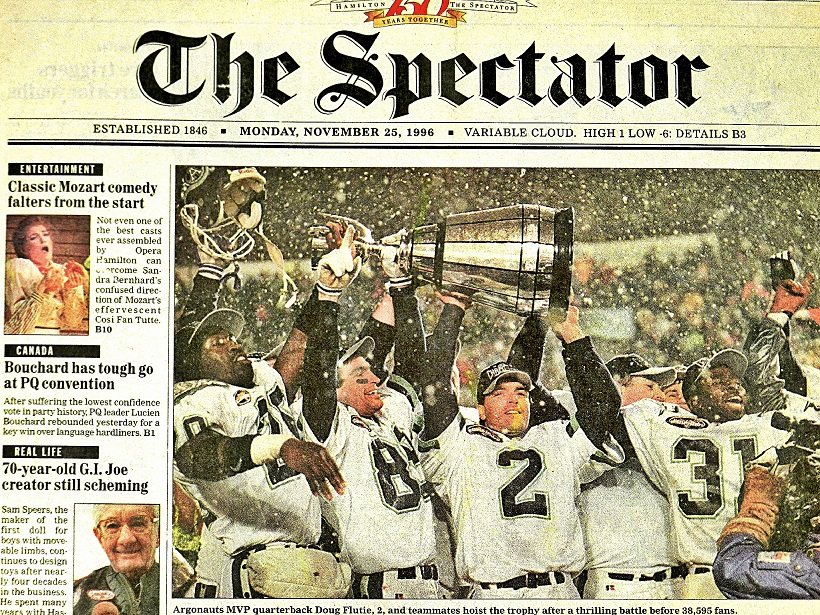 FRONT OF THE HAMILTON SPECTATOR THE MORNING AFTER THE 1996 "SNOW BOWL."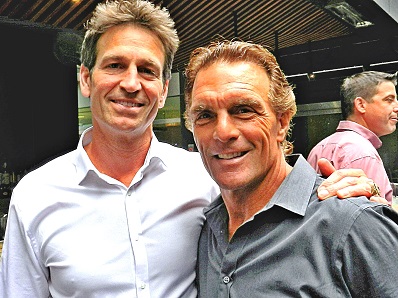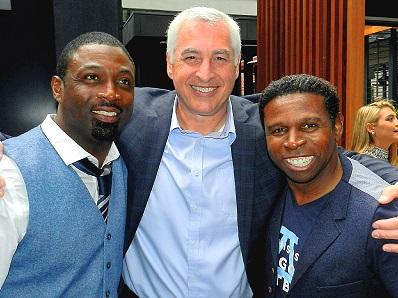 LEFT: FLUTIE AND PAUL MASOTTI (NOW 52) WERE A TERRIFIC PASS–AND–CATCH COMBO. THEY ALSO BECAME BEST FRIENDS DURING THEIR TWO SEASONS IN TORONTO. RIGHT: OFFENSIVE GUARD PIERRE VERCHIVAL (TODAY 52) IS FLANKED BY DARRELL (MOOKIE) MITCHELL (45, LEFT) AND PINBALL CLEMONS (52). MOOKIE CAUGHT 17 TOUCHDOWN PASSES IN 1997 AND WAS NAMED THE CFL's TOP ROOKIE. IN 1998, AFTER FLUTIE JOINED THE BUFFALO BILLS, HE LATCHED ONTO AN ASTOUNDING 160 PASSES, WHICH REMAINS — BY 34 — A LEAGUE RECORD FOR ONE SEASON.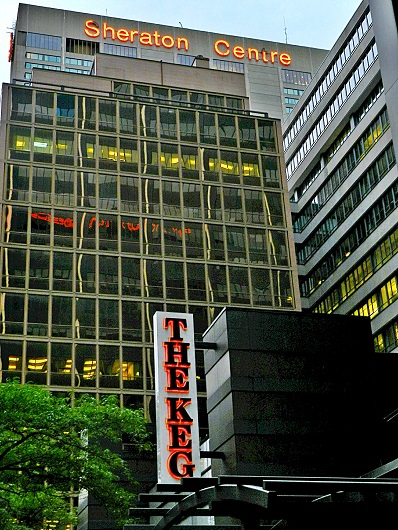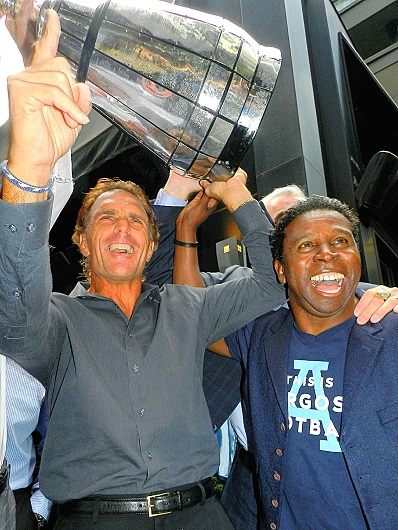 THE ARGOS REUNION WAS HELD AT THE KEG RESTAURANT DOWNTOWN — ONE BLOCK SOUTH OF TORONTO CITY HALL AND THE NEIGHBORING SHERATON CENTRE HOTEL. FLUTIE AND PINBALL HAVE LOADS OF FUN WHENEVER THEY HOOK UP, AS THEY DID WHILE COMBINING ON THE FOOTBALL FIELD.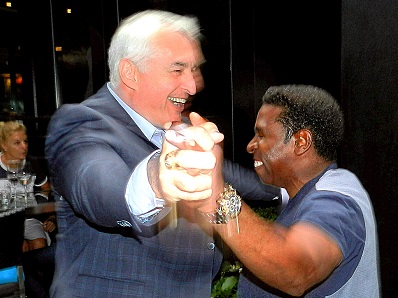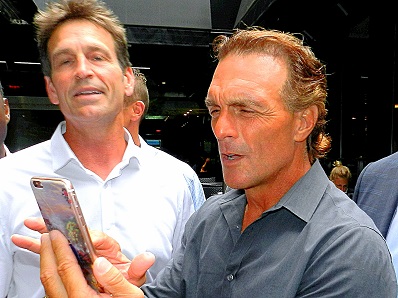 LEFT: PINBALL CLEMONS GREETS EX–TEAMMATE PIERRE VERCHIVAL WITH A DANCE MANEUVER. RIGHT: FLUTIE CHECKS HIS I–PHONE WHILE MASOTTI LOOKS ON.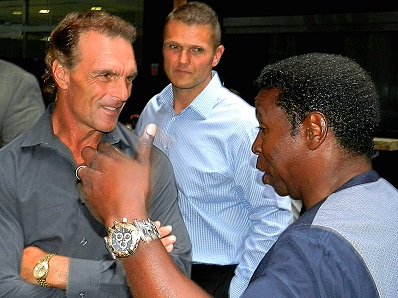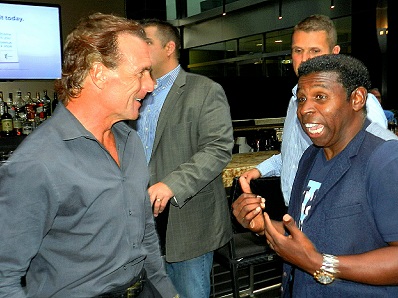 MICHAEL CLEMONS IS AMONG THE MOST POPULAR ATHLETES IN TORONTO SPORTS HISTORY. HE AND FORMER LEAFS GOALIE JOHNNY BOWER ARE SURELY THE MOST BELOVED. CLEMONS CAME TO THE ARGOS IN 1989 FROM THE COLLEGE OF WILLIAM & MARY IN WILLIAMSBURG, VA. — A PROPENSITY TO BOUNCE OFF TACKLERS LED TO COACH BOB O'BILLOVICH COINING HIS NICKNAME. IN THE BACK–TO–BACK GREY CUP SEASONS, PINBALL WAS PART OF TWO ENORMOUS PLAYS. AGAINST MONTREAL IN THE 1996 EASTERN CONFERENCE FINAL AT SKYDOME (NOW ROGERS CENTRE), HE RETURNED THE OPENING KICKOFF 91 YARDS FOR A TOUCHDOWN. TORONTO ROUTED THE ALOUETTES, 43–7. MONTREAL RETURNED TO SKYDOME FOR THE '97 EASTERN FINAL AND A CLOSER MATCH. WITH 40 SECONDS LEFT — THE GAME DEADLOCKED, 30–30 — CLEMONS TOOK A FLUTIE PASS AND SCAMPERED 58 YARDS FOR THE WINNING MAJOR. PINBALL TURNED TO COACHING IMMEDIATELY AFTER HIS CAREER AND GUIDED ARGOS TO THE 2004 GREY CUP OVER THE B.C. LIONS. TODAY, HE REMAINS INSTANTLY RECOGNIZABLE ACROSS CANADA; FOREVER WARM AND EFFUSIVE AMONG HIS INNUMERABLE FANS.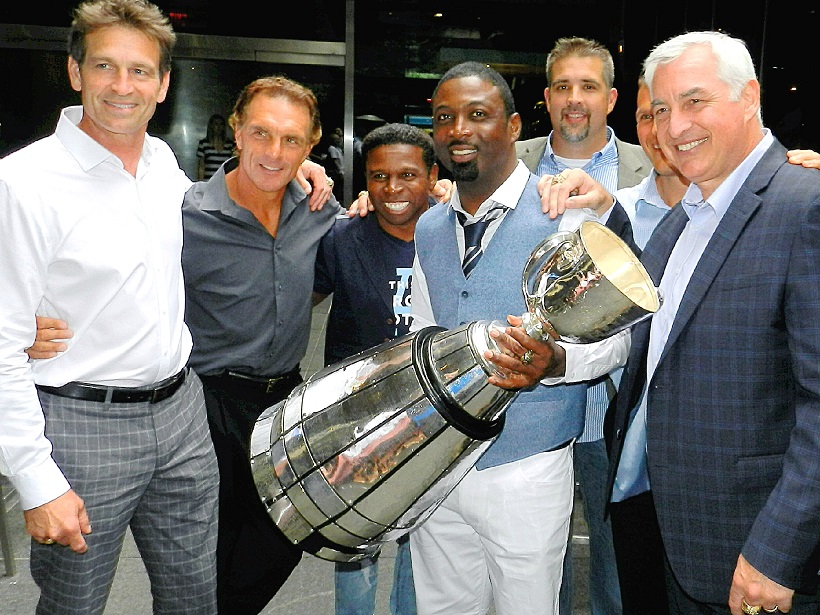 WITH THEIR OL' FRIEND, EARL GREY, LEFT–TO–RIGHT, PAUL MASOTTI, DOUG FLUTIE, PINBALL CLEMONS, MOOKIE MITCHELL, JEREMY O'DAY, CHAD FOLK (HIDDEN) AND PIERRE VERCHIVAL.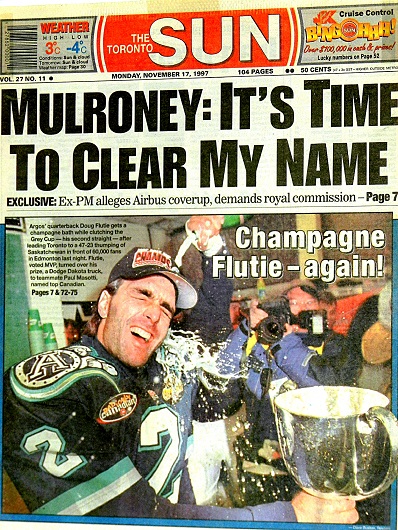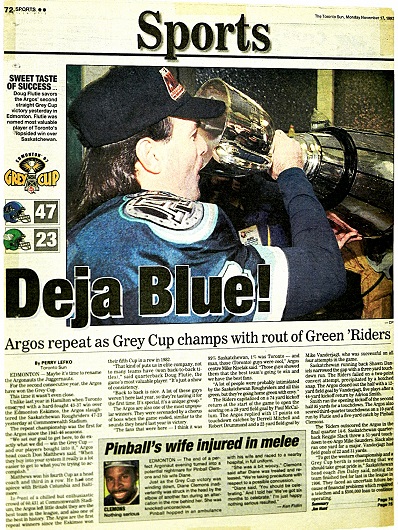 TORONTO SUN IMAGES OF NOV. 17, 1997 — MORNING AFTER FLUTIE AND THE ARGOS HAMMERED THE SASKATCHEWAN ROUGHRIDERS, 47–23, IN EDMONTON FOR THEIR SECOND GREY CUP.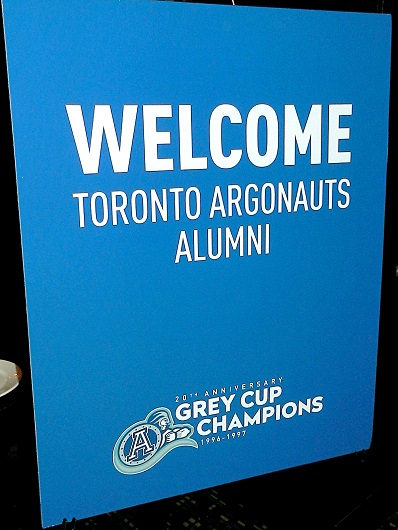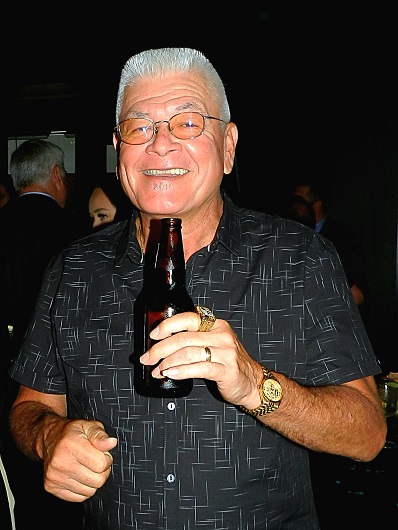 ADAM RITA, ALWAYS FRIENDLY, COACHED THE ARGOS TO THE 1991 GREY CUP WHEN THE TEAM WAS OWNED BY BRUCE McNALL, WAYNE GRETZKY AND THE LATE COMEDIAN, JOHN CANDY. IN 1996, HE WAS THE CLUB'S OFFENSIVE COORDINATOR. ADAM TURNS 70 IN SEPTEMBER.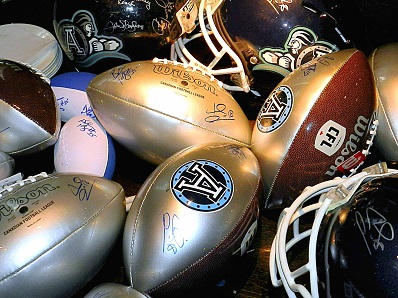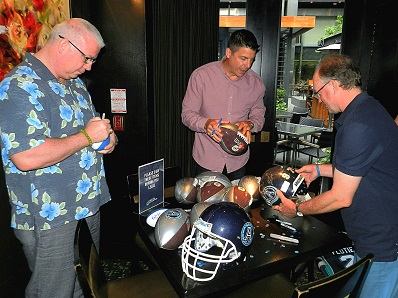 ARGO SOUVENIRS WERE SIGNED BY PLAYERS, INCLUDING BRENDAN ROGERS (GLASSES) AND MIKE MORREALE (PINK SHIRT). LONG–TIME EQUIPMENT MANAGER DANNY WEBB IS AT FAR–RIGHT.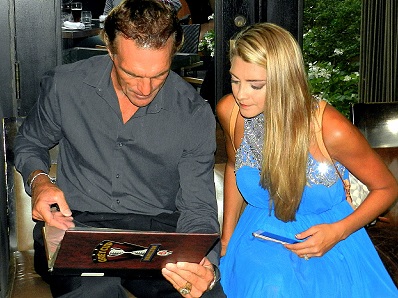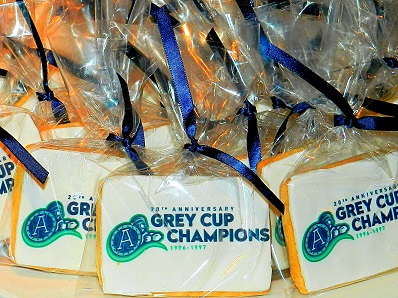 DOUG AND ALEXA FLUTIE LOOK AT AN ALBUM OF PHOTOS FROM THE 1996 GREY CUP IN HAMILTON. AND, YES, FROSTED ARGO COOKIES WERE PART OF THE REUNION FARE ON SUNDAY.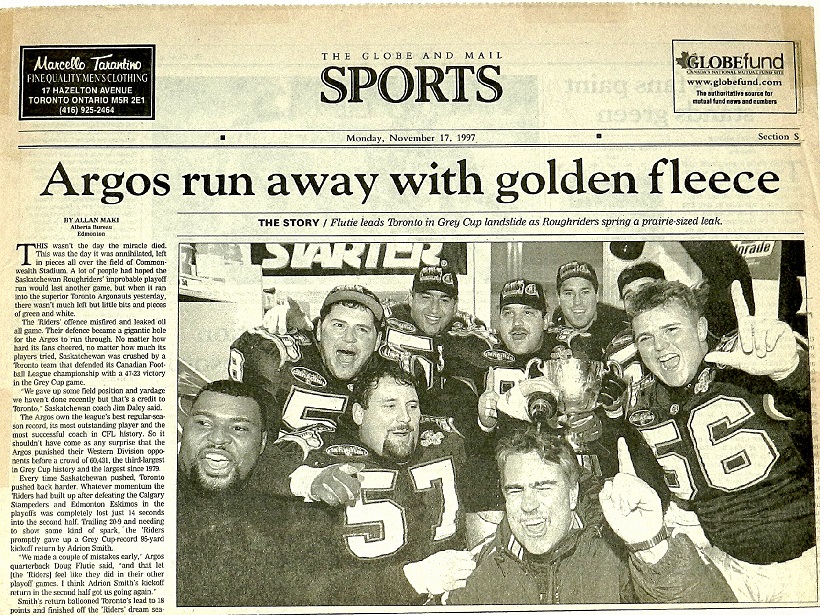 FRONT OF THE GLOBE AND MAIL SPORTS SECTION THE MORNING AFTER THE 1997 GREY CUP. THE MEN PICTURED BELOW ARE HOPING THEIR TEAM "RUNS AWAY WITH THE GOLDEN FLEECE" IN THE NEAR FUTURE: ARGOS' GENERAL MANAGER JIM POPP (LEFT) AND PRESIDENT MIKE COPELAND.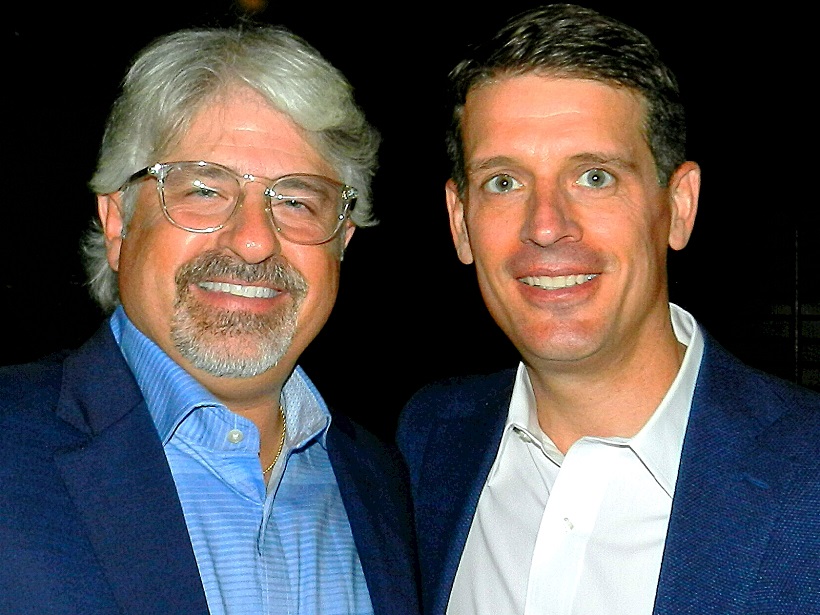 EMAIL: HOWARDLBERGER@GMAIL.COM