TORONTO (July 14) — We can debate endlessly whether character is a component of winning in the National Hockey League. Now and then, you'll read that so–and–so is "good in the [dressing] room." Which often indicates he's not–so hot on the ice. Most observers agree that skill and skating ability are paramount in today's game. But, character can provide an effective intangible… one that is not always in abundance.
In that regard, and among others, the 2017–18 Toronto Maple Leafs appear stacked.
Ignoring, for a moment, the contracts involved, the Leafs have added, in the past two weeks, a trio of players that ranks among the most–respected in the NHL. Dominic Moore, Ron Hainsey and Patrick Marleau will engorge the Blue and White with character. Moore returns after a nomadic decade with Boston (twice), Montreal, Tampa Bay, San Jose and the New York Rangers. Despite limited skill, he has always made a notable contribution. While appearing in 101 games with the Leafs in 2007–08 and 2008–09, Dom became one of the the finest gentlemen I met during my years covering the team for The FAN–590. I knew virtually nothing about Hainsey until I listened to him on July 1, after the Leafs signed him as an unrestricted free agent to replace Matt Hunwick on the blue line. I was blown away by his enthusiasm and speaking ability. Marleau came aboard a week ago Sunday as the most prominent Leafs acquisition of the summer (so far). In two decades at San Jose, the future Hall–of–Famer crafted an impeccable reputation — on and off the ice.
"Patrick Marleau is the nicest human being you will ever meet," said Dan Rusanowsky on Thursday as he drove north into San Francisco from the Silicon Valley. Dan would know a thing or two about Marleau, having called all but 27 of his 1,493 regular–season and 177 playoff games in San Jose. Radio voice of the Sharks since their inception for the 1991–92 season, Dan missed his only stretch of action while recovering from a grievous automobile accident on Nov. 25, 2000. It ended his streak of games at 774. After recovering, he was back in the booth for a Jan. 22 game at Edmonton. "Everyone down here was hoping Patrick would play his entire NHL career with one team," Rusanowsky continued. "But, he chose to be a pioneering teammate to those good, young players in Toronto. All of whom will look up to him in so many ways."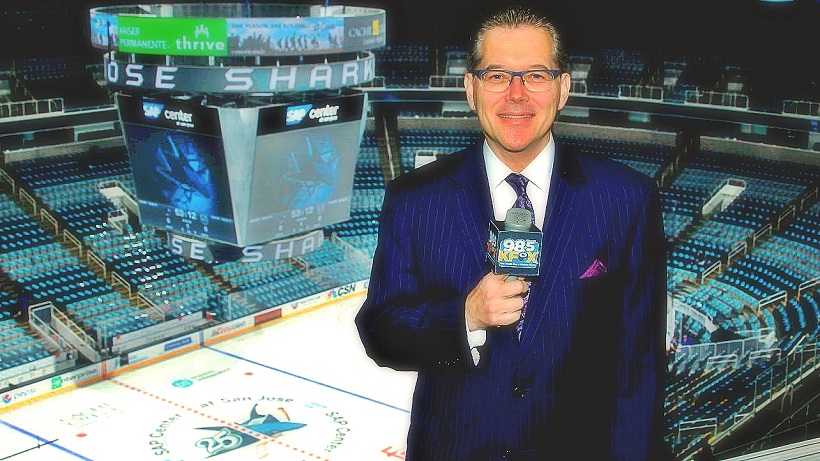 DAN RUSANOWSKY: ORIGINAL RADIO VOICE OF THE SAN JOSE SHARKS. STILL GOING STRONG.
Character can be credited (or blamed) for the most stunning trade of the off–season. The Chicago Blackhawks — having been blown apart by Nashville in the playoffs — so badly wanted ex–teammate Brandon Saad to return from Columbus that Stan Bowman dealt the Blue Jackets left–winger Artemi Panarin. Which should serve as a cautionary tale for the multitude of Leaf fans that have convinced themselves none of the Big 3 draft gems since 2014 (William Nylander, Mitch Marner, Auston Matthews) can possibly be traded. Panarin is already among the most–gifted shooters in the NHL. During his first two seasons, skating mostly with Patrick Kane, he registered 61 goals and 151 points in 162 games. Nylander has 73 points in 103 games and is considered sacred by Leaf zealots. Having won the Calder Trophy in 2015–16, Panarin is more the equivalent of Matthews. And, he'll begin next season with a second NHL club. So, never say never — particularly when anticipating the salary–cap Armageddon awaiting the Maple Leafs in 2019.
But, back to Marleau. "You wanna know the kind of guy Patrick is?" asked Rusanowsky. "Well, a few years ago, when the Sharks were in the midst of a bad stretch and Patrick was having difficulty scoring goals, we flew from San Jose to Minneapolis for a road game with the Minnesota Wild. Having practiced at home before the three–hour plane–trip, the players must have been dead–tired. It was starting to get dark out when we arrived. I felt I needed to get my blood moving so I went to the hotel gym for a quick workout. And, who was already up there, sweating away? Yup, Patrick Marleau. And, only Patrick. Never said a word to anyone, but quietly felt he needed to work a bit harder when he could easily have fallen into bed for a nap.
"That's the first–rate professional the Maple Leafs are getting. Even at 38."
When asked what Marleau has left in the tank at his advanced age, Rusanowsky replied "he'll be fine. He scored 27 goals for us last season, even while playing much of the year in third and fourth–line situations. In the playoff series against Edmonton (which the Sharks lost in six), he led the team in goals–scored… with a broken thumb. In my view, Patrick can still excel on the powerplay. Where you'll see lots of him in Toronto."
Rusanowsky is astounded by numbers relating to Marleau.
"You know that if there hadn't been that lockout year [2004–05], Patrick would have played 20 full seasons with the Sharks. That's incredible — at any time, but particularly with the movement [in free agency] accorded today's NHLers. Also, Patrick is one of maybe three or four NHL players to have scored a game–winning goal against all other teams. There have been 29 victims so far, and he'll play against the Sharks and Las Vegas next season for a chance to make it 31. I think [Maple Leafs president] Brendan Shanahan also had a GWG against all the teams he faced in his career. It's a remarkable, understated accomplishment."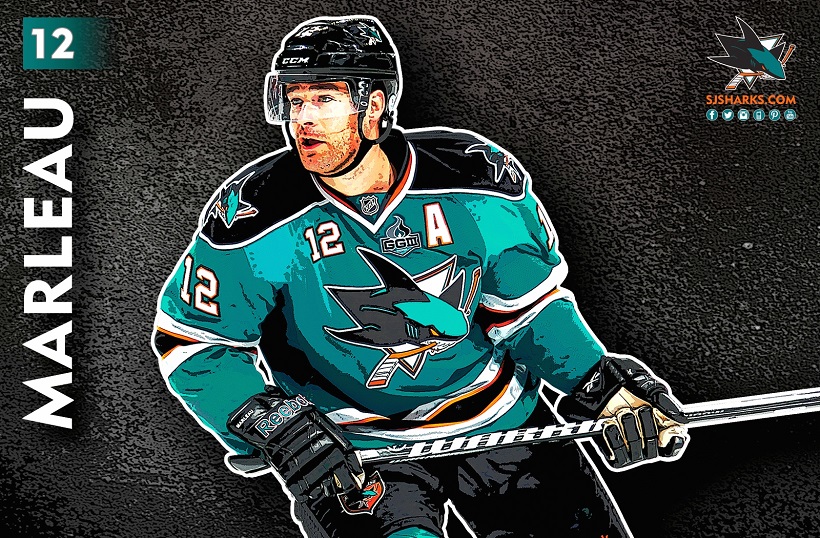 PATRICK MARLEAU WILL BE MISSED BY THE AVID HOCKEY FANS OF NORTHERN CALIFORNIA.
Dan is already anticipating Marleau's return to San Jose with the Leafs. "October 30 — a Monday night," he quickly noted. "It should be quite a scene at the SAP Center. Fans down here are disappointed that Patrick left, but not angry. In their view, he'll always be a Shark, even if finishing his career with another team. I fully expect he'll be received warmly and graciously by the people to whom he gave so much over 20 years."
For the record, that night will kick off a four–game Leafs road trip (Oct. 30–Nov. 4), with additional stops in Anaheim, Los Angeles and St. Louis. The Leafs will then come home to play Las Vegas for the first time.
FROM THE HOOD — Part 1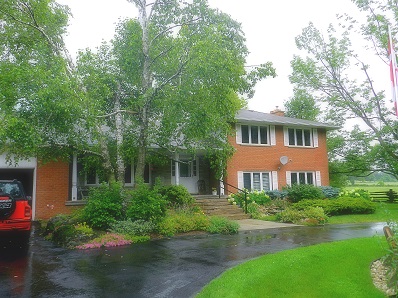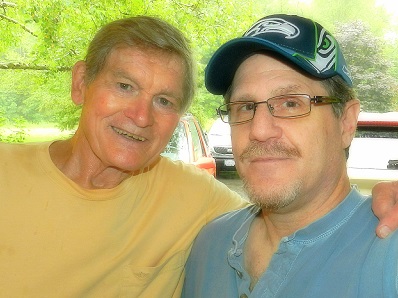 POSING EARLIER THIS WEEK WITH FORMER NHL REF BRUCE HOOD, NOW 81, AT HIS COUNTRY HOME.
Bruce Hood was a referee in the NHL for 21 years (1963–84). He officiated 1,033 regular–season and 157 Stanley Cup playoff games. Bruce and I became friends after his career. Earlier this week, he summoned me to his sprawling, country estate north of Erin, Ont. (75 kilometers northwest of midtown Toronto) to pick up copies of The Hockey News he had kept through the years. Among the issues, coincidentally, was that of June 1970. It featured the Boston Bruins winning their first Stanley Cup in 29 seasons. This was pertinent given that Bruce refereed the now–legendary game of May 10, 1970 — a Mother's Day matinee at Boston Garden — that ended with Bobby Orr flying through the air after scoring in overtime against St. Louis to win the NHL championship. In Part 1 of a series, here are several of the newspapers that Hood saved for me: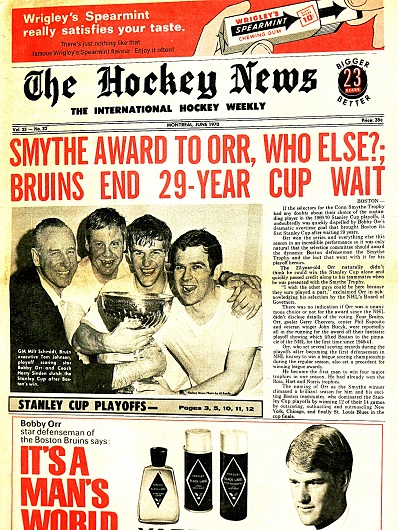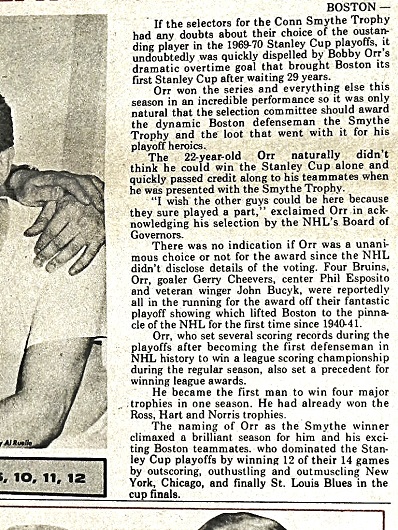 JUNE 1970 — AFTER THE LEGENDARY BOBBY ORR OVERTIME GOAL.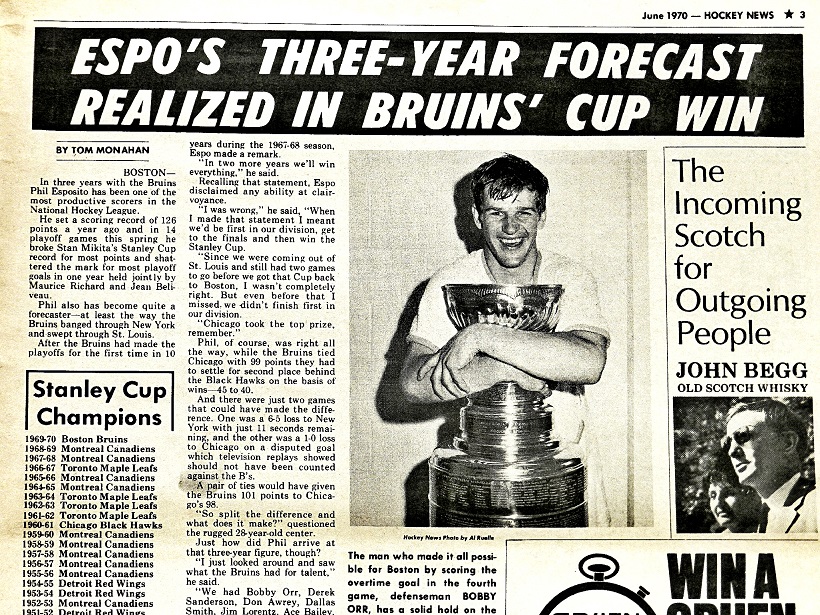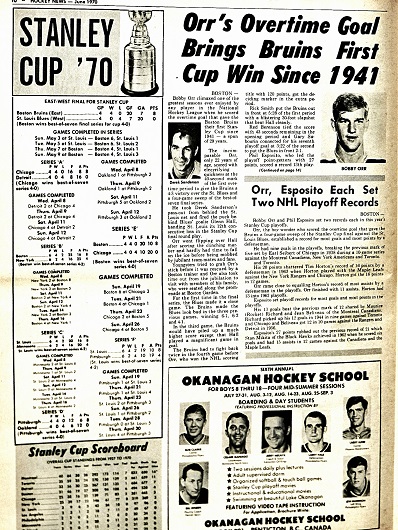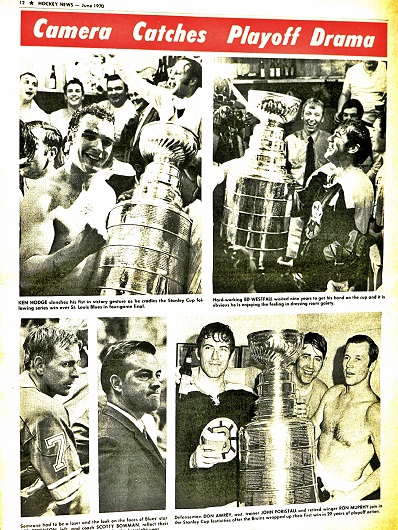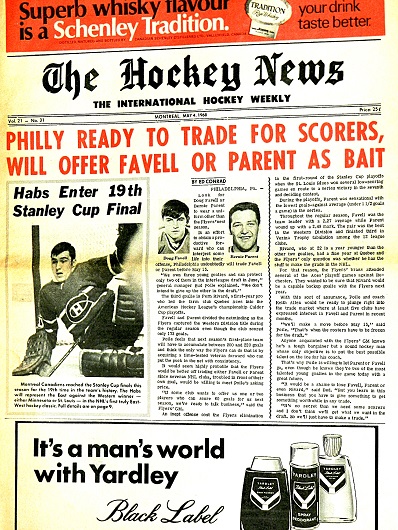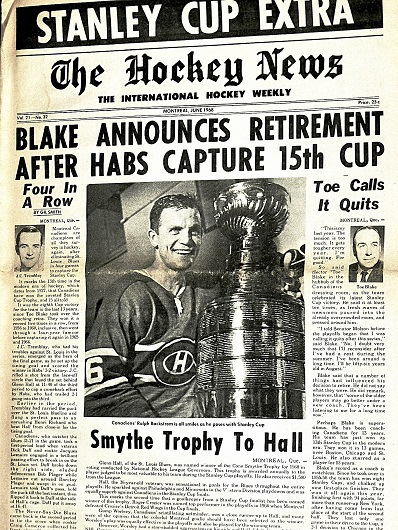 LEFT: MAY 4, 1968. TOWARD THE END OF THE NHL's FIRST SEASON AS A 12–TEAM LEAGUE. FOLLOWING THE GREAT EXPANSION OF 1967–68. RIGHT: JUNE 1968. AFTER MONTREAL WON THE FIRST EXPANSION STANLEY CUP IN A SWEEP OVER ST. LOUIS. WHEREUPON HALL–OF–FAME COACH TOE BLAKE RETIRED.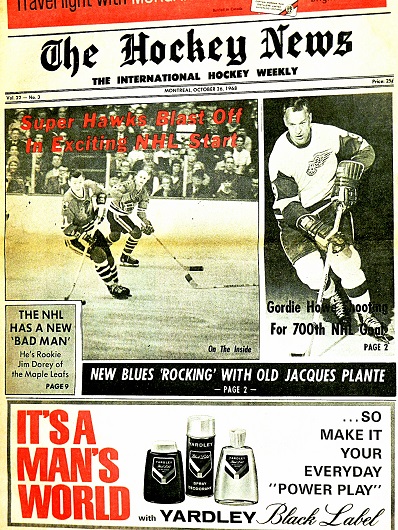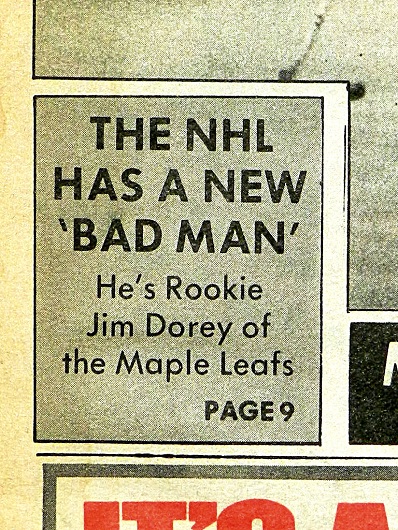 OCT. 26, 1968. HOW TORONTO DEFENSEMAN JIM DOREY, IN HIS NHL DEBUT, WENT WILD AGAINST THE PITTSBURGH PENGUINS AT MAPLE LEAF GARDENS, AMASSING A THEN–SINGLE–GAME RECORD OF 48 PENALTY MINUTES (FOUR MINORS; TWO MAJORS; TWO 10–MINUTE MISCONDUCTS; ONE GAME MISCONDUCT). THE MARK LASTED FOR MORE THAN A DECADE. IT WAS BROKEN BY TWO PLAYERS DURING THE LOS ANGELES AT PHILADELPHIA GAME OF MAR. 11, 1979. RANDY HOLT OF THE KINGS RANG UP 67 MINUTES (STILL THE NHL RECORD); FRANK BATHE OF THE FLYERS, 55.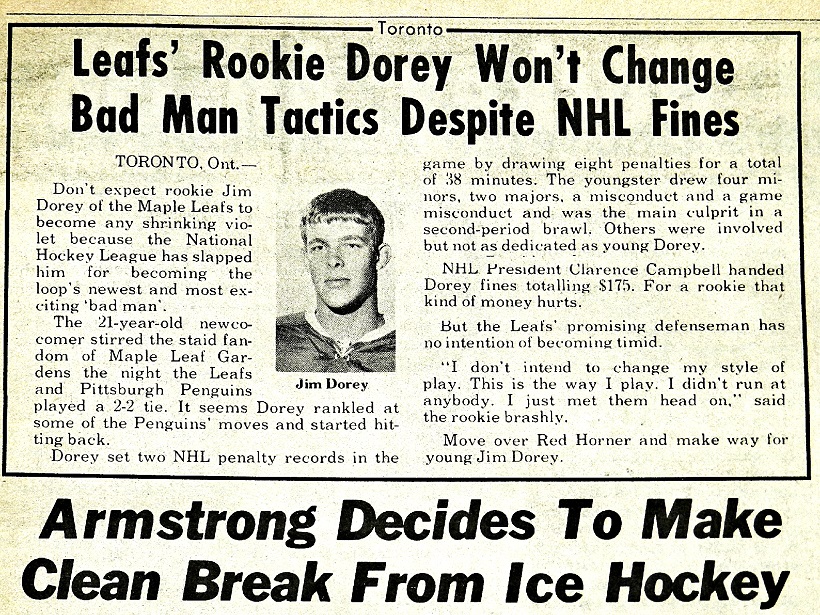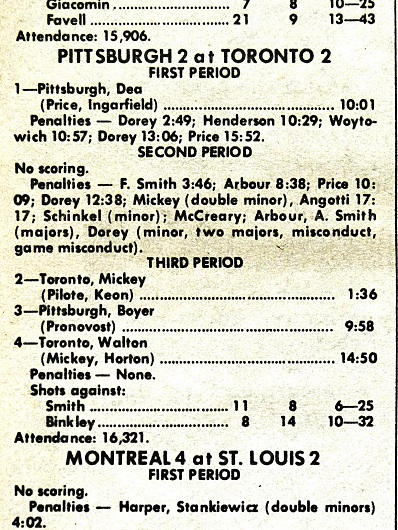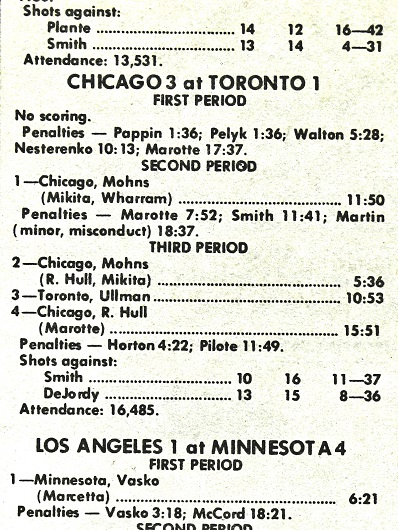 SUMMARY, LEFT, FROM THE LEAFS 1968–69 HOME OPENER, IN WHICH DOREY SET THE PENALTY RECORD. AND, HOW THE ROOKIE KEPT HIS NOSE CLEAN (RIGHT) THREE NIGHTS LATER.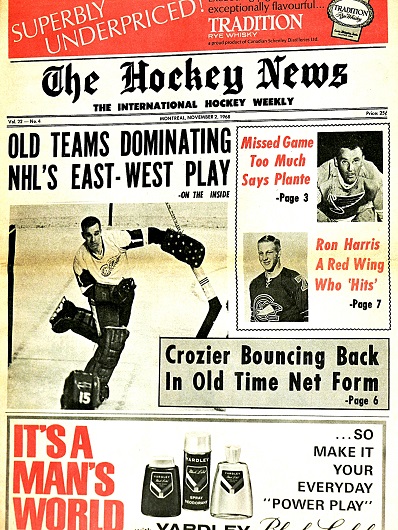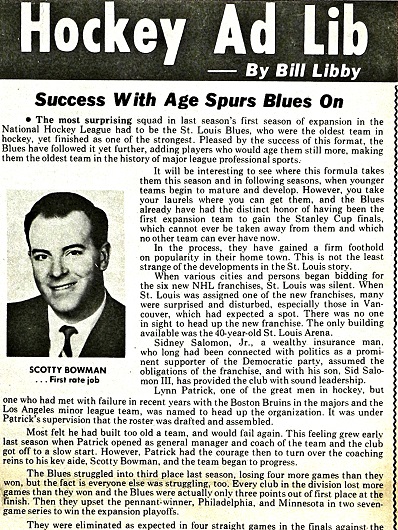 NOV. 2, 1968. A YOUNG SCOTTY BOWMAN MAKING WAVES IN ST. LOUIS.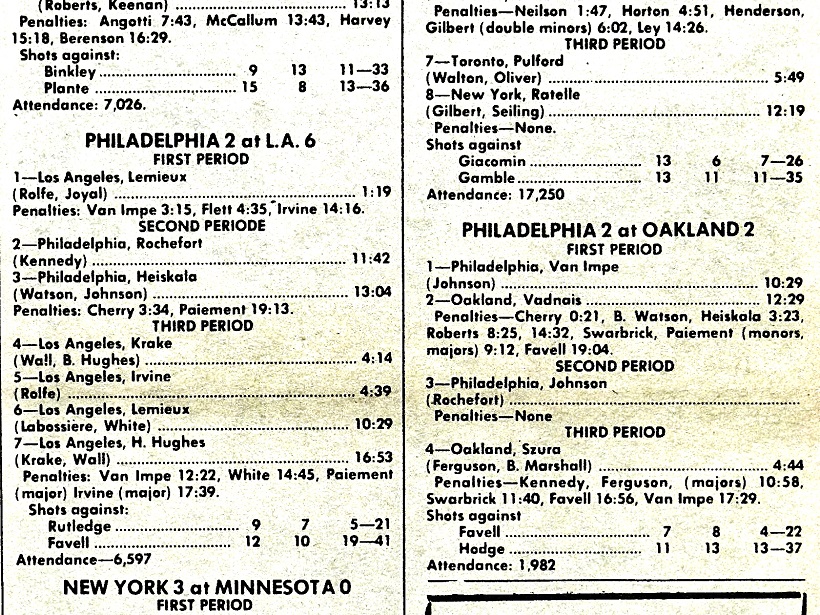 EMBARRASSING CROWDS. THE PHILADELPHIA FLYERS PLAYED BEFORE A COMBINED 8,579 FANS DURING ROAD GAMES AT THE LOS ANGELES FORUM AND OAKLAND COLISEUM–ARENA, OCT. 26–27, 1968. THE TURNOUT IN OAKLAND MAY BE THE SMALLEST IN MODERN NHL HISTORY. DON CHERRY'S OLDER BROTHER, DICK, TOOK THE FIRST PENALTY OF THE GAME AT 0:21 OF THE OPENING PERIOD.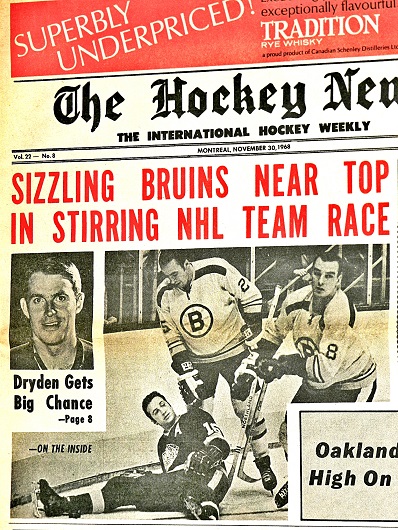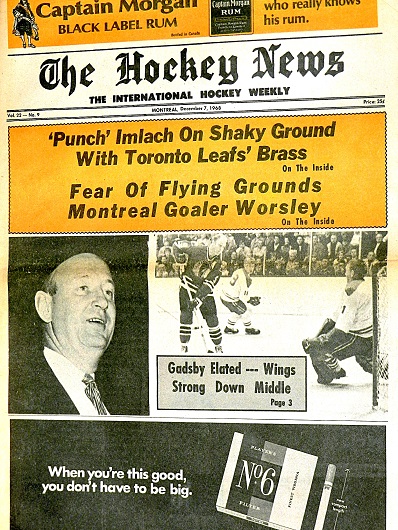 LEFT: NOV. 30, 1968 AND THE EMERGENCE OF THE BIG, BAD BRUINS. RIGHT: DEC. 7, 1968. PUNCH IMLACH WAS GIVEN A WEAK VOTE OF CONFIDENCE (BELOW) BY THE DIRECTORS OF MAPLE LEAF GARDENS. HE WOULD SURVIVE THE 1968–69 SEASON BUT LOSE HIS JOB MOMENTS AFTER THE LEAFS WERE ANNIHILATED BY BOSTON IN THE OPENING ROUND OF THE '69 PLAYOFFS. STILL, IMLACH IS THE LAST MAN TO GUIDE TORONTO TO THE STANLEY CUP — IN 1967.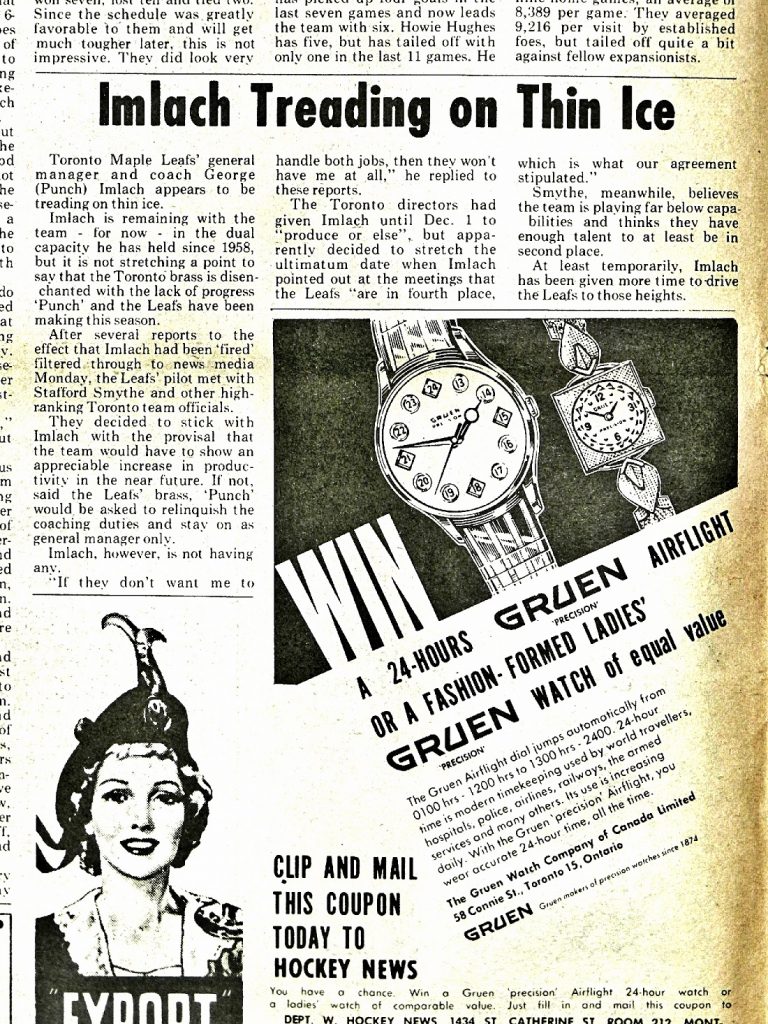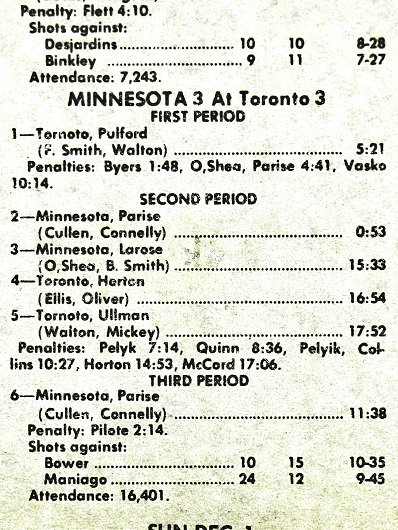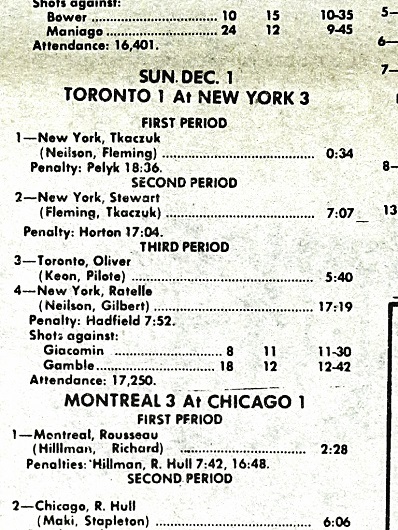 SUMMARIES FROM MINNESOTA AT TORONTO (Nov. 30) AND TORONTO AT NEW YORK (Dec. 1, 1968).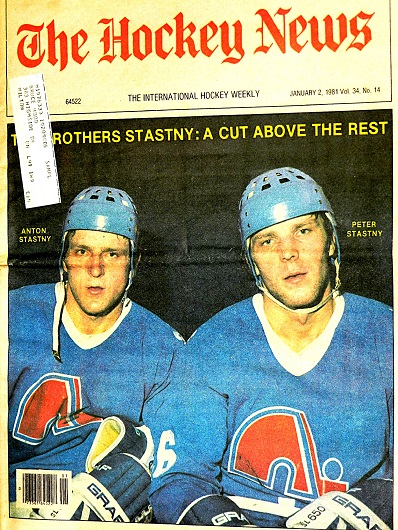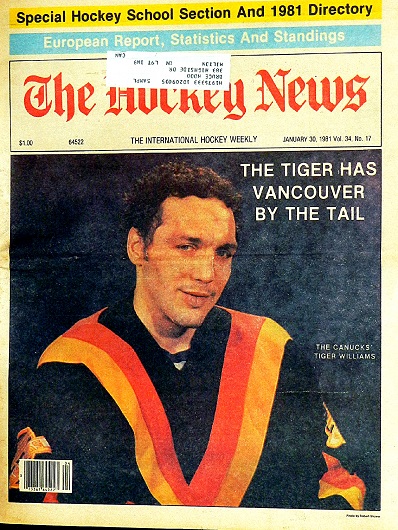 LEFT: JAN. 2, 1981. AFTER THE QUEBEC NORDIQUES HAD SPIRITED PETER AND ANTON STASTNY OUT OF THE FORMER CZECHOSLOVAKIA. RIGHT: JAN. 30, 1981. DAVE (TIGER) WILLIAMS ADORNED IN THAT HIDEOUS VANCOUVER CANUCKS ROAD JERSEY.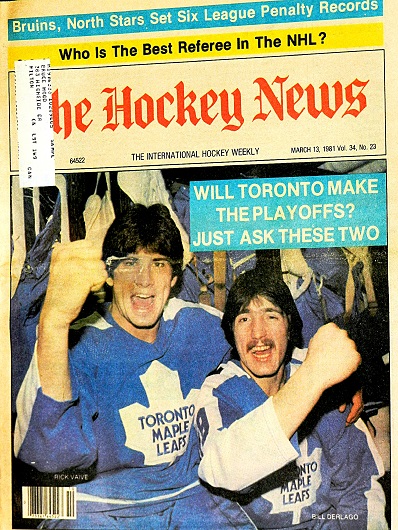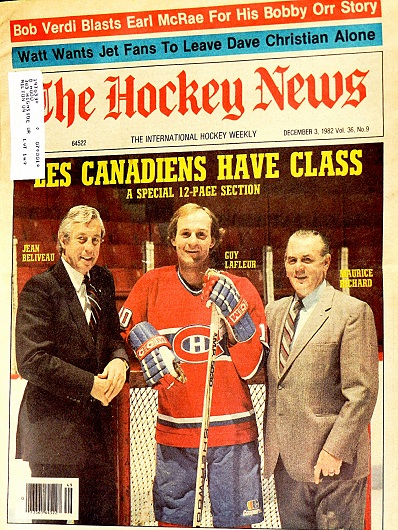 LEFT: MAR. 13, 1981. RICK VAIVE AND BILL DERLAGO OF THE LEAFS DREAMING ABOUT A PLAYOFF SPOT (TORONTO WOULD MISS WITH A PALTRY 71 POINTS). SIX DAYS AFTER THIS ISSUE (ON MAR. 19, 1981), THE LEAFS GOT BOMBED, 14–4, IN BUFFALO. RIGHT: DEC. 3, 1982. GUY LAFLEUR BETWEEN THE LATE MONTREAL LEGENDS, JEAN BELIVEAU AND ROCKET RICHARD.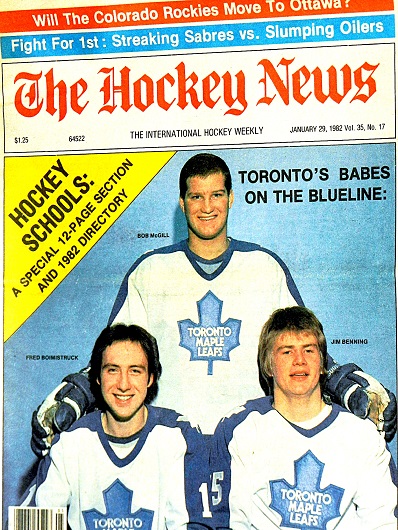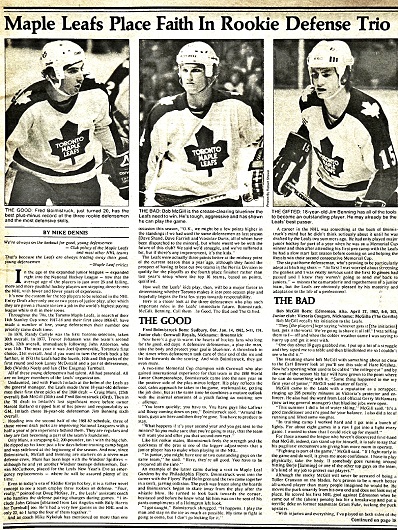 JAN. 29, 1982. THE TORONTO MAPLE LEAFS RUSH THREE YOUNG DEFENSEMEN INTO THE NHL, WITH PREDICTABLE RESULTS. NOT A GOOD IDEA… THEN, OR NOW. BOB McGILL (TOP) IS CURRENTLY RECOVERING FROM A STROKE AND AIMING TO BE AT WORK AS AN ANALYST WITH LEAFS–TV FOR TRAINING CAMP. JIM BENNING (RIGHT) IS GM OF THE VANCOUVER CANUCKS.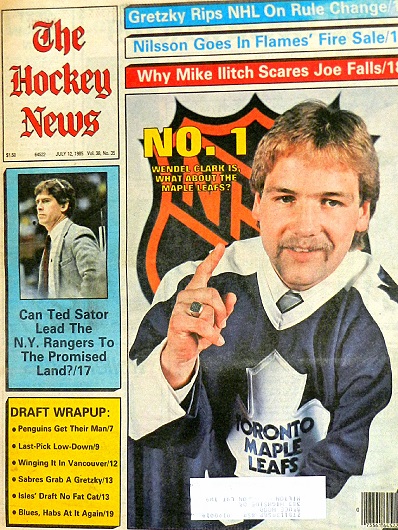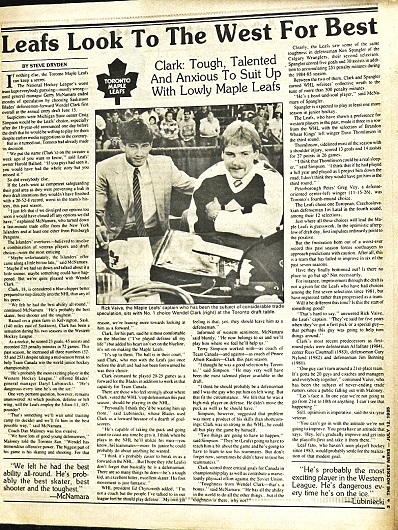 JULY 12, 1985. AFTER THE LEAFS TOOK SASKATOON'S WENDEL CLARK FIRST IN THE NHL DRAFT.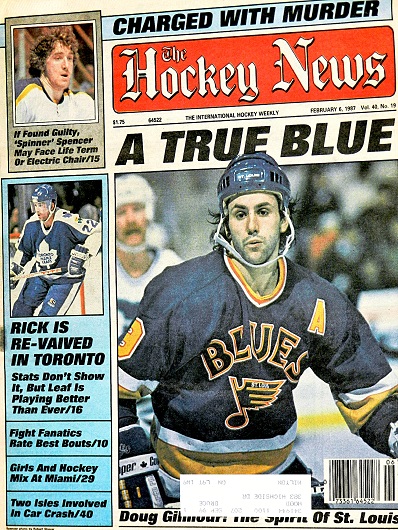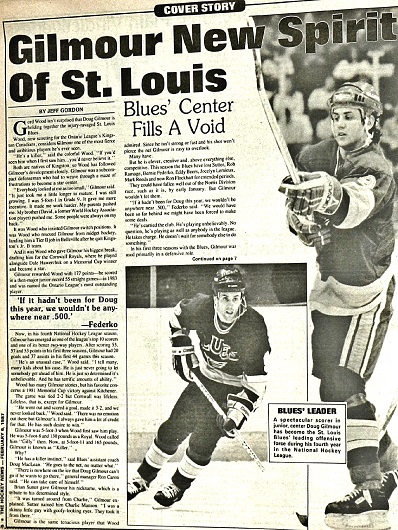 FEB. 6, 1987. DOUGIE. LESS THAN FIVE YEARS BEFORE HE'D BECOME A MAPLE LEAF.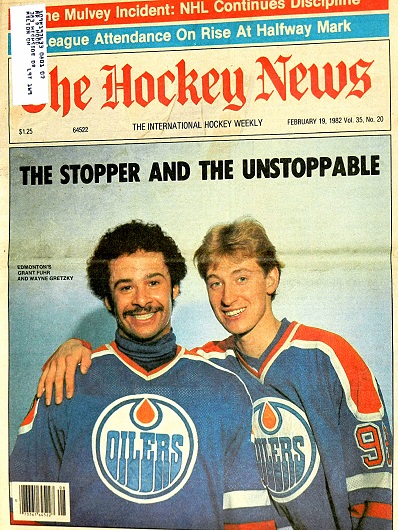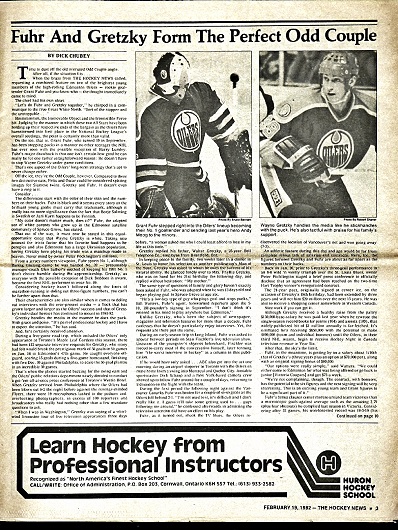 FEB. 19, 1982. A BAD–HAIR DAY FOR THE GREAT ONE DURING THE WEEK HE BROKE PHIL ESPOSITO'S NHL RECORD OF 76 GOALS IN A SEASON. THE BRILLIANT, SOMEWHAT–LEGENDARY COLUMN (BELOW) FROM GLOBE AND MAIL WRITER ALLEN ABEL, WHO PENNED A TAKE–OFF OF ABBOTT AND COSTELLO'S FAMOUS COMEDY ROUTINE WHO'S ON FIRST? ABEL'S SUBJECTS WERE LEAF FORWARDS NORMAND AUBIN AND RICH COSTELLO, THE LATTER ACQUIRED FROM PHILADELPHIA FOR DARRYL SITTLER.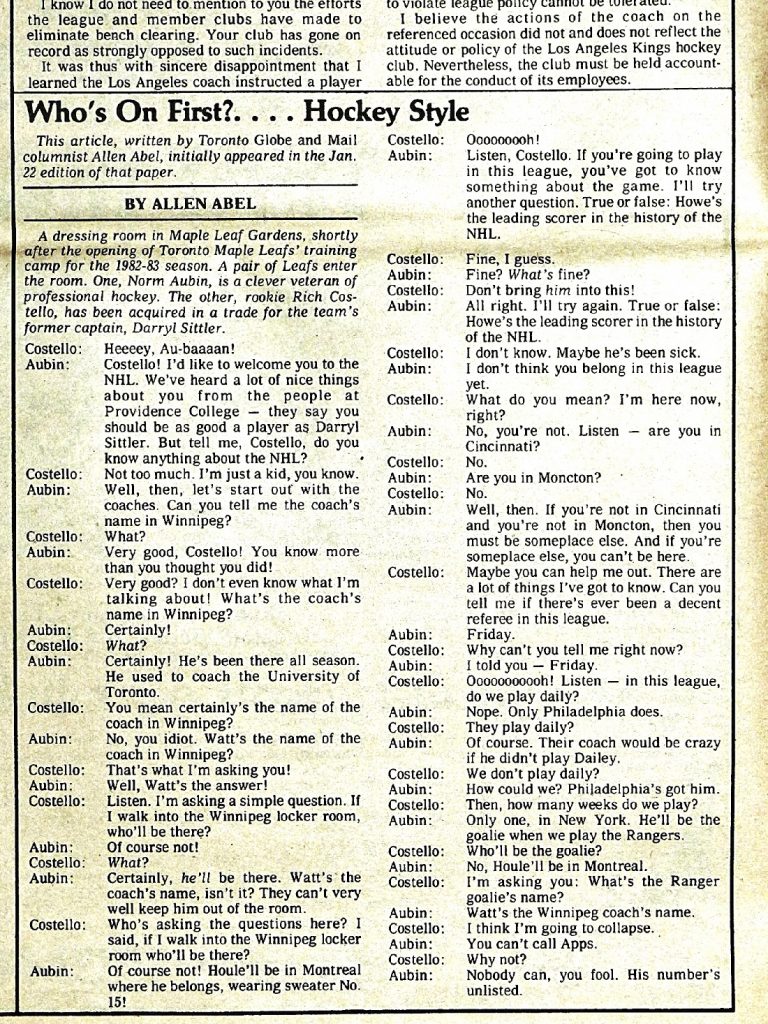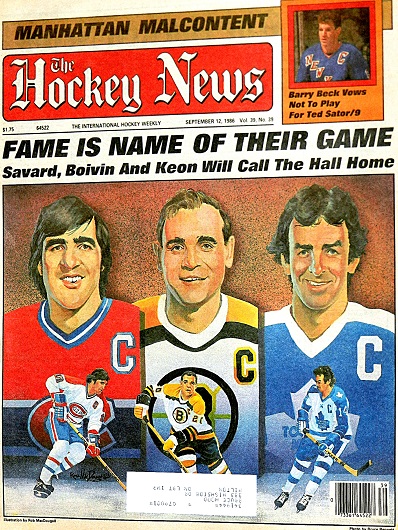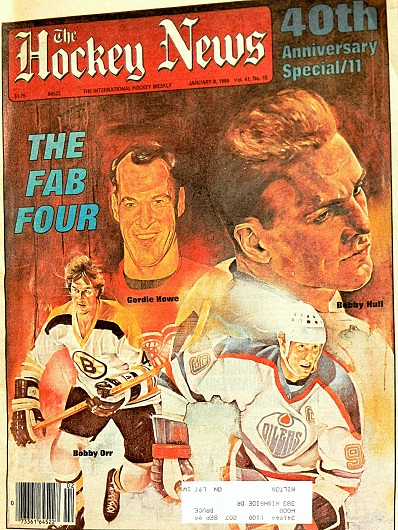 HOCKEY LEGENDS. LEFT: SEP. 12, 1986. SERGE SAVARD, LEO BOIVIN AND DAVE KEON ENTER THE HALL OF FAME. RIGHT: JAN. 8, 1988. THE HOCKEY NEWS' 40th ANNIVERSARY ISSUE. CLOCKWISE FROM TOP: GORDIE HOWE, BOBBY HULL, WAYNE GRETZKY AND BOBBY ORR.
EMAIL: HOWARDLBERGER@GMAIL.COM