TORONTO (July 3) — Let me begin by making this unequivocal point: I love Patrick Marleau. Everybody loves Patrick Marleau. He is a first–ballot Hall of Famer; a consummate gentleman, and he comes to the Maple Leafs from what I contend is the best–run organization — top to bottom — in the National Hockey League.
You cannot go terribly wrong poaching the San Jose Sharks for personnel. From ownership to management; coaching and media relations, San Jose is a model franchise. Patrick Marleau and the Sharks went together like apples and honey. His decision to leave the Silicon Valley must have truly grated on the soon–to–be 38–year–old forward. But, money talks. It always has. Always will. And, the Leafs ponied up. Big time.
Do I like the contract? Not very much.
There was no indication from any word spoken by Lou Lamoriello in the past couple of years that the Leafs would spend $6.25–million of cap space on a player nearly old enough to father Mitch Marner and Auston Matthews. Why just the other day, as I wrote in my last blog (http://bit.ly/2svQYgn), Lamoriello offered Lance Hornby of the Toronto Sun a "hearty laugh" when it was suggested the Leafs could speed up their "development" via unrestricted free agency. I figured there was no such thing as a bad window of opportunity — early, late or in–between. And, clearly the Leafs concurred. But, is Marleau the optimum addition? Eight years ago, I would have said "absolutely". Seven years ago, after the Vancouver Winter Olympics, I'd have replied similarly. Right now? I'm not so sure. Several of those I communicated with late Sunday that frequently watched Marleau last season in the Western Conference claim this three–year pact is unsound. The Maple Leafs still do not have anything that resembles a Top–5 or 10 NHL defenseman and the cap crunch generated by acquiring Marleau will further mitigate against landing such a commodity.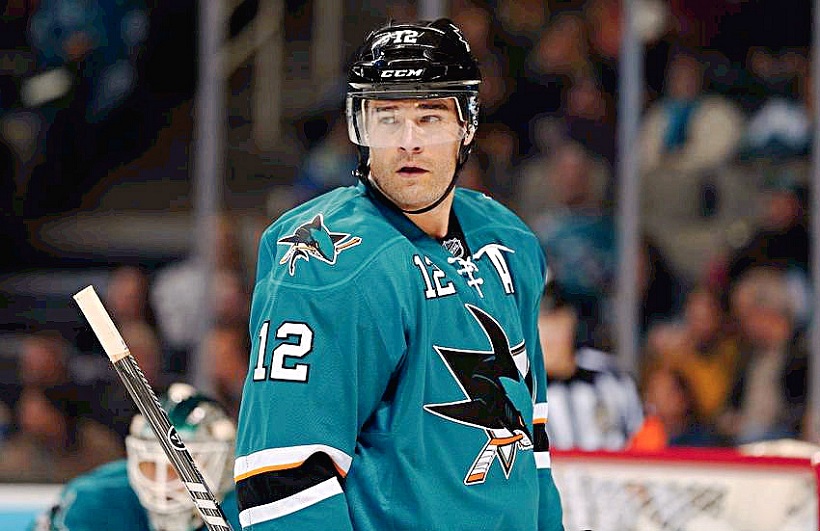 PATRICK MARLEAU IS GOING TO LOOK STRANGE IN ANYTHING BUT TEAL, WHICH HE HAS WORN SINCE STARTING HIS NHL CAREER IN 1997 WITH THE SAN JOSE SHARKS. BOB STANTON USA TODAY SPORTS
That said, those running the Leafs aren't morons. They know better than anyone what lays ahead in the cap universe — beginning next summer — while trying to retain the William Nylander–Marner–Matthews triumvirate. This is also clearly a Mike Babcock signing. And, if you're going to pay a coach $50 million for eight seasons, you might as well get him a player he wants now and then. The upside to Marleau's presence goes back to something I wrote the day Babcock was hired (May 21, 2015). At the time, the Leafs were an absolute mess, coming off the most disgraceful season of the post–Harold Ballard era (after 1990). I felt Babcock needed a trump card (http://bit.ly/2t7xbrr) — a veteran to whom he could point as an example to any player not busting his tush. In other words, "if this guy can do it, why can't you?" The sort of presence Babcock had in abundance at Detroit with Hank Zetterberg, Pavel Datsyuk and Nick Lidstrom. Or Anaheim with Paul Kariya. He now has that here with Marleau… but at a time when he may no longer need it.
There appeared to be refreshing composure among the upstarts that carried the Leafs to their 26–point improvement last season. None of Matthews, Marner or Nylander seemed in need of veteran "help". Nazem Kadri took giant steps forward on the maturity scale. Morgan Rielly, as I've written on several occasions, is captain material. It's the reason I maintain the Leafs could slap a 'C' on Matthews' jersey today without any repercussion. I'll say it again: the kid has antifreeze for blood, as proven by the team scoring records he set and rubber–stamped by the Calder Trophy he earned. Will Marleau's presence harm the Leaf youngsters? I doubt it. But, please… spare me the mentor–ship crap. You hear and read it all the time when an older, established figure joins a relatively youthful team — "he's going to mentor the young players." Baloney. Just as Lamoriello did not come to the Leafs to "mentor" Kyle Dubas, neither is Marleau arriving to "school" Matthews (nor does Matthews need it). A proud veteran signs for more than 6–large a year to bloody–well play as many big minutes as possible. And, continue his Hall–of–Fame career to the utmost degree.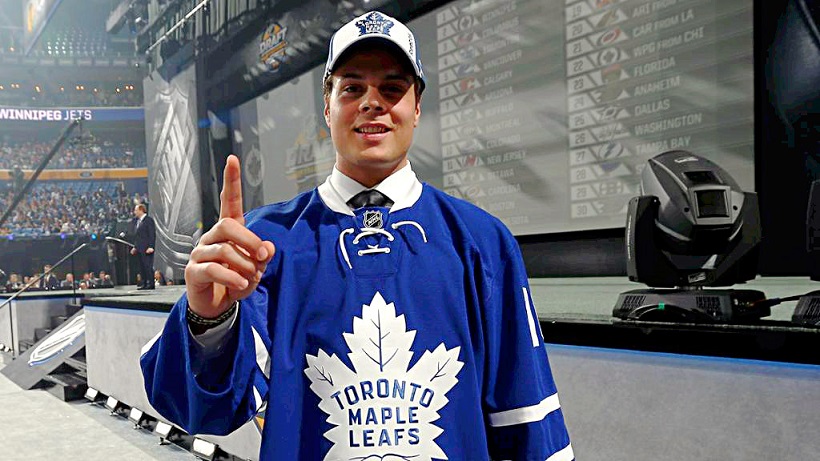 AUSTON MATTHEWS HAS CUT HIS TEETH IMPRESSIVELY AND RATHER INDEPENDENTLY SINCE THE NIGHT HE WAS DRAFTED FIRST OVERALL BY THE MAPLE LEAFS IN BUFFALO. NHL.COM
In a strategic context, financially and otherwise, this move makes sense only if Lamoriello can parlay his surplus up front into a defenseman who is better than what the Leafs already have. And, that won't be easy — from neither a cap perspective nor given the profound dearth of such players. Everyone and his grandma wants to get rid of James van Riemsdyk, which I find puzzling… on two counts: He is still remarkably useful as a goal–scorer at 28 years of age. And, he will not, in my view, help lure a Norris Trophy candidate to the Leafs. For that, Lamoriello will have to trade Kadri. Or, one of the Big 3 draft phenoms. JVR and this–or–that lesser prospect — which is now the fantasy of all Leaf loyalists — won't get it done. Demand far exceeds supply. JVR and a sub–prospect might finagle another second or third–level d–man from around the league. But, not the guy virtually every Stanley Cup contender must possess. And, the guy the Leafs sorely lack.
Nor, frankly, do I believe what virtually all in the local media are claiming: that Marleau's acquisition proves the Maple Leafs both desire, and are ready, to "win now". As I said, they almost certainly will not "win now" (or later) without the missing blue–liner. And, I'm not sure Marleau is good enough anymore to put the Leafs in a contending position. If he was brought in strictly to "enhance the development" of the younger players — as Lamoriello contended in his media briefing — then $6.25–million of cap space is way too rich.
Which is not easy to say about the splendid individual the Leafs acquired on Sunday.
BLUE JAYS ARGUMENT MOOT: There seems to be a debate among fans and media here in Toronto as to whether "it is over" for the 2017 Blue Jays. What the argument pre–supposes, however, is a beginning.
In order for something to be "over", it has to have started. And, other than the 162–game playing schedule, nothing was initiated by the American League Championship Series finalist of the past two years. The Blue Jays were 2–11 after 13 games and 6–17 after 23. With the roster decimated by injury, the club curiously rebounded with a record of 18–10 in May. But, a mostly healthy team has bottomed out to 2–8 in its past 10 games. Even the most virulent Blue Jay optimist agreed the just–finished home–stand would "tell us what this team is about". Well… a 1–5 record against division rivals Baltimore and Boston spoke volumes.
The Red Sox systematically annihilated the Blue Jays over the weekend at Rogers Centre. It was a bludgeoning that perversely commemorated the 40th anniversary of the franchise; in 1977, the Blue Jays won 54 and lost 107. Many weekends resembled the one past. Boston outscored the Jays 29–6 — winning 7–1 on Saturday and 15–1 Sunday. When the carnage ended, Toronto's half–season mark fell to 37–44 for last place in the A.L. East… and 9½ games behind the front–running Red Sox. Yes, the Blue Jays are "only" 4½ games out of the second American League wild card spot — but with Tampa Bay, Kansas City, Minnesota, Los Angeles Angels, Seattle, Baltimore and Texas blocking their path. Which is conveniently overlooked by club acolytes. The aforementioned teams also have a half–season's worth of games on the ledger and there will be many head–to–head match–ups among them. Every night, one, two, three or more will win.
The math, even at this stage, is reasonably against any playoff move by Toronto.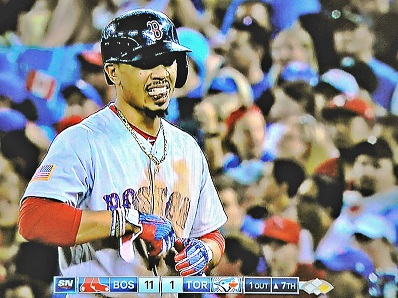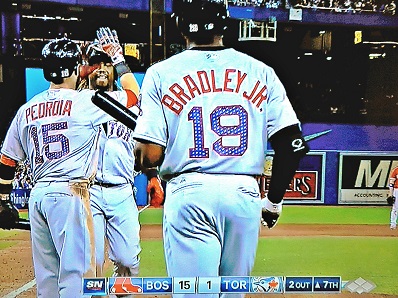 OOOOH, IT WAS UGLY FOR THE HOME TEAM AT ROGERS CENTRE ON SUNDAY. MOOKIE BETTS OF THE RED SOX — BY HIMSELF — OUTSCORED THE BLUE JAYS 8–1. YIKES! SPORTSNET IMAGES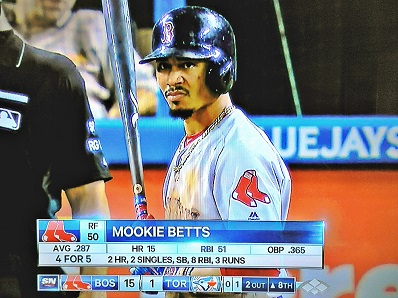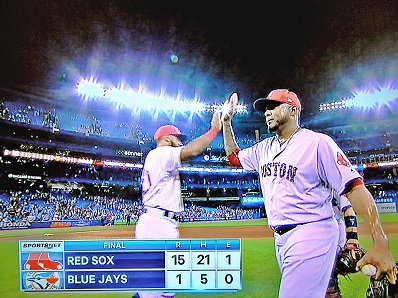 EMAIL: HOWARDLBERGER@GMAIL.COM