TORONTO (July 9) — It's a subject that has the most fervid Leaf supporters in denial. Yet, there's virtually no way around the fact that one of William Nylander or Mitch Marner will be traded before the hockey club can move into solid Stanley Cup contention. This, of course, pre–supposes that Auston Matthews is a Toronto guy for life. Or, whatever equals the "life" span of prime years in the National Hockey League. Pretty safe bet.
As for the other two? Not so safe. Salary cap requirements all–but insist that a team can carry a maximum three core players… and that at least one of the three must be an elite defenseman. Given the Maple Leafs drafted a trio of splendid forwards beginning in 2014, the ratio is out of whack. This applies even if Tim Liljegren, the club's 2017 first–round choice, evolves into a Norris Trophy candidate. At some point, he, too, will need to be richly compensated. More than likely, the Leafs will have dealt one of Nylander or Marner beforehand, in an effort to properly balance the team. The daunting question: Which of the two should go?
From my perspective, it's actually quite easy. Given his flair and obvious touch around the net, Nylander is more of a gob–smack right now. He emerges from the crowd; at times, phenomenally. But, he is not, nor will he ever be, as versatile, creative and complete as Marner, who has the rare ability to one day set up more than 60 goals in a season. Yes, there's a hint of Doug Gilmour in the No. 4 pick of the 2015 draft. Marner recorded 42 helpers as a rookie, eclipsing Gus Bodnar's franchise record of 40 that stood since 1943–44. Among his 61 points — fourth–most as a rookie in team annals behind Matthews, Peter Ihancak and Bodnar — were 19 goals. So, while Mitch may not become as prolific a scorer as Nylander, he'll contribute nicely to both offensive categories. There's no way the Maple Leafs can trade him.

MITCH MARNER IS THE COMPLETE PACKAGE, OFFENSIVELY. NO WAY LEAFS CAN LET HIM GO. NHL.COM
My sense is magnified by what we saw from Matthews in his Calder Trophy season… that unless it was a mirage, he'll be much more of a shooter than a play–making center. Among current forwards, Marner and Tyler Bozak are easily the best at setting up goals. Bozak, 31, has been a revelation in the post–Phil Kessel era. In their final year together — the disastrous and humiliating 2014–15 season — it appeared as if Bozak had fallen under Kessel's "Influence". And, given that Kessel quit on the Leafs in the second half of the schedule, there were grave reservations about Bozak prevailing once his friend and roommate (they lived together in a condominium at Bay and Gerard St.) had been dealt to Pittsburgh. To his everlasting credit, not only did Bozak survive without Kessel, he evolved into one of the most crafty face–off men in the NHL and played, in my view, the best hockey of his career last season. Yet Tyler — like his frequent line–mate, James van Riemsdyk — seems profoundly underappreciated by fans of the Blue and White, who casually toss about his name in trade speculation. Good, play–making centers are difficult to come by in the current NHL.
Bozak, with one season left on a contract that carries a $4.25–million cap hit, will not be easily replaced.
Marner, with his enviable, ice–wide vision, cannot be replaced.
Mercifully, for those in denial, the Nylander–Marner decision could be a couple of years away. Unless a Norris Trophy type comes available beforehand via trade. If the Leafs wish to make abundant change to their forwards, all of Joffrey Lupul, van Riemsdyk, Bozak, Leo Komarov, Eric Fehr, Dominic Moore and Ben Smith can be off the books after next season — a combined cap burden of $20.3 million. Those skaters, however, must be replaced. Nylander comes off entry–level restriction next summer as well. Then it's Matthews and Marner in 2019 (with Jake Gardiner needing to be re–signed). Somewhere in the mix, before Stanley Cup contention, has to be an elite defenseman eating up $8 or $9 million. So the Leafs, while forming a 23–man roster, will have enormous cap issues going into the 2019–20 season. There's virtually no way Matthews, Marner and Nylander can stick around and consume $25 million in cap space.
Only if all three take "home–town" discounts could this be possible. And, the players would have to be nuts to not pursue maximum salaries — knowing than an injury, at any time, can hamper (or end) a career.
One of the aforementioned will need to be moved.
And, my choice is clear: Nylander… either sooner or later.
HAPPY 90th RED!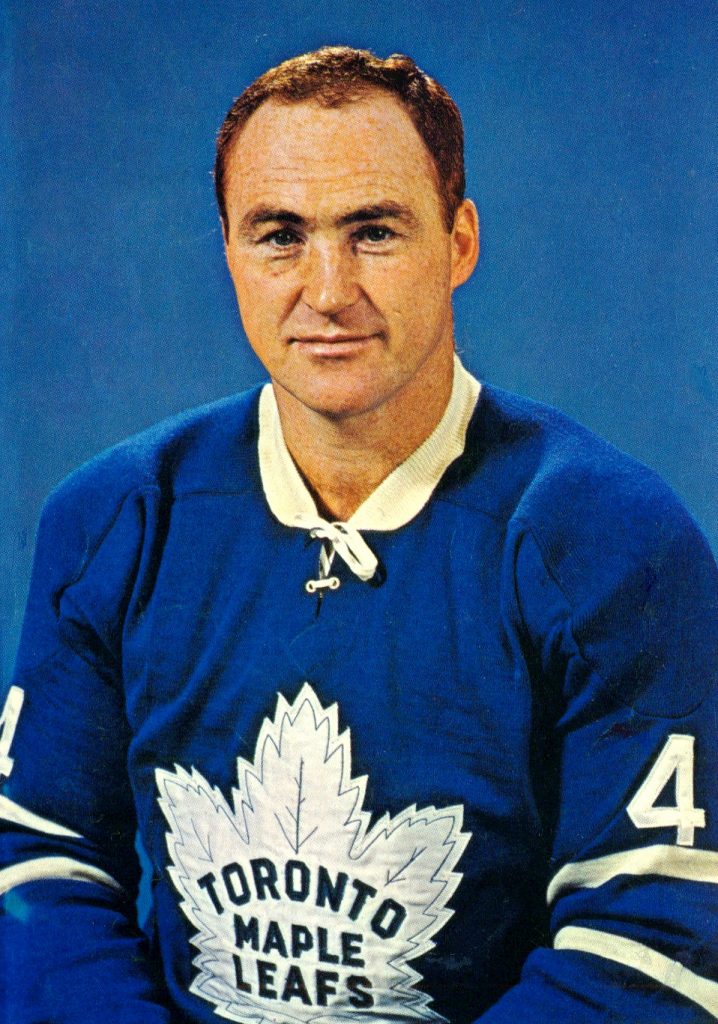 HE IS AMONG THE NHL's GREATEST ALL–TIME PLAYERS… AND FINEST GENTLEMEN.
LEONARD (RED) KELLY TURNS 90 TODAY. FIRST WINNER OF THE NORRIS TROPHY (1954).
MEMBER OF ALL FOUR TORONTO MAPLE LEAFS STANLEY CUP TEAMS IN THE 1960's.
FIRST COACH OF THE LOS ANGELES KINGS IN 1967–68. COACHED THE LEAFS, 1973–77.
THE BIGGEST GAFFE
There are recent candidates for the most–remarkably blown game in professional sport. Maple Leaf fans remember, all too nauseatingly, the 4–1 lead that evaporated in the latter half of the third period at Boston on May 13, 2013. Game 7 of the Stanley Cup opening round ended when Patrice Bergeron of the Bruins scored on James Reimer in overtime. Just 1½ months later, Boston seemed all–but assured of heading to Chicago for Game 7 of the Cup final, leading Game 6 on home ice, 2–1, with 1:17 left. Then, stunningly, came goals by Brian Bickell (at 18:44) and Dave Bolland (at 19:01). In the blink of an eye, the Blackhawks had won their second of three Stanley Cup titles since 2010. Who can forget the Seattle Seahawks donating Super Bowl XLIX to New England on Feb. 1, 2015? The Patriots led, 28–24, with 26 seconds left on the clock. But defending–champion Seattle had second and goal from the one–yard line. Three chances for elite running back Marshawn Lynch to carry the ball and allow the Seahawks to repeat as National Football League champion. For reasons that may never be adequately explained, Seattle passed on second down and Russell Wilson's quick–hitter was intercepted at the goal–line by Patriots' un–drafted rookie, Malcolm Butler. Incredibly, New England survived. I'm sure there are other–such games I'm not even thinking about.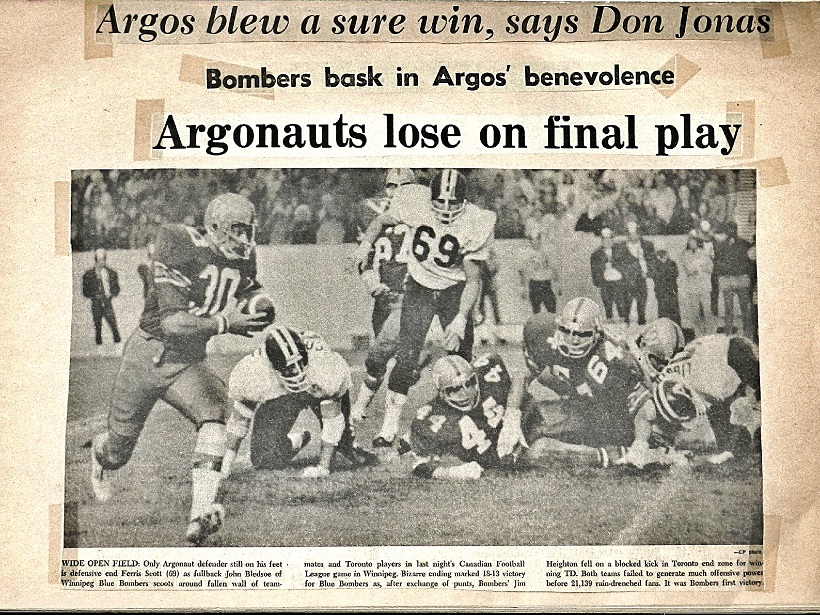 Nothing, however, will supersede the brain–cramp committed by Toronto Argonauts of the Canadian Football League on Aug. 21, 1974 at the old Winnipeg Stadium. This memory came to light when I dug up the corresponding scrapbook from my apartment locker — images above and below. With 16 seconds left to play and leading the Blue Bombers, 13–12, the Argonauts, on third down, had possession of the ball at their own five–yard line. Given a 20–second play–clock, quarterback Mike Rae simply had to wait until time expired, then take a knee. As would any football team in any football league… at any level of competition.
But, no. The genius coaching the Argos, John Rauch, who had guided the Oakland Raiders to Super Bowl II in 1968, sent out the punting unit. Then, he instructed Zenon Andrusyshyn to kick the ball from the end zone.
Toronto Star dispatches from the following day outlined what transpired: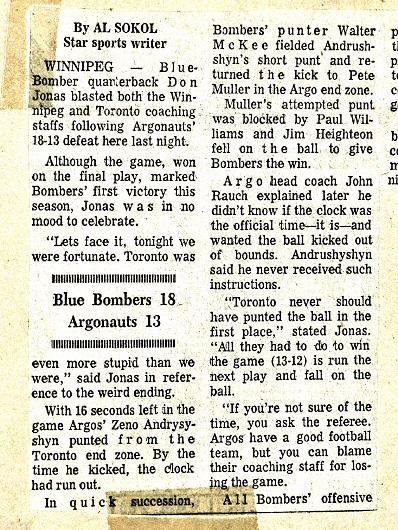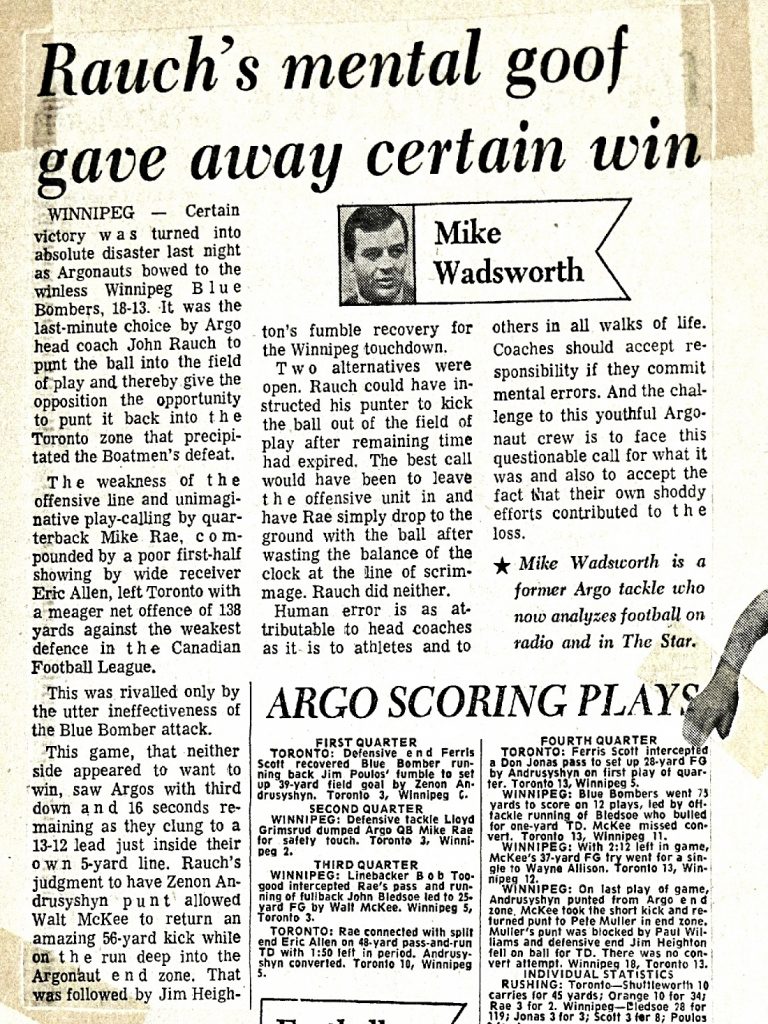 Somehow, Rauch survived two more games before he was cashiered. I wouldn't have waited two more minutes. And, I challenge anyone reading this to come up with a more ridiculous scenario… in any sport.
I don't believe it's possible. If so, however, I'll include it in my next blog.
MORE 70'S ARGOS and CFL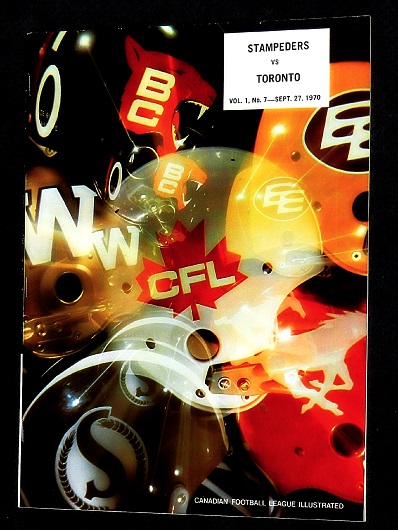 In 1970, when I was 11 years old, I began sending away to teams in the NHL and CFL for various items — mostly autographed photos of players. Apparently, I also requested game programs and media guides, which the CFL teams were happy to fulfill. The program inserts, above, are from the Toronto at Saskatchewan and Toronto at Calgary games in the 1970 season. The Argos were shelled, 36–14, at Taylor Field in Regina on Aug. 30 of that year. Center–spread line–ups (and close–up) are here: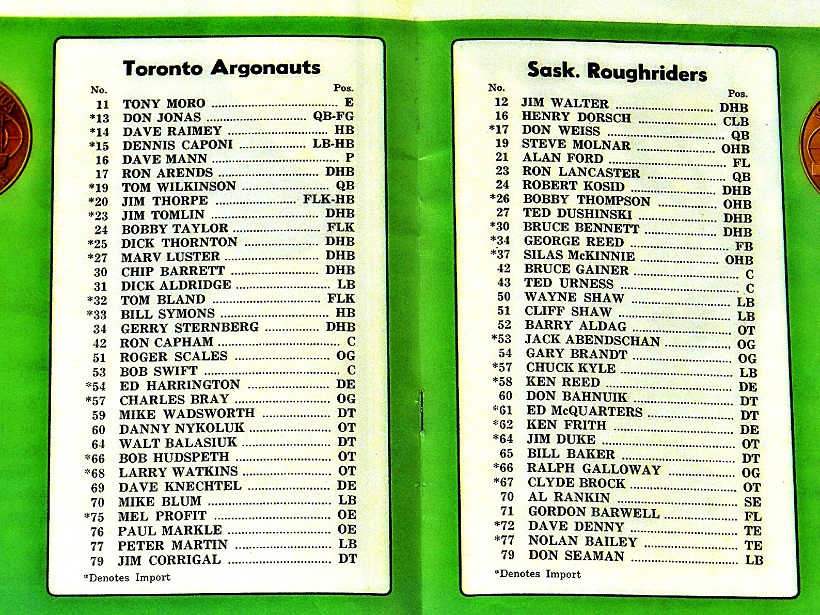 ALSO FROM THE SASKATCHEWAN PROGRAM WAS A PAGE OF ARGO PLAYERS — PHOTOS TAKEN AT THE OLD 33,135–SEAT CNE STADIUM, AS IT APPEARED BEFORE RECONFIGURATION FOR BASEBALL (AND THE BLUE JAYS). THE STADIUM HAD NATURAL GRASS. IN THE BACKGROUND OF THE PHOTOS OF BILL SYMONS, DAVE RAIMEY AND ED HARRINGTON IS THE 12,500–SEAT BLEACHER STAND (OR THE "OPEN SIDE", AS IT WAS KNOWN) ON THE SOUTH FLANK OF THE FIELD. THE 21,000–SEAT GRANDSTAND (OR "COVERED SIDE") WAS AT THE NORTH END OF THE STADIUM (IN BACKGROUND OF DANNY NYKOLUK AND DICK THORNTON PHOTOS). IT SURVIVED THE 1974–77 RECONSTRUCTION AND SERVED AS THE LEFT–FIELD BLEACHERS FOR BLUE JAYS GAMES FROM 1977 TO 1989. IT WAS IMPLODED IN LATE–1998. BMO FIELD, CURRENT HOME OF THE ARGOS, SITS JUST NORTH OF THE OLD STADIUM–SITE AT THE CNE.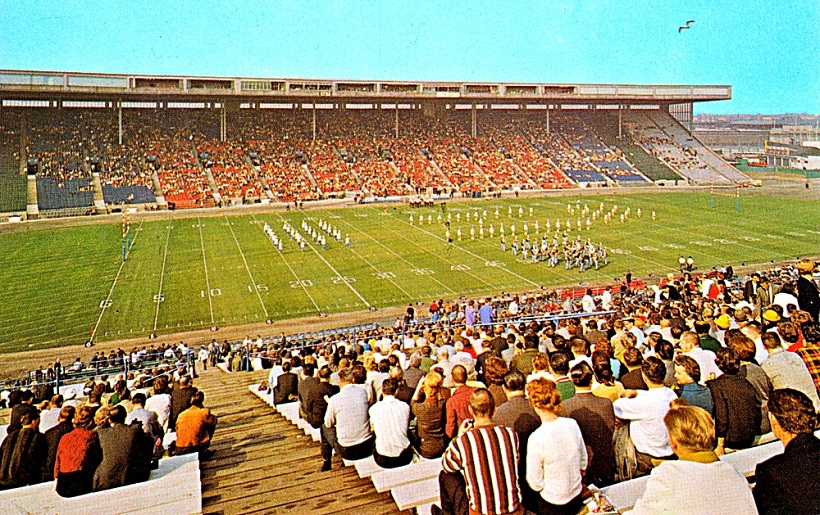 VIEW FROM THE 12,500–SEAT SOUTH BLEACHER OF CNE STADIUM DURING HALFTIME OF AN ARGOS GAME IN 1964. THE NORTH COVERED–GRANDSTAND IS ACROSS THE FOOTBALL FIELD.
CNE STADIUM EXPANSION PROPOSAL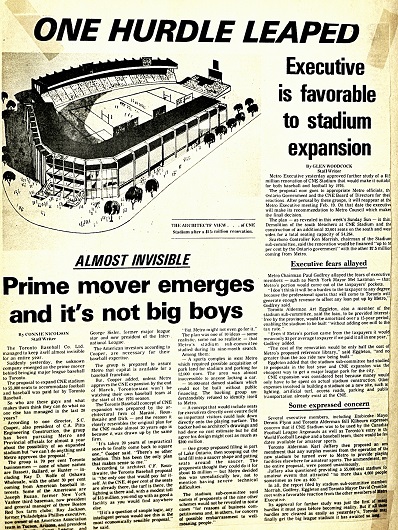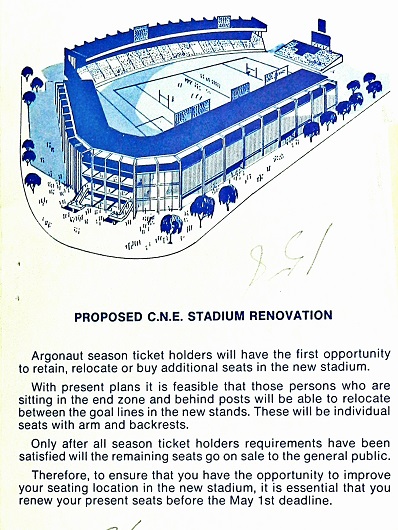 WITH NOISE ABOUT MAJOR LEAGUE BASEBALL ADDING A SECOND CANADIAN TEAM (THE MONTREAL EXPOS JOINED THE NATIONAL LEAGUE IN THE EXPANSION OF 1969), METROPOLITAN TORONTO MADE PLANS TO ENLARGE AND RECONFIGURE THE 33,135–SEAT CNE STADIUM. IN FEBRUARY 1974, AS SEEN ABOVE, THE PLAN WAS TO COVER THE NEW, HORSESHOE–SHAPED STANDS THAT FORMED THE FIRST AND THIRD–BASE LINES FOR BASEBALL. ULTIMATELY, THE STRUCTURE WAS NOT SHELTERED. THE ARGOS 1974 SEASON–TICKET RENEWAL FORM HIGHLIGHTED STADIUM RENOVATION.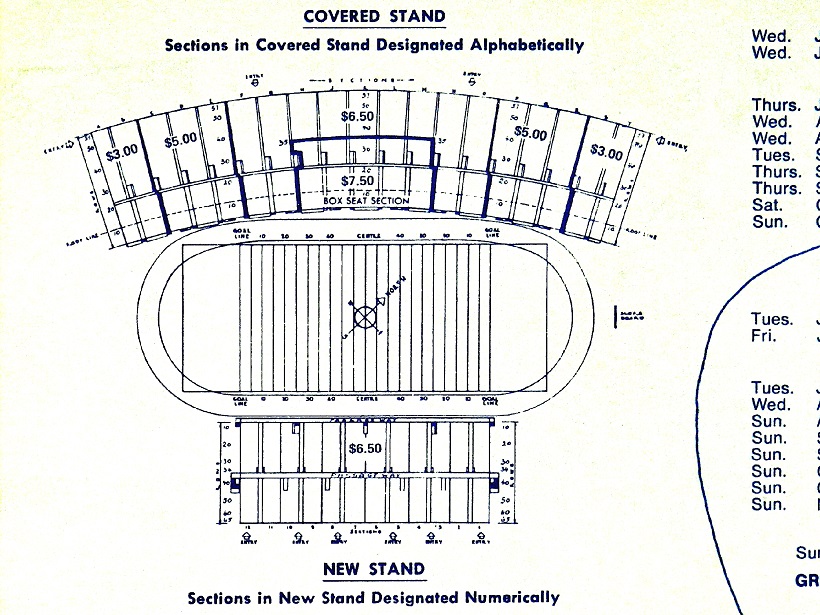 CNE STADIUM CONFIGURATION THROUGH TO THE END OF THE 1974 CFL SEASON.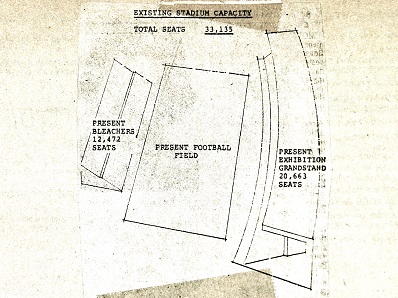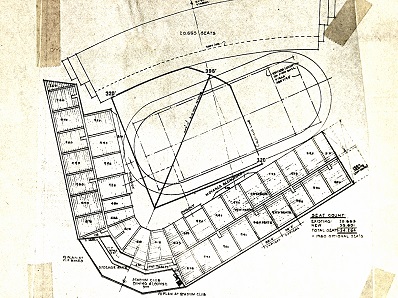 ARCHITECT BLUEPRINTS SHOWED HOW THE STADIUM (LEFT) WOULD BE RENOVATED. FINAL EVENT IN THE OLD STADIUM WAS THE COLLEGE BOWL (TODAY, THE VANIER CUP) GAME BETWEEN THE UNIVERSITY OF TORONTO VARSITY BLUES AND UNIVERSITY OF WESTERN ONTARIO MUSTANGS ON NOV. 22, 1974. SOON AFTER, THE SOUTH BLEACHER–STAND WAS DEMOLISHED AND WORK ON THE BASEBALL CONFIGURATION WAS DONE THROUGHOUT THE WINTER OF 1974–75.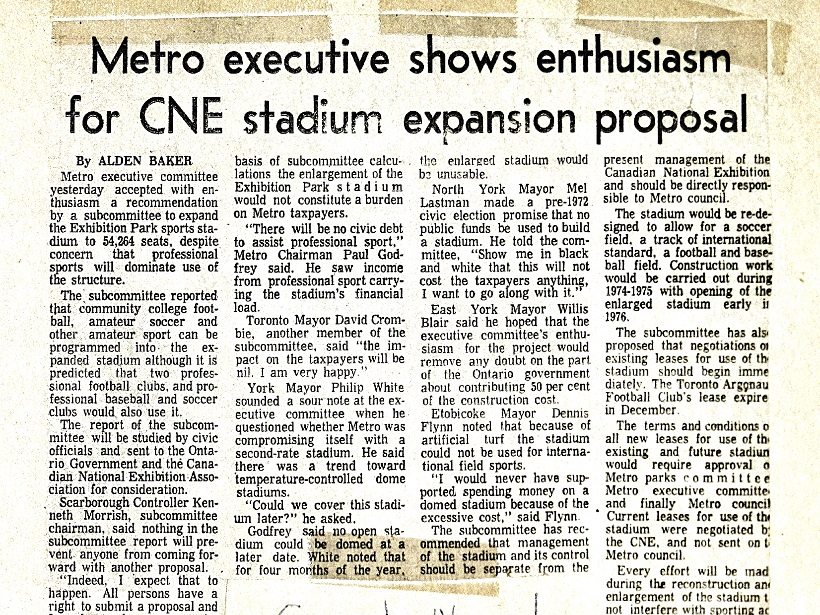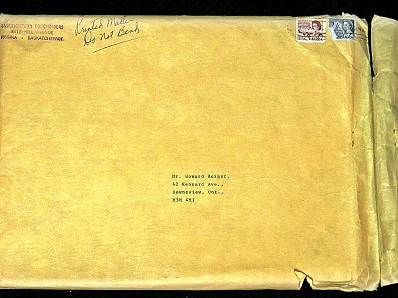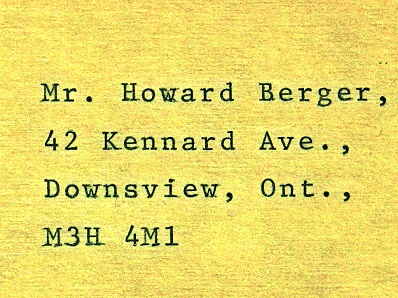 I STILL HAVE THIS MANILA ENVELOPE (ABOVE AND BELOW) SENT TO ME FROM REGINA IN THE SPRING OF 1970. IT CONTAINS THE CFL AUTOGRAPHED AND TEAM–PHOTOS I'VE KEPT THROUGH THE YEARS. WONDERING IF THERE'S STILL ANYTHING SUCH AS A ONE–CENT CANADIAN STAMP?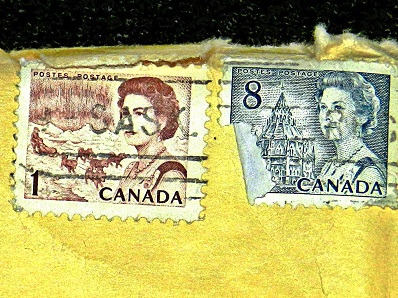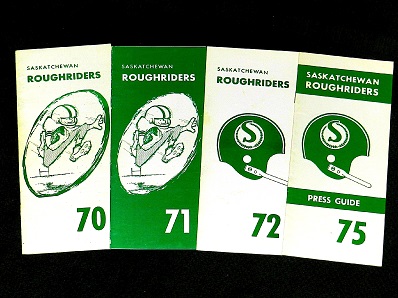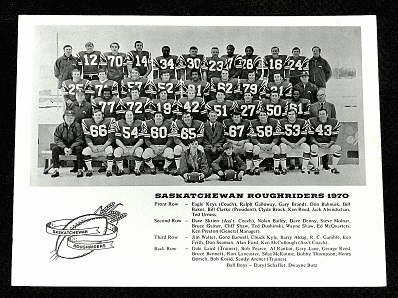 THE SASKATCHEWAN ROUGHRIDERS WERE ALWAYS GREAT ABOUT SENDING PRESS GUIDES AND TEAM PHOTOS.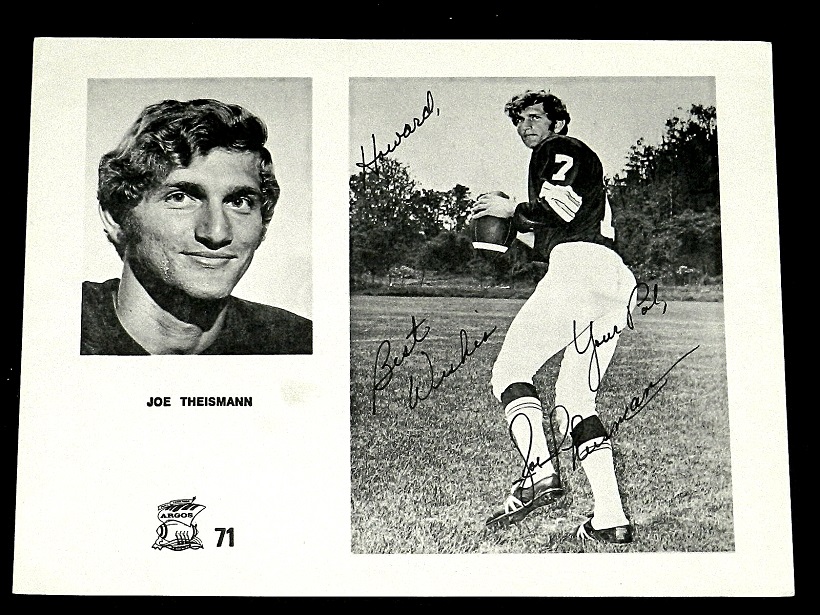 SOME OF MY FAVORITE ARGOS: JOE THE THROW (ABOVE); TRICKY DICK AND DAVE THE KNIFE (BELOW).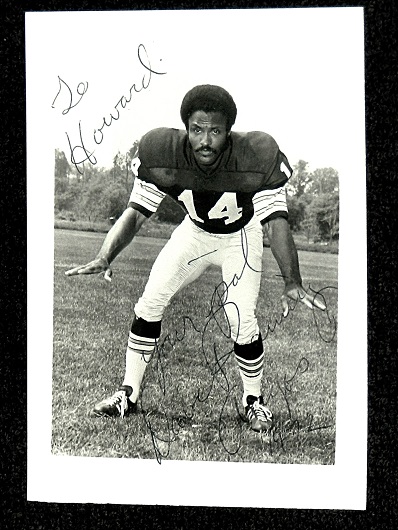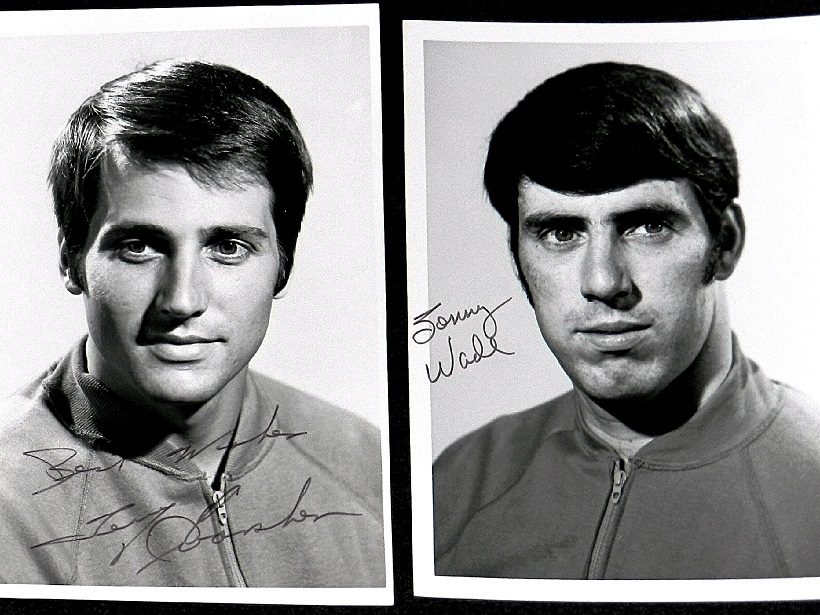 RECEIVER TERRY EVANSHEN AND QUARTERBACK SONNY WADE WERE A PROLIFIC COMBO FOR THE 1970 MONTREAL ALOUETTES (BELOW), WHO CHANGED JERSEY COLORS FROM RED TO GREEN; REBOUNDED FROM A 2–10–2 SEASON AND DEFEATED CALGARY IN THE GREY CUP AT CNE STADIUM.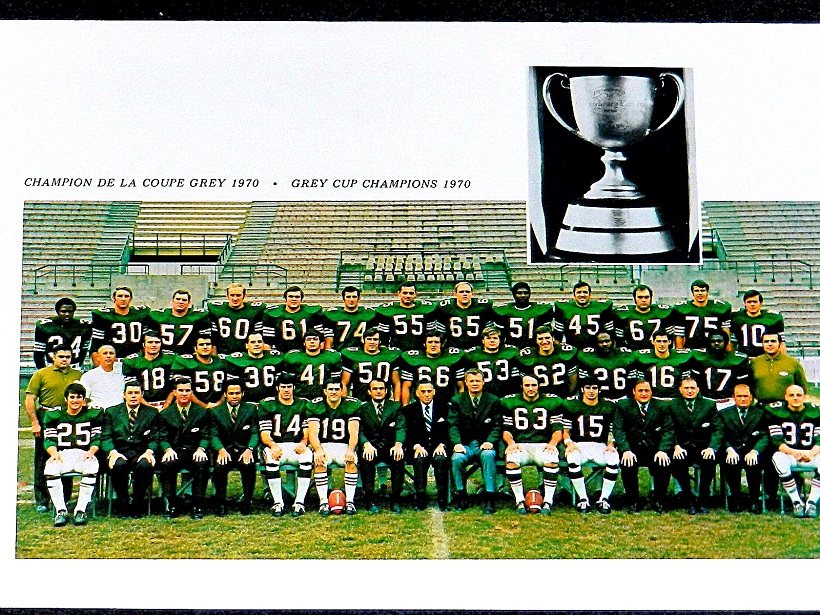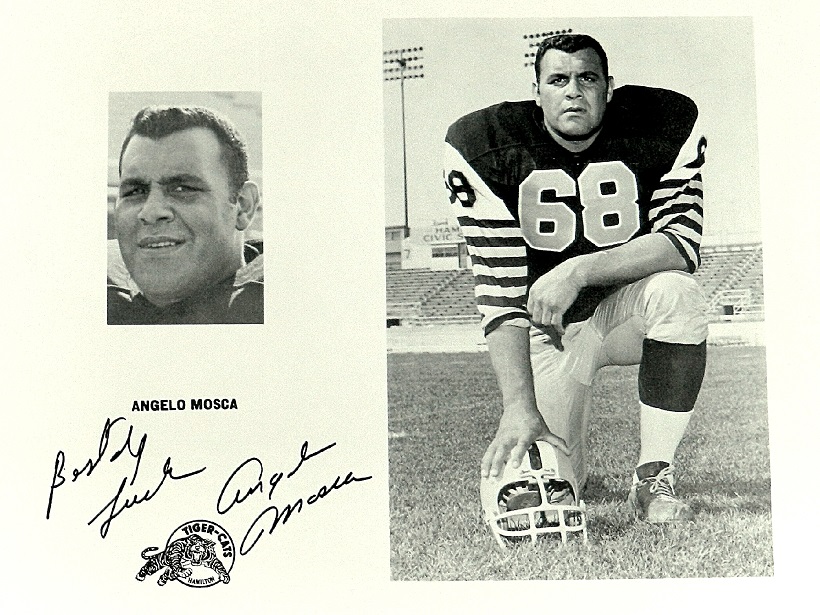 AS A FAN OF THE ARGOS, I HATED THIS MAN WITH A PASSION DURING HIS PLAYING CAREER WITH THE HAMILTON TIGER–CATS. BUT, ANGIE WAS NICE ENOUGH TO MAIL ME THIS PHOTO IN 1970.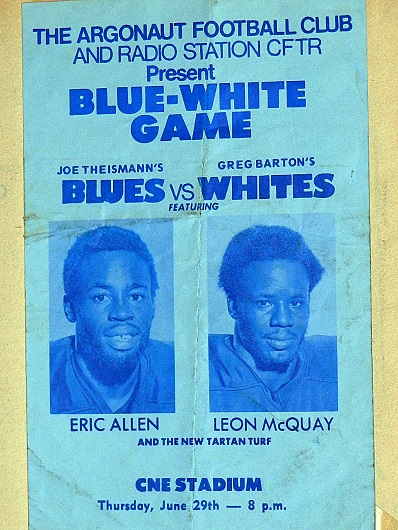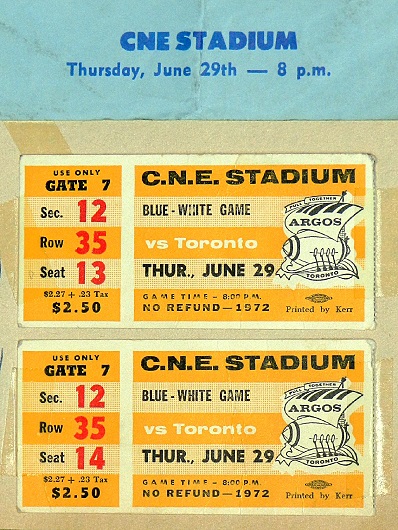 PLAYED IN A DRIVING RAINSTORM FROM OPENING KICKOFF TO FINAL GUN, THE ARGOS' INTRA–SQUAD GAME IN 1972 WAS THE FIRST EVENT ON THE NEW ARTIFICIAL–TURF FIELD AT CNE STADIUM. AFTER THE GAME — AND COMPLETELY SOAKED — I JOINED THOUSANDS OF OTHERS FOR A STROLL ON THE TURF, AS INVITED BY PUBLIC–ADDRESS ANNOUNCER KEN FOSS.
EMAIL: HOWARDLBERGER@GMAIL.COM