TORONTO (Sep. 27) — Yes, the headline here is a play–on–words and, perhaps, marginally inappropriate. But, laugh along with me, folks. Recent events, south of the 49th parallel, have been all–too serious.
What I'm asking, within the context of sport, is whether Auston Matthews could become, this season, the first Maple Leafs player in 72 years to lead the National Hockey League in goals scored. It last happened, remarkably, during the NHL schedule that followed the end of World War II (1945–46) when James Gaye Stewart, who went by his middle name, struck for 37 goals — six more than points leader Max Bentley of the Chicago Black Hawks. Matthews came close during his Calder Trophy season a year ago, finishing in a tie for second among goal–scorers with Nikita Kucherov of the Tampa Bay Lightning (40 apiece). Sidney Crosby, tallying 44, won the Maurice Richard Trophy with the lowest total in a full, 82–game season since 2003–04, when Rick Nash (Columbus), Jarome Iginla (Calgary) and Ilya Kovalchuk (Atlanta) set the pace — scoring 41.
Having watched Matthews breeze to a hat–trick in an exhibition–game triumph over Montreal on Monday night, it is hardly difficult to envision him — if healthy all season — becoming just the fourth Leafs player to reach the 50–goal plateau (joining Rick Vaive, Gary Leeman and Dave Andreychuk). Neither, of course, is it a challenge to envision Crosby scoring 50 had he not missed seven games last season with recurring concussion issues. Or, Calder runner–up Patrik Laine of Winnipeg improving on his 36–goal freshman performance. So, the Richard Trophy race is likely to be among the highlights of the 2017–18 NHL season.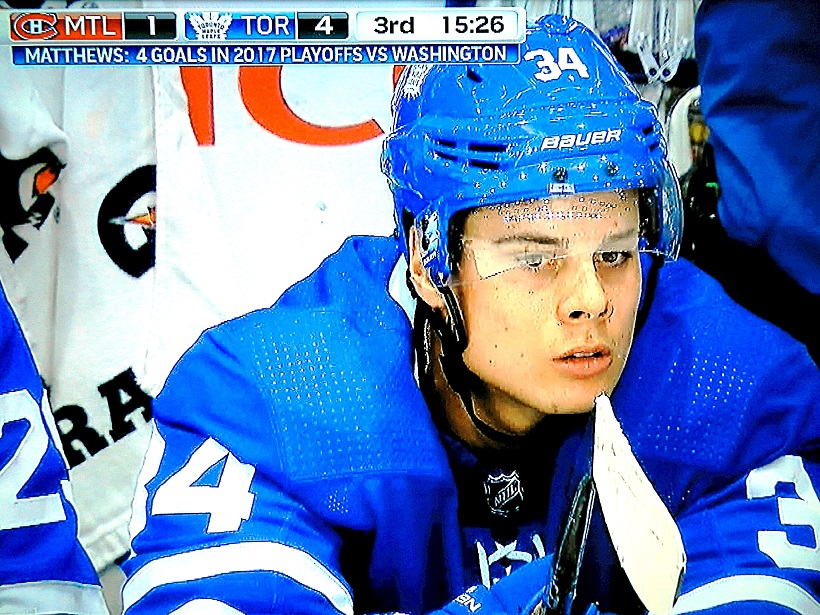 AUSTON MATTHEWS COOLLY STRUCK FOR A HAT–TRICK AGAINST MONTREAL ON MONDAY. TSN IMAGE
In being named rookie–of–the–year, Matthews erased one lengthy Maple Leafs famine, dating to Brit Selby in the 1965–66 season. The leading–goal–scorer drought, as mentioned, is now 71 years. Frank Mahovlich came close in 1960–61 with 48 goals, two less than NHL leader Bernie Geoffrion of Montreal. Vaive holds the Leafs single–season record of 54 goals, in 1981–82 (Andreychuk also had 54 in 1992–93, but the first 29 came with Buffalo before his trade to the Leafs for goalie Grant Fuhr). Vaive finished fifth overall in '81–82, behind Wayne Gretzky (92), Mike Bossy (64), Dennis Maruk (60) and Dino Ciccarelli (55).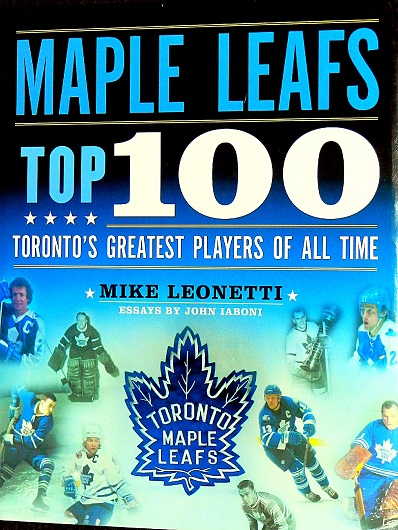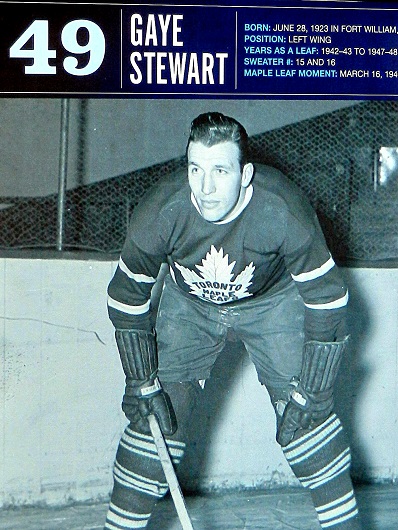 JAMES GAYE STEWART IS THE LAST TORONTO MAPLE LEAFS PLAYER TO LEAD THE NHL IN GOALS SCORED — WITH 37 DURING THE 1945–46 SEASON. A PANEL OF LEAF OBSERVERS, MYSELF INCLUDED, RANKED HIM 49th AMONG THE TOP 100 PLAYERS IN FRANCHISE HISTORY FOR THIS 2007 BOOK COMPILED BY THE LATE MIKE LEONETTI. A TOP–100 RANKING COMMISSIONED BY THE HOCKEY CLUB FOR ITS 100th ANNIVERSARY SEASON A YEAR AGO PLACED STEWART 67th OVERALL.
No Toronto player since Gord Drillon, in 1937–38, has won the Art Ross Trophy for most points. Doug Gilmour's Leaf record of 127 in the 1992–93 season placed him only eighth in scoring, behind Mario Lemieux (160), Pat LaFontaine (148), Adam Oates (142), Steve Yzerman (137), Teemu Selanne (132), Pierre Turgeon (132) and Alexander Mogilny (also 127, but with 76 goals; Gilmour had 32). Darryl Sittler finished third for the Art Ross in 1977–78 with a then–Leafs mark of 117 points, trailing Guy Lafleur (132) and Bryan Trottier (123).
Matthews appeared in all 82 games during his rookie NHL season and avoided injury throughout his development years. Sturdily built, he is more apt to dish out punishment around the net than absorb it. Year 2 in the NHL has often been a challenge for players that shone as rookies. Matthews, however, seems imperturbable. With respect to big–league maturation, he is far beyond 20 years of age; his talent pronounced and glaring. So, here's a prediction: Awesome Auston will again suit up for the overwhelming majority of games this season — I'll say 78 — and will score 52 goals (tied for third–most in Leafs history).
Only time will tell if that total allows him to "become Gaye".
ANOTHER ROAD HOCKEY TRIUMPH
The annual Road Hockey to Conquer Cancer event took place on Saturday in the parking lot of Woodbine Racetrack, northwest of Toronto, and raised more than $2.6 million for cancer research. Organized each year by my friend, Kevin Shea, it has become a spectacular showpiece for charity and philanthropy. Alumni from the National Hockey League; the media and other sports routinely make themselves available for this essential cause. And, no one could pull it off like Kevin, who worked for many years as a spokesperson at the world–renowned Princess Margaret Hospital in downtown Toronto… while somehow also finding time to write books about Bill Barilko, Derek Sanderson, Larry Robinson and his beloved Toronto Maple Leafs. I'm proud to know Kevin. At some point, I believe he'll be recognized for his efforts with the Order of Canada.
No person is more deserving of the honor.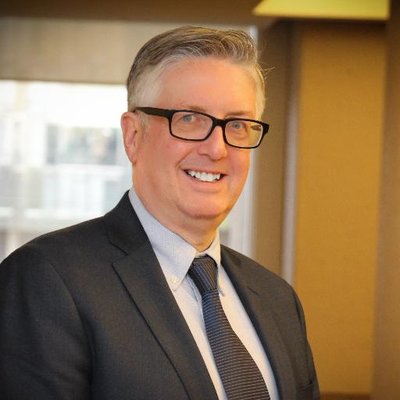 ROAD HOCKEY TO CONQUER CANCER GURU KEVIN SHEA.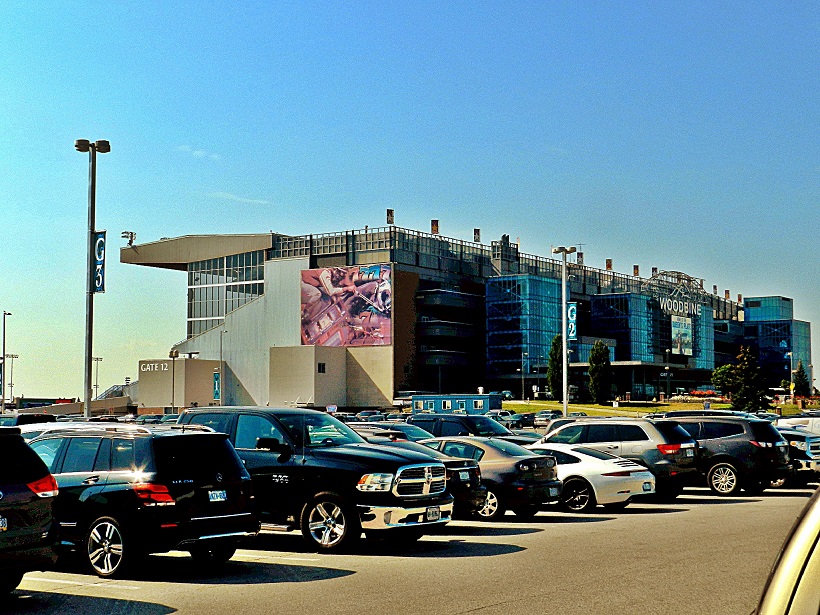 THE ICONIC WOODBINE RACETRACK, NORTHWEST OF TORONTO, HOSTED THE ROAD HOCKEY TO CONQUER CANCER EVENT FOR A THIRD YEAR. MORE CREDIT THAN EVER GOES TO COMPETITORS, WHO WITHSTOOD A BIZARRE, LATE–SEPTEMBER HEAT WAVE THAT NUDGED THE THERMOMETER INTO THE MID–90's (F), WITH STIFLING HUMIDITY. TEAMS WORE THE OLD–NHL COLORS (BELOW, LEFT–TO–RIGHT) OF THE VANCOUVER CANUCKS, LOS ANGELES KINGS AND MINNESOTA NORTH STARS.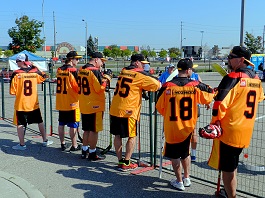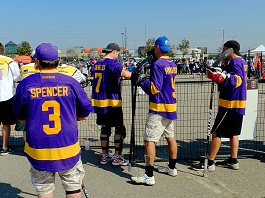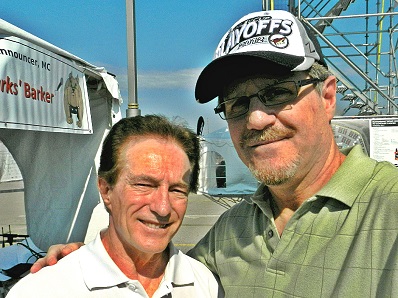 NO ATHLETE COULD HAVE BETTER REPRESENTED THE VENUE OR THE CAUSE THAN SANDY HAWLEY, CANADA'S GREATEST ALL-TIME HORSE–RACING JOCKEY. FROM 1969 TO 1978, HAWLEY "OWNED" WOODBINE — LEADING THE TRACK IN RACE VICTORIES EACH YEAR. IT WAS AN HONOR FOR ME TO CATCH UP WITH HAWLEY (TOP–LEFT) FOR A FEW MOMENTS ON SATURDAY. WE FIRST MET IN 1998, THROUGH THE LATE TORONTO STAR SPORTS COLUMNIST, JIM PROUDFOOT, WHO COVERED HORSE–RACING LIKE FEW OTHERS. SANDY IS PROUDLY — AND AWESOMELY — A CANCER SURVIVOR.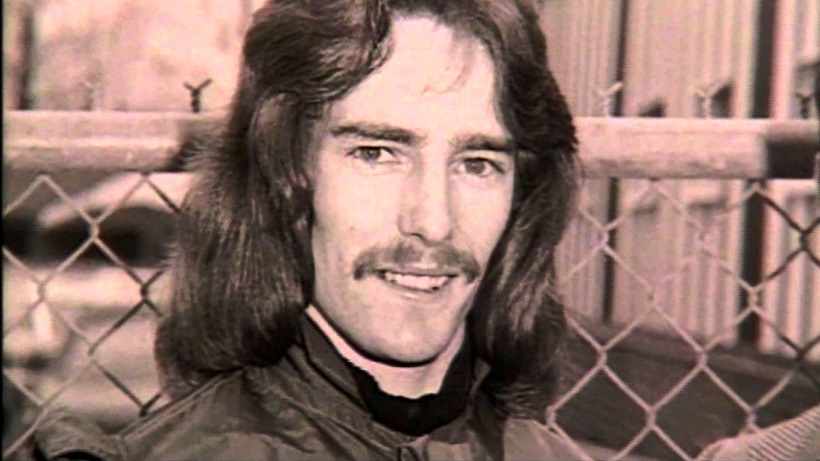 PHOTO (ABOVE) OF SANDY FROM HIS RACING PRIME IN THE EARLY–70's. THE WOODBINE TRACK IS BEST–KNOWN — IN OUR COUNTRY AND ABROAD — AS HOME OF THE ANNUAL QUEEN'S PLATE STAKES, CANADA'S MOST PRESTIGIOUS HORSE RACE. HAWLEY IS A FOUR–TIME WINNER OF THE PLATE, TYING HIM FOR MOST VICTORIES WITH FELLOW–JOCKEY LEGENDS AVALINO GOMEZ AND ROBIN PLATTS. HE WON IN 1970 (ABOARD ALMONER); 1971 (KENNEDY ROAD); 1975 (L'ENJOLEUR) AND 1978 (REGAL EMBRACE). HE LATER SPENT MUCH TIME RIDING IN LOS ANGELES, AT HOLLYWOOD PARK AND SANTA ANITA. IN 1973, SANDY BECAME THE FIRST JOCKEY TO WIN 500 RACES IN A SINGLE YEAR.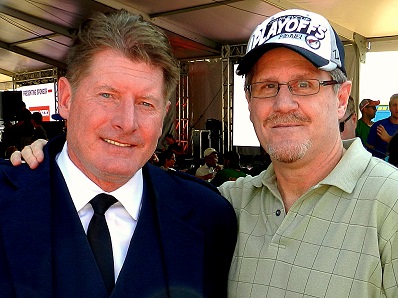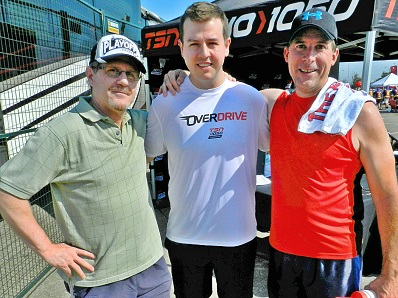 ALSO ON HAND FOR SATURDAY'S EVENT WAS FORMER MAPLE LEAFS GOALIE (AND HOCKEY NIGHT IN CANADA LEGEND) GLENN HEALY (TOP–LEFT). I POSED WITH RADIO PALS BRYAN HAYES (MIDDLE, OF TSN–1050) AND JIM LANG, WITH WHOM I WORKED AT THE FAN–590 FOR MORE THAN A DECADE.
LOOKING BACK… COUNTING DOWN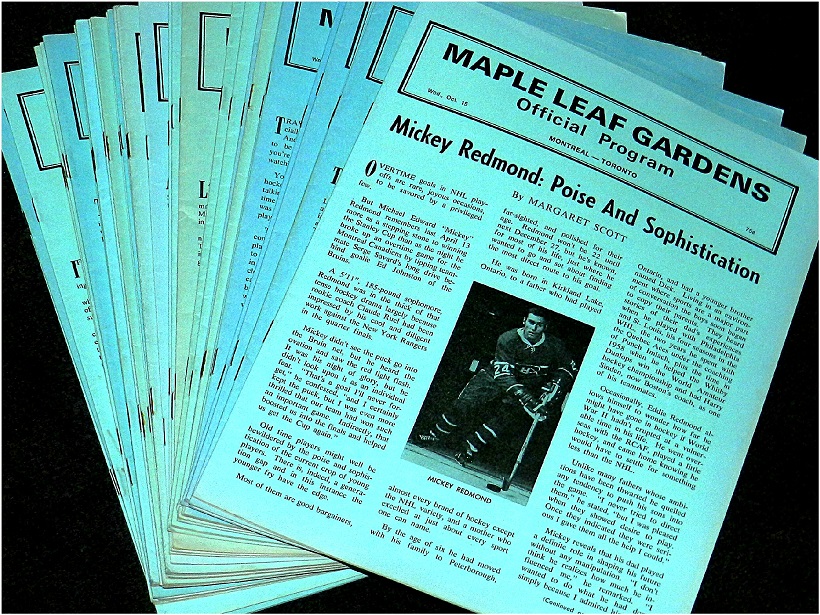 As the Maple Leafs move toward the 100th anniversary of their first NHL game (Dec. 19, 1917), I will continue to display more from my collection of Maple Leaf Gardens programs. Today, I feature program inserts (full stack, above) from the 1968–69 and 1969–70 seasons — the second and third years of the expanded NHL, which doubled to 12 teams in 1967–68. The program inserts were tucked inside the Gardens' hockey magazine (as per below); the package selling for a mere 75 cents. Inserts included the line–ups; rosters from each club; a lead story, often penned by a Toronto newspaper scribe; a secondary piece that normally featured a player from the opposing team; an article on the OHA Junior A circuit (by Frank Orr of the Toronto Star); a column entitled Color Comments by Hockey Night In Canada broadcaster Brian McFarlane; a score–card to keep track of goals, assists and penalties (with a section for the three stars); the NHL standings, and leading scorers. In 1968–69 and 1969–70, the inserts were teal–blue, with black–and–white photography.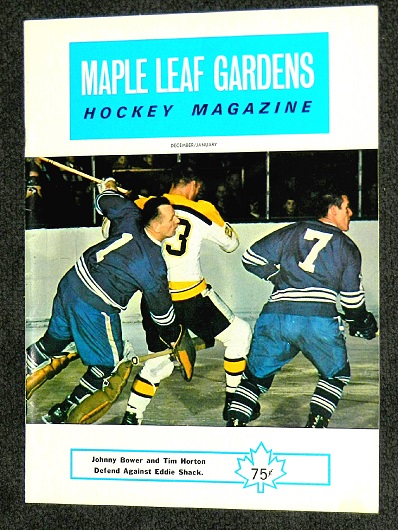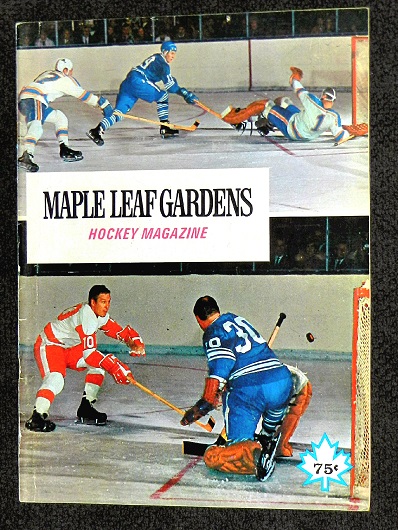 FROM NOV. 13, 1968 — A 1–1 TIE BETWEEN THE LEAFS AND BOSTON BRUINS.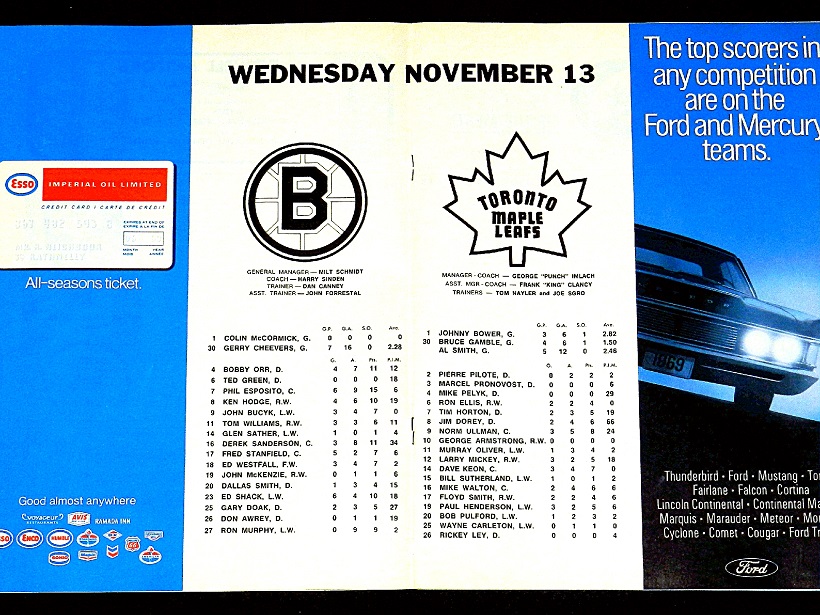 AFTER YEARS OF MEDIOCRITY, THE BRUINS WERE A STANLEY CUP THREAT IN 1968–69, FEATURING BOBBY ORR ON DEFENSE AND PHIL ESPOSITO AT CENTER. FORMER LEAF EDDIE SHACK PLAYED FOR BOSTON, HAVING BEEN DEALT IN MAY 1967 FOR LEFT–WINGER MURRAY OLIVER. GLEN SATHER WAS A BOSTON WINGER. THE LEAFS WERE IN THEIR FIRST FULL YEAR WITHOUT STALWART FRANK MAHOVLICH, WHO WENT TO DETROIT (MAR. 3, 1968) IN A TRADE THAT BROUGHT NORM ULLMAN, PAUL HENDERSON AND FLOYD SMITH TO TORONTO. JOHNNY BOWER WAS IN HIS FINAL FULL SEASON WITH THE LEAFS. JIM DOREY AND RICKEY LEY WERE TENACIOUS ROOKIES ON THE BLUE LINE.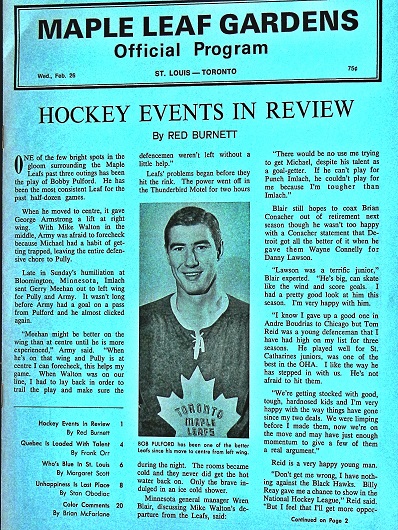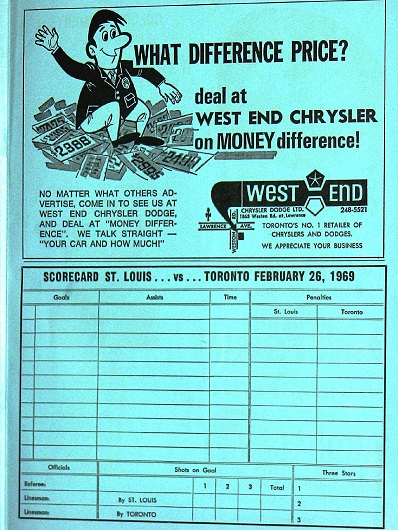 FROM FEB. 26, 1969 — A 3–2 VICTORY BY THE MAPLE LEAFS OVER THE ST. LOUIS BLUES.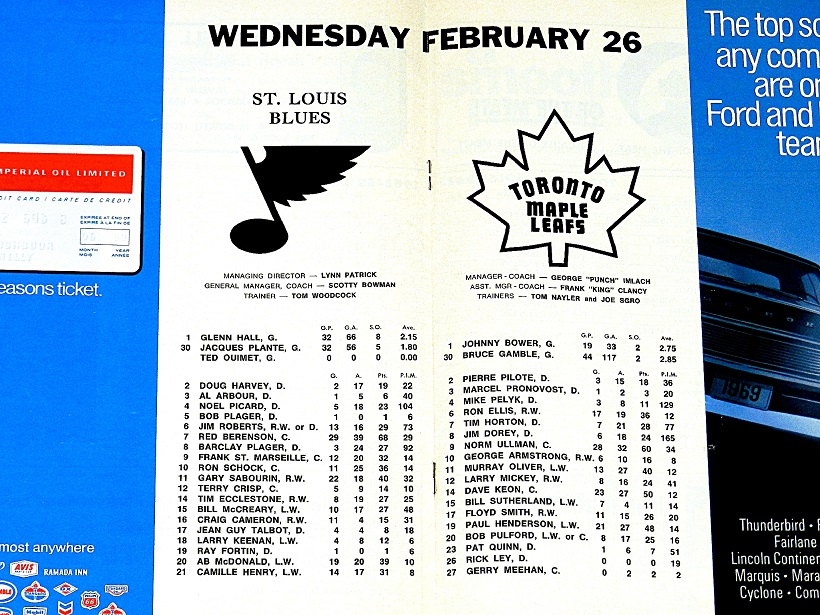 ST. LOUIS WAS CLEARLY THE CREAM OF THE CROP AMONG THE ORIGINAL EXPANSION TEAMS, WINNING THE NEWLY–CREATED WEST DIVISION AND PLAYING FOR THE STANLEY CUP IN THEIR FIRST THREE SEASONS. THOUGH THE BLUES DID NOT CAPTURE A SINGLE GAME IN THE CUP FINAL — GETTING SWEPT TWICE BY MONTREAL AND ONCE BY BOSTON — THEY FEATURED A TROIKA OF NHL LEGENDS: GLENN HALL AND JACQUES PLANTE IN GOAL; DOUG HARVEY ON DEFENSE. A TRADE WITH NEW YORK AT THE END OF NOVEMBER 1967 BROUGHT ST. LOUIS THE FIRST EXPANSION SUPERSTAR: FORWARD RED BERENSON (HE SCORED SIX GOALS AT PHILADELPHIA ON NOV. 7, 1968). A YOUNG SCOTTY BOWMAN RAN THE HOCKEY OPERATION AT THE START OF HIS UNPARALLELED COACHING CAREER.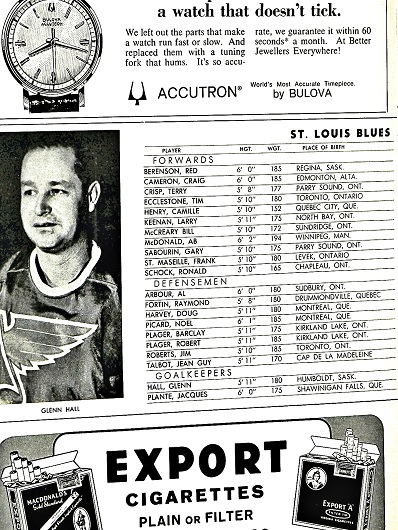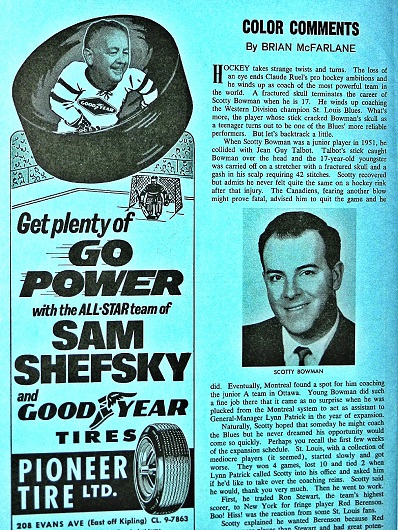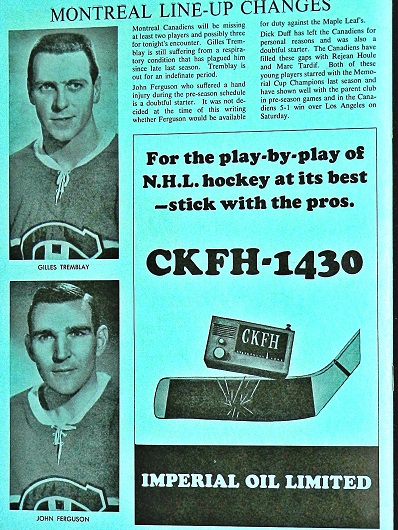 PROGRAM INSERT FROM THE MAPLE LEAFS HOME OPENER OF 1969–70 — A 2–2 TIE WITH MONTREAL.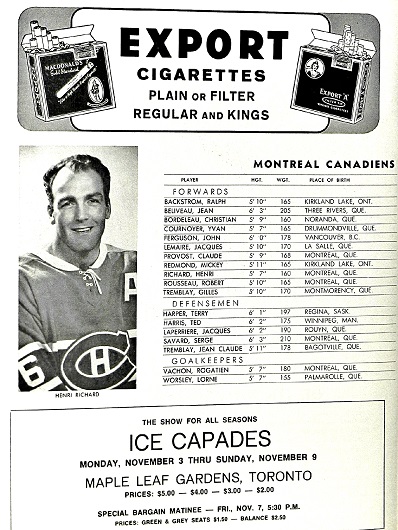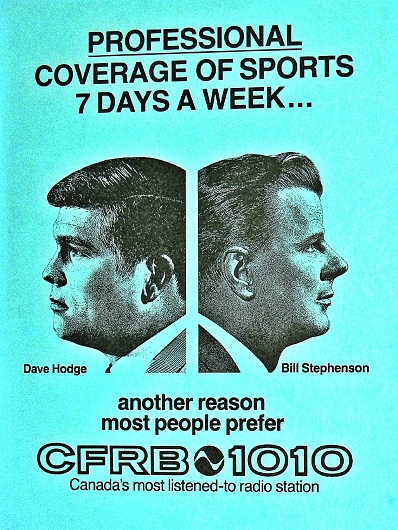 THE CFRB–1010 RADIO AD (TOP–RIGHT) FEATURED A PAIR OF STILL–YOUNG SPORTSCASTERS. DAVE HODGE, NOW 72, REMAINS A CENTRAL FIGURE, 48 YEARS LATER, WITH TSN; HE WAS INTERMISSION HOST ON HOCKEY NIGHT IN CANADA FROM 1971–86. BILL STEPHENSON HANDLED MORNING SPORTS (AND WAS SPORTS DIRECTOR) AT CFRB FOR 40 YEARS. HE DIED OF CANCER AT 85 ON JULY 22, 2014.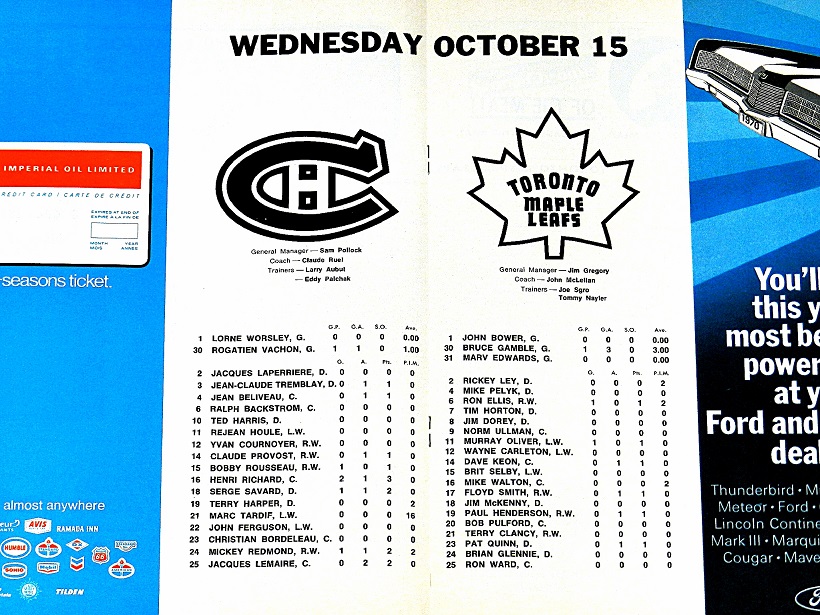 MONTREAL WON THE STANLEY CUP IN THE FIRST TWO YEARS OF EXPANSION, DEFEATING ST. LOUIS IN 1968 AND 1969. THIS VERSION OF THE CANADIENS IS REPLETE WITH CURRENT HALL–OF–FAMERS: LORNE (GUMP) WORSLEY, ROGATIEN VACHON, JACQUES LAPERRIERE, JEAN BELIVEAU, YVAN COURNOYER, HENRI RICHARD, SERGE SAVARD AND JACQUES LEMAIRE. GENERAL MANAGER SAM POLLOCK IS IN THE BUILDERS' CATEGORY OF THE HALL.

MANY FUTURE NHL PLAYERS WERE IN THIS JUNIOR HOCKEY PIECE, BY FRANK ORR.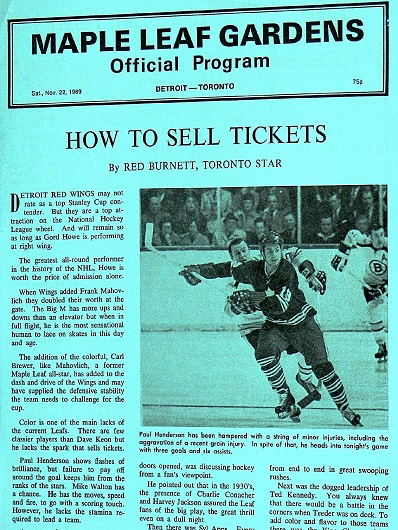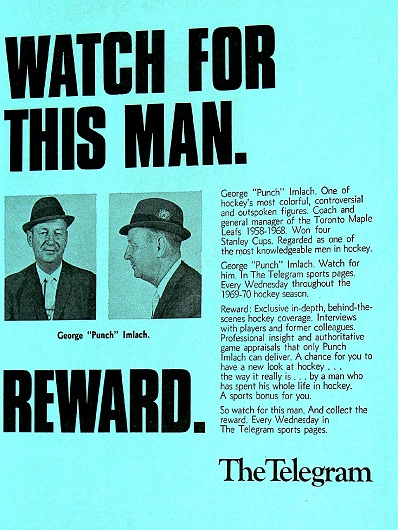 FROM NOV. 22, 1969 — A 4–0 WIN BY THE MAPLE LEAFS OVER DETROIT. HOW TIMES HAVE CHANGED: PUNCH IMLACH HAD BEEN FIRED AS GM/COACH OF THE LEAFS THE PREVIOUS APRIL; THEN HIRED BY THE OLD TORONTO TELEGRAM TO WRITE HOCKEY COLUMNS THROUGHOUT THE 1969–70 SEASON. IMLACH'S MUG–SHOT APPEARED IN THE LEAFS PROGRAM–INSERT. MONEY CAN BUY ANYTHING.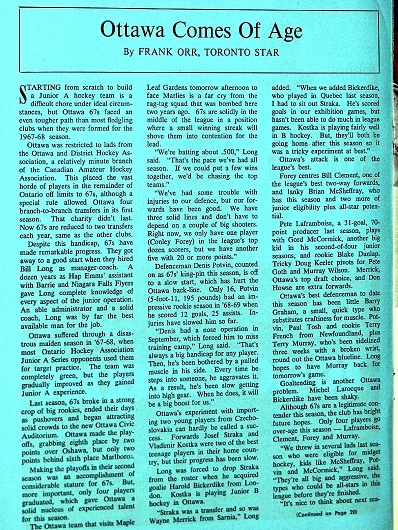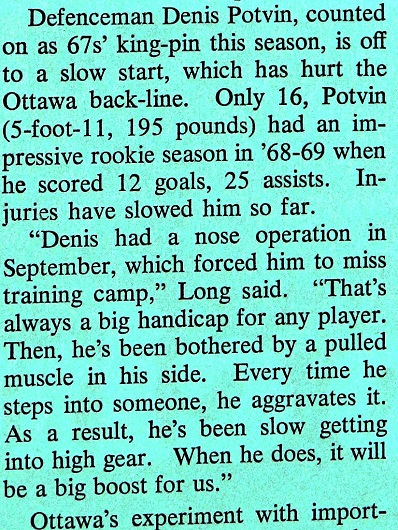 FRANK ORR'S JUNIOR HOCKEY ARTICLE MENTIONED A "STRUGGLING" OTTAWA DEFENSEMAN THAT WOULD ULTIMATELY WIN FOUR CONSECUTIVE STANLEY CUPS WITH THE NEW YORK ISLANDERS.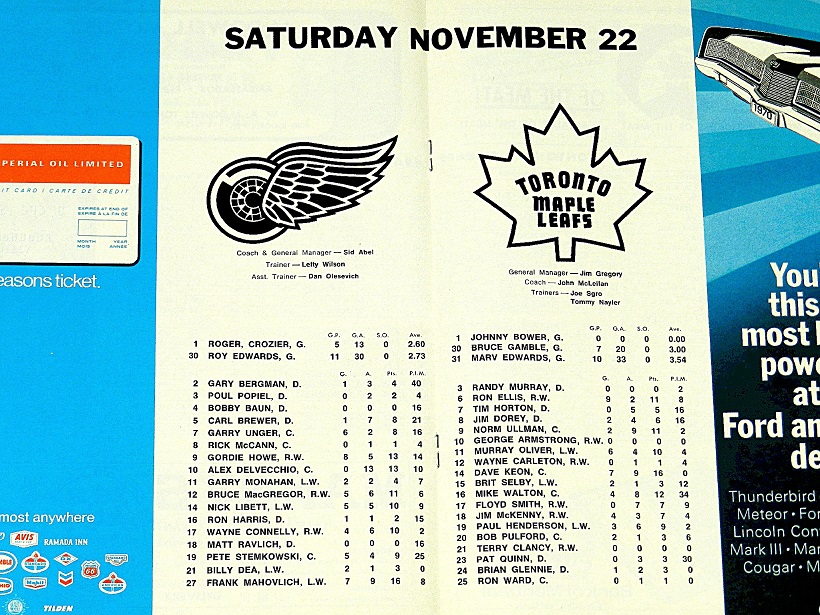 THIS WAS THE LAST GOOD DETROIT TEAM FOR A DECADE, WITH NHL STALWARTS BOB BAUN, CARL BREWER, GORDIE HOWE, ALEX DELVECCHIO AND FRANK MAHOVLICH. THE '69–70 RED WINGS COMPILED 95 POINTS AND WERE SWEPT BY CHICAGO IN THE OPENING PLAYOFF ROUND. BEGINNING IN 1971, DETROIT WOULD MISS THE PLAYOFFS FOR SEVEN CONSECUTIVE YEARS.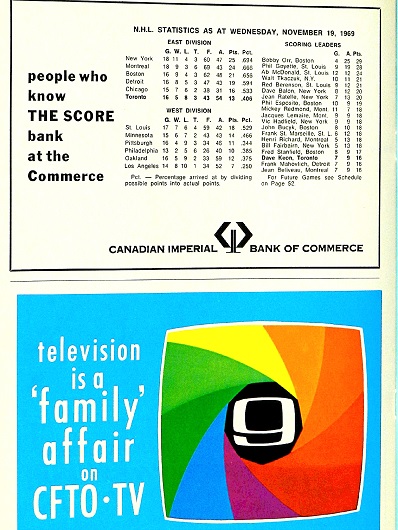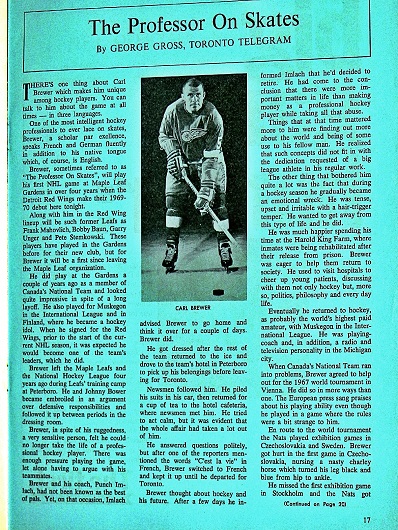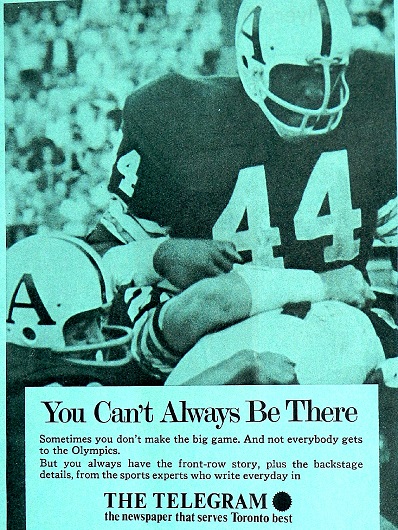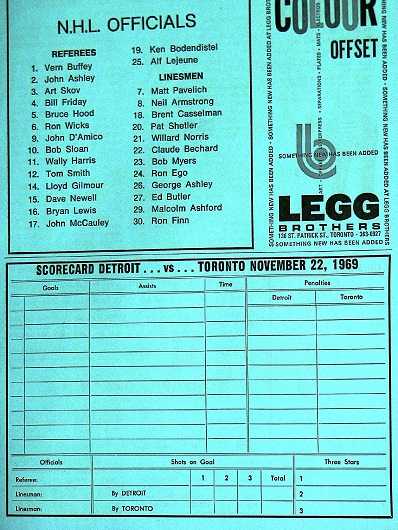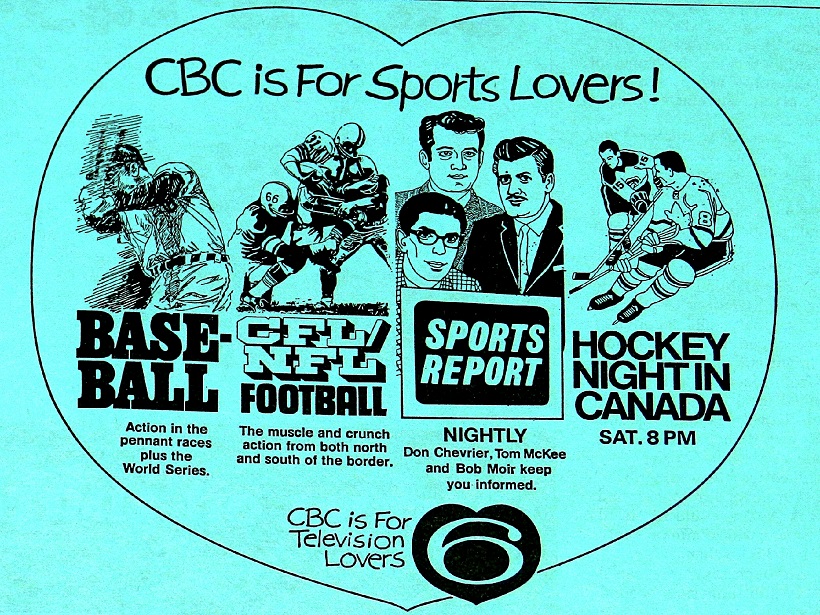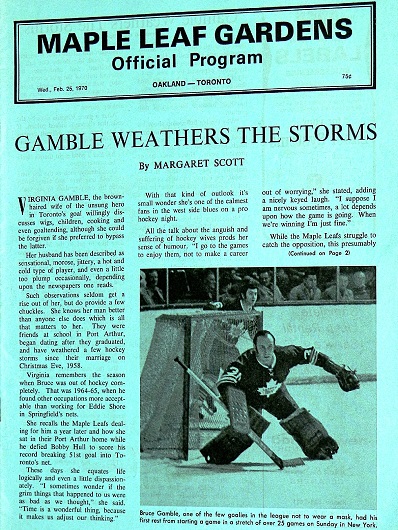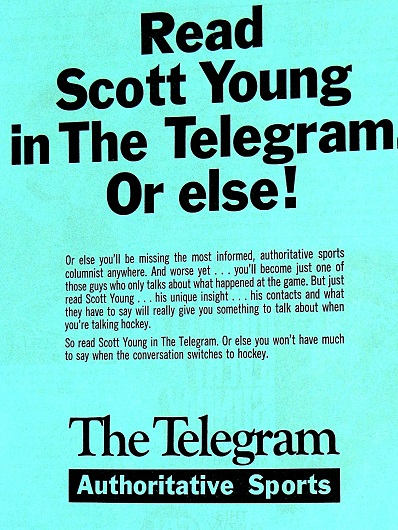 FROM FEB. 25, 1970 — A 4–1 VICTORY BY THE LEAFS OVER THE OAKLAND SEALS. TORONTO TELEGRAM AD FEATURED THE LATE SPORTS COLUMNIST/AUTHOR SCOTT YOUNG (1918–2005), WHO WAS PERHAPS BETTER–KNOWN AS THE FATHER OF LEGENDARY CANADIAN GUITARIST NEIL YOUNG.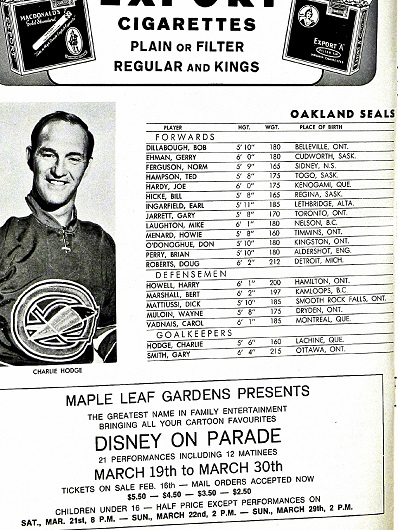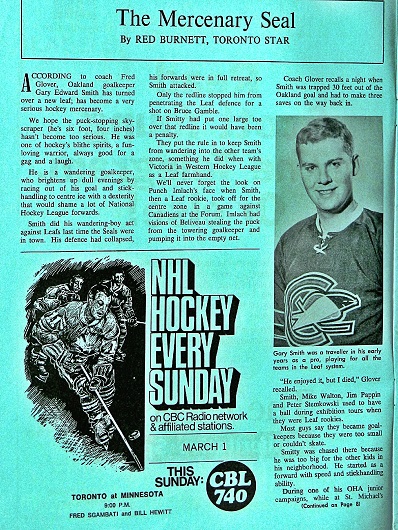 AH, THE OLD GREEN SEALS: NHL PATSIES FROM 1967 TO 1976.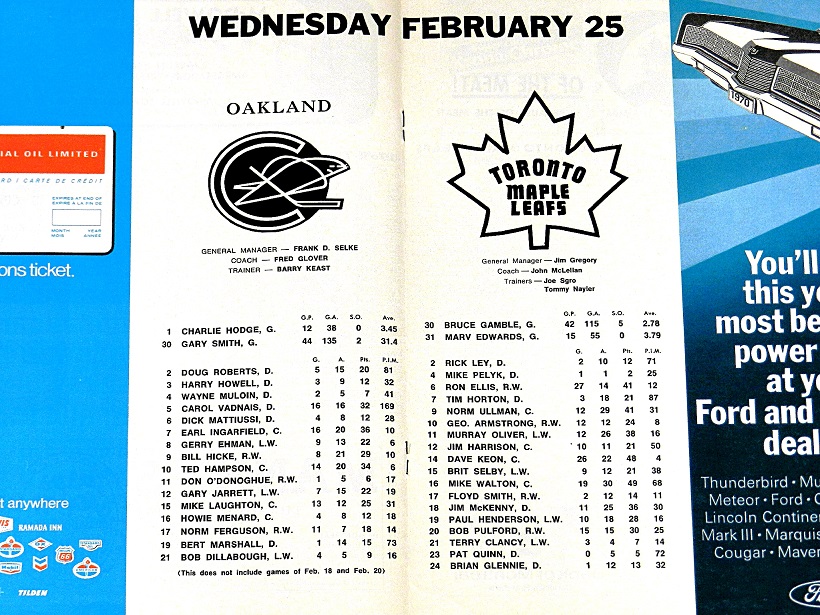 THE 1969–70 OAKLAND TEAM HAD A FEW LONG–ESTABLISHED NHLers, PRIMARILY CHARLIE HODGE, HARRY HOWELL AND GERRY EHMAN. TED HAMPSON WAS AN EXCELLENT, TWO–WAY FORWARD.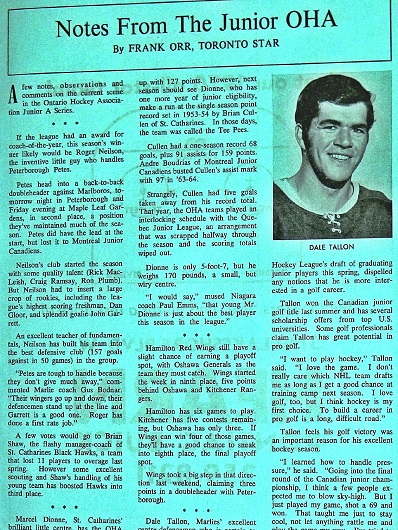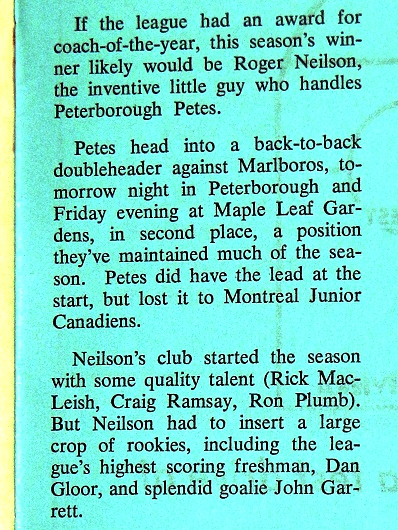 A FUTURE LEAFS COACH WAS HIGHLIGHTED IN FRANK ORR'S JUNIOR HOCKEY ARTICLE.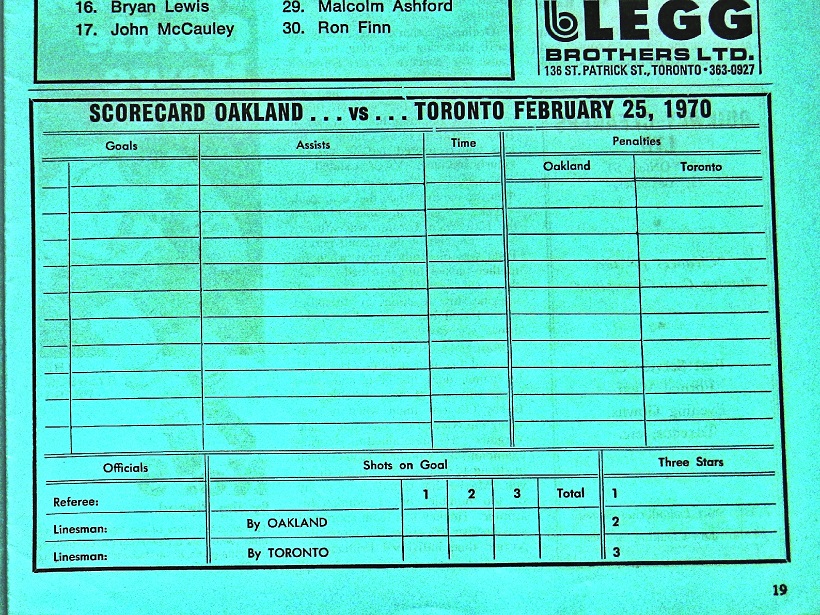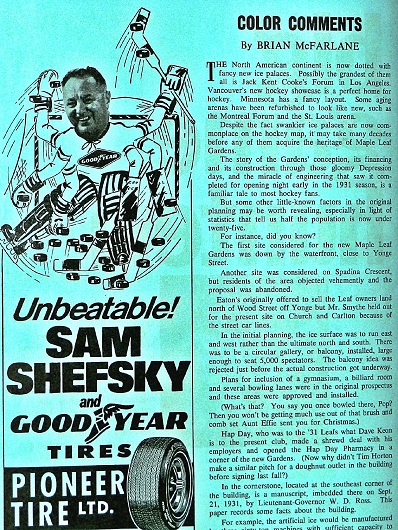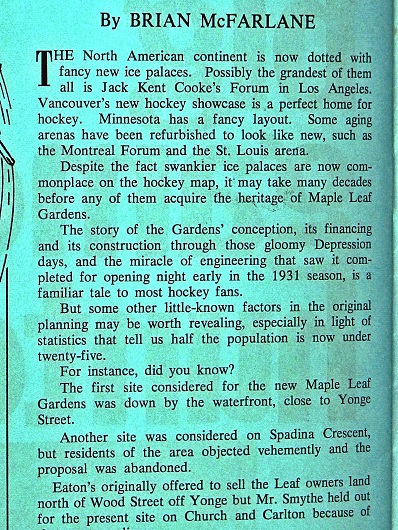 BRIAN McFARLANE IS BEST–REMEMBERED AS THE COLOR COMMENTATOR ALONGSIDE BILL HEWITT FOR LEAFS GAMES ON HOCKEY NIGHT IN CANADA DURING THE 60's AND 70's. AS SUCH, THE TITLE OF HIS COLUMN IN THE LEAFS PROGRAM–INSERT.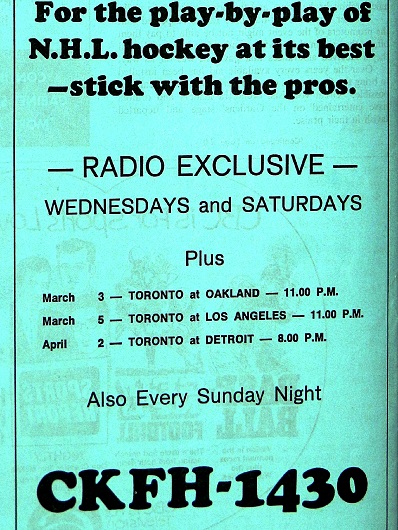 JOHNNY BOWER'S ENDORSEMENT OF ELMER'S GLUE–ALL WAS A STAPLE IN THE GARDENS' PROGRAM. YOURS TRULY WOULD ONE DAY WORK FOR 23 YEARS AT THE RADIO STATION FOUNDED AS CKFH–1430 (THE "FH" STANDING FOR OWNER FOSTER HEWITT); ULTIMATELY, THE FAN–590, CANADA'S FIRST ALL–SPORTS STATION. IT WAS FOREVER A STRUGGLE, AS A KID, TO STAY AWAKE FOR LEAFS RADIO GAMES ON THE WEST COAST — IN OAKLAND AND LOS ANGELES — THAT FACED OFF AFTER 11 P.M. EASTERN.
AND FINALLY…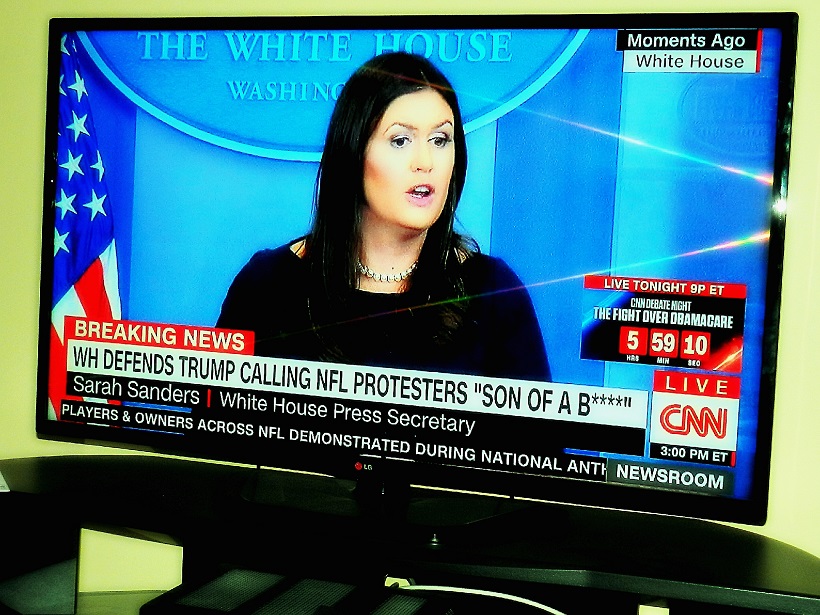 As a proud citizen of Canada, my opinion regarding the national anthem protests in the United States is largely irrelevant. But, I'll give it to you anyway: The U.S. is governed by a constitution whose First Amendment provides for freedom of expression within the boundary of law (that which precludes libel, slander, assault, destruction of property, etc.). As such, I see nothing unwarranted about National Football League players taking a knee during the Star Spangled Banner. It matters not whether I would do the same, nor is the cause (racial equality) particularly relevant. Lawful protest is a constitutional privilege. End of story. That the U.S. president is acting impetuously should come as no surprise. But, that's his right, as well.
EMAIL: HOWARDLBERGER@GMAIL.COM