TORONTO (Sep. 18) — At no time since 1967, until now, have the Maple Leafs been one player away from challenging for the Stanley Cup. Just how significant that piece remains is a matter of opinion.
In my view, it is fairly enormous — kind of like saying your teen–aged son is "one car away" from lugging his pals around the city. In most cases, it requires much toil and wherewithal to land your first automobile. Just as the Maple Leafs must somehow unearth their first Norris Trophy threat since Borje Salming nearly 40 years ago. So, yes, the club needs merely that single component. If found — and teamed with Frederik Andersen, Auston Matthews, Mitch Marner, William Nylander, Nazem Kadri and Patrick Marleau — the Leafs, without question, will stand alongside any rival in the now–31–team National Hockey League.
Better, I might suggest, to be a couple or three smaller components from legitimate contention. Considering, however, where the Leafs were two and three years ago, the club has made gargantuan strides — on and off the ice. Yet, it's the equivalent of hitting for the cycle in baseball. A triple is the rarest and most difficult feat to accomplish on the base–path, behind a single, double and home run. And, the Leafs are clearly a triple removed from completing their cycle of personnel. A rabid fan of the Blue and White will disagree, looking at how Pittsburgh won the Stanley Cup last spring with a pedestrian blue line. But, I've made the point more times than I care to remember in this space — that virtually every Cup champion since 1970 has required a Norris Trophy candidate performing at optimum level. The Maple Leafs, right now, have no–such entity.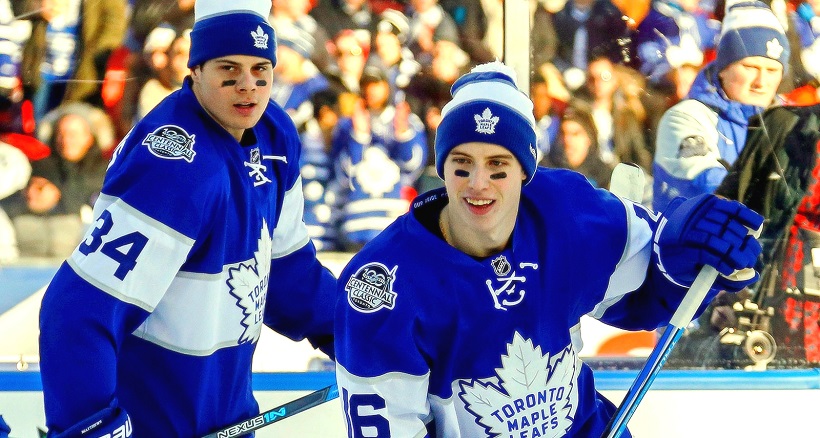 YOUNG AND GIFTED, WITH AUSTON MATTHEWS (34), MITCH MARNER (16) AND OTHERS, THE MAPLE LEAFS ARE STILL ONE VITAL COG REMOVED FROM STANLEY CUP CONTENTION. A BIG "ONE".
Times, of course, have changed in the NHL. In the mid–to–late–70's, the Leafs had the caliber of nucleus — Mike Palmateer, Darryl Sittler, Lanny McDonald, Salming and Ian Turnbull — that could win the Stanley Cup in today's balanced league. But, with no parity whatsoever back then, neither the Maple Leafs nor any other team could contend with Scotty Bowman's Montreal Canadiens. Perhaps an elite defenseman would have put Toronto over the top in the spring of 1993, when Doug Gilmour, Dave Andreychuk, Wendel Clark and Co. came to within five minutes of advancing to the Stanley Cup final. That blue line of Dave Ellett, Jamie Macoun, Todd Gill, Bob Rouse, Sylvain Lefebvre and Dmitri Mironov was good… but not good enough.
There's no "perhaps" with the current Leafs squad — deep and gifted up front as any in the post–1967 era. But, still lacking the anchor behind center–ice that is so difficult to develop/acquire. Imagine, if you will, the Leafs with Erik Karlsson, Victor Hedman, Drew Doughty, Oliver Ekman–Larsson or Roman Josi on the back end and you'll understand precisely what I'm getting at.
One player away.
Yet, one is still the loneliest number.
HEY, LOOK WHO'S 67 TODAY…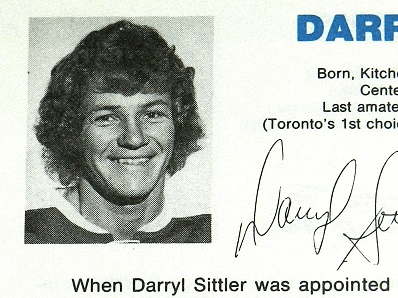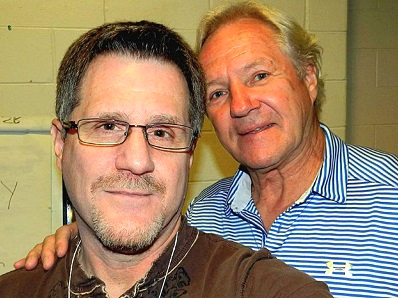 NO, NOT ME (DON'T RUSH, PLEASE), BUT THE FAMOUS MAN WITH ME (RIGHT) — MY ALL–TIME NO. 1 LEAF: DARRYL SITTLER. HAPPY BIRTHDAY NO. 27. KEEP SMILING. 🙂
YOUNG LEAFS / OLD LEAFS
There was a time in Maple Leafs history, very much like today, when the club introduced a trio of first–year players — two of which would land in the Hockey Hall of Fame. The 1973 NHL draft brought junior stars Lanny McDonald and Ian Turnbull to our city. They were joined by a little–known free agent defenseman from Sweden named Borje Salming. In the 1973–74 season, this threesome combined with such veterans as Dave Keon, Norm Ullman, Paul Henderson and Ron Ellis to author a 22–point ascent in the standings.
Machine-gun Lanny was inducted into the Players' category of the Hockey Hall in 1992; Salming in 1996.
Given the parallels between the Leafs club of 44 years ago, and that of today, I dug into my collection of Maple Leaf Gardens hockey programs from the '73–74 season. I turned 15 years of age that winter and attended roughly 15 Leaf games. I've kept a stack of programs purchased at the Gardens for $1 apiece. In this photo compilation, you'll see contents from home games against the Los Angeles Kings (twice), St. Louis Blues, Philadelphia Flyers, California Golden Seals, Vancouver Canucks, Atlanta Flames, Minnesota North Stars, New York Islanders, New York Rangers and Boston Bruins. The latter program is from Game 3 of the Leafs–Bruins Stanley Cup quarterfinal at the Gardens, as Phil Esposito, Bobby Orr and Co. swept the Blue and White in the opening round of the playoffs. Philadelphia defeated Boston in the spring of '74 to become the first of the six expansion teams from 1967 to win the Stanley Cup. It was an historic year in the NHL.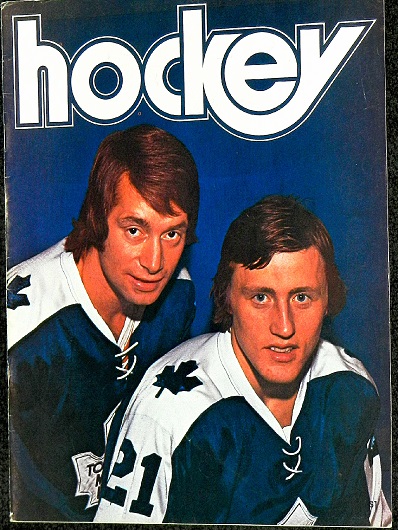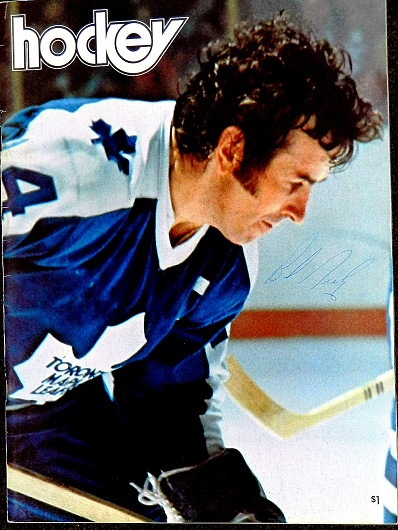 COVERS (ABOVE) FROM MAPLE LEAF GARDENS PROGRAMS IN 1973–74. SWEDISH PLAYERS INGE HAMMARSTROM AND BORJE SALMING (21) MADE THEIR NHL DEBUTS WHILE VETERAN CAPTAIN DAVE KEON (RIGHT) STRUCK FOR 25 GOALS IN HIS 14th SEASON WITH THE CLUB. I STILL HAVE A STACK OF GARDENS MAGAZINES (BELOW) FROM THAT BOUNCE–BACK LEAFS SEASON, 44 YEARS AGO.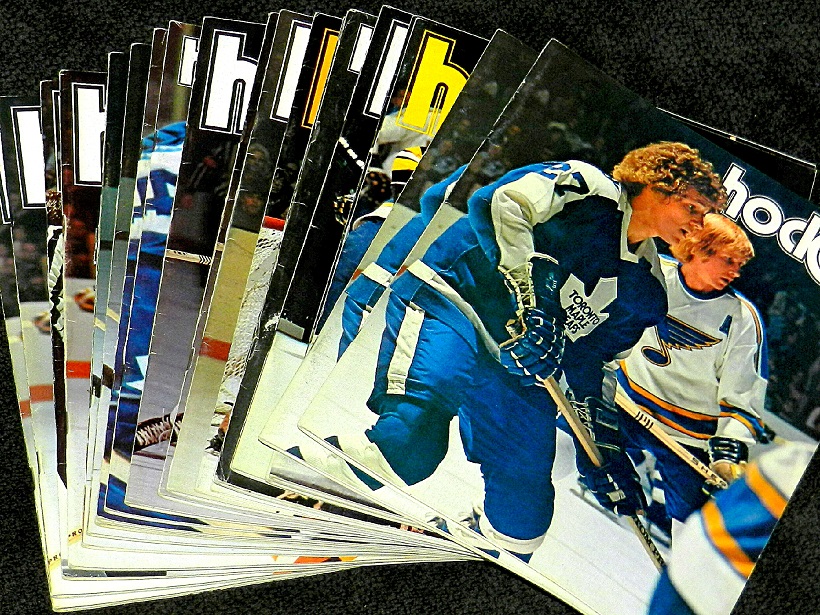 LOS ANGELES — Saturday, Oct. 13, 1973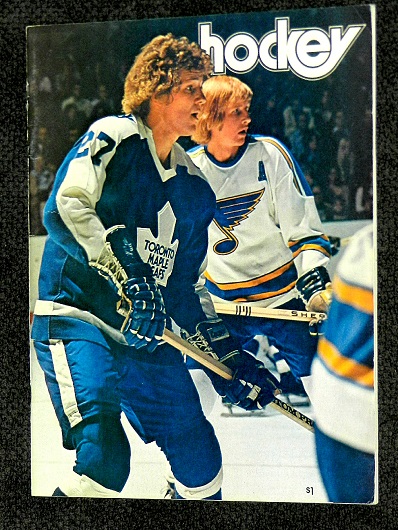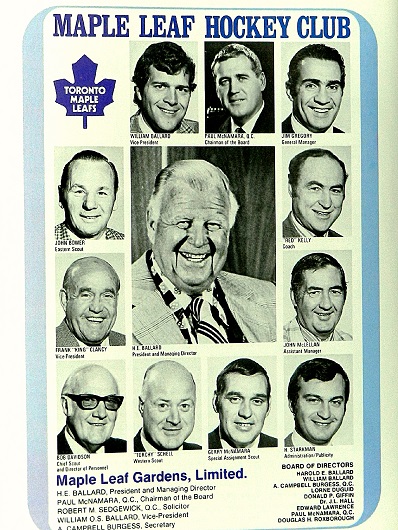 THE PROGRAM COVER FOR THE FIRST SATURDAY–NIGHT GAME OF THE SCHEDULE SHOWED DARRYL SITTLER (27) IN ACTION (TOP–LEFT) AT ST. LOUIS AGAINST FORMER LEAF GARRY UNGER. HAROLD BALLARD, THEN 70, RULED THE ROOST AT MAPLE LEAF GARDENS (RIGHT). THE LEAFS WERE MANAGED BY JIM GREGORY AND COACHED BY RED KELLY. AT BOTTOM–RIGHT IN THE ADMINISTRATION PHOTOS WAS PUBLICITY DIRECTOR HOWARD STARKMAN, WHO WENT ON TO THE SAME ROLE FOR 37 YEARS WITH THE EXPANSION TORONTO BLUE JAYS OF MAJOR LEAGUE BASEBALL (STARTING IN 1977).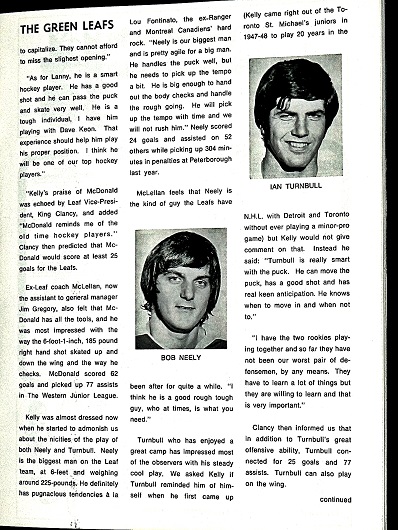 AS A YEAR AGO WITH WILLIAM NYLANDER, MITCH MARNER AND AUSTON MATTHEWS, THE YOUNG PLAYERS ON THE '73–74 LEAFS WERE QUICKLY FEATURED. LANNY McDONALD, BOB NEELY, IAN TURNBULL (ABOVE), INGE HAMMARSTROM AND BORJE SALMING (BELOW) WERE ALL NHL ROOKIES. SITTLER (BOTTOM–RIGHT) WAS IN HIS FOURTH SEASON.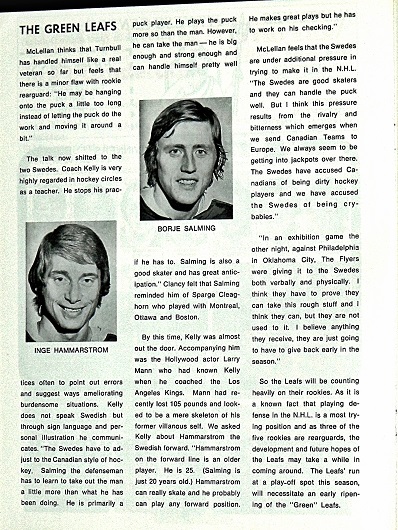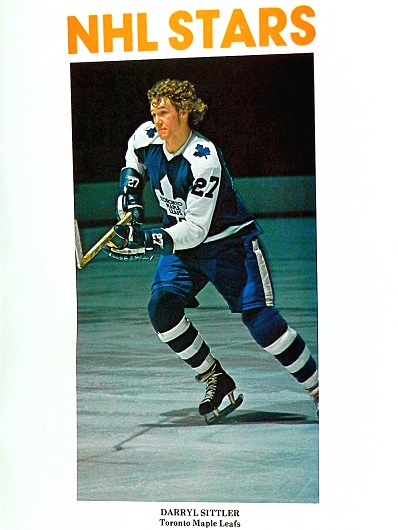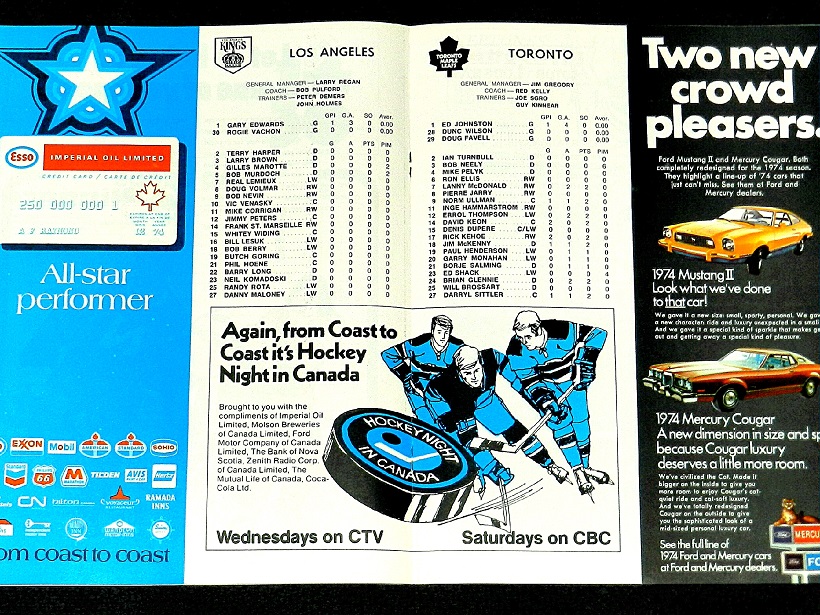 THE LEAFS CAME INTO THEIR FIRST SATURDAY GAME (6–3 VICTORY OVER L.A.) WITH A HOME WIN OVER BUFFALO AND A ROAD LOSS IN PHILADELPHIA. AS EVIDENCED BY THE LINE–UPS (BELOW), ROOKIES McDONALD AND SALMING RECORDED THEIR INITIAL NHL POINTS AGAINST THE SABRES AND FLYERS. THE KINGS WERE COACHED BY BOB PULFORD, A CENTER ON THE FOUR LEAF STANLEY CUP TEAMS OF THE 1960's. VETERAN WINGER BOB NEVIN (9) HAD PLAYED WITH PULFORD ON THE 1962 AND 1963 NHL CHAMPS. DAN MALONEY (27) WOULD COACH TORONTO AFTER HIS PLAYING CAREER (1984–86).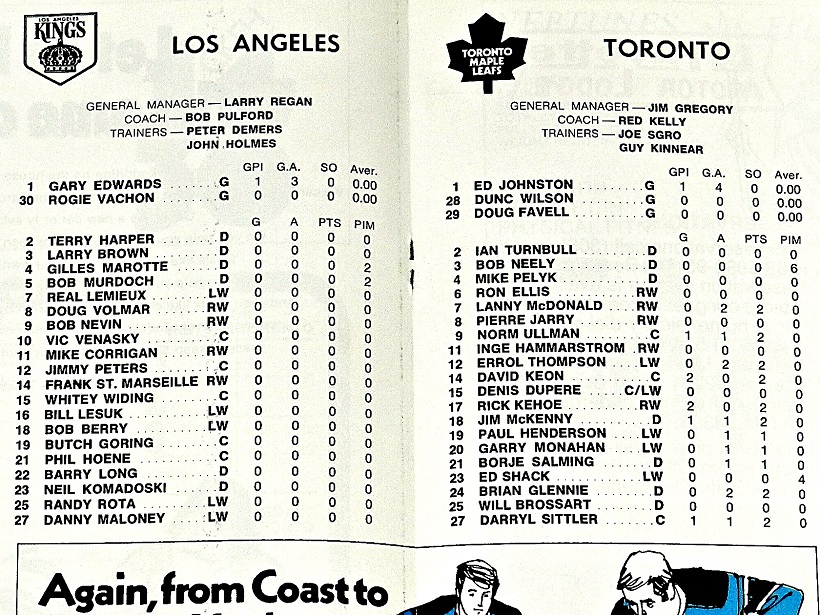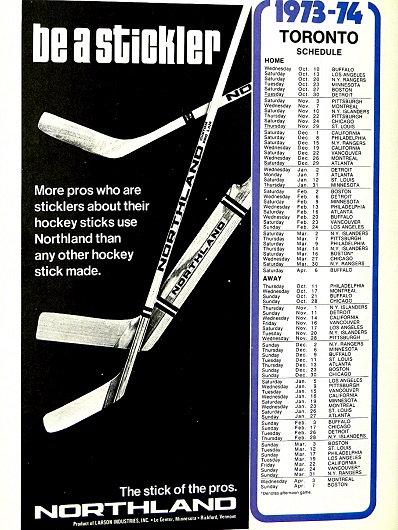 IN THE EARLY–70's, THE BUFFALO BRAVES OF THE NATIONAL BASKETBALL ASSOCIATION (TODAY, THE LOS ANGELES CLIPPERS) PLAYED SEVERAL HOME GAMES EACH YEAR AT MAPLE LEAF GARDENS — NINE OF THEM IN 1973–74. FIRST UP (AS PER PROGRAM AD, TOP–LEFT) WAS THE CLEVELAND CAVALIERS ON OCT. 26, 1973. THE BRAVES PLAYED THE MAJORITY OF THEIR HOME GAMES AT THE OLD MEMORIAL AUDITORIUM, WHICH THEY SHARED WITH THE BUFFALO SABRES.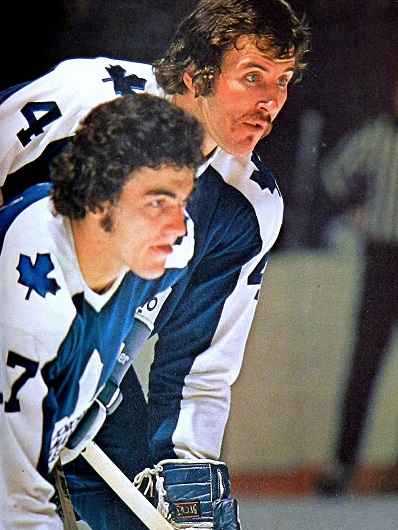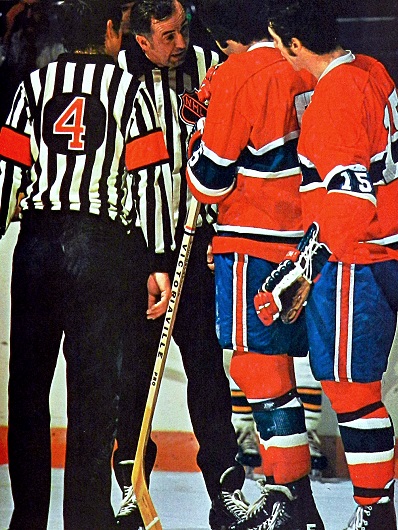 TOP–LEFT: LEAF PLAYERS IN 1973–74 RICK KEHOE (17) AND MIKE PELYK (4). PHOTO AT RIGHT SHOWS MONTREAL VETERANS GUY LAPOINTE (5) AND CLAUDE LAROSE (15) DEBATING WITH REFEREE RON WICKS (4) AND LINESMAN NEIL ARMSTRONG (WHOSE SON, DOUG, IS CURRENT GM OF THE ST. LOUIS BLUES).
ST. LOUIS — Thursday, Nov. 29, 1973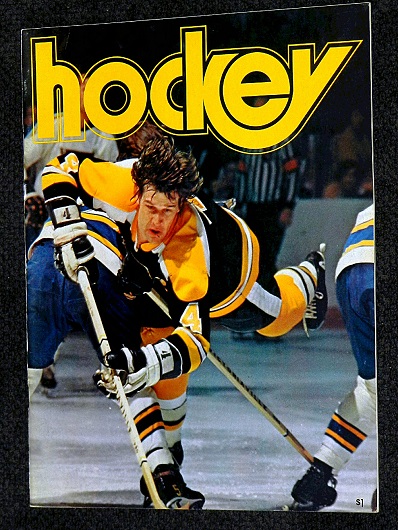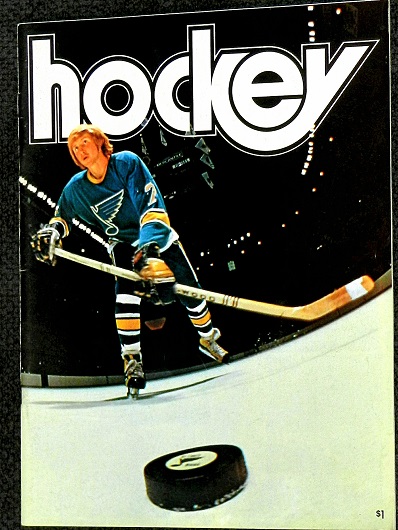 MLG PROGRAM COVERS FEATURING BOBBY ORR (LEFT) AND GARRY UNGER (THE LATTER, FROM NOV. 29, 1973).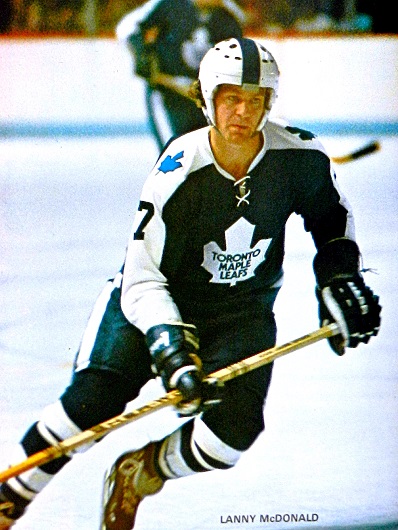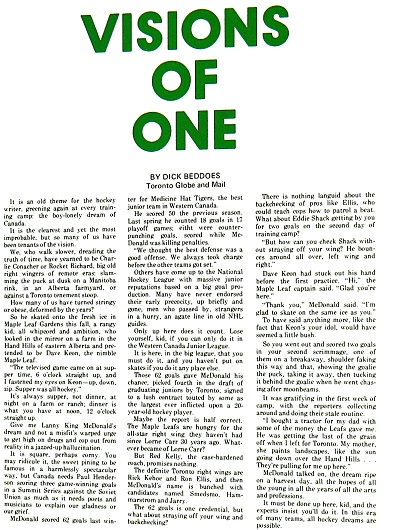 LANNY McDONALD WAS CLEANLY–SHAVEN DURING HIS ROOKIE SEASON WITH THE MAPLE LEAFS (HERE, SUBJECT OF A STORY BY THE LATE DICK BEDDOES). HIS LEGENDARY MUSTACHE BEGAN TO GROW THE FOLLOWING YEAR.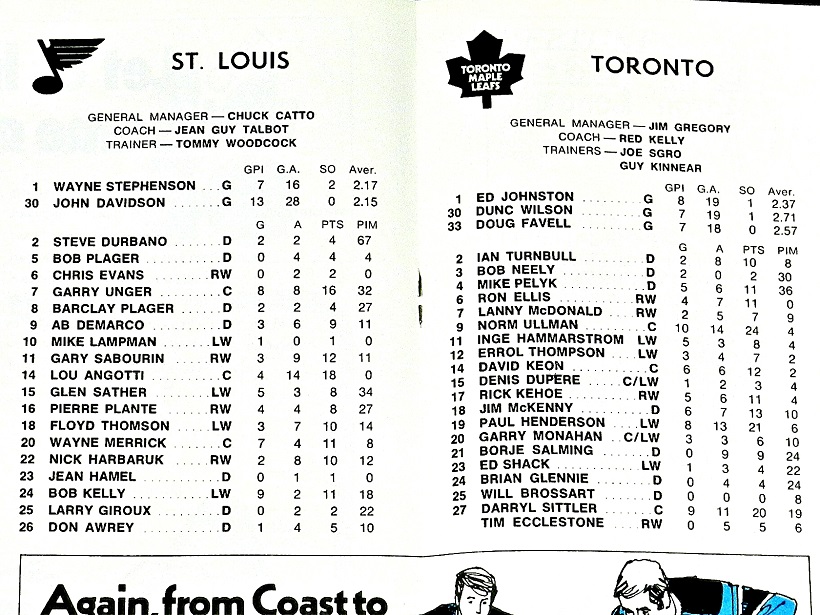 LEAFS WENT INTO THIS THURSDAY–NIGHT GAME WITH A 10–7–5 RECORD, COMING OFF A 4–3 WIN AT PITTSBURGH THE NIGHT BEFORE. THEY HANDILY DEFEATED ST. LOUIS, 5–1. AS YOU CAN SEE, BORJE SALMING WAS COMPILING ASSISTS, BUT STILL HADN'T SCORED HIS FIRST OF 150 NHL GOALS. McDONALD HAD THE FIRST TWO OF HIS EVENTUAL 500 NHL MARKERS. THE BLUES NO. 1 GOALIE WAS ROOKIE JOHN DAVIDSON, WHO WOULD GO ON TO BIGGER THINGS WITH THE NEW YORK RANGERS (GOALIE/BROADCASTER) AND IS CURRENTLY PRESIDENT OF THE COLUMBUS BLUE JACKETS. GLEN SATHER (15) OF ST. LOUIS WOULD LATER ENJOY MANY–A–BIG–NIGHT AS GM/COACH OF THE EDMONTON OILERS DYNASTY IN THE 1980's.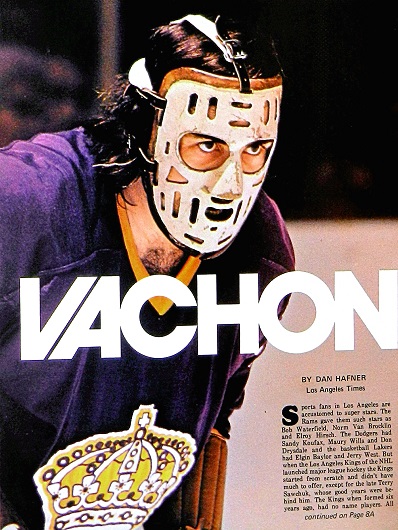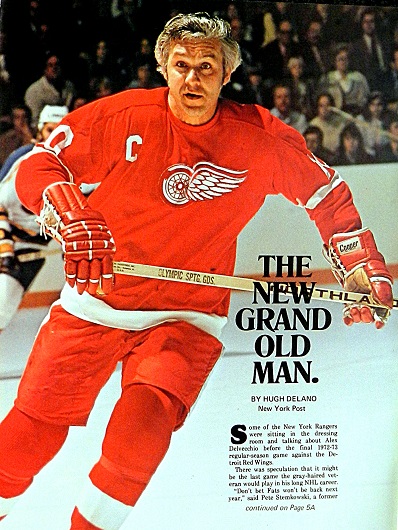 STORIES PUBLISHED IN THE MAPLE LEAFS PROGRAM FROM THE NHL's GOAL MAGAZINE ON ROGIE VACHON (LOS ANGELES) AND ALEX DELVECCHIO (DETROIT). GOAL (PHOTOS, BELOW) WAS IN ITS FIRST OF 19 SEASONS.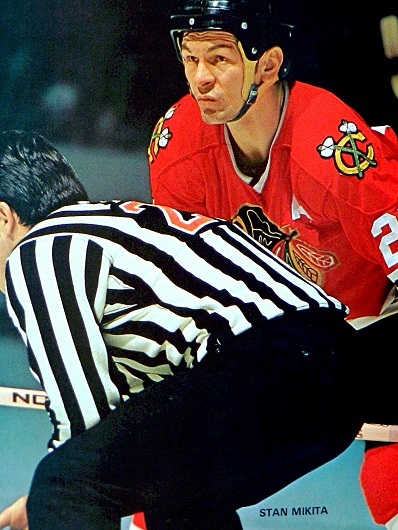 PHILADELPHIA — Saturday, Dec. 8, 1973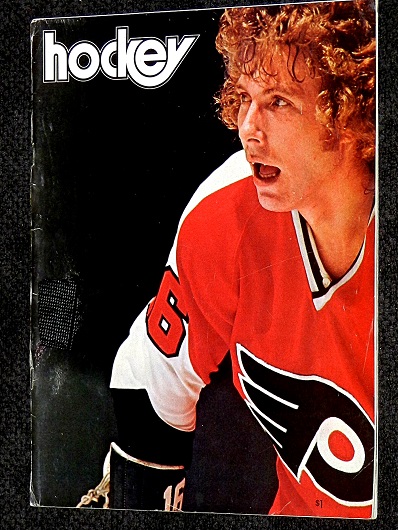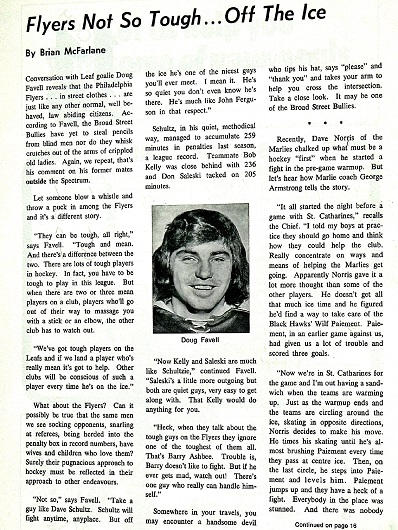 FLYERS CAPTAIN BOBBY CLARKE — IN HIS FIFTH NHL SEASON — ADORNED THE PROGRAM COVER FOR THE LEAFS 14th HOME GAME OF THE SEASON AND EX–PHILADELPHIA GOALIE, DOUG FAVELL (THEN WITH TORONTO) TOLD BRIAN McFARLANE OF HOCKEY NIGHT IN CANADA THAT THE "BROAD STREET BULLIES" WERE A BUNCH OF SWEET FELLOWS.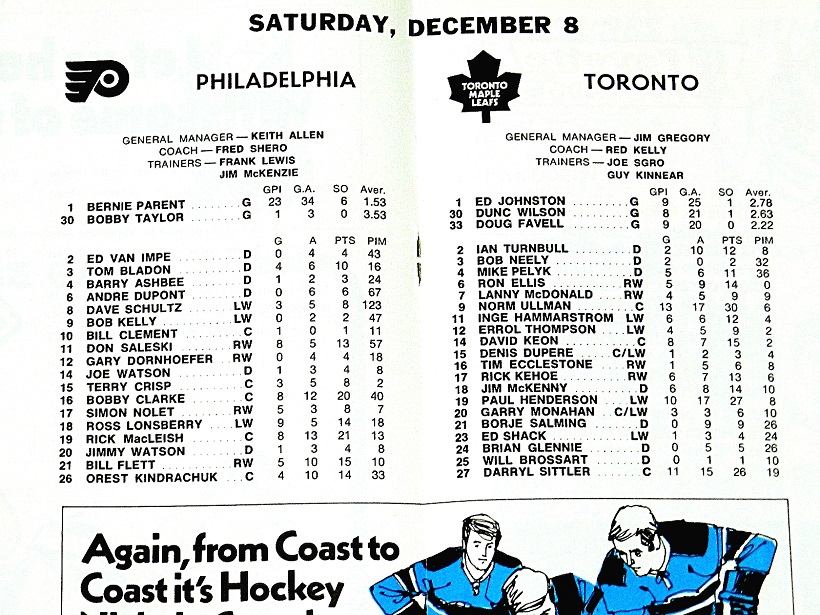 THESE WERE THE FLYERS THAT WOULD BECOME THE FIRST EXPANSION TEAM TO WIN THE STANLEY CUP — UPSETTING ESPOSITO, ORR AND THE BRUINS IN MAY 1974. PHILLY BEAT THE LEAFS, 3–1. THE BROAD STREET BULLIES DEPLOYED SKILL AND INTIMIDATION, LED BY WINGER DAVE SCHULTZ, WHOSE 123 PENALTY MINUTES WAS 87 MORE THAN THE "ANGRIEST" LEAF (MIKE PELYK). TORONTO VETERAN NORM ULLMAN LED ALL PLAYERS THIS NIGHT IN GOALS, ASSISTS AND POINTS.

CALIFORNIA — Wednesday, Dec. 19, 1973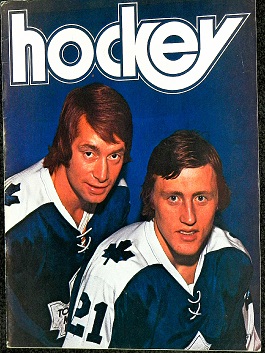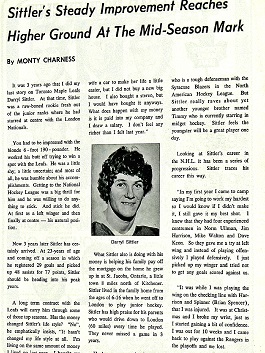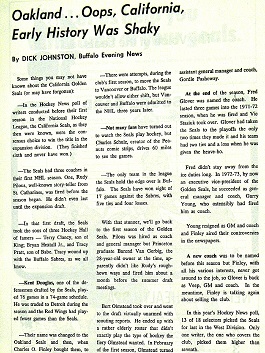 THE SWEDISH ROOKIES (HAMMARSTROM AND SALMING) WERE ON THE PROGRAM COVER FOR THE LEAFS 16th HOME GAME OF 1973–74, A 5–3 WIN OVER THE PERENNIAL ALSO–RANS FROM OAKLAND. TORONTO'S RECORD IMPROVED TO 15–11–6.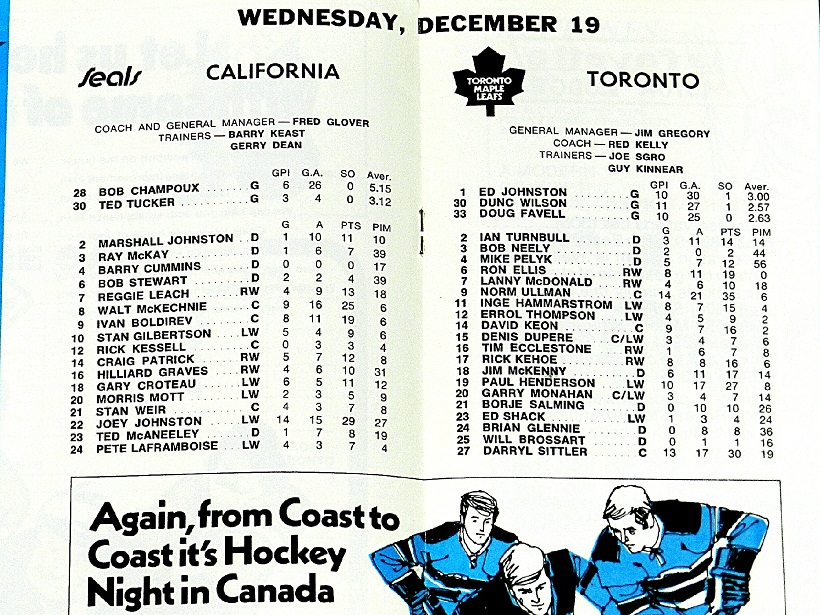 THE GOLDEN SEALS WERE LED BY LINEMATES WALT McKECHNIE AND JOEY JOHNSTON. McKECHNIE LATER PLAYED FOR THE LEAFS (1978–80). CALIFORNIA TRADED RIGHT–WINGER REGGIE LEACH (7) TO PHILADELPHIA ON MAY 24, 1974. LEACH WENT ON TO SEASONS OF 61, 50 AND 45 GOALS WITH THE FLYERS AND PLAYED ON THEIR SECOND STANLEY CUP TEAM, IN 1975. FORWARD CRAIG PATRICK (14) WOULD BE GM OF THE 1991 AND 1992 STANLEY CUP CHAMPIONS IN PITTSBURGH.

VANCOUVER — Saturday, Dec. 22, 1973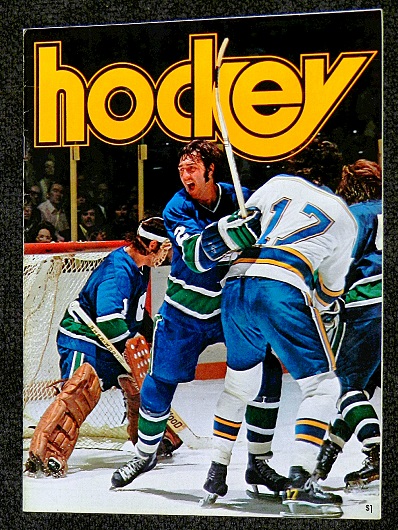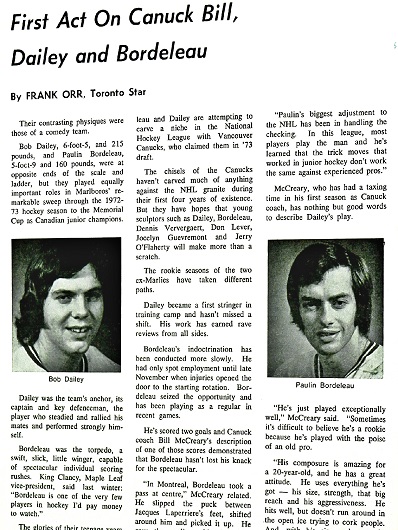 THREE NIGHTS LATER, VANCOUVER CAME TO TOWN AND BEAT THE LEAFS, 6–4. PLAYING FOR THE CANUCKS WERE A COUPLE OF JUNIOR GREATS FROM THE 1973 MEMORIAL CUP–CHAMPION TORONTO MARLBOROS: DEFENSEMAN BOB DAILEY AND LEFT–WINGER PAULIN BORDELEAU. DAILEY DIED OF CANCER LAST SEPTEMBER. HE WAS 63.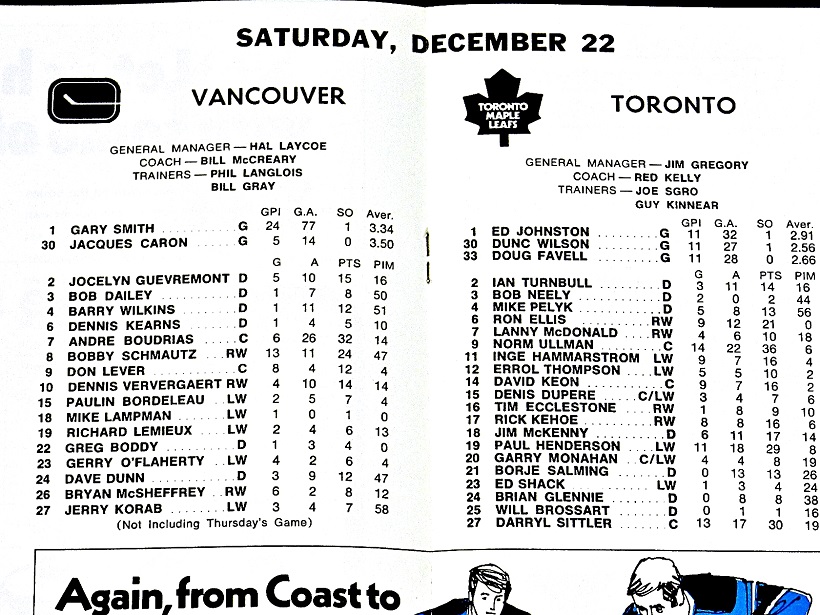 THE LEADING GOAL–SCORER FOR VANCOUVER WAS RIGHT–WINGER BOBBY SCHMAUTZ, WHO WOULD LATER BECOME ONE OF DON CHERRY'S FAVORITES ON THE "LUNCH–PAIL" BOSTON BRUINS OF THE LATE–70's.
ATLANTA — Saturday, Dec. 29, 1973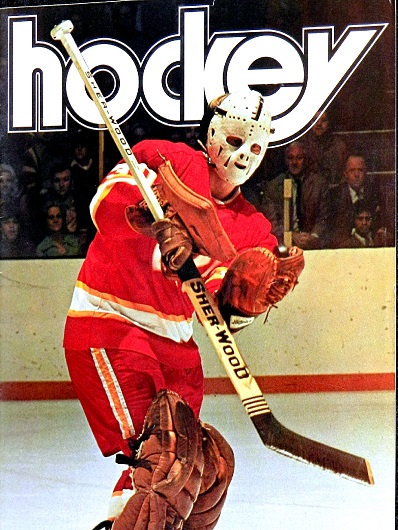 THE FLAMES WERE IN THEIR SECOND NHL SEASON AND PLAYED THE LEAFS TO A 3–3 DRAW IN TORONTO'S FINAL HOME GAME OF 1973. DAN BOUCHARD WAS ON THE COVER OF THE PROGRAM THAT NIGHT. HE AND PHIL MYRE HAD PROVIDED ATLANTA SOLID GOALTENDING IN ITS INAUGURAL SEASON OF 1972–73. THE FLAMES FINISHED WITH 65 POINTS — ONE MORE THAN THE LEAFS AND 35 MORE THAN THEIR EXPANSION–BRETHREN: THE NEW YORK ISLANDERS.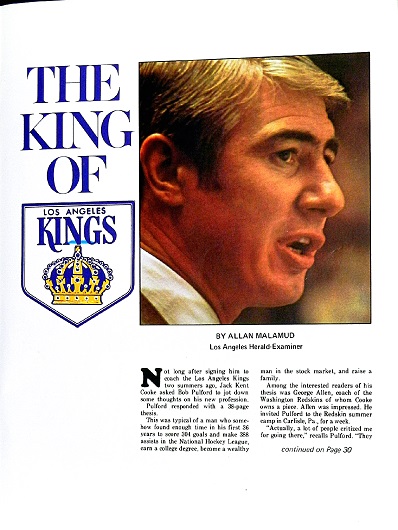 PROGRAM STORIES THAT NIGHT INCLUDED A COUPLE OF EX–MAPLE LEAF TEAMMATES: ROD SEILING (LEFT) AND BOB PULFORD. SEILING WOULD RETURN TO PLAY DEFENSE FOR TORONTO (1974–75 AND 1975–76).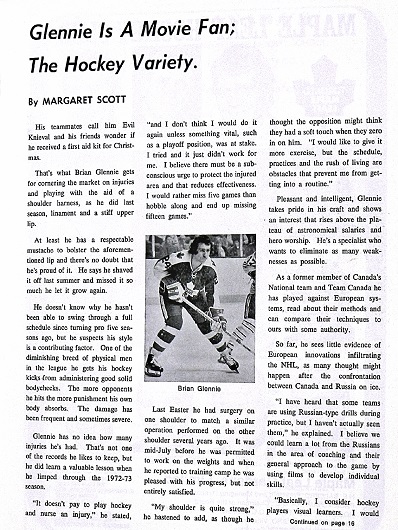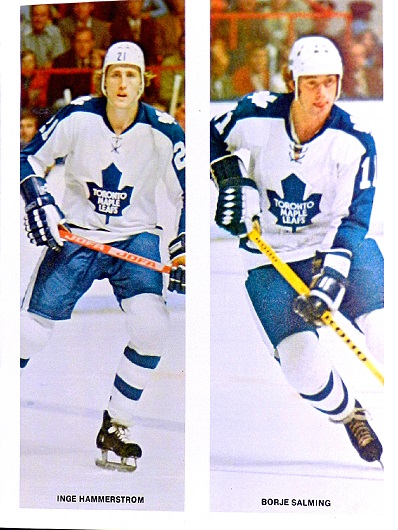 WHILE DEFENSEMAN BRIAN GLENNIE WATCHED MOVIES (LEFT), THE PROGRAM EDITORS NOT ONLY MIXED UP THE LEAFS SWEDISH ROOKIES (TOP–RIGHT) BUT ALSO MIS–SPELLED INGE HAMMARSTROM'S NAME. LOVELY.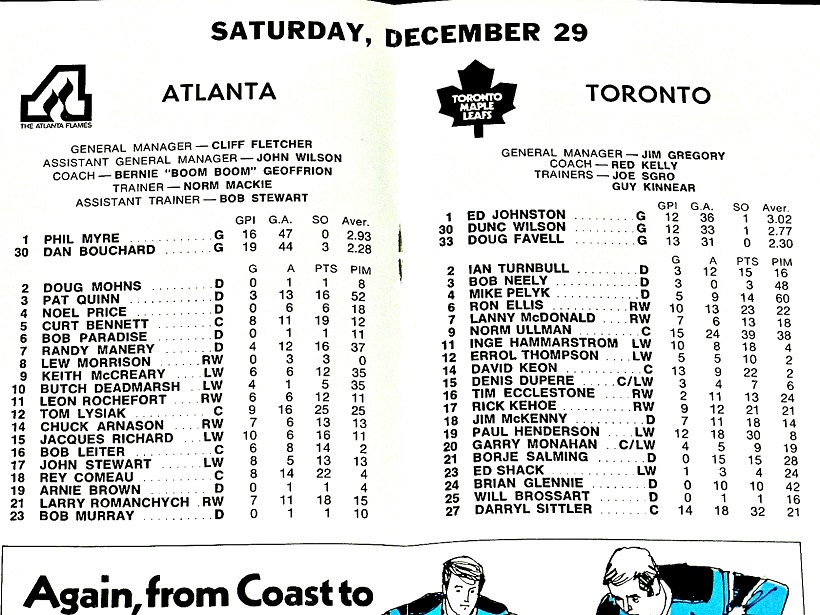 THE FLAMES WERE MANAGED BY CLIFF FLETCHER, LATE OF THE ST. LOUIS BLUES ORGANIZATION, AND COACHED BY BERNIE GEOFFRION, A HIGH–SCORING WINGER WITH MONTREAL DURING THE HABS' FIVE–YEAR STANLEY CUP RUN (1956–60). FORMER LEAF PAT QUINN (3) PATROLLED THE ATLANTA BLUE LINE. FLETCHER WOULD LATER (TWICE) BE GM OF THE LEAFS — FAMOUS FOR ENGINEERING THE RECORD, 10–PLAYER TRADE WITH HIS OLD CLUB THAT BROUGHT DOUG GILMOUR TO TORONTO. QUINN WOULD BE GM/COACH OF THE BLUE AND WHITE FROM 1998 TO 2006.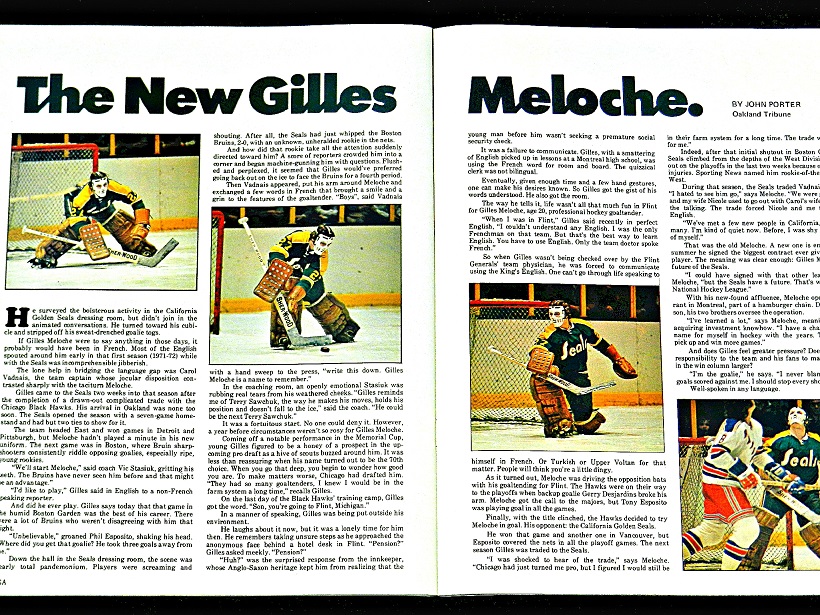 GILLES MELOCHE WAS AMONG THE BUSIEST MEN IN THE NHL, TENDING GOAL FOR THE INEPT CALIFORNIA SEALS.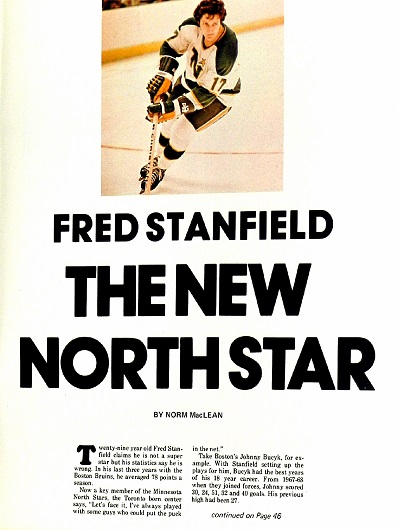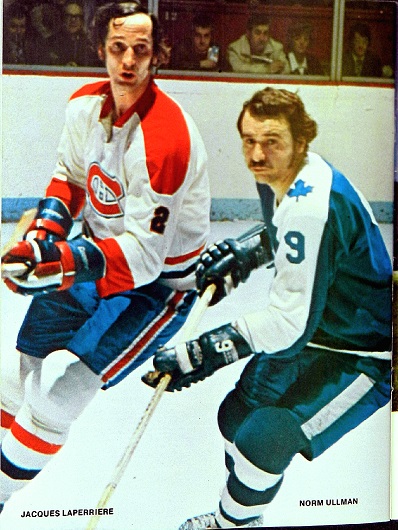 WINGER FRED STANFIELD (LEFT) WAS PART OF THE MULTI–PLAYER HEIST (IN MAY 1967) THAT BROUGHT PHIL ESPOSITO FROM CHICAGO TO BOSTON. HE WON THE STANLEY CUP WITH THE BRUINS IN 1970 AND 1972 BEFORE BEING TRADED TO THE NORTH STARS FOR GOALIE GILLES GILBERT (MAY 22, 1973). DEFENSEMAN JACQUES LAPERRIERE AND CENTER NORM ULLMAN (RIGHT) WERE TOP NHL VETERANS OF THE 1960's AND 70's.
MINNESOTA — Saturday, Feb. 9, 1974.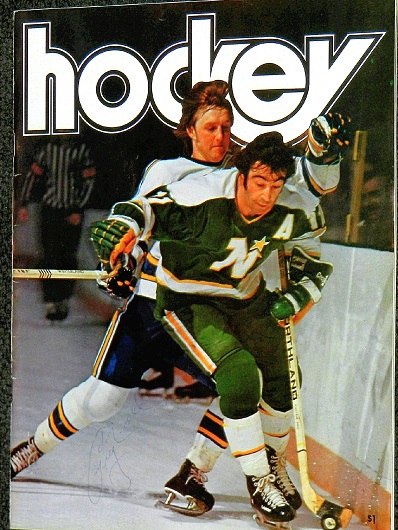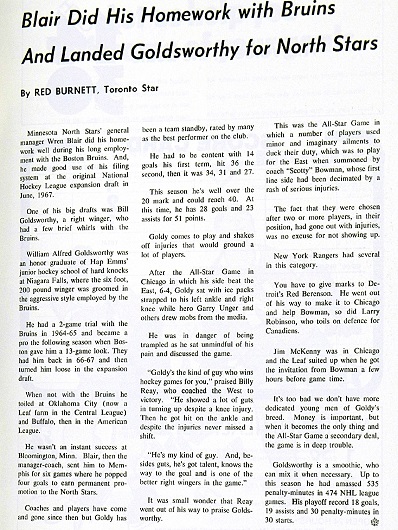 LEAFS WERE IN THE MIDST OF THEIR LONGEST UNBEATEN STREAK OF THE SCHEDULE WHEN THE NORTH STARS ARRIVED AT THE GARDENS. A 4–1 TORONTO VICTORY EXTENDED THE RUN TO SEVEN GAMES (4–0–3); THE CLUB IMPROVING TO 25–17–11 AFTER 53 STARTS. THE LATE JEAN–PAUL PARISE GRACED THE PROGRAM COVER THAT SATURDAY. A VETERAN OF TEAM CANADA 1972 AND FATHER OF MINNESOTA WILD FORWARD ZACH PARISE, J.P. DIED OF CANCER ON JAN. 7, 2015.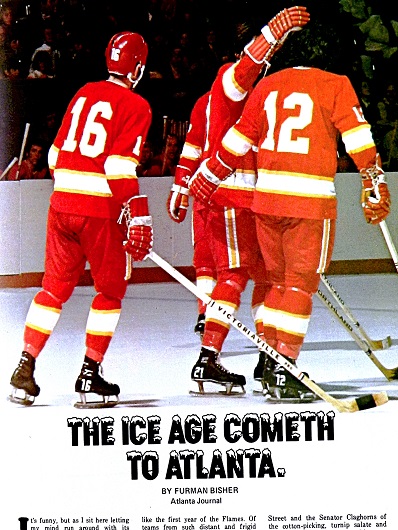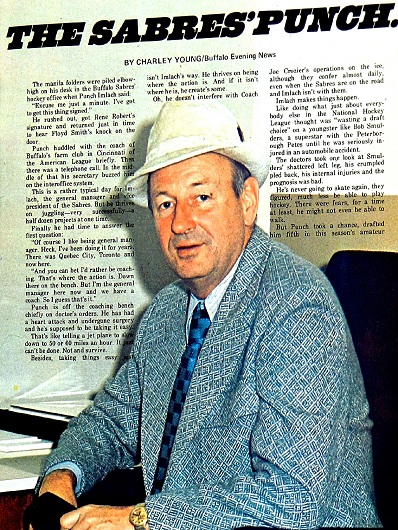 MAGAZINE ARTICLES ON THE SECOND–YEAR ATLANTA FLAMES AND 56–YEAR–OLD PUNCH IMLACH.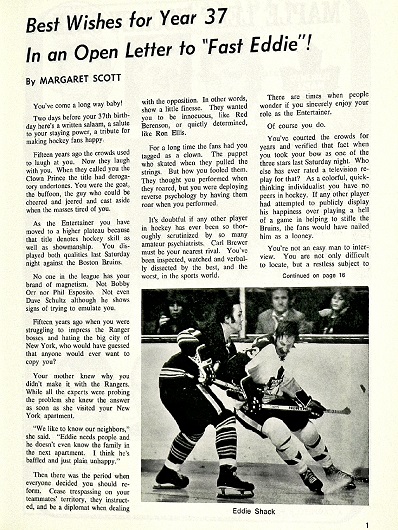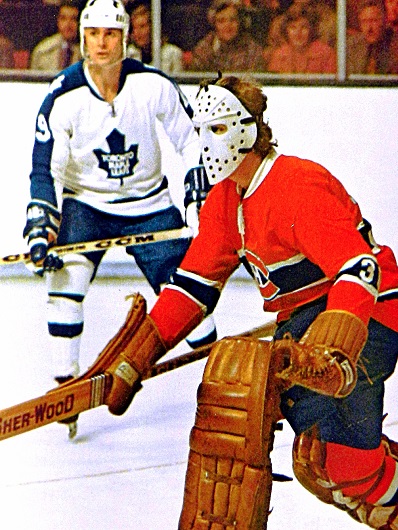 IT WAS TWO DAYS BEFORE EDDIE SHACK'S 37th BIRTHDAY AND WRITER MARGARET SCOTT PAID TRIBUTE (TOP–LEFT) TO THE POPULAR LEAF — RETURNING, IN 1973–74, AFTER A NOMADIC, SIX–YEAR RIDE WITH BOSTON, LOS ANGELES, BUFFALO AND PITTSBURGH. TEAM CANADA '72 HERO PAUL HENDERSON OF THE LEAFS WAS PICTURED (TOP–RIGHT) IN A HOME GAME AGAINST MONTREAL, WHOSE GOALIE, WAYNE THOMAS, WOULD BECOME TORONTO'S NO. 1 STOPPER IN 1975–76.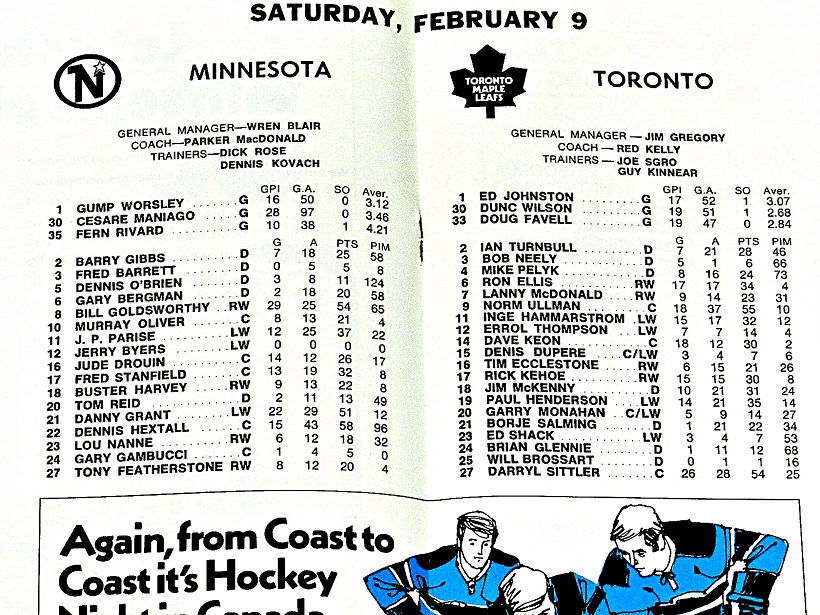 BORJE SALMING HAD FINALLY SCORED HIS FIRST NHL GOAL IN A 4–3 LOSS AT MONTREAL ON JAN. 23, 1974. HE ADDED HIS FIRST GOAL AT MAPLE LEAF GARDENS EARLY IN THIS GAME — BEATING VETERAN LORNE (GUMP) WORSLEY AT 1:36 OF THE OPENING PERIOD ON PASSES FROM RON ELLIS AND NORM ULLMAN. WORSLEY, NEARING THE END OF HIS CAREER, SHARED THE BULK OF MINNESOTA'S NETMINDING CHORES WITH ORIGINAL NORTH STAR (FROM 1967) CESARE MANIAGO. WINGER BILL GOLDSWORTHY (8) HAD 29 OF A CAREER–HIGH 48 GOALS THAT SEASON FOR MINNESOTA.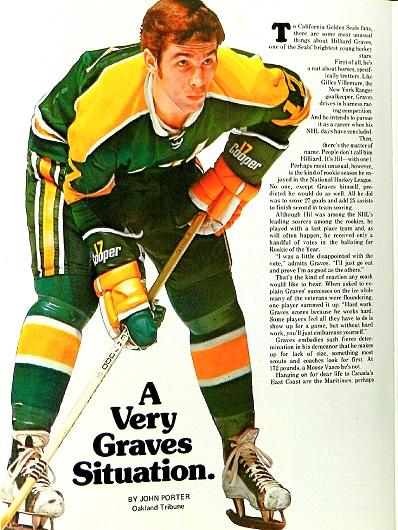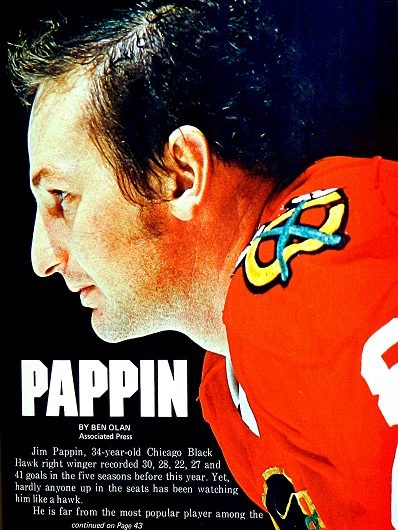 PROGRAM ARTICLES ON HILLARD GRAVES OF THE CALIFORNIA SEALS (TOP–LEFT); EX–LEAF JIM PAPPIN OF THE CHICAGO BLACK HAWKS (RIGHT) AND THE VENERABLE ST. LOUIS ARENA (BELOW), HOME OF THE BLUES (1967–94).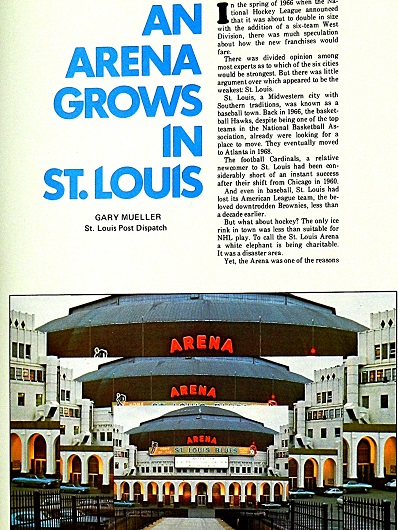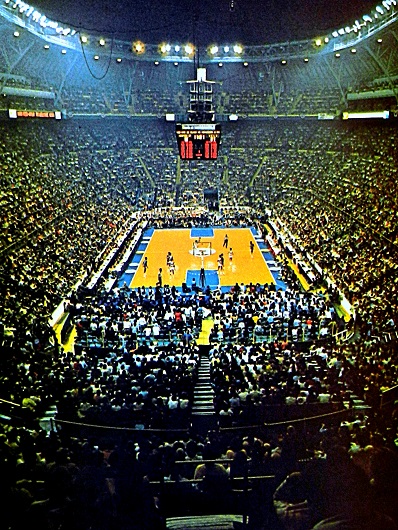 LOS ANGELES — Sunday, Feb. 24, 1974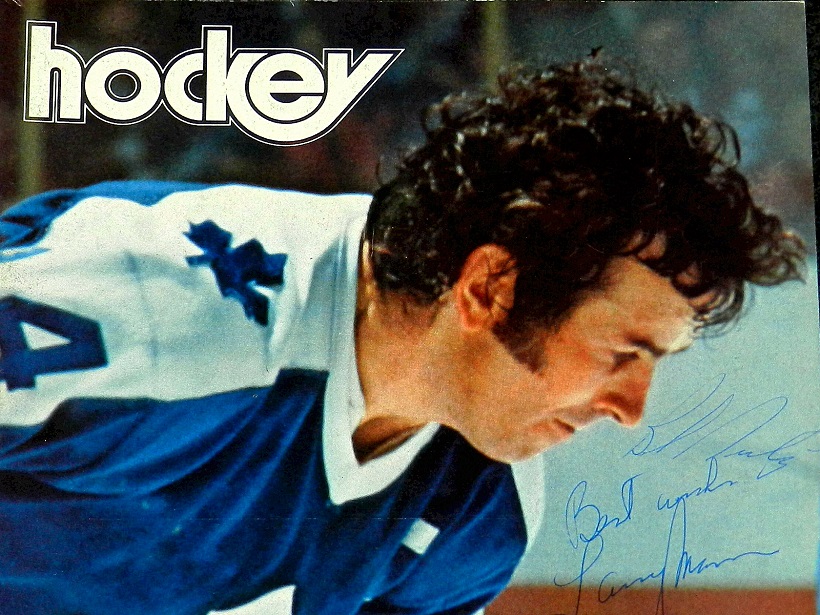 THERE WAS PALPABLE SADNESS AT MAPLE LEAF GARDENS FOR THIS RARE, SUNDAY–NIGHT NHL GAME. JUST FOUR NIGHTS EARLIER, AFTER PLAYING FOR BUFFALO AT THE GARDENS, FORMER LEAFS DEFENSEMAN TIM HORTON HAD DIED IN A SINGLE–CAR ACCIDENT ON THE QUEEN ELIZABETH WAY (QEW) NEAR ST. CATHARINES, ONT. HIS FUNERAL WAS SET FOR THE FOLLOWING DAY, IN TORONTO. THE LEAFS AND KINGS SKATED TO A 3–3 TIE, A NIGHT AFTER VANCOUVER HAD PREVAILED, 4–3, AT MLG. DAVE KEON — HORTON'S TEAMMATE ON THE FOUR STANLEY CUP TEAMS OF THE 60's — WAS ON THE FRONT OF THE PROGRAM. ALONG WITH AUTOGRAPHS FROM LEAFS ROOKIE BOB NEELY AND CANADIAN ACTOR LARRY MANN (1922–2014), WHO LIVED IN LOS ANGELES. I WOULD SEE MANN AGAIN THE NEXT DAY, AS I SKIPPED GRADE 9 CLASSES AND ATTENDED HORTON'S FUNERAL AT ORIOLE–YORK MILLS UNITED CHURCH (NOW BAYVIEW UNITED CHURCH). HERE WAS A FILMED REPORT THAT EVENING FROM CBC NEWS… http://www.cbc.ca/player/play/1403706583.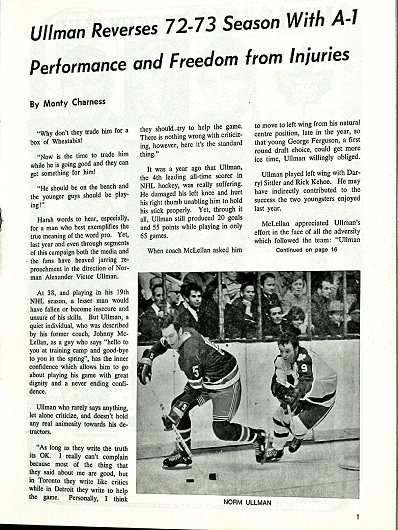 PHIL ESPOSITO (TOP–RIGHT) WAS HOCKEY'S MOST–FEARED SCORER IN THE EARLY–70's. HE HAD 68 GOALS IN 1973–74.

ANOTHER FUTURE LEAFS COACH — MIKE MURPHY (1996–98) — WAS PLAYING FOR LOS ANGELES AFTER BEING TRADED (NOV. 30, 1973) BY THE NEW YORK RANGERS. AS YOU CAN SEE, THE THREE–GOALIE ROTATION TORONTO DEPLOYED THAT SEASON WAS SPLIT WITH NEAR–PRECISION BETWEEN EDDIE JOHNSTON, DUNC WILSON AND DOUG FAVELL.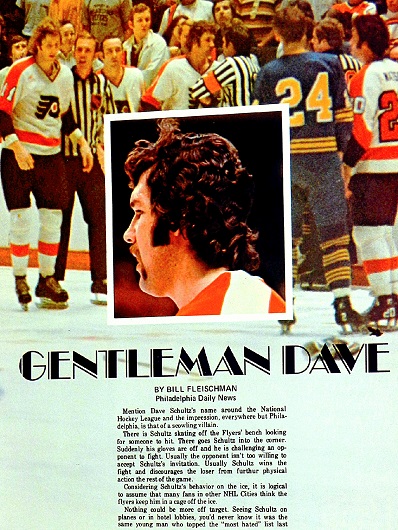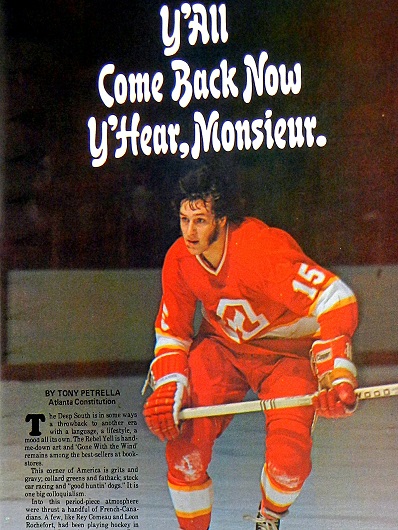 PROGRAM ARTICLES ON DAVE SCHULTZ OF PHILADELPHIA (TOP–LEFT); JACQUES RICHARD OF ATLANTA (RIGHT) AND VETERAN GOALIE ED GIACOMIN OF THE RANGERS (BOTTOM–LEFT). ALSO, THE "ZEBRAS" (BOTTOM–RIGHT).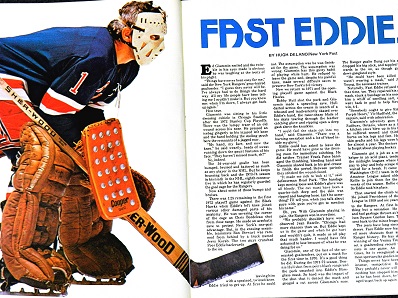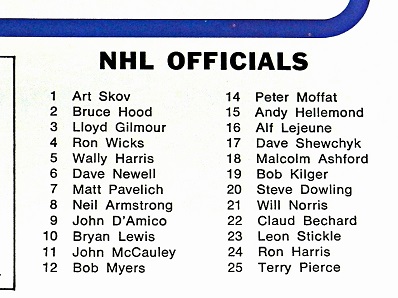 DAVE KEON (ATTENTIVE) AND GUMP WORSLEY (OUT COLD) — FROM THE GARDENS' MAGAZINE.
NEW YORK ISLANDERS — Saturday, Mar. 2, 1974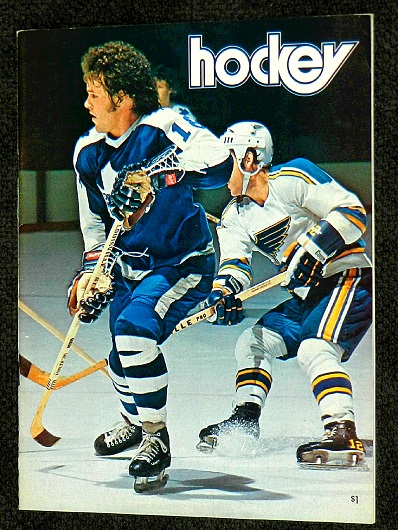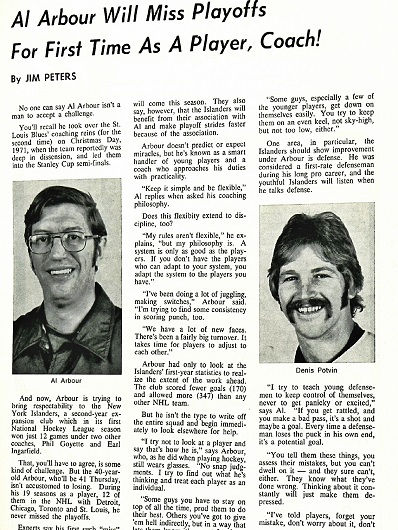 LEAFS DEFENSEMAN JIM McKENNY WAS ON THE COVER FOR THE SECOND OF A HOME–AND–HOME SERIES AGAINST THE NEW YORK ISLANDERS — TORONTO HAVING WON, 6–4, AT NASSAU COLISEUM TWO NIGHTS EARLIER. THE LEAFS MADE IT A SWEEP WITH A 5–2 VICTORY AT THE GARDENS OVER AL ARBOUR AND DENIS POTVIN (TOP–RIGHT), WHOSE STANLEY CUP DYNASTY IN UNIONDALE, N.Y. WOULD BEGIN JUST MORE THAN SIX YEARS LATER. MEANTIME, POTVIN'S FORMER JUNIOR DEFENSE–MATE IN OTTAWA, IAN TURNBULL, WAS MAKING HIS MARK (BELOW) ON THE TORONTO BLUE LINE.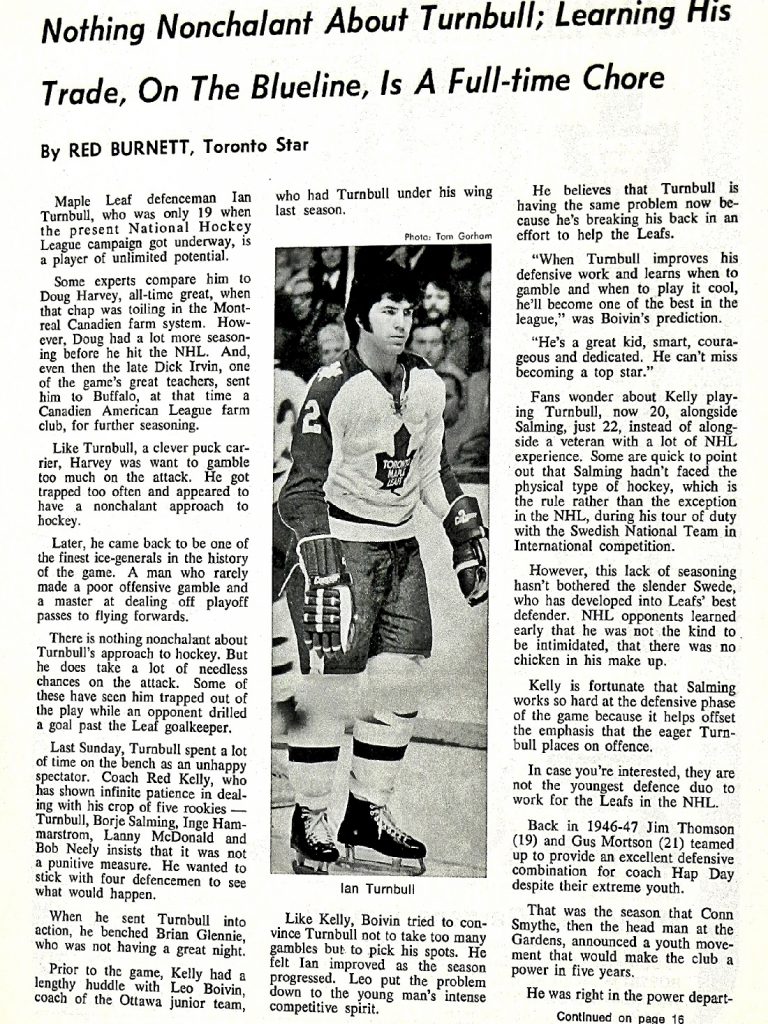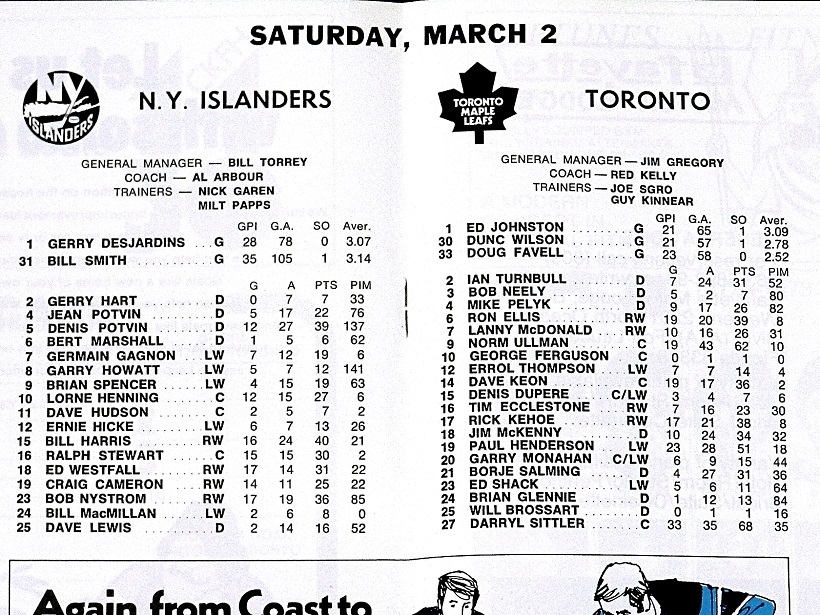 IN JUST THEIR SECOND NHL SEASON, THREE OF THE ISLANDERS' STANLEY CUP CORNERSTONES WERE ALREADY IN PLACE: POTVIN (5), GOALIE BILLY SMITH (31) AND FORWARD BOB NYSTROM (23). THEY WOULD SOON BE JOINED BY BRYAN TROTTIER, CLARK GILLIES AND MIKE BOSSY. ISLANDERS REMAIN THE LAST TEAM TO WIN FOUR CONSECUTIVE NHL CHAMPIONSHIPS, BEGINNING IN 1980, ON NYSTROM'S GAME 6 OVERTIME GOAL AGAINST PHILADELPHIA.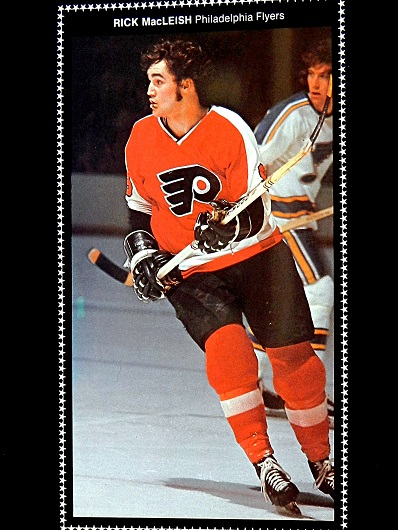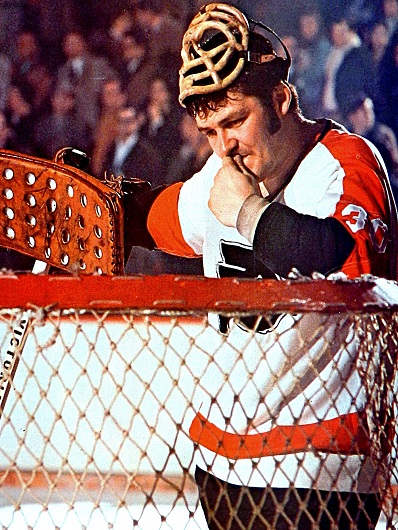 RICK MacLEISH AND BERNIE PARENT WERE ABOUT TO WIN THEIR FIRST OF CONSECUTIVE STANLEY CUPS WITH THE FLYERS.
NEW YORK RANGERS — Saturday, Mar. 30, 1974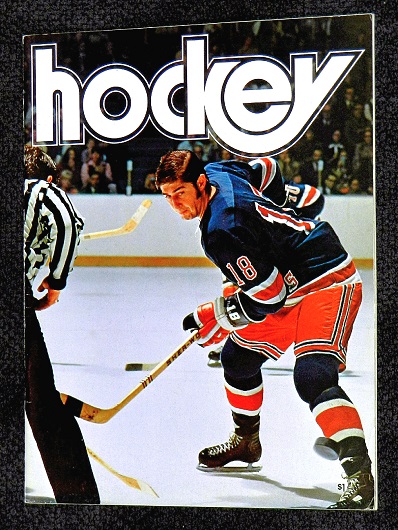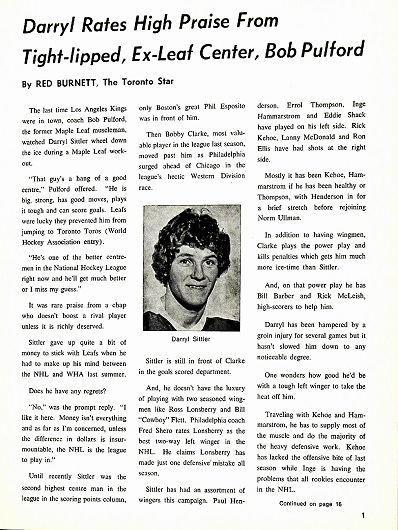 THE LEAFS SEEMED POISED FOR A DECENT PLAYOFF CHALLENGE AFTER DRUBBING THE RANGERS, 7–3, ON THE PENULTIMATE SATURDAY OF THE 1973–74 SEASON. NEW YORK CENTER WALT TKACZUK (PRONOUNCED KA–CHUK) WAS ON THE PROGRAM COVER, AND 23–YEAR–OLD DARRYL SITTLER RECEIVED ACCOLADES FOR LEADING THE LEAFS IN SCORING (HE'D FINISH WITH A TEAM–HIGH 38 GOALS AND 84 POINTS). TORONTO WOULD PLACE FOURTH IN THE EAST DIVISION WITH A RECORD OF 35–27–16 FOR 86 POINTS; QUITE A BOUNCE–BACK FROM 27–41–10 FOR 64 POINTS IN 1972–73.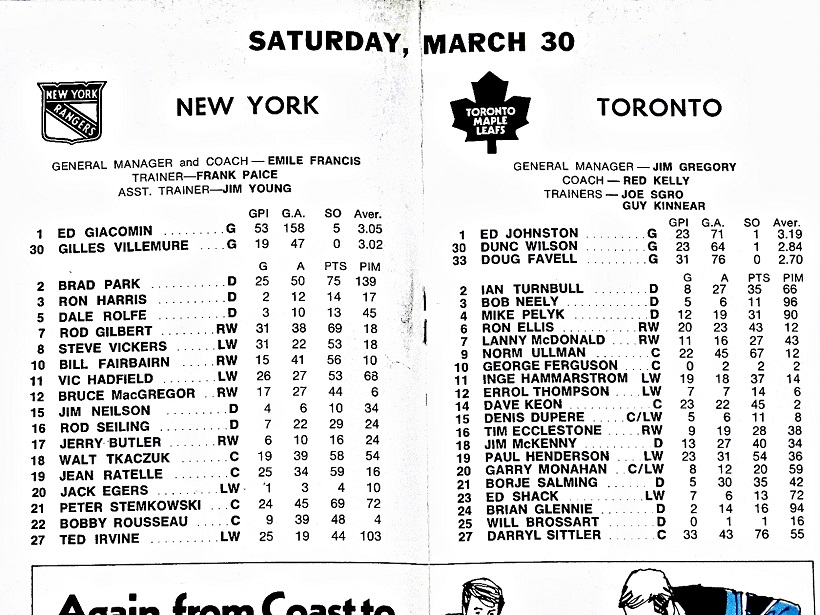 THIS TURNED OUT TO BE LAST CALL FOR THE GOOD RANGERS TEAM PUT TOGETHER BY EMILE FRANCIS IN THE LATE–60's — FEATURING ED GIACOMIN (1) IN GOAL; BRAD PARK (2) ON DEFENSE; ROD GILBERT (7), VIC HADFIELD (11) AND JEAN RATELLE (19) UP FRONT. SIGNIFICANT, UNTIMELY INJURIES, AND A GUY IN BOSTON NAMED ORR, ULTIMATELY PREVENTED NEW YORK FROM WINNING THE STANLEY CUP. RANGERS WERE DEFEATED BY THE BRUINS FOR THE 1972 NHL TITLE.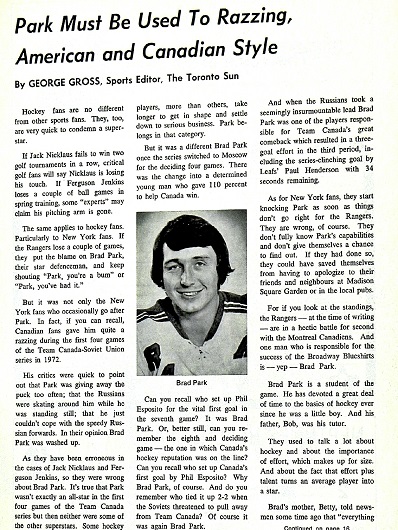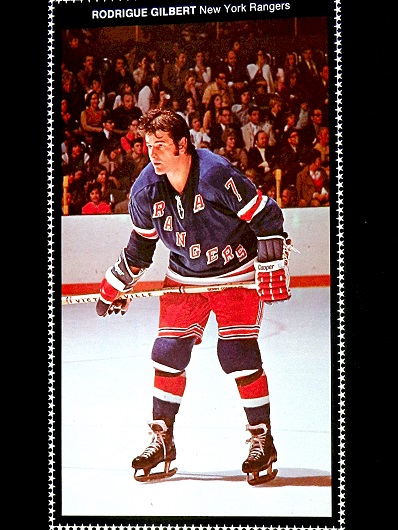 NEW YORK STALWARTS BRAD PARK (LEFT) AND ROD GILBERT.
BOSTON — Saturday, Apr. 13, 1974
STANLEY CUP QUARTERFINALS — Game 3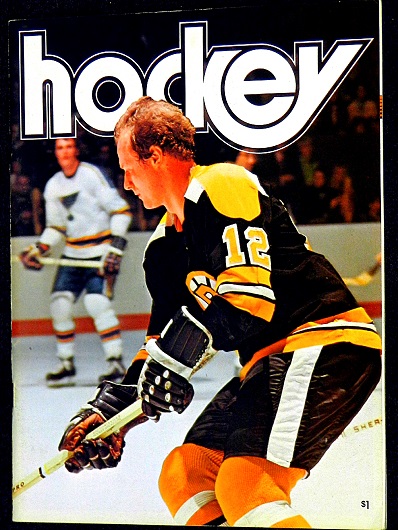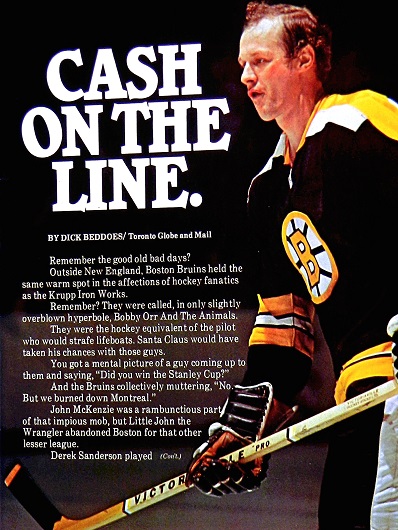 BOSTON DEFEATED THE LEAFS 1–0 AND 6–3 AT HOME TO CARRY A 2–0 LEAD IN THE BEST–OF–SEVEN OPENING PLAYOFF ROUND INTO MAPLE LEAF GARDENS. HOPING THAT EDDIE JOHNSTON MIGHT BE PRIMED TO DEFEAT HIS OLD TEAM, LEAFS COACH RED KELLY STARTED THE VETERAN GOALIE IN GAME 3, BUT TO NO AVAIL. THE BRUINS AGAIN PREVAILED, 6–3. RUGGED FORWARD WAYNE CASHMAN WAS ON THE FRONT AND INTERIOR OF THE PROGRAM THAT SATURDAY NIGHT. A STORY (BELOW) BY TORONTO SUN HOCKEY WRITER JOHN IABONI FEATURED A TERRIFIC PHOTO OF DAVE KEON (14) AND DETROIT'S RED BERENSON (7) FACING OFF EARLIER IN THE SEASON AT THE GARDENS. THE REFEREE WAS ART SKOV.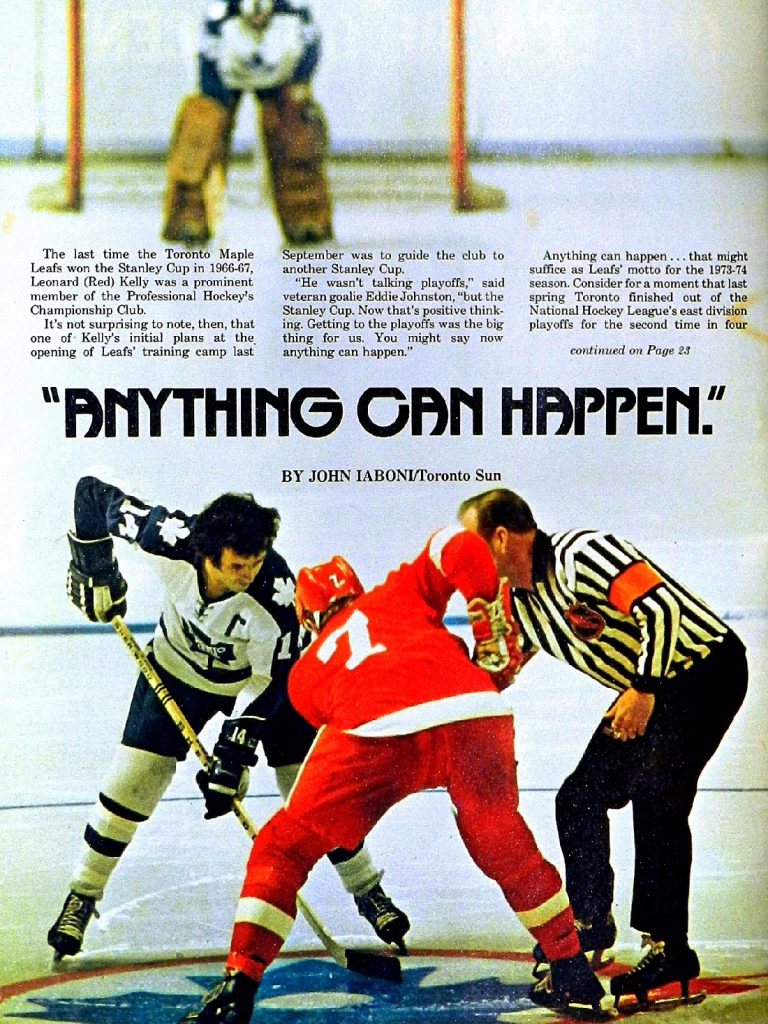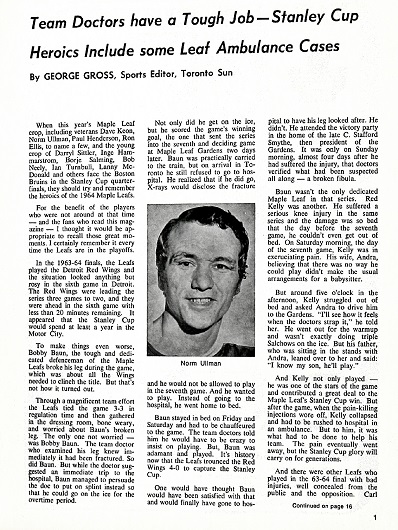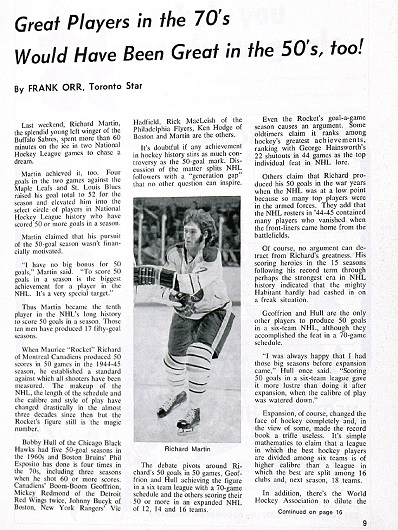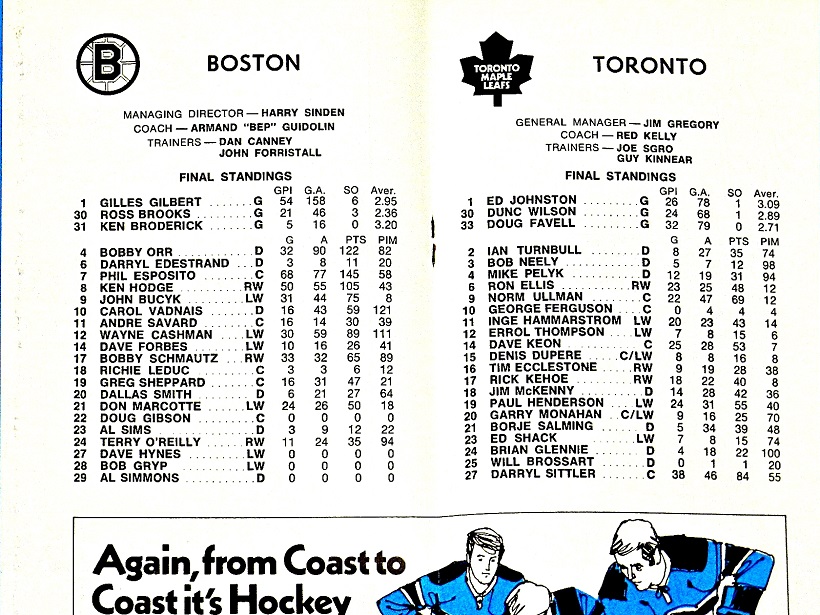 HARD TO BELIEVE THIS POWERFUL BRUINS TEAM COULD LOSE FOUR OF SEVEN GAMES IN A PLAYOFF ROUND — WITH BOBBY ORR AND PHIL ESPOSITO ARGUABLY THE TWO BEST HOCKEY PLAYERS IN THE WORLD. BUT, THE BEST GOALIE ON EARTH — BERNIE PARENT OF PHILADELPHIA — WAS THE DIFFERENCE IN THE 1974 STANLEY CUP FINAL AND THE FLYERS PREVAILED OVER BOSTON IN SIX GAMES TO BECOME THE FIRST EXPANSION TITLIST. OH YEAH, PARENT'S TEAMMATE, BOBBY CLARKE (FINAL SCORING STATS, BELOW) WASN'T BAD EITHER.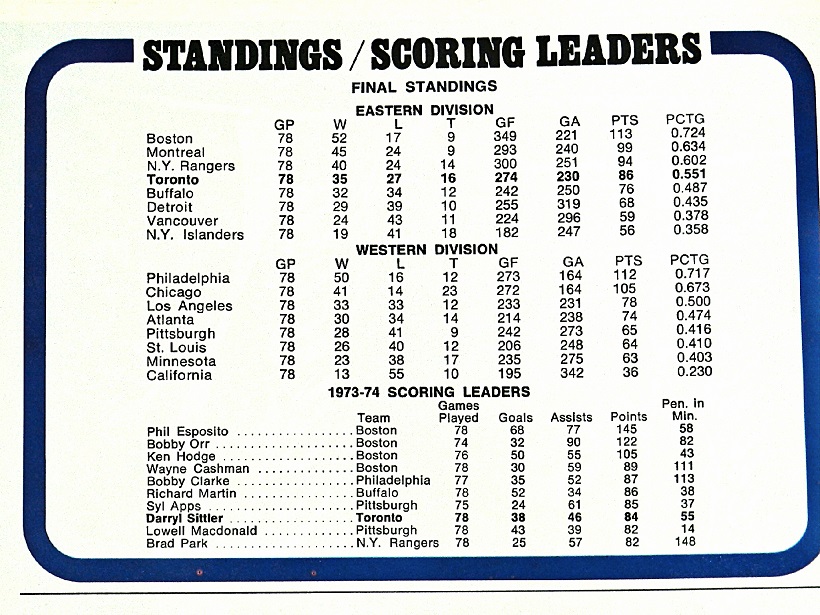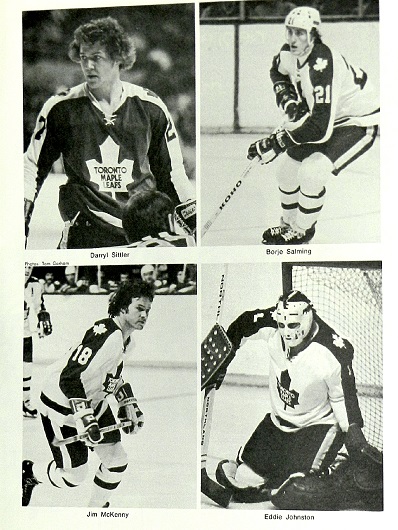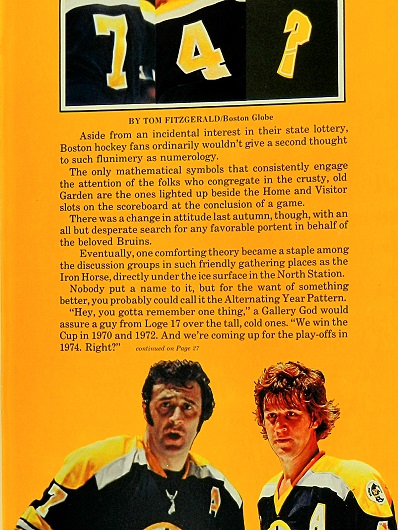 IT WOULD BE ALL OVER FOR THE PLUCKY LEAFS OF 1973–74 THE FOLLOWING NIGHT — SUNDAY, APR. 14 — WHEN KEN HODGE SCORED EARLY IN OVERTIME ON DOUG FAVELL TO GIVE THE BRUINS A FOUR–GAME QUARTERFINAL SWEEP. ORR AND ESPO (TOP–RIGHT) WERE TOO MUCH FOR THE LEAFS TO HANDLE.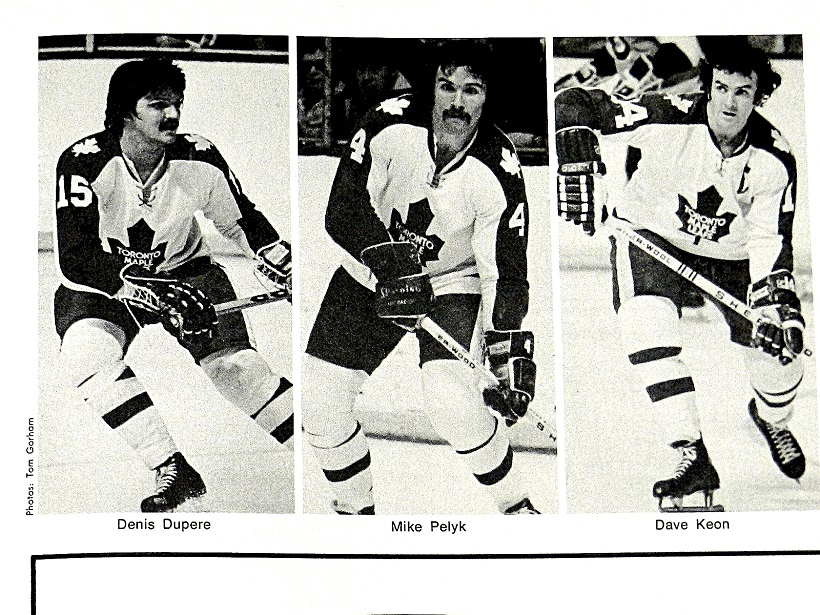 EMAIL: HOWARDLBERGER@GMAIL.COM