TORONTO (Oct. 28) — During my years (1994–2011) covering the Toronto Maple Leafs as a reporter for The FAN–590, I dealt with seven head coaches: Pat Burns, Nick Beverley, Mike Murphy, Pat Quinn, Paul Maurice, Ron Wilson and Randy Carlyle. Naturally, they all despised losing, but handled it according to personality. Beverley, Murphy and Maurice were rarely unpleasant. Quinn, Wilson and Carlyle were grumpy and sarcastic after a loss. Burns was often incredulous, as if the players had deliberately sought to torment him.
Mike Babcock, the current Toronto coach, is a slightly more–composed version of Burns, who died in November 2010 after a long, recurring battle with colon cancer. If either were dependent on a poker–face to make a living, they'd have been homeless. Babcock looked stricken after his club was out–hustled and beguiled by the Carolina Hurricanes at the Air Canada Centre on Thursday. His succinct appraisal of the match — "no good" — took me back to watching the O.J. Simpson murder trial in 1995, when renowned forensic scientist Henry Lee told the jury "something wrong" with respect to the handling of physical evidence by the Los Angeles Police Department. Occasionally, two words convey more than a paragraph.
Without question, losing a hockey game is pure hatred for Babcock… and largely a factor in his success. He takes it personally and isn't likely one to leave his consternation at the rink. As such, Maureen Babcock (Mike's wife) probably has remarkable patience and a figurative MUTE button. This isn't all bad, yet Mike surely recognizes the inconceivability of any club performing at an optimal level throughout 82 regular–season games. Why, even his Stanley Cup team with Detroit in 2007–08 had moments of instability comparable to Thursday night's Maple Leaf debacle against Carolina. Upon checking, several moments.
As part of that championship season in MoTown were such defeats as 6–3 in Anaheim (Oct. 15); 5–1 at home to the godforsaken Atlanta Thrashers (Jan. 15); 5–1 at Joe Louis Arena against middling Columbus (Feb. 15) and 6–2 at Chicago (27 points inferior) on Apr. 2. From Feb. 7–29, 2008, Mike's championship roster careened through a 2–8–2 slog in 12 games. Inevitably, sh** will happen during the marathon National Hockey League schedule — irrespective of capacity. There was a large pile of it at the ACC on Thursday, and a similar clump at the Canadian Tire Centre in Ottawa last weekend. Yet, in–between, the Leafs found a way to win seven of their first 10 games, all of them in regulation or overtime… a very good opening stretch.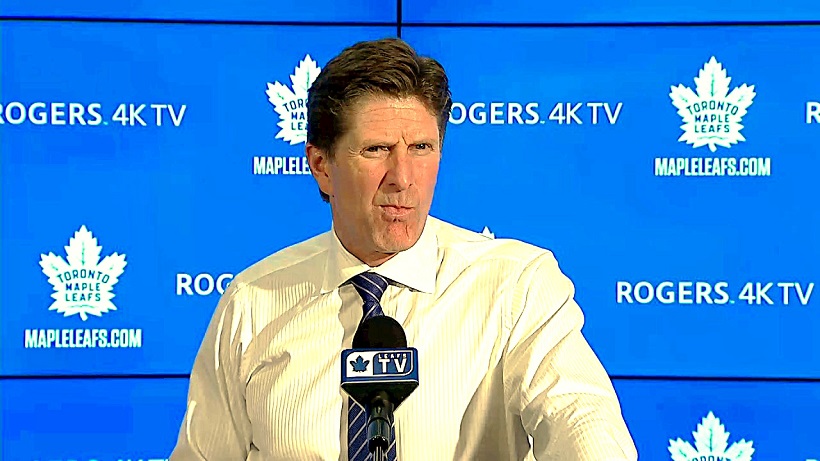 ANGRY BABS: LEAFS COACH WAS AN UNHAPPY CAMPER AFTER THE CAROLINA GAME THURSDAY.
If the Leafs accrue 70 percent of available points this season, they'll finish with 115 — 11 more than any season in franchise history. For perspective, Washington won the Presidents' Trophy last year with 118 points. It would be a remarkable accomplishment for the Blue and White; another 20–point leap in the standings after last season's 26–point ascent. Babcock would surely win the Jack Adams Award as NHL coach–of–the–year. Still, he'd be a crabby old fart 30 percent of the time… when his lofty team inevitably stubbed its toe. Coach Babs wants perfection, even if he knows it cannot be attained. His incessant drive may help prevent a lengthy drought that would remove Toronto from consideration for the Atlantic Division title (my pre–season Stanley Cup pick — Tampa Bay — will be difficult enough to keep pace with).
I suggest "may help prevent" because Toronto's goaltending isn't yet of caliber to challenge the 103–point franchise record attained under Quinn in 2003–04. In the first period of the Leafs opening game, at Winnipeg, it appeared Frederik Andersen would win the Jennings and Vezina Trophies this year. The Jets, despite controlling play, couldn't put a grain of salt past him. Since that initial 20 minutes? Meh. Andersen has unquestionably been the club's weakest link with a 3.54 goals–against average and .893 save–percentage; both unsightly. Freddy was bang on after the Carolina game Thursday night when he told reporters the Leafs need to play with "more pride". But, he also must show himself capable of stealing two points now and then — primarily to show such inherent capability for a long playoff run.
Right now, Andersen couldn't steal candy from a baby.
Which only increases the smoke emanating from his coach's ears.
OTHER SATURDAY THOUGHTS: The first–year Vegas Golden Knights appear to be proving the benefit of random drug–testing in professional sport. Had anyone in Sin City (or elsewhere) offered wager on the Knights compiling an 8–1–0 record in their first nine NHL games, they'd already be playing with house money. Yet, there they are — the golden McPhee's — having hoarded 16 of 18 available points and the league's best winning percentage. You figure it out. In the first 3½ weeks of the schedule, Vegas has tied the NHL expansion futility record of eight wins during a full season, compiled by the 1974–75 Washington Capitals. In order to match Washington's absurd ledger, the Knights merely need to go 0–66–5 in their next 71 matches (the Caps were 8–67–5 in an 80–game schedule). On Monday night, in Brooklyn, against the New York Islanders, Vegas begins its first extended road trip, and plays its first–ever games in the Eastern time zone. The trip continues Tuesday (at New York Rangers); Thursday (at Boston); next Saturday (at Ottawa); a week from Monday (at Toronto); then Tuesday (at Montreal). I suspect we'll know a bit more about these incomparable upstarts by the end of their initial trek… Can someone please explain to me this broadcasting revision; prevalent over the past couple of seasons? Prior to, say, 2014, announcers talked about a player with a good scoring chance putting the puck "into the net". Since then, it's always been "into the back of the net". True, the velocity of most scoring shots carries the puck to the "back" of the goal; often bulging the twine. But, the rules indicate the puck, for a legitimate score, must only clear the goal–line at the "front" of the net. Who started that ridiculous phrase? More importantly, is there someone out there (Paul Romanuk? Greg Millen? Ray Ferraro?) that can end it. I'd be eternally grateful…

LEAFS PUT THE PUCK "INTO THE BACK OF THE NET" THURSDAY AGAINST CAROLINA.
Same applies to the term "a good stick" — frequently offered by the No. 1 Hockey Night In Canada crew of Jim Hughson and Craig Simpson. In most of my years around the game, a player "tipped the puck away" from an opponent. Today, he has a "good stick"… My ol' pal and colleague, Doug (Never Sugarcoat) MacLean, came up with another beauty on Friday while viewing highlights of the Golden Knights 7–0 rout against Colorado on Thursday. "If I were [Avalanche coach] Jared Bednar," Mac told a Sportsnet audience, "I'd have his players taking the bus home (from Las Vegas to Denver) — while wearing full equipment."… Candor and emotion are the qualities that forever separate good TV hockey analysts from the not–so–good. Ferraro, at TSN, is solidly in the former category. He proved why again last Monday, while handling color commentary at ice–level in the Los Angeles at Toronto game (working with Chris Cuthbert). In the first period, Leafs rookie defenseman Andreas Borgman feathered a "suicide pass" into the neutral zone at teammate Dominic Moore, who was immediately clocked by Kings left–winger Andy Andreoff (video here: http://bit.ly/2zM5BA9). In the stupid mentality of hockey, such comportment is no longer acceptable. Toronto line–mate Matt Martin therefore interceded; dropped his gloves, and grabbed Andreoff. "I hate this part of the game," asserted Ferraro while watching a replay between the benches. "Deliver a clean, solid hit and you have to defend yourself by fighting. It makes no sense to me." Nor to most others that have watched the sport for decades. What's next? Jumping on a player after he scores? Running a goalie after a difficult save? Why are they any different, in the grand scheme, than stepping up to body–check an opponent? For as long as I remember, all have been integral to the strategy of a game. The instigator almost always accrues an extra minor penalty (as did Martin on Monday). But, the NHL should take the lead in ridding this nonsense from the sport. It could be accomplished very simply: A player accosting an opponent after a clean hit (in which no penalty is assessed) receives a game–misconduct. The new rule would have an immediate and lasting effect.
50 YEARS AGO TONIGHT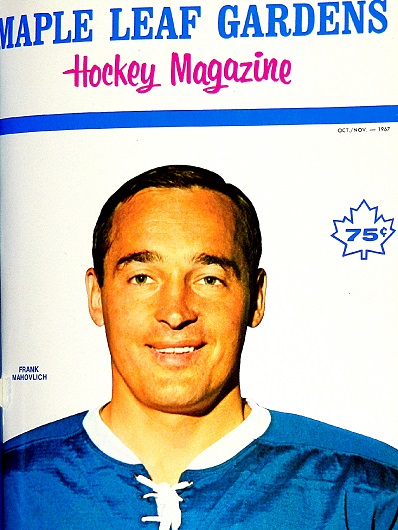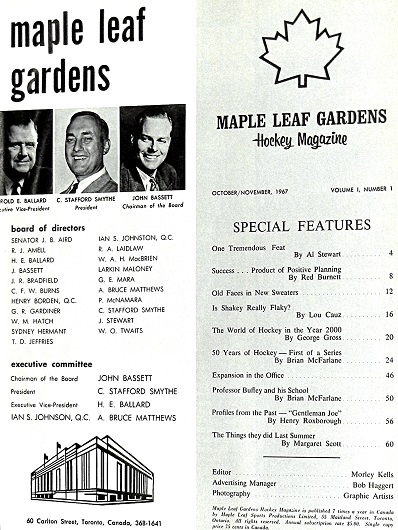 It's an image I somehow always remember: Walking up the ramp with my dad in Sec. 46 of the west Blues at Maple Leaf Gardens on Oct. 28, 1967. I was eight years old. The Leafs game, that Saturday night, had begun moments earlier. As I looked down at the ice, I was startled to notice the visiting team wearing bright–green pants. "Who are the Leafs playing, Dad?" I asked. "It's the California Seals," he replied. "One of the six new expansion teams." Then Dad pointed to a member of the visiting club he felt I would recognize — the Seals' captain, wearing No. 21, Bob Baun. A member of Toronto's Stanley Cup team just six months earlier.
With that came my introduction to the 12–team NHL; doubling in size a half–century ago this season by adding the Seals, Los Angeles Kings, Minnesota North Stars, Philadelphia Flyers, Pittsburgh Penguins and St. Louis Blues. Today, the Seals are a virtual cult in California and abroad; everyone's favorite "defunct" NHL team (the club played in Oakland from 1967–76). Fifty years ago tonight, California wore its road–white jersey (as below–left) with the aforementioned green pants. The Leafs were decked in their home–blue uniforms (bottom–right; both courtesy nhluniforms.com).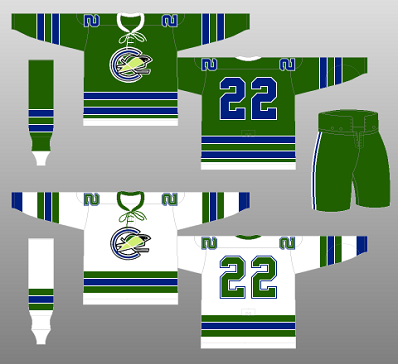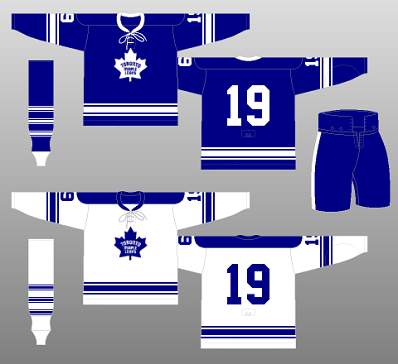 Through the decades, I've kept the Maple Leaf Gardens program from that first visit by the Seals (the Leafs easily prevailed, 5–2). Here are some of the magazine's contents: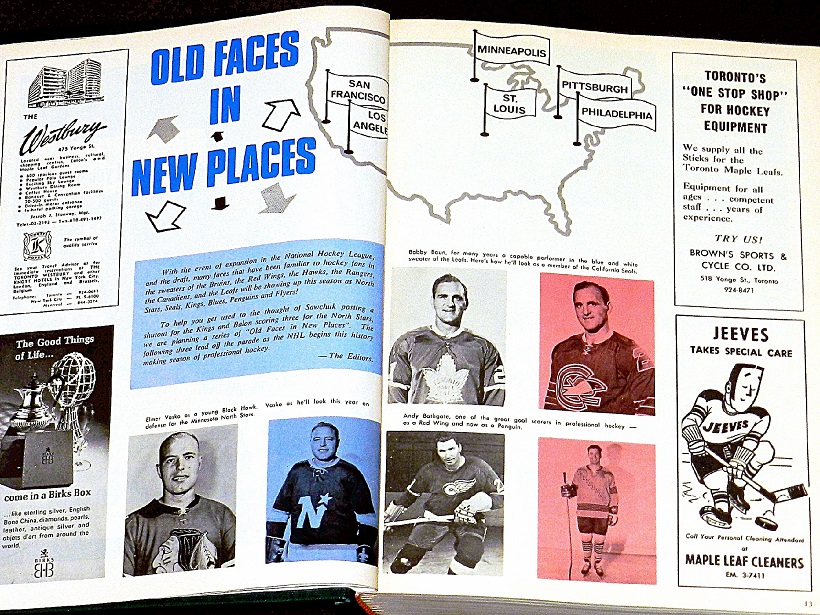 A REGULAR FEATURE IN THE 1967–68 MAPLE LEAF GARDENS PROGRAM: VETERAN NHL PLAYERS FROM THE SIX–TEAM ERA WEARING THEIR EXPANSION UNIFORMS. INCLUDING THE SEALS' BOB BAUN.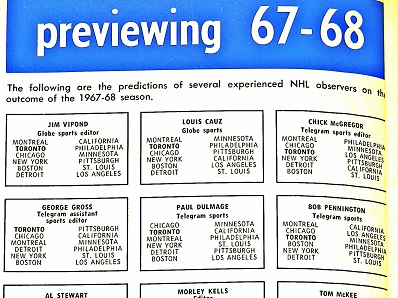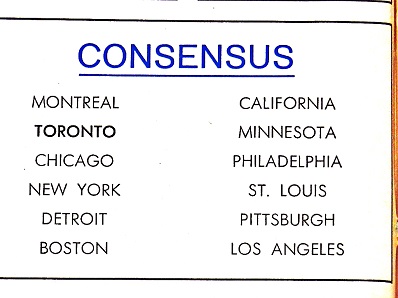 TORONTO MEDIA TYPES OFFERED THEIR PREDICTIONS (ABOVE) FOR THE NEW, 12–TEAM NHL. AS YOU CAN SEE BY THE FINAL 1967–68 STANDINGS (BELOW), THE FORECASTERS DIDN'T HAVE A PARTICULARLY SOLID GRASP ON THE EXPANDED LEAGUE. CALIFORNIA, CHOSEN TO TOP THE NEW WEST DIVISION, FINISHED DEAD–LAST. THE LEAFS, DEFENDING STANLEY CUP CHAMPS, MISSED THE PLAYOFFS.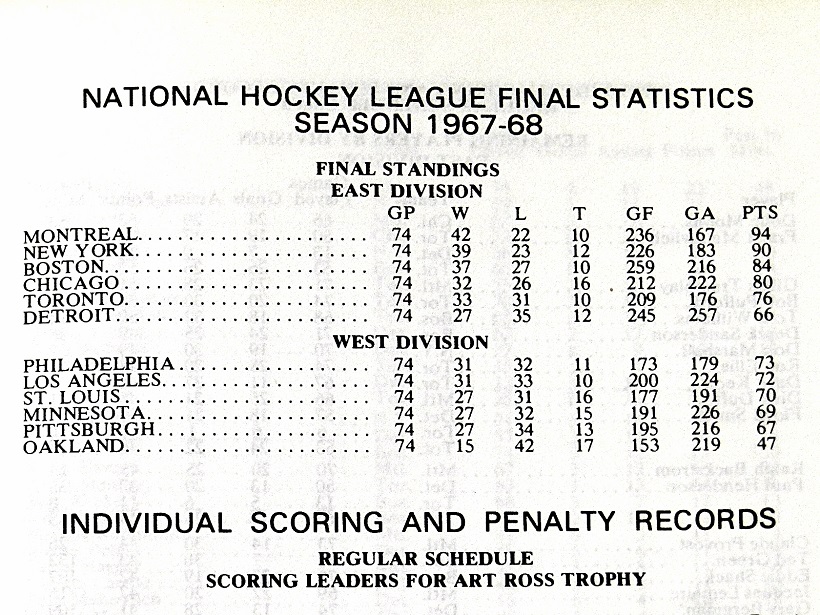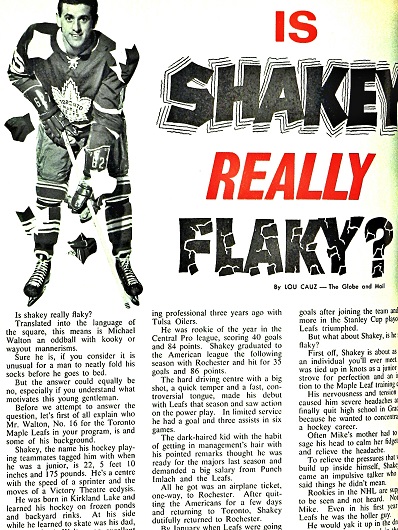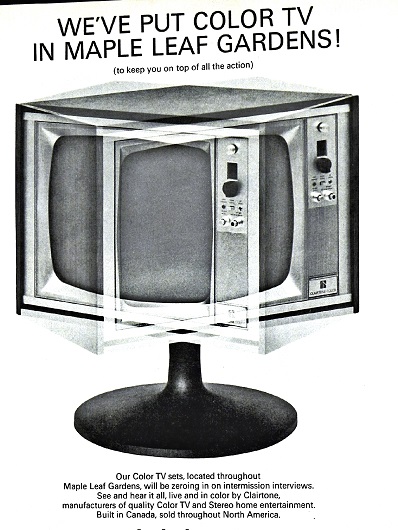 MIKE (SHAKEY) WALTON (TOP–LEFT) WOULD LEAD THE MAPLE LEAFS WITH 30 GOALS IN 1967–68.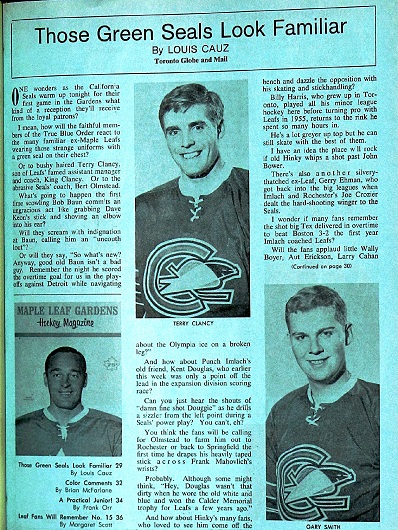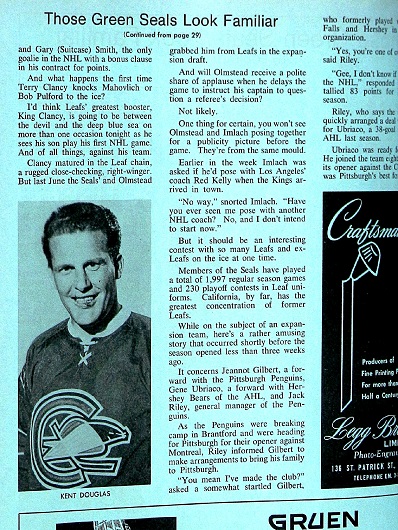 FROM THE PROGRAM–INSERT SECTION (ABOVE AND BELOW) — TINTED LIGHT TURQUOISE–BLUE AND UPDATED FOR EACH HOME GAME. AMONG THE CALIFORNIA PLAYERS (OTHER THAN BAUN), WERE FORMER LEAFS TERRY CLANCY, GARY SMITH AND KENT DOUGLAS (ABOVE); BILLY HARRIS (BELOW).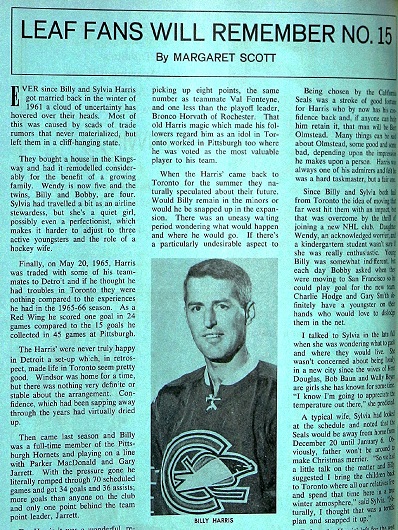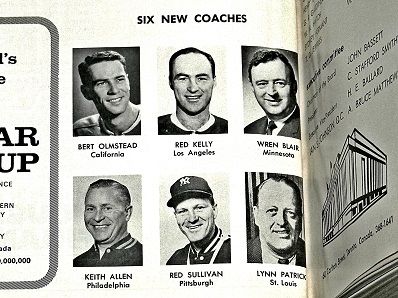 JOHNNY BOWER'S "ELMER'S GLUE–ALL" AD WAS A STAPLE IN THE LEAFS PROGRAM THROUGH MUCH OF THE 1960's. PICTURED, AT RIGHT, WERE THE SIX EXPANSION–TEAM COACHES.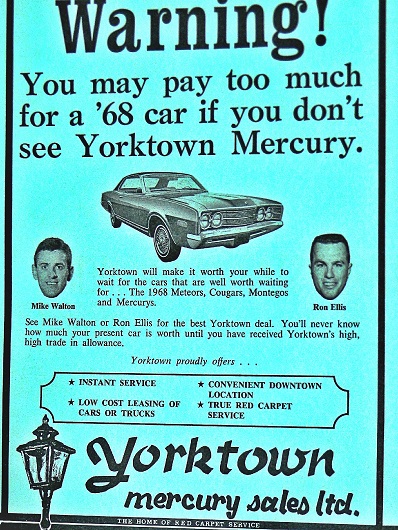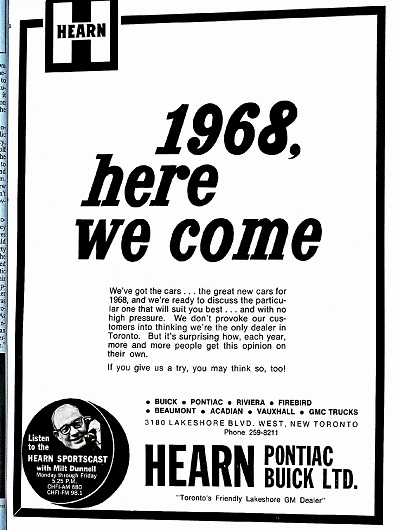 YES, THE TUMULTUOUS YEAR OF 1968 WAS JUST MORE THAN TWO MONTHS DOWN THE LINE.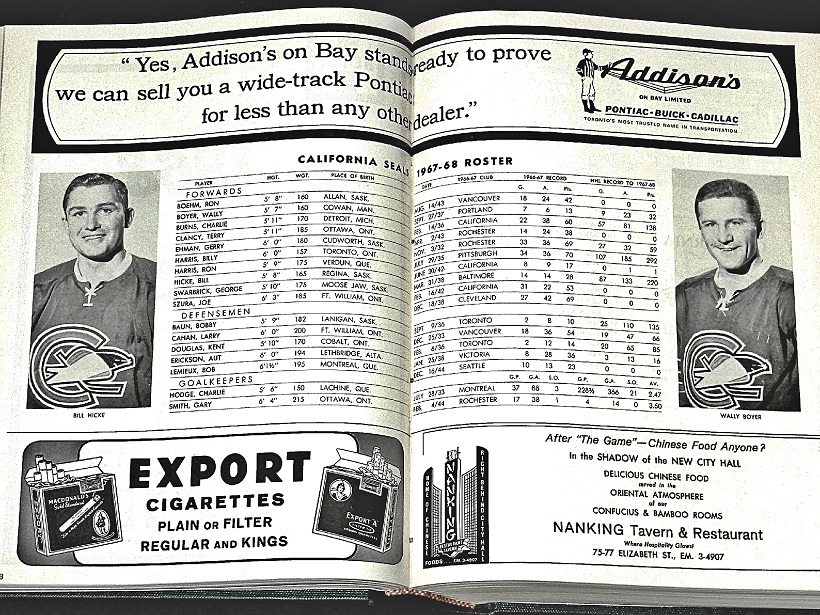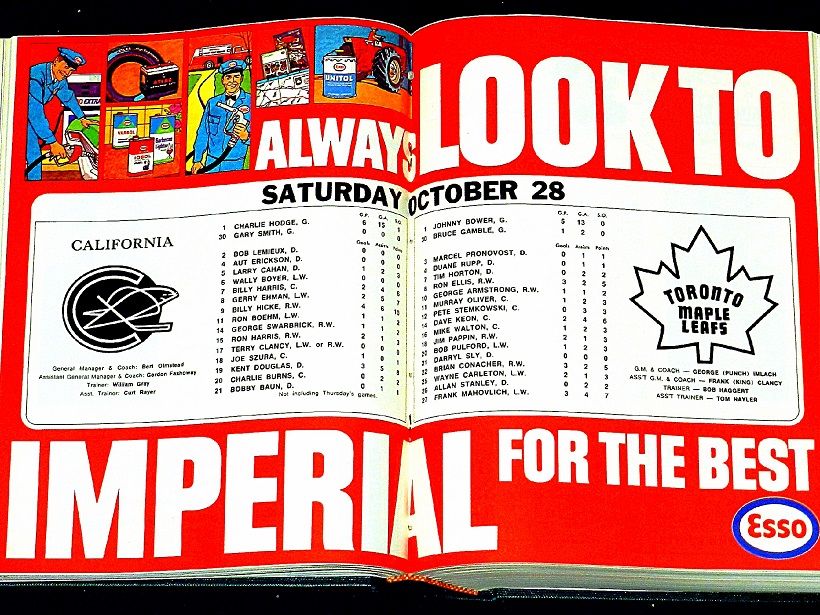 TEAM LINE–UPS IN THE CENTER–SPREAD (CLOSER LOOK, BELOW).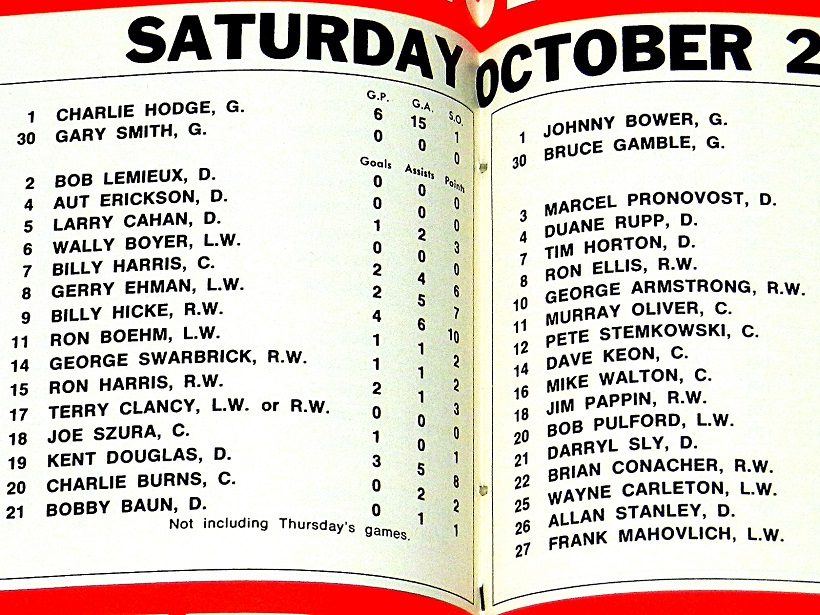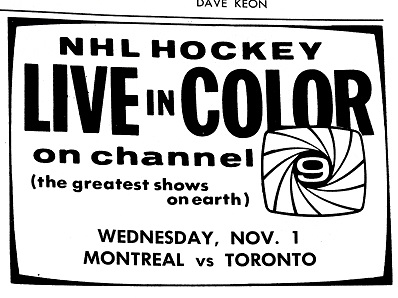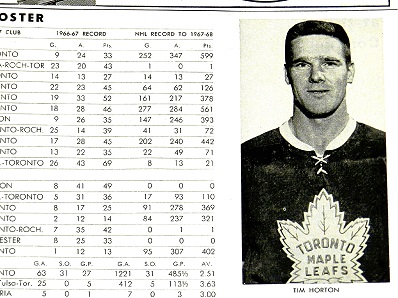 IN THE 1960's AND 70's, HOCKEY NIGHT IN CANADA AIRED TWICE A WEEK: ON CBC (AS TODAY) SATURDAY NIGHTS, AND ON CTV WEDNESDAY (GAMES CARRIED BY CFTO, CHANNEL 9, IN TORONTO).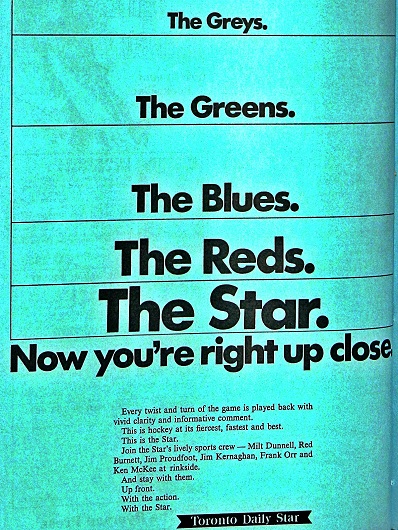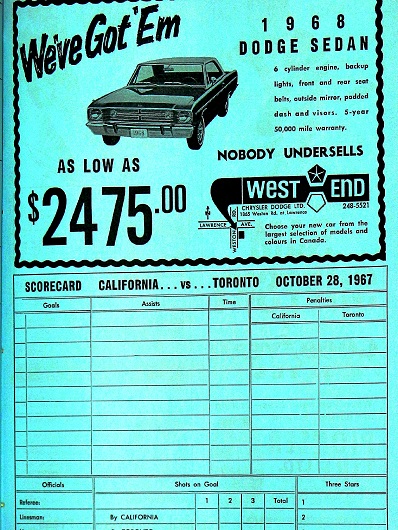 ANOTHER PROGRAM–STAPLE WAS THE MLG–THEMED TORONTO STAR AD (TOP–LEFT). AND, IT'S TRUE: WEST END CHRYSLER–DODGE HERE IN TOWN SOLD CARS FOR $2,475 IN 1967.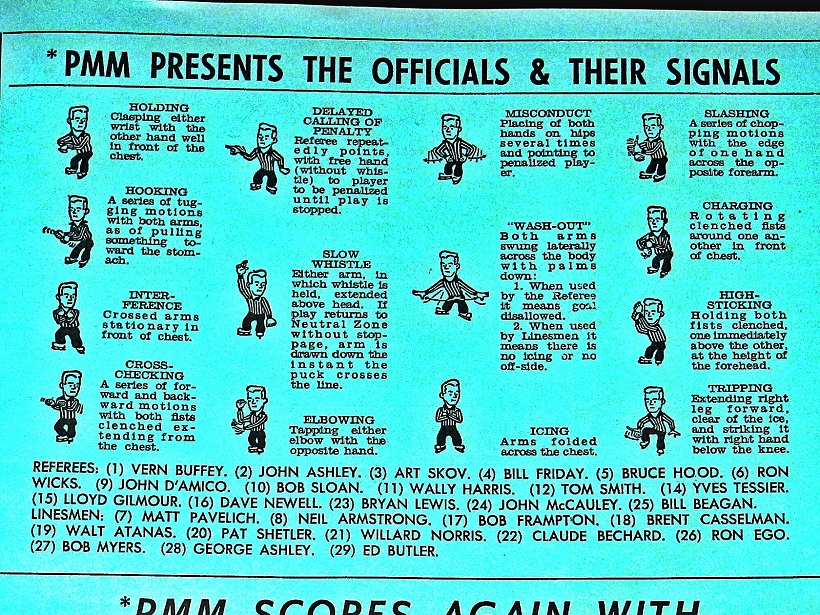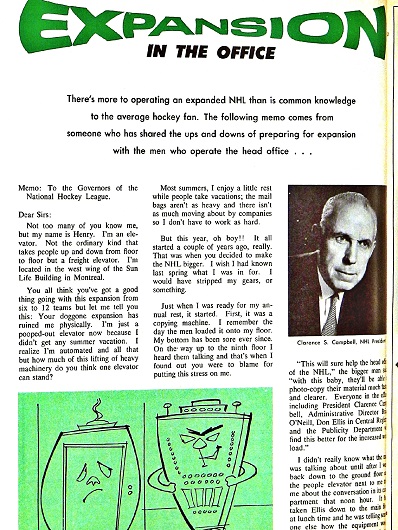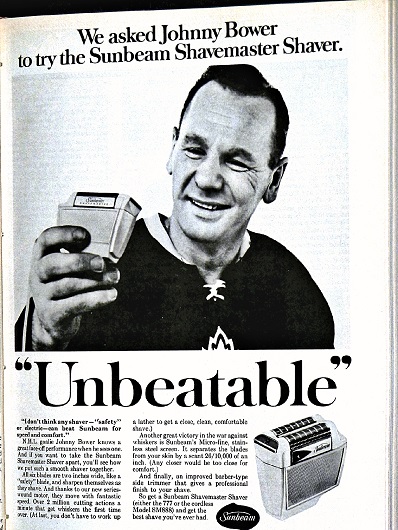 OL' JOHNNY WOULD TRY ANYTHING BACK THEN — FOR A BUCK. 🙂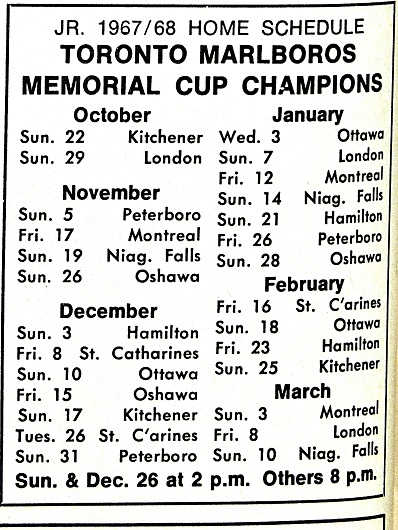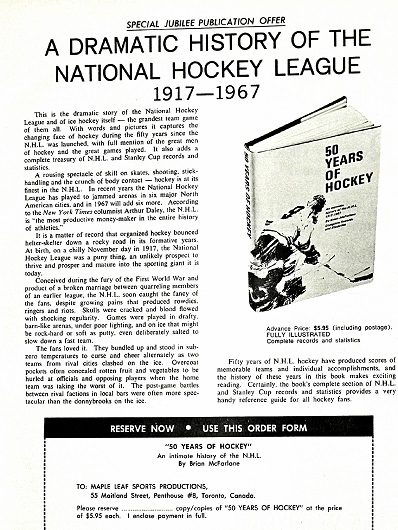 THE JUNIOR 'A' TORONTO MARLBOROS PLAYED HOME GAMES AT MAPLE LEAF GARDENS — PRIMARILY ON SUNDAY AFTERNOON AND FRIDAY NIGHT (AS PER '67–68 SCHEDULE, TOP–LEFT).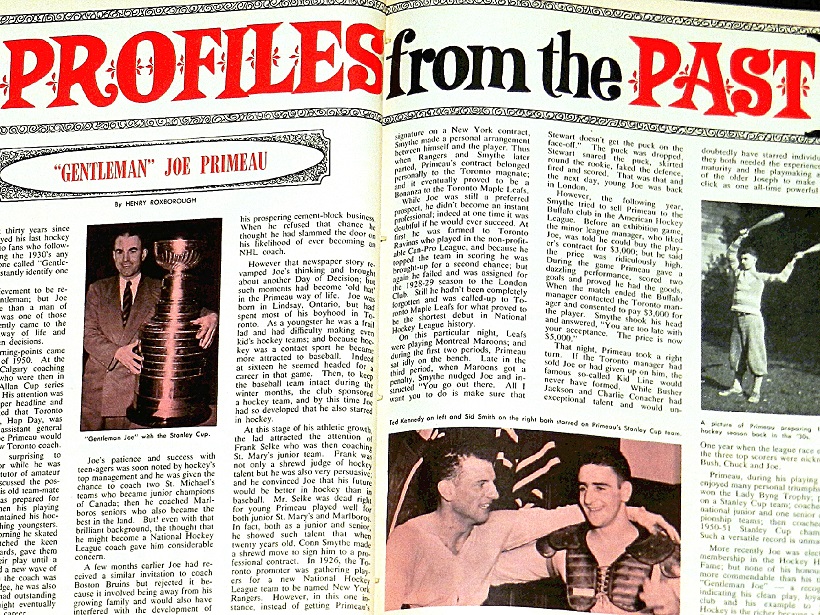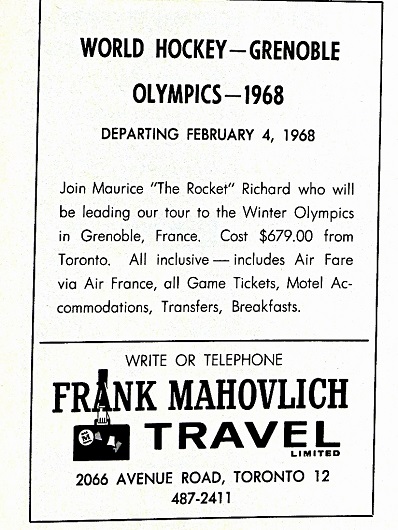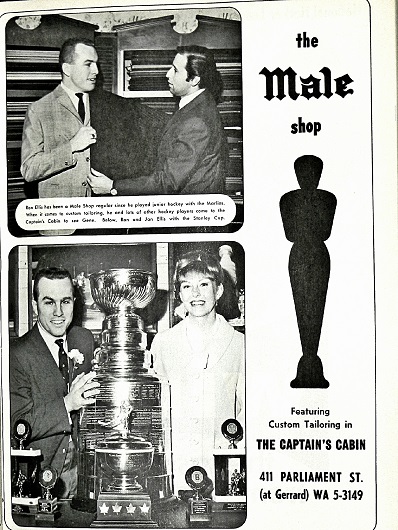 RON ELLIS WAS ALWAYS A FAVORITE AROUND TOWN (TOP–RIGHT). STILL IS, TODAY.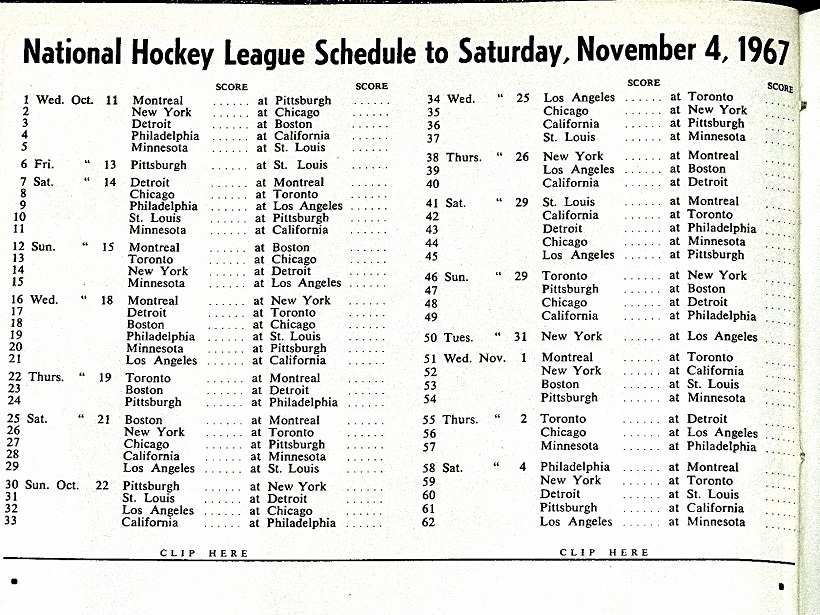 THE LAST PAGE OF THE MLG PROGRAM CARRIED THE FIRST 3½ WEEKS OF THE 1967–68 NHL SCHEDULE. THIS SATURDAY, 50 YEARS AGO, WAS OCT. 28th, NOT THE 29th.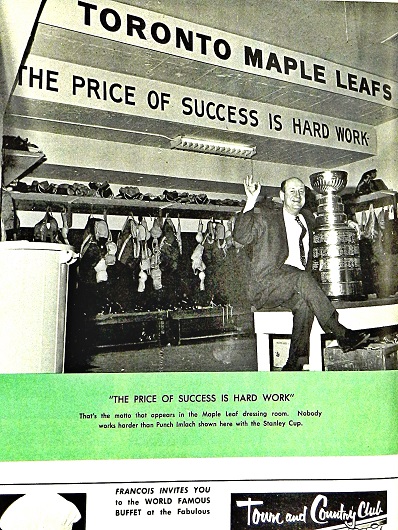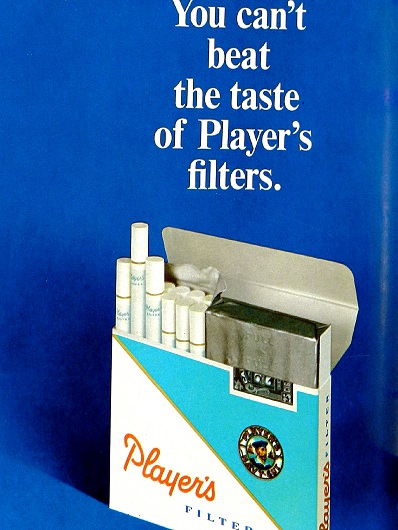 REAR–COVER OF THE PROGRAM (TOP–RIGHT) WHEN CIGARETTE ADS WERE STILL LEGAL.
EMAIL: HOWARDLBERGER@GMAIL.COM