TORONTO (Oct. 9) — It's the oldest ploy in the management arsenal of professional sport: Use the media to temper expectation before the season. If things go sideways, you can therefore remind everyone "hey, we told you so". To varying degrees, Brendan Shanahan and Lou Lamoriello availed themselves of this opportunity last week. Then, their eminently–gifted team went out and scored 15 goals in two games — second most in the history of Toronto's National Hockey League franchise. So much for dousing the flame.
While defeating the Winnipeg Jets (7–2) and New York Rangers (8–5), the Blue and White erupted as it has only once before — in the first two games ever played by the club, nearly 100 years ago. Known as the Toronto Arenas, in December 1917, it scored 20 goals (losing 10–9 to the Montreal Wanderers and routing the Ottawa Senators 11–4). On three occasions since being re–branded the "Maple Leafs" by Conn Smythe in 1926, the club scored 13 goals in its opening two matches: 1944–45 (defeating New York 2-1 and Chicago 11–2); 1974–75 (whipping Kansas City 6–2 and the Rangers 7–2); then 1978–79 (downing Pittsburgh 3–2 and the Islanders 10–7). The '44–45 club won the Stanley Cup, starting a run of four championships in five years.
There is no record of Smythe or coach Hap Day tempering expectation before opening night.
Though surely unintended, Shanahan and Lamoriello insulted Toronto's hockey fandom by proposing constraint. Let's try to remember that the Leafs own the longest Stanley Cup drought — having neither played for nor won the trophy since 1967. In the interim, and overwhelmingly, the ultimate goal of the hockey club has been to "make the playoffs". More often than not, no such possibility existed. Only once do I recall whimsical chatter of climbing the mountain: to begin the 1993–94 NHL schedule after Pat Burns, Doug Gilmour, Dave Andreychuk, Wendel Clark, Felix Potvin et al astonished observers by advancing to Game 7 of the Stanley Cup semifinals the previous May. You can barely imagine how the outlook intensified after the Maple Leafs won their first 10 games in October of '93 — establishing an all–time league record — and even if the remarkable accomplishment paled against the second World Series march of the Toronto Blue Jays.
Parade fences were clicking and clanging along Bay Street… from Union Station to City Hall.
In the end, naturally, for naught.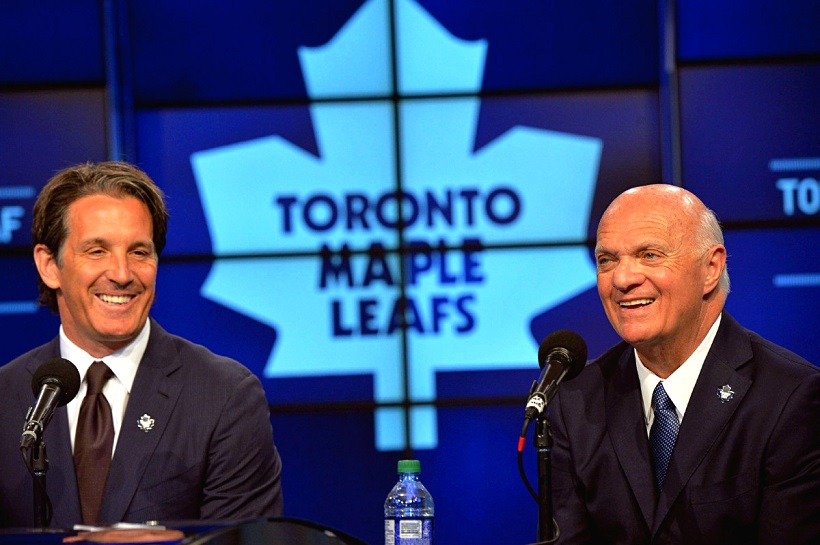 SHANNY AND LOU. THE PREZ AND G.M. OFFERING MANAGEMENT–SPEAK. THE CANADIAN PRESS
The past 50 years has been a slog. A quagmire. And, now that the Leafs have unquestionably their most skilled line–up since Canada's Centennial, the tallest foreheads preach moderation. Not fair.
The second period on Saturday night at Air Canada Centre, when a 5–1 lead over the Rangers morphed into a 5–5 draw, reminded us the Leafs haven't played sound defensive hockey over the course of a season since 1977–78. That's a long time ago. Defensive acumen (presumably) can be taught. The late Roger Neilson proved as much during that rookie season behind the Toronto bench, reducing goals–against from 285 to 237. Improving the club by 11 points. Taking it to the Stanley Cup semifinals for the first time since 1967. Surely, Mike Babcock and Co. can achieve something similar. Ol' Roger, 40 years ago, had a video–camera and a Betamax. Babs, today, has three assistant coaches, Corsi guys, weight trainers, nutritionists, sexologists, palm–readers… you name it. Somehow, 5–1 leads on home ice will learn to be preserved. Creativity and soft hands, conversely, are innate. And, substantive with the 2017–18 Toronto Maple Leafs.
Finally, for the first time since roughly 2002, there is legitimate expectation here in the Big Smoke. Which Shanny and Lou wish to moderate. The archetypal Leafs fan — infused with misgiving — requires no discouragement. He or she can fret on his or her own. It comes naturally; like an infant drawn to a woman's breast. Far less–ingrained is the morale and determination to exult; to trust what the eye clearly sees. In this case, a team that has catapulted from cellar–dweller to Stanley Cup infringement over the course of 2½ calendar years. Permeated with youth, skill, chutzpah and blazing speed. Capable of… who knows what?
So, may I offer that you respectfully ignore the defensive plea from the two highest figures in the Maple Leaf pyramid? Do what is distant and outlandish in this blighted hockey market: Anticipate achievement.
Expect achievement.
You may actually enjoy the sensation.
NUMBERS NEVER LIE… DO THEY?
Yes, I found it. Easily. In two dispatches from Saturday night's game at the Air Canada Centre, it was noted how the Maple Leafs have gotten off to a "great start" this season. If you are familiar with this corner, you'll know how I chuckle at that remark each year. Two games out of 82 is apparently "a start" to the interminable NHL schedule. Such silliness first came to roost when Ron Wilson coached here. In fact, I remember the date: Oct. 16, 2010. During a scrum at the MasterCard Centre (where the Leafs practice), a reporter lauded Wilson for his club's "great start" to the season. Yes, the Leafs were a gaudy 4–0–0 after beginning the previous year 0–7–1. "A great start?" ol' Ronnie nonetheless snorted. "Come back to me in mid–November, after 16 or 18 games. Then, we can talk about a 'start' to the season. It's the first week, for Chrissakes."
Given, however, the requisite mention of an official "start" to the current campaign, we can surmise that…
• Leafs will be the first club to sail through a season with a perfect 82–0–0 mark. During that span, the club will score 615 goals (its 7.5–per–game average) and allow 410. The first number will smash the existing NHL record of 446, set by Wayne Gretzky and the Edmonton Oilers in 1983–84. The latter will establish a futility mark for the Leafs, who yielded a team–record 387 goals that same season. Toronto will increase its goal total over last year by 364 while giving up an additional 168. Babcock will be seen in a white coat.
• Nazem Kadri will have the year of his life, leading the Leafs in scoring with 82 goals, 82 assists and 164 points. His goals mark will obliterate the team standard of 54, set by Rick Vaive in 1981–82. Kadri's points will outdistance, by 37, the total Gilmour accumulated in 1992–93. James van Riemsdyk will also finish with 164 points, but only 41 goals. His assists total of 123, however, will smash Gilmour's Leafs record of 95. Even with his goal explosion, Kadri will fail to become the first Toronto player since Gaye Stewart, 72 years ago, to lead the NHL. That's because Alex Ovechkin will score 287 goals for Washington (3.5–per–game average), destroying Gretzky's single–season mark of 92.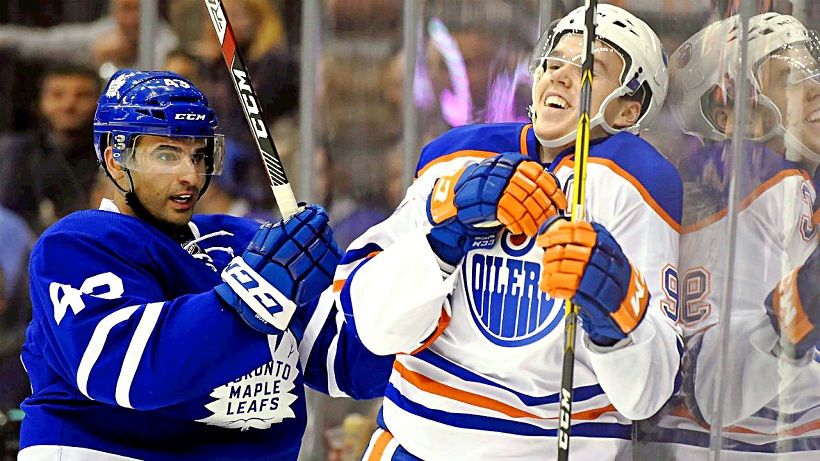 CONNOR McDAVID OF THE EDMONTON OILERS WON'T BE LAUGHING AT SNAZZY NAZ THIS YEAR — NOT AFTER NO. 43 LEADS THE MAPLE LEAFS WITH 82 GOALS AND 164 POINTS.
• Given their great "starts" (a combined 4–0–0), the Leafs and expansion Vegas Golden Knights will be among the prohibitive favorites to meet in the Stanley Cup final next June. Lowly Winnipeg, mired in an 0–2–0 slump with the worst goal–differential in the league, will finish point–less (0–82–0), scoring 205 times while yielding 533. Such hockey legends as Jim Hrycuik, Bob Gryp and Andre Peloffy will rejoice that the existing record of 446 goals–against (remarkably, the same number as Edmonton's NHL standard for goals scored in a season) will no longer be held by the expansion Washington Capitals of 1974–75, for whom they skated.
THANKSGIVING THOUGHTS: It is Turkey Day, Canadian style, which brings to mind… Ed Olczyk. The lead analyst for the NHL on NBC; NBC Sports Chicago and WGN–TV is, sadly, not here in town tonight with the Blackhawks as he continues to undergo treatment for colon cancer. I've known Eddie since my early days in the Maple Leaf Gardens press box, when he was a gifted, high–scoring center with the Blue and White (75, 90 and 88 points from 1987–88 to 1989–90). I checked in with him via email last night night. "Two treatments in. Ten to go. Number 3 tomorrow [today]. 8–6 final on Monday." I'm assuming Eddie figured his Blackhawks would be on the right side of that prediction. Then, he added (in a follow–up email): "Just like the 1988 Leafs!!" Translation: Toronto could score far better than defend. My ol' pal is missed by everyone in the hockey industry. And, he's going through some hell. Too much hell for a man in his early–50's. Prayers and good wishes are with him from coast–to–coast in North America. I strongly sense he'll prevail… Thanksgiving brings to mind… Tom Cheek. The original voice of the Toronto Blue Jays in 1977 died on this date in 2005 after a 16–month battle with brain cancer. He and I collaborated on his autobiography in the months after the Blue Jays won, in 1992, their first of consecutive World Series titles. To love Tom, you simply had to know him. He is interred beneath a bench at Sylvan Abbey Memorial Park in Clearwater, Fla. (photo below). I had the privilege of visiting his grave–site a few years ago with mutual friend and legendary Toronto Star columnist Dave Perkins. On her Facebook page, Tom's widow, Shirley Cheek, posted the following: "Today marks the 12th year since Tom passed away from a brain tumor… life goes on but Tom is missed each and every day. I will spend today visiting his bench and placing flowers; then head to Dunedin to one if his favorite eating spots to reflect on so many wonderful memories! You are missed Tom….I love you!"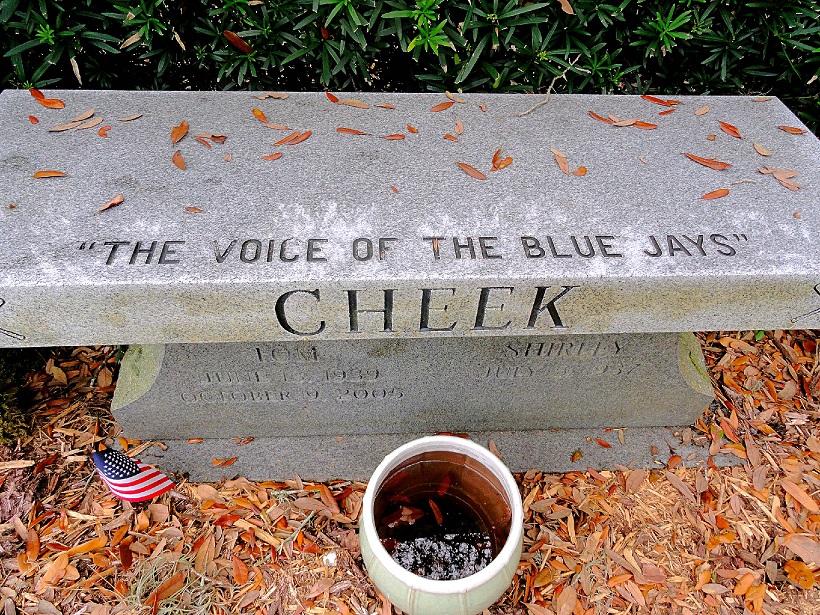 EMAIL: HOWARDLBERGER@GMAIL.COM