TORONTO (Oct. 4) — I want to handle this subject as delicately as possible because I have friends and colleagues that I greatly admire at what remains Canada's best newspaper sports section.
Still, I cannot help but anguish over the Toronto Sun.
Whether this blog resonates with a younger audience — which, more than ever, receives information on its mobile devices — I cannot predict. For those, however, that grew up reading newspapers; recognizing the art of the written word and the savvy of legitimate journalism, and who idolized many of those responsible for such, the Sun appears to be in demise. Not long ago, it boasted a sports line–up that was rivaled across North America, in my view, by only the New York Post. Today, though still a force in the industry, it has withered. And, most tragically from all appearances, with consent of the newspaper's ownership: Postmedia.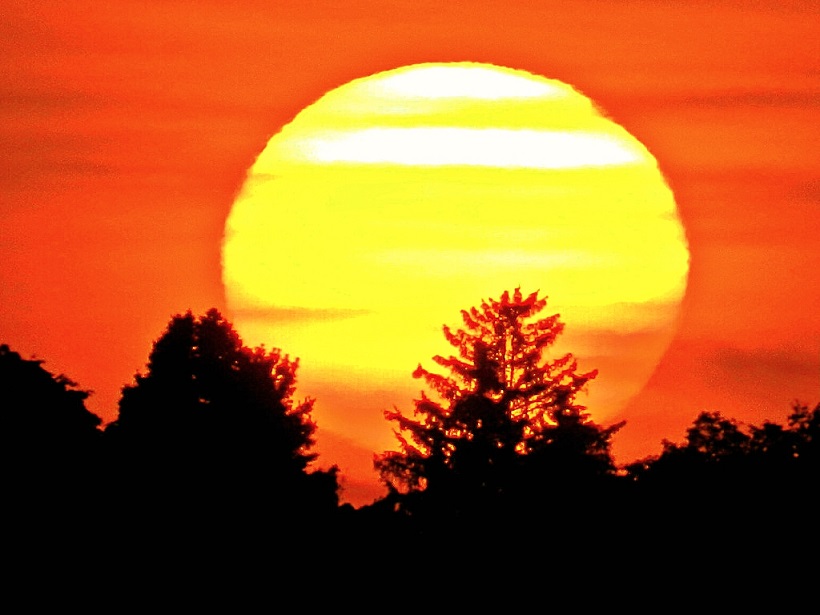 My head is not in the sand. I recognize the decline of newspaper advertising and the apparently–infinite grasp of mobile digital technology. But, I also believe there are institutions worth preserving. In the realm of sports journalism, and for many years, there was no more–powerful institution than that owned by the Toronto Sun. Institutions, by the way, also come in the form of people. And, when I reflect on the not–so–distant heyday of the Sun sports department, four names immediately pop to mind — alphabetically, Bob Elliott, Lance Hornby, Steve Simmons and Mike Zeisberger. With Al Strachan, who has forever hated me, not far behind. Today, only two of the aforementioned remain: Hornby, the dean of Toronto hockey writers and Simmons, for years now, the most widely–read sports columnist in Canada. Elliott, in every baseball Hall of Fame, "retired" last year. Zeisberger, this week, on the eve of the 2017–18 National Hockey League season, was somehow allowed to walk away from a 31–year affiliation and join NHL.com. Which is mind–boggling.
This is not, as previously–mentioned, to slight any of those that remain at the newspaper. There are few more–thorough reporters in the country than Rob Longley, who splendidly covered the Toronto Blue Jays this season after more than a decade on hockey. Steve Buffery can stir it up as well as any reporter/columnist in our land. Terry Koshan ably works alongside Hornby on the demanding Leafs beat. Frank Ziccarelli and Mike (Gumby) Ganter are fixtures with the Canadian Football League and National Basketball Association. Simmons, Scott Stinson and Mike Traikos offer credible opinions and will have to fill the gaping hockey hole left by Zeisberger. So, again, this is still the best sports section in the country.
But, I fear for the direction in which the Sun is apparently plunging.
The sports department has lost, in relatively short order, Elliott, Zeisberger, Ken Fidlin (arguably the best pure writer to ever cover the Blue Jays), Mike Rutsey (another stout baseball presence), Bill Lankhoff (who could delightfully spin words on any sports subject) and Dean McNulty (known, deservedly, as "the Dean of Speed" — Canada's foremost newspaper expert on car racing). Other notables that once graced the tabloid's pages are also gone: Wayne Parrish, Scott Morrison, John Iaboni, Jim O'Leary and Dave Fuller among them.
Who, of a vintage, can forget the late Jim (Shaky) Hunt? The inciting John Robertson? The always–enlightening Trent Frayne? Or, the Czechoslovak ex–patriot that founded the enterprise from the remnants of the old Toronto Telegram at the beginning of November 1971 — the "Baron", George Gross?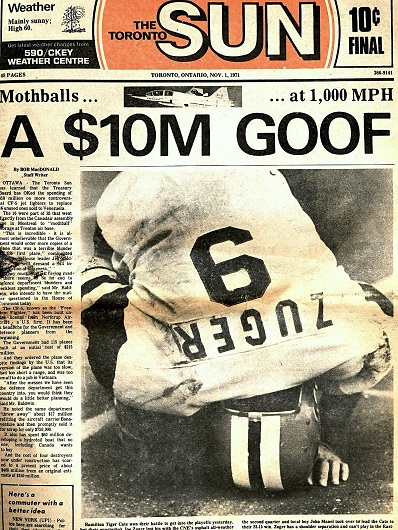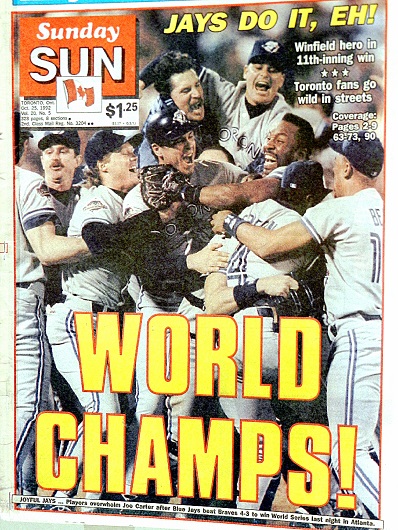 IT WAS SURELY NO COINCIDENCE THAT A SPORTS PHOTO GRACED THE COVER OF THE TORONTO SUN'S FIRST EDITION (NOV. 1, 1971): QUARTERBACK JOE ZUGER OF THE HAMILTON TIGER–CATS LAYING INJURED ON THE RUNNING TRACK OF OLD CNE STADIUM DURING A GAME WITH THE TORONTO ARGONAUTS THE PREVIOUS DAY. FOR NEARLY 46 YEARS, THE GREATEST MOMENTS IN TORONTO SPORTS HISTORY HAVE BEEN FEATURED ON PAGE 1 OF THE NEWSPAPER.
I'm waxing nostalgically here because newspaper journalism has been such an enormous part of my life. If you follow this website with any regularity, you'll know of the hockey and baseball scrapbooks I've kept from my youth. With words long–ago written by such legends as Gross, Frayne, Iaboni, Hunt, Robertson, Strachan, Milt Dunnell, Jim Proudfoot, Frank Orr, Jim Kernaghan, Neil MacCarl, Dave Perkins, Allan Ryan, Garth Woosley, Rex MacLeod, Dan Proudfoot. And, others I've undoubtedly overlooked.
I've never had the privilege of working, full time, at a Toronto newspaper. It remains a wistful objective… and likely a dream. In the summer of 1981, George Gross allowed me to contribute freelance stories to the Sun. In 1986, I similarly toiled for the Toronto Star. My lengthiest foray occurred over a decade, beginning in 1999, when my employer (The FAN–590) graciously allowed me to double–dip and cover Toronto Maple Leafs road games for The National Post. Through it all, the Sun sports department led the parade… by many lengths.
To an increasingly–diminished extent, it still does. But, what happens next?
I've known Mike Zeisberger for more than three decades. He and I spent countless days and nights in airports, hotels and arenas on the Maple Leafs beat. There has never been a more–dedicated employee at any sports–media enterprise in our city. And though Zeis would never say it, I sense he reluctantly left the Sun after noticing an ice–burg on the horizon. Which saddens me. More than you'll ever know.
For decades, the Toronto Sun has been called "the little paper that grew".
I'm hoping — at some point — it will stop becoming "the big paper that shrunk".
EMAIL: HOWARDLBERGER@GMAIL.COM