TORONTO (Oct. 31) — While watching the Maple Leafs get stunningly out–played by the San Jose Sharks in northern–California Monday night (the 3–2 final score did not reflect the lop–sided essence of the match), it occurred to me that the young, upstart visitors were rather confused by the turnaround of the past week.
Perhaps even spooked, to borrow a Halloween term.
Having soared majestically to a 6–1–0 mark in their first seven games — erupting for 34 goals (4.86 per match) — it looked for all the world as if the Leafs could dictate tempo whenever so–moved. To the surprise of many, however, and the obvious dismay of the Toronto players, it required the simplest concept to hinder the blue–and–white express. Rival coaches began deploying the old neutral–zone trap, with all its ugly effectiveness. Suddenly, the Maple Leafs, perhaps the quickest team in the National Hockey League, could not build speed between the blue lines. Those lovely stretch–passes from the defensive zone were no–longer effective and the stymied Toronto forwards began to turn over the puck near center ice. As so often happens, it led directly to scoring opportunities the other way. The 6–1–0 Leaf record morphed to 7–5–0.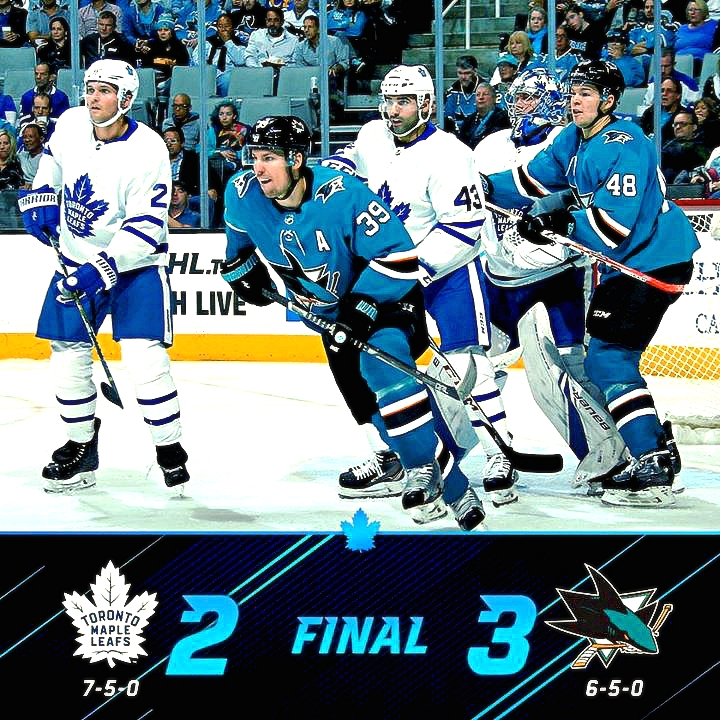 In and of itself, this is hardly calamitous. Toronto hockey fans should try to relax. The Maple Leafs have abundant skill… and there's likely enough coaching acumen to form alternate strategy (in countering the trap). Maybe the plucky Leafs, who often perform with swagger, needed some grounding after a sports–book in Las Vegas boldly appointed them Stanley Cup favorite. Remember, Toronto finished 30th in the overall standings two years ago and didn't get beyond the opening playoff round (despite Herculean effort) last spring. Surely, it cannot be difficult for young, moneyed athletes to soak in lavish acclaim from media and betting houses. The humility generated by three consecutive losses could be a blessing–in–disguise.
If not the current mini–slump, then the knowledge that only once all of last season did the club lose three consecutive games in regulation time. That occurred from Jan. 26 to Feb. 2 — on the road at Philadelphia, Dallas and St. Louis — during a trip bracketed by the All–Star Game in Los Angeles. Most Leaf observers recognized this year's team had a difficult act to follow. Graduating from dead–last in the NHL (in 2015–16) to just a single three–game regulation spell was a remarkable accomplishment. The brief famine has already been replicated in October of the current schedule. One more wake–up call for the talented Leafs.
There's another factor the Leafs would abhor to acknowledge, yet one that must be close to the surface: After the first calendar–month of the season, there's no way to predict which version of Frederik Andersen will show up on a given night. If not for Andersen's brilliance, San Jose would have prevailed on Monday by three or four goals. Yet, it doesn't indicate the club's No. 1 stopper will perform comparably in his next start (probably against the Ducks, in Anaheim, on Wednesday). Lack of consistency (and assurance) between the pipes can create an emotional vacuum. No Leafs player would be caught dead making such an admission.
But, logic dictates it must be a factor.
NOT THE WILDEST… BUT CLOSE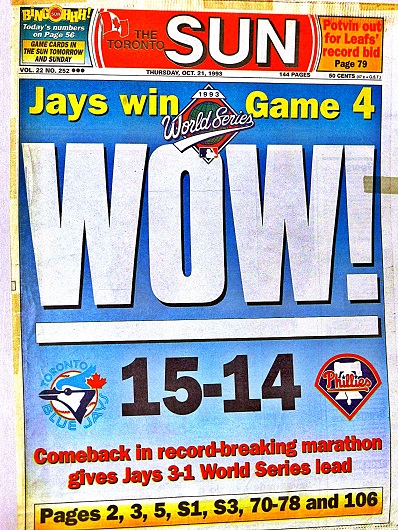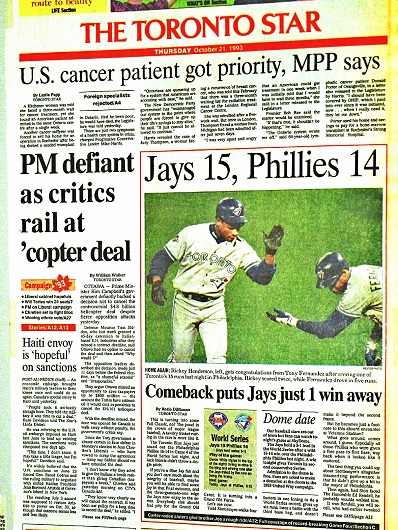 The 2017 World Series has not been the best–played and certainly not the best–pitched. Yet, I don't remember a more entertaining and enjoyable conclusion to the Major League Baseball season. Sunday night's five–hour–and–17–minute marathon at Minute Made Park in Houston was easily the wildest game witnessed by the current generation of baseball fans. The Astros outlasted the Los Angeles Dodgers, 13–12, when third–baseman Alex Bregman singled home the winning run in the bottom of the 10th inning. At 1:39 a.m. EDT. Houston had fallen behind early (4–0) against Dodgers' ace Clayton Kershaw and no person watching the game expected Kershaw to implode. The Astros took a 12–9 lead to the bottom of the ninth and blew it. As such, Game 4 of the 2017 World Series will be shown on "classics" for years to come.
Still, the 25–run slugfest was not the craziest game in MLB championship history. For that, we must date 24 years — to Game 4 of the 1993 Series between the Toronto Blue Jays and Philadelphia Phillies at old Veterans Stadium. Toronto, en route to winning its second consecutive baseball title, recovered from deficits of 6–3, 12–7 and 14–9 to prevail, 15–14 (see the line–score atop the Toronto Star sports section, bottom–right). Yes, it truly was "Unbelievable!" Unlike Sunday night's match in Houston, Game 4 of the '93 World Series required "only" four hours and 14 minutes (1:03 shorter). Blue Jays shortstop Tony Fernandez led the way, going 3–for–6 with five RBI. Center–fielder Devon White was 3–for–5 with four RBI. Left–fielder Milt Thompson (five RBI) and center–fielder Lenny Dykstra (four RBI) each went 3–for–5 for the Phillies.
Managers Cito Gaston (Toronto) and Jim Fregosi (Philadelphia) deployed a combined 11 pitchers. Blue Jays starter Todd Stottlemyre lasted just two innings and yielded six earned runs. Tommy Greene went 2 2/3 for the Phillies, giving up seven earned runs. Philadelphia closer Mitch Williams, who would famously serve up Joe Carter's series–winning home run at SkyDome three nights later, took the loss, getting hammered for three earned runs in two–thirds of an inning. The game ended just before 12:30 a.m. EST.
Oh yeah, Houston — leading 3–2 in this year's best–of–seven World Series — can win its first MLB championship later tonight at Dodger Stadium. The Astros will have Justin Verlander on the hill.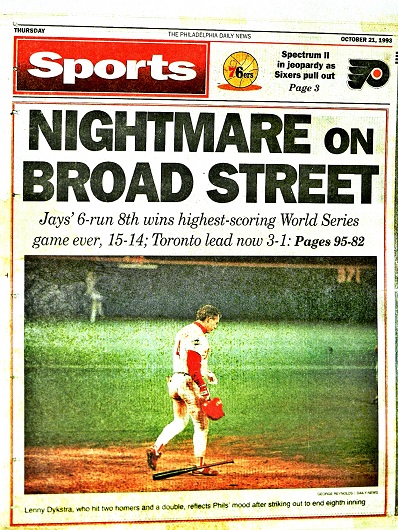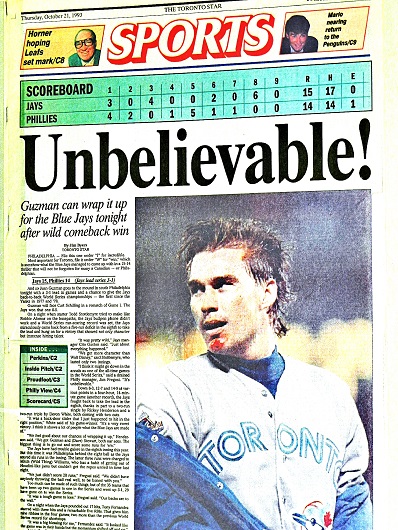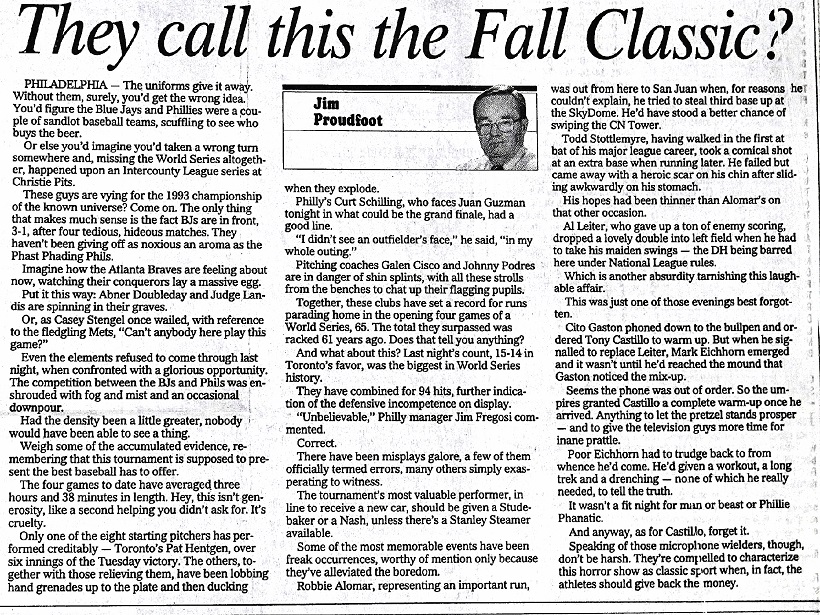 THE LATE TORONTO STAR COLUMNIST, JIM PROUDFOOT, WAS HARDLY IMPRESSED BY GAME 4 IN '93.
LOOKING BACK… COUNTING DOWN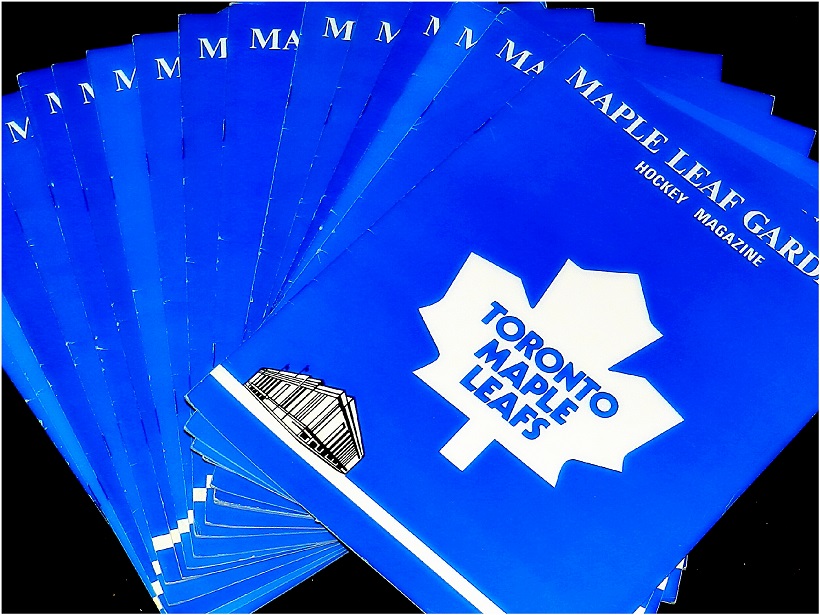 As the Maple Leafs move toward the 100th anniversary of their first NHL game (Dec. 19, 1917), I continue with a look at my collection of Maple Leaf Gardens hockey programs. Today, I go back to the 1970–71 season, during which the Leafs completely redesigned their uniform and modified their logo. It was the first year in which visiting teams wore their predominantly–colored jerseys away from home, a custom that continued until the end of the 2002–03 season. Ticket–holders at the Gardens — for $1 — could purchase a program–compilation (as pictured, below) that featured one of 14 NHL team albums; a blue-covered MLG hockey magazine and the white MLG official program — both of which were inserted in the album.
Forty–seven years later, these items are coveted souvenirs.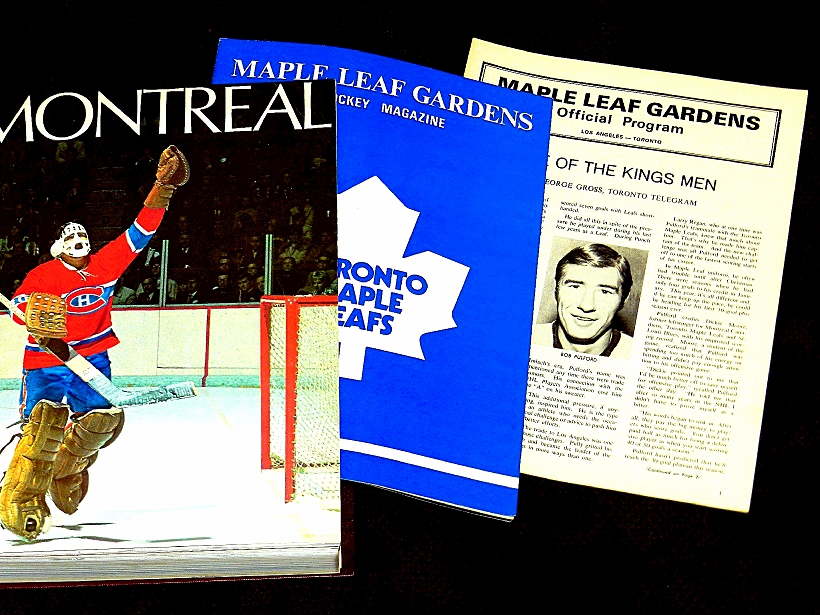 1970–71 MLG TEAM ALBUMS
Buffalo and Vancouver joined the NHL as expansion entries for 1970–71, increasing membership to 14 clubs. Here, the cover of all 14 team–albums sold as programs during Maple Leaf games that season: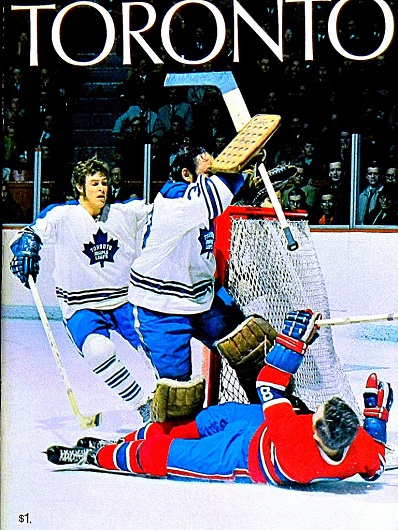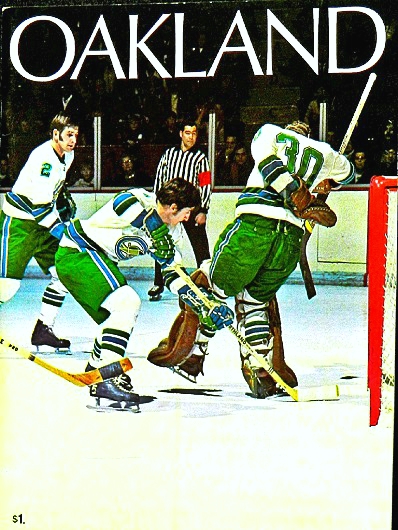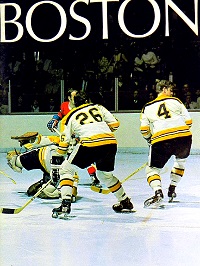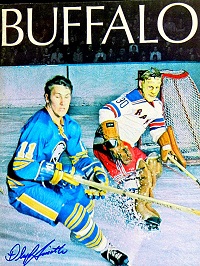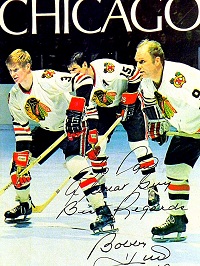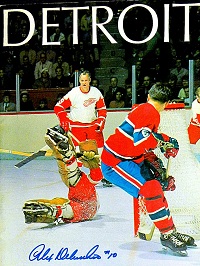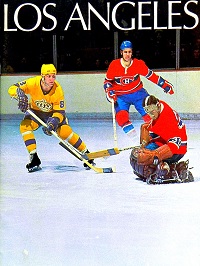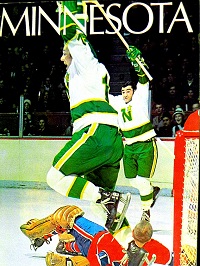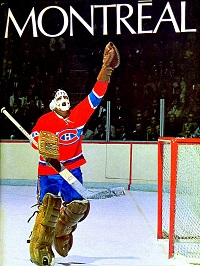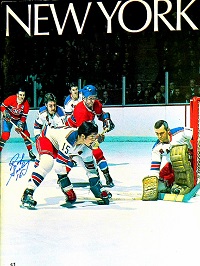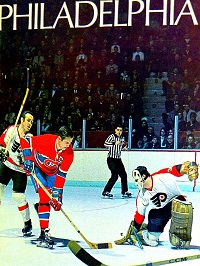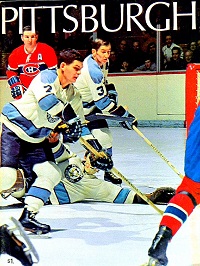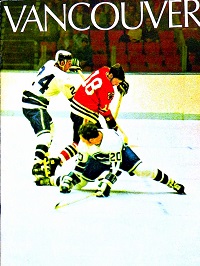 Here are the MLG programs in my collection from September to December 1970:
MINNESOTA — Sep. 23, 1970 (Pre–Season)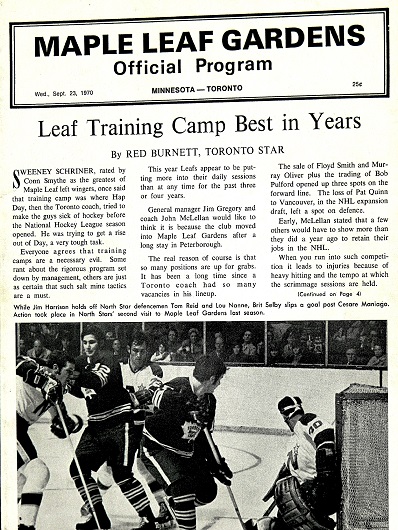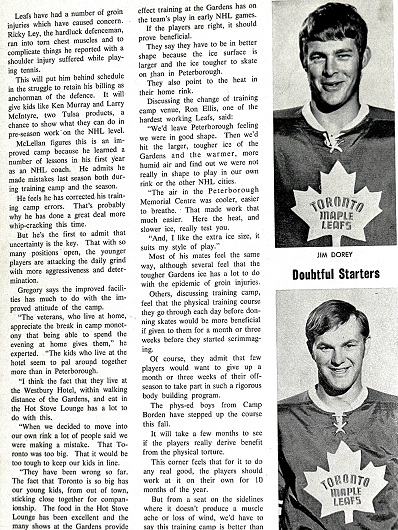 FOR EXHIBITION GAMES IN THE EARLY–70's, THE GARDENS ISSUED A FOUR–SIDED, CARDBOARD PROGRAM WITH FEATURE STORY ON THE FRONT (CONTINUED ON BACK, ABOVE) AND LINE–UPS (BELOW) IN THE MIDDLE. THERE'S SOMETHING I VIVIDLY REMEMBER ABOUT THIS NIGHT: UNAWARE THAT THE NHL HAD CRAFTED A NEW RULE ABOUT ROAD TEAMS WEARING PREDOMINANTLY–COLORED UNIFORMS, I WAS ASTONISHED WHEN VETERAN GOALIE GUMP WORSLEY LED THE MINNESOTA NORTH STARS ONTO THE ICE IN THEIR GREEN JERSEYS AND PANTS, WITH GOLD AND WHITE TRIM. THE LEAFS WORE THE WHITE ROAD UNIFORMS (BLUE SHOULDER–YOKE AND BLUE PANTS) DEBUTED IN THE 1967 STANLEY CUP PLAYOFFS AND UTILIZED FOR THREE SEASONS, BEGINNING IN 1967–68. THIS, BY THE WAY, WAS DARRYL SITTLER'S FIRST–EVER APPEARANCE IN A MAPLE LEAFS JERSEY. NO, HE DID NOT SHARE NO. 27 WITH BOB LIDDINGTON AND FUTURE BUFFALO STAR RENE ROBERT (AS BELOW).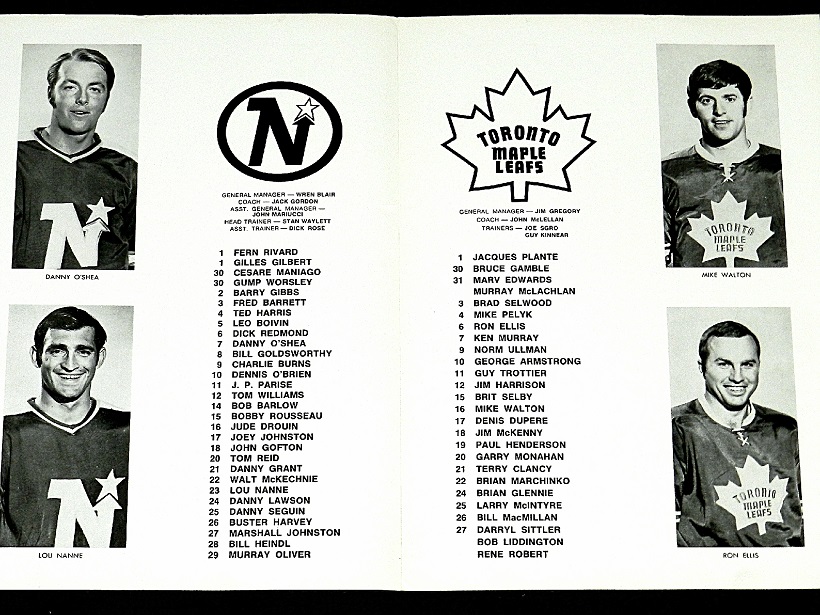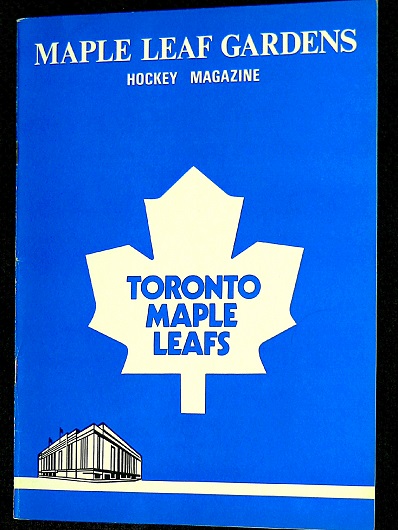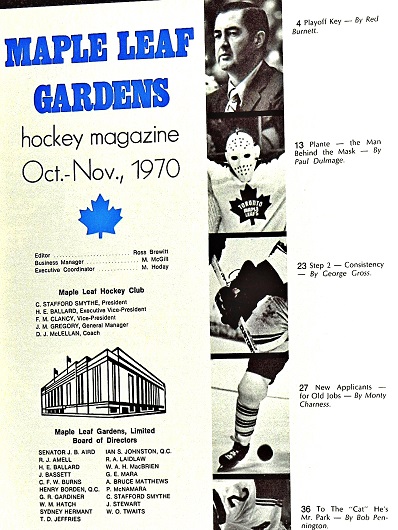 FIRST EDITION OF THE MLG HOCKEY MAGAZINE (INSERT) FOR 1970–71.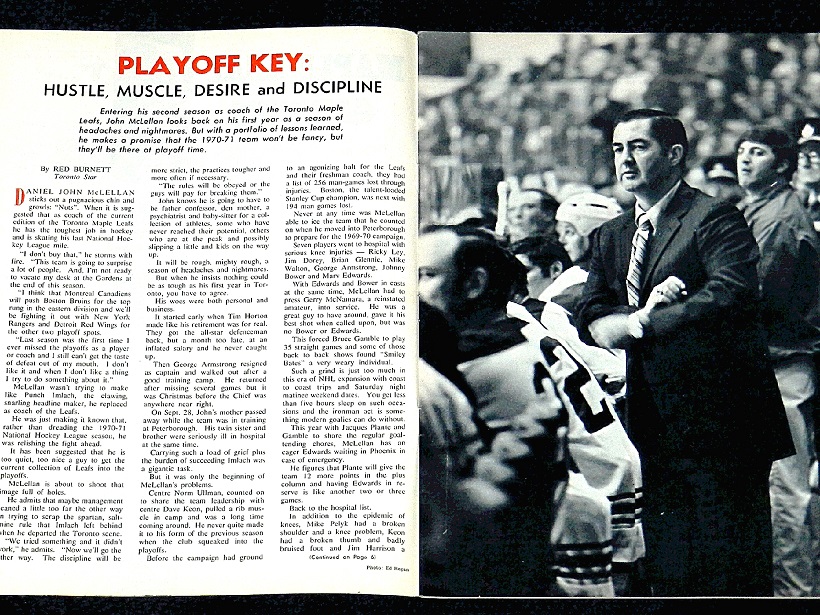 JOHN McLELLAN COACHED THE LEAFS FROM 1969–70 TO 1972–73, REPLACING PUNCH IMLACH. HE WAS A VERY NICE MAN. DIED SUDDENLY, AFTER GARDENING, OF A HEART ATTACK IN OCTOBER 1979.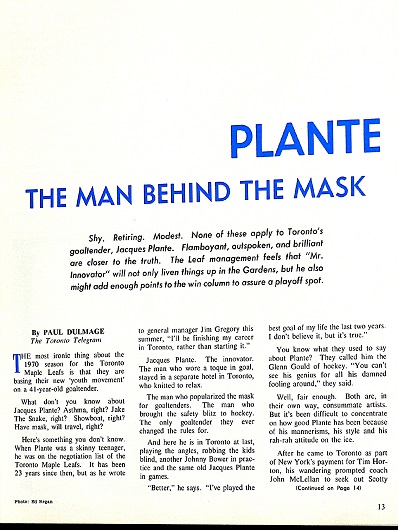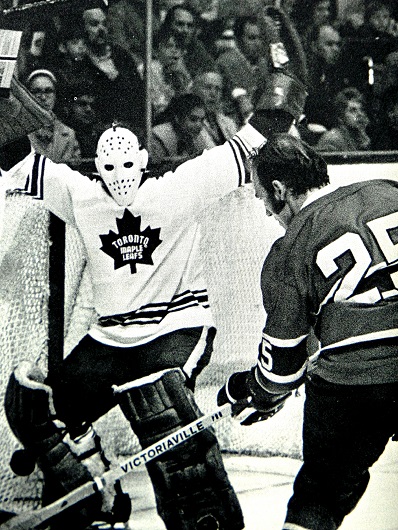 JACQUES PLANTE WAS MONTREAL'S GOALIE WHEN THE CANADIENS WON A RECORD FIVE STANLEY CUPS FROM 1956–60. YET, HE COMPILED THE SECOND–BEST GOALS–AGAINST AVERAGE (1.88) OF HIS BRILLIANT CAREER WHILE APPEARING IN 40 GAMES WITH THE '70–71 LEAFS. JACQUES WAS 42 YEARS OLD AND HAD BEEN PURCHASED (MAY 18, 1970) FROM THE ST. LOUIS BLUES. HE ALSO INTRODUCED A REVOLUTIONARY GOAL–MASK (PICTURED ABOVE) — ONE THAT DID NOT SIT FLUSH AGAINST THE FACE.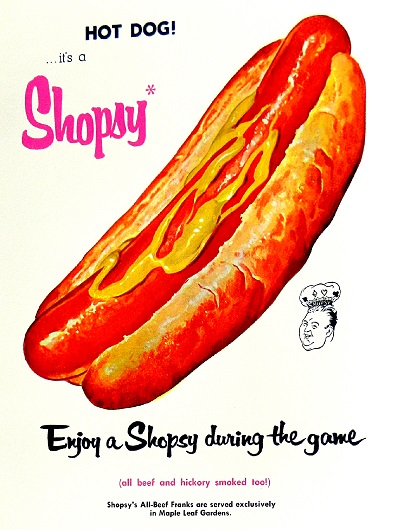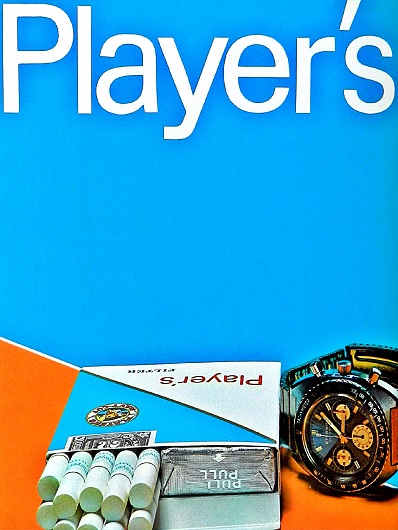 THIS HOT DOG AD FOR SHOPSY'S WAS A STAPLE IN THE MLG PROGRAM DURING THE 60's AND 70's. AND, CIGARETTE ADS WERE STILL ALLOWED AT THE TIME.
ST. LOUIS — OCT. 14, 1970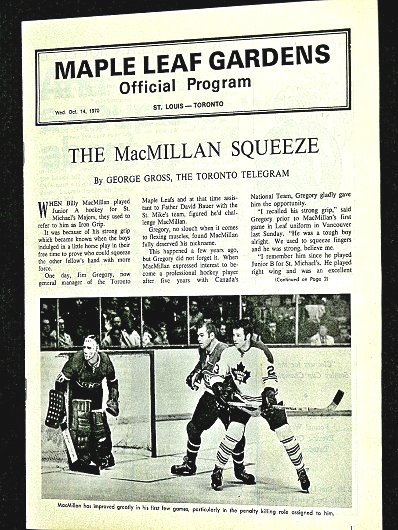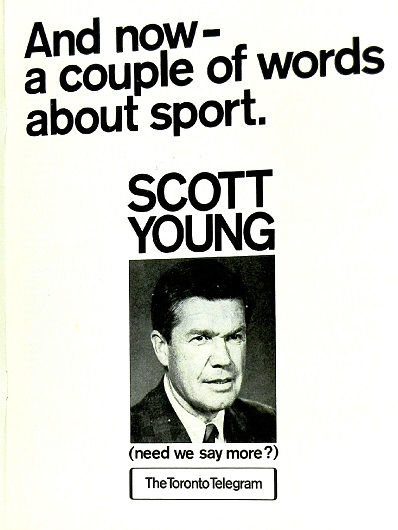 IT WAS THE LEAFS HOME OPENER FOR 1970–71 (AFTER A 5–3 LOSS TO THE EXPANSION CANUCKS, IN VANCOUVER) AND ROOKIE FORWARD BILL MacMILLAN (OF CHARLOTTETOWN, PRINCE EDWARD ISLAND) MADE THE COVER. IN A FIGHT–FILLED AFFAIR, DARRYL SITTLER PLAYED HIS FIRST REGULAR–SEASON GAME AT THE GARDENS AND TORONTO ROUTED THE BLUES, 7–3. VETERAN SCOTT YOUNG (NEIL'S DAD) WAS CHURNING OUT COLUMNS FOR THE OLD TORONTO TELEGRAM.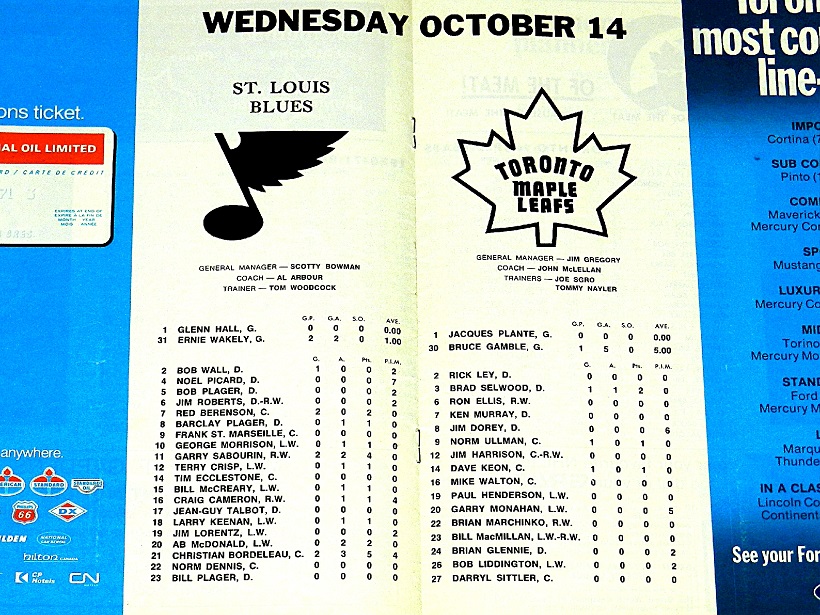 AFTER COACHING ST. LOUIS TO THE STANLEY CUP FINAL IN THE FIRST THREE YEARS OF EXPANSION (1968–70), SCOTTY BOWMAN KICKED HIMSELF UPSTAIRS AND NAMED RETIRED BLUES' DEFENSEMAN AL ARBOUR NEW MAN BEHIND THE BENCH. THOUGH THE BOWMAN–ARBOUR TANDEM DIDN'T WORK OUT IN ST. LOUIS, IT CURRENTLY STANDS FIRST (BOWMAN 1,244) AND FOURTH (ARBOUR 782) ON THE ALL–TIME LIST OF NHL COACHING WINS, WITH JOEL QUENNEVILLE AND KEN HITCHCOCK IN BETWEEN.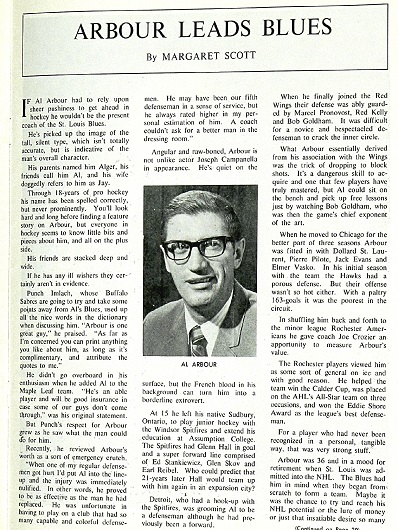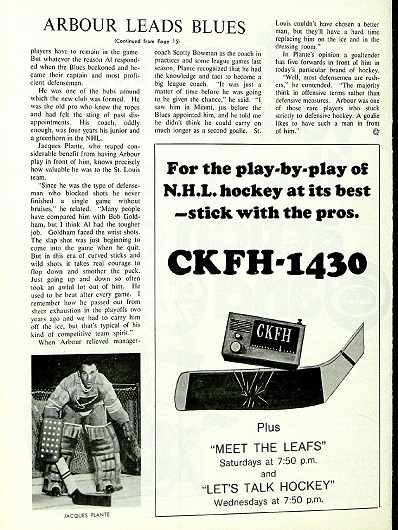 NEW YORK RANGERS — OCT. 17, 1970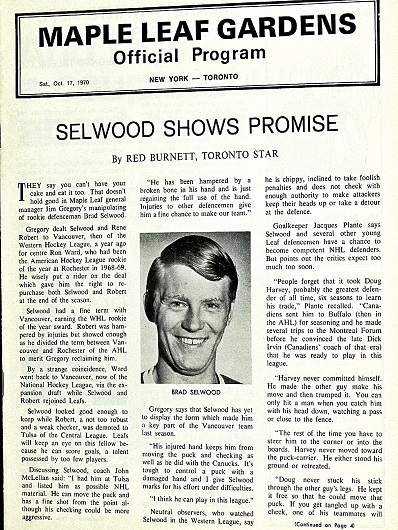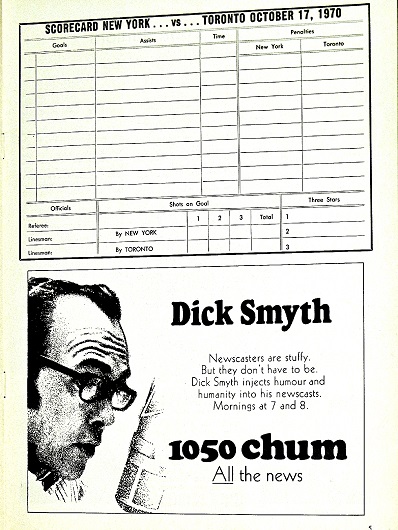 NEW YORK THROTTLED TORONTO, 6–2, IN THE MAPLE LEAFS SECOND HOME GAME. IT OCCURRED IN THE MIDST OF THE SO–CALLED "OCTOBER CRISIS" (GOOGLE IT) IN MONTREAL. ON THAT SATURDAY NIGHT, AFTER THE CANADIENS BEAT CHICAGO, 6–2, AT THE FORUM, THE BODY OF QUEBEC LABOR MINISTER PIERRE LAPORTE WAS FOUND IN THE TRUNK OF A CAR. HE'D BEEN ASSASSINATED BY MEMBERS OF THE FRONT DE LIBERATION DU QUEBEC (OR F.L.Q.) — A SEPARATIST, PARAMILITARY GROUP IN THE PROVINCE. THE "OCTOBER CRISIS" PROMPTED CANADIAN PRIME MINISTER PIERRE ELLIOTT TRUDEAU TO DECLARE THE "WAR MEASURES ACT" FOR THE FIRST (AND ONLY) TIME SINCE WORLD WAR II. A CURFEW WAS ORDERED FOR THE STREETS OF MONTREAL.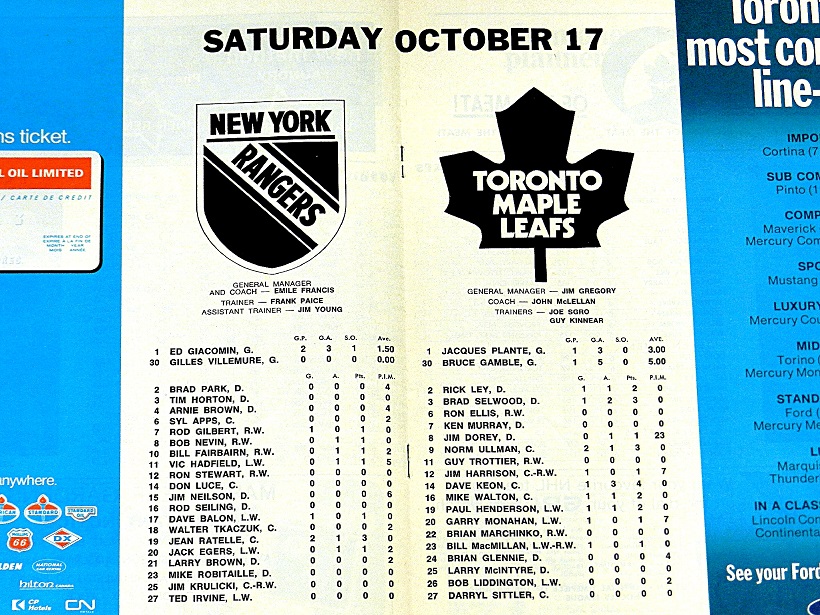 MONTREAL — OCT. 28, 1970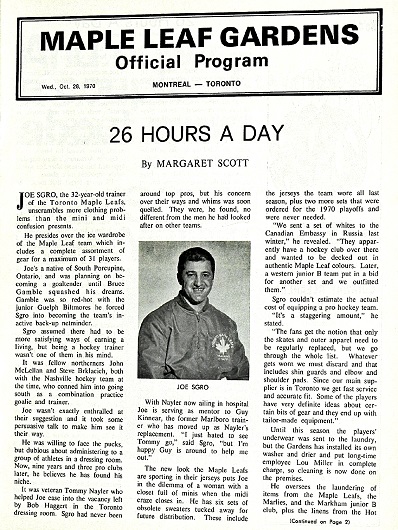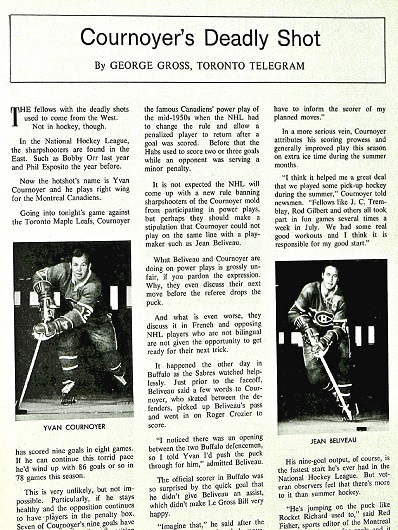 IN THE MIDST OF THE "OCTOBER CRISIS", THE CANADIENS LEFT MONTREAL AND PUT A 6–2 WHIPPING ON THE LEAFS AT THE GARDENS. CAPTAIN JEAN BELIVEAU — BEGINNING HIS FINAL SEASON IN THE NHL — WAS OFF TO A QUICK START WITH 10 EARLY–SEASON POINTS (BELOW). ROGIE VACHON AND PHIL MYRE WERE THE MONTREAL GOALIES. A RELATIVE UNKNOWN FROM CORNELL UNIVERSITY — KEN DRYDEN — WOULD DISPLACE BOTH LATER IN THE SEASON. DARRYL SITTLER'S NAME WAS IN A GAME–SUMMARY FOR THE FIRST TIME, HAVING PICKED UP A MINOR PENALTY.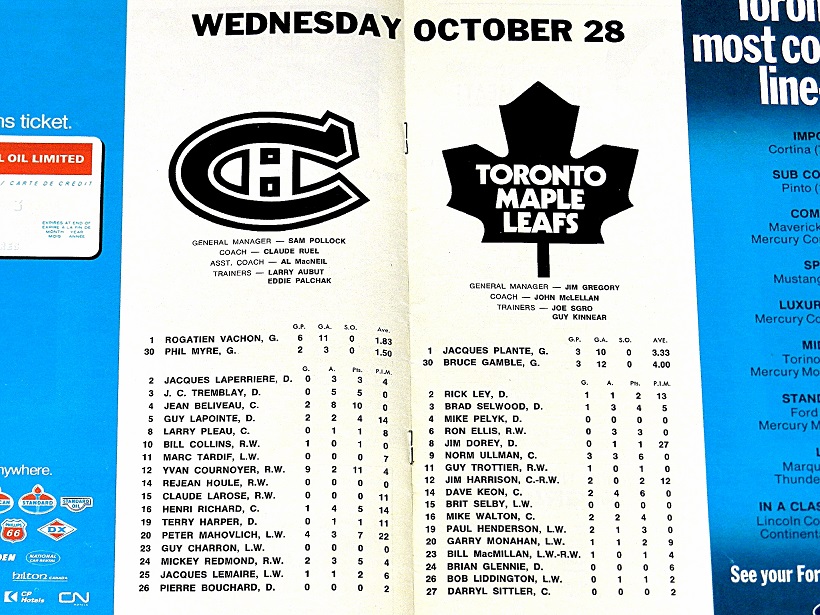 VANCOUVER — NOV. 11, 1970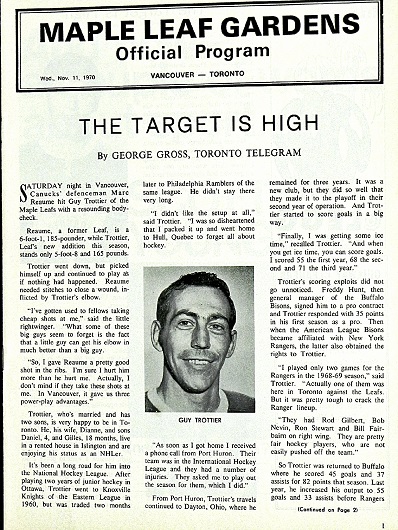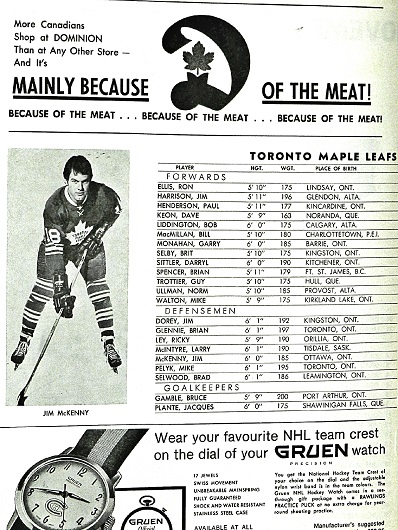 THE LEAFS HAD A PALTRY 3–9–0 RECORD WHEN THE EXPANSION CANUCKS PAID THEIR FIRST VISIT TO MAPLE LEAF GARDENS AND HANDED TORONTO AN EMBARRASSING 4–2 LOSS — ITS THIRD AGAINST VANCOUVER IN AS MANY GAMES. THE CANUCKS WORE THEIR BLUE–ROAD UNIFORMS (BOTTOM–LEFT); THE LEAFS, THEIR RE–DESIGNED HOME–WHITE JERSEYS (RIGHT). NHLUNIFORMS.COM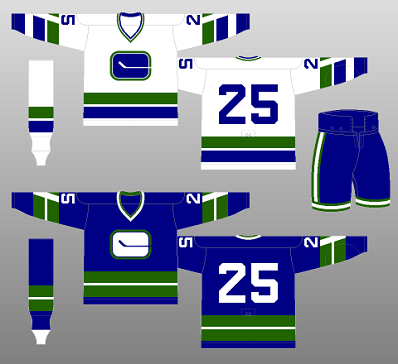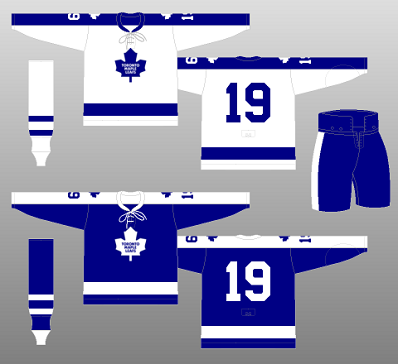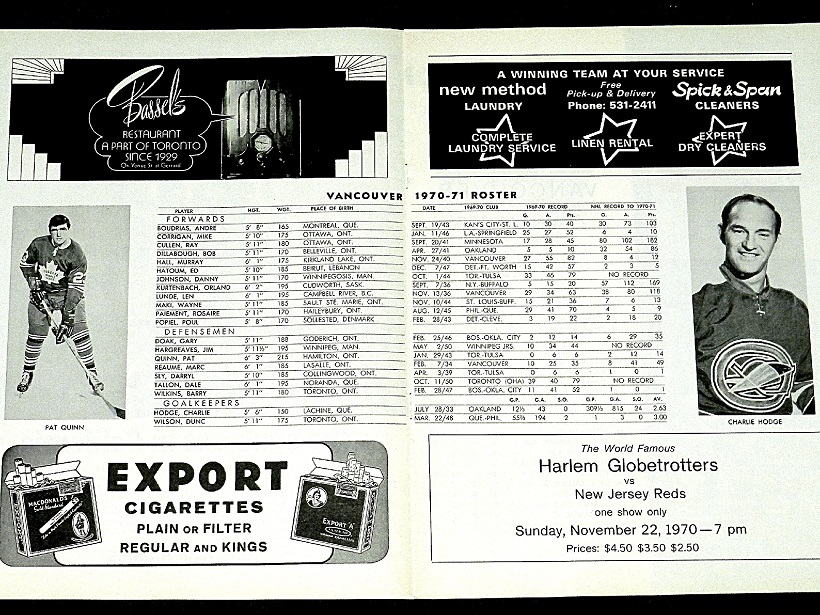 RUGGED MAPLE LEAFS DEFENSEMAN PAT QUINN WAS CHOSEN BY VANCOUVER IN THE 1970 EXPANSION DRAFT AND GIVEN JERSEY NO. 3 (BELOW; HE'D WORN 23 IN TORONTO). AFTER HELPING MONTREAL WIN STANLEY CUP TITLES IN 1965 AND 1966, CHARLIE HODGE WENT TO CALIFORNIA IN THE 1967 EXPANSION DRAFT; THEN TO THE CANUCKS IN 1970 AS NO. 1 GOALIE. DEFENSEMAN DALE TALLON (19) HAD BEEN A JUNIOR STAR WITH THE TORONTO MARLBOROS. VANCOUVER SELECTED HIM SECOND IN THE 1970 NHL DRAFT BEHIND GILBERT PERREAULT OF BUFFALO.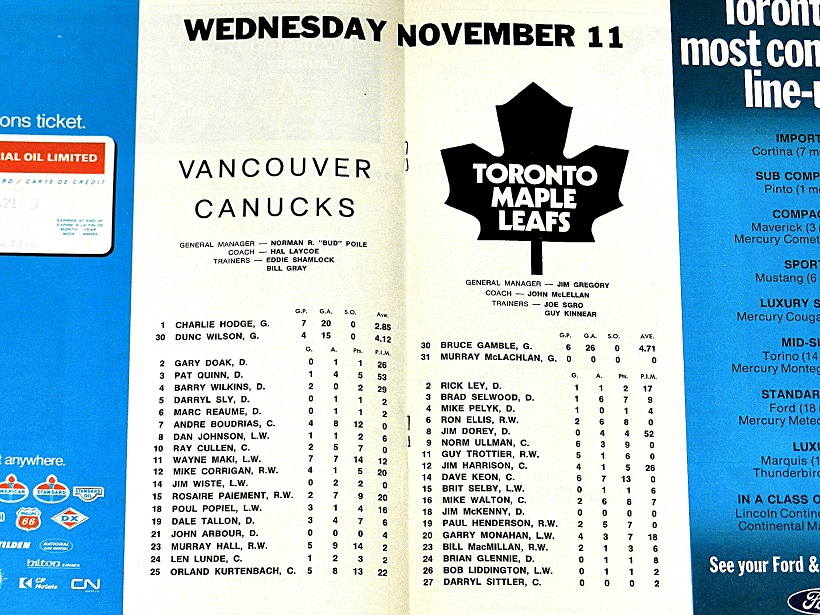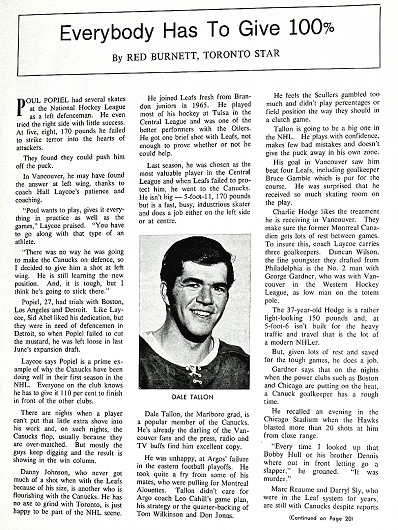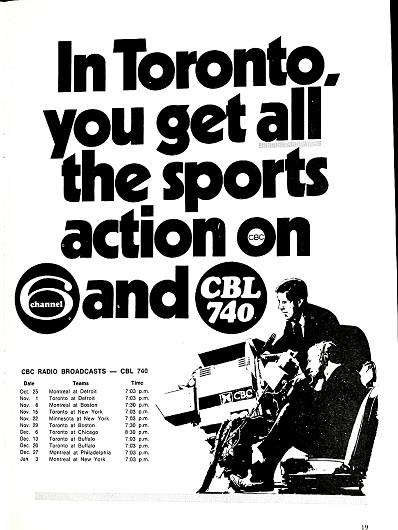 IN THE 60's AND THROUGH MUCH OF THE 70's, CBC RADIO (CBL–740 HERE IN TORONTO) BROADCAST NHL GAMES ON SUNDAY NIGHT INVOLVING THE LEAFS AND CANADIENS.
BOSTON — NOV. 14, 1970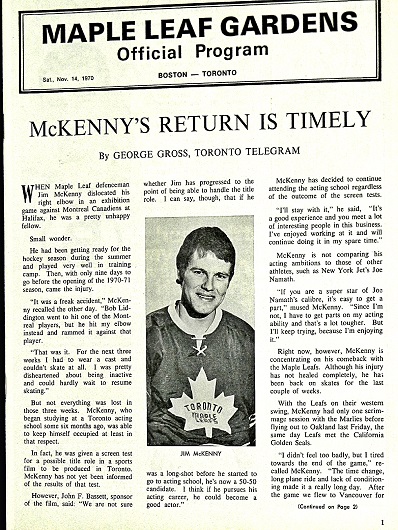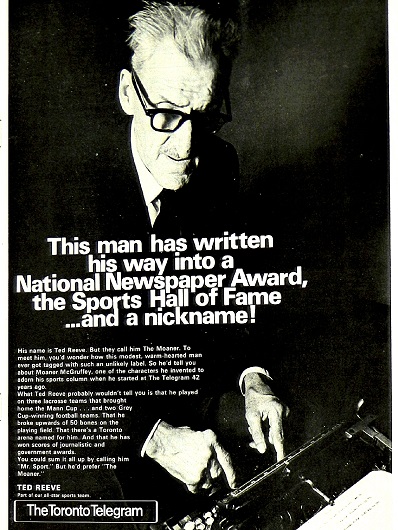 THE BIGGEST WIN OF THE STILL–EARLY SEASON FOR THE LEAFS WAS A 3–2 EDGING OF THE BOSTON TEAM THAT WOULD ESTABLISH A BOAT–LOAD OF INDIVIDUAL AND TEAM SCORING RECORDS IN 1970–71. LEAFS DEFENSEMAN JIM McKENNY AND "THE MOANER", TED REEVE, WERE FEATURED, ABOVE, IN THE PROGRAM. THE LINE–UP STATS, BELOW, SHOW HOW THE BRUINS WERE OFF TO A BLAZING START, WITH SEVEN PLAYERS HAVING COMPILED DOUBLE–FIGURES IN POINTS.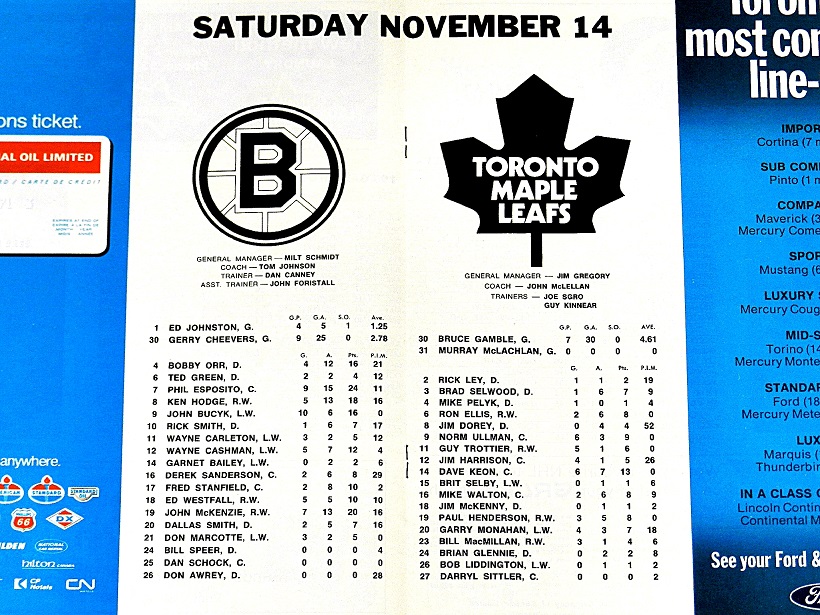 BUFFALO — NOV. 18, 1970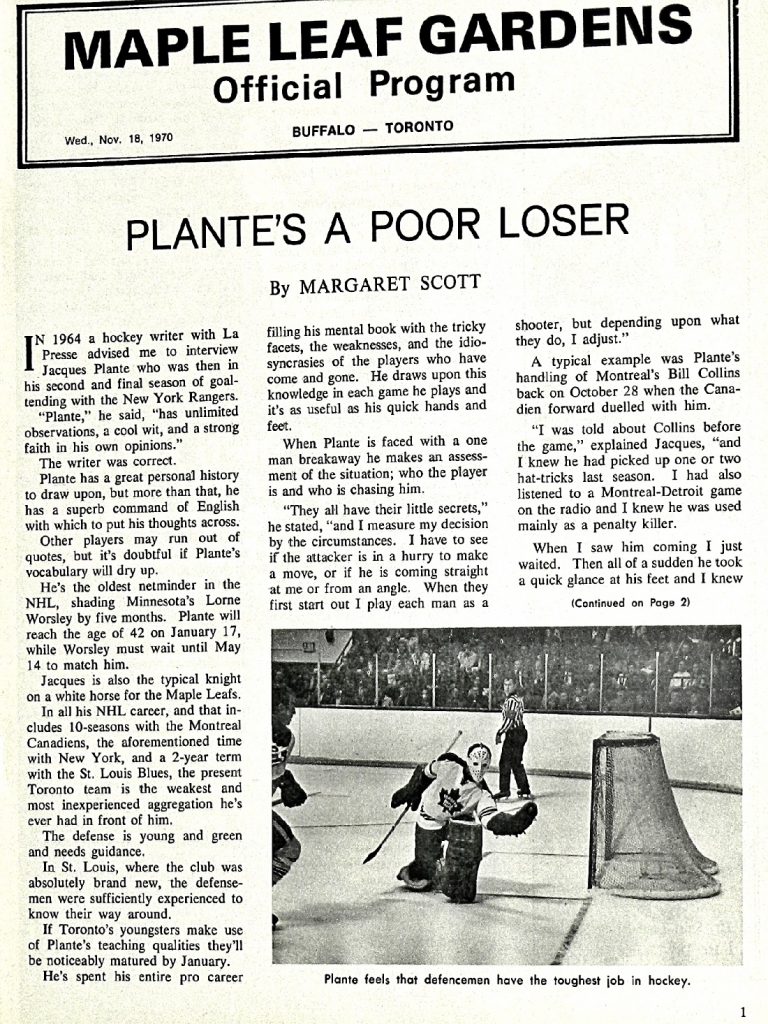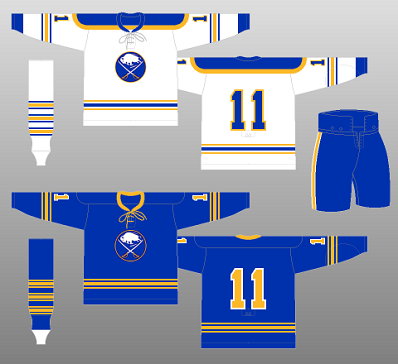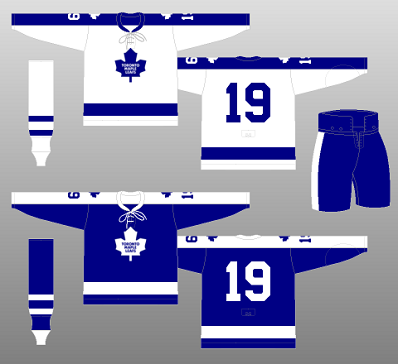 THE BUFFALO SABRES MADE THEIR FIRST VISIT TO TORONTO WEARING BLUE–ROAD UNIFORMS WITH GOLD AND WHITE TRIM. IT WOULD BE A MEMORABLE NIGHT FOR THE VISITORS.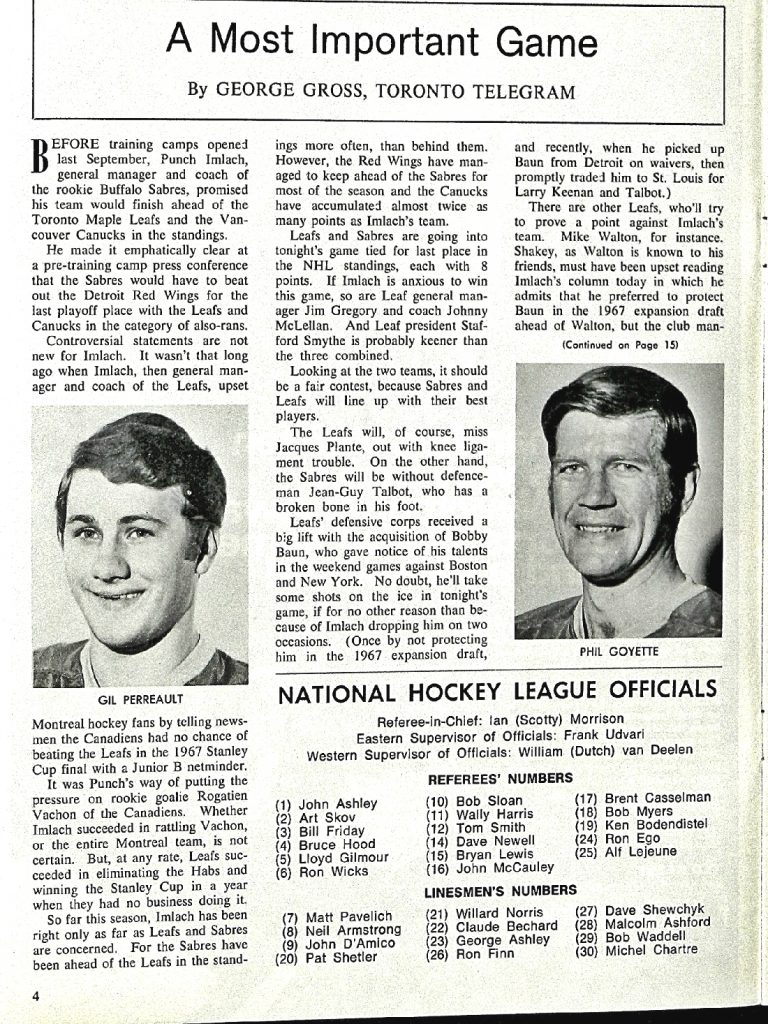 THIS GAME WAS BUILT UP HUGELY FOR THE RETURN OF FORMER LEAFS GM/COACH PUNCH IMLACH — NOW HOLDING THE SAME TITLES FOR THE EXPANSION SABRES. AND, IT COULD NOT HAVE UNFOLDED MORE SATISFACTORILY FOR IMLACH, WHO RECEIVED A LONG STANDING OVATION FROM THE DENIZENS OF MAPLE LEAF GARDENS WHEN HE APPEARED BEHIND THE VISITORS' BENCH (IMLACH HAD GUIDED THE LEAFS TO FOUR STANLEY CUPS IN THE 60's; HE WAS FIRED AT THE GARDENS ON APR. 6, 1969, MOMENTS AFTER A QUARTERFINAL PLAYOFF SWEEP BY BOSTON). BUFFALO DEMOLISHED THE LEAFS, 7–2. NO. 1 DRAFT CHOICE GILBERT PERREAULT (11) MADE HIS FIRST VISIT TO TORONTO.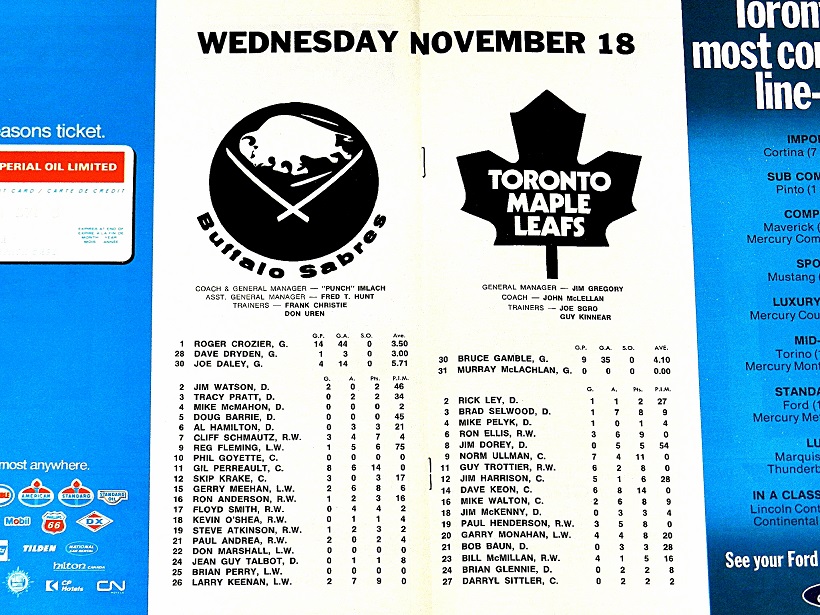 PITTSBURGH — NOV. 24, 1970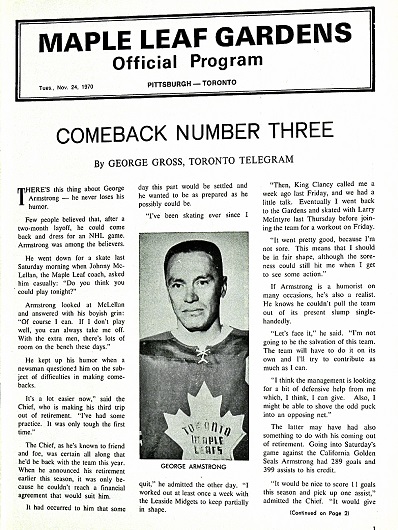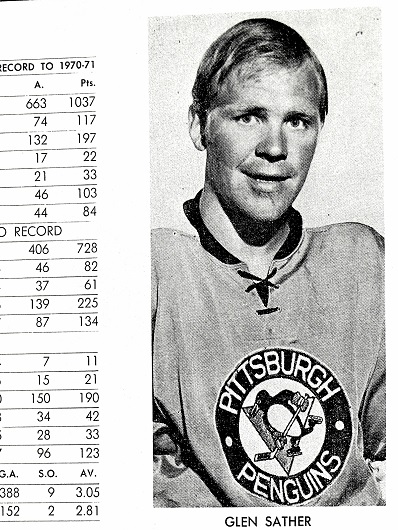 VETERAN GEORGE ARMSTRONG (TOP–LEFT) RETURNED TO THE MAPLE LEAFS AFTER "RETIREMENT" FOR THE THIRD AND FINAL TIME AS GLEN SATHER (RIGHT) AND THE PENGUINS CAME TO TOWN WEARING THEIR LIGHT–BLUE ROAD UNIFORMS WITH DARK–BLUE PANTS AND TRIM (BOTTOM–LEFT). THE GAME ENDED IN A 4–4 TIE. SATHER WOULD GO ON TO BIGGER AND BETTER WITH WAYNE GRETZKY AND CO.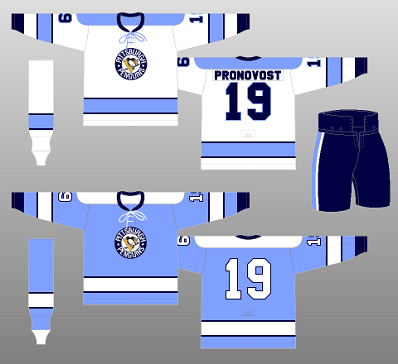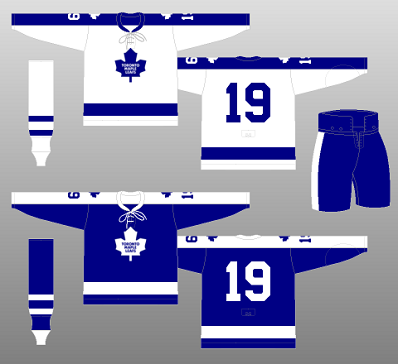 VETERAN ANDY BATHGATE (9) RETURNED TO THE PENGUINS FOR THE 1970–71 SEASON AFTER A TWO–YEAR HIATUS WITH VANCOUVER OF THE WESTERN HOCKEY LEAGUE. HE HAD PLAYED IN ALL 74 GAMES WITH PITTSBURGH IN THE EXPANSION SEASON OF 1967–68. HE DRESSED FOR EACH OF 76 MATCHES IN THIS, HIS FINAL NHL CAMPAIGN. BATHGATE HAD PLAYED FOR THE LEAFS' 1964 STANLEY CUP TEAM.
DETROIT — NOV. 28, 1970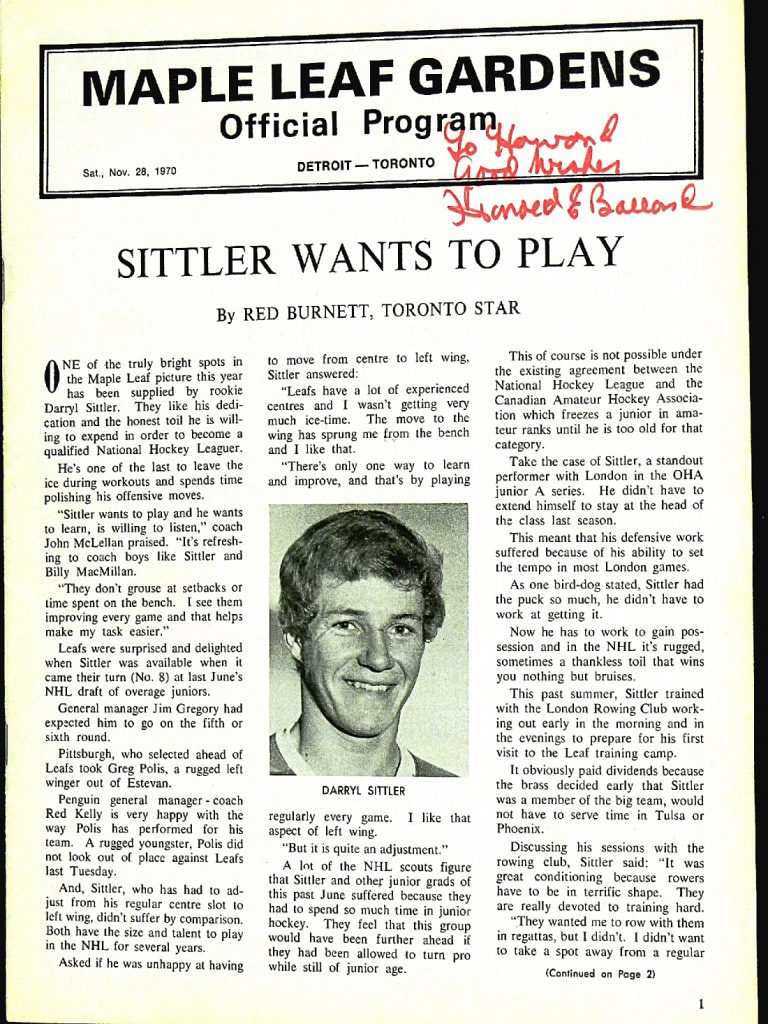 YES, THAT WAS HAROLD BALLARD'S AUTOGRAPH (ABOVE) — SIGNED TO YOURS TRULY PRIOR TO THE LEAFS–RED WINGS GAME. AND, HOW APPROPRIATE THAT ROOKIE DARRYL SITTLER WOULD GRACE THE COVER OF THE PROGRAM–INSERT ON THE NIGHT HE SCORED HIS FIRST OF 484 NHL GOALS. TORONTO PUMMELED THE WINGS, 9–4. THE 1970 GREY CUP HAD BEEN PLAYED EARLIER IN THE DAY AT OLD CNE STADIUM HERE IN TORONTO — MONTREAL ALOUETTES DEFEATING THE CALGARY STAMPEDERS.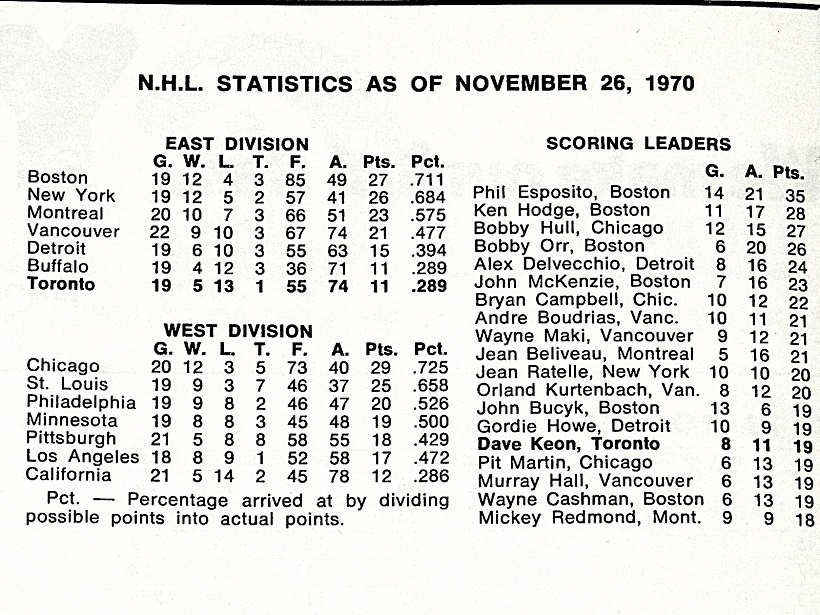 AS NOVEMBER CAME TO A CLOSE, THE LEAFS WERE PERCHED WITH EXPANSION BUFFALO AT THE BOTTOM OF THE 14–TEAM NHL. TORONTO WOULD BEGIN TO RALLY IN DECEMBER.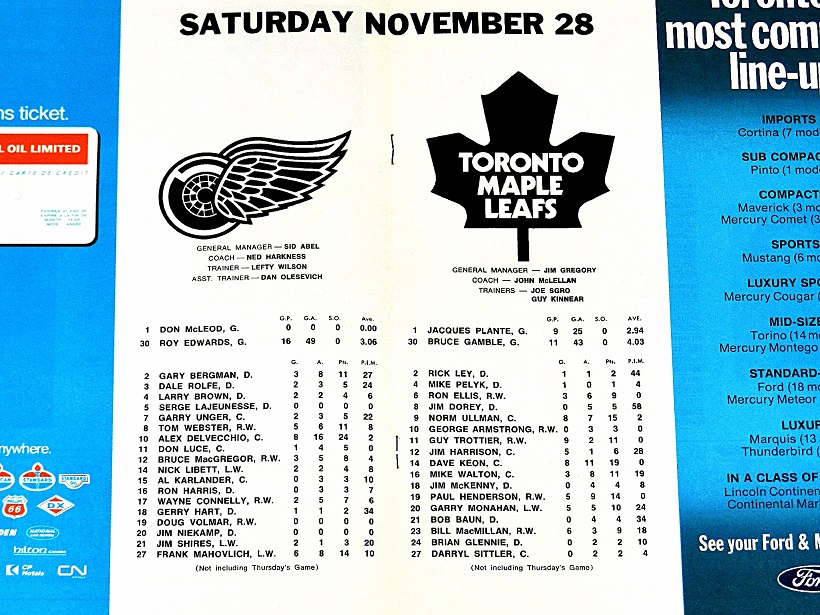 GORDIE HOWE WAS INJURED AND NOT IN THE LINE–UP FOR THIS VISIT TO TORONTO. EX–LEAF FRANK MAHOVLICH (27) WAS STILL WITH THE RED WINGS. FEWER THAN TWO MONTHS LATER (JAN. 13, 1971), HE WOULD BE TRADED TO MONTREAL FOR SCORING–WINGER MICKEY REDMOND.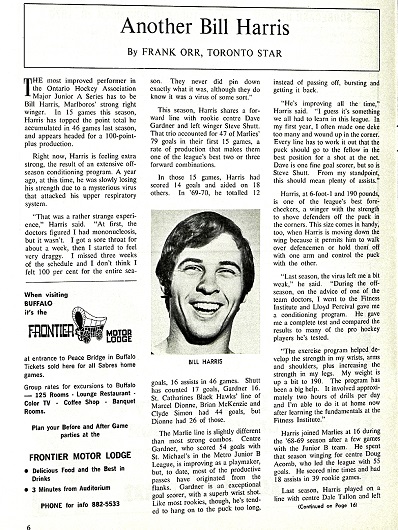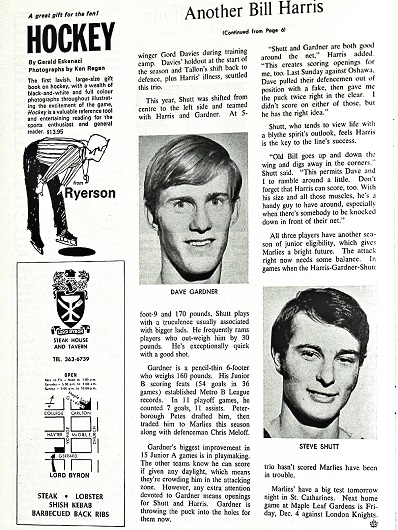 THE TORONTO MARLBOROS HAD THE BEST FORWARD LINE IN THE ONTARIO HOCKEY ASSOCIATION JUNIOR 'A' CIRCUIT: BILLY HARRIS BETWEEN STEVE SHUTT AND DAVE GARDNER.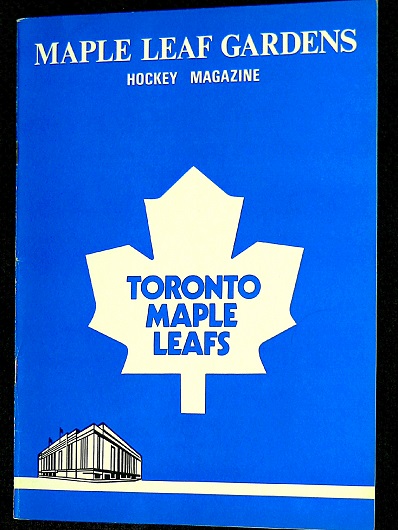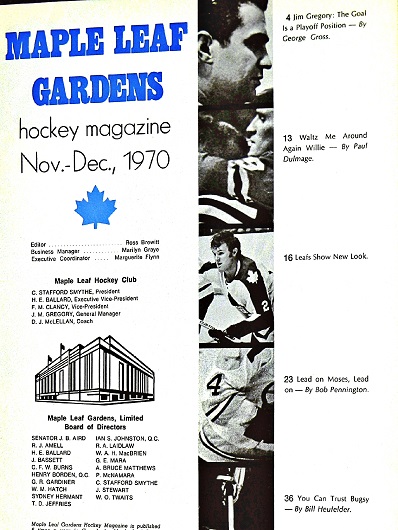 SECOND EDITION OF MAPLE LEAF GARDENS PROGRAM (INSERT) FOR 1970–71.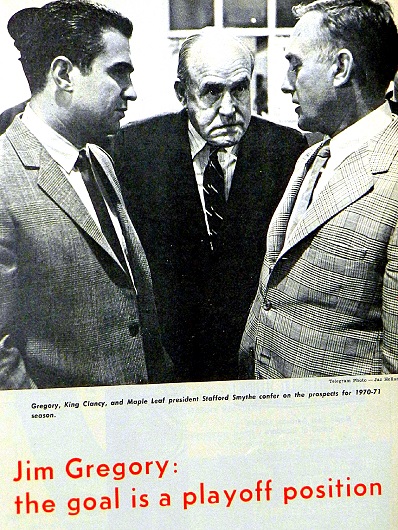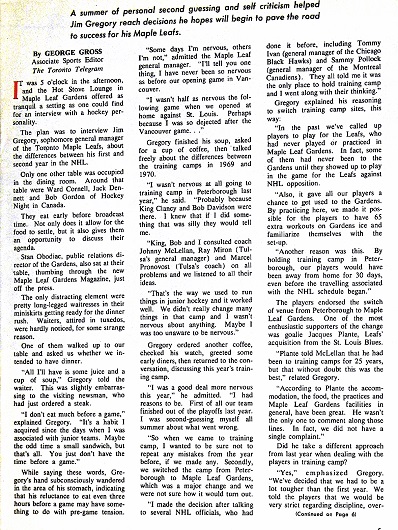 JIM GREGORY WAS ONLY 33 WHEN HE TOOK OVER FROM PUNCH IMLACH AS LEAFS GENERAL MANAGER FOR THE 1969–70 SEASON. PICTURED ABOVE (AT LEFT) WITH KING CLANCY AND STAFFORD SMYTHE (WHO FIRED IMLACH), GREGORY SOMEHOW ENDURED 10 YEARS WORKING FOR HAROLD BALLARD. HE DRAFTED DARRYL SITTLER, LANNY McDONALD, IAN TURNBULL, MIKE PALMATEER AND DAVE (TIGER) WILLIAMS, AND SIGNED BORJE SALMING AS A FREE AGENT FROM SWEDEN.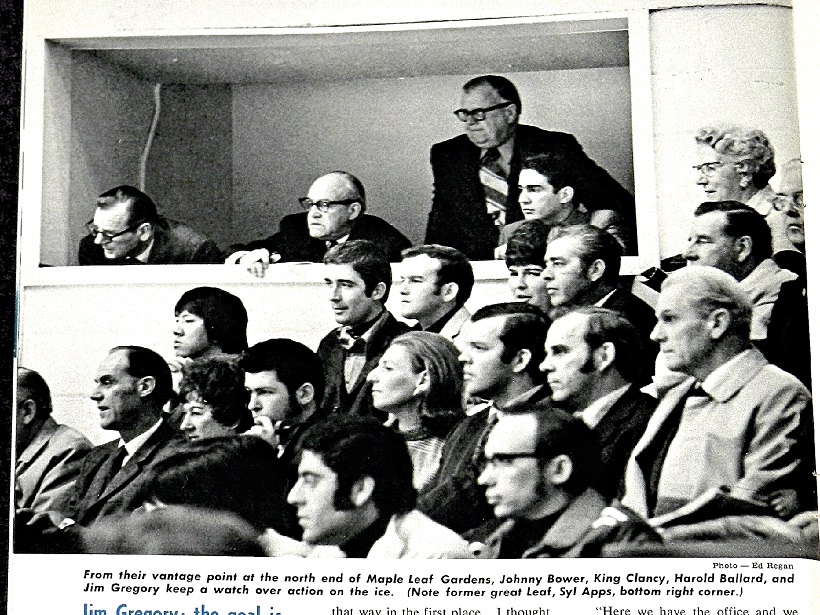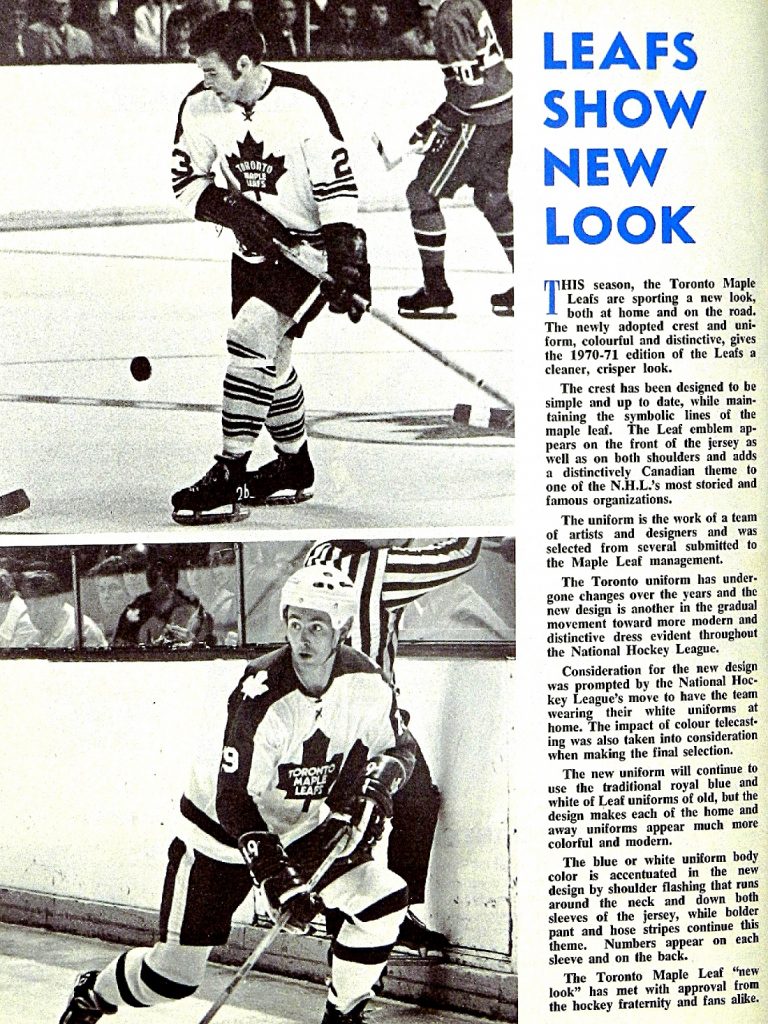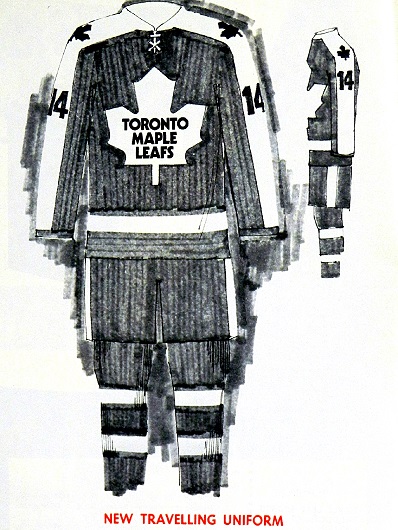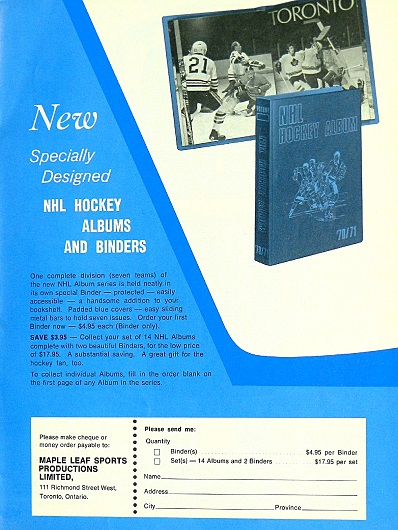 THE LEAFS WORE THEIR NEW ROAD–BLUE UNIFORM (TOP–LEFT) FOR THE FIRST TIME AT NEW YORK ON NOV. 15, 1970 (4–2 LOSS). IN THEIR FIRST SEVEN AWAY GAMES OF THE SEASON (at VANCOUVER TWICE; PHILADELPHIA, NEW YORK, DETROIT, LOS ANGELES AND CALIFORNIA), THE CLUB WORE ITS BLUE HOME UNIFORM FROM THE PREVIOUS THREE YEARS — THAT WHICH DEBUTED DURING THE 1967 STANLEY CUP PLAYOFFS. THE LEAFS PROGRAM OFFERED A BINDER (TOP–RIGHT) IN WHICH TO HOLD THE 14 TEAM ALBUMS ON SALE IN '70–71 AT THE GARDENS.
LOS ANGELES — DEC. 2, 1970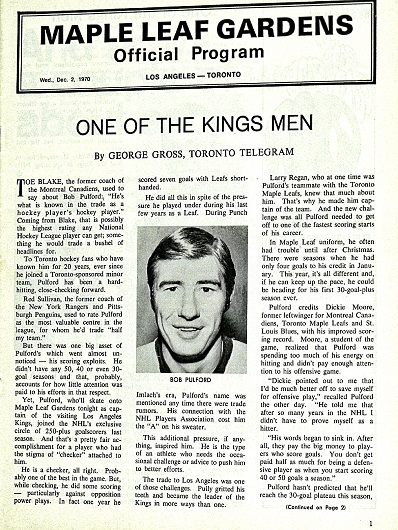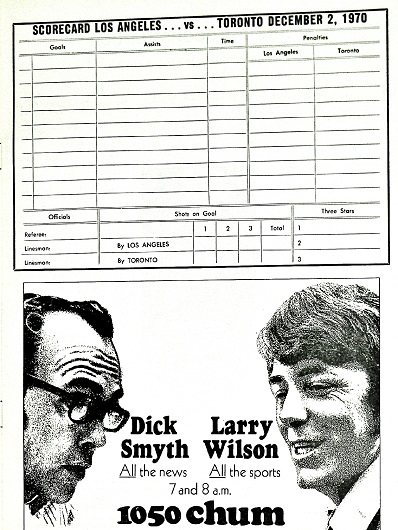 EX–LEAFS CENTER BOB PULFORD CAME TO TOWN FOR THE FIRST TIME WITH HIS NEW TEAM, AFTER BEING TRADED TO LOS ANGELES (SEP. 3, 1970) FOR GARRY MONAHAN. THE KINGS WORE THEIR PURPLE ROAD UNIFORMS WITH GOLD TRIM (BOTTOM–LEFT) AT MAPLE LEAF GARDENS. LEAFS WON, 7–0.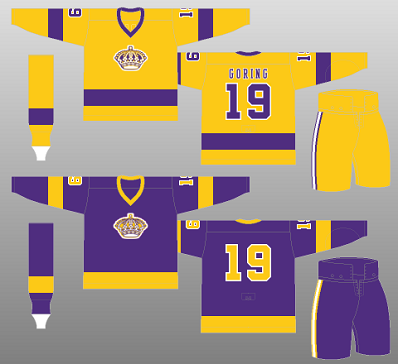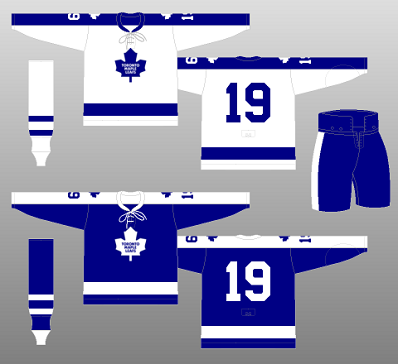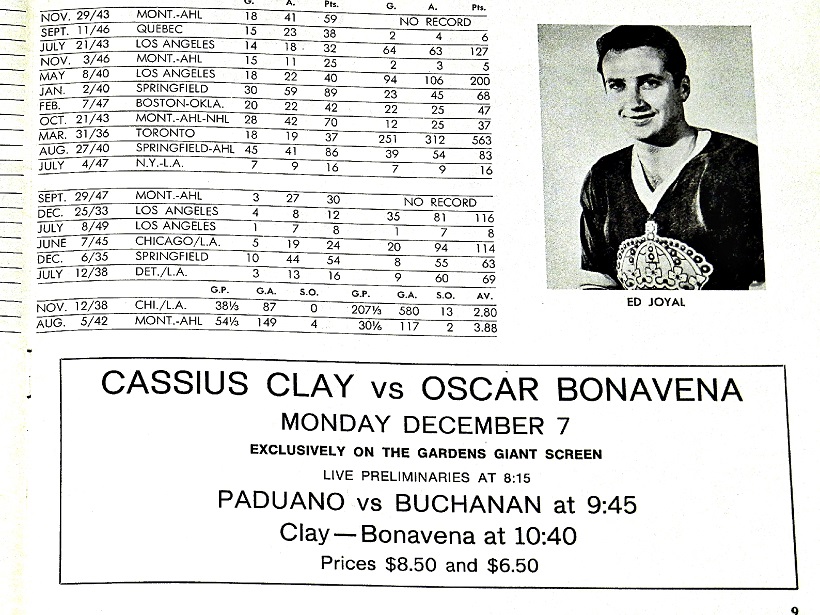 MOST OF CASSIUS CLAY (OR MUHAMMAD ALI'S) BIG FIGHTS WERE SHOWN ON CLOSED–CIRCUIT TV AT THE GARDENS, INCLUDING HIS DEC. 7, 1970 T.K.O. OF OSCAR (RINGO) BONAVENA AT MADISON SQUARE GARDEN. I FIRST ATTENDED A CLOSED–CIRCUIT EVENT AT MLG (SITTING ON THE COVERED ICE–SURFACE) WHEN ALI LOST TO JOE FRAZIER IN NEW YORK ON MAR. 8, 1971.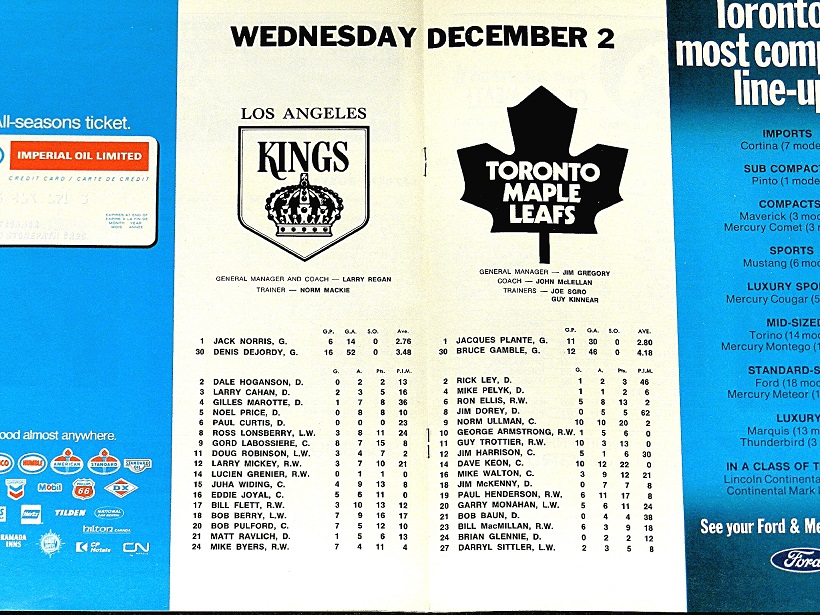 FORWARDS EDDIE JOYAL (16) AND BILL FLETT (17) WERE THE LONE CARRYOVERS FROM THE KINGS' 1967–68 EXPANSION TEAM. PULFORD WORE HIS FAMILIAR NO. 20 JERSEY.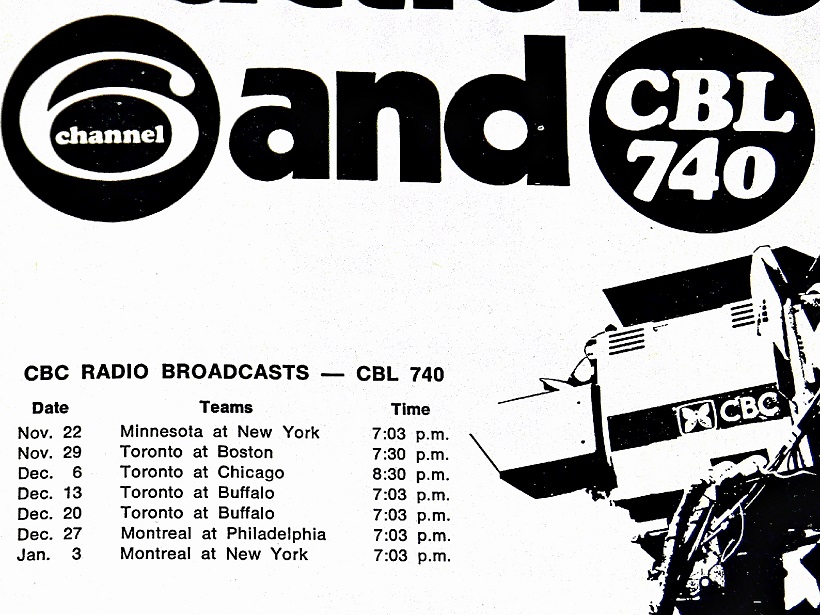 NEW YORK RANGERS — DEC. 5, 1970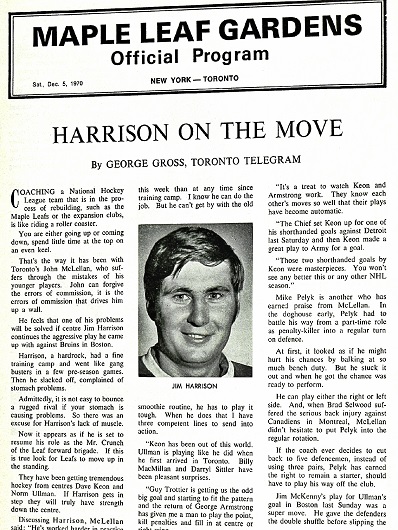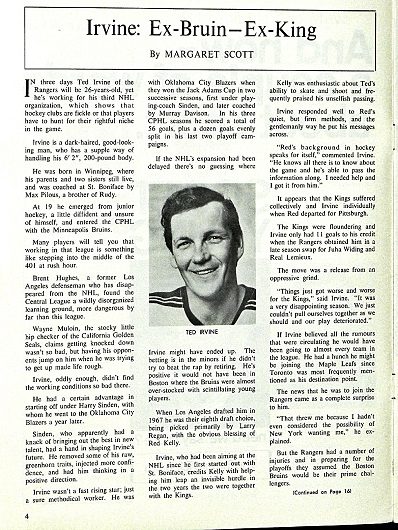 THE MAPLE LEAFS WERE STILL IN A FUNK, AS A 1–0 LOSS TO THE RANGERS AT MLG STARTED ANOTHER THREE–GAME SKID — DROPPING THE CLUB TO 7–18–1 AFTER 26 GAMES (AS OF DEC. 8, 1970). MARGARET SCOTT PENNED AN ARTICLE (TOP–RIGHT) ON RANGERS WINGER TED IRVINE, WHO SCORED 154 NHL GOALS WITH LOS ANGELES, NEW YORK AND ST. LOUIS FROM 1967–77. NOW 72, IRVINE IS BETTER KNOWN TODAY AS THE FATHER OF PROFESSIONAL WRESTLER CHRIS JERICHO.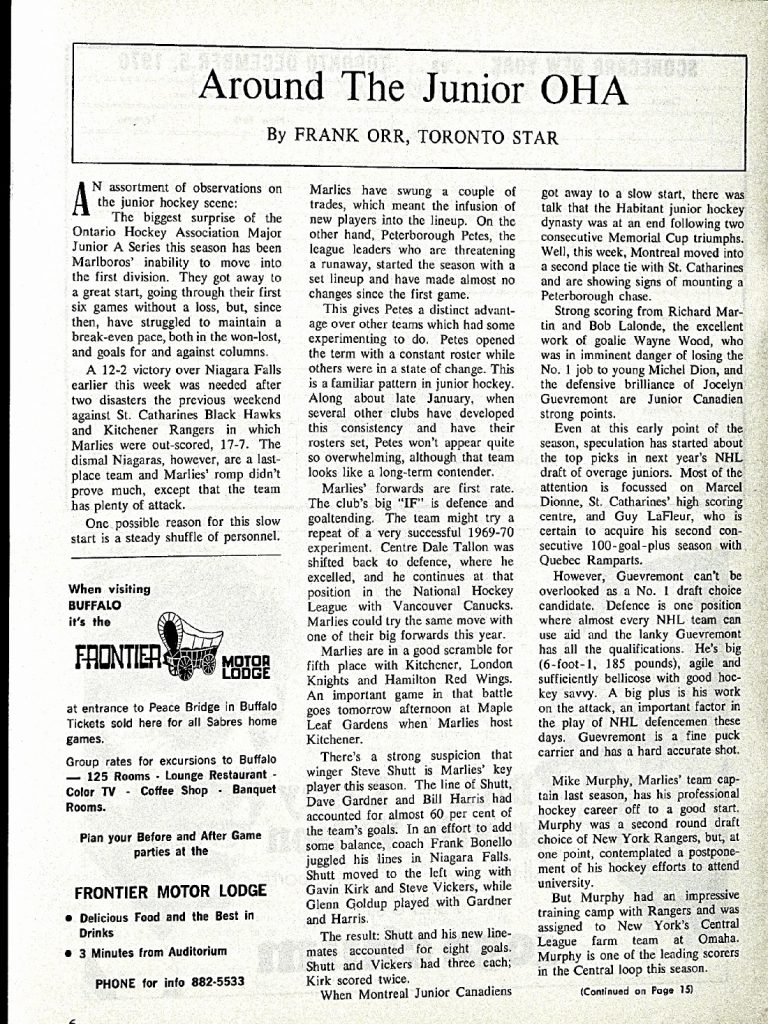 A NUMBER OF FUTURE NHL PLAYERS APPEARED IN FRANK ORR'S JUNIOR HOCKEY REPORT.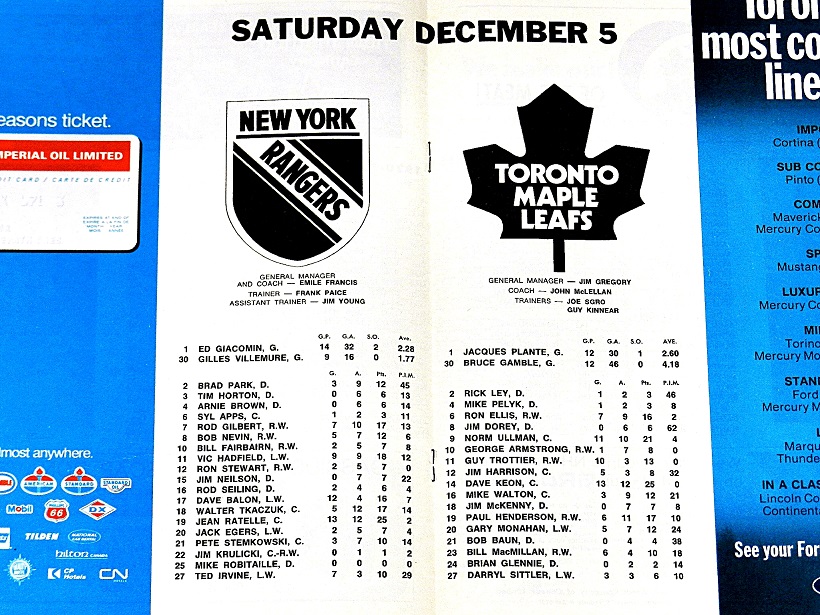 LEGENDARY LEAFS DEFENSEMAN TIM HORTON (3) WAS IN HIS LONE FULL SEASON WITH THE RANGERS AFTER A TRADE TO NEW YORK ON MAR. 3, 1970. HORTON WOULD PLAY WITH PITTSBURGH IN 1971–72; THEN BUFFALO FOR PARTS OF TWO SEASONS BEFORE DYING IN A SINGLE–CAR CRASH NEAR ST. CATHARINES, ONT. ON FEB. 21, 1974. RANGERS CAPTAIN BOB NEVIN (8) HAD PLAYED ON THE LEAF STANLEY CUP TEAMS OF 1962 AND 1963. PETE STEMKOWSKI (21) STARRED FOR THE LEAFS DURING THE 1967 STANLEY CUP RUN AND WAS DEALT TO DETROIT (MAR. 3, 1968) ALONG WITH FRANK MAHOVLICH. DETROIT TRADED STEMKOWSKI TO THE RANGERS ON OCT. 31, 1970.

CALIFORNIA — DEC. 30, 1970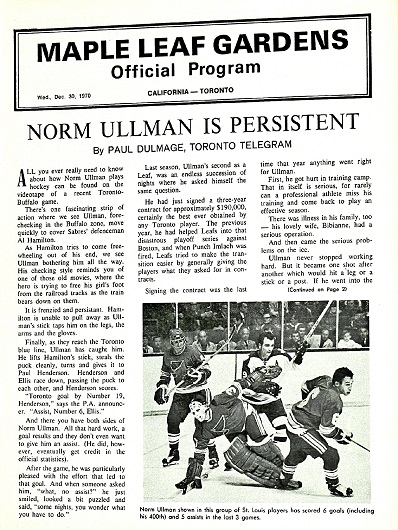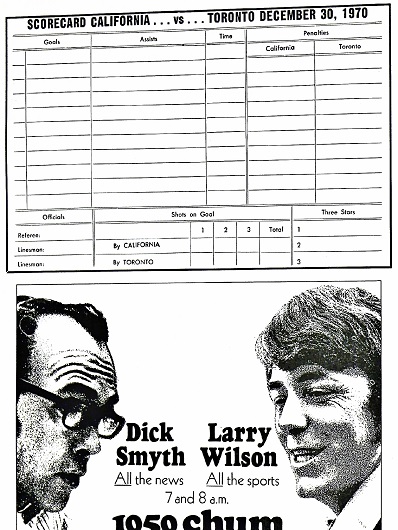 BY THE LEAFS FINAL GAME OF 1970 — AT THE GARDENS AGAINST THE CALIFORNIA GOLDEN SEALS — THE CLUB HAD TURNED AROUND ITS SEASON. A 3–1 VICTORY OVER THE SEALS LIFTED TORONTO TO 9–1–0 IN ITS PREVIOUS 10 GAMES. IN A FOUR–GAME SPAN BETWEEN DEC. 26, 1970 AND JAN. 5, 1971, THE LEAFS OUTSCORED THEIR OPPONENTS (PHILADELPHIA, CALIFORNIA, DETROIT, MINNESOTA) 27–2. INCLUDED WAS A 13–0 ROUT OF THE RED WINGS, AT MLG, ON JAN. 2. BETWEEN DEC. 9, 1970 AND FEB. 27, 1971, TORONTO ERUPTED TO A 25–7–4 RECORD IN 36 MATCHES AND EASILY MADE THE PLAYOFFS (BY 19 POINTS OVER BUFFALO) IN THE EAST DIVISION. HAVING RE–DESIGNED THEIR UNIFORM FOR 1970–71 UNDER NEW OWNER CHARLES O. FINLEY, THE SEALS CAME TO TOWN WEARING THEIR GREEN–ROAD JERSEY (BOTTOM–LEFT) WITH GREEN PANTS AND GOLD AND WHITE TRIM.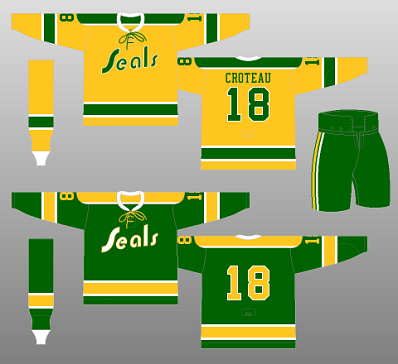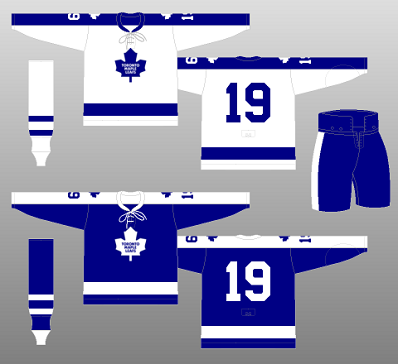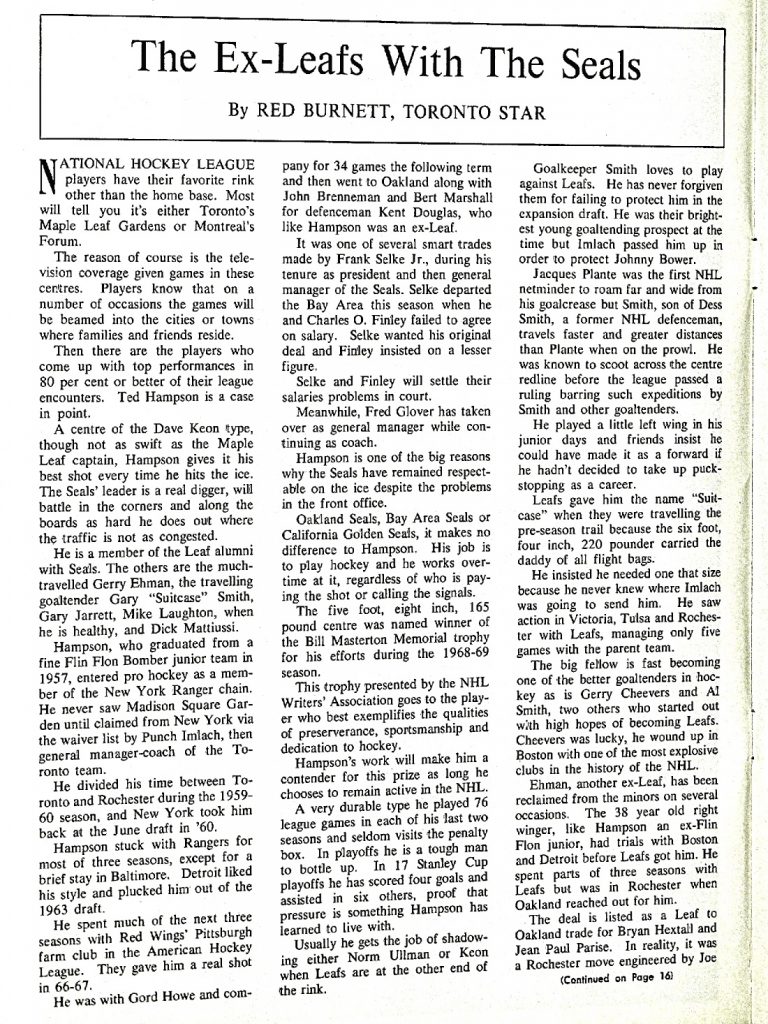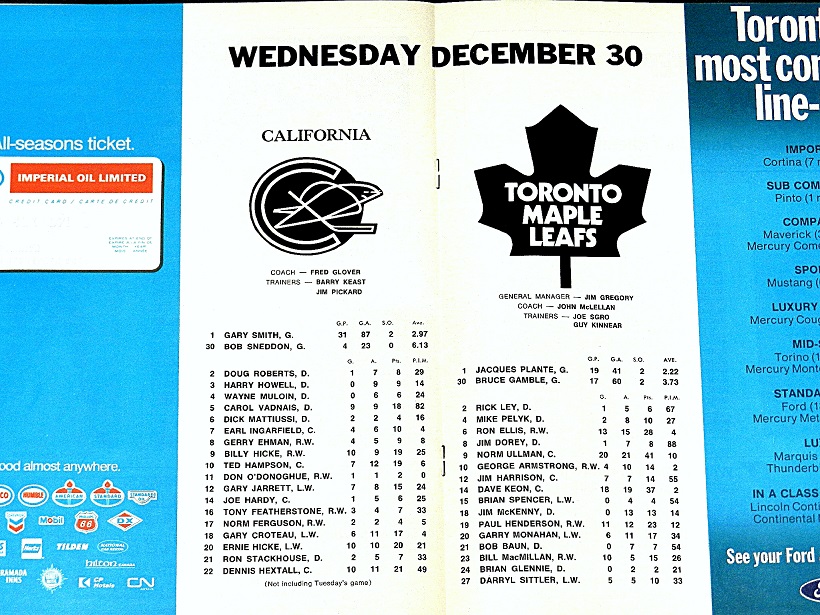 VETERANS NORM ULLMAN (9) AND DAVE KEON (14) WERE HAVING AN EXCELLENT SEASON FOR THE LEAFS. THEY WOULD COMBINE FOR 72 GOALS AND 161 POINTS IN 1970–71. THE SEALS HAD ONE FUTURE HALL–OF–FAMER: DEFENSEMAN HARRY HOWELL, SOLD TO CALIFORNIA BY NEW YORK ON JUNE 10, 1969 AFTER 17 YEARS AS A STALWART ON THE RANGERS DEFENSE. HOWELL WON THE NORRIS TROPHY IN 1966–67. IT THEN BECAME BOBBY ORR'S DOMAIN FOR EIGHT CONSECUTIVE YEARS.
EMAIL: HOWARDLBERGER@GMAIL.COM