TORONTO (Oct. 17) — Barring a protracted injury–absence, Auston Matthews will undoubtedly score between 50 and 60 goals this season for the Toronto Maple Leafs. Should be count 55, he'll break the franchise record that Rick Vaive established in 1981–82. Which is rather coincidental given that Matthews, early in his second season, resembles a power–scoring winger more than an elite center–iceman.
Vaive shot right–handed and was a menace barreling down or cutting in from the right–wing boards. Matthews shoots left and often barrels toward the net from the left–wing boards. If you didn't know he played center, you might have difficulty believing it. Beginning, most prominently, with Wayne Gretzky, the top center–men in the National Hockey League typically set up more goals than they scored. Often, by many lengths. Matthews is widely–considered a Top–5 center in the current NHL, yet he's almost certain to accrue more goals than assists for the second time in as many years. Which isn't at all counter–productive to the Maple Leafs. Just different. Perhaps in a revolutionary way.
Several times early in the season, Matthews has lauded line–mate William Nylander (his right–winger) for teeing up the puck. It was Nylander's nifty feed that Matthews converted in overtime Saturday night at Montreal, giving the Leafs a 4–3 win over the Canadiens and a 4–1–0 jump from the gate. "I am so used to it by now," said Matthews of Nylander's OT assist. "He is so good at finding those seams and making those types of passes. For myself, I just need to make sure I'm ready, because the puck is [always] coming."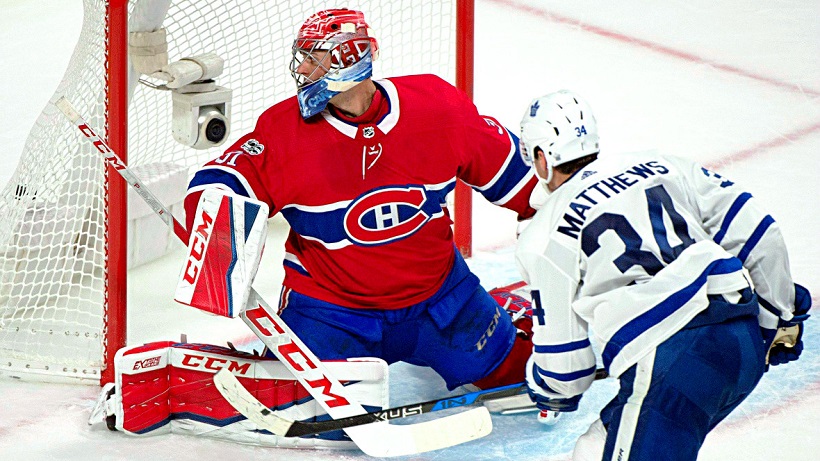 AUSTON MATTHEWS BEATS CAREY PRICE OF MONTREAL FOR THE OVERTIME WINNING GOAL ON SATURDAY NIGHT AT THE BELL CENTRE. LEAFS PREVAILED, 4–3 GRAHAM HUGHES THE CANADIAN PRESS
These are words spoken more–frequently through the years by wingers about their play–making center–men. Not vise versa. Even the most prolific seasons by Toronto middle–men bear this out:
DOUG GILMOUR (1992–93): 32 goals, 95 assists, 127 points.
DARRYL SITTLER (1977–78): 45 goals, 72 assists, 117 points.
DOUG GILMOUR (1993–94): 27 goals, 84 assists, 111 points.
DARRYL SITTLER (1975–76): 41 goals, 59 assists, 100 points.
DARRYL SITTLER (1970–80): 40 goals, 57 assists, 97 points.
Then we have examples from the real big–wigs:
WAYNE GRETZKY, Edmonton (1985–86): 52 goals, 163 assists, 215 points.
MARIO LEMIEUX, Pittsburgh (1988–89): 85 goals, 114 assists, 199 points.
STEVE YZERMAN, Detroit (1988–89): 65 goals, 90 assists, 155 points.
ADAM OATES, Boston (1992–93): 45 goals, 97 assists, 142 points.
MARK MESSIER, Edmonton (1989–90): 45 goals, 84 assists, 129 points.
RON FRANCIS, Pittsburgh (1995–96): 27 goals, 92 assists, 119 points.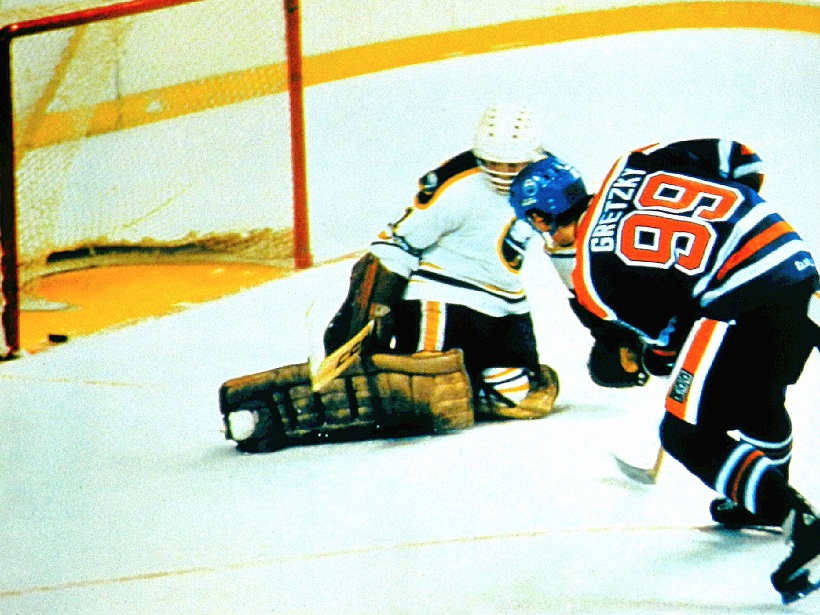 HOCKEY'S ALL-TIME GREATEST CENTER, WAYNE GRETZKY, COULD SCORE WITH ANYONE — HERE BEATING DON EDWARDS OF BUFFALO (FEB. 24, 1982) TO BREAK PHIL ESPOSITO'S NHL MARK OF 76 GOALS IN A SEASON. STILL, THE GREAT ONE WAS PRIMARILY AN ASSIST MACHINE. BRUCE BENNETT PHOTO
Clearly, these all–time NHL centers proved capable of scoring goals. To a man, however, they compiled many more assists. More–recent examples, involving Sidney Crosby, also support this pattern, though Crosby and Matthews — stockily–built — are quite similar in their dogged pursuit of the puck near the opposition goal.
Here are Crosby's three best seasons, to date, with Pittsburgh:
2006–07: 36 goals, 84 assists, 120 points.
2009–10: 51 goals, 58 assists, 109 points.
2013–14: 36 goals, 68 assists, 104 points.
Connor McDavid, furthering the trend, won the Art Ross Trophy last season with 30 goals and 70 assists.
Matthews doesn't have McDavid's explosive speed, but he uses the entire ice as proficiently as any young player in the NHL. So, maybe he doesn't need to be a typical center–man. Were a latter–day Gilmour, for example, skating alongside Nylander, the benchmark would likely persist: Dougie as play–maker; Willie the finisher. With Matthews and Nylander, the chores will apparently continue to be divided — perhaps evenly. Which, again, doesn't detract from anything the Maple Leafs are striving to accomplish.
Based, however, on the above statistical evidence, it is different. Very different.
1967—68 EXPORT MLG CALENDAR

How coincidental it is that the month of October, 50 years ago, is the same calendar–month as October 2017. A half–century ago, the Toronto Maple Leafs were at home on a Tuesday, preparing to face Gordie Howe and the Detroit Red Wings the following night at Maple Leaf Gardens. Of course it had to be the Red Wings, 50 years later, that are resting in town tonight while the Leafs skate in Washington.
Toronto and Detroit clash at the Air Canada Centre tomorrow — as they did at MLG, Oct. 18, 1967.
The 1967–68 season was the year of the Great Expansion in the NHL — the league doubling to 12 teams by adding the California Seals, Los Angeles Kings, Minnesota North Stars, Philadelphia Flyers, Pittsburgh Penguins and St. Louis Blues. The first expansion team to encounter the Maple Leafs (as per the front calendar–page, below) was Los Angeles, which lost 4–2 at the Gardens on Oct. 25, 1967.
Back in the day, the annual EXPORT Maple Leaf Gardens Calendar hung in smoke–shops and barber–salons across the city. These were strikingly–beautiful items — measuring 25½ x 16½ inches — that featured color photography; the Leafs monthly schedule on each page adjacent to the full NHL schedule. I am fortunate, in my collection, to have 15 MLG calendars, dating from 1955–56 to 1974–75 (when production stopped).
Here is the 1967–68 edition, from 50 years ago this season: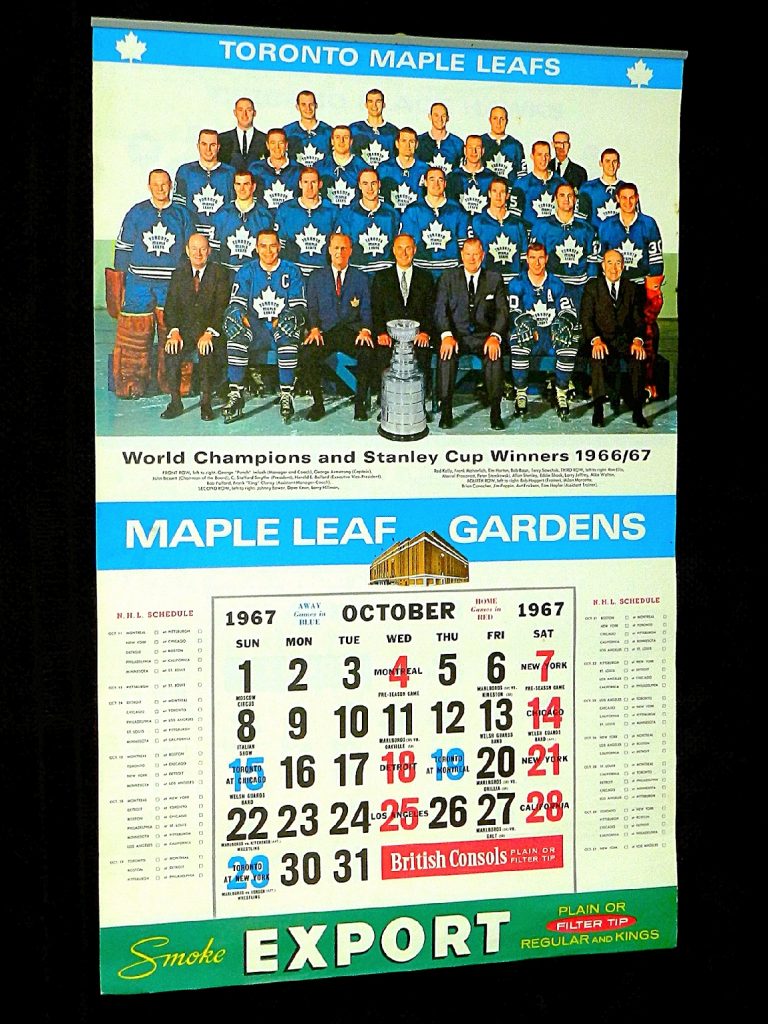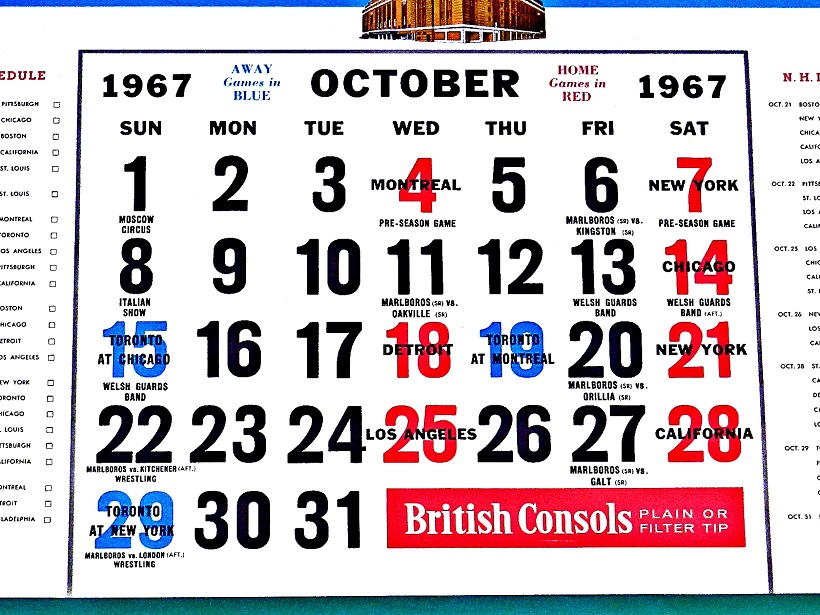 WHERE WERE YOU 50 YEARS AGO TONIGHT? THE MAPLE LEAFS WERE AT HOME, READYING TO FACE DETROIT AT THE GARDENS BEFORE A THURSDAY–EVENING ENCOUNTER IN MONTREAL.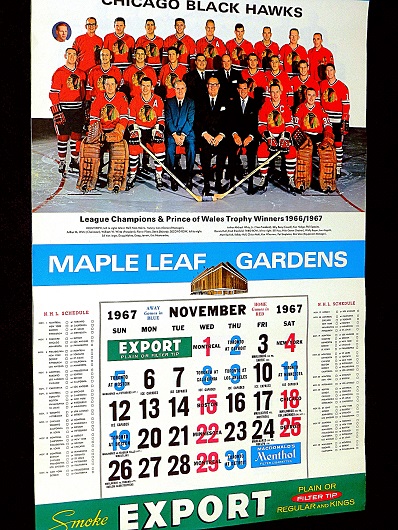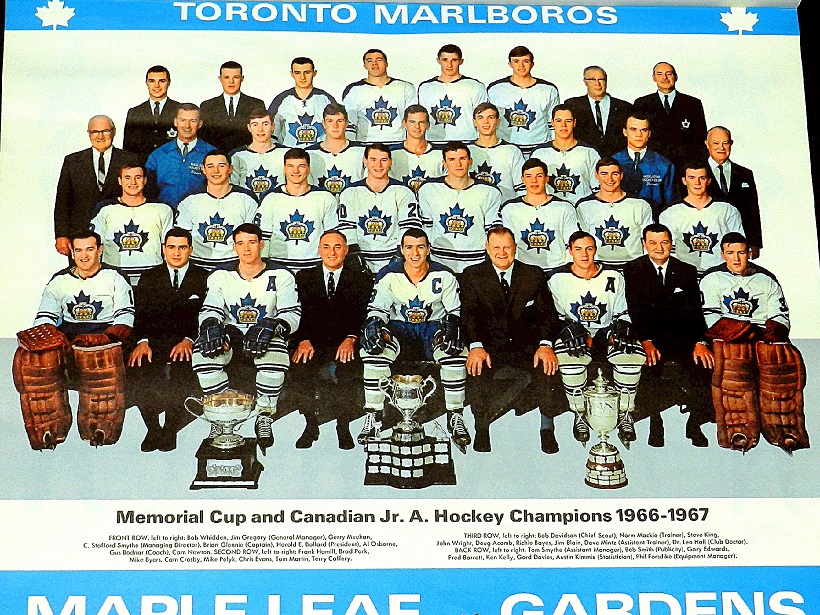 THE DECEMBER 1967 PAGE FEATURED A PHOTO OF THE 1966–67 MEMORIAL CUP–CHAMPION TORONTO MARLBOROS, WITH FUTURE LEAFS DEFENSEMAN BRIAN GLENNIE (FRONT/CENTER) AS TEAM CAPTAIN. THE GENERAL MANAGER (SECOND–FROM–LEFT) WAS JIM GREGORY, WHO WOULD HOLD THE SAME TITLE WITH THE LEAFS FROM 1969–79. MLG GURUS STAFFORD SMYTHE AND HAROLD BALLARD SURROUNDED GLENNIE. THE COACH (SECOND–FROM–RIGHT) WAS EX–LEAFS FORWARD (1943–47) GUS BODNAR. DEFENSEMAN BRAD PARK (SECOND–FROM–LEFT IN SECOND ROW) WENT ON TO A PRESTIGIOUS, HALL–OF–FAME CAREER WITH THE NEW YORK RANGERS, BOSTON AND DETROIT.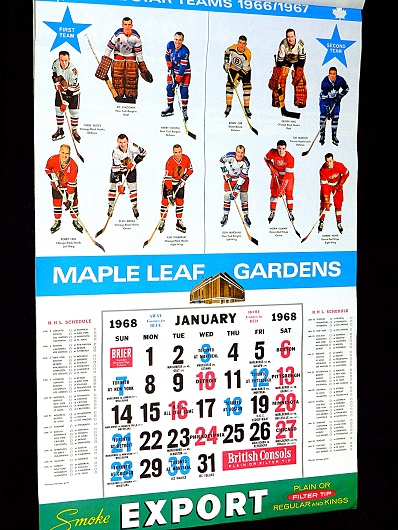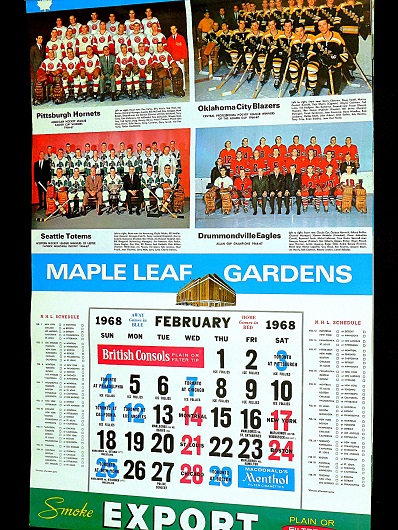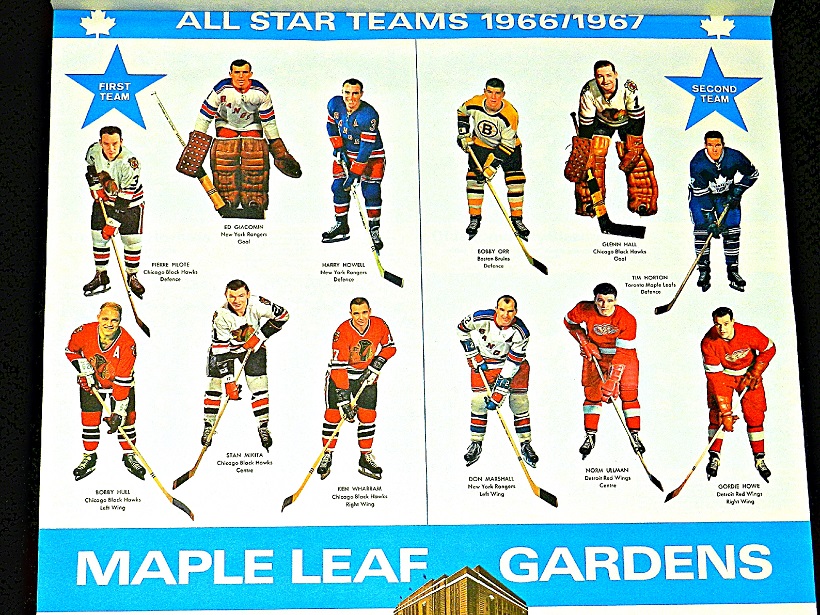 BOBBY ORR, IN HIS ROOKIE NHL SEASON OF 1966–67, JOINED TIM HORTON OF THE LEAFS AS SECOND ALL–STAR–TEAM DEFENSEMEN. FIRST–TEAMER'S PIERRE PILOTE AND HARRY HOWELL WOULD BE SUPPLANTED ON A YEARLY BASIS BY THE WUNDERKIND FROM PARRY SOUND, ONT.

THOUGH EDDIE SHACK APPEARED ON THE MARCH 1968 PAGE, HE'D BEEN TRADED TO BOSTON (FOR MURRAY OLIVER) THE PREVIOUS MAY. MAR. 3, 1968 WAS A SEMINAL DAY IN LEAFS HISTORY, AS PUNCH IMLACH TRADED FRANK MAHOVLICH, PETER STEMKOWSKI, GARRY UNGER AND THE NHL RIGHTS OF DEFENSEMAN CARL BREWER TO DETROIT FOR FORWARDS NORM ULLMAN, PAUL HENDERSON AND FLOYD SMITH. MAHOVLICH WON FOUR STANLEY CUPS WITH THE LEAFS IN THE 60's. HE'D CAPTURE TWO MORE (1971/1973) AFTER BEING TRADED TO MONTREAL FOR WINGER MICKEY REDMOND.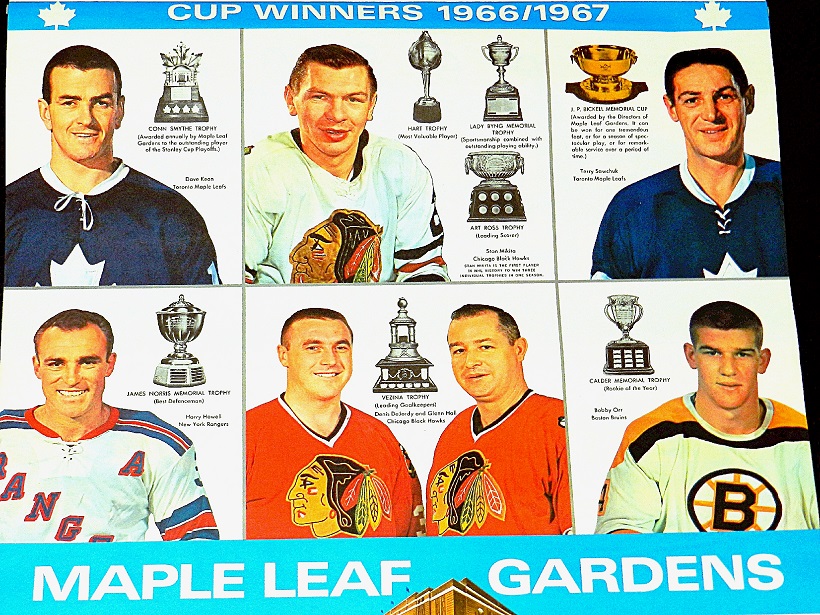 SOME OF THE NHL's GREATEST ALL–TIME PLAYERS WON AWARDS IN 1966–67.
EMAIL: HOWARDLBERGER@GMAIL.COM