TORONTO (Oct. 26) — The worst team in the National Hockey League to begin the 2017–18 season has some colossal number–crunching on the horizon. And you have to think that a rival general manager — at some point — will swoop in to try and land the best player currently owned by the Arizona Coyotes.
Should that GM be Lou Lamoriello, the Toronto Maple Leafs become an instant Stanley Cup favorite.
A lot can happen between today and the summer of 2019. But, the Coyotes leaping from the outhouse to the penthouse isn't likely to be among the surprises in the NHL. Having staggered out of the gate with an 0–8–1 record after nine games — their lone point in the standings resulting from an overtime loss at home, Oct. 7, to the expansion Vegas Golden Knights — the Coyotes are in danger of becoming extinct. Even when competitive, the Arizona franchise has fought for relevance. One can only imagine the indifference accorded a bottom–feeder; a club that sports fans in Phoenix, Scottsdale and suburban Glendale are embarrassed with which to affiliate. Crickets will make the loudest noise in Gila River Arena. And, that's the burden encountered today by young GM John Chayka, who must feel like he has an anvil on his shoulders.
Before the 2019–20 schedule begins, Chayka will be tasked with signing Christian Dvorak, Max Domi, Anthony Duclair and Lawson Crouse off entry–level salaries. Among his unrestricted free agents will be the club's top two defensemen: Oliver Ekman–Larsson and Niklas Hjalmarsson. And, Chayka must still find a legitimate No. 1 goalie. Antti Raanta and Louis Domingue aren't likely to cut it (though the latter has some potential). Even if one rises to the occasion, both netminders are also free agents after next season (Domingue restricted). So, Chayka has a career's worth of toil ahead of him. The Coyotes cannot afford to keep all of their best players and it's reasonable to assume that Ekman–Larsson — if the club isn't showing marked improvement — may look to sign with a competitive team when his contract expires on July 1, 2019.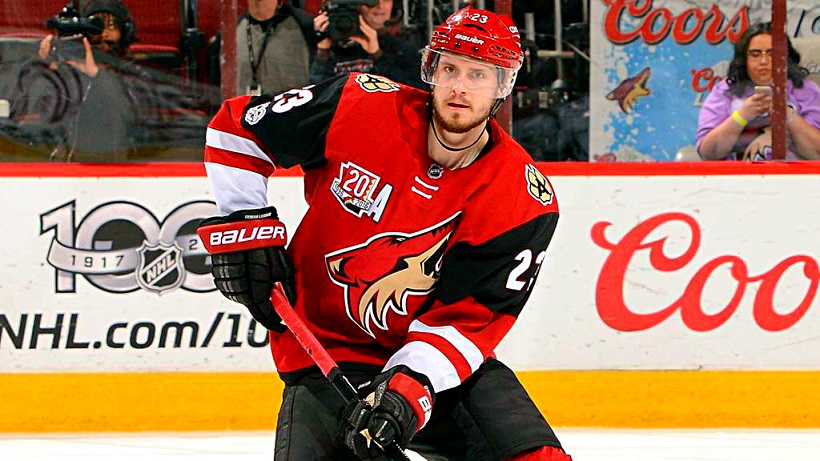 ARIZONA COYOTES DEFENSEMAN OLIVER EKMAN–LARSSON. NHL.COM
Several times in this corner, I've beaten the Ekman–Larsson drum on behalf of the Maple Leafs. Primarily because I think he's the lone shot Lamoriello has at landing an elite, puck–moving defenseman entering the prime of his career. Think about it… the others are going nowhere — among them, Erik Karlsson of Ottawa; Drew Doughty of Los Angeles (he'll stay with the Kings through his next mega–contract); Victor Hedman of Tampa Bay and Roman Josi of Nashville. Duncan Keith (Chicago) is 33; Brent Burns (San Jose), 31. Neither veteran fits into Toronto's long–term plans. Ekman–Larsson is a bright, agile blue–liner — still just 26. At 6–foot–2, 201 pounds, he can effectively log 25–30 minutes a night. He finished 25th in defense scoring last season on a lousy Arizona team. With the Maple Leafs, I think he'd be a 50 to 60–point player.
The question is: How to land him?
There's no way Chayka will let him walk for free before the February 2019 NHL trade deadline. He may try to extend his top defenseman, but if you were OEL, would you commit to a stumbling team knowing what awaits you on the open market? We should reasonably assume, therefore, that Ekman–Larsson will be dealt by Arizona sometime in the next 16 months. As it pertains to the Leafs, this deal is not for today. Salary–cap limitations (Ekman–Larsson carries a $5.5–million hit through next season) would render the acquisition nearly impossible. The Maple Leafs must also determine how their roster will shake out after the current schedule, with any or all of James van Riemsdyk, Tyler Bozak, Leo Komarov, Dominic Moore and Roman Polak heading to unrestricted free agency, and Joffrey Lupul's salary coming off Long Term Injured Reserve.
Trading for OEL would be conceivable prior to this season's late–February deadline — pending, of course, what Chayka asks for in return. I suspect any conversation would start with Mitch Marner, primarily because Auston Matthews and William Nylander are going nowhere during their prime NHL years. This will surely prompt Leaf supporters to suggest the club wait until after July 1, 2019 and try to land Ekman–Larsson as a free agent. But, that, too, is folly for a couple of reasons: a) at least a half–dozen teams will stoutly bid to sign OEL, and b) unless the salary cap soars dramatically, there's no way the 2019–20 Leafs will be able to afford Matthews, Nylander, Marner (all off entry–level), Patrick Marleau and Ekman–Larsson. If JVR and Bozak aren't re–signed, they'll need to be replaced commensurately or the club won't be as strong up front.
So, big decisions loom for Lamoriello.
I'll end this with a hypothetical question for Toronto hockey fans… and think for a moment before answering: In a world without a salary cap — strictly with respect to personnel — would you trade Marner straight–up for Ekman–Larsson? Given what the Leafs have lacked since Borje Salming was in his prime, 40 years ago, might that not be a sound hockey trade? I suspect you know what my answer is.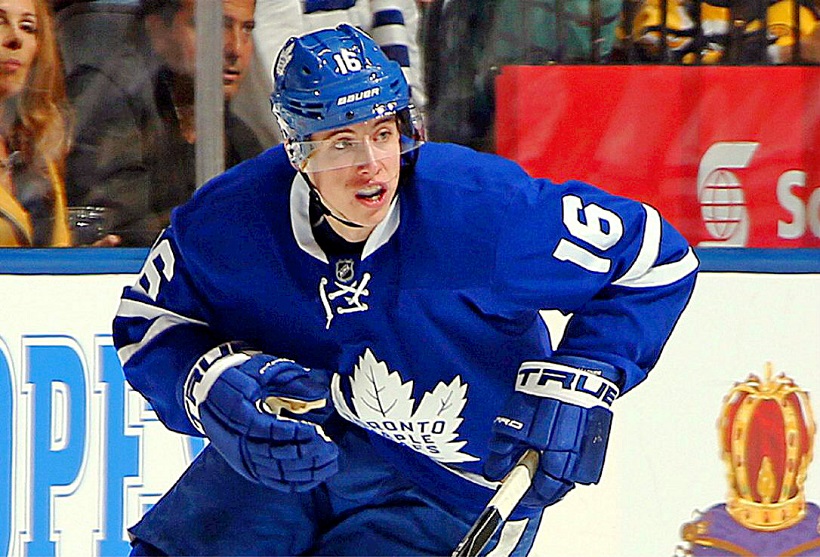 LEAFS SOPHOMORE MITCH MARNER. WOULD YOU TRADE HIM FOR OEL? TORONTO STAR PHOTO
DAVEY DROPS DOWN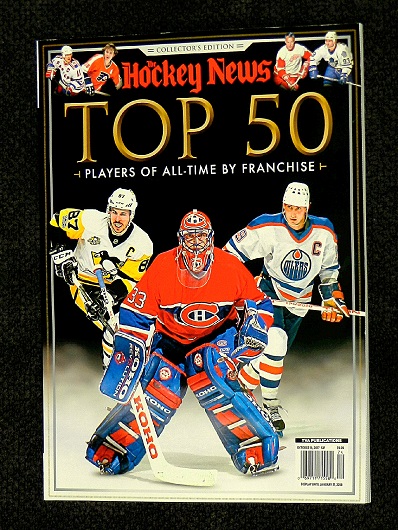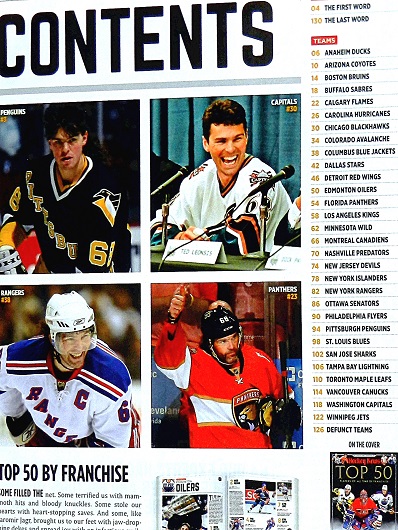 This rather intriguing publication, crafted by The Hockey News, is currently on news–stands across Canada. One can merely imagine the work involved in choosing the Top 50 players of each current NHL franchise, and of former (or defunct) teams. From a local perspective, it is interesting — and rather foreign — to note where the selectors ranked Maple Leafs legend Dave Keon. Any number of lists, including that which the club compiled last year for its 100th anniversary season, has Keon in the No. 1 position. Or, at No. 2, behind Syl Apps. This magazine rates Keon fifth all–time, behind Apps, Charlie Conacher, Tim Horton and Ted Kennedy. A valid argument can be made, of course, for any–such order, but I've never seen a "best–of–all–time" Leafs compilation that has Keon behind four others. Lots of interesting stuff in this magazine, as per everything the crew at The Hockey News delivers. Well worth the $9.99 cover price and a nifty collectible.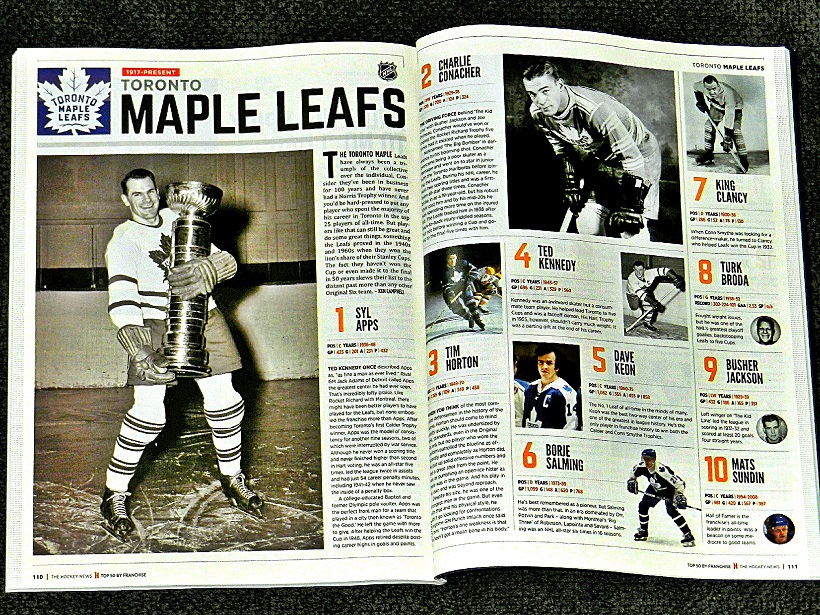 DENNIS BARES ALL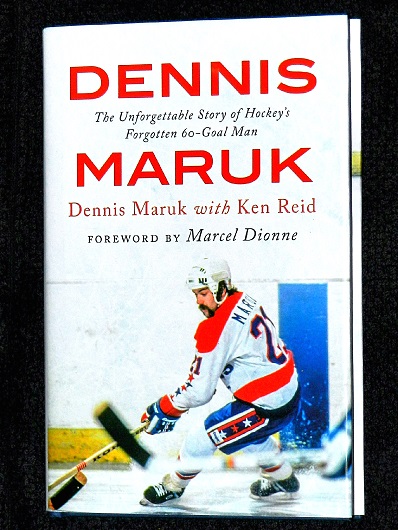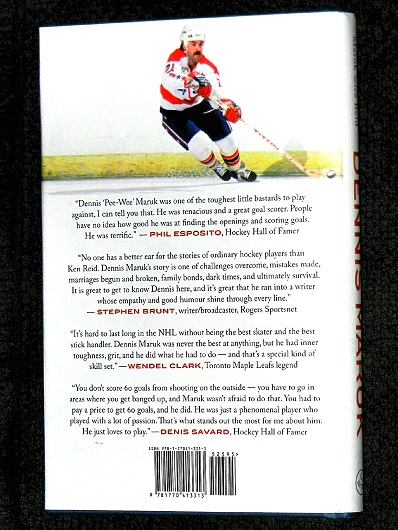 When Dennis Maruk comes to mind, I think of a fairly cool dude that played all 80 games for the California Golden Seals in the final year of that franchise (1975–76); then 156 more over two seasons (1976–77 and 1977–78) for the Cleveland Barons after the Seals re–located to Richfield, Ohio. Always flashing to memory is the long hair and thick Fu–Manchu mustache Dennis wore during the bulk of his 14–season NHL term with the Seals, Barons, Minnesota North Stars and Washington Capitals. Never lost on me is the fact he scored 60 and 50 goals (1981–82 / 1980–81) for Washington; 36 for Cleveland (1977–78) and 30 as a rookie with the Golden Seals. What I didn't know about Dennis Maruk is that he nearly killed himself by driving his car to the edge of a cliff one night on a trek between Aspen, Colorado and Las Vegas. Or, that he suffered debilitating depression in the years after he stopped playing. All of Maruk's highs and remarkable lows are detailed, unvarnished, in the autobiography he has written with Sportsnet's Ken Reid. This is more of a life story than a hockey story, punctuated by the startling diagnosis, last December, that he needed open–heart surgery. Forever skating, playing pick–up hockey and participating in charity functions, Maruk had no idea that 90 percent of a coronary artery was blocked. "Never had a symptom," he writes. Thankfully, Dennis was well on his way to recovery, and looking fit, when I saw him at a reunion of Golden Seals players in early–June.
This is an exceptional book; profound and revealing.
Published by ECW Press of Toronto, it retails for $29.95 CAD or $25.95 USD.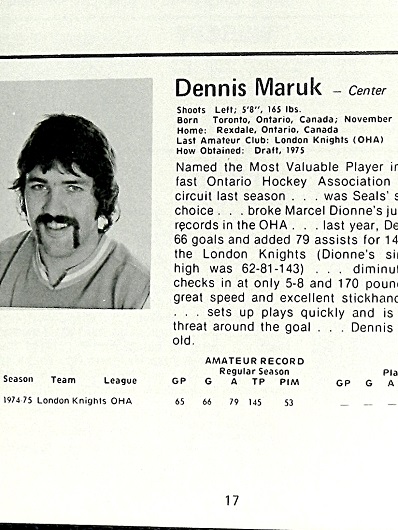 DENNIS MARUK (LEFT), NOW 60, AT THE SEALS REUNION ON JUNE 5 OF THIS YEAR. AND, AS A ROOKIE (RIGHT) IN THE 1975–76 CALIFORNIA GOLDEN SEALS MEDIA GUIDE. HE IS A TERRIFIC STORY.
50 YEARS AGO
Maple Leaf Gardens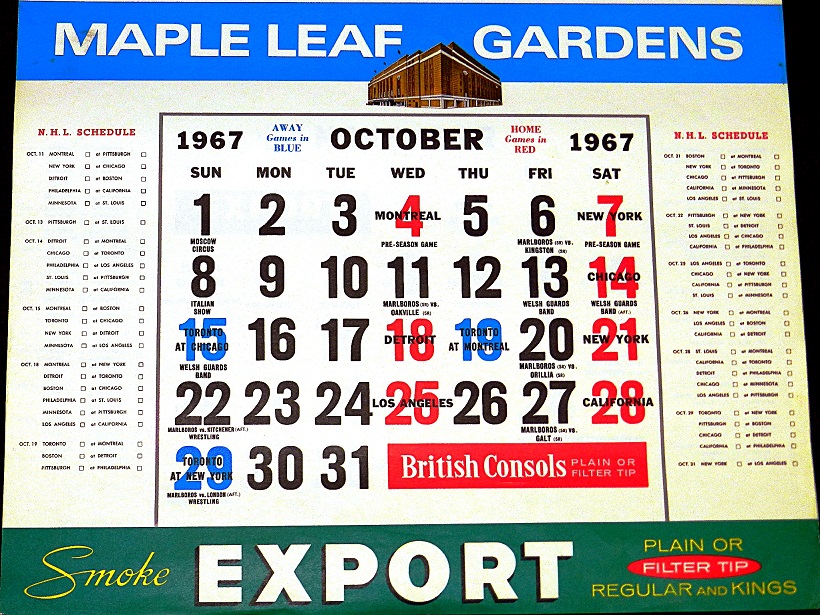 Last night (Wednesday) marked the 50th anniversary of Toronto's first game against one of the modern–era expansion teams. As you can see (above) on the Maple Leaf Gardens calendar, the Los Angeles Kings came to town Oct. 25, 1967, having started play that month. Three nights later, the California (later Oakland) Seals would visit the Gardens. The Kings, Seals, Minnesota North Stars, Philadelphia Flyers, Pittsburgh Penguins and St. Louis Blues all joined the NHL for the 1967–68 season, doubling its enrollment to 12 teams. The Kings arrived here wearing their predominantly–gold road uniforms with purple pants and trim. It was a special night, given the return of L.A. coach Red Kelly and starting netminder Terry Sawchuk, each of whom had been integral to the Leafs 1967 Stanley Cup triumph six months earlier. Kelly retired after the Cup run and became the Kings' first coach. Sawchuk was chosen by Los Angeles as the first player in the expansion draft; Toronto GM/coach Punch Imlach opting to protect 43–year–old Johnny Bower. As per the Globe and Mail game story below, by Lou Cauz, the Leafs doubled the Kings, 4–2. Jim Pappin and Ron Ellis gave Toronto a 2–0 lead that evaporated with consecutive goals by Bill (Cowboy) Flett and Eddie Joyal. Bob Pulford scored the game winner late in the second period and Frank Mahovlich added an insurance marker late in the third.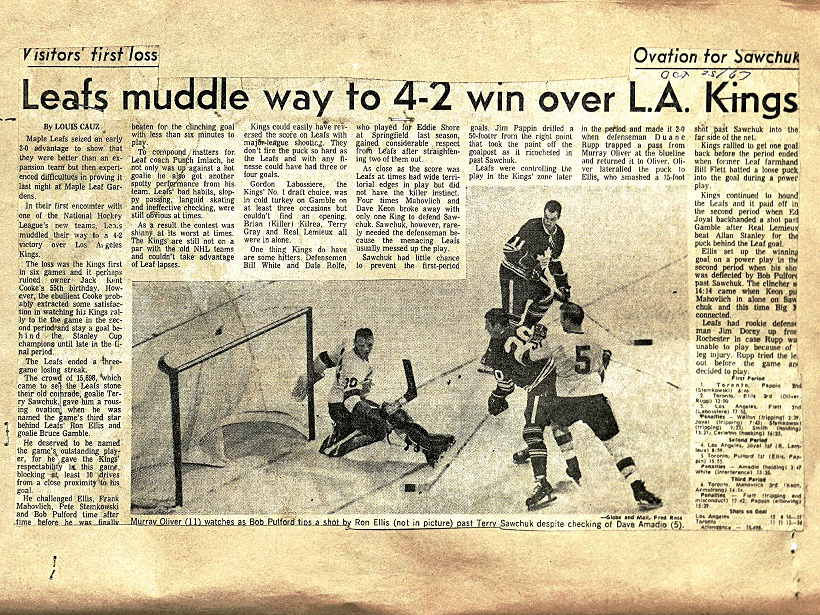 25 YEARS AGO
Atlanta Fulton–County Stadium

How coincidental that the 2017 World Series began Tuesday on the 25th anniversary of the night the 1992 Series ended. Major League Baseball had yet to implement a Wild Card Game or League Division playoff a quarter–century ago. And, there were only two divisions (East and West) in each of the National and American Leagues. The division winners from the regular season went directly into the League Championship Series; the survivors met in the World Series. Baseball in November? Impossible.
As such, it was still the final week of October, 25 years ago yesterday, when the Toronto Blue Jays became the first team from outside the United States to win the World Series. More precisely: 12:50 a.m. Eastern, at the old cookie–cutter in Atlanta, when Toronto relief–pitcher Mike Timlin fielded a drag–bunt by Atlanta veteran Otis Nixon and flipped the ball to Joe Carter at first base — beating Nixon by merely half–a–step.
Bottom of the 11th inning. Game over. Season over.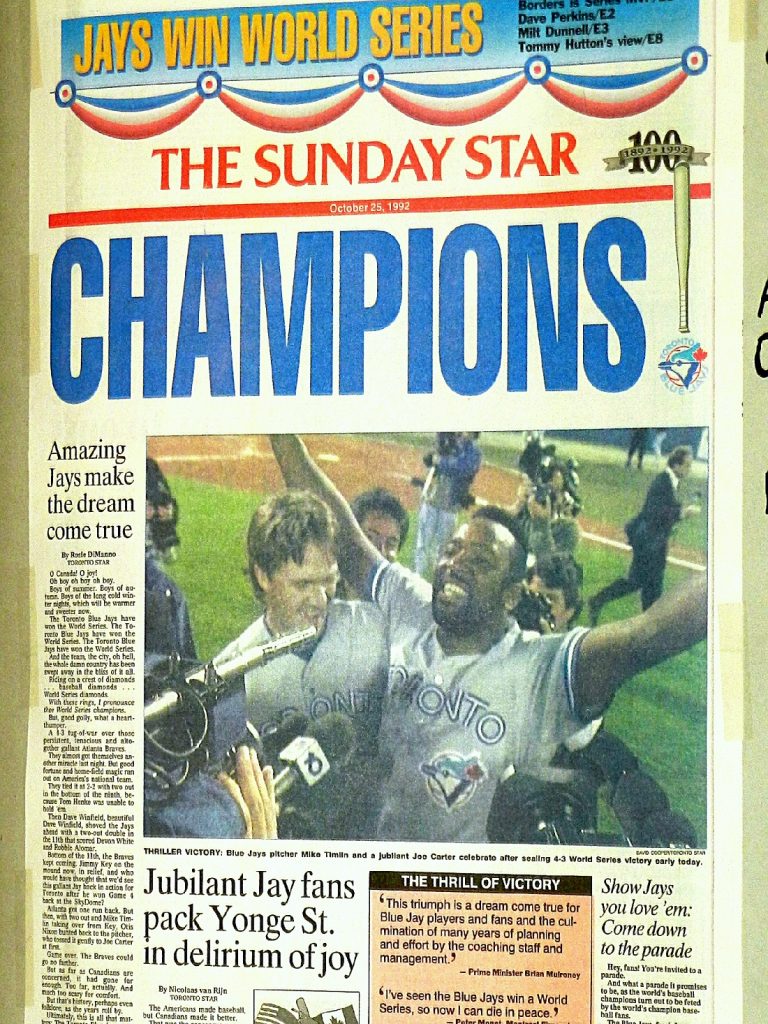 FRONT PAGE OF OCT. 25, 1992 TORONTO STAR. TIMLIN AND CARTER.
I had the privilege of being at Fulton–County Stadium when the Blue Jays won their first of consecutive World Series titles. Covered all six games (and the six–game ALCS against the Oakland A's beforehand) for The FAN–1430 — as Canada's first all–sports radio station was known for its initial 2½ years. I will always remember standing next to FAN colleague Scott Ferguson in the visitors' broadcast booth; the two of us directly behind Tom Cheek and Jerry Howarth when Timlin tossed to Carter for the final out.
Tom, the original radio voice of the Blue Jays from their inception in 1977, has been gone now for more than 12 years; the victim of brain cancer. Jerry — being Jerry — threw to his more–senior partner for the bottom of the 11th, even though it was his inning to call in the broadcast rotation. With the Blue Jays having built a 4–2 lead in the top of the 11th, Jerry felt that Tom should narrate the last three outs. I can tell you, first–hand, that Tom took his last breath (13 years later) still appreciating that selfless gesture.
After saving the newspapers from Toronto and Atlanta, I went to an old Coles book store and bought a thick, cardboard scrap book in which the full pages could be displayed. Here are some highlights: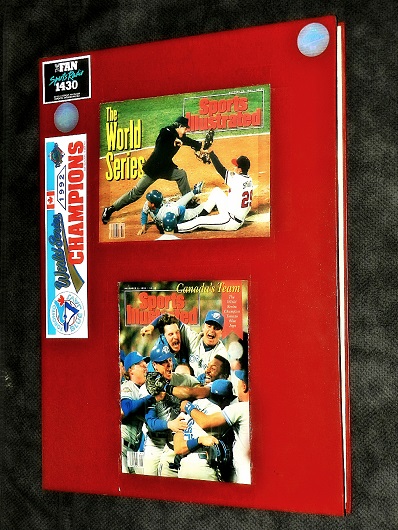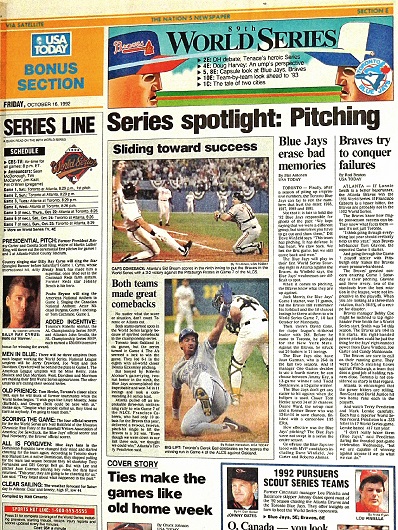 MY 1992 WORLD SERIES SCRAPBOOK (LEFT). MEASURING 25 x 18.5 INCHES, IT WAS BIG ENOUGH TO HOLD FULL NEWSPAPER PAGES, SUCH AS THE USA TODAY SERIES PREVIEW (RIGHT).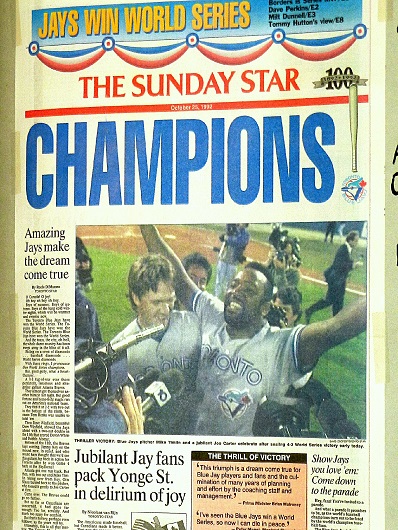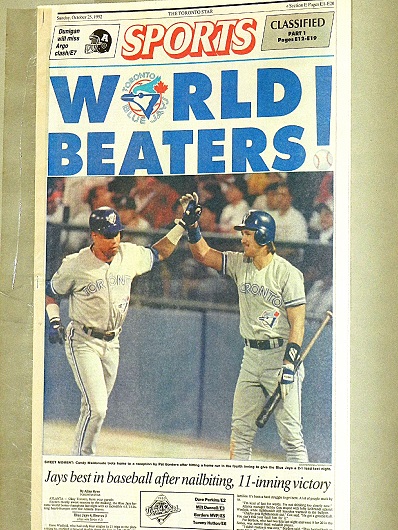 FRONT PAGE OF THE OCT. 25, 1992 TORONTO STAR (LEFT) AND FRONT OF THE STAR SPORTS SECTION (RIGHT). BELOW IS BASEBALL WRITER ALLAN RYAN'S LEAD PARAGRAPHS FOR THE SPORTS FRONT.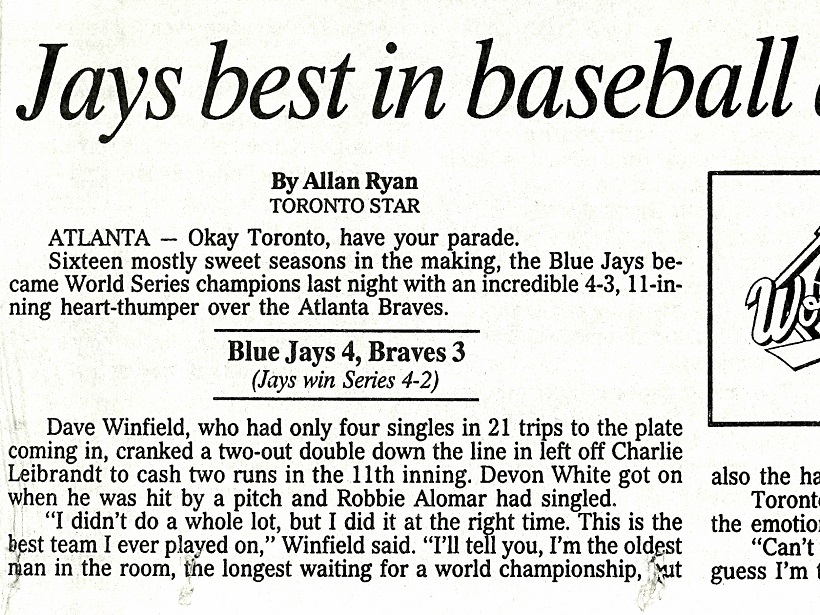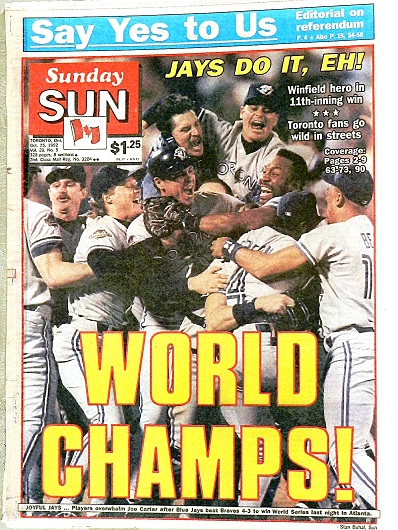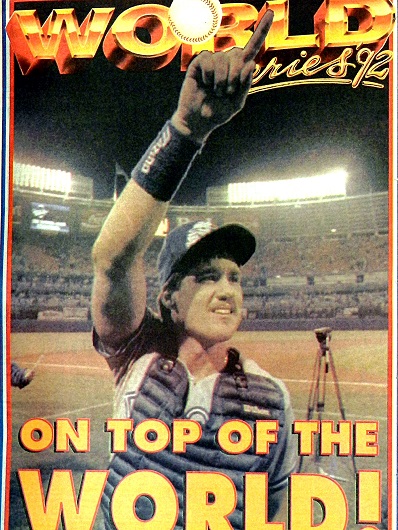 FRONT PAGE OF THE OCT. 25, 1992 TORONTO SUN (LEFT). AND, FRONT SPORTS–PAGE (RIGHT), FEATURING WORLD SERIES MVP PAT BORDERS, THE JAYS' CATCHER, STANDING IN ATLANTA FULTON–COUNTY STADIUM AFTER GAME 6. BELOW IS THE LEAD FROM SUN BASEBALL WRITER BILL LANKHOF.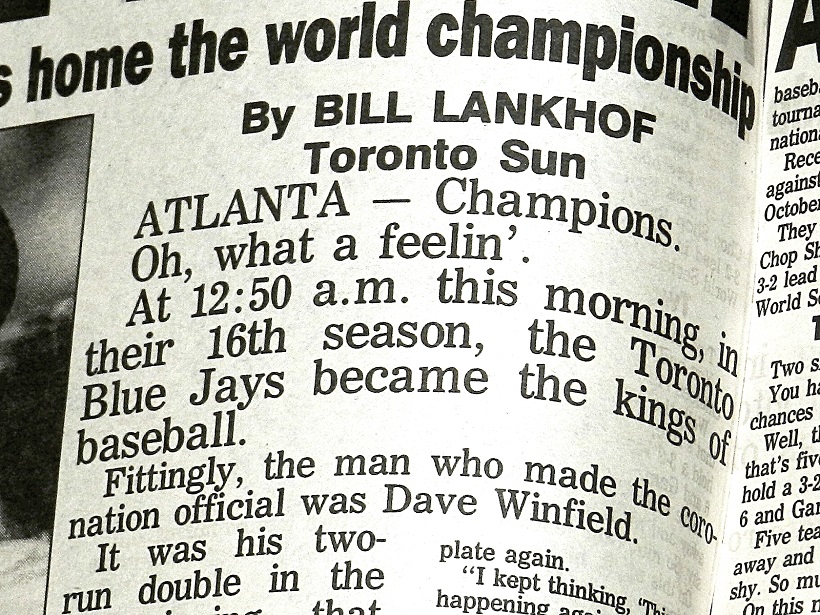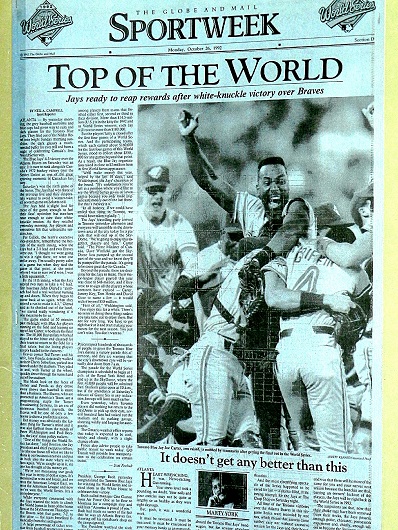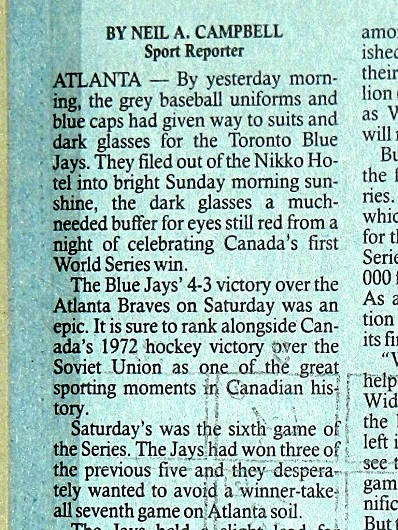 THE FRONT SPORTS–PAGE OF THE MONDAY (OCT. 26) GLOBE AND MAIL WAS TINTED BLUE, FOR OBVIOUS REASONS. NEIL A. CAMPBELL WROTE THE LEAD STORY; MARTY YORK, A COLUMN.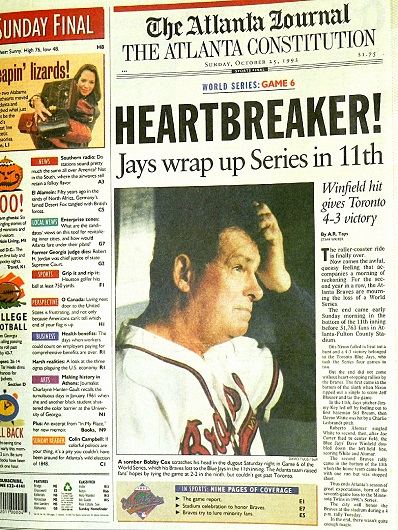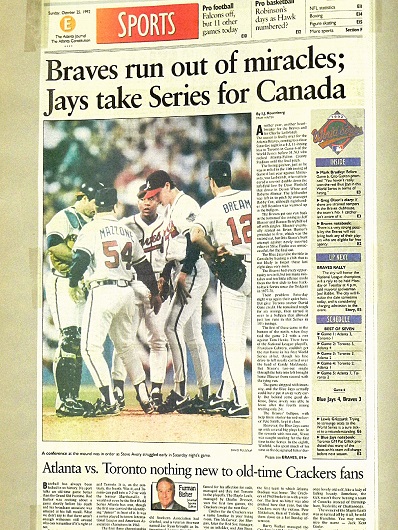 FRONT PAGE (LEFT) AND FRONT SPORTS–PAGE (RIGHT) OF THE ATLANTA JOURNAL/CONSTITUTION FROM OCT. 25, 1992. THAT'S LEGENDARY BRAVES' MANAGER BOBBY COX SCRATCHING HIS HEAD. COX HAD BEEN MANAGER OF THE BLUE JAYS FROM 1982–85.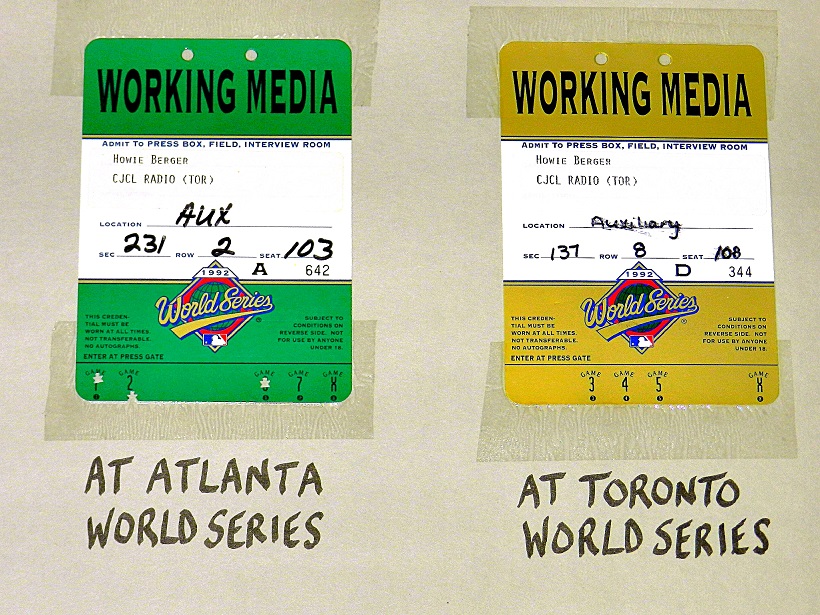 MY 1992 WORLD SERIES CREDENTIALS. THEY CALLED ME "HOWIE".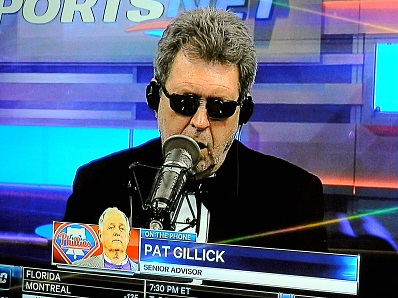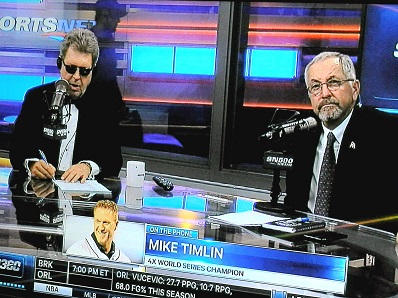 ON TUESDAY NIGHT OF THIS WEEK, BOB McCOWN AND JOHN SHANNON WERE JOINED (ON PRIME TIME SPORTS) BY PAT GILLICK AND MIKE TIMLIN. BOTH SHARED THEIR MEMORIES FROM 25 YEARS AGO. GILLICK WAS THE BLUE JAYS' FIRST GENERAL MANAGER AND THE ARCHITECT OF THE CONSECUTIVE WORLD SERIES TEAMS. TIMLIN, AS YOU KNOW, TOSSED THE FINAL OUT IN '92.
EMAIL: HOWARDLBERGER@GMAIL.COM