TORONTO (Oct. 11) — There are beggars on street corners all over North America that could become independently wealthy with one dollar for every time, in this space, I have written the Toronto Maple Leafs will not win the Stanley Cup until they procure a Norris Trophy–caliber defenseman. Nothing about that assertion has changed early in the 2017–18 National Hockey League season.
But, I do find myself wondering if perhaps the Leafs already possess that component.
The reason is simple: watching Nikita Zaitsev. It would be foolhardy, of course, to draw a conclusion after three games of the schedule, but Zaitsev is not the same player we observed last year, when he debuted in the NHL at nearly 25 years of age after signing as a free agent on May 2, 2016. That date, of course, is lore in Toronto hockey annals as the night, more than 50 years ago, when the Leafs won their last Stanley Cup. There may or may not be a coincidental connection to Zaitsev. But, the native of Moscow has begun his sophomore NHL season with more spark, confidence and puck–savvy than at any time as a freshman.
Statistics are only part of the equation, but they do tell an early story. While appearing in all 82 games last year, Zaitsev attained the confidence of Mike Babcock with his work–ethic and skating ability. Though considered an offensive defenseman in Russia's Kontinental Hockey League (primarily with CSKA Moscow), his NHL numbers were merely adequate — four goals; 36 points and a team–worse minus–22 when skating at even–strength. He did, however, prove worthy of playing Top 4 blue–line minutes on a club that soared 26 points in the standings; made the playoffs for the first time since 2004 in a full NHL schedule and nearly upset the President's Trophy–winning Washington Capitals in the opening round. Having absorbed a pay–cut to leave the KHL and sign an entry–level deal with the Leafs, Zaitsev showed management enough to warrant a seven–year, $31.5 million contract extension that carries an annual $4.5 million salary–cap hit.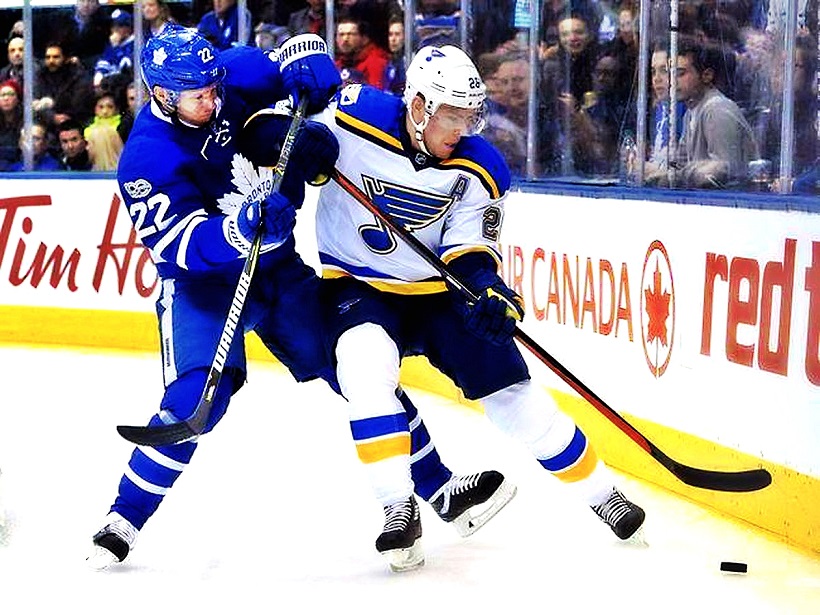 MAPLE LEAFS DEFENSEMAN NIKITA ZAITSEV CHECKS ST. LOUIS FORWARD PAUL STASTNY DURING GAME AT THE AIR CANADA CENTRE ON FEB. 9, 2017. NATHAN DENETTE THE CANADIAN PRESS
The long–term commitment sparked debate amid local and national media. While it was still merely speculation, Don Cherry went on Coach's Corner and ranted about Zaitsev's plus–minus figure. "He's a minus–22 and they're gonna give him seven years?" Cherry wondered, incredulously. It seemed more than a rhetorical point, given that Lou Lamoriello and Co. will be up against the salary–cap wall by this time in 2019, when William Nylander, Mitch Marner and Auston Matthews come off entry–level restriction.
Only now is it starting to appear as if the Leafs may have a blue–line bargain over the seven–year term.
Again, it is far–too early in the season to extrapolate. But Zaitsev (particularly coveted for being a right–handed shooter) and defense–mate Jake Gardiner are offering signs they could be the high–octane pairing that Stanley Cup contenders normally require. With two goals, Zaitsev is already 50 percent toward his rookie NHL total. And, he's begun the season at plus–6, which could be significant given the 46–rung disparity between he and Gardiner (the latter finished 2016–17 at plus–22). Principally, however, is an assertive component to Zaitsev in the first three games of the schedule (all wins; New Jersey in town tonight) that supplants his trend as a newcomer to the NHL. He appears to have entered Year 2 with an impressive surge of confidence and command; his aptitude as a skater perfectly aligned with the brisk Toronto club.
So, keep an eye on No. 22 in blue and white. I don't believe his opening–week performance is a mirage. Whether it carries Zaitsev significantly beyond expectation remains a mystery. But, the signs are glaring.
FOR THE RECORD: The best actual "start" to a season in Leafs history was in 1977–78 when the club went 19–6–3 in its first 28 games under rookie coach Roger Neilson. The 1950–51 Stanley Cup team — which, for 43 years, held the franchise record of 95 points — went 16–6–6 in its first 28 games. The 2003–04 club, under Pat Quinn, was 15–6–7 en route to establishing the current franchise mark of 103 points in a season… If the Leafs beat the Devils tonight at Air Canada Centre, they will begin a season 4–0–0 for only the third time since winning the 1967 Stanley Cup. It also happened in 1993–94, when the Pat Burns/Doug Gilmour crew won its first 10 games. And, in 2010–11, under coach Ron Wilson. The '93–94 team won its first seven games in regulation time. The '10–11 club prevailed in overtime at New York (Rangers) to gain its fourth victory.
#VEGASSTRONG
Emotion, as expected, ran high in Las Vegas last night prior to (and during) the Golden Knights first–ever home game (5–2 win over the Arizona Coyotes). A pre–game ceremony honored first responders to the Oct. 1 massacre outside Mandalay Bay and commemorated the 58 lives lost in the random shooting. Capitalizing on the energy in T–Mobile Arena, the Golden Knights soared to a 4–1 lead after 10:42 of the first period.
Some TV images here from the NBC Sports Network and Sportsnet–360: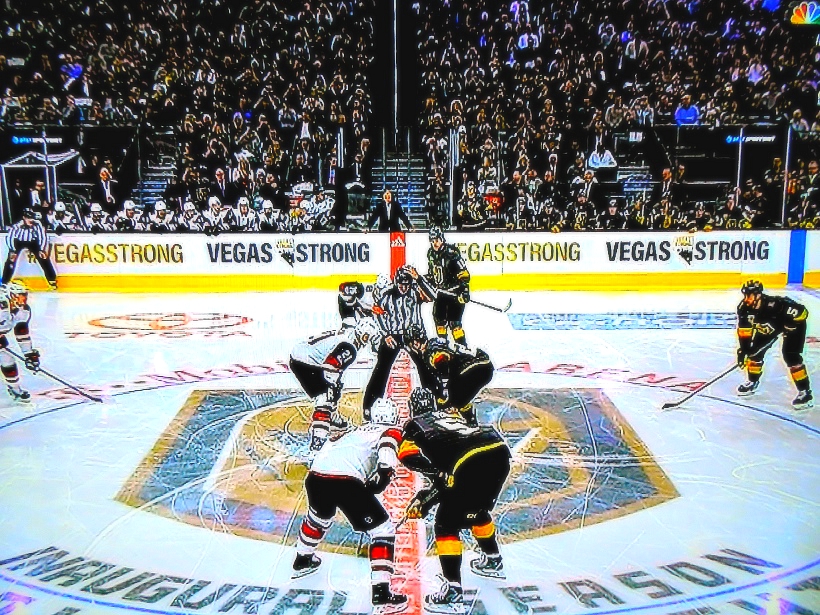 THE FIRST–EVER OPENING FACEOFF AT T–MOBILE ARENA, AS CODY EAKIN OF LAS VEGAS SQUARED OFF AGAINST DEREK STEPAN OF ARIZONA (YES, EAKIN WON THE DRAW).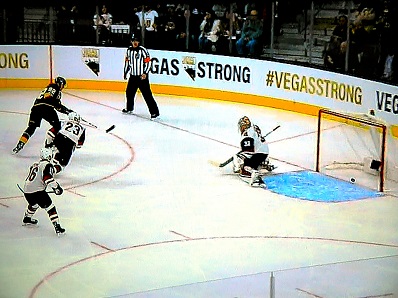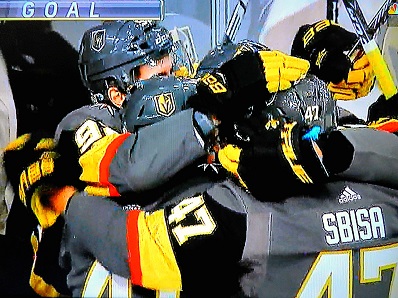 THE FIRST REGULAR–SEASON GOAL AT T–MOBILE ARENA — TOMAS NOSEK BEATING ANTTI RAANTA FROM THE LEFT–WING FACEOFF CIRCLE AT 2:31 OF THE OPENING PERIOD.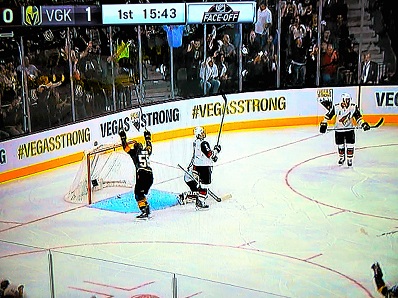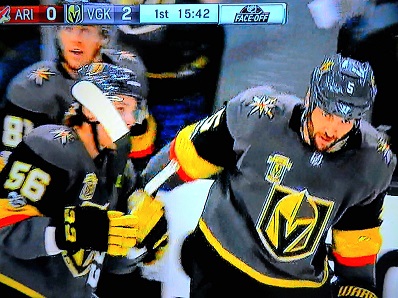 LAS VEGAS GOING UP 2–0 AT THE 4:18 MARK ON A SLAPSHOT FROM THE RIGHT POINT BY DEFENSEMAN DEREK ENGELLAND. FORMER LEAF BRANDON LEIPSIC ASSISTED ON THE PLAY.
50 YEARS AGO TONIGHT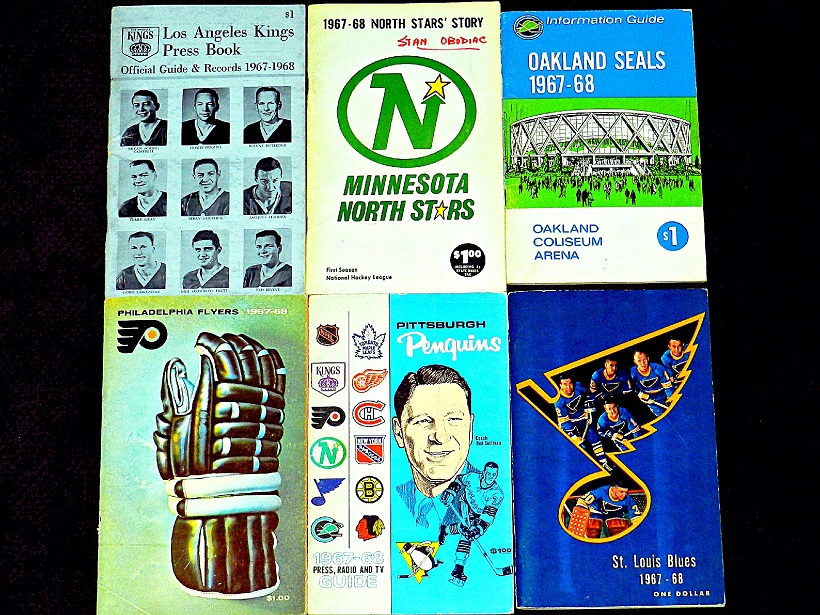 October 11, 1967 — also a Wednesday — ranks among the most historic occasions in National Hockey League history. It was opening night of the 1967–68 season and five of the six expansion teams played their first NHL games. Pictured above, from my collection, are the media guides of the new clubs. Top: Los Angeles Kings, Minnesota North Stars, Oakland (originally California) Seals. Bottom: Philadelphia Flyers, Pittsburgh Penguins, St. Louis Blues. Pictured below are the covers of Hockey Pictorial and Hockey World magazines from October 1967, hailing the expanded NHL (and the six new logos).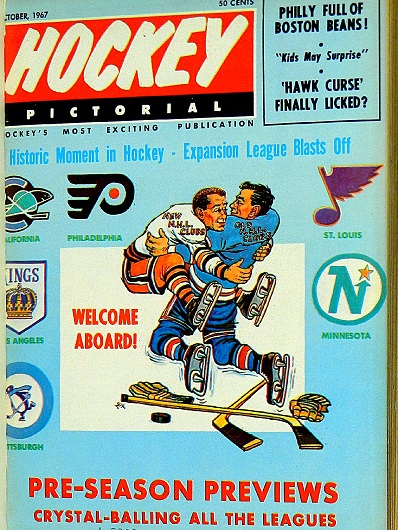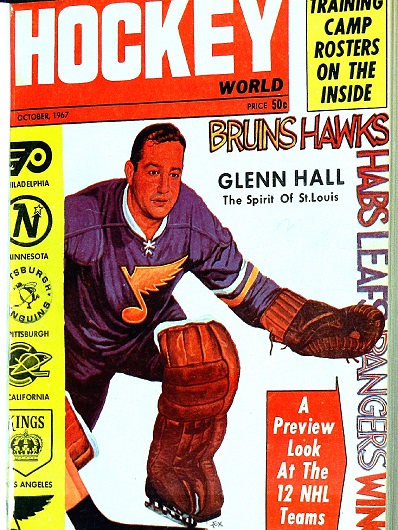 OCT. 11, 1967 — MONTREAL 2 at PITTSBURGH 1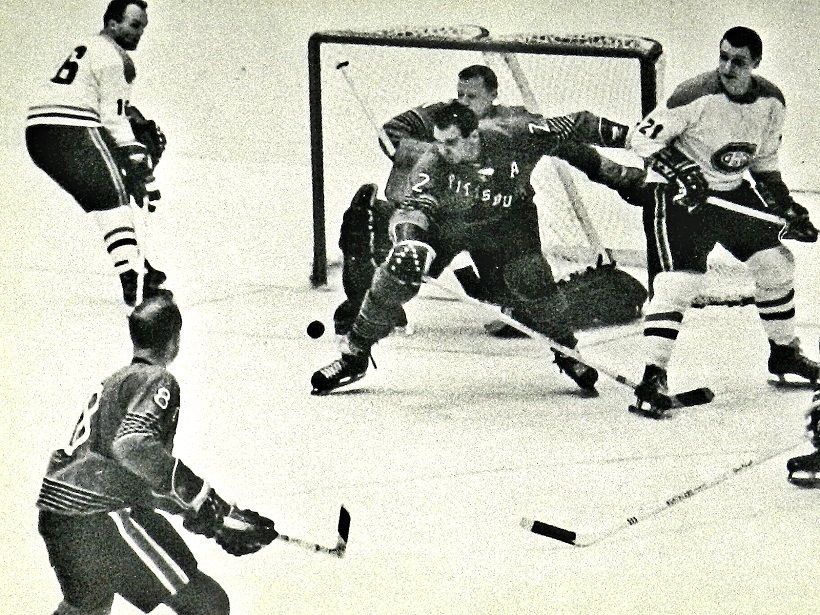 GRAINY AND RARE PHOTO FROM THE PENGUINS' FIRST–EVER GAME, 50 YEARS AGO TONIGHT, AT THE OLD CIVIC (LATER MELLON) ARENA. HANK BASSEN IS THE PITTSBURGH GOALIE BEHIND DEFENSEMAN LEO BOIVIN (2). FORWARD VAL FONTEYNE (8) IS IN THE HIGH–SLOT. MONTREAL PLAYERS ARE HENRI RICHARD (16) AND GILLES TREMBLAY (21, AND FIRST GOAL–SCORER OF THE '67–68 SEASON).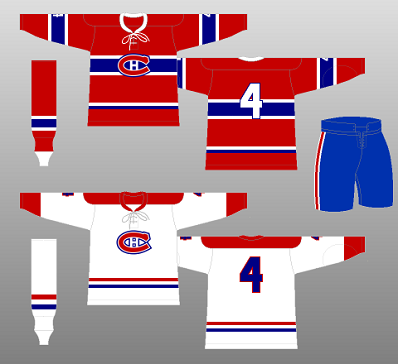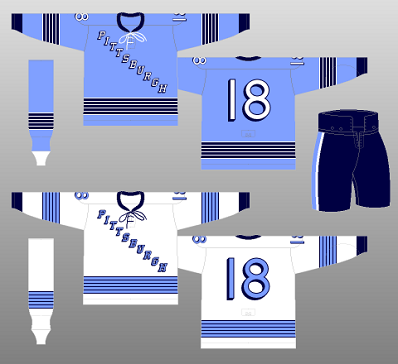 MONTREAL WORE ITS ROAD–WHITE JERSEYS; PITTSBURGH ITS HOME–LIGHT BLUE. NHLUNIFORMS.COM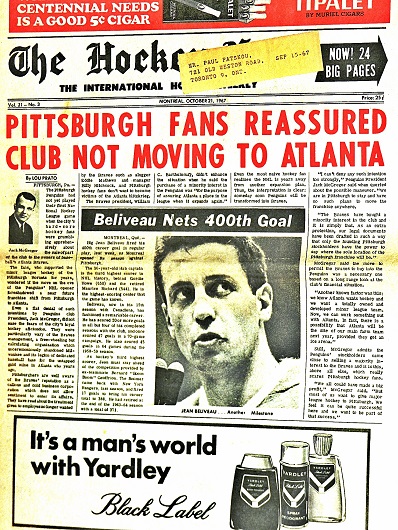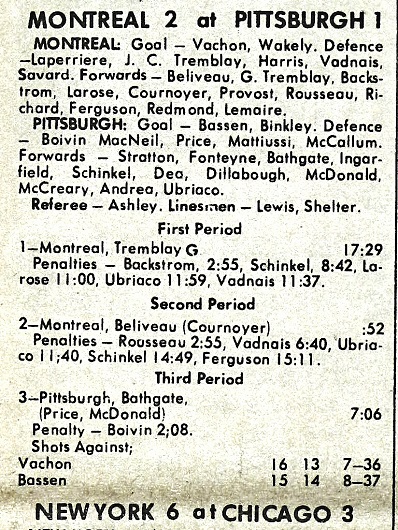 INCREDIBLY, THE OCT. 21, 1967 ISSUE OF THE HOCKEY NEWS WARNED ABOUT POSSIBLE TEAM RE–LOCATION WHILE HIGHLIGHTING THE 400th CAREER GOAL OF CANADIENS LEGEND JEAN BELIVEAU (SCORED AT 0:52 OF THE SECOND PERIOD, AS PER GAME–SUMMARY, TOP–RIGHT). HALL–OF–FAMER ANDY BATHGATE SCORED THE FIRST GOAL IN PENGUINS HISTORY AT 7:06 OF THE THIRD PERIOD.
OCT. 11, 1967 — MINNESOTA 2 at ST. LOUIS 2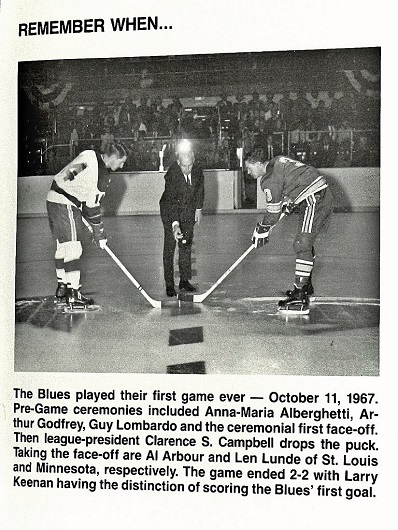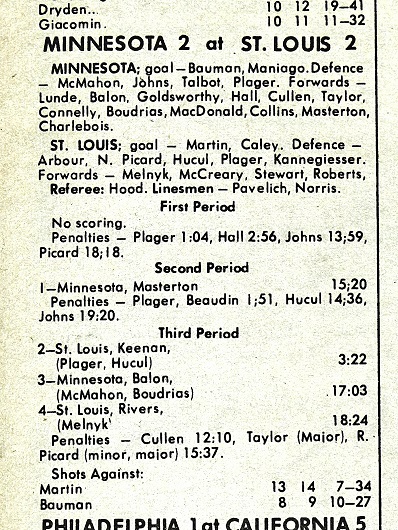 AFTER A TERRIBLE START TO THE SEASON — AND A FRANCHISE–ALTERING TRADE WITH NEW YORK — ST. LOUIS BECAME THE CLASS OF THE NEW WEST DIVISION. THE BLUES WERE 4–10–2 IN THEIR FIRST 16 GAMES BEFORE ACQUIRING RED BERENSON FROM THE RANGERS AT THE END OF NOVEMBER. IN THE BLUES' OPENING GAME (SUMMARY, TOP–RIGHT), THE BACK–UP GOALIES STARTED: SETH MARTIN FOR ST. LOUIS AND GARY BAUMAN FOR MINNESOTA. GLENN HALL AND CESARE MANIAGO WOULD BE THE NO. 1 STOPPERS. BILL MASTERTON SCORED THE NORTH STARS FIRST GOAL (MORE LATER) AND LARRY KEENAN HAD THE FIRST ST. LOUIS TALLY. "I WAS ON THE BENCH THAT NIGHT AT ST. LOUIS ARENA CHANGING DEFENSE PAIRS," RECALLED SCOTTY BOWMAN IN AN EMAIL LAST NIGHT. "I TOOK OVER [IN THE 17th GAME] WHEN LYNN PATRICK NO LONGER WANTED TO COACH."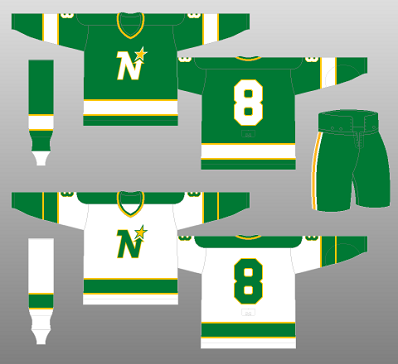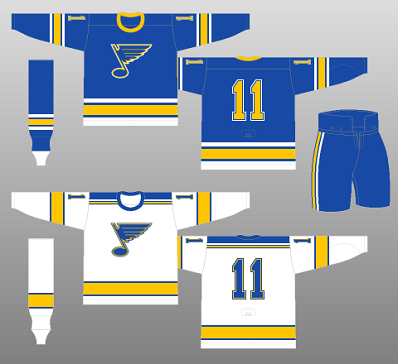 MINNESOTA WORE ITS ROAD–WHITE JERSEY; ST. LOUIS ITS HOME–BLUE UNIFORM.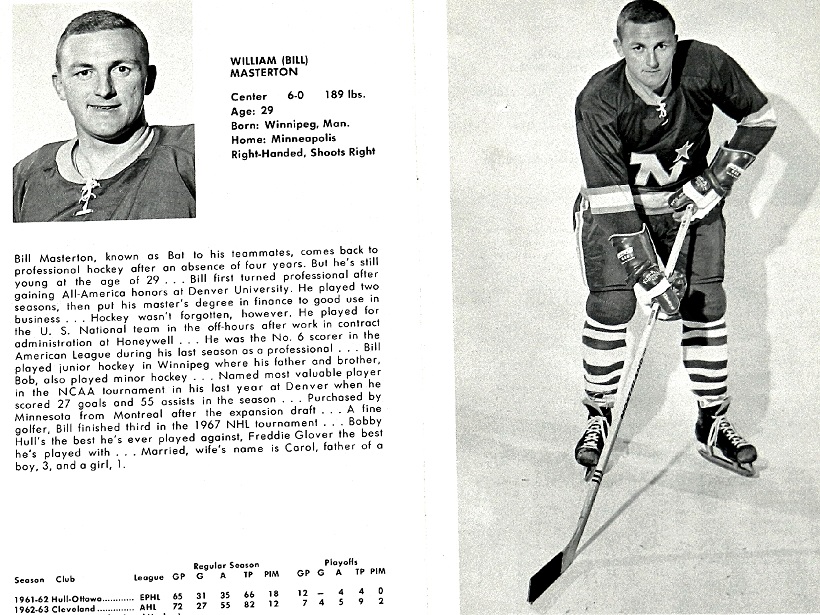 IT WAS WITH TRAGIC IRONY THAT BILL MASTERTON SCORED THE FIRST GOAL IN NORTH STARS HISTORY. LATER IN THE SEASON (JAN. 13, 1968), DURING A GAME AGAINST OAKLAND AT THE MET CENTER IN BLOOMINGTON, MINN., MASTERTON STRUCK HIS HEAD ON THE ICE AFTER BEING SIMULTANEOUSLY CHECKED BY SEALS DEFENSEMEN RON HARRIS AND LARRY CAHAN. HE NEVER REGAINED CONSCIOUSNESS AND PERISHED IN HOSPITAL ON THE MORNING OF JAN. 15. MASTERTON REMAINS THE ONLY PLAYER IN NHL HISTORY TO DIE AS THE RESULT OF AN ON–ICE INJURY.
OCT. 11, 1967 — PHILADELPHIA 1 at CALIFORNIA 5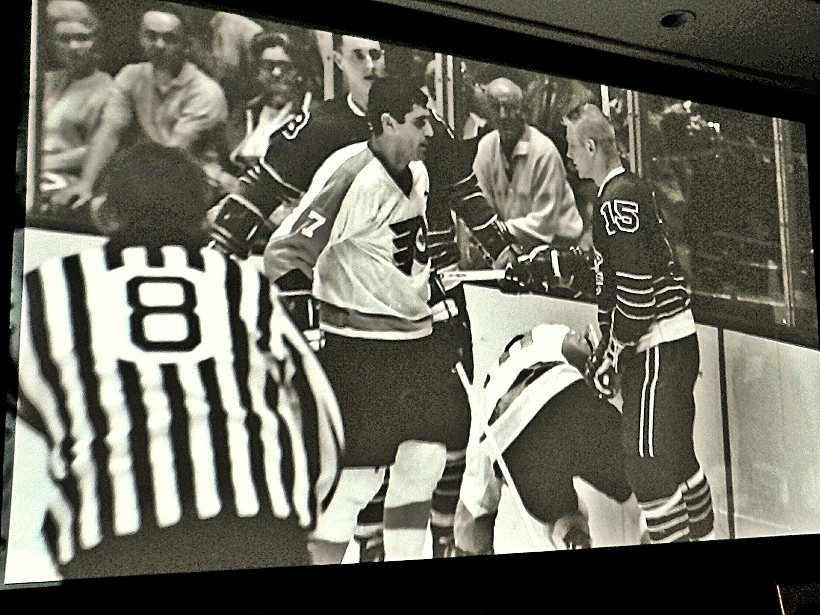 ALSO RARE, AN IMAGE FROM THE FIRST NHL GAME OF THE PHILADELPHIA FLYERS, 50 YEARS AGO TONIGHT, AT THE OAKLAND COLISEUM–ARENA (TODAY ORACLE ARENA, HOME OF THE NBA–CHAMPION GOLDEN STATE WARRIORS). FLYERS CAPTAIN LOU ANGOTTI (7) STARES AT CALIFORNIA SEALS DEFENSEMAN RON HARRIS (15). LINESMAN NEIL ARMSTRONG (8) RACES TOWARD THE PLAY.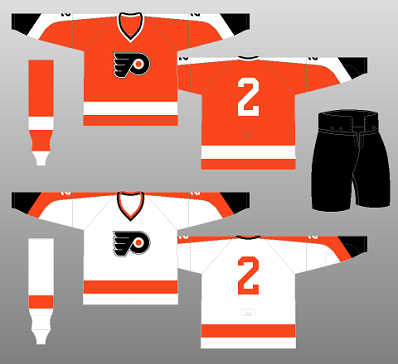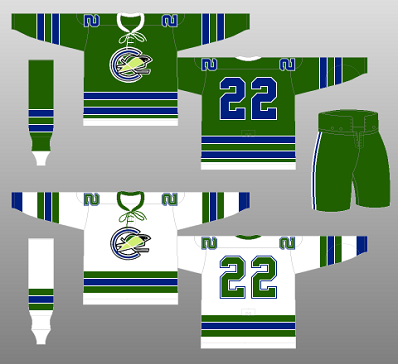 PHILADELPHIA WORE ITS ROAD–WHITE JERSEY; CALIFORNIA ITS HOME–GREEN.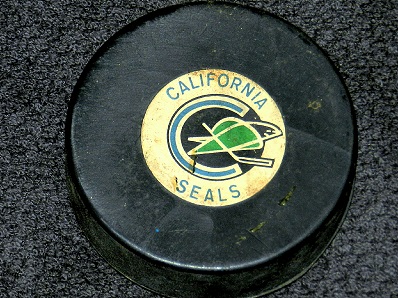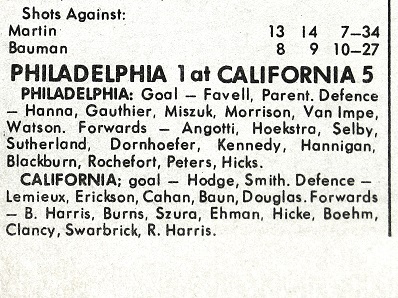 AN ACTUAL GAME–PUCK FROM THE SEALS FIRST SEASON IN OAKLAND, AS COLLECTED BY NHL REFEREE BRUCE HOOD. LINE–UPS (TOP–RIGHT) AND SUMMARY (BOTTOM–LEFT) FROM THE FLYERS FIRST NHL GAME. DEFENSEMAN KENT DOUGLAS (BOTTOM–RIGHT), SELECTED FROM TORONTO IN THE 1967 EXPANSION DRAFT, SCORED THE SEALS FIRST GOAL. FORWARD BILL SUTHERLAND REPLIED FOR PHILADELPHIA (HE WOULD PLAY FOR THE MAPLE LEAFS IN 1968–69).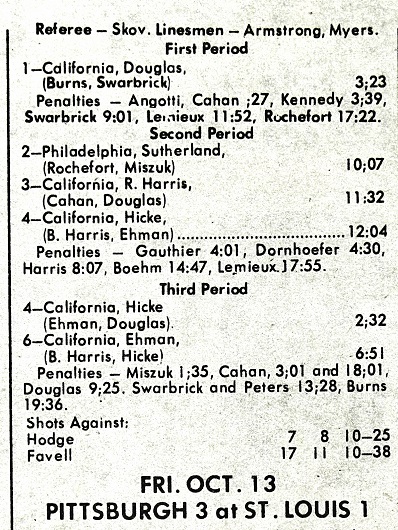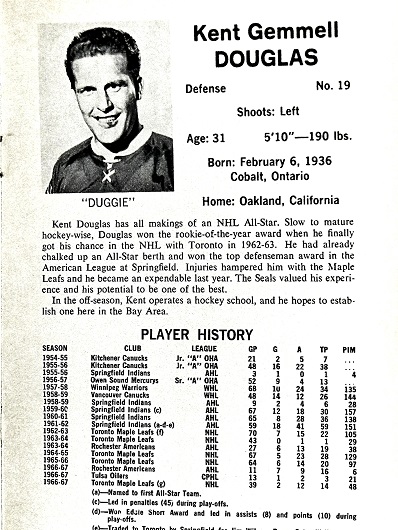 FIRST EXPANSION VISIT TO MLG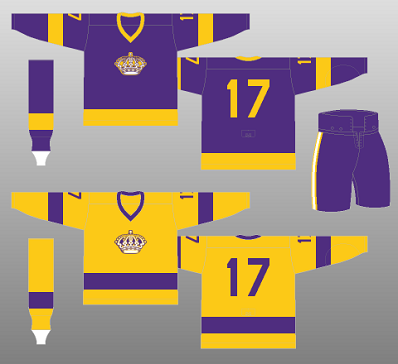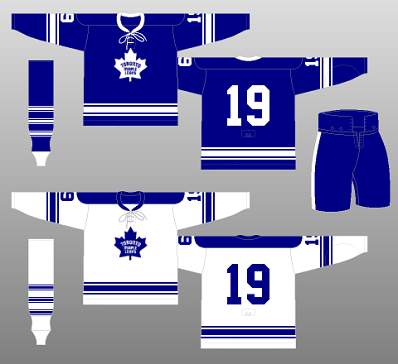 NOT UNTIL OCT. 25, 1967 WOULD AN EXPANSION TEAM INVADE MAPLE LEAF GARDENS. THE LOS ANGELES KINGS (DRESSED IN THEIR GOLD ROAD UNIFORMS; THE LEAFS IN HOME–BLUE) CAME TO TOWN, LED BY COACH RED KELLY AND GOALIE TERRY SAWCHUK — KEY FIGURES IN THE LEAFS' STANLEY CUP MARCH THE PREVIOUS MAY. TORONTO PREVAILED, 4–2.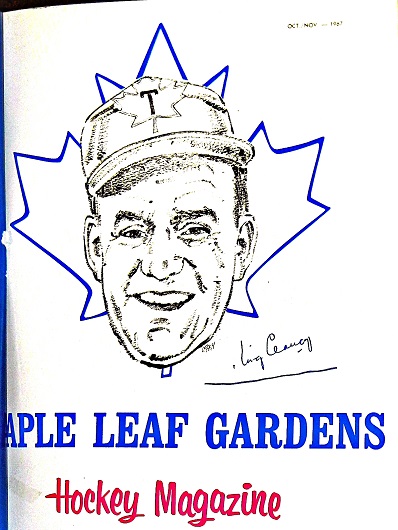 COVER (LEFT) AND SCORECARD FROM THE LOS ANGELES AT TORONTO PROGRAM OF OCT. 25, 1967. LINE–UPS, BELOW. BRIAN KILREA (19) HAD SCORED THE FIRST GOAL IN KINGS HISTORY, 11 NIGHTS EARLIER (OCT. 14, 1967), DURING A 4–2 VICTORY OVER PHILADELPHIA AT THE LONG BEACH (CALIFORNIA) ARENA. KILREA LATER WENT ON TO BECOME A JUNIOR COACHING LEGEND WITH THE OTTAWA 67's OF THE ONTARIO HOCKEY LEAGUE.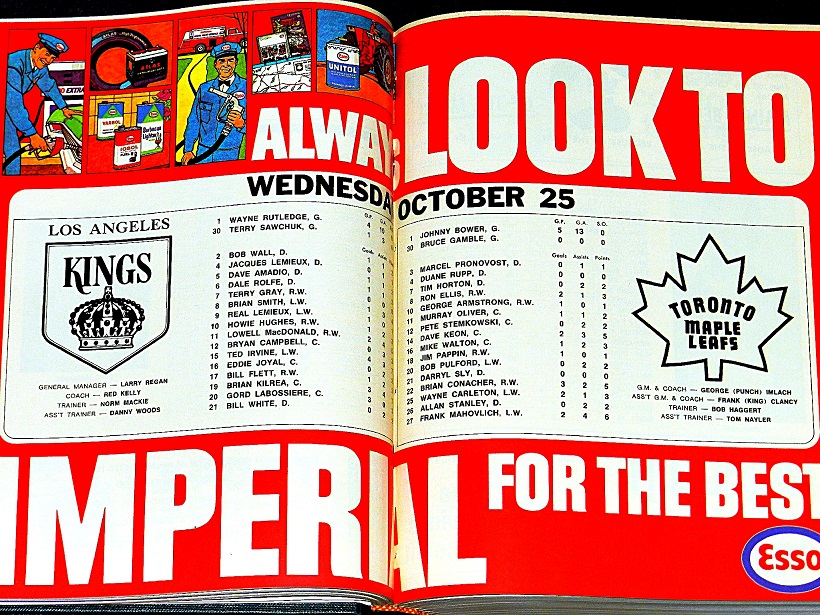 EMAIL: HOWARDLBERGER@GMAIL.COM