TORONTO (Nov. 16) — One more chance. That's all the Maple Leafs have without Auston Matthews.
One final opportunity — against New Jersey, tonight — to prove they can sh** the bed in the absence of their best player. "If we win again, we'll look to move him," said an unimpeachable executive source this morning, talking on behalf of general manager Lou Lamoriello. "There are too many challenges with the salary cap in the next few years to keep a player without whom we can win. Matthews will cost us a fortune in the summer of 2019. Better to see if we can get some prospects or high [draft] picks for him now. You never want to risk that a player might sustain a career–threatening injury. Our entire management group agrees that if we win again tonight and improve to 4–0 without Auston, it'll be time to look for a trade."
This, of course, is shocking news, given what Matthews has contributed to the Leafs, and the city of Toronto, since being chosen first overall in the 2016 National Hockey League draft. A 40–goal season last year earned him the Calder Trophy as NHL rookie–of–the–year — the first Leaf to cop the award since Brit Selby in 1966. Who will ever forget Matthews scoring four goals in Ottawa during his NHL debut? Yet, the Leafs have come to the conclusion, over the past week, that No. 34 will be too big a luxury to retain over the long haul.
"I know this decision won't be popular," continued the executive, "but, look, we have to start paying [William] Nylander big bucks after this season. [Mitch] Marner comes off entry–level in 2019 and we still have to find a stud defenseman somewhere. That player will not come cheap. Matthews is a good scorer, but easily replaceable. We can get lots for him in a trade. And, if we find that our scoring has been too–negatively impacted, we can look at signing a forward like James Neal (of Vegas) as a free agent next summer. Everyone figured we would go into the dumper when Auston hurt his back. And, look what happened. We've played some of our best hockey without him. Another win tonight over the Devils will seal the deal."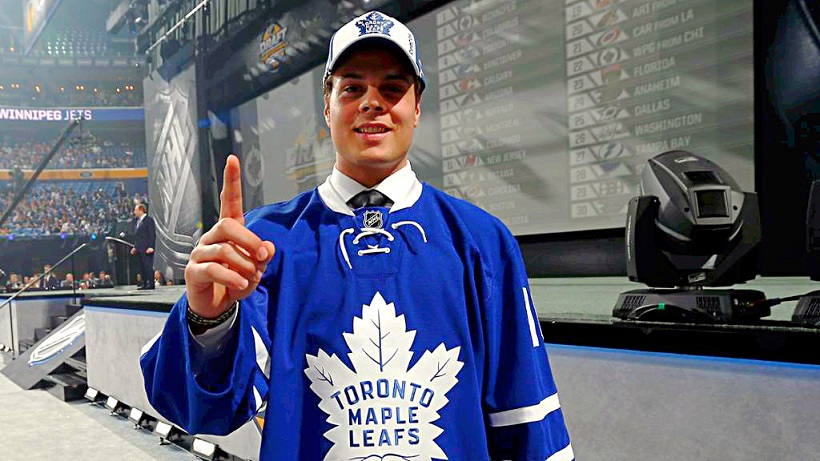 REMEMBER THE EXCITEMENT THE NIGHT THAT AUSTON MATTHEWS WAS DRAFTED FIRST OVERALL BY THE LEAFS IN BUFFALO? IT COULD ALL BE A DISTANT MEMORY AFTER TONIGHT. NHL.COM PHOTO
Though the Leaf executive wouldn't commit to a particular team, he did mention one obvious trade partner. "Arizona has wanted him badly since Day 1," said the exec. "Auston is from the Phoenix area; he grew up there, and the Coyotes need to put people in their building. It's a natural fit. Initially, Lou insisted [defenseman] Oliver Ekman–Larsson be the starting point in any trade discussion. But, [Coyotes GM] John Chayka wouldn't go for it. Not a big deal. I'm pretty sure we can get the Coyotes' first–round draft pick next June. That will offset the loss of Matthews. One No. 1 pick for another. We think it's a fair proposition."
I asked the executive if Maple Leaf Sports and Entertainment is worried about a backlash from the Toronto fan–base. There were loud protests outside Maple Leaf Gardens when the Leafs traded Frank Mahovlich to Detroit in March 1968; then again after dealing Lanny McDonald to the old Colorado Rockies in December 1979. Neither transaction improved the hockey club. It is never wise to lose the best player in a trade.
"Yeah, but you gotta roll the dice sometimes, particularly in the salary–cap era," replied the exec. "We looked hard at our team this week and asked 'how much better can Auston truly make us?' The answer was unanimous. He's a good kid, but we're clearly a more rounded group without him. When he's on the ice, it seems the other players wait for him to do something magical with the puck. Once we trade him, the wealth can be spread more evenly. I mean, look at Nylander: He's not having a good second season. We need to give him more responsibility out there; to get him out from beneath Auston's big shadow."
So, the decision appears to be made. If you've become emotionally attached to Matthews in a Leafs uniform; if you've dolled out $250 to buy a replica No. 34 jersey, my suggestion is to root maniacally for New Jersey at the Air Canada Centre. "If we were to get embarrassed tonight, there could be a change of heart," admitted the executive. "But, I don't expect that to happen. We've sailed through three games without Auston.
"There's no reason to think we can't do it a fourth time."
50 YEARS AGO THIS WEEK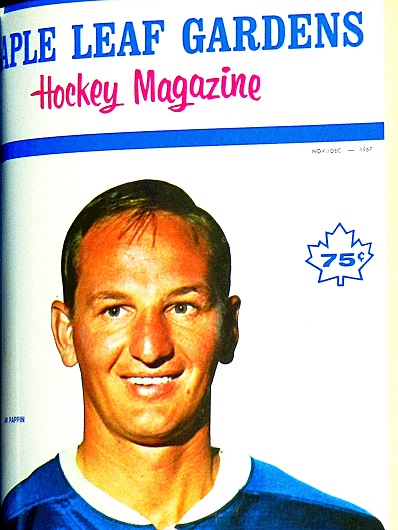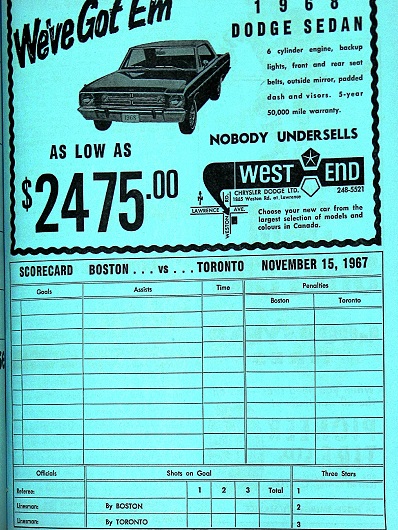 The most lop–sided trade in the history of the NHL wasn't quite–so evident 50 years ago last night (Wednesday), when the Boston Bruins made their first appearance of the 1967–68 season at Maple Leaf Gardens. Exactly six months earlier — on May 15, 1967 — Boston had acquired Phil Esposito, Ken Hodge and Fred Stanfield from Chicago for Pit Martin, Gilles Marotte and goalie Jack Norris. Esposito would quickly become one of the most prolific scorers of all time, with seasons of 76, 68, 66 and 61 goals for the Bruins, who won the Stanley Cup twice in three seasons (1970 and 1972). Esposito and Bobby Orr are considered among the best forward–defenceman combinations in the game's history — alongside Maurice Richard and Doug Harvey (Montreal); Mike Bossy and Denis Potvin (New York Islanders); Wayne Gretzky and Paul Coffey (Edmonton); Nick Lidstrom and Steve Yzerman (Detroit). Esposito and Orr played together for the first time at Maple Leaf Gardens 50 years ago last night, though the Leafs defeated Boston, 4–2.
Returning to Toronto in a Bruins jersey was "The Entertainer" — Eddie Shack — who'd been traded to Boston by Punch Imlach for forward Murray Oliver on the same day as the Esposito blockbuster. I still have the Gardens program from Nov. 15, 1967 in my collection. Here were some of the magazine contents: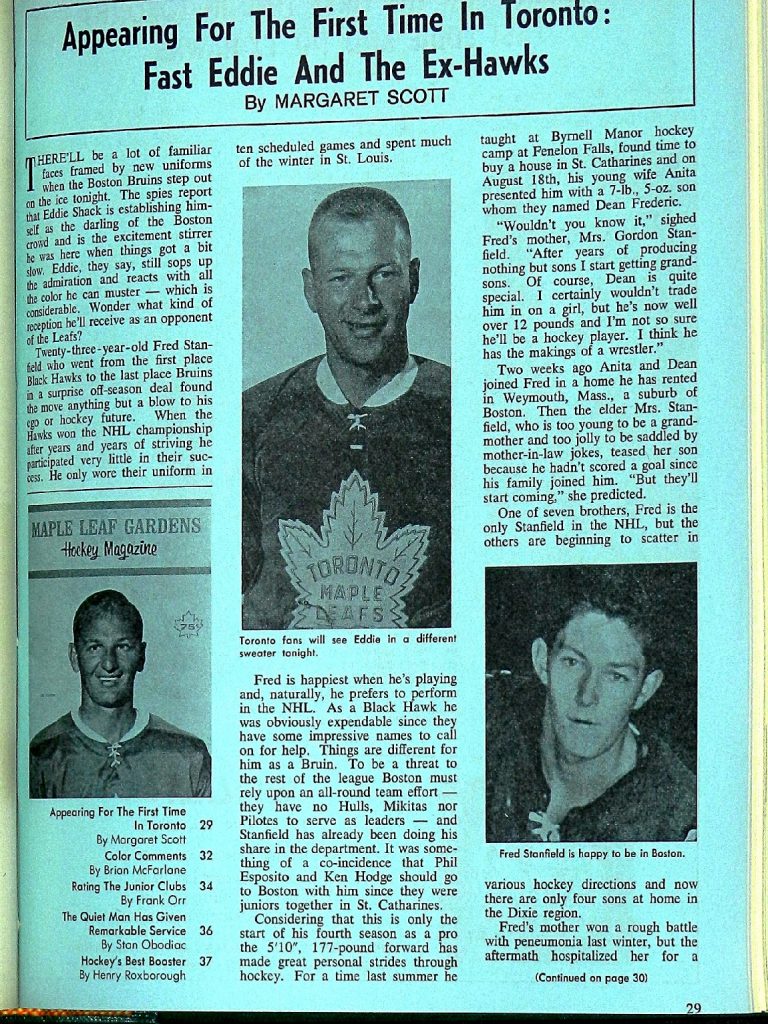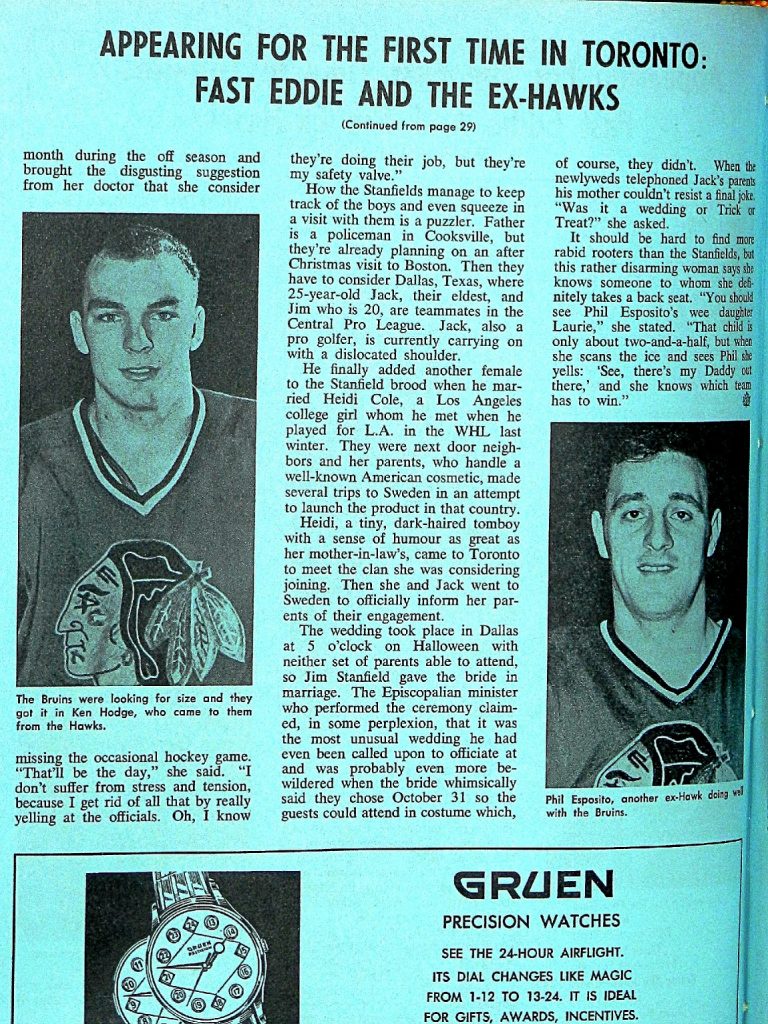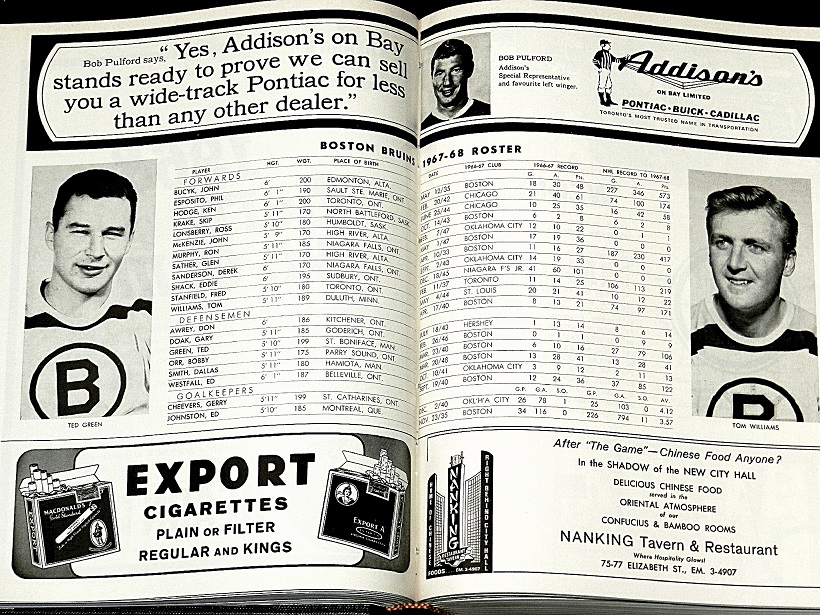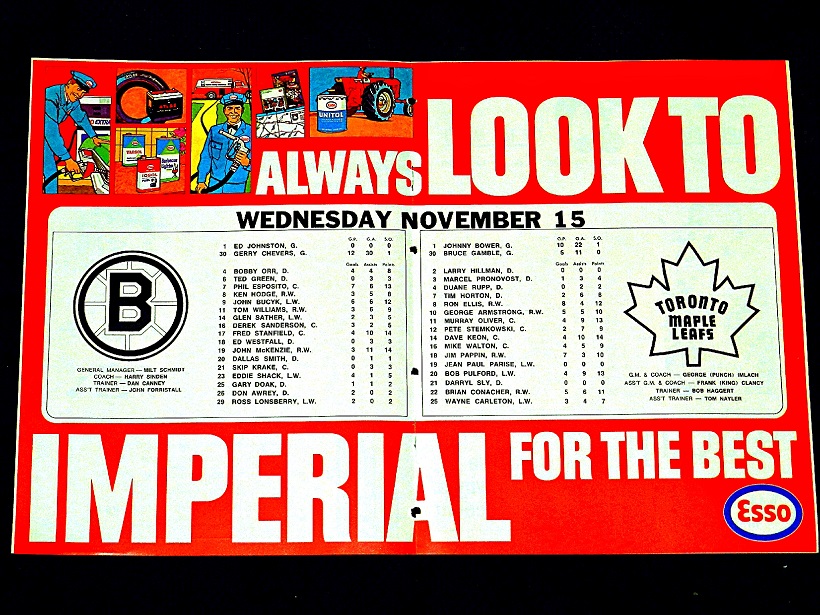 AS YOU'LL NOTICE IN THE LINE–UPS, BELOW, THE LATE JEAN–PAUL PARISE DRESSED FOR THE MAPLE LEAFS, WEARING NO. 19. IT WAS HIS ONLY GAME IN A TORONTO UNIFORM. HE WOULD GO ON TO A LENGTHY NHL CAREER (890 GAMES) WITH THE MINNESOTA NORTH STARS, NEW YORK ISLANDERS AND CLEVELAND BARONS. HE WAS ALSO A MEMBER OF TEAM CANADA 1972. PARISE DIED OF CANCER IN JANUARY 2015. HIS SON, ZACH, PLAYS FOR THE MINNESOTA WILD.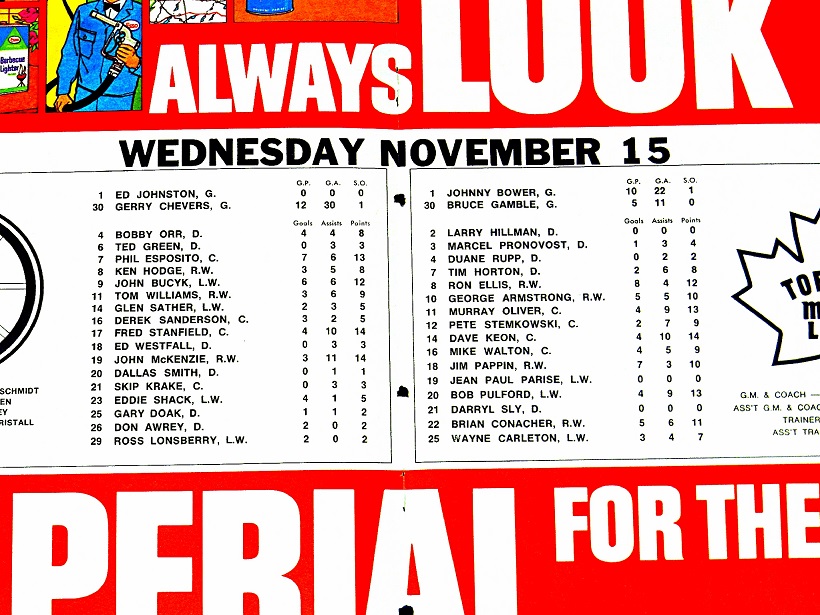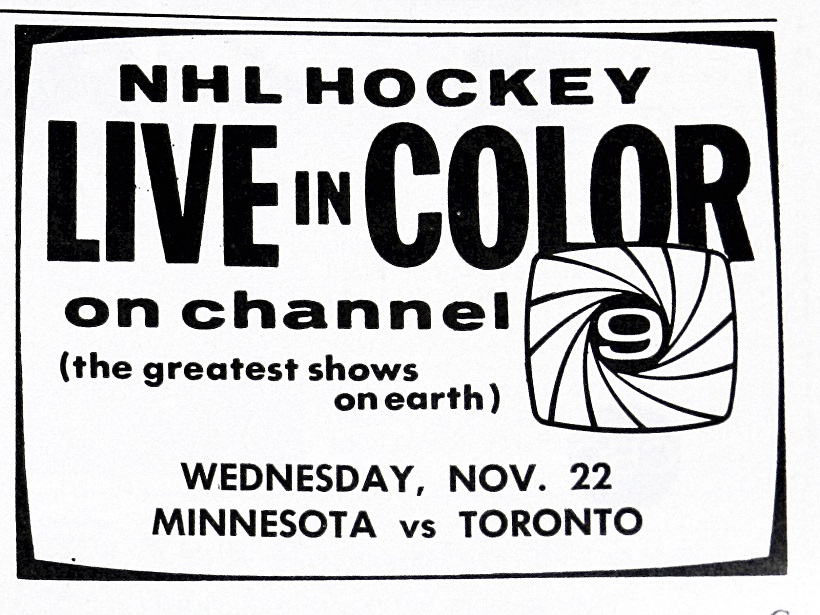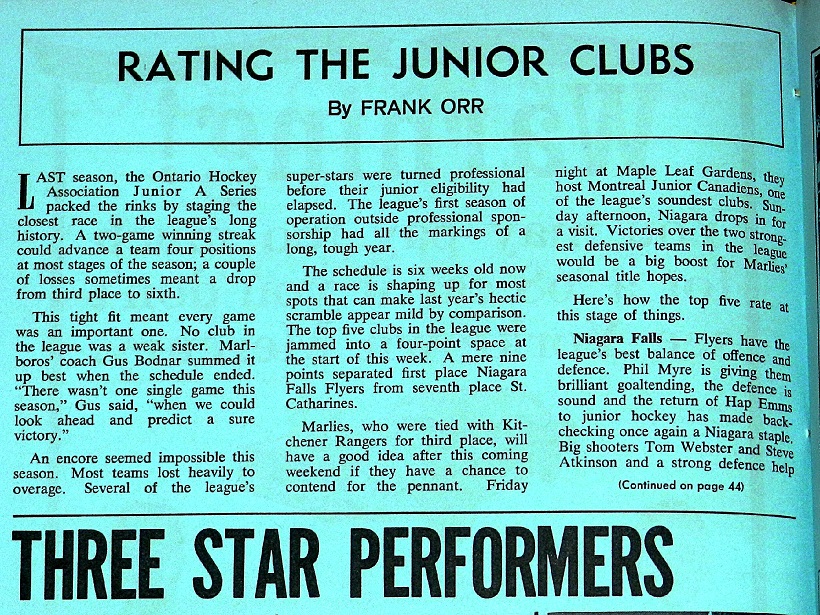 FRANK ORR OF THE TORONTO STAR COVERED JUNIOR HOCKEY IN THE 60's. HE WOULD BECOME THE NO. 1 LEAFS WRITER AT THE NEWSPAPER IN THE MID–70's AND THROUGH MUCH OF THE 80's.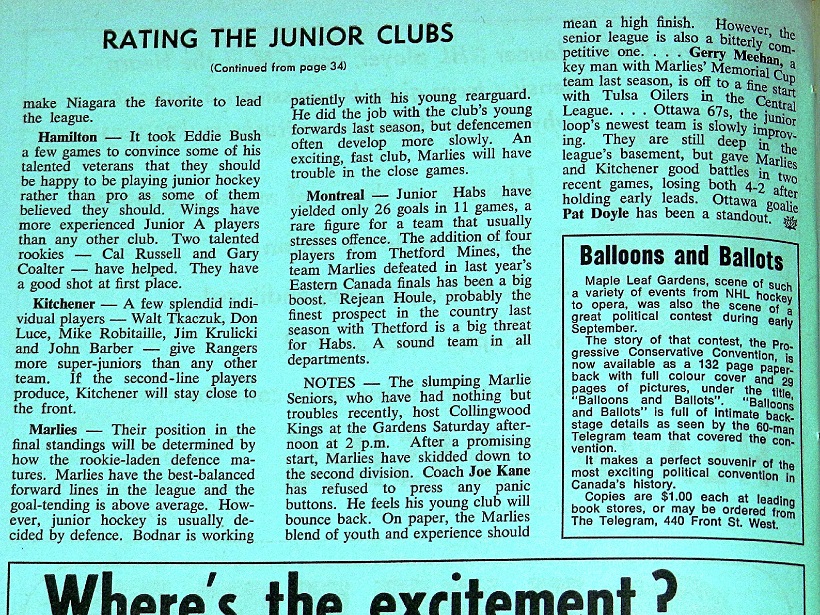 EMAIL: HOWARDLBERGER@GMAIL.COM