TORONTO (Nov. 12) — Do you remember when the Maple Leafs were cannon–fodder for the Boston Bruins?
It wasn't particularly long ago; well within the past decade… and I'm not even referring to the infamous playoff melt–down of May 2013 (more on that later). Never was it so pronounced as during the 2011–12 season, under coaches Ron Wilson and Randy Carlyle, when Toronto took the collar against Boston with an 0–7–0 record, getting outscored 39–12. Part of that slop included defeats of 6–2, 7–0 and 8–0. Between Oct. 20, 2011 and Dec. 8, 2013, the Leafs were a calamitous 1–11–1 against the Bruins (0–5–1 at the TD Garden).
This, naturally, came to mind over the past couple of nights, when the resurgent Leafs grabbed four points in a home–and–home set with the Beantowners — each triumph a valuable ROW (regulation or overtime win). The 4–1 final on Saturday at TD Garden rather flattered the home team, as the Leafs pummeled Boston with speed, an aggressive penalty kill and timely goaltending. Really, the antithesis of yesteryear, when Zdeno Chara, Shawn Thornton and Co. would run roughshod over the meek Torontonians, home and away.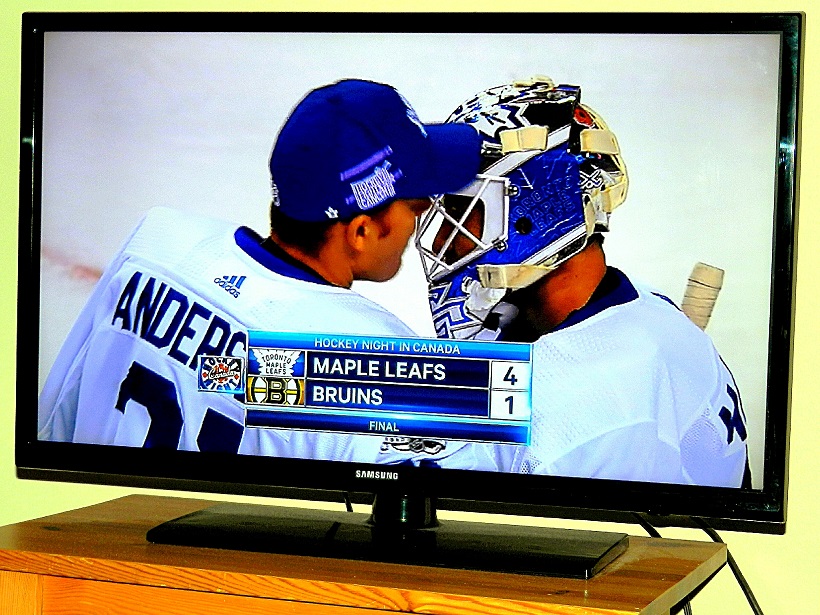 Allow me to thump my chest here for a moment while I recall the previous blog in this space (http://bit.ly/2zlEyiG) from last Wednesday, entitled The Leafs Will Be Fine. It was written amid the first bout of city–wide panic over the locals, with Toronto scuffling at 3–6–0 in its previous nine outings; dropping to but a single length above the .500 mark after 15 games (8–7–0). And, may I add, with the specter of Auston Matthews potentially missing a start or two with his upper–body (back) ailment. A perfect 3–0–0 stretch followed last Monday's conquest of the expansion Vegas Golden Knights — all six points accrued in the absence of, apparently, the Leafs most–indispensable skater. Toronto last won three consecutive games without Matthews in non–garbage time between Dec. 30, 2015 and Jan. 6, 2016; victories at Pittsburgh and Anaheim sandwiched around a home–ice subduing of St. Louis. Or, in schedule–speak, 149 games ago.
This isn't to suggest the Leafs could prosper over the span of weeks or months without Matthews. It merely indicates the sort of depth the club has assembled around its No. 1 draft pick from 2016. William Nylander, James van Riemsdyk, Nazem Kadri, Mitch Marner and Patrick Marleau would be front–line forwards on most teams in the National Hockey League. Meanwhile, Mike Babcock, who heard pangs of doubt for the first time as Leafs coach, has clearly responded by getting his charges to kick it up a notch in the absence of No. 34.
And, while we're in "good Leafs" mode, how about Morgan Rielly? The man I believe is the quasi–captain of the hockey club has rather quietly put up 16 points in 19 games. Only John Klingberg (Dallas, 18 points), Kevin Shattenkirk (New York Rangers, 17 points) and Erik Karlsson (Ottawa, 17 points in 11 games) have accrued more than Rielly, who is tied for fourth among NHL defensemen with Alex Pietrangelo of St. Louis.
At the moment, Rielly is on pace for 74 points, which would be the fourth–highest total in one season among Leaf blue–liners, trailing only Ian Turnbull (79 points in 1976–77) and Borje Salming (78 points in 1976–77 / 76 points in 1977–78). It may also put to rest, at least temporarily, the notion that Toronto does not possess a Top 10 NHL rearguard. For perspective, 74 points would have landed Rielly in second spot among his blue–line colleagues last season — two points behind Norris Trophy winner Brent Burns (San Jose) and two ahead of Tampa Bay behemoth Victor Hedman. This is something to keep an eye on as the schedule proceeds.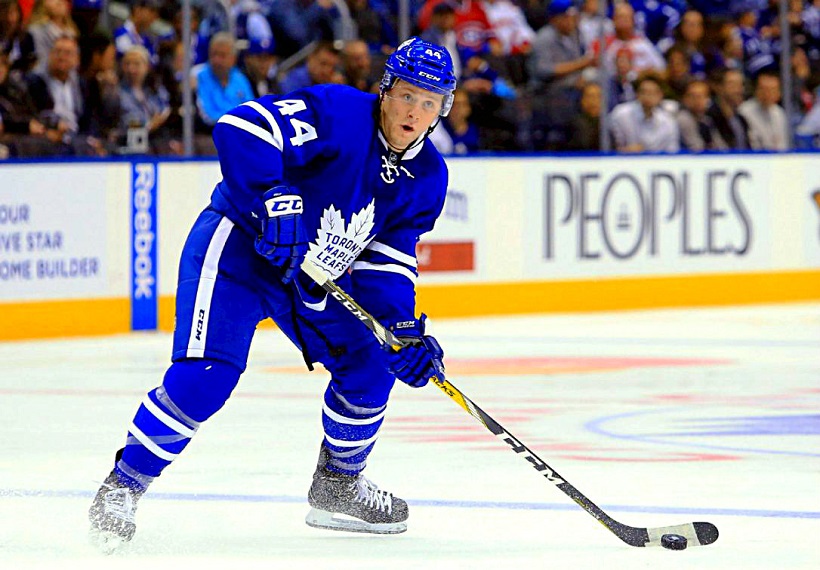 MORGAN RIELLY: HOARDING BLUE–LINE POINTS EARLY IN THE SEASON. TORONTO STAR PHOTO
From a team perspective, 11 of Toronto's 12 victories have come in regulation or overtime — ROW's being the first tie–breaker in the standings. Only the win over Vegas last Monday occurred in a shootout. This is significant, given the number of points the Leafs yielded last season after regulation time. As of today, 24 of the past 25 Toronto victories — dating to Mar. 7, 2017 — have been ROW's. That's called getting it done.
The Leafs next play Thursday night, against New Jersey, at the Air Canada Centre before traveling to Montreal for another Saturday–night encounter with the Canadiens. Toronto won, 4–3, at the Bell Centre, Oct. 14, when Matthews beat Carey Price at 0:48 of overtime.
OH, HOW IT STUNG
For the current generation of Toronto hockey fans, Saturday night's venue — the TD Garden — still evokes the most–horrific memory. That being Game 7 of an opening–round playoff series, at Boston, on May 13, 2013. Few, if any, who remember watching the decisive match that followed a 48–game, lockout–abbreviated schedule need to be reminded of the Maple Leafs blowing a 4–1 lead in the latter half of the third period; then losing early in overtime on a goal by Patrice Bergeron. Just when it appeared certain the Leafs were heading toward a second–round match–up with the New York Rangers, the club imploded.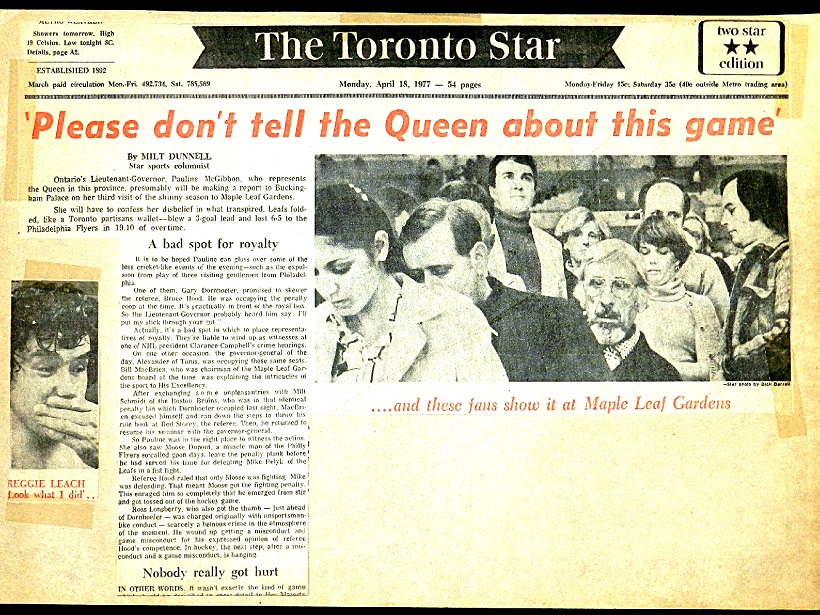 For a previous generation of Leaf zealots — one that included yours truly — nothing quite compared to Sunday, Apr. 17, 1977 at Maple Leaf Gardens. Ten nights after the Toronto Blue Jays played their first–ever game. On Borje Salming's 26th birthday. No, it was not Game 7 of a series against Philadelphia, but it virtually eliminated the Leafs from a Stanley Cup quarterfinal they should have swept. I was 18 years old that night; perched in my season tickets in Sec. 30 of the south mezzanine Blues. I therefore watched in agony, directly below and to the right of my location, as Bobby Clarke played the finest seven minutes of his Hall–of–Fame career. The tenacious Flyers captain ignited a rally that was (and still is) difficult to comprehend.
Toronto led Philadelphia 5–2 with less than six minutes left in regulation time. And, with a 2–1 edge in the best–of–seven series. Lanny McDonald's fourth goal of the match (at 12:44) provided the Leafs an insurmountable edge. Or, so we figured. By the 18:27 mark of the period, Philly had tied the score, 5–5 — Clarke counting his second of the game, assisted by the late Bob Dailey and defense–partner Tom Bladon.
In the final minute of the first overtime period, Reggie Leach — Clarke's right–winger — beat goalie Mike Palmateer from the Starboard flank with one of his patented slapshots. It deadlocked the playoff round, 2–2, and no one in this city reacted with surprise when Philadelphia captured the next two encounters, advancing to the Cup semifinals. Having, a) won the first two games of the series at the Spectrum in Philadelphia, and b) blown Game 3 at the Gardens in the final minute when the Flyers pulled their goalie for an extra attacker, this was a monumental collapse by the Maple Leafs. It cost franchise legend Red Kelly his job as coach, a position he'd held for four seasons. Kelly was replaced — to begin 1977–78 — by freshman Roger Neilson.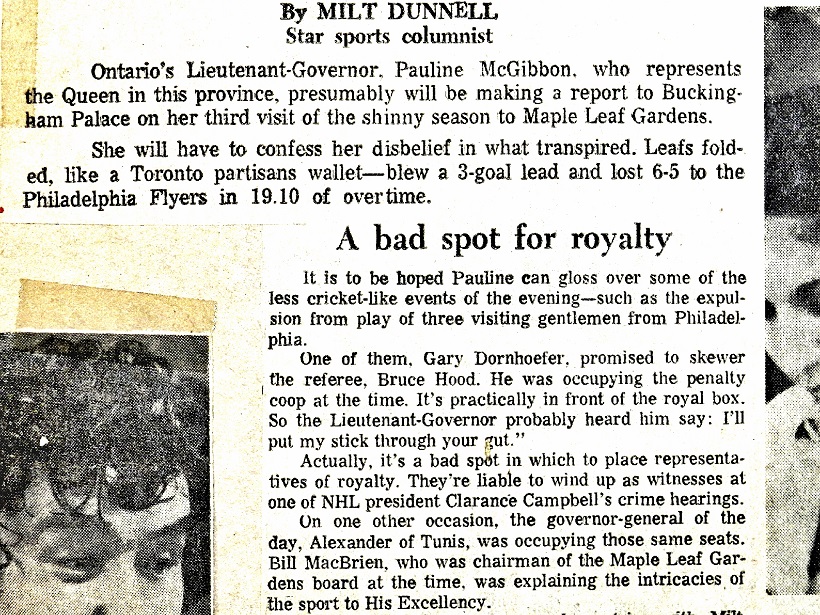 As surely you've noticed, I re–lived this not–so–fond memory by coming across my scrapbook from the 1977 Stanley Cup playoffs. Images here are from the Toronto Star and Toronto Sun; articles written by Milt Dunnell, Frank Orr and John Iaboni. Ouch! It still pains me — more than 40 years later.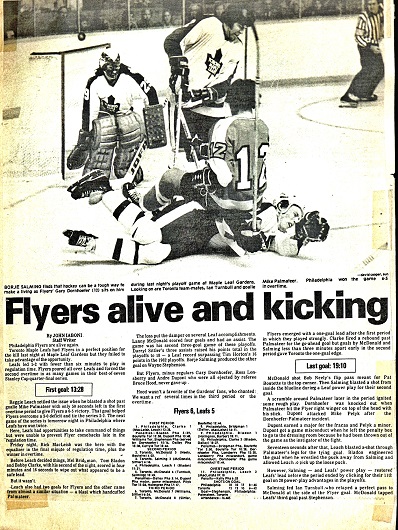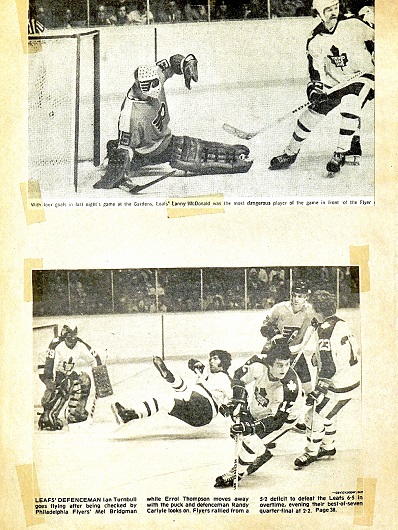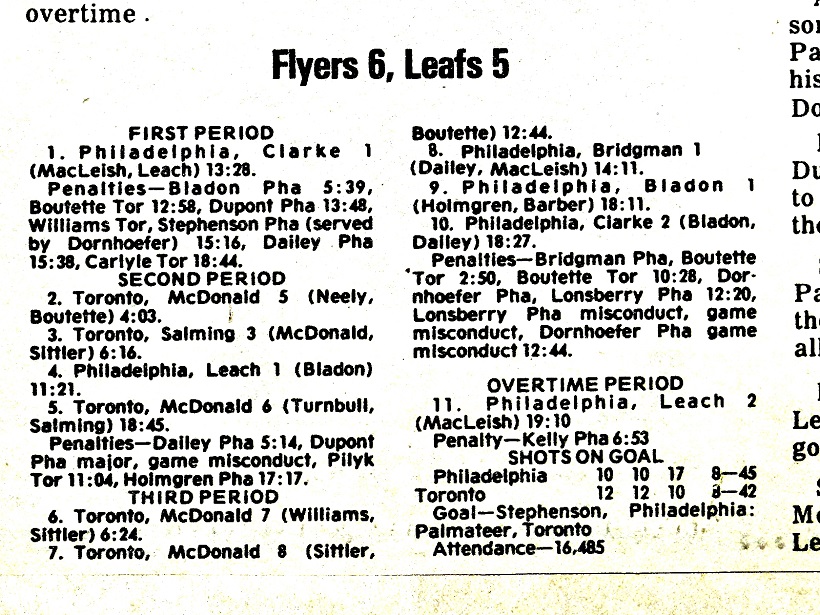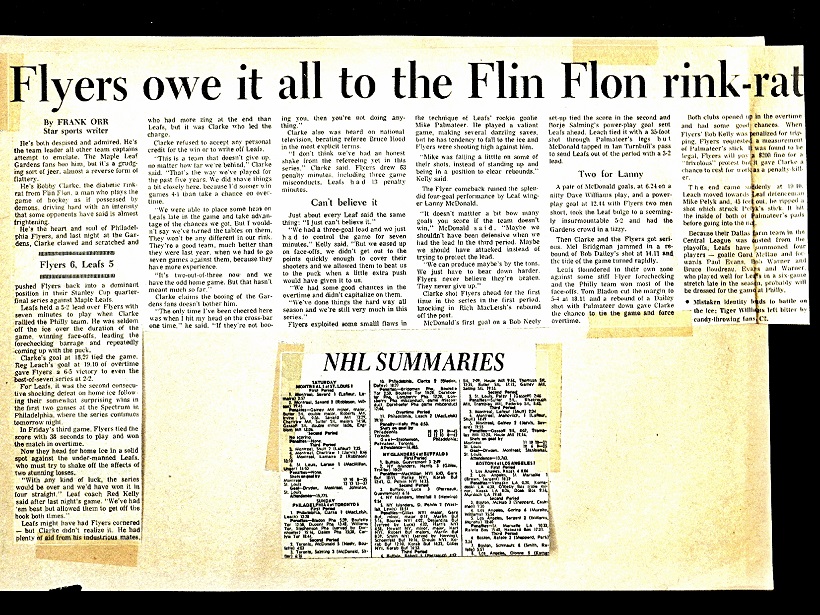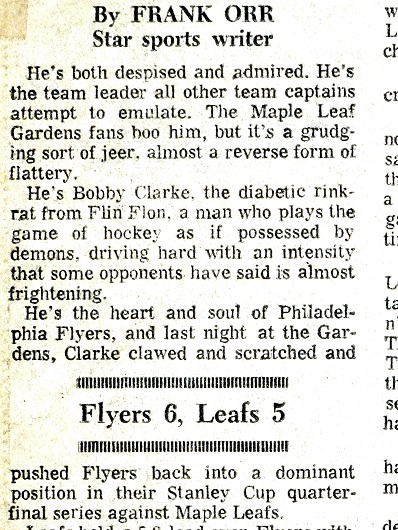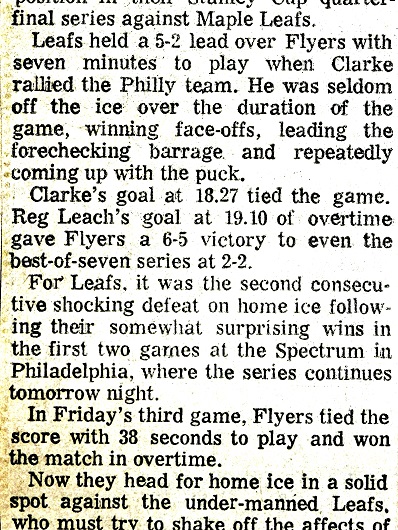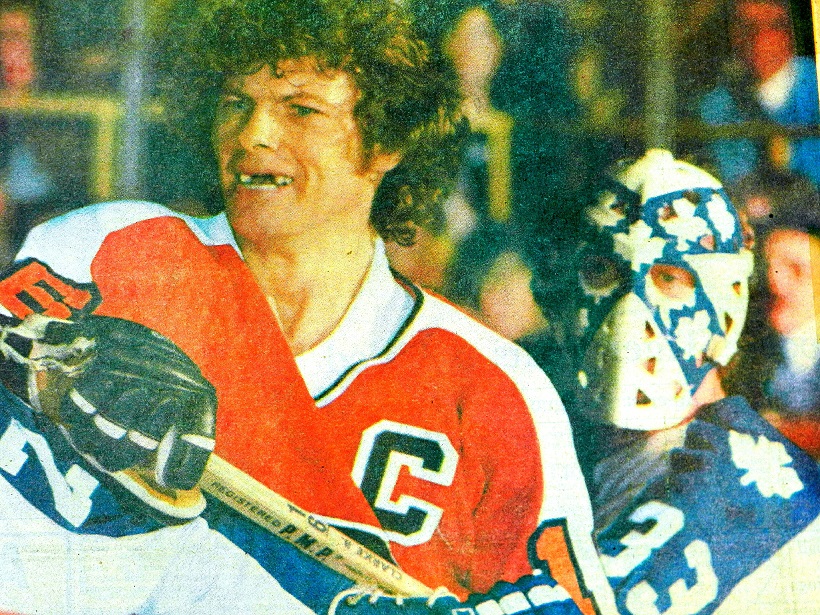 THE FLIN FLON RINK–RAT BATTLING WITH LEAFS GOALIE WAYNE THOMAS.
EMAIL: HOWARDLBERGER@GMAIL.COM