TORONTO (Nov. 22) — Apart from the predictability of the Maple Leafs losing to Arizona Monday night — many suspected a let–down to follow the 6–0 romp at Montreal on Saturday, and the Coyotes have been playing well — there was a refreshing outbreak of humility after the 4–1 defeat at Air Canada Centre.
Earlier in the day, following the Leafs morning skate, Mike Babcock had responded rudely and egotistically to an innocuous question from Rosie DiManno of the Toronto Star with respect to the coach's line–juggling.
"The beauty of this is when you get to coach the team, you get to do what you want," snorted Babcock for no particular reason. "When I coach, I do what I want. I like to win every night." To his credit, and moments after Arizona snapped Toronto's six–game win streak, Babcock began his post–game media session by apologizing to DiManno. Which reflected nicely on him. Down the hall, meanwhile, Babcock's captain was looking inward after his second game back from injury. "I didn't play very well tonight… turning the puck over," bemoaned Auston Matthews, who rarely needs to repent after a performance. Babcock and Matthews therefore demonstrated leadership by acting selflessly in the wake of a humbling, home–ice setback.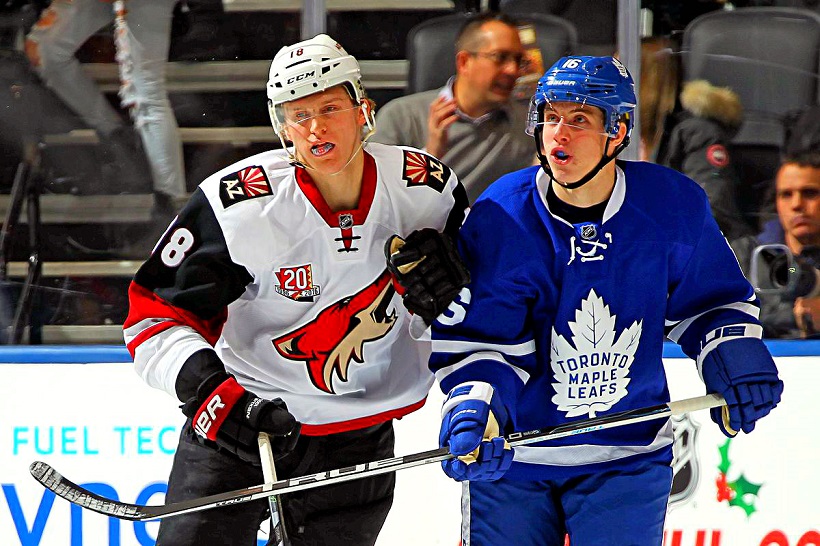 MITCH MARNER AND THE TORONTO MAPLE LEAFS WERE SOUNDLY DEFEATED ON MONDAY NIGHT AT THE AIR CANADA CENTRE BY CHRISTIAN DVORAK AND THE SUDDENLY–HOT ARIZONA COYOTES.
Though the Leafs went 16 days without defeat, there was a common thread to the matches that preceded and followed the six–game win streak. In St. Louis on Nov. 4, the Blues skated to a 6–4 triumph with Alex Pietrangelo, far and away, the best player on the ice. Similarly, it was Oliver Ekman–Larsson that earned first–star honors in the Coyotes' conquest at the ACC. Drew Doughty had been a horse at the Staples Center on Nov. 2 when the Los Angeles Kings beat Toronto, 5–3. What the Leafs appear to lack most — a game–changing, momentum–altering stud on the blue line — often separates itself from the pack when the club loses. Alternately, and given the skill and speed up front, it serves to indicate how deadly the Leafs might become in the presence of such an elite defender. But, we've read and heard that too many times to recall.
Morgan Rielly has put up impressive numbers through the first quarter of the schedule: 17 points in 22 games. He recorded a paltry 27 points in 76 appearances last season. But, Rielly hardly ever elevates his performance to the extent where he is noticed beyond all others on the ice. Nor does any other defenseman wearing blue and white. When this is accomplished by a rival blue–liner, the Leafs inevitably scuffle. So, dream all you want about Toronto building a championship team on the basis of its Big 3 forwards: Matthews, William Nylander and Mitch Marner. As I've written countless times in this corner, the Maple Leafs will not win a Stanley Cup until that game–changer on the back end materializes. One way or another.
OUT OF THERAPY YET? Just checking in on the multitudes that were traumatized in the backwash of my satirical "Matthews trade" blog last week (http://bit.ly/2hCxCa4) — by many thousands of clicks, the most widely–read (and scrutinized) submission in the history of this website, which dates to June 2011. I remain flattered that I was capable of generating the hockey version of "War of the Worlds" — my ersatz Leaf "executive" playing the role of the Martians that apparently invaded New York and New Jersey during Orson Welles' radio broadcast on Oct. 30, 1938. The anger directed at me for such heinous comportment lasted more than five days; spanning Twitter, Facebook and innumerable Leaf gossip sites. When asked, repeatedly, why I wrote such a piece, I responded "why not?" It was simply an exaggeration of the Maple Leafs' three–game win streak while Matthews rested an aching back. And, a thoroughly ridiculous premise. Though it contained neither political, racial nor religious content, the blog erupted and ultimately caused too many to be angry at themselves for getting "taken". So sorry. And, hoping the masses have healed by now.

50 YEARS AGO TONIGHT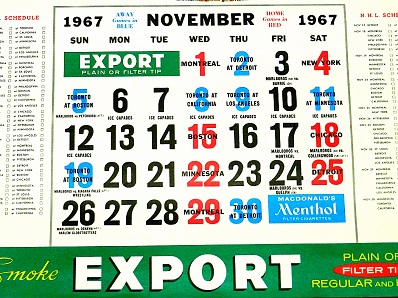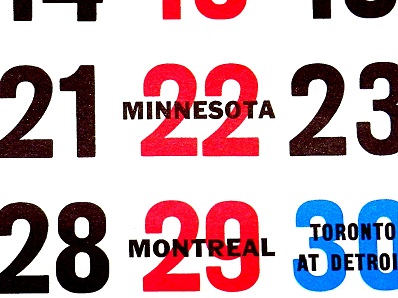 I continue with my look at Maple Leaf Gardens programs from 1967–68, when the National Hockey League doubled in size to 12 teams, adding the California Seals, Los Angeles Kings, Minnesota North Stars, Philadelphia Flyers, Pittsburgh Penguins and St. Louis Blues. On this night 50 years ago (Nov. 22, 1967) — as per the EXPORT Gardens calendar (above) — the Leafs hosted Minnesota for the first time. The North Stars played at the Metropolitan Sports Center in suburban Bloomington until the end of the 1992–93 NHL season, whereupon the franchise re–located in Dallas and dropped "North" from its moniker. On this night, goalie Bruce Gamble recorded a shutout as the Maple Leafs blanked Minnesota, 3–0.
Here are contents from the program: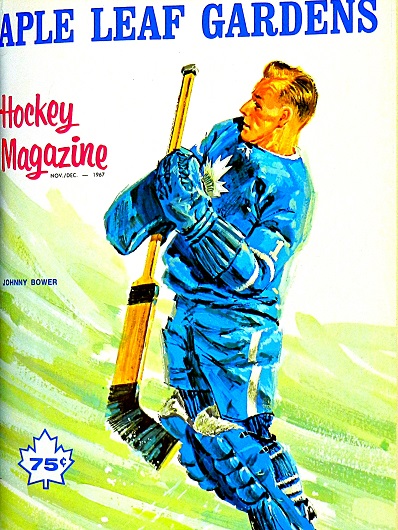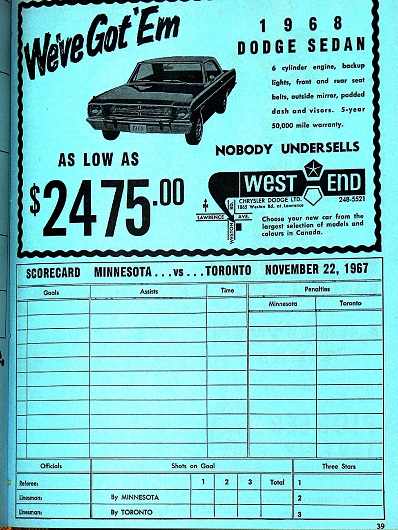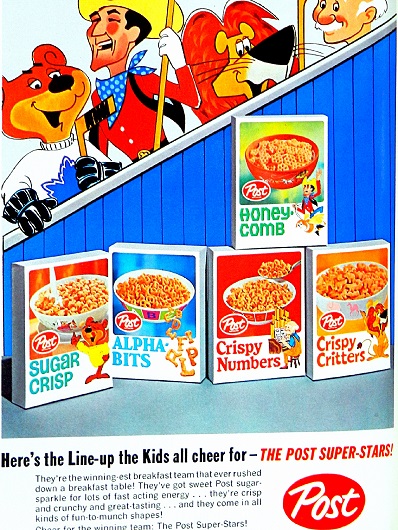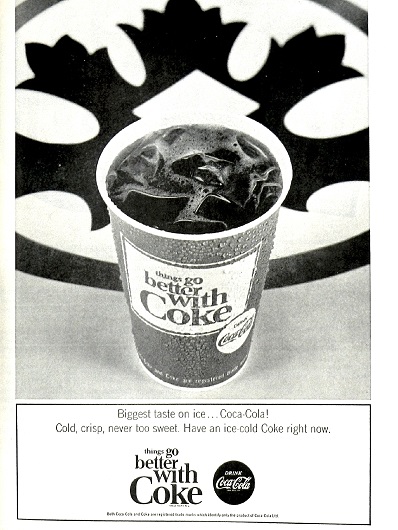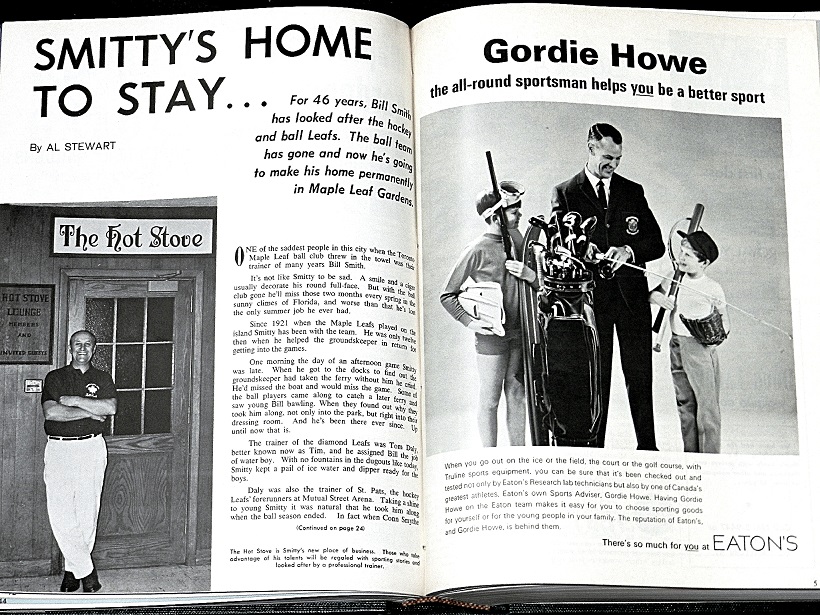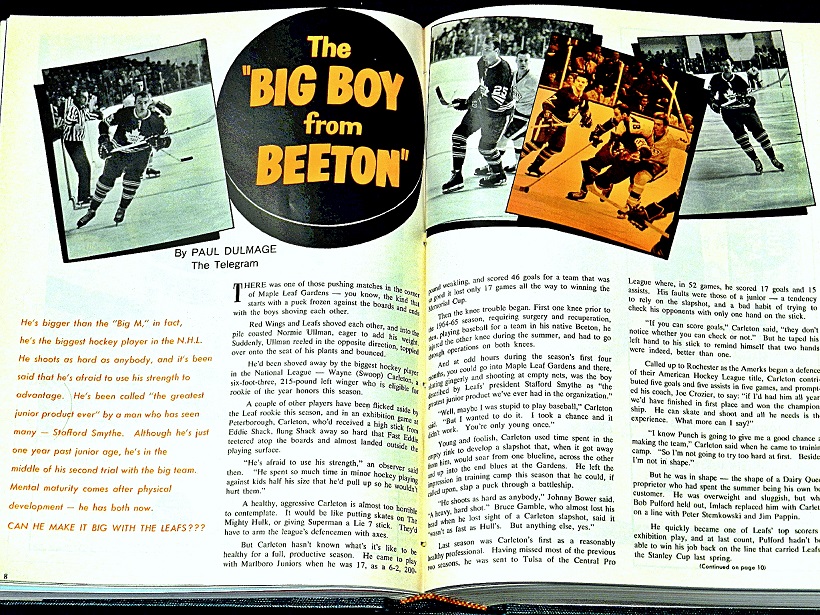 STORY ON LEAFS ROOKIE WAYNE CARLETON, WHO NEVER LIVED UP TO EXPECTATION IN THE NHL WITH TORONTO, BOSTON AND CALIFORNIA. HE WAS PRODUCTIVE WITH THE OTTAWA/TORONTO FRANCHISE IN THE WORLD HOCKEY ASSOCIATION (91 POINTS IN 1972–73 / 92 IN 1973–74).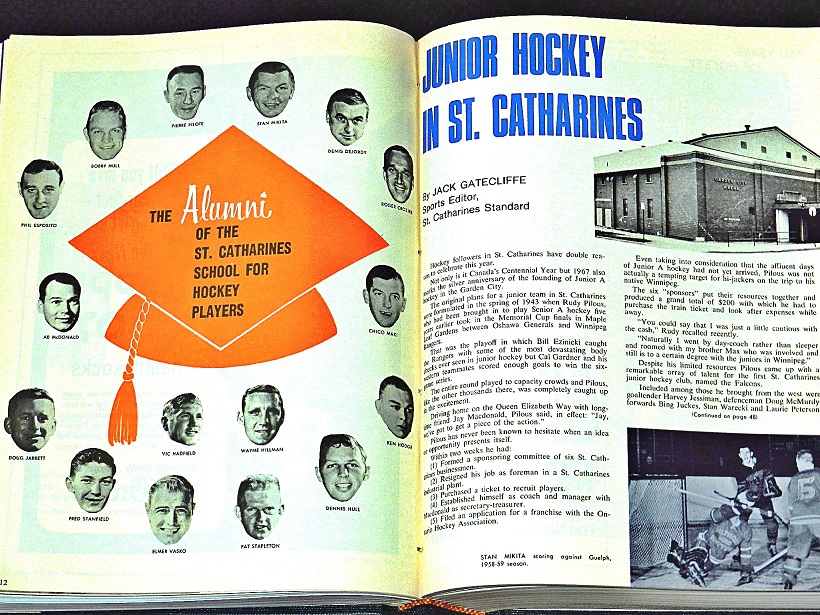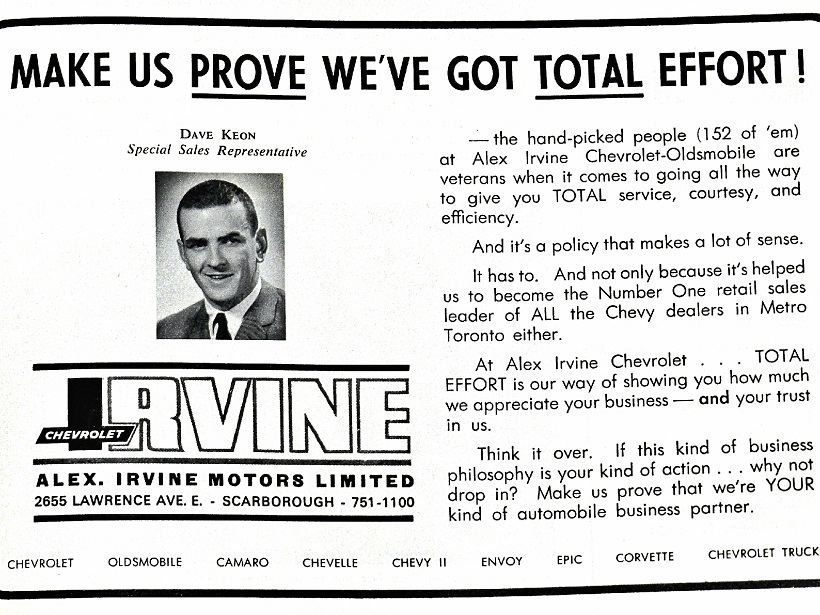 AS PROVEN BY MAPLE LEAFS CENTER DAVE KEON, PLAYERS IN THE LATE–60's COULD NOT LIVE ON NHL SALARIES ALONE. MANY TOOK PART–TIME JOBS TO SUPPLEMENT THEIR INCOME.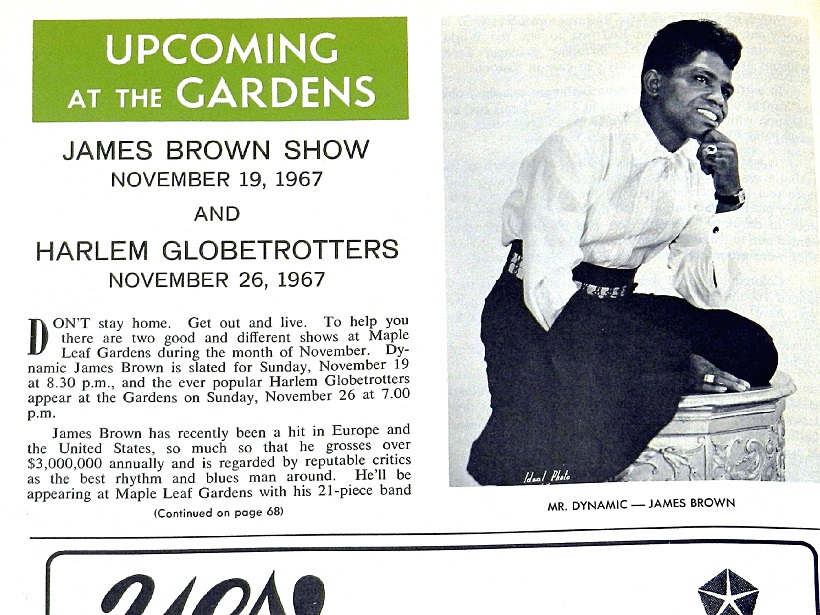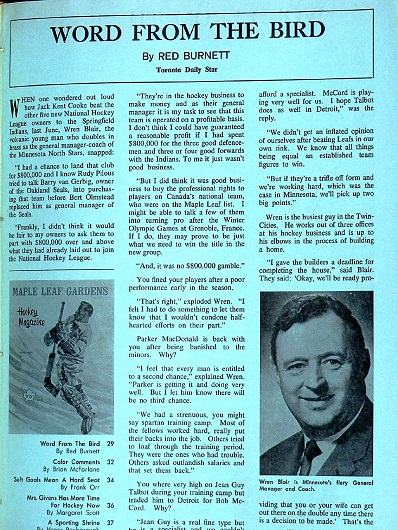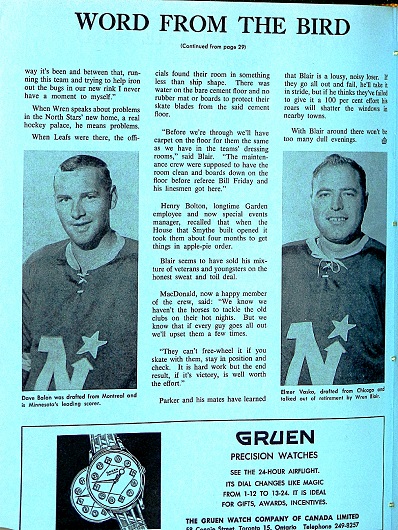 WREN BLAIR WAS THE FIRST GM/COACH OF THE NORTH STARS, WHO WORE GREEN, YELLOW AND WHITE UNIFORMS. BLAIR IS MORE FAMOUS, POSTHUMOUSLY, FOR DISCOVERING A YOUNG BOBBY ORR IN PARRY SOUND, ONT. AS A SCOUT WITH THE BOSTON BRUINS BEFORE EXPANSION.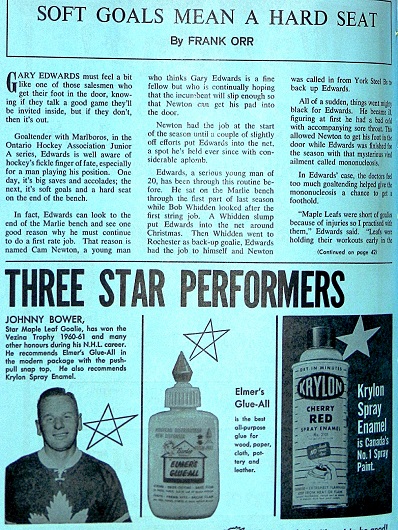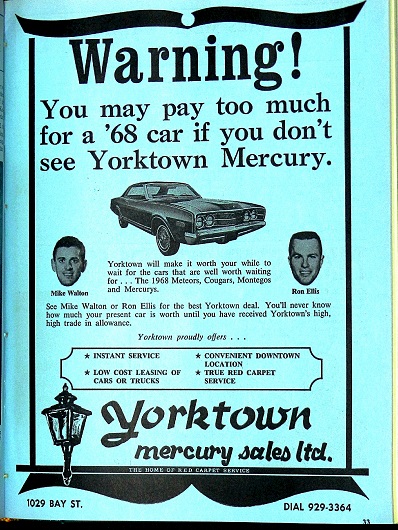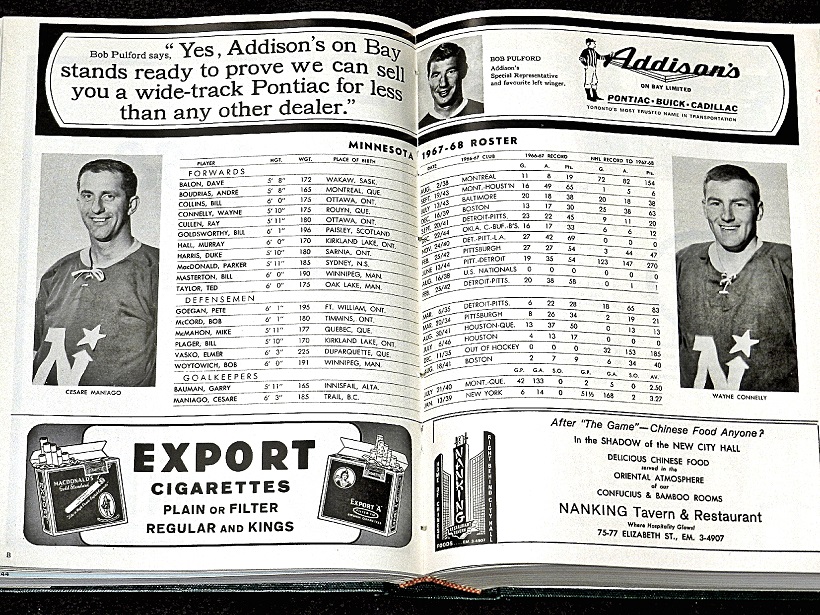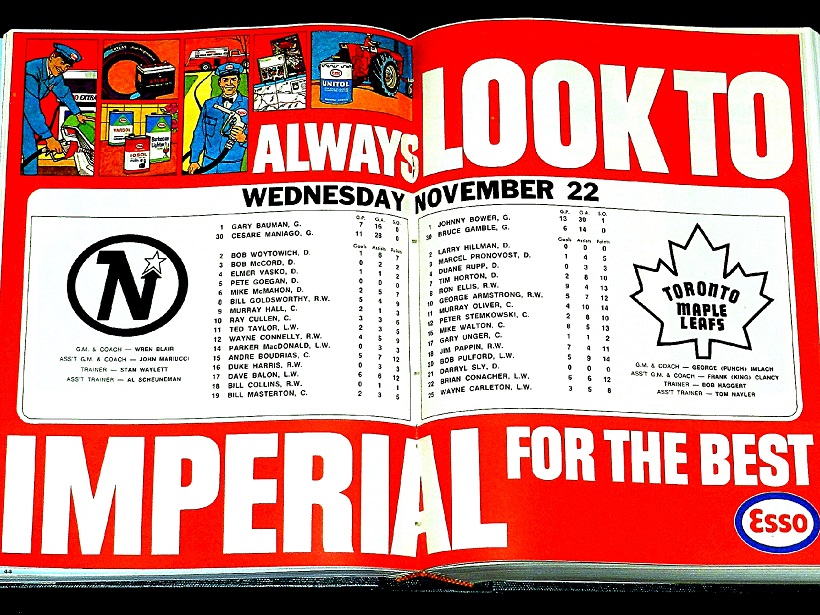 WEARING NO. 19 FOR MINNESOTA (IN CLOSE–UP, BELOW) WAS WINNIPEG NATIVE BILL MASTERTON, WHO SCORED THE NORTH STARS' FIRST–EVER GOAL (OCT. 11, 1967). THIS WOULD BE HIS LONE VISIT TO MAPLE LEAF GARDENS. BY THE TIME MINNESOTA CAME BACK (JAN. 20, 1968), MASTERTON HAD BEEN DEAD FOR FIVE DAYS. HE WAS FATALLY INJURED DURING A GAME AT THE MET CENTER AGAINST CALIFORNIA ON JAN. 13 — CATAPULTING BACKWARD AFTER BEING SANDWICHED BY SEALS' DEFENSEMEN RON HARRIS AND LARRY CAHAN; STRIKING HIS HEAD ON THE ICE. MASTERTON NEVER REGAINED CONSCIOUSNESS AND DIED AT HOSPITAL IN THE EARLY HOURS OF JAN. 15. HE REMAINS THE LONE NHLer TO PERISH DIRECTLY AS THE RESULT OF AN INCIDENT DURING A GAME. THE BILL MASTERTON MEMORIAL TROPHY, IN HIS MEMORY, HAS BEEN AWARDED EVERY YEAR SINCE 1968.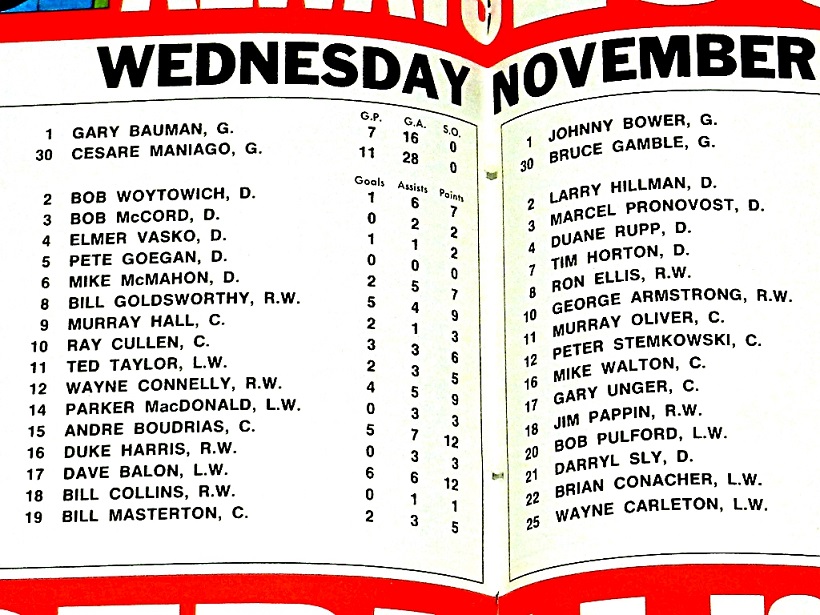 MINNESOTA'S FIRST VISIT TO MAPLE LEAF GARDENS OCCURRED FOUR YEARS AFTER THE DAY UNITED STATES PRESIDENT JOHN F. KENNEDY WAS ASSASSINATED IN DALLAS (NOV. 22, 1963).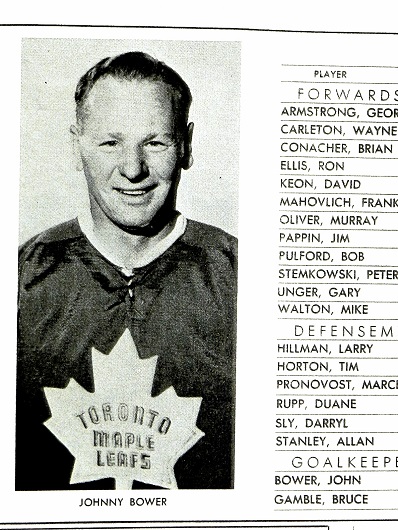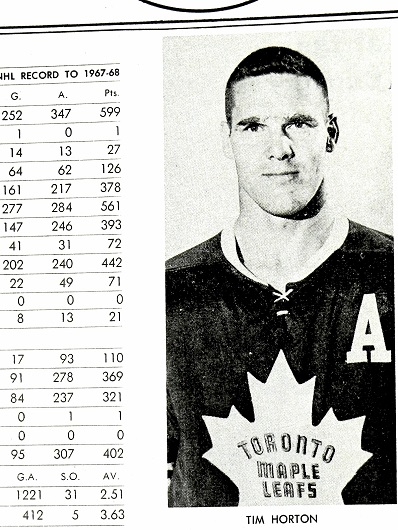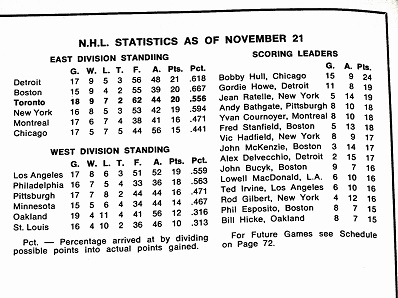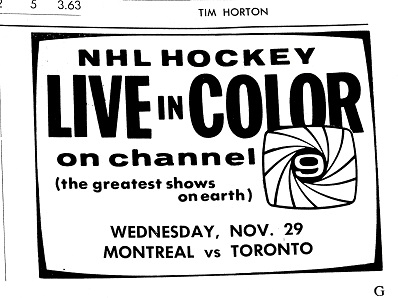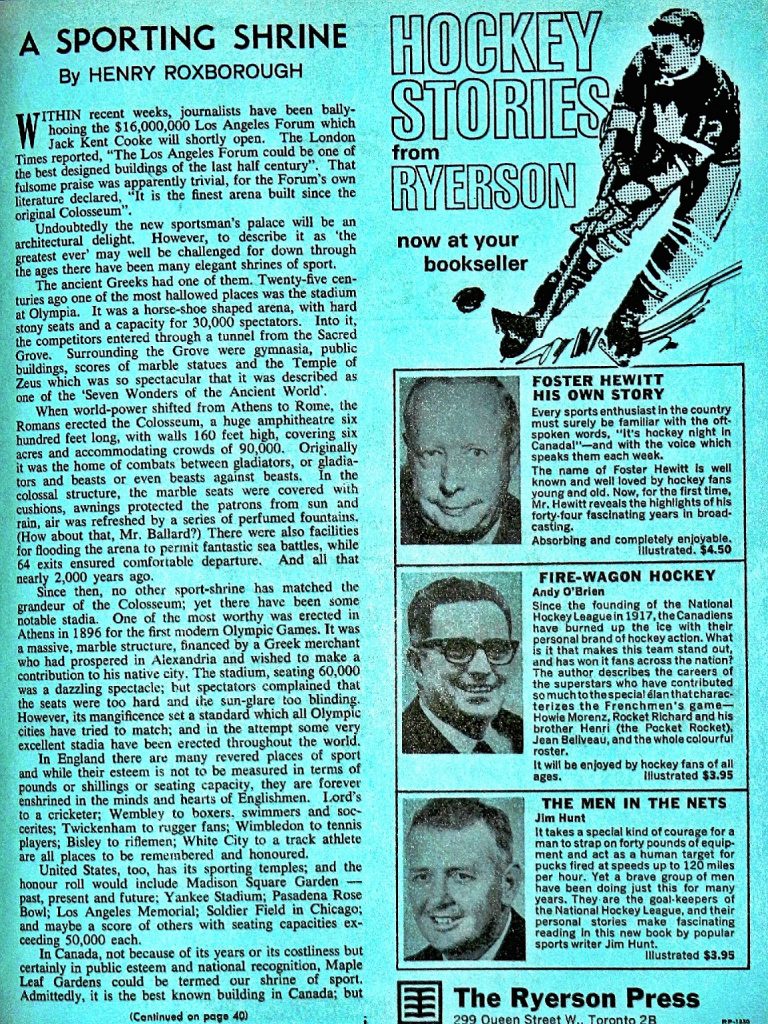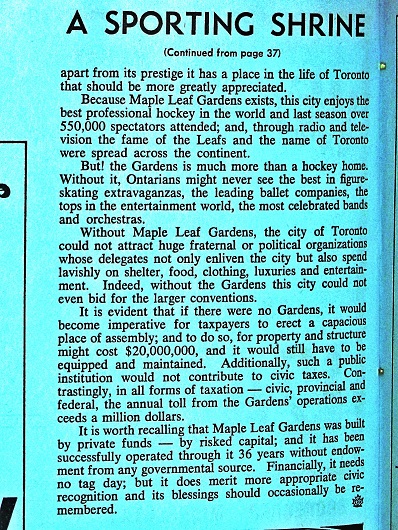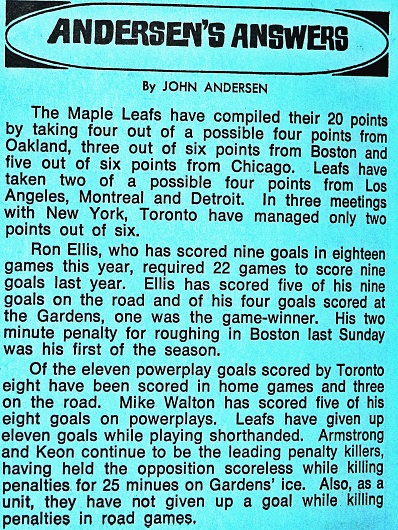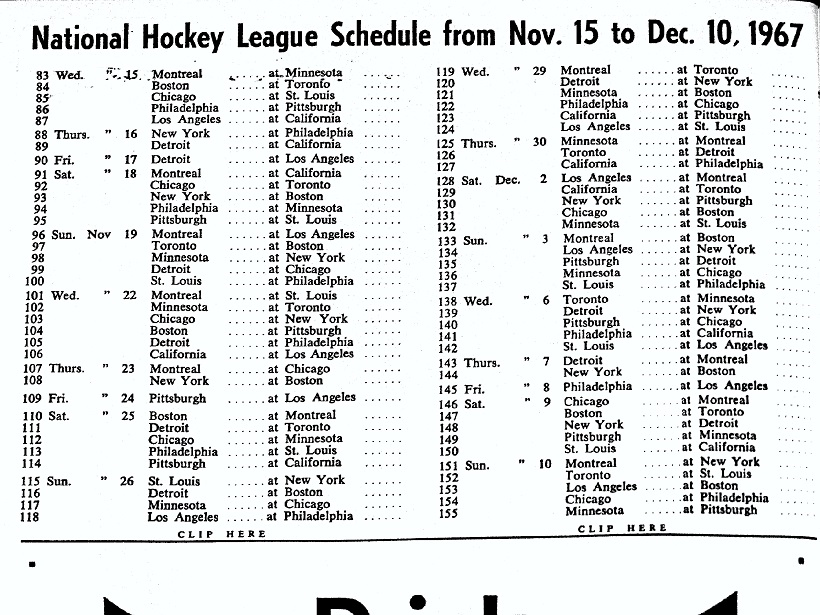 EMAIL: HOWARDLBERGER@GMAIL.COM