TORONTO (Nov. 8) — After last season and throughout the summer, I wrote in this space that Year 2 would likely be more of a challenge for the young, fast and gifted Maple Leafs. For no other reason than it almost always is. Oldtimers call it the "sophomore jinx" but I believe it goes hand–in–hand with the burden of expectation, which rises significantly after a breakthrough season. An abundance of skill should ultimately propel the Leafs toward Stanley Cup contention. Yet, not before encountering the second–year bugaboo.
When I mentioned the likelihood of Auston Matthews, Mitch Marner, William Nylander, Connor Brown, Nikita Zaitsev et al confronting more difficulty this season, I was scoffed at. When the Leafs roared to a 6–1–0 mark in their first seven games, I began to scoff at myself. Yet, the initial month of the 2017–18 schedule has indeed proven the Leafs rather confounding. Matthews and Mike Babcock, in particular, have been so lionized by the media that mentioning a flaw in either man is sacrilegious. But, I thought Matthews' 200–foot performance was just a tad beyond mediocre during the four–game road swing through California and St. Louis. And, the coach is getting a bit of an earful, for the first time, given the neutral–zone disarray of the past couple weeks. In my view (and as I practiced on radio), it is not forbidden to criticize those in hockey that appear beyond reproach. Neither Matthews nor Babcock will be smacked off his pedestal; both are near the top in their profession. That doesn't preclude, however, an ordinary stretch now and then.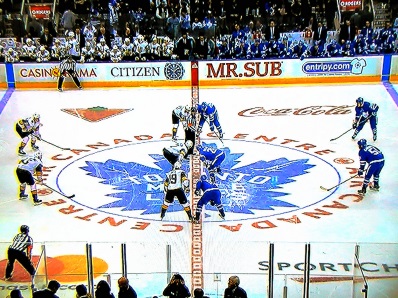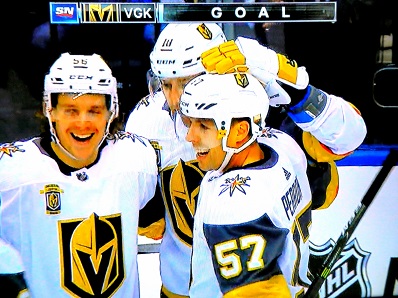 THE FIRST–EVER FACE–OFF (TOP–LEFT) BETWEEN THE TORONTO MAPLE LEAFS AND EXPANSION VEGAS GOLDEN KNIGHTS — AFTER 7 p.m. MONDAY AT THE AIR CANADA CENTRE. SPORTSNET IMAGES
At some point I suspect the Maple Leafs will iron out their wrinkles. What ails them can mostly be taught, providing the players aren't turning a deaf ear to Babcock and his staff. Though the club has an unsightly 3–6–0 record in its past nine games — and was life–and–death to gain a shootout win over Vegas Monday at the Air Canada Centre — it will again embark on a lengthy points streak; likely several. That's what normally evolves from talent and foot–speed in the National Hockey League. But, the Toronto players (young and not–so–young) must recognize they are no longer a curiosity. And, conduct themselves accordingly on the ice. Rival teams are not only gunning for the Blue and White, they understand that lethargy or unpreparedness can result a in lop–sided defeat. And, that hasn't often been the case around here in the post–1967 NHL.
Now, if someone can only get Frederik Andersen off his damn knees. I've never seen a goalie that is 6–foot–6 on skates so regularly beaten over his shoulder. Were Freddy to stand up now and then, opponents wouldn't be able to hit that spot on a soccer net. Instead, the big Dane routinely offers up ample space in the upper corners. And, NHL–caliber shooters can find it rather easily. It's the balance required while adhering to the godforsaken butterfly technique. When a goalie gives up three or four feet by virtually always taking to his knees, he becomes vulnerable. There's no other way to describe what is happening to the Leafs' No. 1 stopper early in the season. After yielding a dreadful tying goal to Vegas in the third period, Andersen, for the most part, maintained his footing. And, was unbeatable through the balance of regulation; five minutes of overtime, and on three shootout attempts.
The prevailing style in net is not what it used to be.
The last truly stand–up goalie was Martin Brodeur. And, his numbers, as I recall, were rather nifty.
No. 93 FOR THE CHINA WALL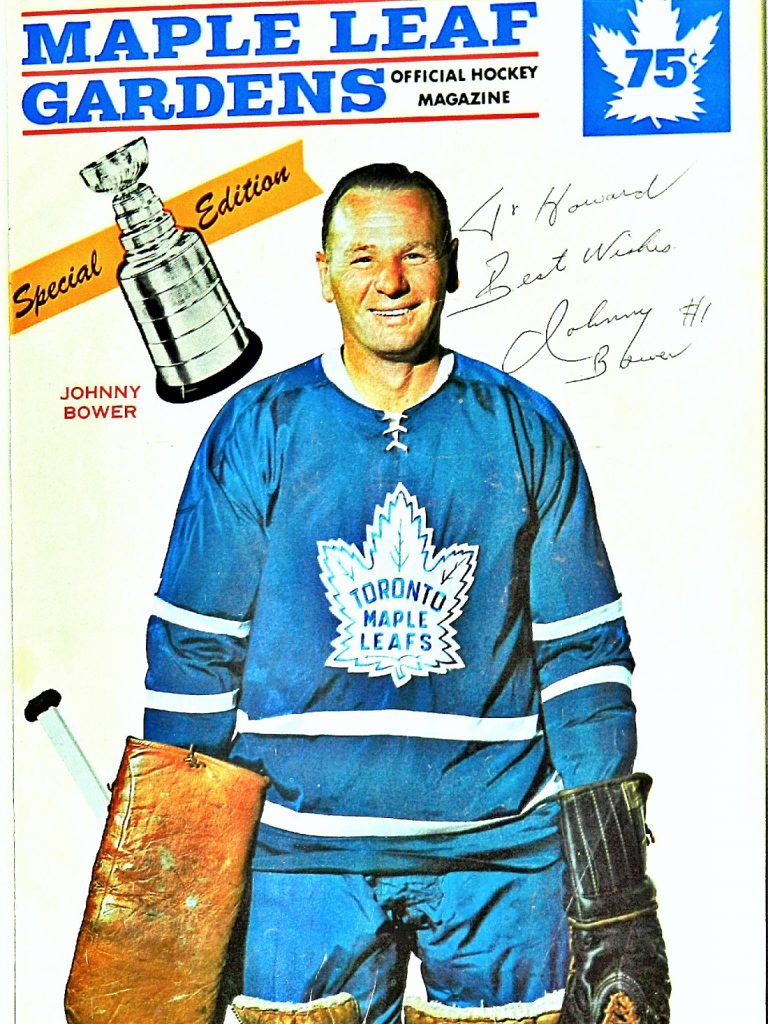 Like that bunny in the EverReady battery commercials, he just keeps on chuggin'.
Johnny Bower, the most popular and beloved figure in Toronto Maple Leafs history, turns 93 today. He is the second–oldest surviving member of the hockey club's playing alumni — to Howie Meeker, who turned 94 last Saturday (Nov. 4). Bower, as so many know by heart, was No. 1 goalie for the Leafs from 1958–59 to 1967–68. During that time, the club won four Stanley Cup titles (1962–63–64–67). Bower was backed up by Don Simmons for the first three championships, and by fellow Hall–of–Famer Terry Sawchuk in 1967, when Toronto last won the Cup. Johnny, known as the "China Wall", retired in February 1970 at the age of 45. In his final NHL game — Dec. 10, 1969, at Montreal — the Leafs were defeated, 6–3, by the Canadiens.
Among my most coveted collectibles is the program (above) from Game 4 of the 1967 Stanley Cup final (Apr. 27) between the Leafs and Habs (Montreal thumped Toronto, 6–2, at Maple Leaf Gardens to deadlock the best–of–seven series 2–2. Leafs would win the next two games… and the series in six). Bower signed the cover to me at his Mississauga, Ont. home last year. The photo, below, was snapped yesterday — Johnny posing with his 1960's goalie–pad birthday cake. And, of course, the Stanley Cup. "My dad is doing very well," said daughter, Cindy. "He keeps himself busy puttering around the garage at his home, though we aren't sure exactly what he does in there. But, he's happy and pretty darn–good for 93. Mom and Dad just celebrated their 69th wedding anniversary. They are an unbelievable couple; we're so proud of them."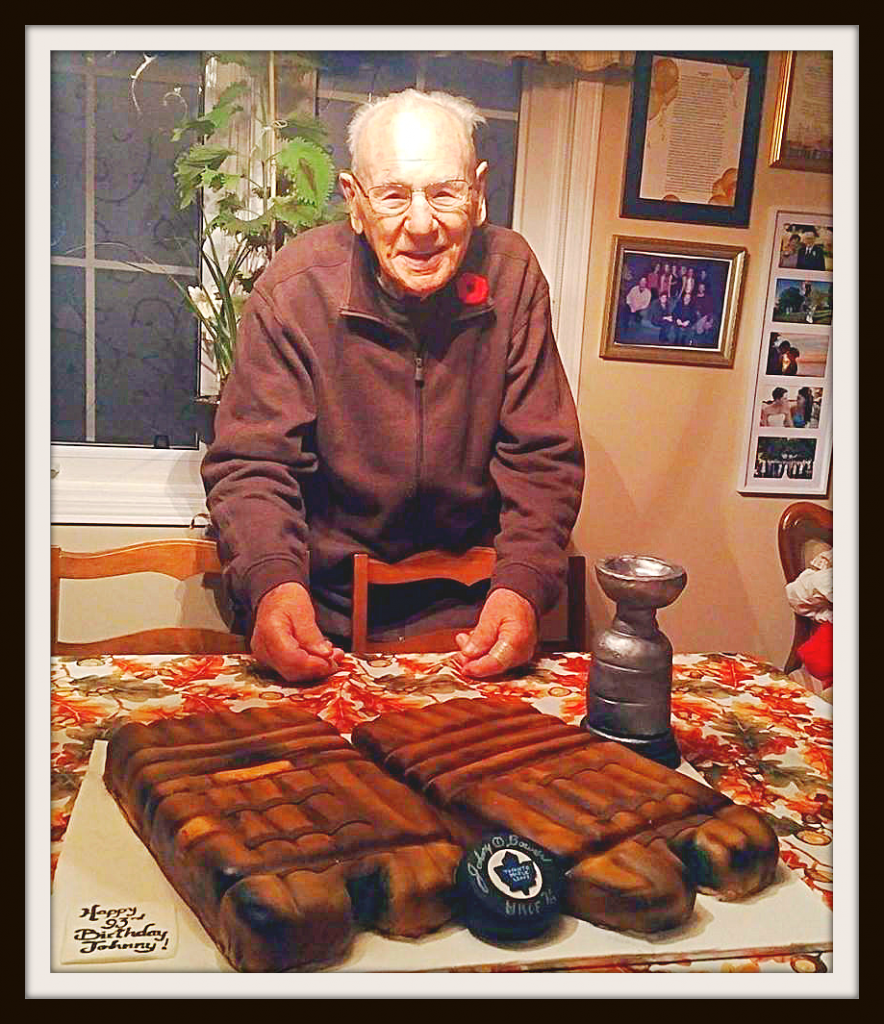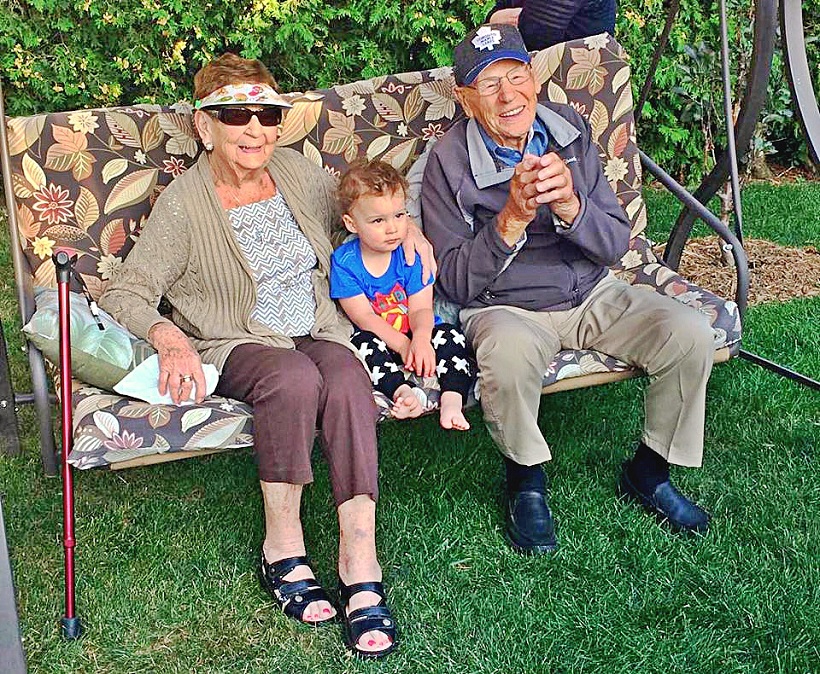 JOHN AND NANCY BOWER, MARRIED 69 YEARS, SIT WITH GREAT–GRANDSON LEVI LODEMEIER. THEY HAVE SIX GRANDCHILDREN AND FOUR GREAT–GRANDCHILDREN. JOHNNY IS HAPPIEST AMONG THEM.
50 YEARS AGO TONIGHT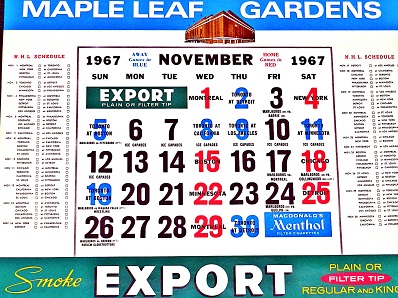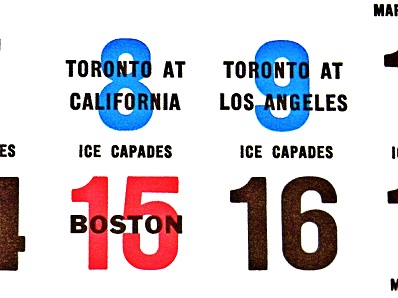 On this night in 1967, the Maple Leafs played their first road game against one of the expansion teams, thumping the California Seals, 6–1, at the Oakland Coliseum–Arena (as per the November page, above, from the EXPORT Maple Leaf Gardens calendar). They would continue the following night at the old Los Angeles Sports Arena, losing 4–1 to the Kings. And, conclude the trip with a 2–1 defeat against the Minnesota North Stars at the Metropolitan Sports Center in Bloomington (Nov. 11).
The late George Gross covered the Leafs/Seals game for the old Toronto Telegram (photo/story, below).
As you'll note in the story, the Seals honored Bower with a cake at center–ice for his 43rd birthday: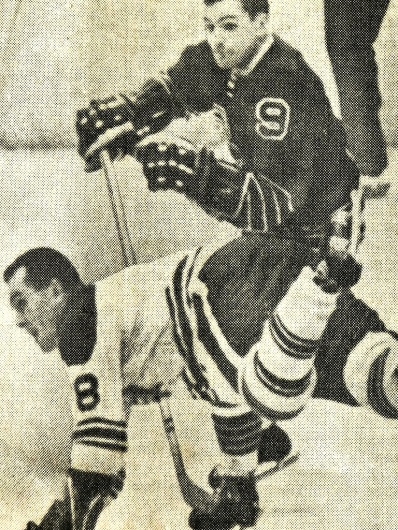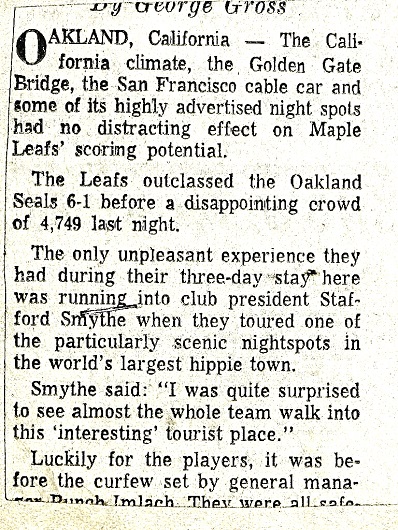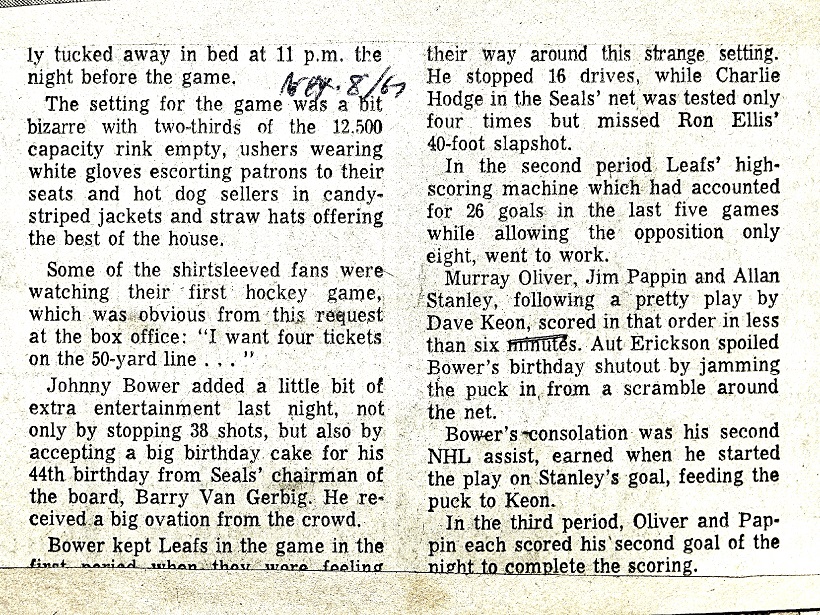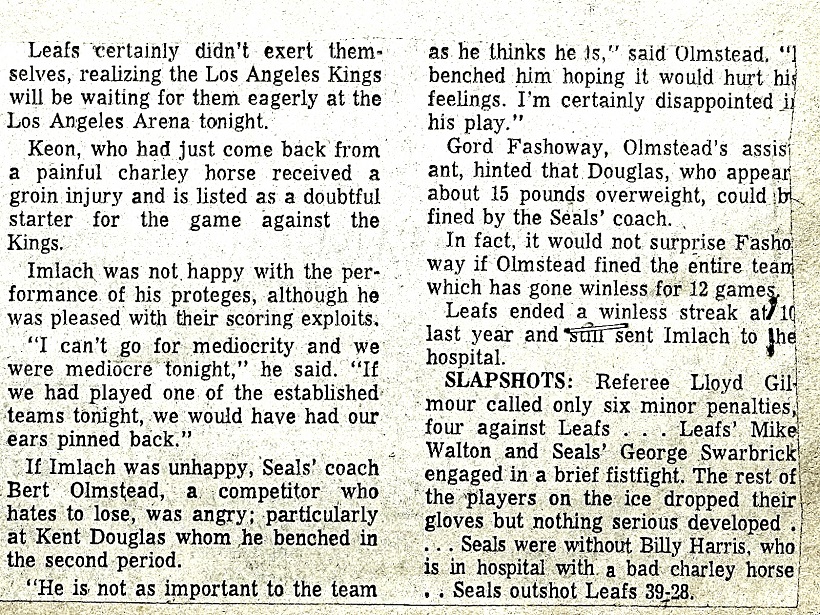 EMAIL: HOWARDLBERGER@GMAIL.COM