TORONTO (Dec. 30) — His debut with the Maple Leafs ended inauspiciously on Friday night in Denver when J.T. Compher scored in overtime to give Colorado a 4–3 victory. But, Calvin Picard, surely unbeknownst to him, matched a familiar number in Leaf annals, becoming the 67th goalie to see action for the Blue and White since the 1967 Stanley Cup victory. The revolving door of puck–stoppers began Oct. 14, 1967 when the late Johnny Bower helped blank Chicago, 5–1, in the '67–68 season opener at Maple Leaf Gardens. Picard joined Frederik Andersen and Curtis McElhinney as netminders to play for the Maple Leafs this season.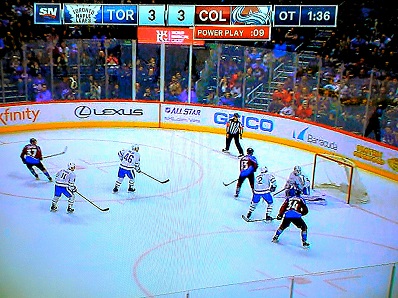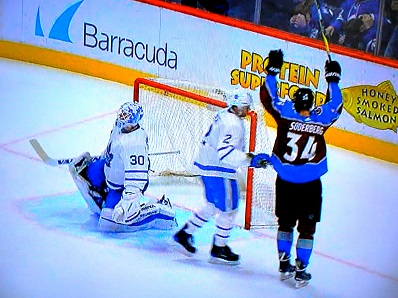 J.T. COMPHER OF COLORADO SNAPS O.T. WINNER PAST CALVIN PICARD FRIDAY NIGHT. SPORTSNET
Here is the full list of 67 Leaf goalies since '67. How many do you remember?
JOHNNY BOWER, BRUCE GAMBLE, AL SMITH, MARV EDWARDS, GERRY McNAMARA, JACQUES PLANTE, BERNIE PARENT, MURRAY McLACHLAN, GORD McRAE, RON LOW, DOUG FAVELL, DUNC WILSON, ED JOHNSTON, PIERRE HAMEL, WAYNE THOMAS,  MIKE PALMATEER, PAUL HARRISON, JIRI CRHA, CURT RIDLEY, VINCENT TREMBLAY, JIM RUTHERFORD, MICHEL (BUNNY) LAROCQUE, BOB PARENT, RICK ST. CROIX, ALLAN BESTER, KEN WREGGET, BRUCE DOWIE, TIM BERNHARDT, DON EDWARDS, JEFF REESE, MARK LaFOREST, PETER ING, DAMIAN RHODES, GRANT FUHR, FELIX POTVIN, RICK WAMSLEY, DARREN PUPPA, DON BEAUPRE, MARCEL COUSINEAU, GLENN HEALY, CURTIS JOSEPH, COREY SCHWAB, TOM BARRASSO, SEBASTIEN CENTOMO, ED BELFOUR, MIKAEL TELLQVIST, TREVOR KIDD, JEAN-SEBASTIAN AUBIN, ANDREW RAYCROFT, SCOTT CLEMMENSEN, VESA TOSKALA, MARTIN GERBER, JUSTIN POGGE, JEAN-SEBASTIEN GIGUERE, JONAS GUSTAVSSON, JOEY MacDONALD, JAMES REIMER, BEN SCRIVENS, JUSSI RYNNAS, JONATHAN BERNIER, DREW MacINTYRE, GARRET SPARKS, FREDERIK ANDERSEN, JHONAS ENROTH, ANTOINE BIBEAU, CURTIS McELHINNEY, CALVIN PICKARD.
DEC. 30, 1967 AND NHL HISTORY
Lots happened in the National Hockey League 50 years ago today. The jewel of expansion arenas opened in Inglewood, Calif. for a matinee between the Los Angeles Kings and Philadelphia Flyers. Scotty Bowman stood behind a bench in Toronto for the first time in the NHL as his St. Louis Blues made their inaugural visit to Maple Leaf Gardens. And, one of the all–time greatest Maple Leafs — Charlie Conacher — lost a battle with throat cancer just 10 days after his 58th birthday. Here is a pictorial review: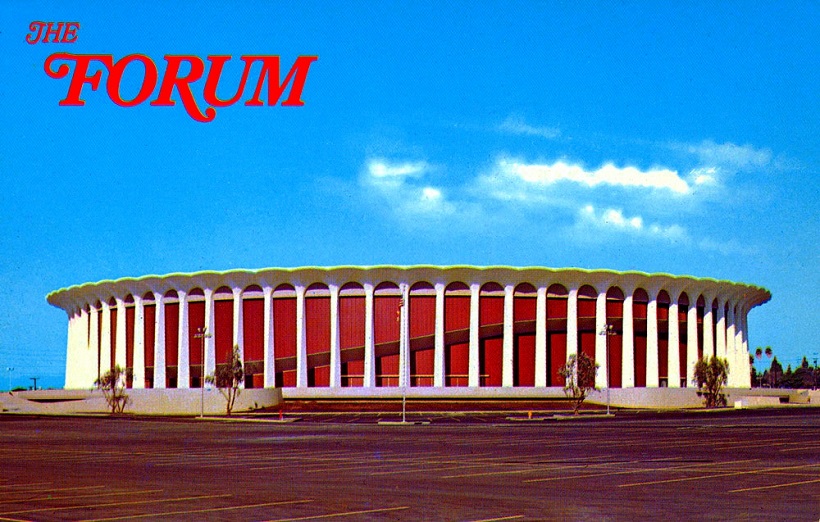 The Los Angeles Forum, in suburban Inglewood, opened 50 years ago this afternoon — Dec. 30, 1967 — with a game between the Kings and Philadelphia Flyers that was televised coast–to–coast in the United States by CBS. Philadelphia prevailed, 2–0. Early in the Kings first season, a group of players posed outside the Forum (below) in their purple home jerseys. Left–to–right: Bill White, Wayne Rutledge, Bill (Cowboy) Flett, Terry Sawchuk, Real Lemieux, Ed Joyal and Bob Wall. Only Joyal, now 77, and Wall, 75, are still alive.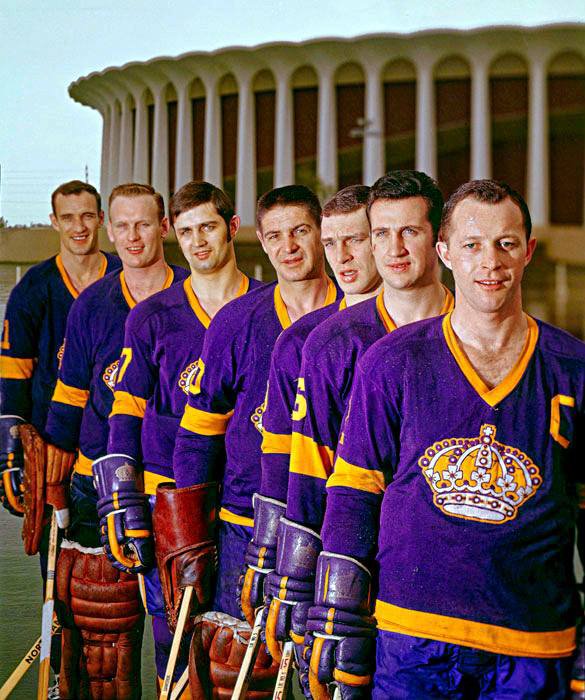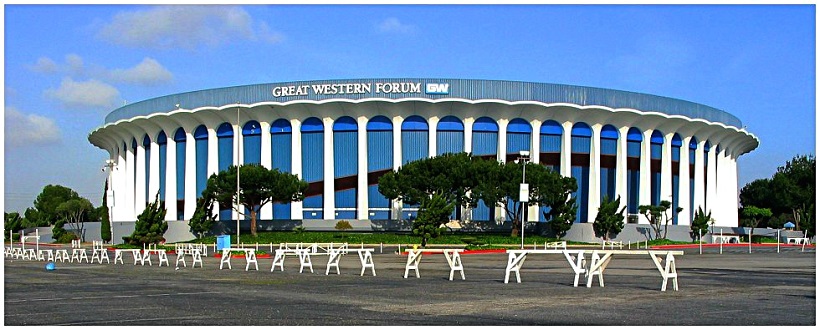 For the 1988–89 NHL season and Wayne Gretzky's arrival in Los Angeles, naming rights to the Forum were purchased by Great Western Savings & Loan (an obvious connection to "the Great One" on the ice). The exterior of the building (above) underwent a dramatic face–lift — re–painted blue with a Great Western Forum crown on top. The Kings and NBA Lakers moved to the Staples Center (downtown) in October 1999. In 2012, the Forum was acquired by the Madison Square Garden Company and underwent a $50 million renovation. The exterior (below) was re–painted red and the building is now a prime concert venue.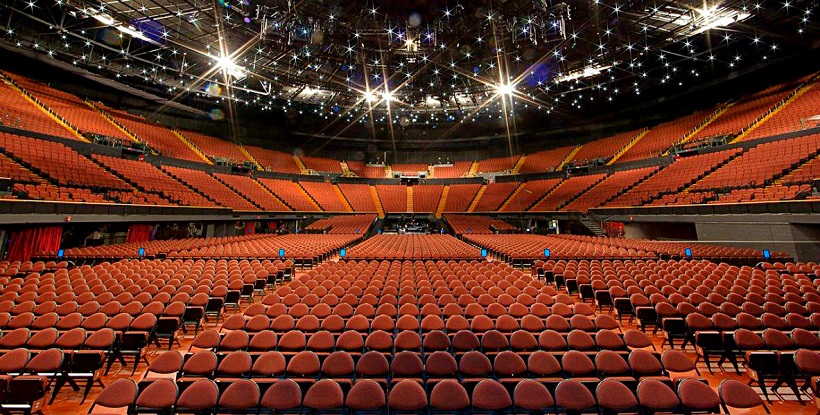 Interior of the re–modeled Los Angeles Forum, as it appears today.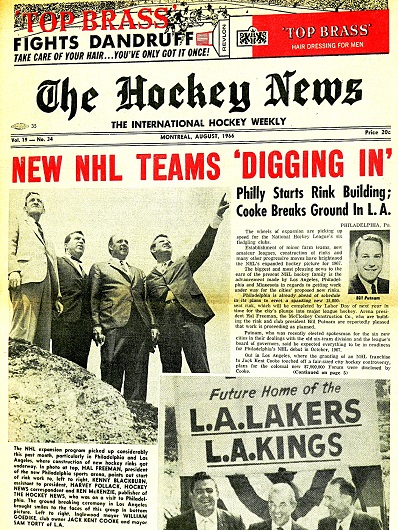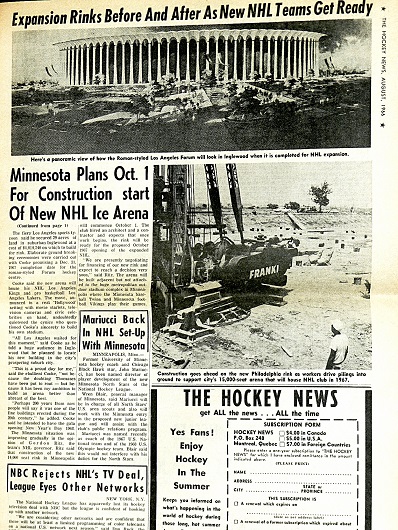 Cover of the August 1966 issue of The Hockey News details the progress of new NHL arenas for the expansion season of 1967–68, when the league doubled in size by adding the California Seals, Los Angeles Kings, Minnesota North Stars, Philadelphia Flyers, Pittsburgh Penguins and St. Louis Blues. The Los Angeles Forum, under construction in suburban Inglewood, was pictured on an inside page.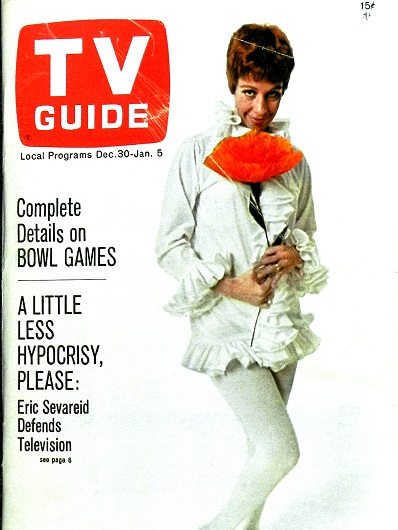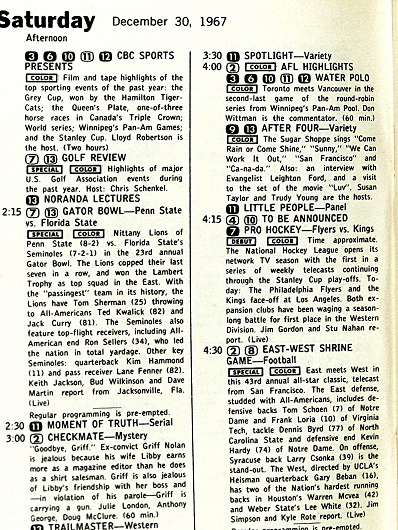 In my collection, I have an issue of TV Guide Magazine from 50 years ago this week (actress Carol Burnett on the cover). At 4:15 p.m. EST, a half–century ago this afternoon (top–right and below), CBS televised, nationally, the inaugural game from the L.A. Forum.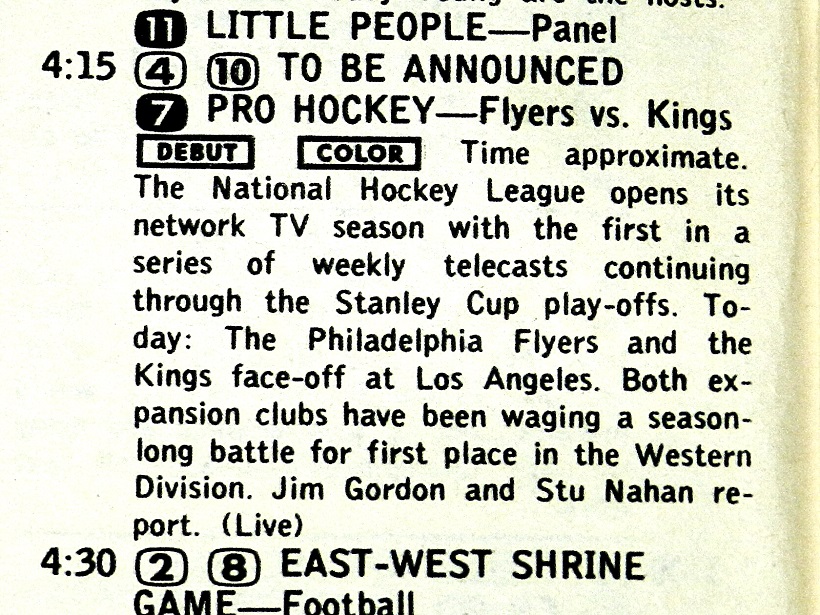 Original announcers on the 1967 CBS pact with the NHL were Jim Gordon of New York and Stu Nahan of Philadelphia and Los Angeles – that tandem working through the 1968 playoffs and calling the game from Montreal (on May 11) in which the Canadiens defeated St. Louis to win the inaugural post-expansion Stanley Cup. The following season (1968–69), hockey fans from coast–to–coast in the United States were introduced to the great Dan Kelly – an Ottawa native and part–timer at the CBC in Canada who moved to St. Louis to replace Jack Buck as voice of the Blues (Jack died in June 2002; his son, Joe Buck, is currently lead voice on baseball and NFL telecasts with FOX Sports).
Kelly, perhaps the best hockey announcer of all time, worked alongside well–known New York radio host Bill Mazer on NHL Sunday telecasts through the late–60's and early–70's.
NBC garnered rights to the Sunday afternoon package for three seasons beginning in 1972–73. Another Canadian–born announcer, Tim Ryan, did play-by-play alongside ex–Detroit Red Wings forward Ted Lindsay. Brian McFarlane, a staple on Hockey Night In Canada as Bill Hewitt's broadcast partner for Leaf games, worked as the NBC intermission host.
Following the 1975 Stanley Cup final between Philadelphia and Buffalo, NBC chose not to renew its contract with the NHL and the league endured a 17–year absence on national TV in the U.S. until ABC televised several games in the 1992–93 season.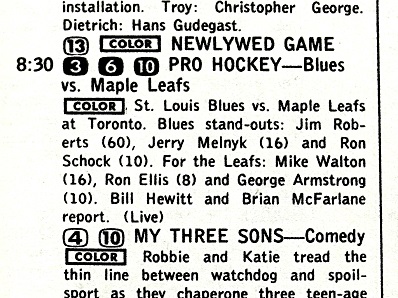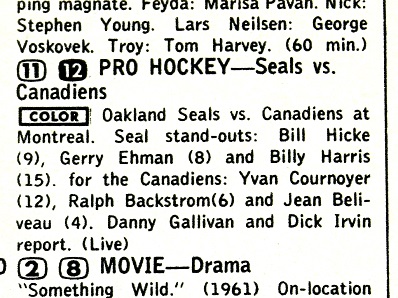 Two other NHL games were televised 50 years ago today by CBC in Canada — both starting at 8:30 p.m. EST. Channels 3 (Barrie, Ont.), 6 (Toronto) and 10 (London, Ont.) carried the St. Louis Blues first–ever visit to Maple Leaf Gardens (top–left). Channels 11 (Kingston, Ont.) and 12 (Peterborough, Ont.) carried Oakland at Montreal (right). Each game faced off at 8 p.m. and was joined in progress (late in the first period) by the CBC telecast.
ST. LOUIS at TORONTO — Dec. 30, 1967
To this day, I remember Dad taking me to Maple Leaf Gardens for the Leafs–Blues game 50 years ago tonight. The Leafs had been embarrassed at the old St. Louis Arena 20 nights earlier, as the expansion Blues skated to a 2–1 victory. Scotty Bowman's team had played all the way out in Oakland the previous night and had to travel back two time zones. The Leafs had skated to a 3–3 home–draw with Boston. Still, the Blues prevailed over the defending Stanley Cup champion. It was a far–different story on this date in 1967.
The Blues had played at home the previous night, defeating Pittsburgh 2–1, then were up a 5 a.m. for a day–of–game flight to Toronto. To complicate matters, future Hall–of–Fame goalie Glenn Hall had been injured against the Penguins. Bowman was forced to start Seth Martin, ex of of the Canadian national team, between the pipes at Maple Leaf Gardens; Martin got slaughtered and Bowman turned to back–up Don Caley. Here is part of the game story (and a photo) from the Monday, Jan. 1, 1968 Globe and Mail: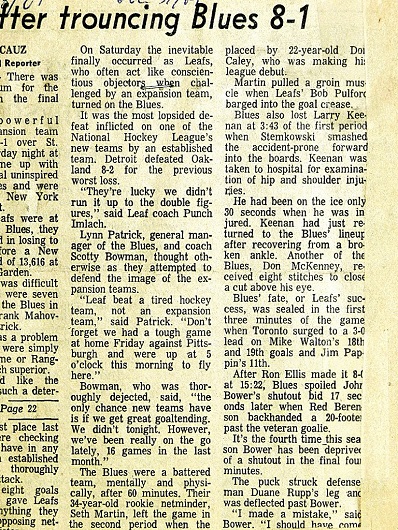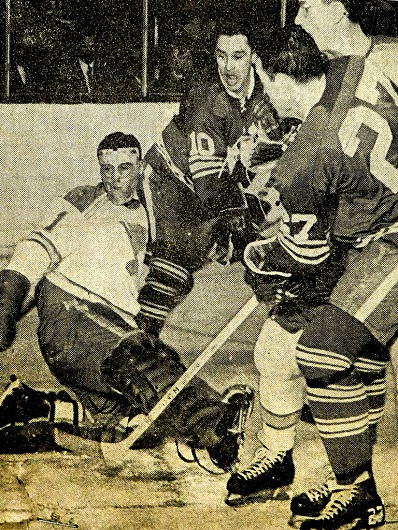 IN THE PHOTO, BLUES' BACK–UP DON CALEY IS SWARMED UPON BY GEORGE ARMSTRONG (10) AND FRANK MAHOVLICH.
MAPLE LEAF GARDENS PROGRAM: Dec. 30, 1967
I've kept the program from 50 years ago tonight in my collection. You'll notice that the program–insert was printed in green — a custom at the Gardens back then for games played during the holiday season: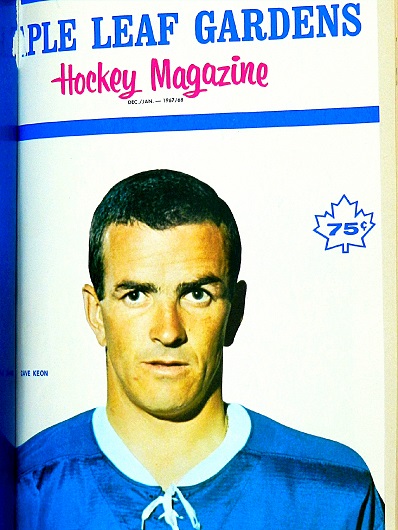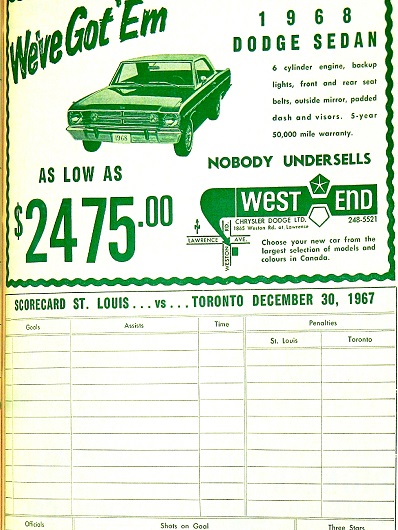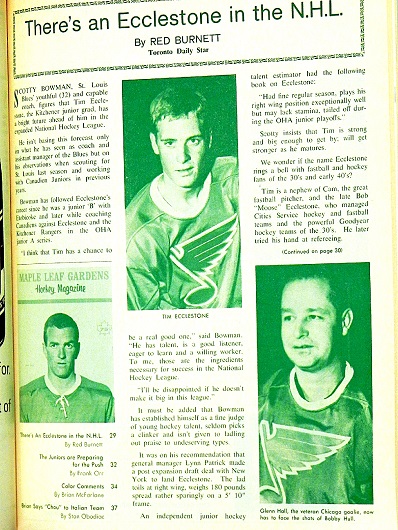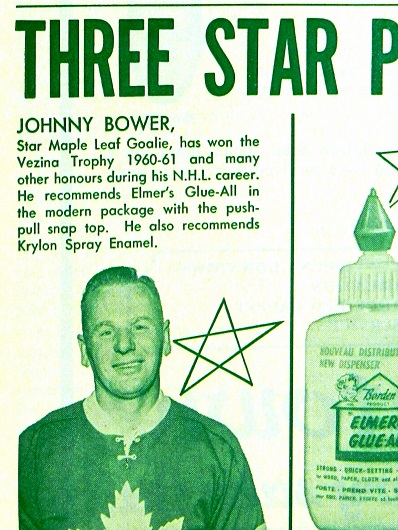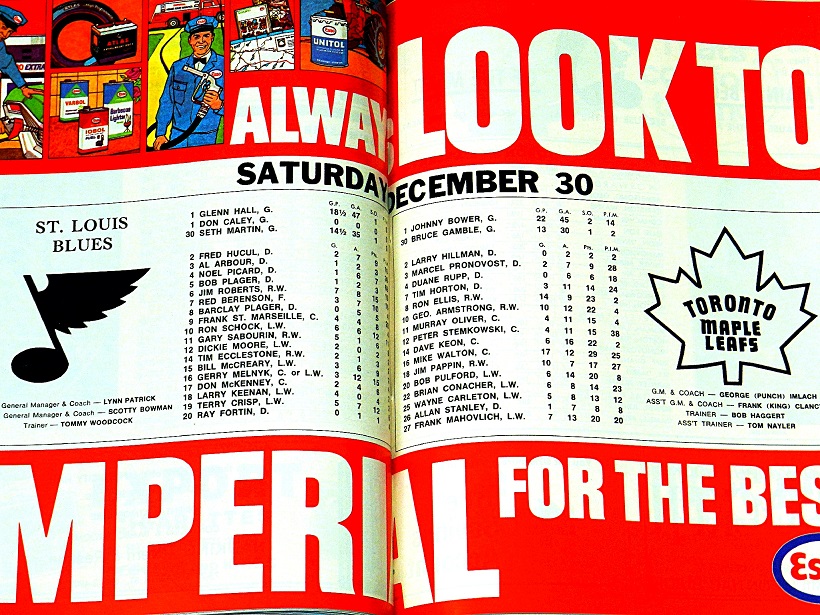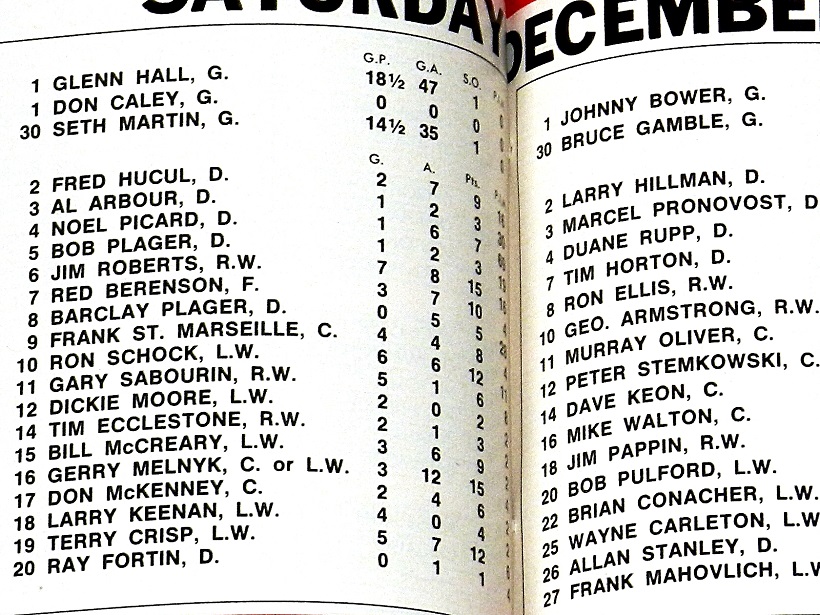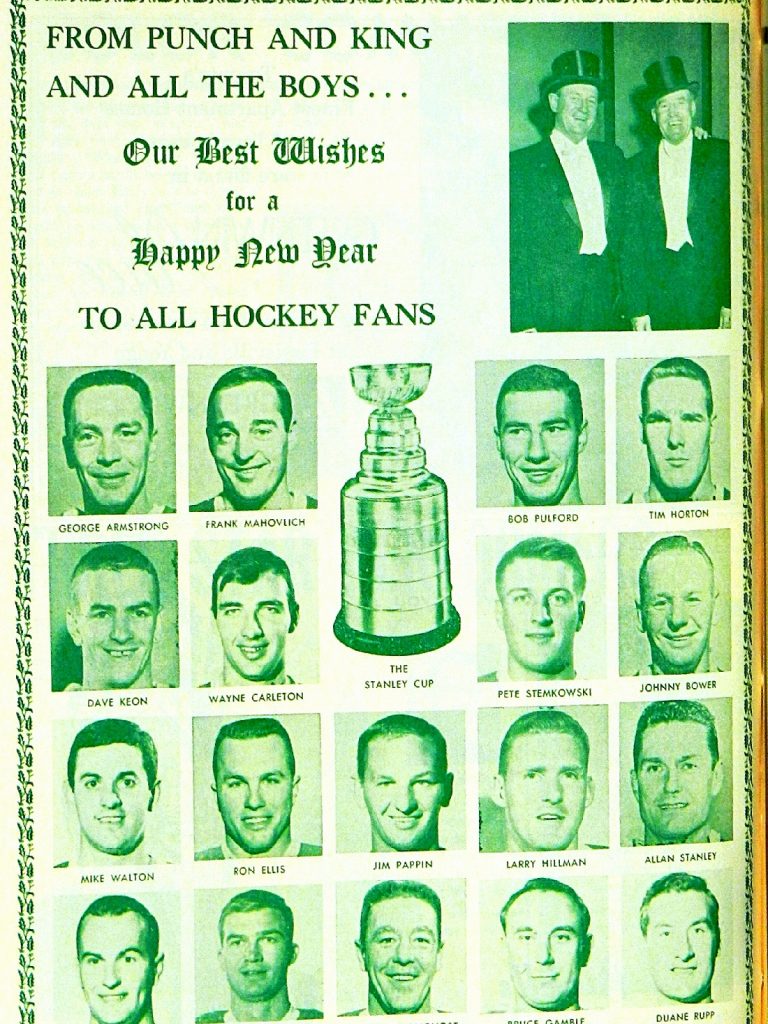 AMONG THE GREATEST OF LEAFS…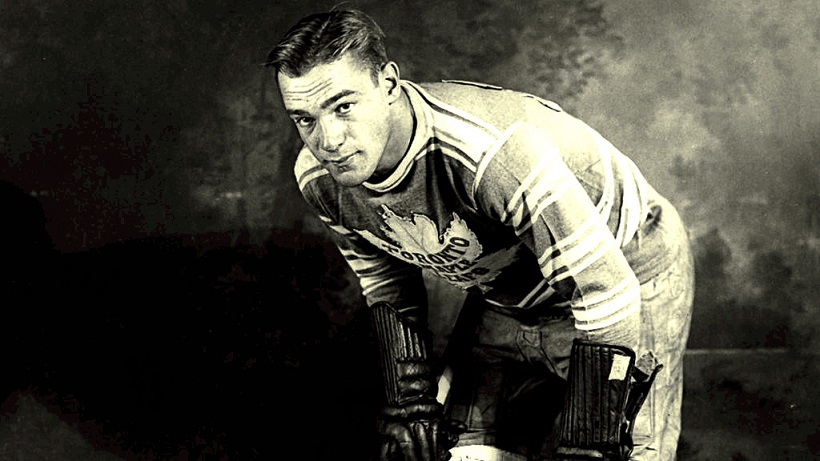 BIG CHAS, CHARLIE CONACHER, DIED 50 YEARS AGO TODAY OF THROAT CANCER. HE WAS ONLY 58.
JOHNNY BOWER'S LAST HOCKEY CARD
Extra–happy to have this coveted item in my collection — from the O–PEE–CHEE 1969–70 set: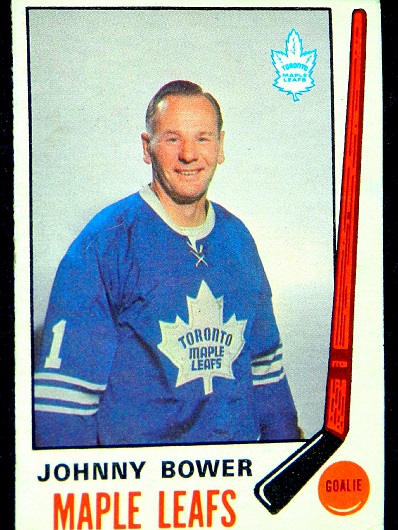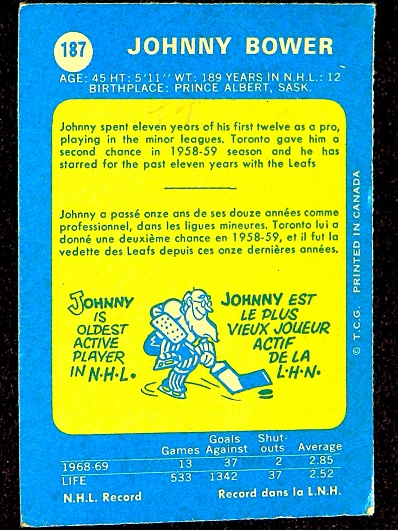 EMAIL: HOWARDLBERGER@GMAIL.COM