TORONTO (Dec. 23) — The Maple Leafs play their final game before the National Hockey League's Christmas break tonight at Madison Square Garden against the New York Rangers (7 p.m. Eastern, CBC).
Expectation prior to the current season was far greater than a year ago, when the Leafs entered the Auston Matthews era on the cusp of a 30th–place finish in the overall standings. With Matthews appearing in all 82 games and winning the Calder Trophy as NHL rookie–of–the–year, the Leafs erupted by 26 points and made the playoffs in a full schedule for the first time since 2003–04. In late–October, the odds–maker Bodog proclaimed the Leafs an 8–to–1 Stanley Cup favorite, slightly ahead of Atlantic Division–rival Tampa Bay. Today, the Lightning has moved ahead of No. 2 Toronto (Leafs are seven rungs up on defending–champion Pittsburgh). Incredibly, the expansion Vegas Golden Knights sit fifth among the 31 teams in Cup odds.
Have the Leafs, however, improved in the span of one year?
Here are the comparative numbers after 36 games:
2016–17: 17–12–7 41 points / GF– 108 GA– 103 / Streak– Won 5 / Past 10– 6–4–0
2017–18: 21–14–1 43 points / GF– 119 GA– 102 / Streak– Lost 1 / Past 10– 5–5–0
As you can see, there isn't much to choose from in these figures. The Maple Leafs have clearly upgraded their performance after regulation time, with only one point yielded (a shootout loss at Florida, Nov. 22). Toronto coughed up 15 extra–time points last season. As such, the Leafs have improved by four in the win column and are tied for third in Eastern Conference ROW's (regulation or overtime wins) with 19. ROW's are the first tie–breaker in the standings. Toronto has scored 11 more goals than last season — perhaps a surprise given how William Nylander and Mitch Marner have struggled, and that Matthews has missed 10 games (the past six with concussion symptoms). He will return for tonight's date with the Rangers. Goals against is virtually a dead–heat — Frederik Andersen and Curtis McElhinney having yielded one fewer tally.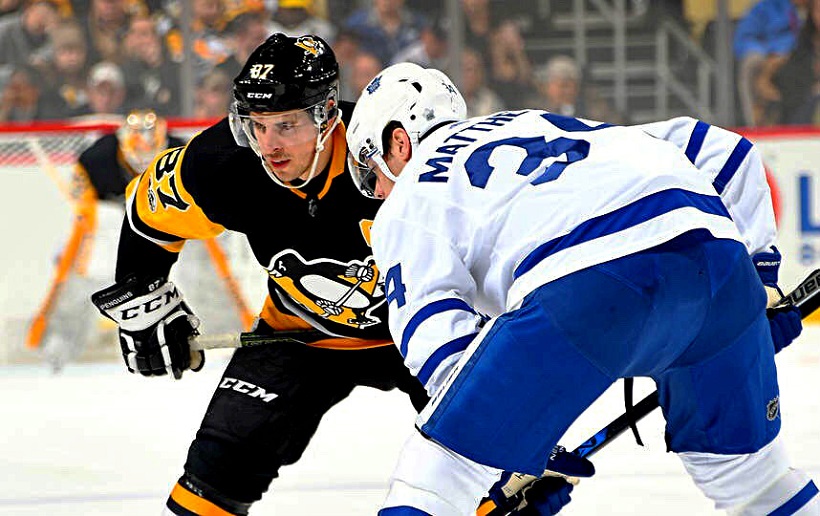 AUSTON MATTHEWS HASN'T PLAYED SINCE TWO WEEKS AGO TONIGHT AGAINST SIDNEY CROSBY AND THE PENGUINS, IN PITTSBURGH. MATTHEWS COLLIDED WITH TEAMMATE MORGAN RIELLY AND BEGAN TO FEEL CONCUSSION SYMPTOMS. HE RETURNS TONIGHT IN NEW YORK AFTER MISSING SIX GAMES. JOE SARGENT GETTY IMAGES
While the Leafs have proven more–than resilient without Matthews (6–4–0 record), it is fair to say the club hasn't quite matched its pre–season outlook. Heading into action tonight, Toronto sits 10th in the overall standings, behind Tampa Bay, Los Angeles, Vegas, Nashville, Washington, Winnipeg, St. Louis, New Jersey and Columbus (prior to the season, I picked Tampa Bay and Nashville to meet for the Stanley Cup). None of Vegas, Winnipeg or New Jersey were chosen to finish anywhere near the top ten this season. So, the standings could change rather drastically in the second half of the schedule. At the moment, however, the Leafs are on pace for 97 points, an increase of only two over last year. And, a division title in the Atlantic seems remote — Tampa Bay leading second–place Toronto by nine points with two games in hand.
The Leafs, of course, were a Wild Card playoff team last year, extending the Presidents' Trophy–winning Washington Capitals to six games in the opening round (a record–tying five went to overtime). Right now, Toronto leads third–place Boston in the Atlantic by two points (43–41; the Bruins with three games in hand). Were the playoffs to begin tonight, Boston would open at the Air Canada Centre. But, there isn't a ton of wiggle room in the East. Toronto is only four points ahead of ninth–place Pittsburgh, which would miss the playoffs if the season were now over. As such, Mike Babcock's heralded team has lots of critical work ahead.
FAVORITE NHL LOGOS
For a little pre–Christmas fun, I looked today at Chris Creamer's terrific website sportslogos.net (here: http://bit.ly/2BFT4DY) and ventured to choose 15 of my favorite all–time NHL designs.
Here they are, in no particular order. How do they compare to yours?

LOS ANGELES KINGS 1967–68 to 1974–75
TORONTO MAPLE LEAFS 1963–64 to 1966–67
PHOENIX COYOTES 1999–2000 to 2002–03
MINNESOTA WILD (ALT.) 2000–01 to 2009–10
WASHINGTON CAPITALS 1995–96 to 1996–97
MINNESOTA NORTH STARS 1967–68 to 1984–85
ATLANTA THRASHERS 2008–09 (ANNIVERSARY LOGO)
CLEVELAND BARONS 1976–77 to 1977–78
NEW YORK AMERICANS 1935–36 to 1938–39
NASHVILLE PREDATORS 2001–02 to 2006–07
NEW JERSEY DEVILS 1982–83 to 1991–92
DETROIT RED WINGS (SINCE 1948–49)
BOSTON BRUINS 1926–27 to 1931–32
NEW YORK ISLANDERS 1995–96 to 1996–97
ST. LOUIS EAGLES 1934–35
EMAIL: HOWARDLBERGER@GMAIL.COM