TORONTO (Dec. 28) — When his mobile device started "going haywire" late Tuesday afternoon, Bobby Orr figured something awful had happened; his premonition verified with news of Johnny Bower's death.
"My first thought was 'how many people live more than 93 years and never have a bad word spoken about them?'" said hockey's all-time greatest player over the phone Thursday, fresh off a visit with his two grandchildren in Stowe, Vermont. "Whenever I spoke about Johnny, or heard his named mentioned, it was always with praise. Not once do I remember anything even slightly critical. It takes quite a person to command that sort of love and respect. With Johnny, it was universal — in the game of hockey and beyond."
Orr, who will turn 70 in March, was working his way up the minor and junior hockey ladder when Bower helped the Toronto Maple Leafs win consecutive Stanley Cup titles in 1962, 1963 and 1964. He joined the Boston Bruins, at 18, for the 1966–67 National Hockey League season and watched the Leafs win a fourth championship. Orr remembers marveling at the goalie he had viewed on television in his teenage years.
"Here's a guy that played against some of the best scorers in NHL history — Maurice Richard, Bernie Geoffrion, Gordie Howe, Bobby Hull, Jean Beliveau — and he was absolutely fearless. With those skinny little pads and flimsy gloves, and without a mask, he would sprawl on his belly and challenge shooters. I used to think, 'how can an old guy like that be so brave'. When I got to play against him, it was quite a thrill."
Bower wasn't in the Toronto line–up when Orr made his first visit with the Bruins to Maple Leaf Gardens. Bruce Gamble and Terry Sawchuk dressed on Oct. 29, 1966 — a 3–3 tie — in Orr's fourth NHL game. But, the unparalleled defenseman instantly grew to respect with ageless goalie.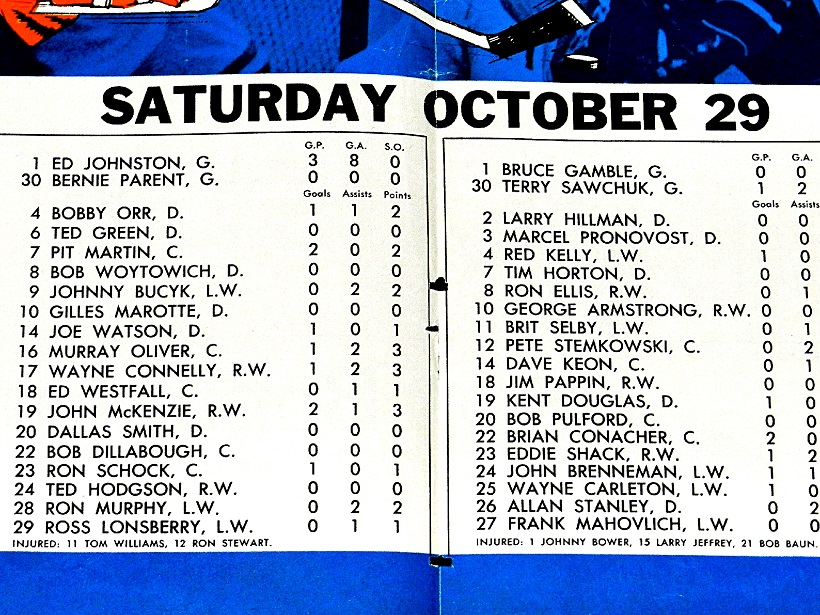 PROGRAM LINE–UPS FROM BOBBY ORR's FIRST NHL GAME AT MAPLE LEAF GARDENS.
"As I was growing up — and then during my years in the NHL — I watched three people, in particular, and saw how they carried themselves on and off the field of play: Gordie Howe, Jean Beliveau and (legendary golfer) Arnold Palmer," said Orr. "For my money, Johnny stood alongside all three. He always had time for others and he treated every person the same way. You always felt good about yourself after spending a moment with Johnny. I learned so much from him. He had a heart the size of an arena."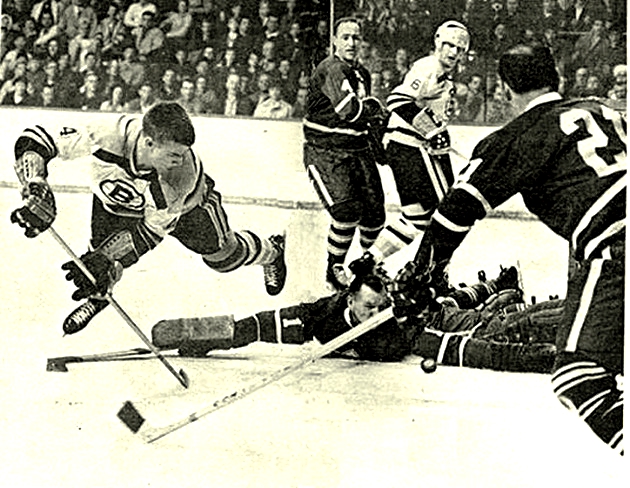 RARE PHOTO OF BOBBY ORR, AS A ROOKIE WITH THE BRUINS IN 1966–67,
TRYING TO SCORE ON JOHNNY BOWER AT THE BOSTON GARDEN.
RED KELLY (4) AND BOB BAUN (21) ARE THE OTHER TORONTO PLAYERS.

Orr, currently a player agent, got a kick out of Bower's quiet sense of humor.
"I remember running into him at the Air Canada Centre two or three years ago. I said, 'hi Johnny'. Instead of responding, he reached into his breast–pocket, where he kept the postcard–sized photos of him in a Leafs jersey, and signed one to me. It said "To Bobby… Best Wishes…" — the whole nine yards. That was one of the truly great moments… something I'll always remember. I just loved it. What an amazing person Johnny was."
THE BOOMER IN TEARS
The question I posed to Johnny Bower was largely rhetorical, for I certainly knew the answer. Or, so I figured.
"Who is your best friend in hockey?" I asked the legendary Leafs goalie while sitting in the livingroom of his Mississauga, Ont. home in mid–May 2016. "Well," Bower replied, "during my playing days, it was 'The Chief' [Leafs captain George Armstrong]. He and I hung out together and roomed together on the road. But, since my career ended, I'd have to say (former Toronto defenseman) Bobby Baun has been closest to me. I always loved playing behind the Boomer for the way he sacrificed himself and blocked shots. Afterward, it got to where me and (wife) Nancy were spending lots of time with Bob and Sallie. He's a truly great friend."
I relayed that conversation to Baun over the phone on Wednesday, less than 24 hours after Bower had died of pneumonia and congestive heart–failure. "Now, you're gonna make me cry even harder," said the robust blue–liner of the Leafs Stanley Cup dynasty in the 60's; his voice cracking. "I loved that man so very much. There aren't a lot of happy campers around the Baun house–hold. It's been very tough since Sallie took that call from Barb (Bower's daughter) yesterday. Though all the players from those wonderful Leaf teams are getting up in years, you never thought Johnny would leave us. He had so much energy and drive; always wanting to do something else on behalf of the team. It's quite unbelievable that he's gone."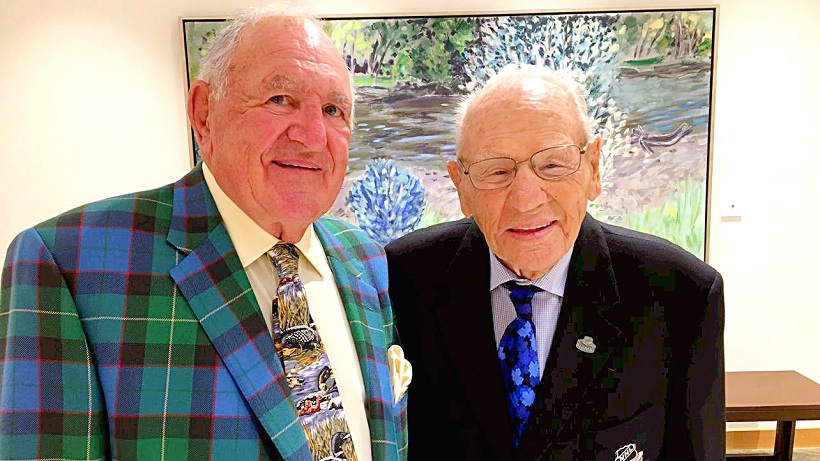 BEST FRIENDS BOB BAUN (LEFT) AND JOHNNY BOWER PHOTOGRAPHED, ABOVE, AT BOWER'S 93rd BIRTHDAY CELEBRATION IN NOVEMBER. AND, BELOW, IN THEIR TOPPS 1965–66 HOCKEY CARDS.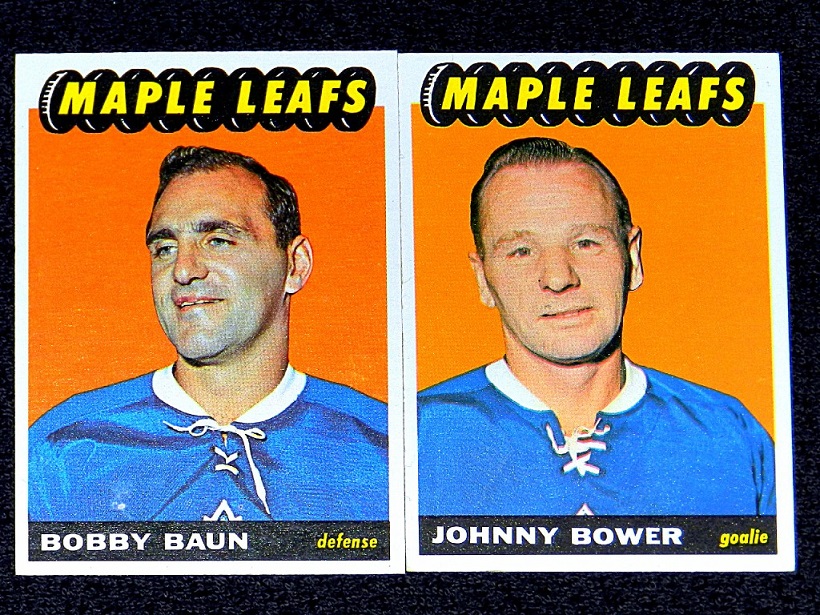 Baun and Bower were Leaf teammates from 1959 to 1967, sharing in all four Toronto championships of the decade. When the Leafs won three Stanley Cups in succession (1962–63–64), coach Punch Imlach deployed primarily two defense pairs: Tim Horton with Allan Stanley; Baun with Carl Brewer. Only Baun, now 81, is still alive. "We had such a wonderful group of players back then; guys that were terrific students of the game and absorbed so much knowledge," Baun recalled. "But, there was no better person on those teams than Johnny. We loved playing in front of him because he was such a fierce competitor — in games and practices. He never wanted to be scored against. In his post–playing career, the rest of the world found out what we already knew — just how nice a man he was. No one represented the Leafs with such honor and class."
As to why he and Bower gravitated toward one another in more–recent years, Baun has several theories. "First of all, we were a couple of old guys from Saskatchewan," he chuckled. "So, we had that in common. But, we also just loved having long conversations about those great Leaf teams in the 1960's. For whatever reason, that era seemed to grow in importance to me and John as we got older. We could sit on the phone for hours and tell old stories. He and Nancy were such a beautiful, warm couple. Sallie and I loved spending time with them. I can only imagine how heartbroken Nancy is today after nearly 70 years of marriage.
"But, none of us will go on forever."
WEDNESDAY'S SAD HEADLINES
Toronto newspapers the day after Bower's death: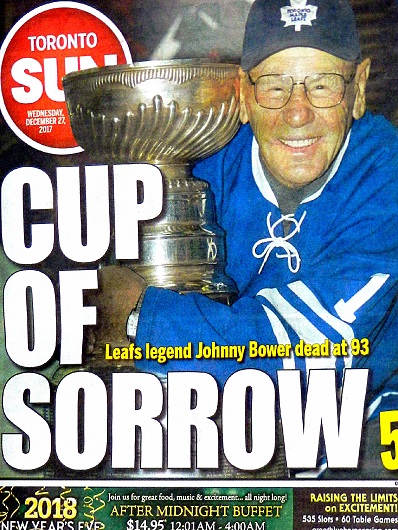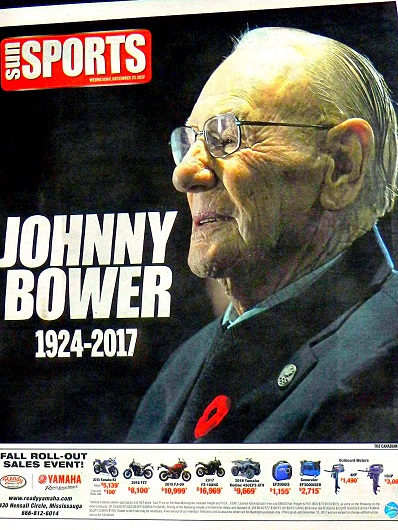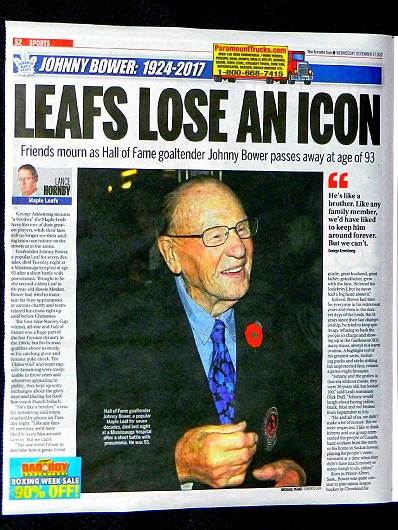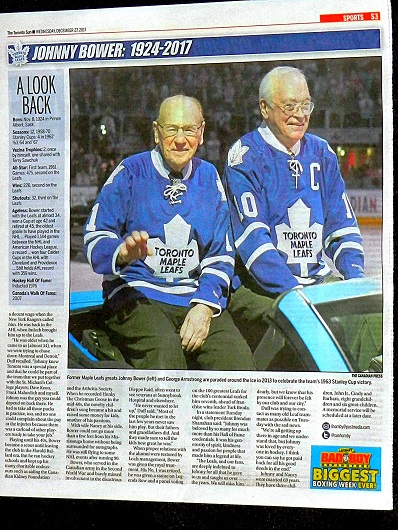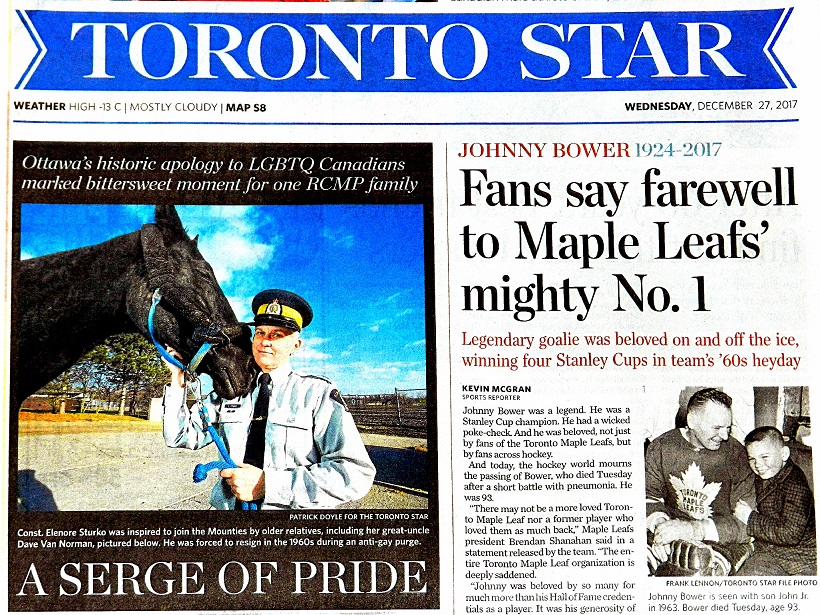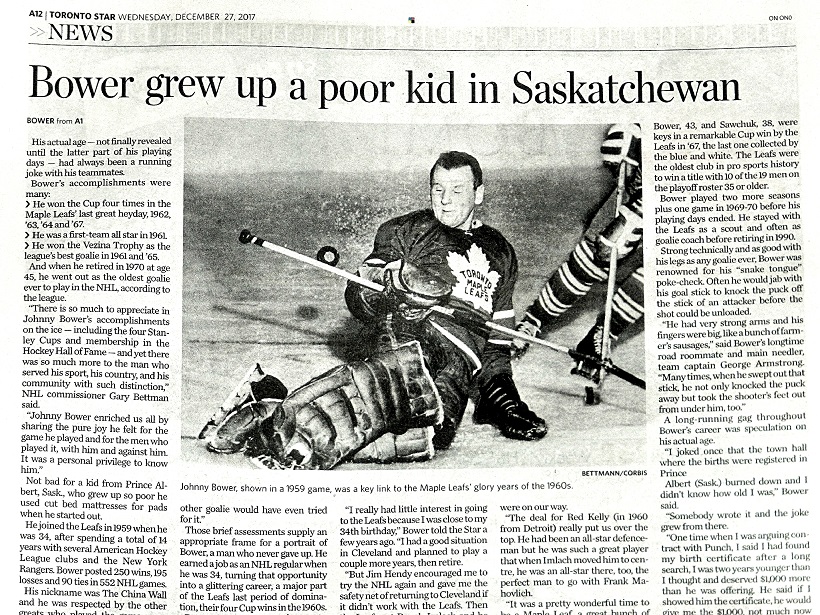 BOWER IN BOOKS
As you can likely imagine, Johnny Bower was featured in numerous hockey publications after his playing career with the Leafs. Here are several of the more prominent books in my collection: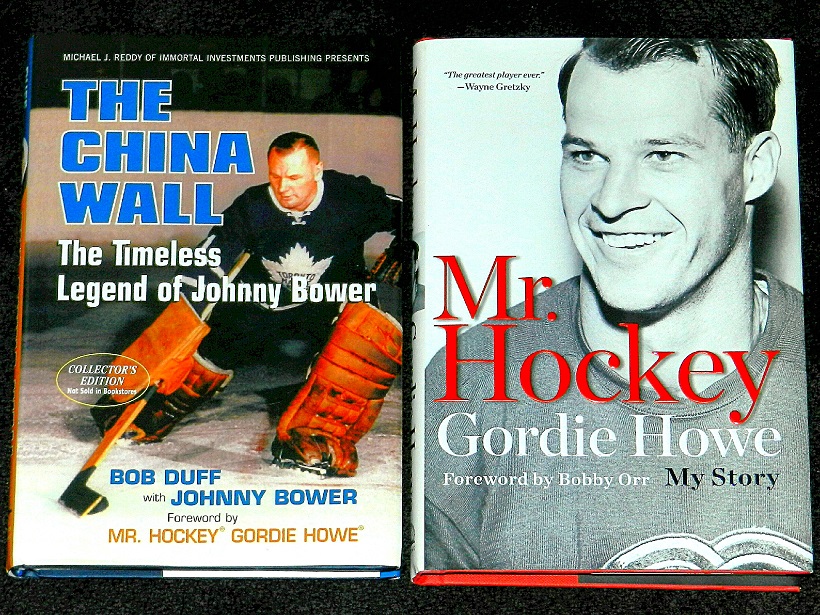 IN 2006, BOWER TEAMED WITH WINDSOR STAR SPORTS COLUMNIST (AND TORONTO NATIVE) BOB DUFF TO WRITE HIS MEMOIR (TOP–LEFT). THE FOREWORD WAS PENNED BY BOWER'S CLOSE SASKATCHEWAN PAL AND FORMER NHL RIVAL GORDIE HOWE, WHO WROTE HIS OWN AUTOBIOGRAPHY (TOP–RIGHT) IN 2014. MR. HOCKEY DIED ON JUNE 10, 2016.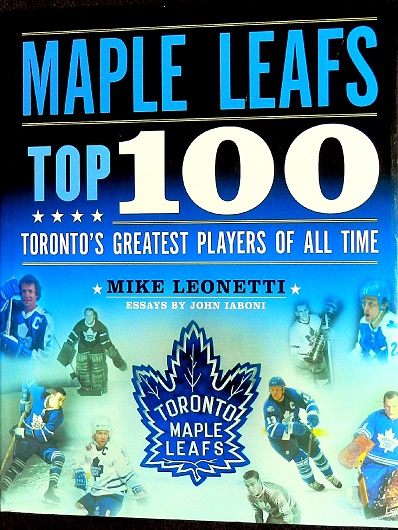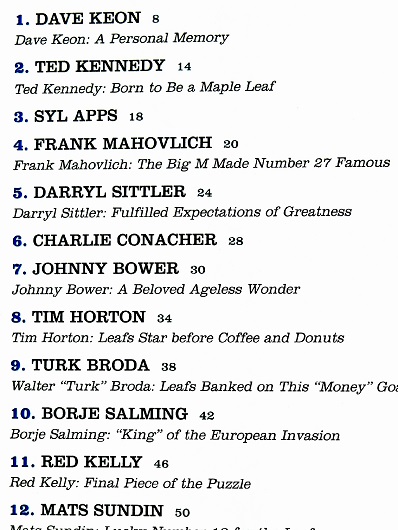 THE LATE MIKE LEONETTI, WHO DIED JUST MORE THAN A YEAR AGO, PRODUCED A TERRIFIC SERIES OF BOOKS AFTER PURCHASING HAROLD BARKLEY'S ICONIC COLLECTION. BARKLEY WAS HOCKEY'S FIRST — AND BEST — COLOR PHOTOGRAPHER; MANY OF HIS IMAGES FROM THE 1960's AND 70's ARE WIDELY IN USE TODAY. IN MIKE'S 2007 BOOK (ABOVE AND BELOW) ON THE TOP 100 MAPLE LEAFS OF ALL TIME (I WAS HONORED TO BE PART OF THE SELECTION PANEL), BOWER RANKED NO. 7, AS HE DID LAST YEAR WHEN THE CLUB NAMED ITS TOP 100 PLAYERS AS PART OF ITS CENTENNIAL COMMEMORATION.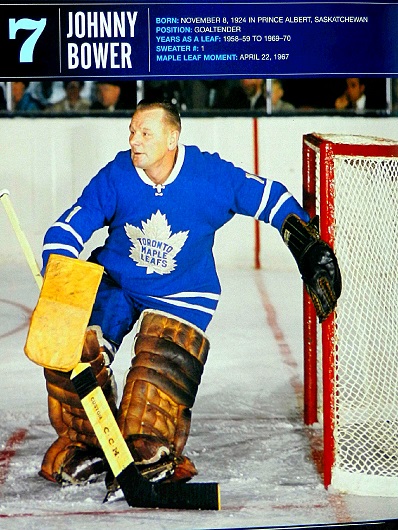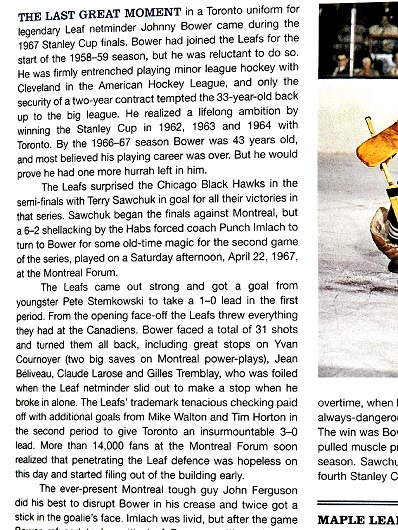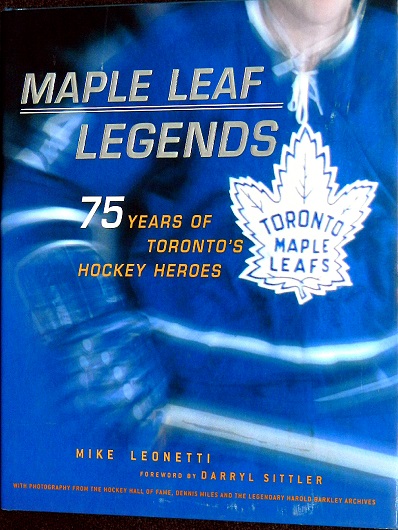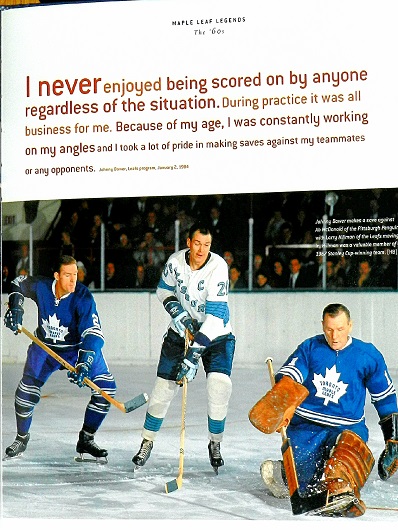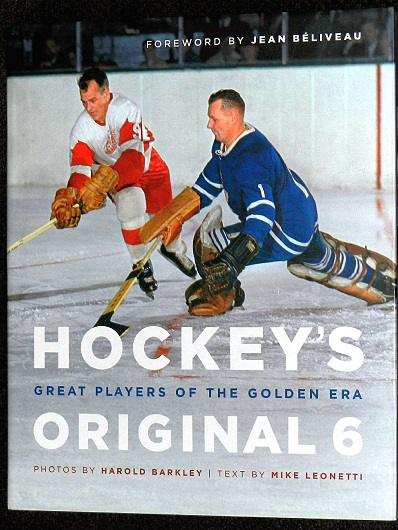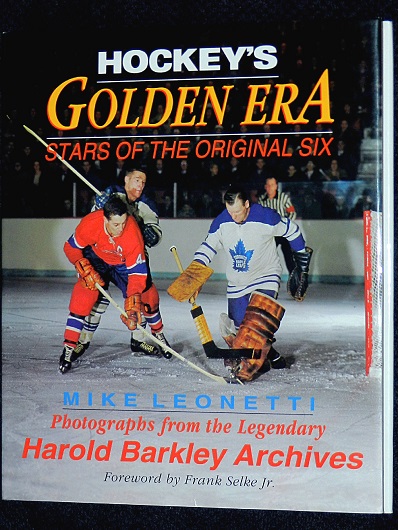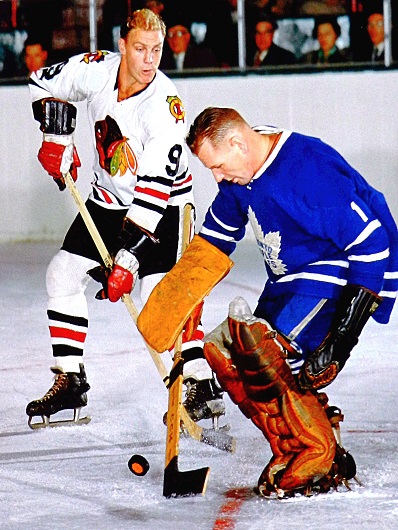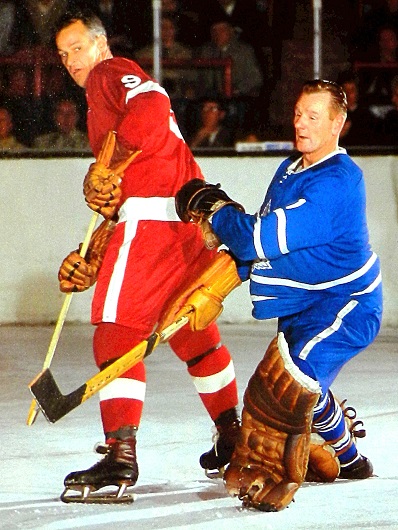 BOWER, CAPTURED BY THE LENS OF HAROLD BARKLEY WHILE BEING HOUNDED BY TWO OF HIS GREATEST HOCKEY RIVALS — BOBBY HULL (TOP–LEFT) AND GORDIE HOWE (RIGHT).
MAPLE LEAF GARDENS
      PROGRAM COVERS
As part of my large collection of hockey magazines, Johnny Bower appeared on nine covers of the Maple Leaf Gardens program between 1960 and 1969. Here are all nine:
MAR. 23, 1960 vs. DETROIT (Stanley Cup Playoffs)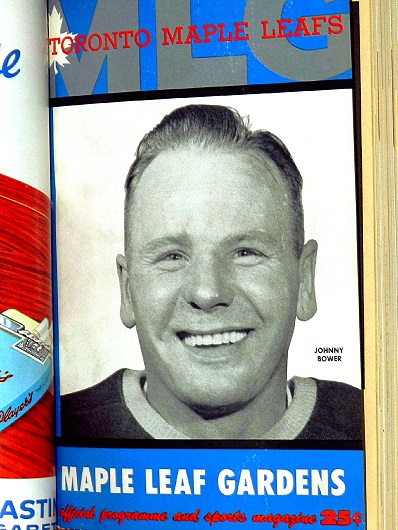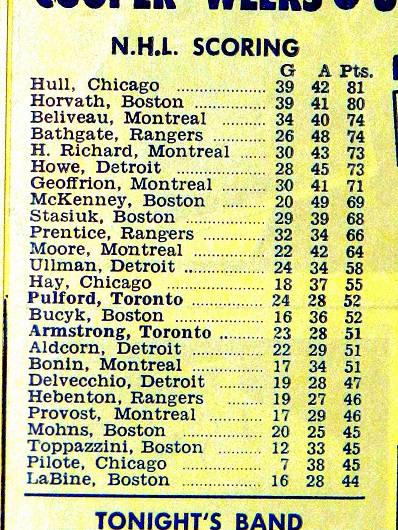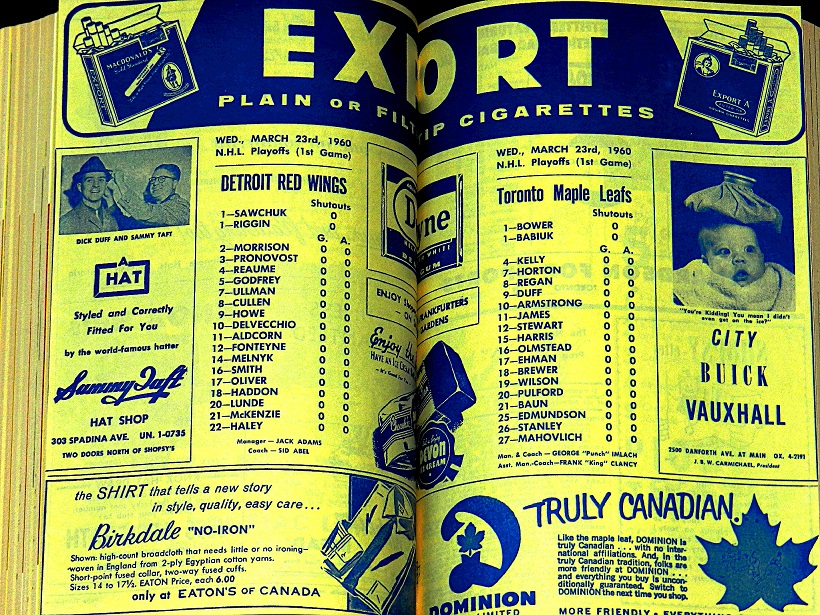 NOV. 11, 1964 vs. DETROIT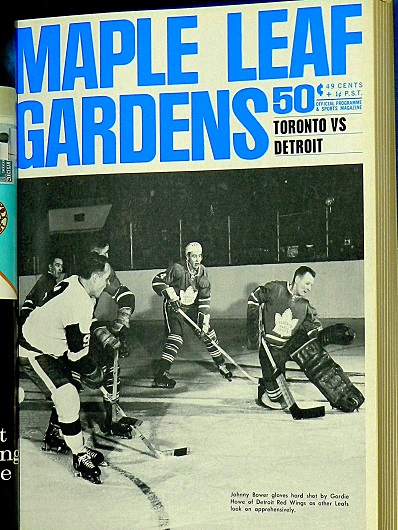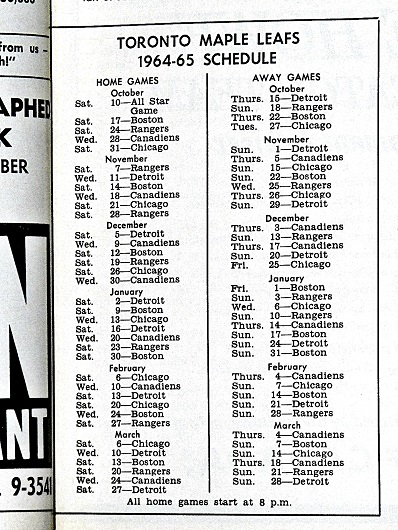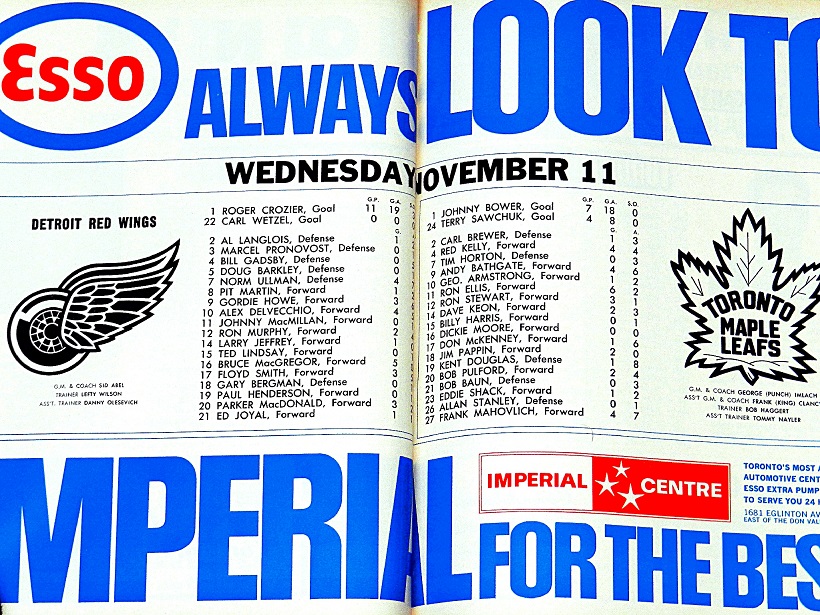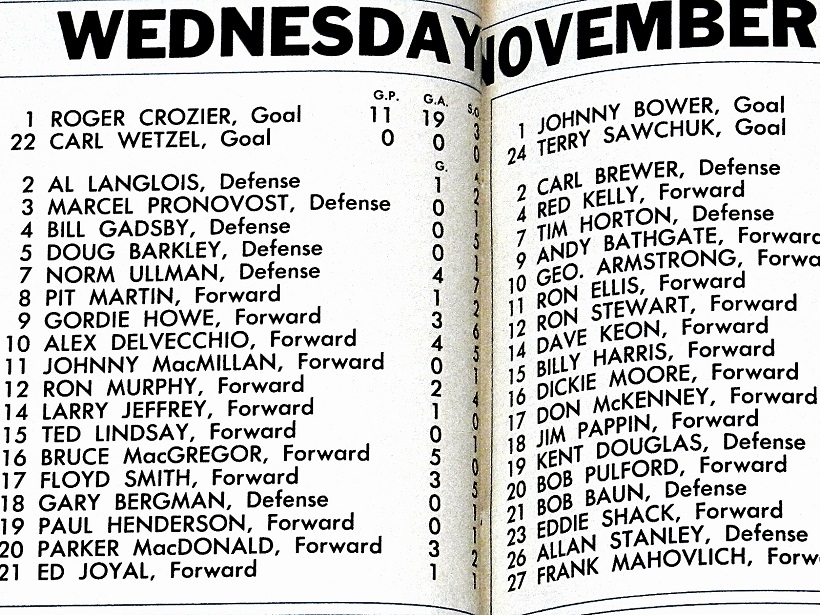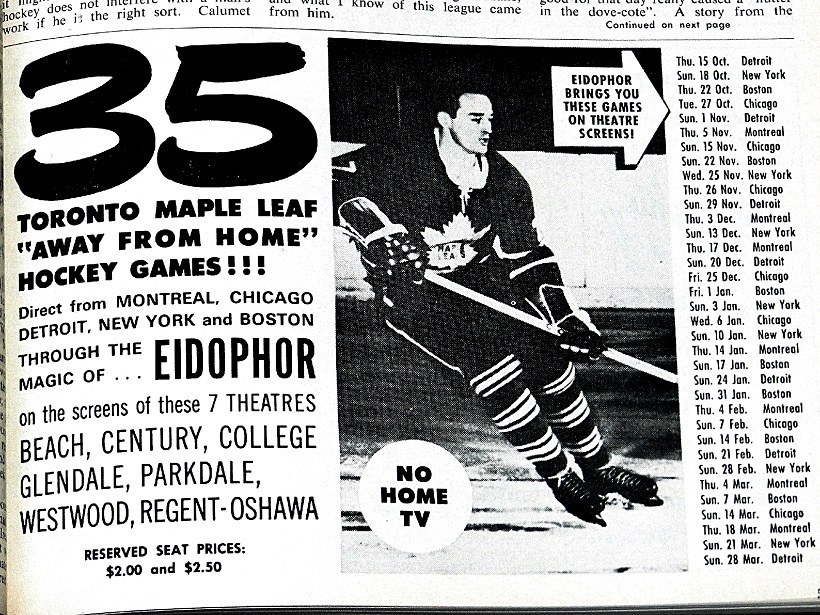 LEAF ROAD GAMES IN 1964–65 WERE SHOWN EXCLUSIVELY IN TORONTO–AREA MOVIE THEATERS.
MAR. 12, 1966 vs. BOSTON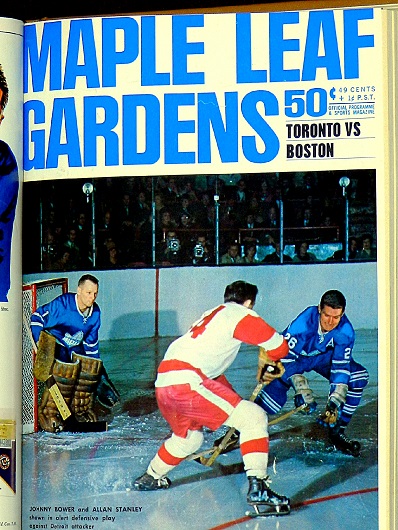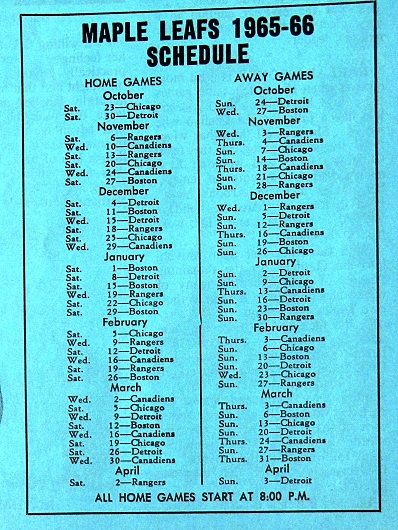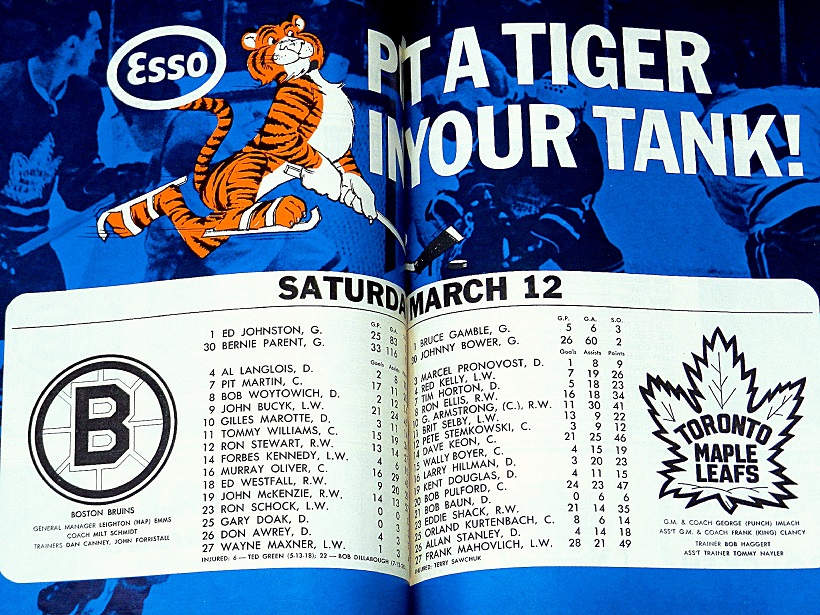 DEFENSEMAN AL LANGLOIS WORE NO. 4 FOR THE BRUINS THE YEAR BEFORE BOBBY ORR ARRIVED IN THE NHL.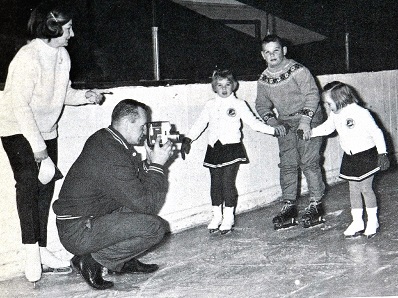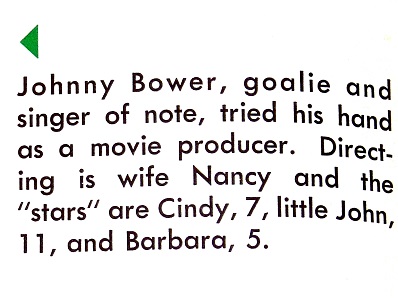 JOHNNY BOWER AND FAMILY DURING THE LEAFS' 1965 CHRISTMAS SKATE AT MAPLE LEAF GARDENS.
MAR. 16, 1966 vs. MONTREAL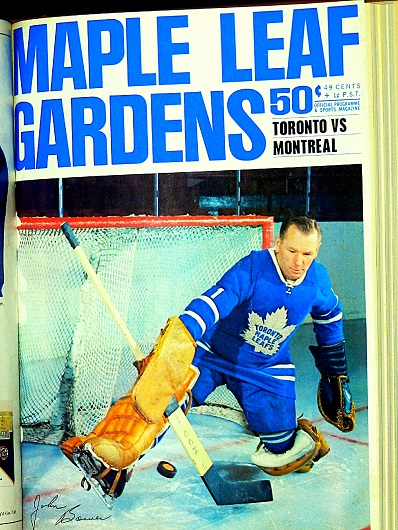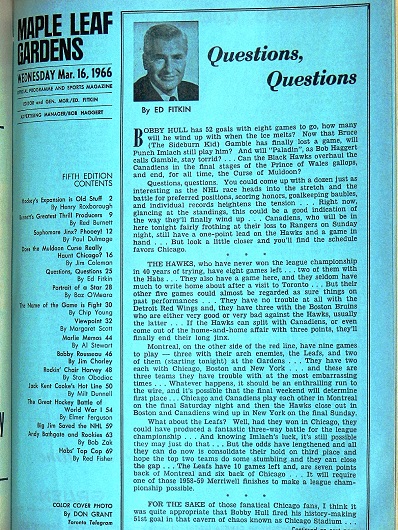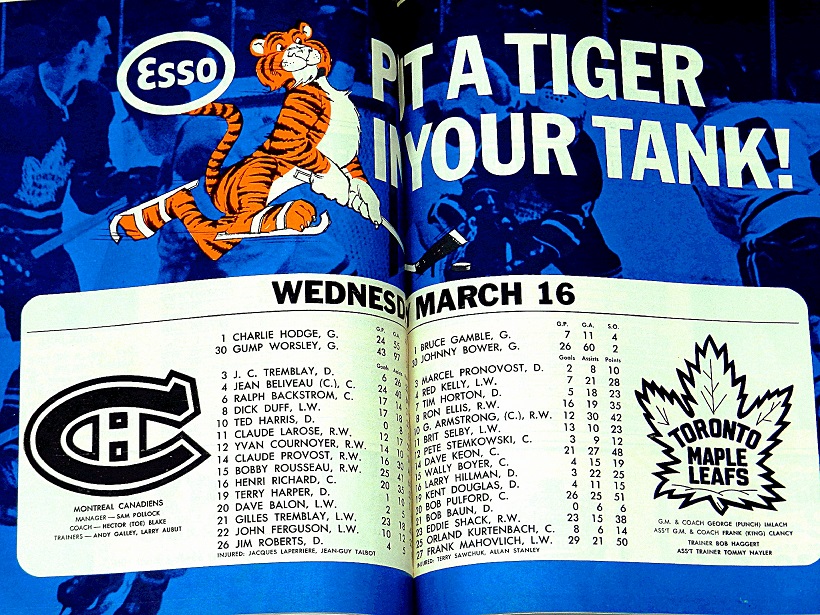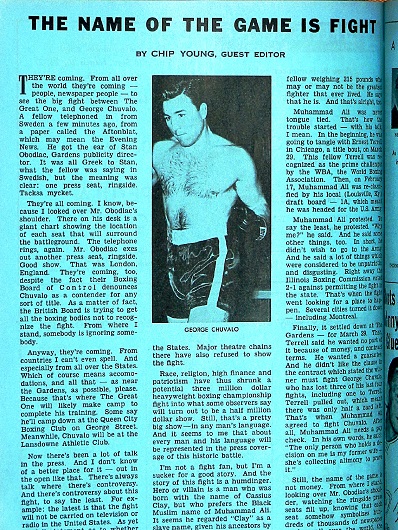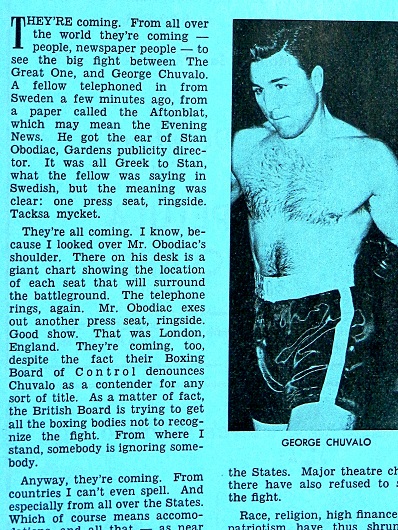 THIS GAME OCCURRED 13 NIGHTS BEFORE THE CASSIUS CLAY/GEORGE CHUVALO HEAVYWEIGHT FIGHT AT MAPLE LEAF GARDENS. CLAY (OR MUHAMMAD ALI) WON A UNANIMOUS DECISION OVER THE CANADIAN CHAMP ON MAR. 29, 1966.
APR. 27, 1967 vs. MONTREAL (Stanley Cup Final)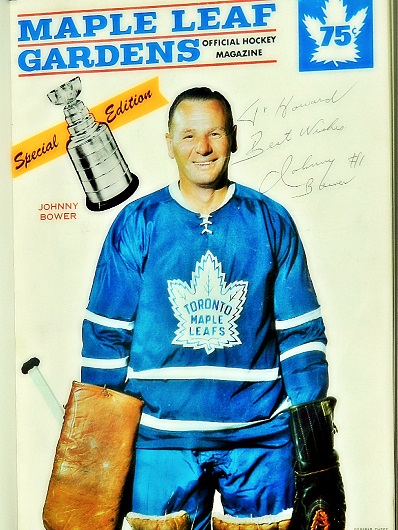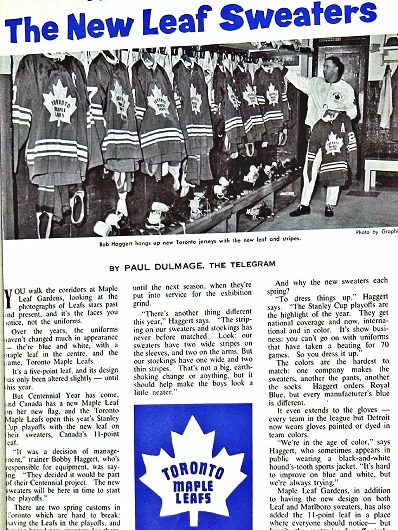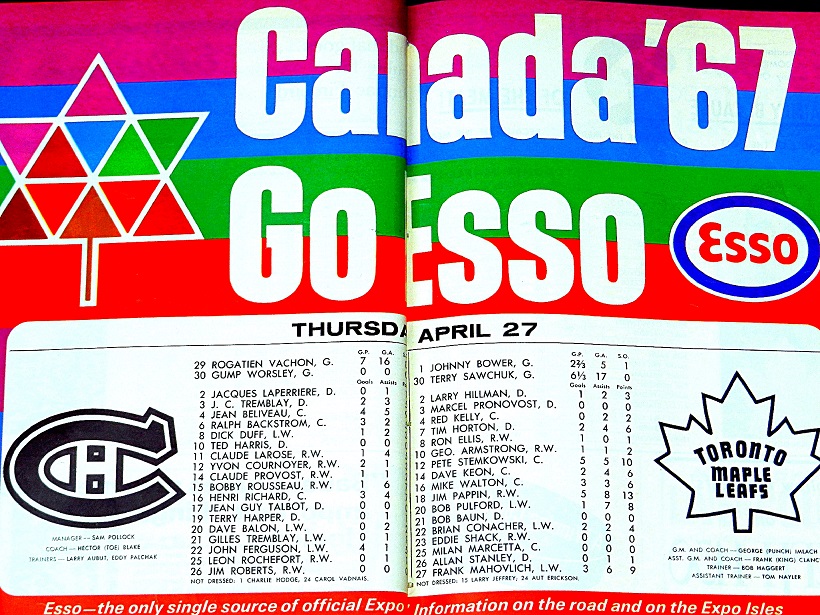 GAME 4 OF THE '67 CUP FINAL: MONTREAL HAMMERED THE LEAFS, 6–2, TO EVEN THE SERIES AT TWO GAMES APIECE. TORONTO WOULD PREVAIL IN THE FOLLOWING TWO MATCHES TO WIN THE NHL CHAMPIONSHIP.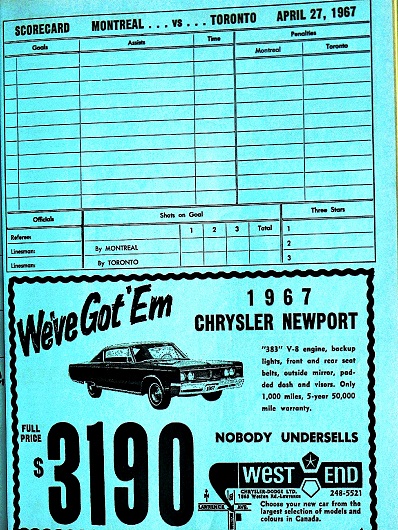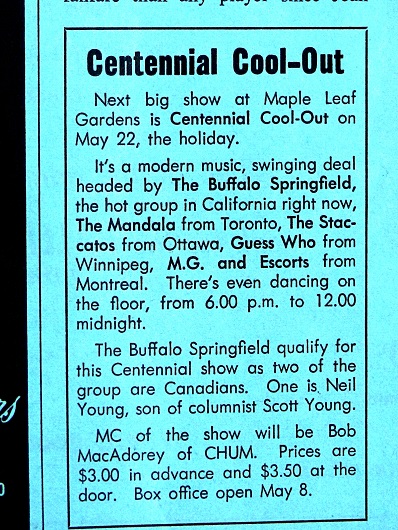 NOV. 22, 1967 vs. MINNESOTA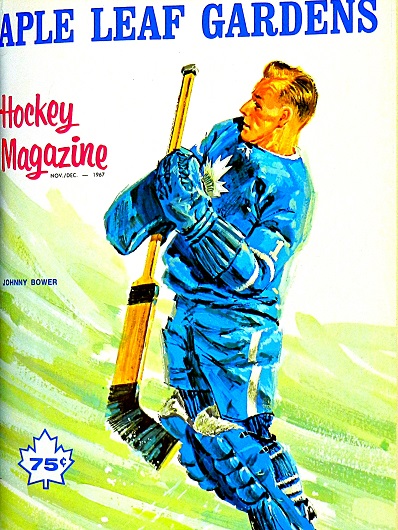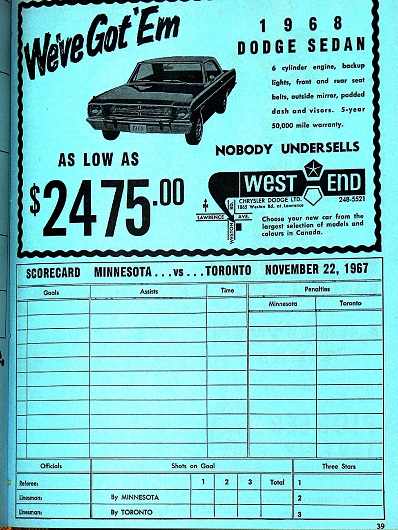 THE NORTH STARS FIRST VISIT TO MAPLE LEAF GARDENS IN THE EXPANSION SEASON OF 1967–68.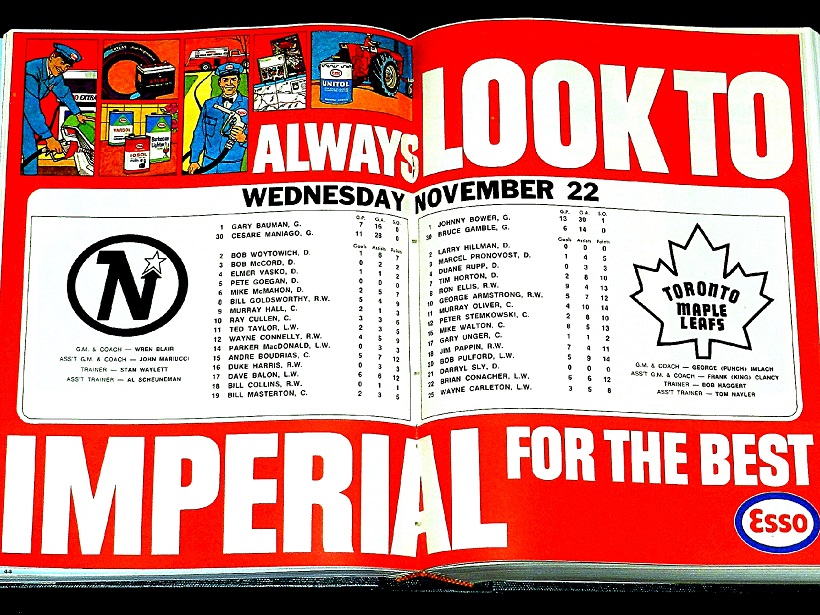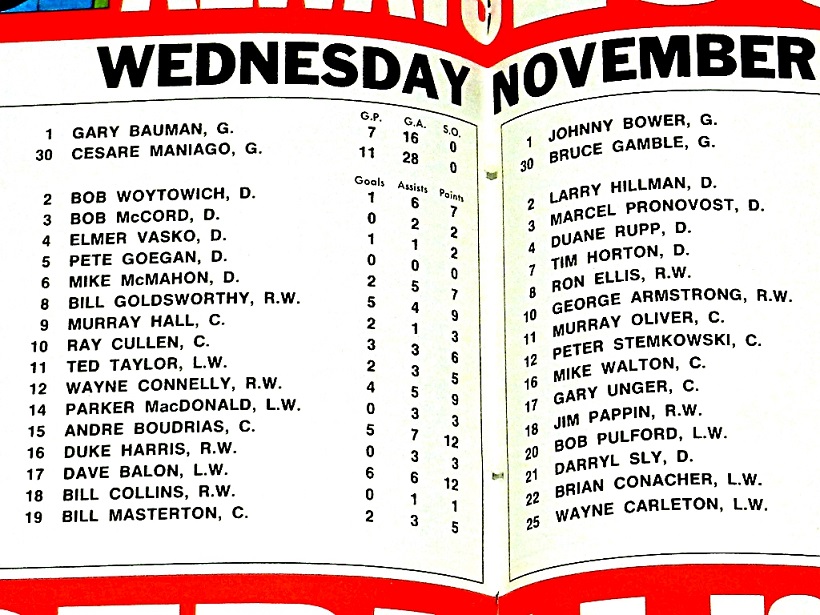 DEC. 13, 1967 vs. PITTSBURGH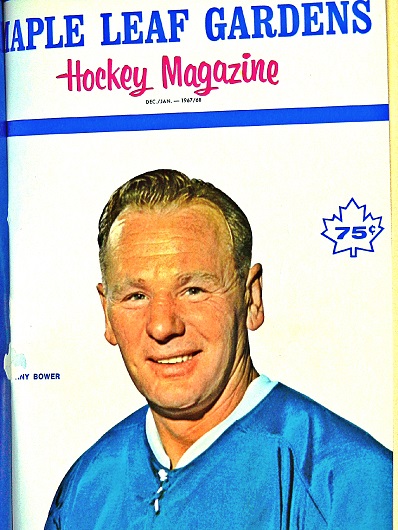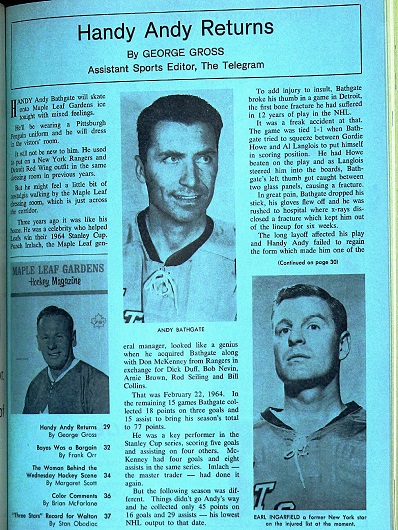 THE PENGUINS FIRST–EVER VISIT TO TORONTO.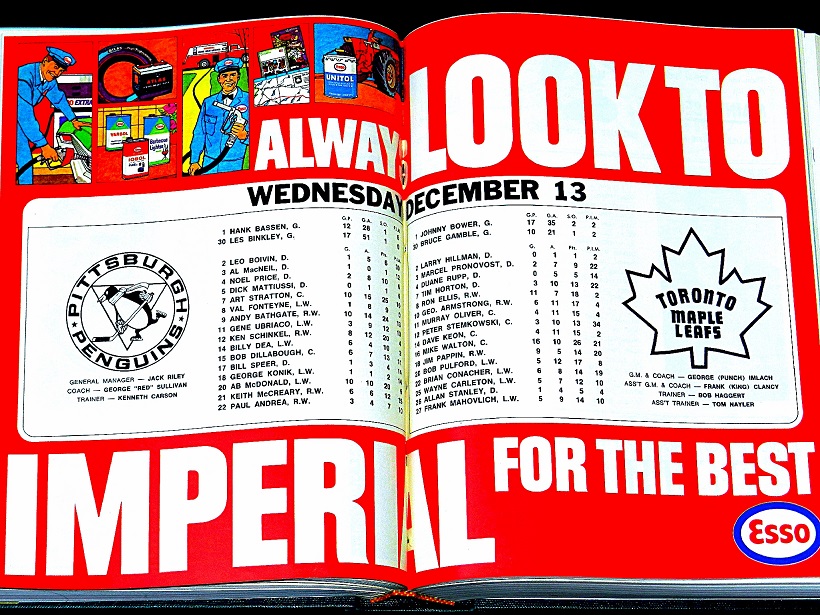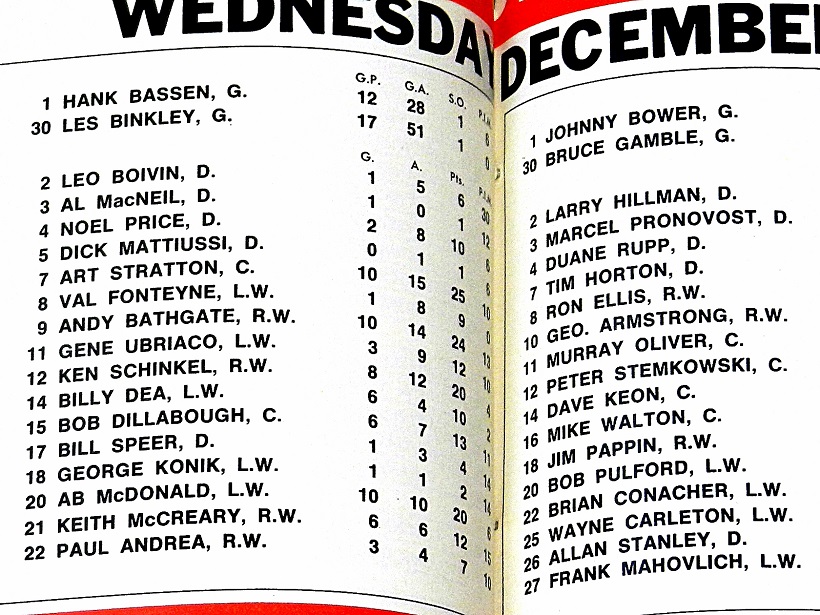 OCT. 26, 1968 vs. BOSTON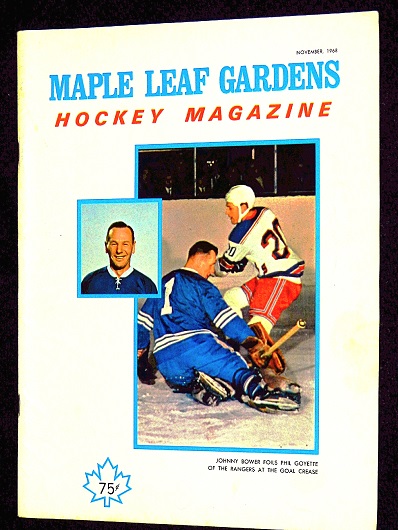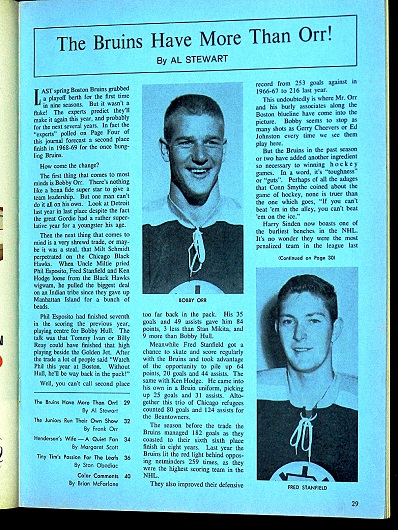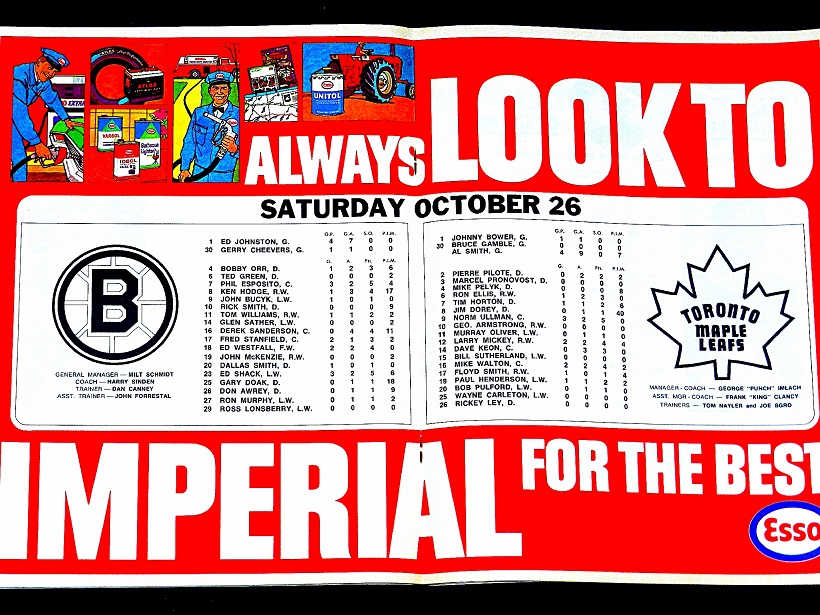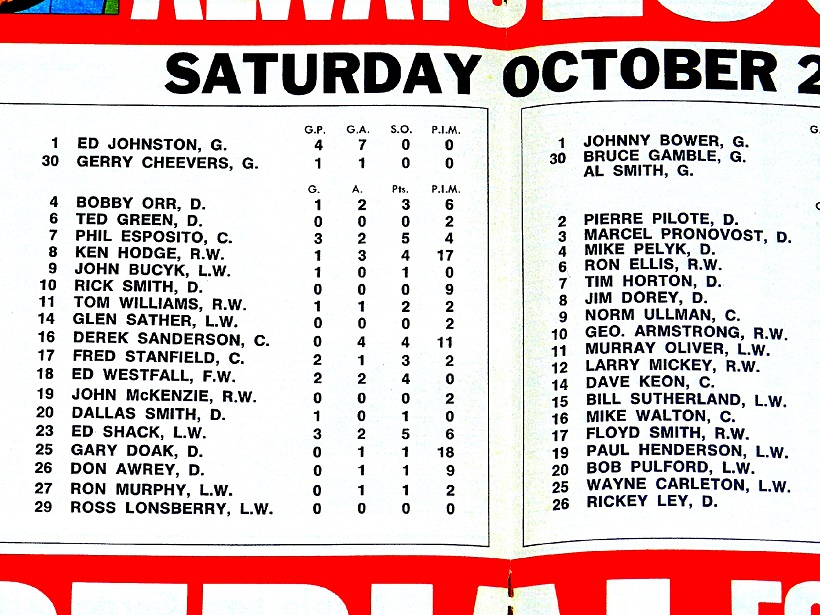 DEC. 7, 1968 vs. NEW YORK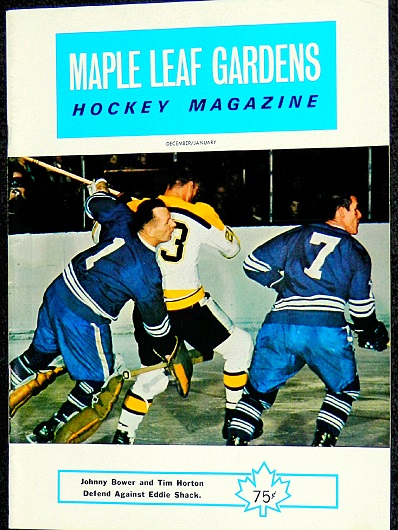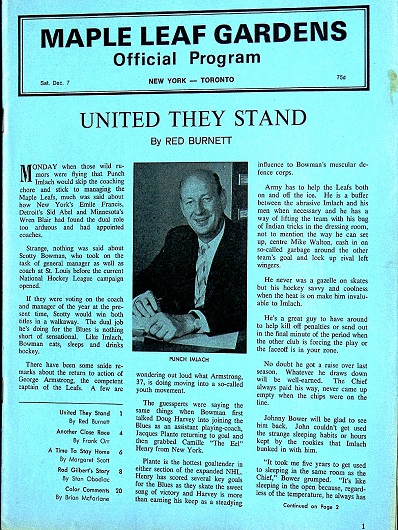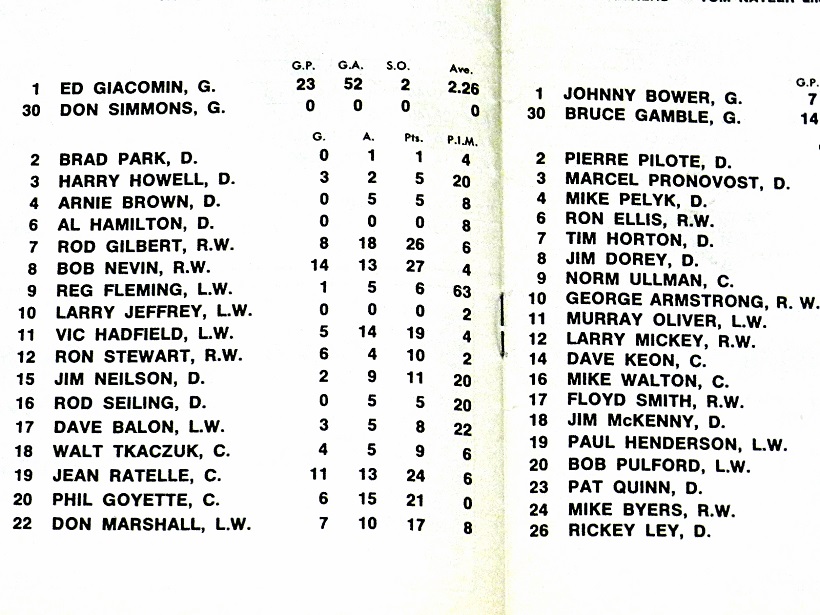 FINAL HOME GAME
Bower's last game dressing as a goalie at Maple Leaf Gardens.
DEC. 6, 1969 vs. PITTSBURGH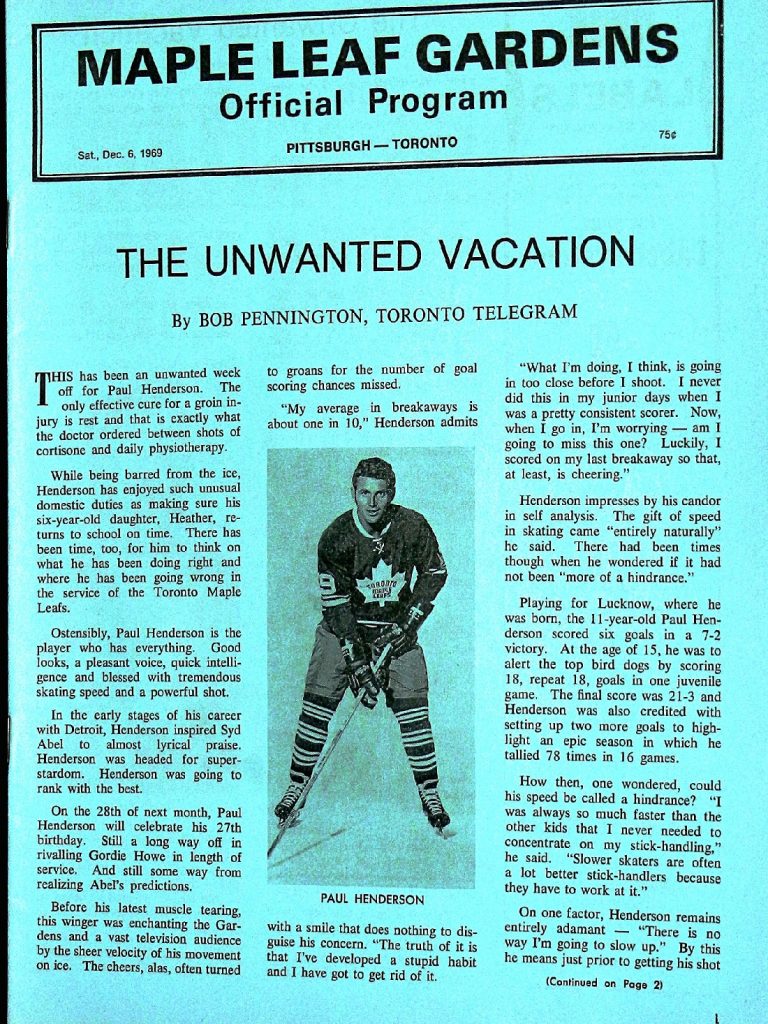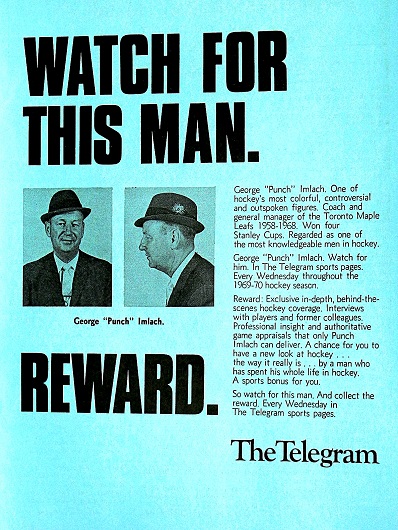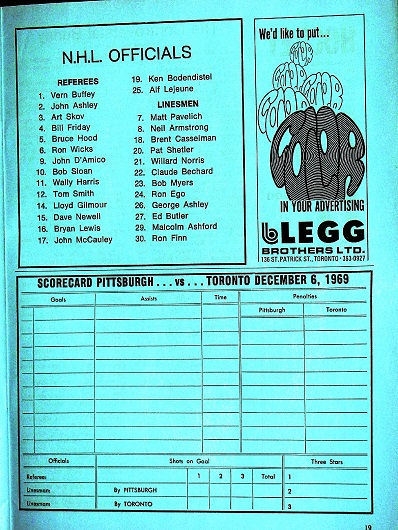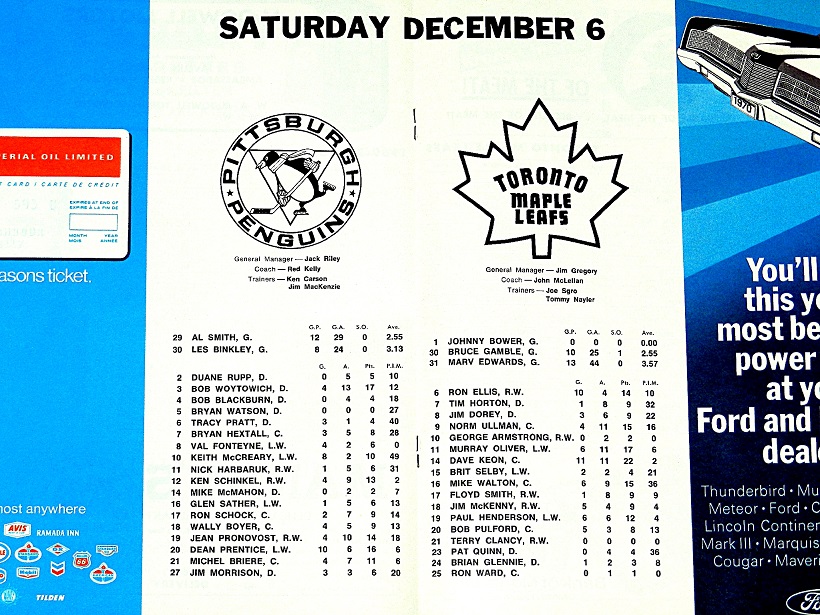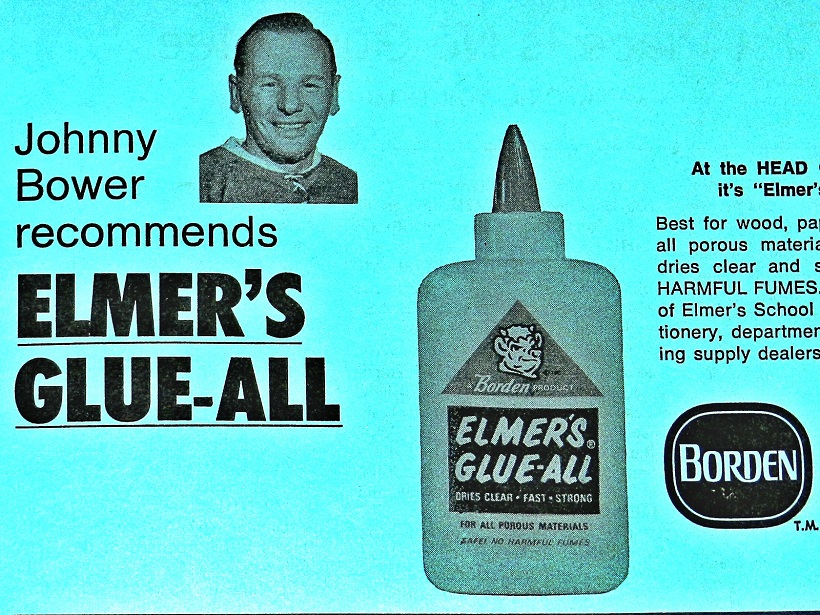 BOWER DRESSED FOR THE LEAFS THE FOLLOWING NIGHT (DEC. 7, 1969) AT PITTSBURGH, THEN APPEARED IN HIS LAST NHL GAME, THREE NIGHTS LATER, AGAINST THE CANADIENS IN MONTREAL. HE OFFICIALLY RETIRED IN FEBRUARY 1970.
FROM THE MAPLE LEAFS: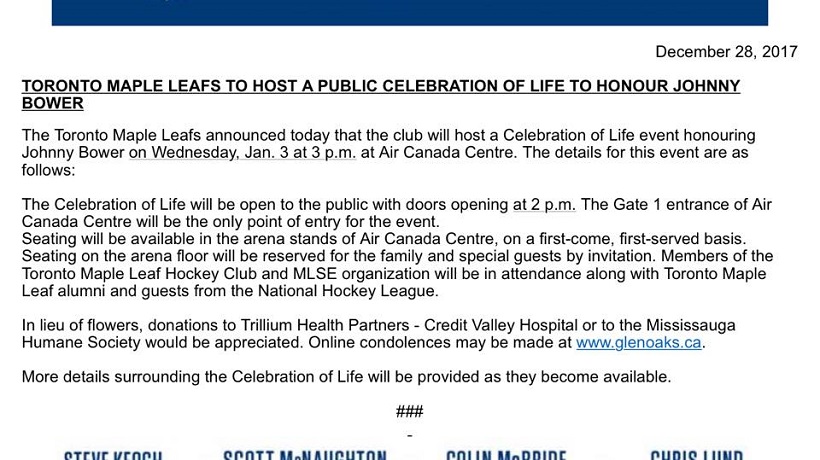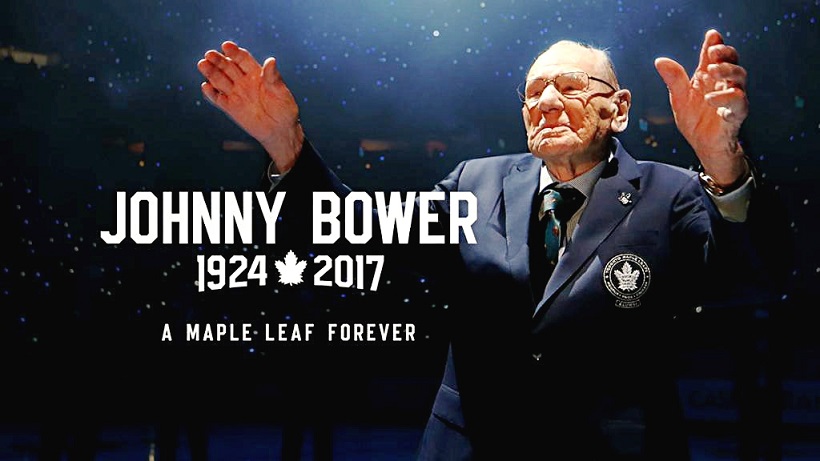 EMAIL: HOWARDLBERGER@GMAIL.COM