TORONTO (Dec. 26) — Given his advanced age, it's a day we understood was going to come, sooner or later. Thankfully for the untold thousands of people that knew Johnny Bower, it was later. Much later.
The most beloved figure in the century–long history of the Toronto Maple Leafs died around 4:30 p.m. Eastern today. He was 93 and surrounded by his family in the cardiac ward at Credit Valley Hospital (Mississauga). "My dad took ill a week ago Sunday and we've been with him day and night," said daughter Cindy Bower, as we exchanged messages early this evening. "Fluid built up in his lungs and he died of [congestive] heart failure. We are all sad and are going to miss him so much. But, he's at peace. Jesus has him now. The staff at Credit Valley Hospital was so caring and respectful of my dad.
"I know that Toronto [hockey] fans will miss him dearly."
Bower's grandson, John Bower III, was ice–fishing near his home in Edmonton when he received the news. "My dad [John Bower Jr.] called from Toronto to tell me," said John III over the phone. "It wasn't unexpected. When grandpa initially went into the hospital, it looked pretty bad but he seemed to perk up a bit around Thursday of last week. He was talking and feeling more chipper. We had some hope. Sadly, though, the infections [pneumonia] were too much and his heart gave way. This was all within 10 days of grandpa doing six appearances in a four–day span on behalf of the Leafs. So typical of him."

NANCY AND JOHNNY BOWER. MARRIED FOR 69 YEARS. THE NICEST PEOPLE YOU'D EVER MEET.
For those unaware, Johnny Bower played goal with the Maple Leafs from 1958–59 til 1969–70. He was arguably the most integral component of the club's last Stanley Cup dynasty, helping the Leafs to National Hockey League championships in 1962, 1963, 1964 and 1967. He retired in February 1970 at 45 years of age; playing his final game Dec. 10, 1969, against the Canadiens, at the Montreal Forum. Bower is considered, with the late Walter (Turk) Broda (d. Oct. 17, 1972), as the best puck–stopper in Maple Leafs history.
After his playing days, Bower served as a scout and part–time goaltending coach with the Blue and White. Once into his 70's, he began a third career as a team ambassador; attending functions on behalf of the Leafs and doing, essentially, whatever the club asked of him. It was during this time — the final 20–plus years of his life — that he became the most widely–loved and respected person in the annals of the team. He did so, very simply, by being himself: a genuinely–nice human being. No person he ever met walked away from the Leafs legend not feeling important. Johnny Bower wore No. 1 and was No. 1 in this city.
"I remember being with grandpa at Jean Beliveau's funeral in Montreal (in December 2014)," said John III. "We were on a bus going from the Bell Centre to the cathedral and thousands of people were lining the streets on a snowy, blustery day in memory of Mr. Beliveau. At one point during the ride, grandpa turned and said 'you don't think they'll try and do something like this for me [when I die], do you? I'm not sure I'd want that.' I replied 'of course they will, grandpa. You're the Jean Beliveau of Toronto. Like he did here in Montreal, you've always understood the privilege of being a representative of your team. And, you've treated others with kindness and dignity. Why wouldn't you be accorded the same respect when it's your time?'"
Though funeral arrangements were in the preliminary stage tonight, suffice to say that Bower's memorial will be among the most–widely attended of any public figure in this city's history. "Grandpa always understood it was a privilege — not a right — to be a hockey hero in Toronto," said his grandson. "He went from being a dirt–poor kid in northern–Saskatchewan to living a charmed life in the greatest hockey city on Earth. That feeling stayed with him from the first time he pulled on a Leafs jersey in 1958 to his final breath in hospital earlier today. And, it is truly the reason that everyone loved him so very much."
I've had the privilege of getting to know Bower and his extended family through the years. John III called from Edmonton to tell me of the sad news today. In May 2016, I spent a wonderful afternoon with John and Nancy at their home in Mississauga. Nancy fussed over her husband, as usual, and the couple reveled in the presence of their great–daughter, Harper Switch. At one point, John walked with me down the street to a park named in his honor. Here are some of the photographic memories of that day:

NANCY FUSSED OVER JOHN, FIXING HIS COLLAR, AND THE LEAFS LEGEND THEN POSED WITH GREAT–GRANDDAUGHTER, HARPER SWITCH. HE WAS HAPPIEST WHEN AMONG HIS LARGE, EXTENDED FAMILY.

BLANK WHEN I ARRIVED AT HIS HOUSE, I LEFT WITH JOHNNY'S SIGNATURE ON THE COVER OF A MAPLE LEAF GARDENS PROGRAM FROM GAME 4 OF THE STANLEY CUP FINAL ON APR. 27, 1967. NEEDLESS TO SAY, I'LL CHERISH THIS ITEM AS DEVOTEDLY AS ANY IN MY COLLECTION.

AFTER TAKING A SHORT WALK WITH ME (ABOVE AND BELOW) TO THE PARK NAMED IN HIS HONOR.

JOHNNY AND NANCY: A LIFE MIXED WITH HOCKEY AND FAMILY. SIMPLY THE SWEETEST.

MY FAVORITE JOHNNY BOWER PHOTO. I TOOK THIS PICTURE OF THE LEAFS' GOALTENDING LEGEND WITH HIS FORMER DEFENSE TEAMMATE, BOB BAUN, ON DEC. 1, 2014 AT A MONTHLY GATHERING OF NHL ALUMNI NORTH OF TORONTO. IT CLEARLY SHOWED THE LOVE THEY HAD FOR ONE ANOTHER.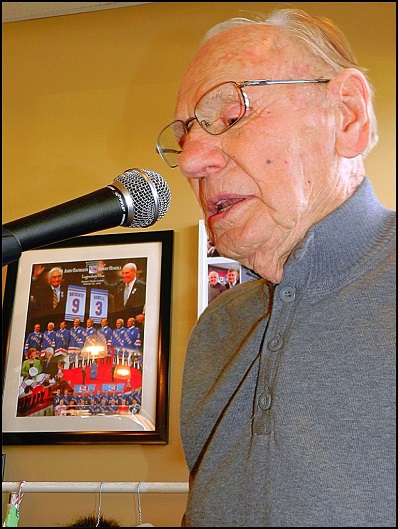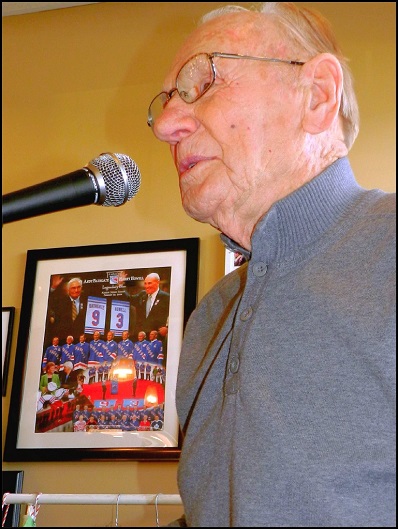 DURING THAT SAME ALUMNI GATHERING, JOHNNY THRILLED THE AUDIENCE WITH A LIVE RENDITION OF HIS 1965 HOLIDAY HIT "HONKY THE CHRISTMAS GOOSE" (SINGLE COVER, BELOW).

ALSO FROM DEC. 1, 2014, JOHN WAS SEATED (MIDDLE) NEXT TO BOB BAUN (RIGHT) AND FORMER NHL REFEREE BRUCE HOOD (LEFT). ANOTHER FORMER REF, THE LATE RON WICKS, STOOD ABOVE THE TRIO. RON DIED OF CANCER ON APR. 1, 2016.
EMAIL: HOWARDLBERGER@GMAIL.COM