LOS ANGELES (Dec. 8) — The Toronto Maple Leafs, today, are perched sixth overall in the National Hockey League standings for a very good reason: Frederik Andersen has been their best player.
When a goalie is the top performer on an otherwise gifted team, potential becomes limitless.
Andersen is well on pace to eclipse his career–high 66 appearances last season for the Maple Leafs. He handled the workload rather well, with respectable numbers: 2.67 goals–against average and .918 save–percentage. In the playoffs against Washington, he ranged from superb (46 stops in Game 2 at the Verizon Center, won by Kasperi Kapanen of the Leafs in double–overtime) to mediocre (5–4 regulation loss in Game 4 at the Air Canada Centre). Washington prevailed in six games, though a Stanley Cup–record five went to overtime. Andersen's uneven work could have taken the Maple Leafs in either direction, given the razor–close scores. As such, the jury is still out on the Big Dane as a playoff warrior.
In the not–too–distant past, other goalies were at the top of the Leafs' performance chart: Curtis Joseph from 1998–99 to 2001–02 and Hall–of–Famer Ed Belfour in 2002–03 and 2003–04. Neither man, however, could nudge the team beyond the Stanley Cup semifinals. And both faded rather noticeably in the Cup tournament after the eight–month NHL slog. In 1999, Cujo starred for the Leafs in series wins over Philadelphia and Pittsburgh. But, he was running on fumes against Buffalo in the Eastern Conference final and yielded 21 goals in a five–game defeat. In 2001, the Leafs swept Ottawa in the opening round then took the defending Stanley Cup–champion New Jersey Devils to the limit in the Conference semifinal.
Joseph again appeared out of gas in a 5–1 loss at the Meadowlands in Game 7.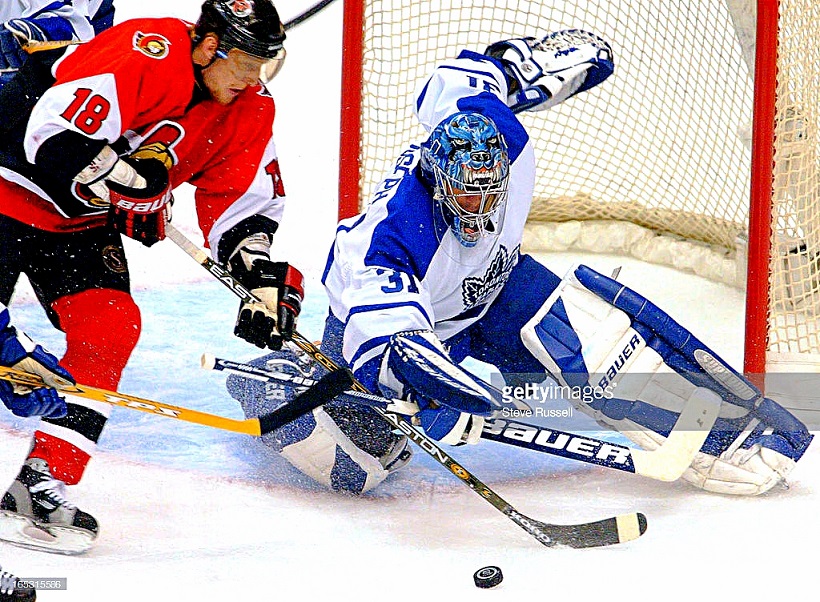 CURTIS JOSEPH WAS A WARRIOR FOR THE MAPLE LEAFS — EASILY THE CLUB'S BEST PLAYER FOR FOUR SEASONS (1998–99 TO 2001–02). BUT, A HEAVY WORKLOAD BEHIND A LOOSE DEFENSIVE TEAM HAD CUJO RUNNING ON FUMES IN THE PLAYOFFS. GETTY IMAGES
Cujo signed with Detroit as a free agent in July 2002 and the Leafs replaced him with fellow UFA Belfour. The opening round of the '03 playoffs, against Philadelphia, went seven games and featured three long overtime sessions (two doubles and a triple). In the deciding match at the Wells–Fargo Center, Belfour, 38, got hammered, 6–1. The following year, Eddie single–handedly dispatched Ottawa from the Conference quarterfinals by permitting just nine goals in seven games. Round 2 against the Flyers was deadlocked after four matches. In the pivotal fifth game, at Philadelphia, Belfour got scorched for seven goals. Philly prevailed in Game 6 at the ACC on Jeremy Roenick's overtime marker and the Leafs next made the playoffs in 2013.
The common denominator for Joseph and Belfour in their Toronto years involved busy seasons playing behind run–and–gun teams that yielded copious shots on goal and did not possess a Norris Trophy candidate on the blue line. Sound familiar? Andersen finds himself in a nearly–identical circumstance right now. He is stealing points left, right and center for the Blue and White as easily the premier stopper since the Cujo–Belfour era. The question is: Can Freddy sustain that performance through eight–plus months and four grueling playoff rounds? Or, will he succumb to fatigue behind an average defensive squad?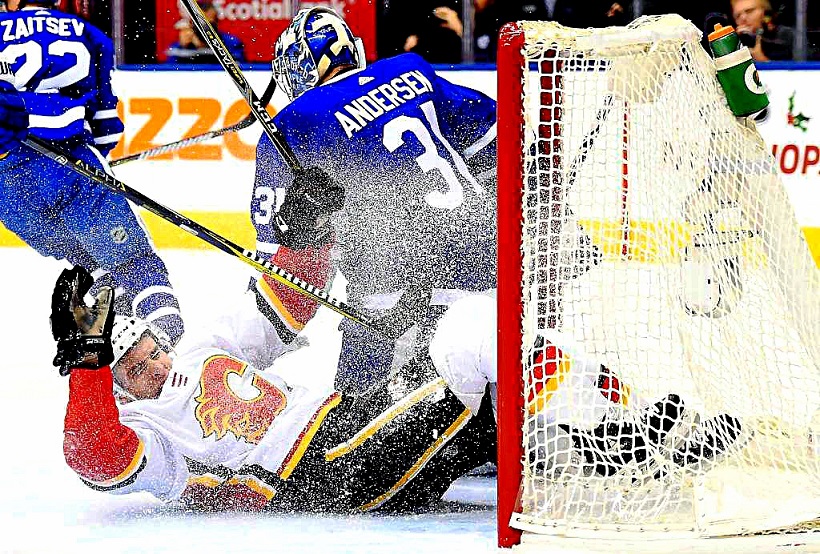 FREDERIK ANDERSEN WAS THE DIFFERENCE FOR THE LEAFS ON WEDNESDAY AT AIR CANADA CENTRE, STOPPING 47 SHOTS IN A 2–1 SHOOTOUT WIN OVER CALGARY. NATHAN DENETTE THE CANADIAN PRESS
Whatever transpires with the Leafs' No. 1 goalie could spell the difference between a Stanley Cup title next June… or a first–round exit in late–April. Of course, only time will tell.
CALIFORNIA IN DECEMBER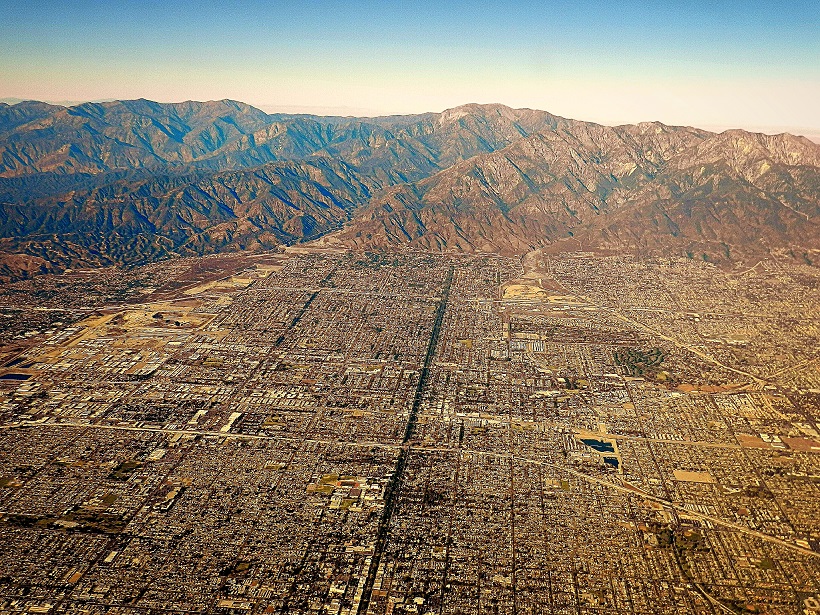 OVER THE LOS ANGELES BASIN NEAR SAN BERNARDINO, 15 MINUTES BEFORE LANDING AT L–A–X WEDNESDAY AFTERNOON, WITH THE SAN GABRIEL MOUNTAIN RANGE IN THE DISTANCE.
During my years of marriage (1991–2013), Los Angeles became my second home. Susan and her family moved to SoCal from Rochester, N.Y. in 1979 and we spent summers out here while raising our children, Shane and Lauren. After the long hockey season during my radio years, The FAN–590 accorded me six weeks vacation — five of which were in California. As such, it is always special to come back here, particularly for such an event as this weekend: the Bar Mitzvah of my nephew, Brian Straus.
Naturally, I've had my trusty NIKON handy since departing Toronto on Wednesday afternoon: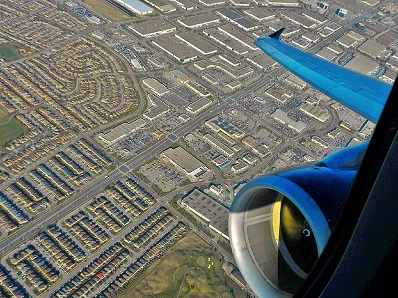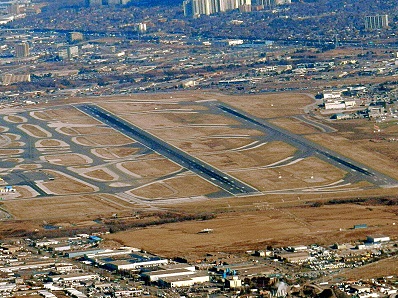 TURNING WEST AFTER DEPARTURE FROM RUNWAY 24–R AT PEARSON AIRPORT IN TORONTO.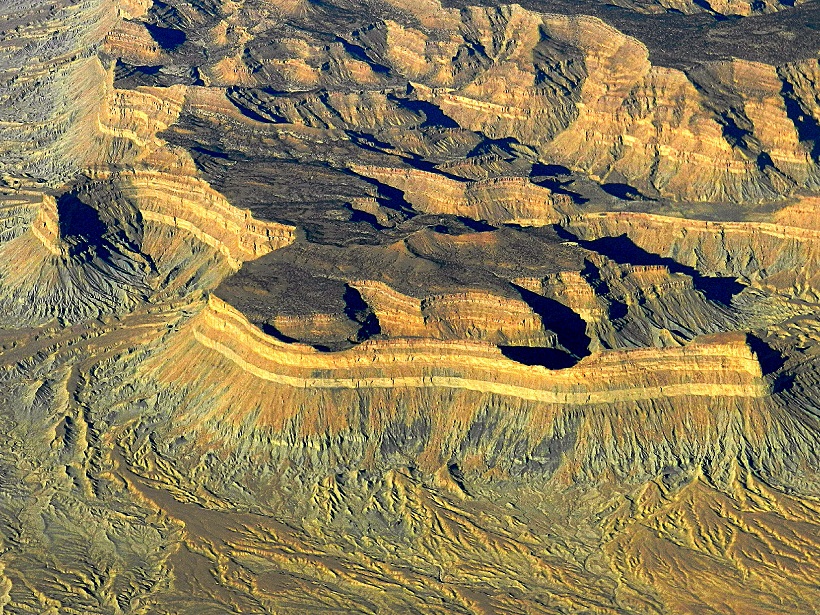 COLORFUL DESERT LANDSCAPE (ABOVE AND BELOW) OVER WESTERN–COLORADO.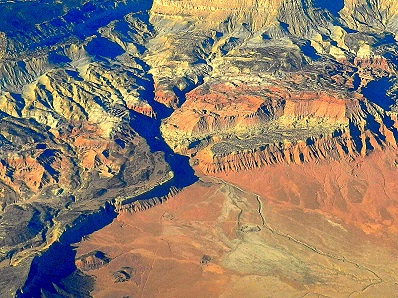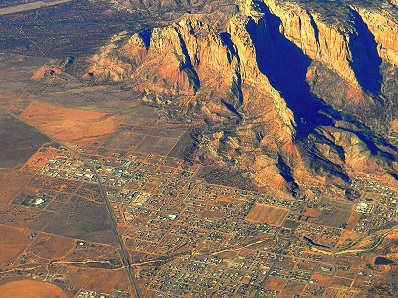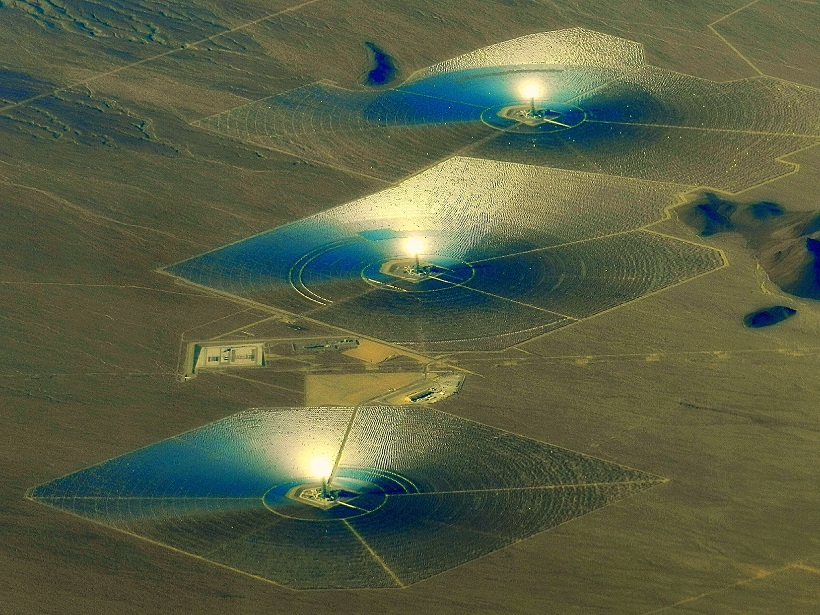 GREAT VIEW OF THE MASSIVE IVANPAH SOLAR POWER FACILITY IN THE MOJAVE DESERT — LOCATED NEAR THE NEVADA/CALIFORNIA STATE LINE (52 MILES SOUTHWEST OF LAS VEGAS AND 224.7 MILES NORTHEAST OF LOS ANGELES). OPENED IN FEBRUARY 2014 (AT A COST OF $2.2 BILLION) AND SPANNING 4,000 ACRES OF PUBLIC LAND, THE THREE FIELDS OF HELIOSTAT MIRRORS FOCUS SUNLIGHT TOWARD RECEIVERS LOCATED ON CENTRALIZED SOLAR–POWER TOWERS. THE RECEIVERS GENERATE STEAM TO DRIVE SPECIALLY–ADAPTED TURBINES. A SPECTACULAR SIGHT FROM 32,000 FEET.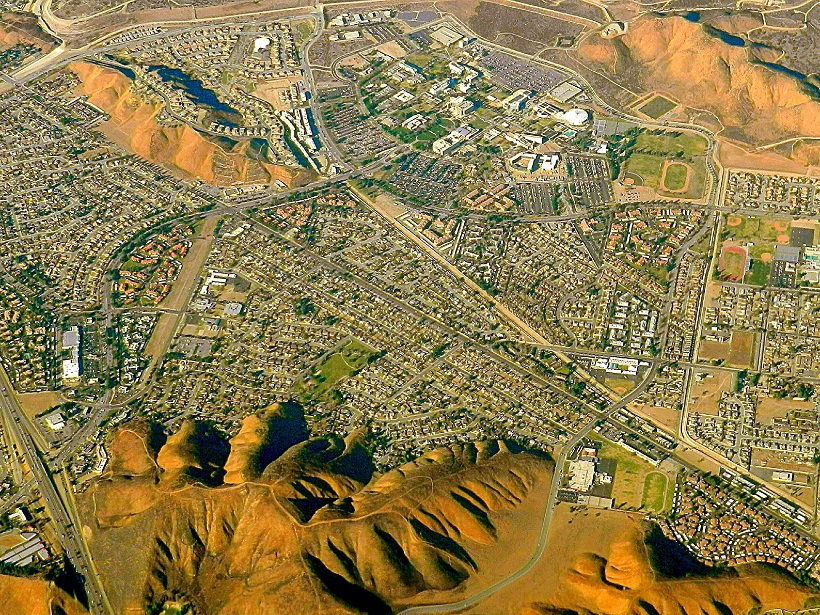 FOOTHILLS FORM WHAT LOOKS LIKE A GIANT FOOT (AT BOTTOM) NEAR POMOMA, CALIF. — 40 MILES EAST OF LOS ANGELES INTERNATIONAL AIRPORT.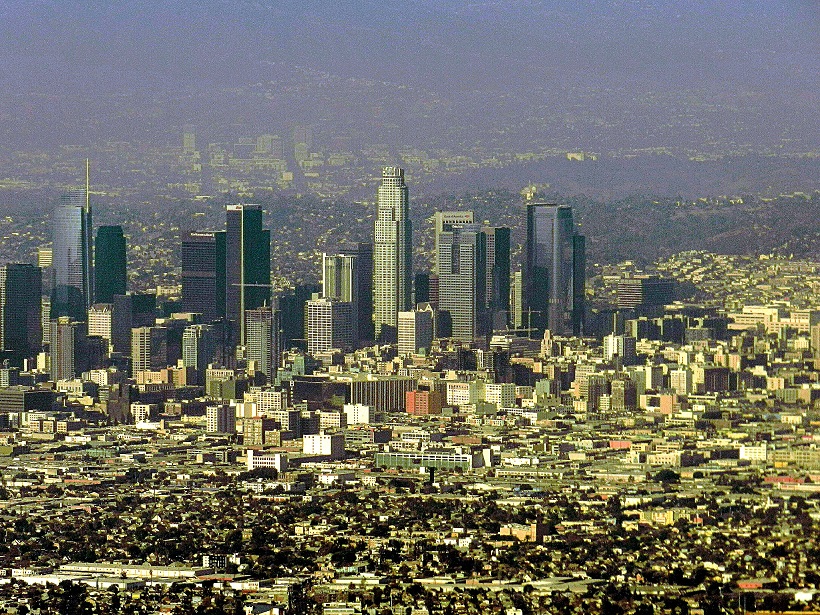 DOWNTOWN LOS ANGELES (SANS SMOG IN DECEMBER) FIVE MINUTES BEFORE LANDING AT L–A–X.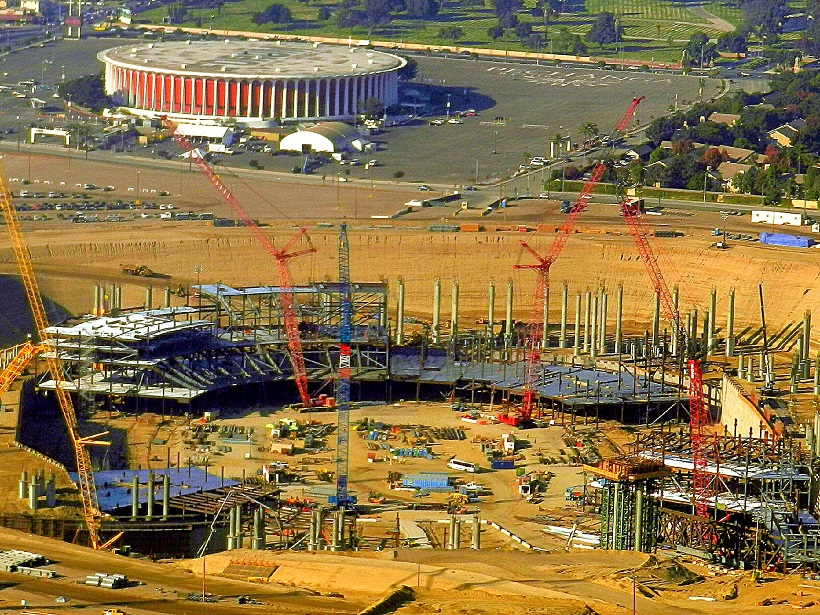 OVER–TOP INGLEWOOD, ROUGHLY ONE MINUTE BEFORE TOUCHING DOWN, I SNAPPED THIS PHOTO OF THE LOS ANGELES FORUM (UPPER–LEFT) AND CONSTRUCTION OF THE LOS ANGELES STADIUM AT HOLLYWOOD PARK. THE STADIUM IS SCHEDULED TO DEBUT IN 2020 AS HOME OF THE NFL's LOS ANGELES RAMS AND CHARGERS. IT IS RISING WHERE THE HOLLYWOOD PARK RACE TRACK ONCE STOOD. THE FORUM OPENED IN DECEMBER 1967 AND WAS HOME OF THE LOS ANGELES KINGS AND LAKERS THROUGH 1998–99. BOTH TEAMS THEN MOVED TO THE STAPLES CENTER IN DOWNTOWN L.A.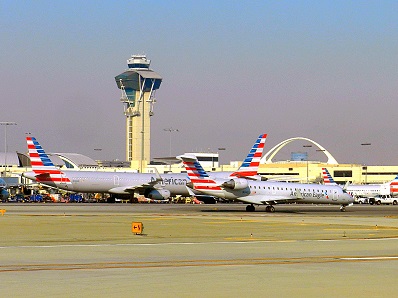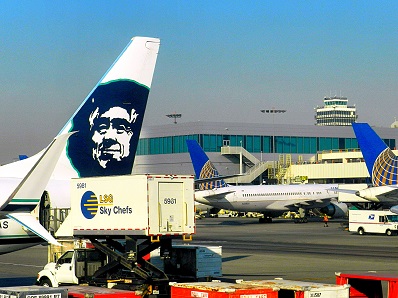 THE AIRLINE LOGOS OF L–A–X.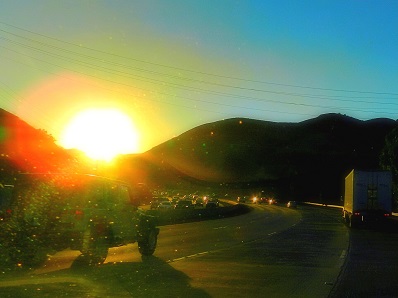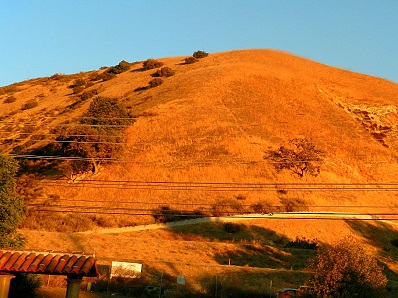 DRIVING NORTHWEST ALONG INTERSTATE–101 (THE VENTURA FREEWAY) NEAR SUNSET. AND SUN REFLECTING OFF FOOTHILLS NEAR CALABASAS IN THE SAN FERNANDO VALLEY.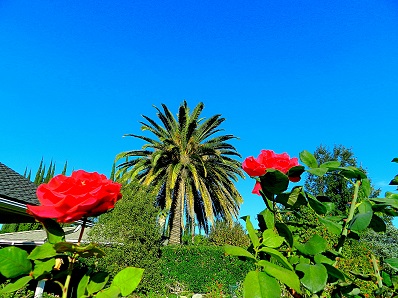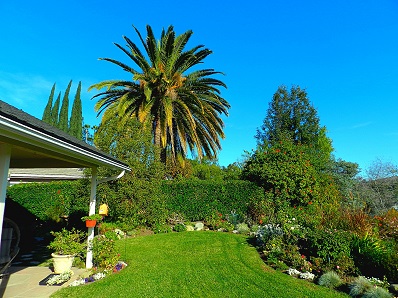 IT'S ALMOST ALWAYS WEATHER–PERFECT IN L.A. AT THIS TIME OF YEAR.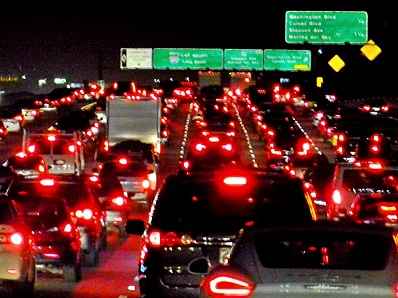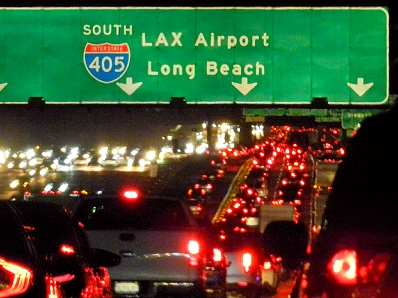 BUMPER–TO–BUMPER TRAFFIC ON INTERSTATE–405 SOUTH (THE SAN DIEGO FREEWAY) DURING THURSDAY–EVENING TREK FROM THE SAN FERNANDO VALLEY TO ORANGE COUNTY, 80 MILES AWAY.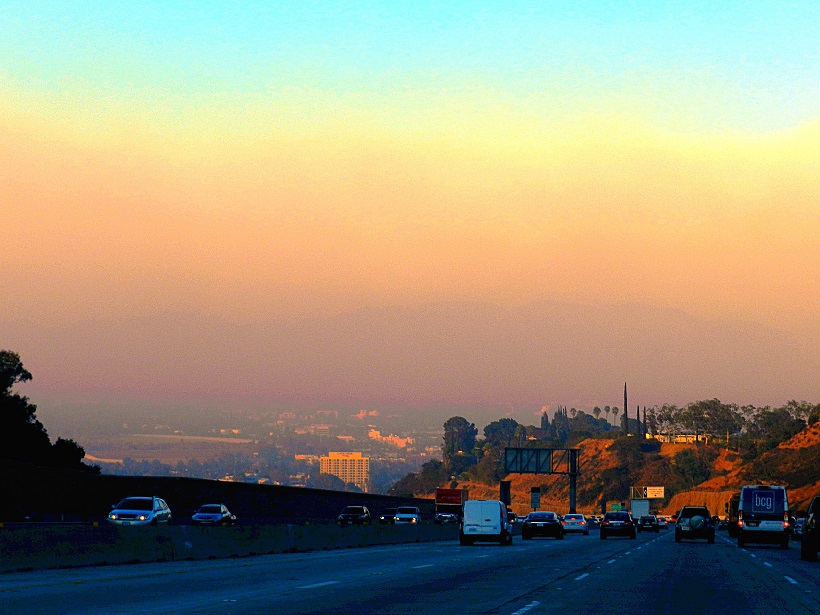 AS MANY ARE AWARE, WILDFIRES ARE RAGING HERE IN SOUTHERN CALIFORNIA. IN THIS PHOTO, I AM DESCENDING INTO THE SAN FERNANDO VALLEY ON THE NORTHBOUND SAN DIEGO FREEWAY. SMOKE FROM A LARGE BLAZE IN VENTURA, 50 MILES WEST, IS CLEARLY VISIBLE.
EMAIL: HOWARDLBERGER@GMAIL.COM