TORONTO (Mar. 20) — During his brilliant career, spent primarily as captain of the Toronto Maple Leafs, Darryl Sittler encountered many of the preeminent players in the second half–century of the National Hockey League. Among them: Gordie Howe, Jean Beliveau, Stan Mikita, Phil Esposito, Bobby Hull, Bobby Orr, Marcel Dionne, Bobby Clarke, Guy Lafleur, Bryan Trottier, Denis Potvin, Wayne Gretzky, Paul Coffey and Mario Lemieux. Each of them, fellow Hall–of–Famer's. Among the aforementioned, one stands alone.
"With no disrespect to anyone else, Bobby Orr is the greatest player I've ever seen or faced in the NHL," claimed Sittler over the phone in honor of Orr's 70th birthday today. "No one could dominate or control the tempo of a game like Bobby. As we've heard so many times through the years, it's a shame his knees cut short his career. I played against him many times when he was with Boston… and with him during the 1976 Canada Cup tournament (won by Sittler, against Czechoslovakia, in overtime). That Canadian team was probably the greatest of all time when you factor in the future Hall–of–Famer's (among them, Orr, Hull, Esposito, Lafleur, Dionne, Clarke, Potvin, Sittler, Gilbert Perreault). And, Bobby, on one leg, was our best player. Every time I saw him — in the dressing room; on bus rides; flights — both his knees were surrounded by giant ice packs. He could hardly walk. Yet, he somehow was the star of that tournament. Incredible."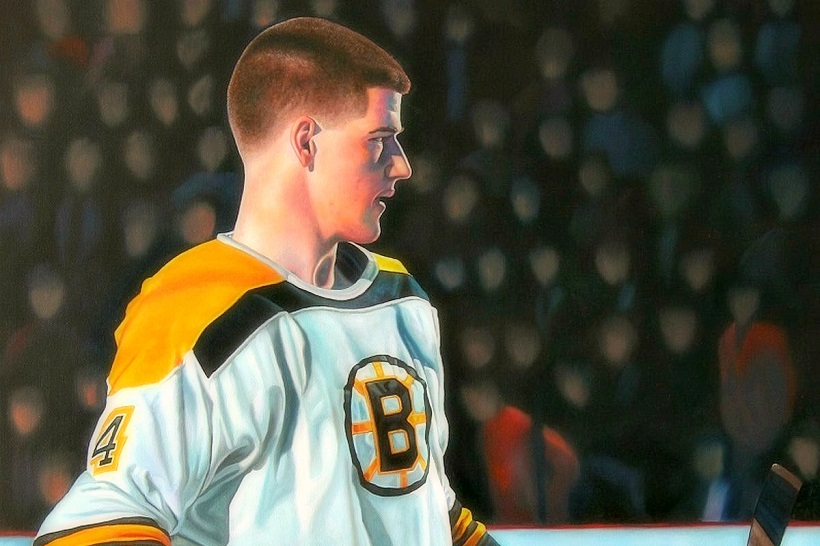 Even more incredible is the number — 70 — for those, like myself, who remember the brush–cut kid (above) that took the NHL by storm as an 18–year–old in 1966–67. Where does time go? Orr would fundamentally change the game unlike anyone, before or since, with his powerful skating; his penchant to carry the puck, as a defenseman, beyond center–ice into the attacking zone, and his remarkable play–making ability.
Prior to Orr, the notion of a defenseman winning the Art Ross Trophy was akin, today, to a pitcher leading the National League in home runs and RBI's. In other words, ridiculous to the extreme. Yet, there was Orr — in his fourth NHL season, 1969–70 — topping all players with 120 points; 21 more than second–place finisher (and Bruins teammate) Esposito. In 1970–71, he upped that total to 139 by recording a then–NHL–record 102 assists (the first player to garner triple digits). Only Esposito, with 152 points, finished ahead of Orr. A second Art Ross Trophy followed in 1974–75 (135 points) when he scored 46 goals for rookie coach Don Cherry. Only Paul Coffey (48 with Edmonton in 1985–86) has tallied more among NHL blue–liners.
"In my rookie season (1970–71), I remember sitting on the bench before my first shift and watching great players on the other teams," recalled Sittler. "All these years later, four names stand out: Gordie Howe, Bobby Hull, Yvan Cournoyer and Bobby Orr. Gordie for his presence; for all the years (25) he had been in the NHL and the mean streak he could still play with; Hull for the way he flew down the wing; Cournoyer for his incredible speed breaking into the offensive zone and Orr for virtually everything he did on the ice. He was, by far, the most dominant player in the game. Again, I saw that, first–hand, at the end of his career in '76."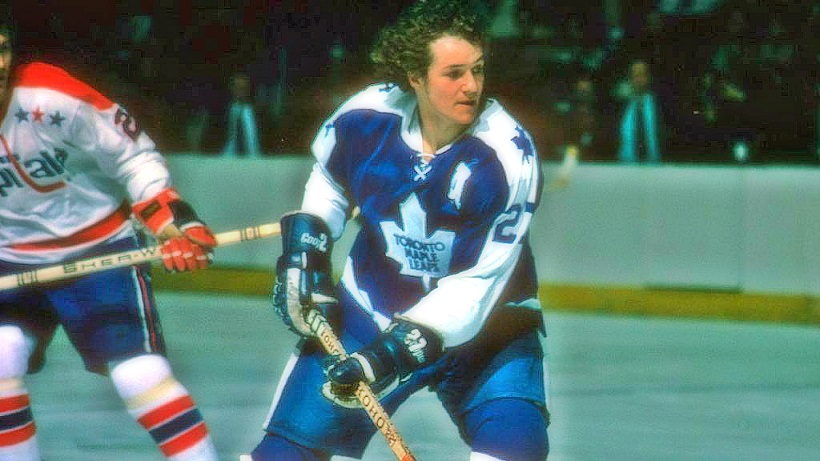 DARRYL SITTLER (RIGHT) IN A GAME AGAINST THE EXPANSION WASHINGTON CAPITALS DURING THE 1974–75 NHL SEASON, WHEN BOBBY ORR SCORED A RECORD 46 GOALS FOR THE BOSTON BRUINS.
For more than 35 years now, the debate has raged over which player among Orr and Gretzky is the greatest in NHL history. When asked, both men poignantly claim that Howe deserves the honor, but Orr and Gretzky were phenomenal to an extreme. The argument, not surprisingly, is governed by age: Those that are old enough to remember Gretzky — but not Orr — cannot comprehend a player more sensational than No. 99. Others, like myself, who saw both careers, recall how Orr stood apart from his peers by a ridiculous margin. And, therein lies the difference. Though Gretzky was clearly the best player during his prime NHL years in the 1980's, others could at least be spoken about in the same sentence; Mario Lemieux chief among them. When Orr dominated (1968 to 1975), the second–best player in the NHL was so far down the chain as to be laughable. And, again, for all his marvelous skill and anticipation, Gretzky did not revolutionize the sport.
"That debate will probably go on forever," said Sittler. "I played against Bobby near the beginning of my career and Wayne toward the end. So, I feel I'm in a good position to comment. Wayne established [scoring] records that will never be broken. But, Bobby did things for the first time that will never be equaled. And, to me, that makes him the best I've seen or gone up against. I don't believe I'm disrespecting Wayne by saying that. Both players were phenomenal but someone has to be No. 1. In my mind, it will always be Bobby."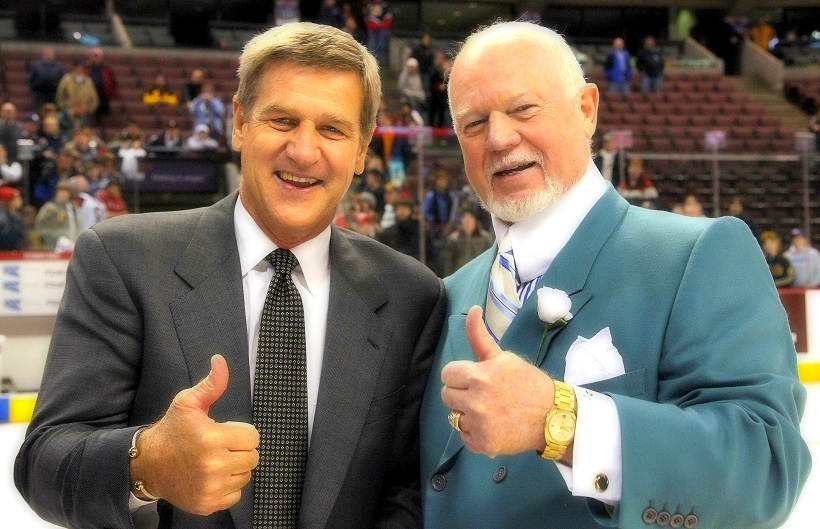 BOBBY ORR (LEFT) AND DON CHERRY, NO. 4's COACH AT BOSTON IN 1974–75 AND 1975–76.
Columnist Joe Fitzgerald of the Boston Herald (cool rhyme, huh?) wrote about Orr on Monday: Bobby Orr turns 70 tomorrow. Can you believe it? It's like hearing Tinker Bell has become a grandmother… Brilliance on skates was only a part of what made Bobby truly special in this town. Think about it: Has there ever been a scandal, an embarrassing situation or even a discouraging word associated with his name? How can anyone live that long in the public eye and emerge unscathed at 70? It might help to know where he came from. When he was shockingly [signed by] the Blackhawks near the end of his career, his mother, Arva, was contacted by a Chicago columnist. "Tell me, Mrs. Orr," he asked, "you must be awfully proud of your son."
"Which one?" she replied. "I have three."
Sittler can identify. "I got to know Bobby away from the game early in my career when I worked at the Orr–[Mike] Walton Sports Camp near Orillia (80 miles north of Toronto). In the early–70's, it was the summer camp every young boy wanted to attend. Bobby and I were both with [agents] Alan Eagleson and Bill Watters at the time. [My wife] Wendy and I didn't have any kids so the camp rented a cottage for us and we spent eight weeks up north in the summer. Bobby and I went fishing a few times and had some barbecues together. He was the same humble, soft–spoken man back then that he is today. It's the main reason he's been so–well regarded through the years. Off the ice, he's always been just a regular guy from a small northern town (Parry Sound, Ont.). On the ice, he stood apart from everyone else. I remember it well."
Happy birthday, No. 4. And, many healthy returns.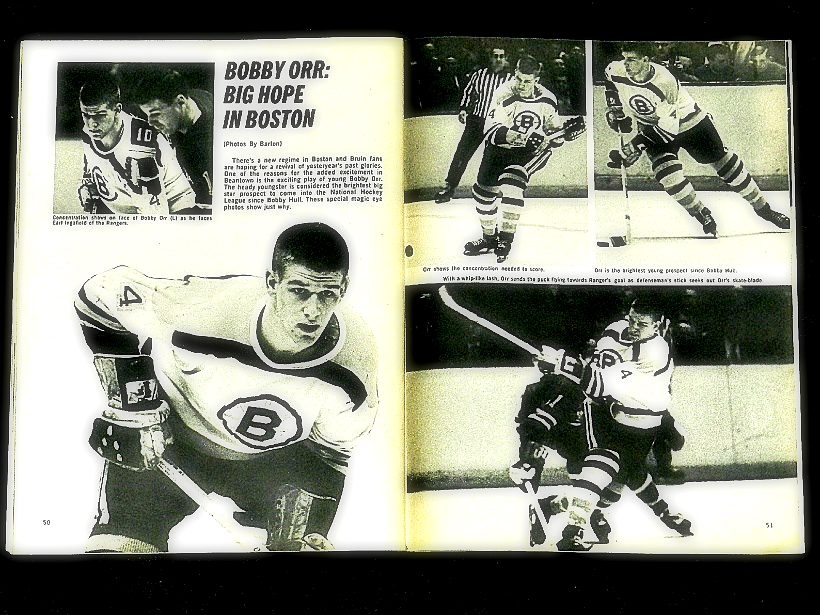 MAGAZINE ARTICLE FROM BOBBY ORR'S ROOKIE NHL SEASON — 1966–67.
EMAIL HOWARDLBERGER@GMAIL.COM