TORONTO (Jan. 10) — Statistically, these could be the best–ever Toronto Maple Leafs.
And while it is difficult to be unduly critical of a team with a 22–8–3 record in the National Hockey League, a red flag did arise on Saturday night when the Leafs coughed up a game in Denver. The visitors were overwhelmed, defensively, by the quick and creative Colorado Avalanche and would have been soundly defeated if not for the brilliance of goalie Jack Campbell. As it were, Campbell grew weary during a 49–shot barrage and could not protect a 4–1 lead crafted by the 5:39 mark of the second period. Nathan MacKinnon, Gabriel Landeskog, Cale Makar and Co. chipped away at the deficit, ultimately prevailing at 1:12 of overtime on a goal by defenseman Devon Toews. For the disgruntled Maple Leafs, a loud ring of familiarity accompanied the 5–4 loss.
Many a coach will insist on the axiom that you are what your record indicates. If so, the Maple Leafs — an astonishing 57–22–10 in 89 games of the past calendar year — will challenge to win their first Stanley Cup title since 1967. The No. 1 criterion for such an accomplishment, strong goaltending, is more–than apparent virtually every night. Campbell has been nothing shy of a revelation since assuming the No. 1 role from Frederik Andersen on Mar. 20 of last season. The five–goal allowance against Colorado has Smilin' Jack's average nudging two per game for the first time in 26 starts of the current schedule. He stands third in the NHL at 1.99, a shade above Tristan Jarry of Pittsburgh (1.94 in 27 appearances) and Carolina's Andersen (1.96 in 23 games), but he is tied with Igor Shesterkin of the Rangers atop the save–percentage board at .936. Campbell's 17 wins (tied with Jarry) ranks third in the league, behind Andrei Vasilevskiy of Tampa Bay (19) and former Leaf Andersen (18).
Perhaps most significantly, Campbell's record of 17–5–3 after 25 games stands alone among all Toronto goalies of the post–expansion era (beginning in 1967–68). Mike Palmateer (16–5–4 under coach Roger Neilson in 1977–78) is closest. Felix Potvin was 11–10–4 (1992–93) and 14–7–4 (1993–94) during the two seasons in which he backstopped the Leafs, coached by Pat Burns, to the Stanley Cup semifinals. Curtis Joseph's best mark was 15–6–4 (1999–2000, under Pat Quinn); Ed Belfour was 14–9–2 (2002–03, also under Quinn). Even Johnny Bower and Turk Broda of Toronto's past two Stanley Cup dynasties were unable to match Campbell. In Broda's best season (1947–48), he was 12–7–6 after 25 games. Bower's top statistical effort (1960–61) saw him at 11–9–5.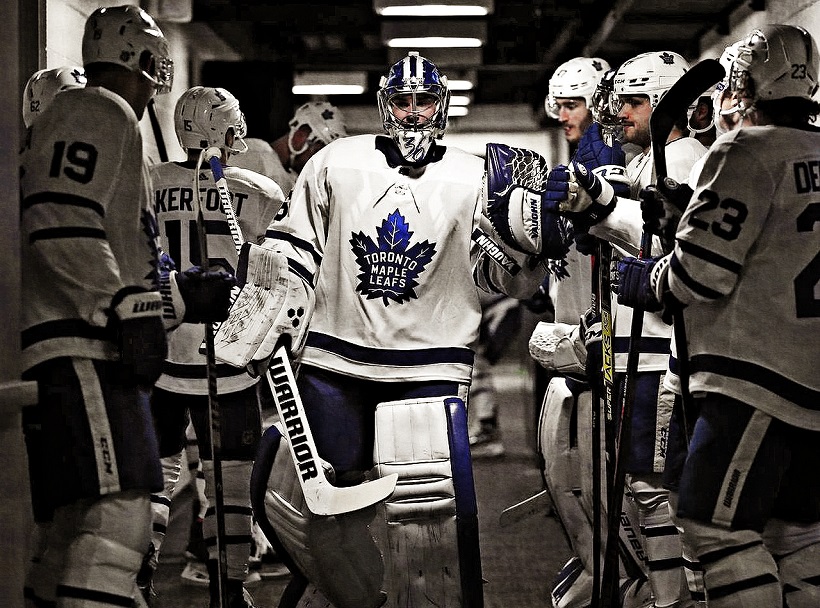 It should therefore come as no surprise that the Maple Leafs have never been 22–8–3 after 33 games, even after winning their first 10 matches of the 1993–94 schedule (20–8–5). Under first–year coach Neilson in 1977–78, the Leafs bolted to a 19–6–3 mark after 28 games, but were 20–9–4 after 33. The most–prolific Maple Leafs club of all time — the 105–point outfit under Mike Babcock in 2017–18 — was 20–12–1 (21–10–2 the following season).
Up front, the Leafs are loaded; the Big 4 of Auston Matthews, William Nylander, John Tavares and Mitch Marner combining, thus far, for 57 goals and 136 points amid injury and COVID interruption. The lower–tier forwards, led by the hot Alex Kerfoot (eight points in the past three games), is providing adequate support. Which directs us to the one area that still (and forever) needs work: the Toronto blue line. Though the Leafs clearly seem capable of winning a playoff round for the first time since 2004, they will not end their 54–year Stanley Cup drought with the current defense corps. The Colorado game proved, rather glaringly, that the six–man unit requires an upgrade.
To this point of the fractured schedule, Morgan Rielly has given the Leafs what they expect from their No. 1 blue–liner, even if still a notch below the Norris Trophy favorites. Moving the puck smartly and effectively, Rielly has accrued 28 points in 33 games, seventh among NHL defensemen, trailing Victor Hedman (Tampa Bay), Adam Fox (New York Rangers), Roman Josi (Nashville), John Carlson (Washington), Makar (Colorado) and Aaron Ekblad (Florida). In other words, the usual Norris suspects. Rielly's plus–15 stands second in that group to Ekblad's plus–21. No other Leaf defender ranks among the NHL's top 79 in scoring — T.J. Brodie standing 80th, with 11 points. Rasmus Sandin, considered a potential star by Maple Leaf followers, has no goals and nine assists in 28 games.
Concerning, beyond all else, is the palpable decline of the club's most–reliable tandem from a year ago. Jake Muzzin has lost a big step at 32 years of age (10 points and minus–4 in 32 games), impacting journeyman partner Justin Holl. The Muzzin–Holl duo was stunningly overwhelmed on Saturday by the fleet Colorado puck carriers. With only one defenseman nudging elite status, Toronto will not prevail through four rounds of Stanley Cup toil.
Neither is there an easy fix.

Pending free agent John Klingberg is likely available from Dallas, but the Leafs do not have the required cap space. As it stands, even without adding a defenseman, Toronto will need to lop off a big salary before next season, given that Rielly will move from a cap hit of $5 million to $7.5 million; that Campbell, if he chooses to remain with the Leafs, will move from $1.6 million to likely $5.5 or $6 million… and that young defenders Sandin and Tim Liljegren will emerge from entry level salary restriction. With Canadian–based NHL teams playing in empty (or near–empty) arenas during the Omicron outbreak, a projected $1 million rise in the $81.5 million cap figure has been jeopardized. How the Maple Leafs can effectively build a 23–man roster next season with six players (Tavares, Matthews, Marner, Nylander, Rielly, Campbell) accounting for roughly $54 million remains a mystery.
That doesn't diminish the obvious and more–pressing requirement of a blue line upgrade before the Mar. 21 NHL trade deadline. Given Campbell's historic numbers, the Maple Leafs are splendidly equipped to make a deeper playoff run than at any time since 2002, when losing to Carolina in the Conference final. But, they'll need too much of Campbell to challenge for the Stanley Cup. The defense unit is rather pedestrian — neither deep nor mobile enough to carry the club through four playoff rounds. It remains the Achilles heel of the Blue and White.
MORE HOCKEY MAGAZINES FROM MY COLLECTION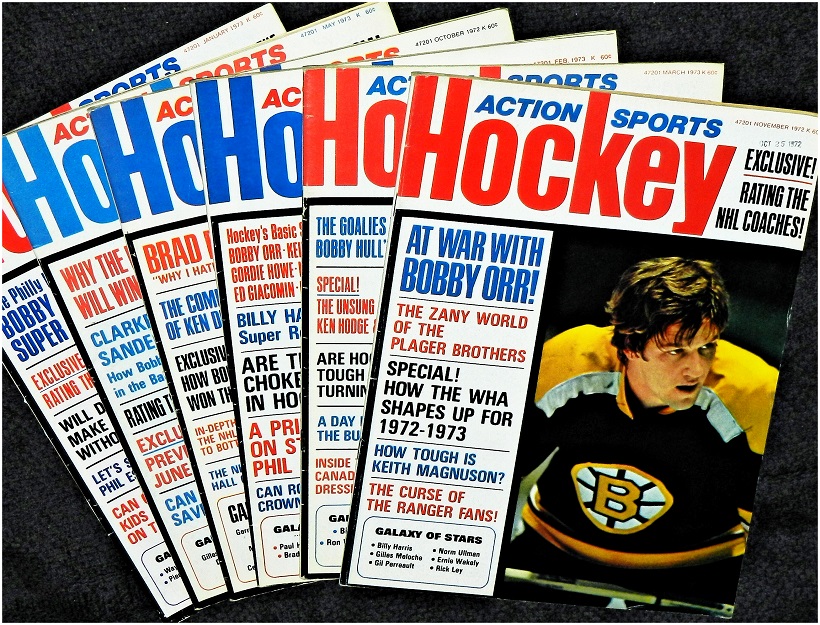 ACTION SPORTS HOCKEY was a colorful and candid publication from the early to mid–1970's, created by Bob Stampleman and legendary New York author Stan Fischler. Unlike other magazines of the era, which were glorified publicity items for the NHL, ACTION SPORTS tackled controversial subjects and generally shied away from lionizing the best players in the game. I have roughly 50 issues in my collection. Here are several covers: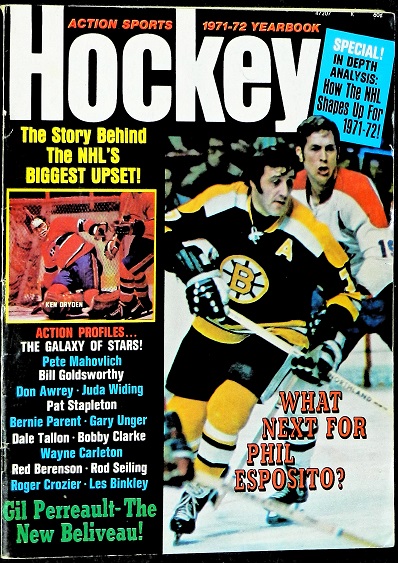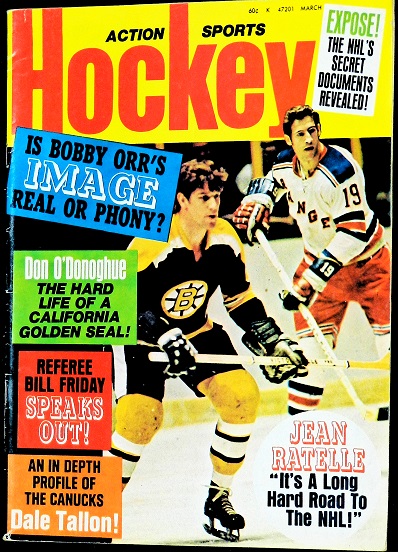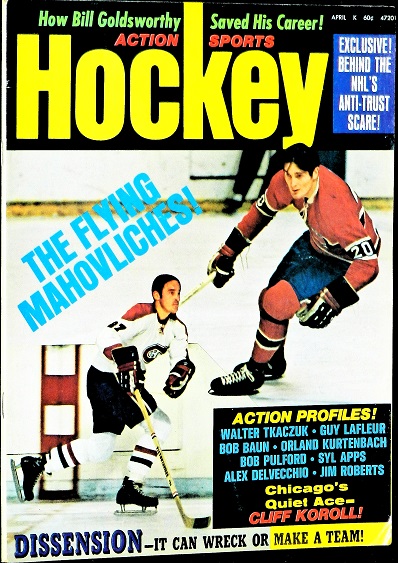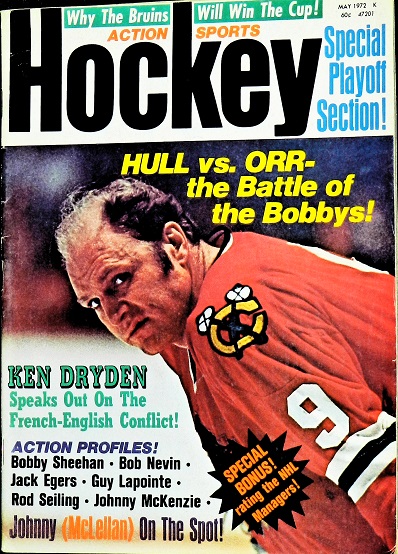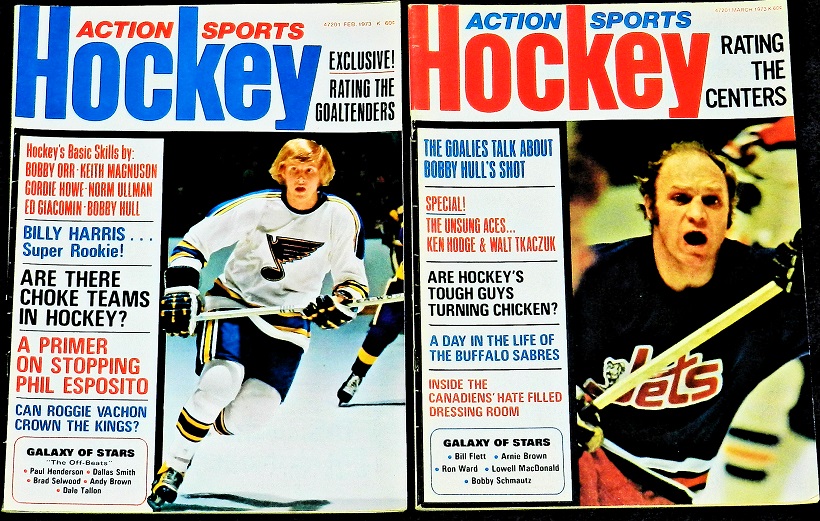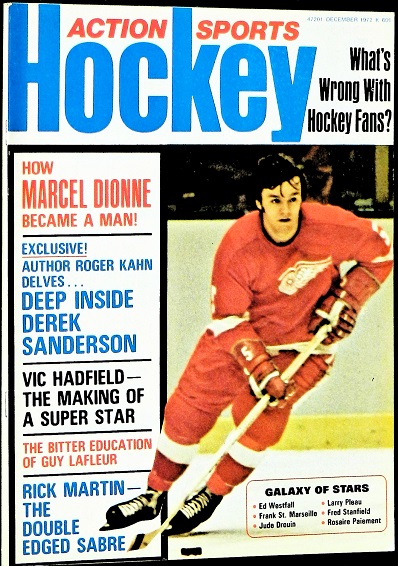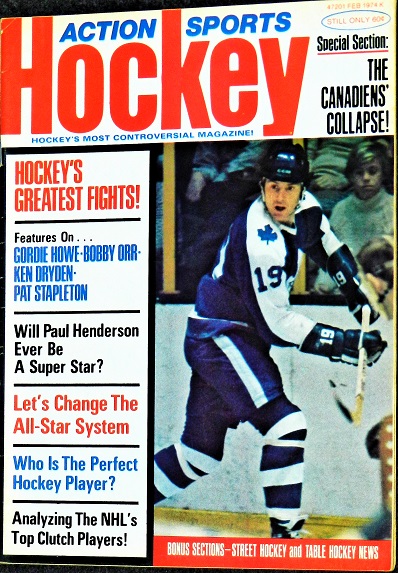 EMAIL: HOWARDLBERGER@GMAIL.COM