TORONTO (Jan. 20) — For more than 2½ years, in what is often described as the National Hockey League's toughest media market, it's been "hands off the head coach". That privilege, it seemed, arrived in our town with the largest salary in the history of the profession… and a resume that included three appearances in the Stanley Cup final (one win, with Detroit, in 2008) and two gold medals with Team Canada at the Winter Olympic Games (2010 Vancouver/2014 Sochi). Mike Babcock, until recently, had been beyond reproach.
But, not anymore.
With the Maple Leafs gaining "loser" points in the standings, yet foundering since the end of November, the $6 million coach is being questioned for the first time. Which comes with the territory, doesn't it? The Leafs are a pedestrian 8–8–4 in 20 games since defeating the Oilers, 6–4, in Edmonton on Nov. 30. Of more recent concern, the club is 2–3–4 in its past nine starts; having blown third–period leads in each of its past four games (losing three in overtime) against Columbus, Ottawa, St. Louis and Philadelphia. Owing to the weakest division in the NHL, Toronto is in no immediate danger of missing the playoffs. Atlantic rivals, heading into action today, held five of the eight lowest positions in the overall standings (Florida 24th, Montreal 25th, Detroit 26th, Ottawa 29th and Buffalo 30th). Given the top three in each division qualify — and with the Maple Leafs 11 points clear of the the fourth–place Panthers — Babcock's team appears to be home free.
Yet, the hounds are baying — on line; in print and over the airwaves.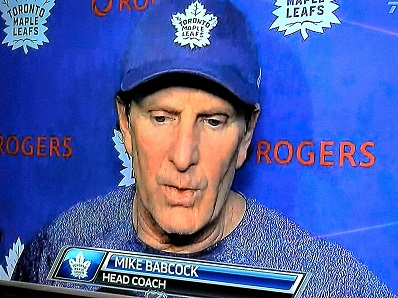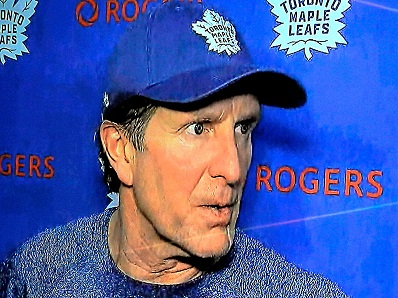 MIKE BABCOCK DID NOT LOOK LIKE A HAPPY MAN WHILE ADDRESSING REPORTERS AFTER PRACTICE IN OTTAWA FRIDAY AFTERNOON. THE MAPLE LEAFS AND SENATORS CLASH TONIGHT.
If the most fundamental criterion for a coach is to extract optimum performance from his players, Babcock is having a tough year. Auston Matthews, though still productive, hasn't been nearly as dynamic as throughout his Calder Trophy season — perhaps resulting from a concussion. Toronto's other two draft gems, William Nylander and Mitch Marner, have fallen off the map, along with veteran center Nazem Kadri. On the blue line, Morgan Rielly has made intermittent progress under Babcock (who correctly termed him "a real good No. 2" defenseman) while Jake Gardiner is again stagnating. Patrick Marleau, 38, has shown his age with one goal in the past nine games (none in January, which included a mandated, six–day break). Only James van Riemsdyk (19 goals); Connor Brown (12 goals in a fourth–line role) and Frederik Andersen (a reasonable 2.67 goals–against average; excellent .922 save–percentage) have performed to expectation.
Others may wonder, reasonably, how much of an impact a coach can have on a team — salary notwithstanding. When Babcock signed his eight–year, $50 million deal with the Leafs on May 21, 2015, it didn't come with bewitchment that made him, inexorably, the smartest man in hockey. Virtually every Stanley Cup–winning coach in the post–expansion era (since 1967) has required the presence of a Norris Trophy–caliber defenseman. Or, a goalie that is unconscious in April, May and June. Babcock had the latter while guiding Anaheim to Game 7 of the 2003 Cup final before losing to the Devils (though Jean–Sebastien Giguere wore a jersey that would cover the infield of any Major League ballpark). In Detroit, Nicklas Lidstrom — the greatest European–born player of all time — patrolled the blue line for Babcock.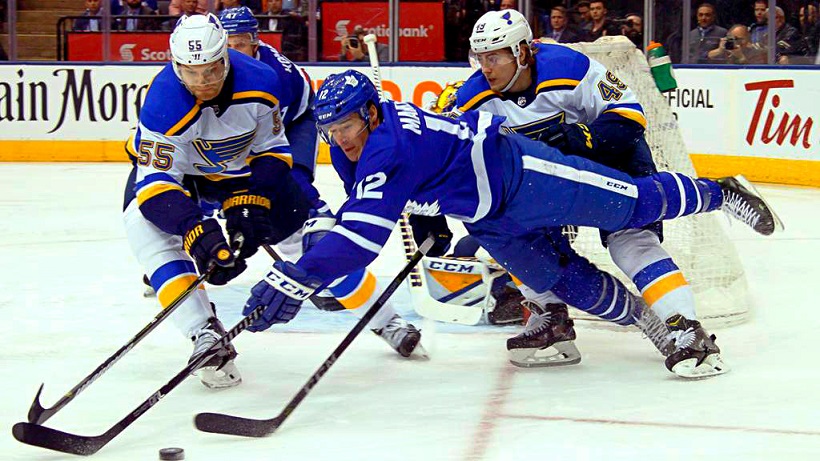 TORONTO FORWARD PATRICK MARLEAU (12) DIVES FOR A LOOSE PUCK AGAINST ST. LOUIS DEFENSEMAN COLTON PARAYKO (55) ON THURSDAY NIGHT AT THE AIR CANADA CENTRE. THE BLUES TIED THE GAME IN THE FINAL MINUTE OF REGULATION; THEN WON EARLY IN OVERTIME. MARLEAU HASN'T SCORED SINCE NEW YEAR'S DAY IN LAS VEGAS. MAPLELEAFS.COM
Here in Toronto, Andersen may or may not be a Stanley Cup–caliber goalie; the jury is still out after his uneven performance against Washington last April. Under current rules, the Big Dane clearly dons paraphernalia that is smaller than Giguere's 15 years ago. And, Babcock's most–virulent deficit is a skater that even resembles a Norris Trophy type. Until such a commodity is obtained, the coach will be handcuffed.
So, the question is yours to ponder. The Leafs are scuffling right now because most of their top players are underachieving. How much of that falls on the athlete; how much on the man behind the bench?
GRIEF OVER MASTERTON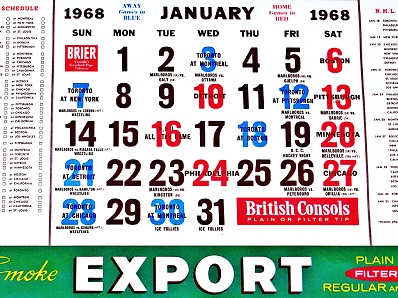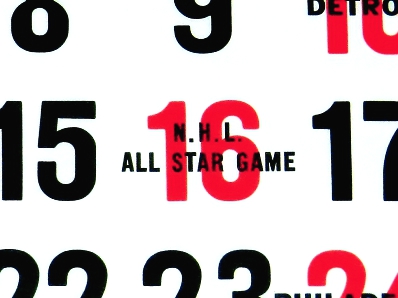 Maple Leaf Gardens was site of the National Hockey League All–Star Game 50 years ago this week — Jan. 16, 1968 — during the first season of expansion. The California Seals, Los Angeles Kings, Minnesota North Stars, Philadelphia Flyers, Pittsburgh Penguins and St. Louis Blues had doubled membership to 12 teams. The defending Stanley Cup–champion Toronto Maple Leafs hosted the match against a collection of players from the other 11 clubs. Normally a happy occasion, the 1968 All–Star event occurred one night after Minnesota forward Bill Masterton died of brain trauma suffered the previous Saturday against Oakland, becoming (to this day) the only NHL player to succumb to a game–related injury. As such, a pall hung over the Gardens prior to and during the All–Star affair. In my collection, I have a program from the game: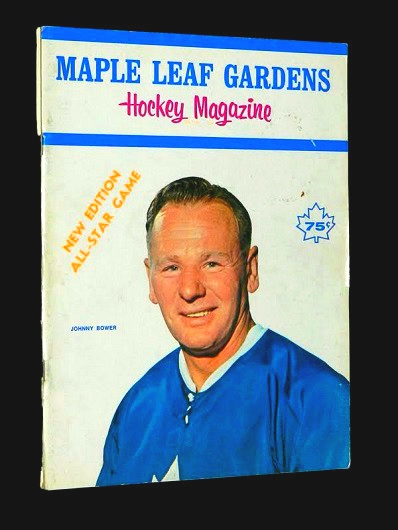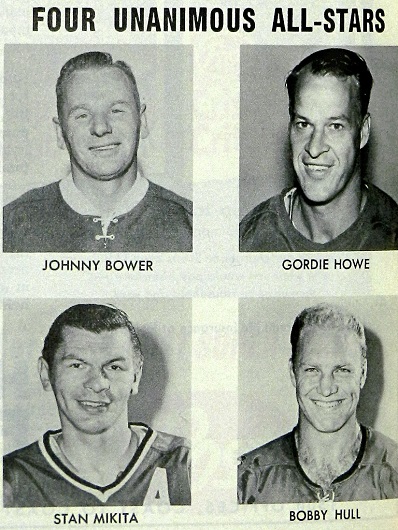 FROM WIKIPEDIA:

The 21st National Hockey League All–Star Game was played in Maple Leaf Gardens on January 16, 1968, where the host Toronto Maple Leafs battled the top players from the remaining NHL teams.
It was the last time that Maple Leaf Gardens would host the game and the last time in the format that saw the defending Stanley Cup champion play the NHL All Stars. In the following season, 1968–69, the East Division faced off against the [expansion] West Division. 
Death of Bill Masterton
The game, compared to other years, was in a somber mood: three nights before, Bill Masterton, a player for the Minnesota North Stars, was hit by two Oakland Seals players on the ice, causing him to lose his balance and hit his head on the ice. Masterton was pronounced dead two days later.
The death of Masterton raised an issue about the use of helmets in hockey — whether they should be mandatory, and whether they affect a players' abilities. Response was mixed in the helmet debate even in the days following Masterton's death: Gordie Howe claimed that he would not, but nevertheless encouraged the next generation of players to do so, while Bobby Hull claimed it was in serious consideration. At one extreme, Toronto president Stafford Smythe said helmets should be mandatory.
As for the game itself, only two players would wear helmets: Montreal defenseman J.C. Tremblay, who had done so all season, and Maple Leafs forward Brian Conacher, as a result of Masterton's death.
On the day of the All–Star Game, the National Hockey League Writers' Association proposed that a trophy be presented in Masterton's memory. Since 1967–68, the Bill Masterton Memorial Trophy has been awarded to the player who best exemplifies dedication, perseverance, and sportsmanship.
As an aside, despite the somber mood, Toronto coach George (Punch) Imlach and his wife, Dorothy, celebrated their silver wedding anniversary the night of the All–Star Game.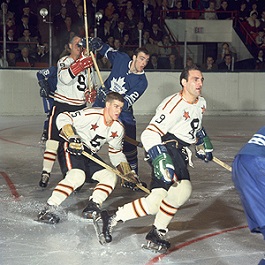 Color images from the '68 All–Star game at Maple Leaf Gardens. Left: Toronto forward Wayne Carleton battles with Gordie Howe (9), Bobby Orr (5) and Bob Baun (9). It was Orr's first All–Star appearance (in his second NHL season). Baun had won four Stanley Cups with the Leafs in the 60's before California selected him in the 1967 Expansion Draft. Middle: Leafs defenseman Tim Horton goes after the puck behind goalie Al Smith while being watched by Howe. Smith and Bruce Gamble split the netminding duties as Johnny Bower did not dress. Right: All–Star goalie Terry Sawchuk is beaten by former Leafs teammate Peter Stemkowski at 16:36 of the second period. Defenseman J.C. Tremblay (14) arrives late. Sawchuk starred for Toronto during the 1967 Stanley Cup playoffs and was chosen first overall in the '67 Expansion Draft by the Los Angeles Kings (he's wearing his purple–and–gold L.A. pants in the photo). Game summary here: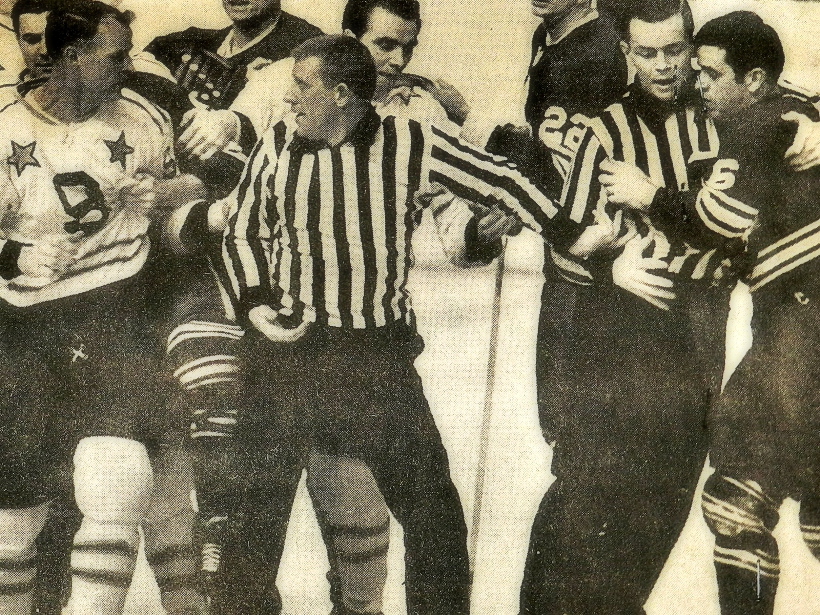 THE ALL–STAR GAME WAS A DIFFERENT ENTITY BACK THEN, AS EVIDENCED BY THIS NEAR (THIRD PERIOD)–FIGHT IN 1968 BETWEEN MIKE WALTON OF THE LEAFS AND THE LEGENDARY GORDIE HOWE.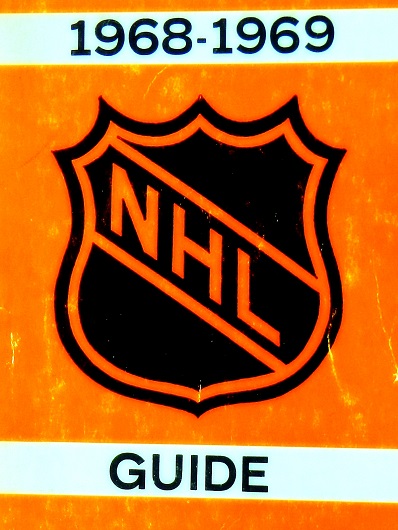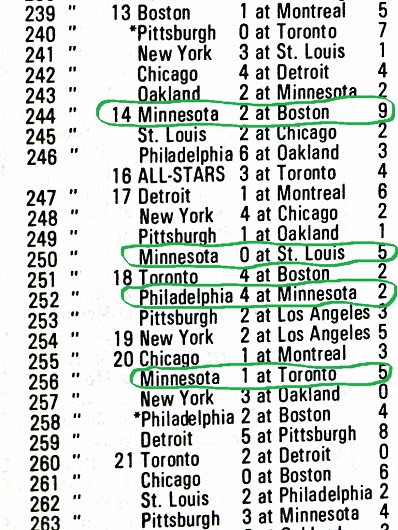 The sudden death of Bill Masterton had both an immediate and long–term effect on his Minnesota teammates. I remember asking Andre Boudrias to talk about the incident near its 40th anniversary in 2008. The former NHL winger was scouting for New Jersey and we were in the press box at the TD Garden in Boston. "No, I can't," Boudrias shot back with a look of horror. "I've never been able to discuss that moment." Boudrias is the helmeted player (15) in the photo, below, of Masterton being wheeled off the ice, unconscious. He seemed very concerned while talking with teammate Parker MacDonald (17).
The immediate impact is evident in Minnesota games following the Jan. 13, 1968 incident at the Metropolitan Sports Center. As you can see, circled above, the North Stars lost their ensuing four games by a combined goal-count of 23–5. Included was a 9–2 pasting at Boston the night after Masterton's injury. Minnesota finally won a home game against Pittsburgh on Jan. 21, six days after Masterton died.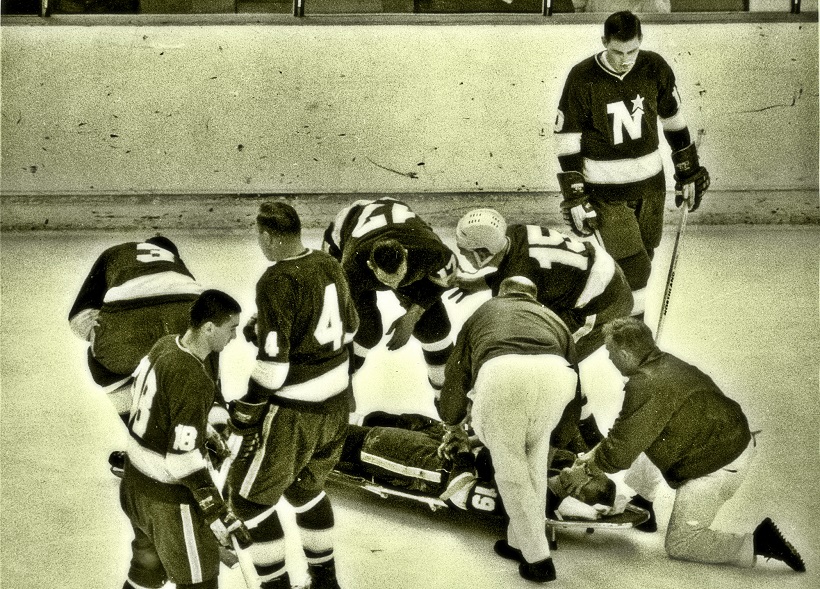 An aside from this page in the 1968–69 official NHL Guide: Teams were not yet governed by current–day rules resulting from the advent of the NHL Players' Association. As you can see in the Jan. 13–21, 1968 schedule, there were four games on Jan. 17, the night after the All–Star encounter at Maple Leaf Gardens… including Pittsburgh at Oakland. All–Star players Ken Schinkel (Pittsburgh) and Bob Baun (Oakland) had to engage in a regular–season match three time zones away after flying for six hours on the day of the game. This would never happen now as a five–day break is built in around the All–Star festivities.
NORTH STARS RETURN TO MLG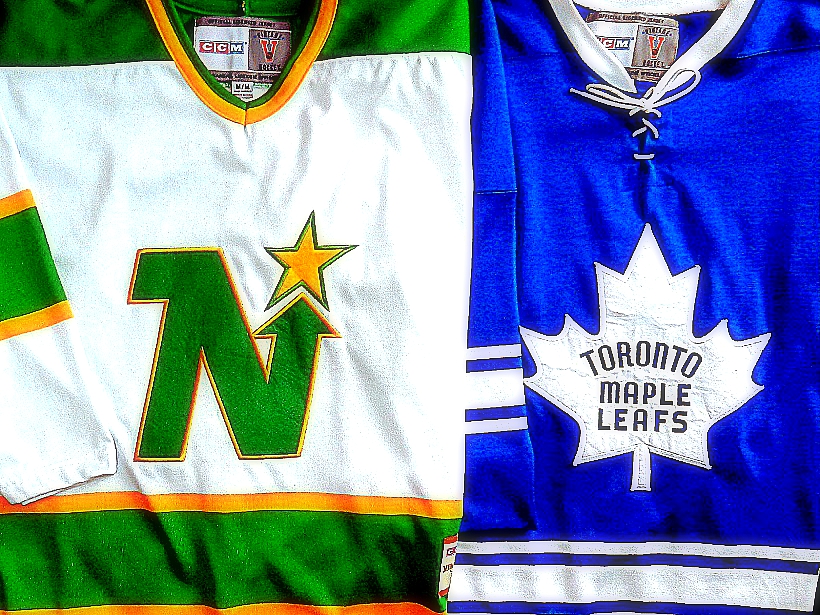 50 YEARS AGO TONIGHT
One week after Masterton's fatal head injury, the North Stars made their second–ever visit to Maple Leaf Gardens and got drilled, 5–1. In my collection, I have the program from Jan. 20, 1968 (Ron Ellis on cover). There were several mentions of the late Minnesota forward, and of the All–Star Game environment.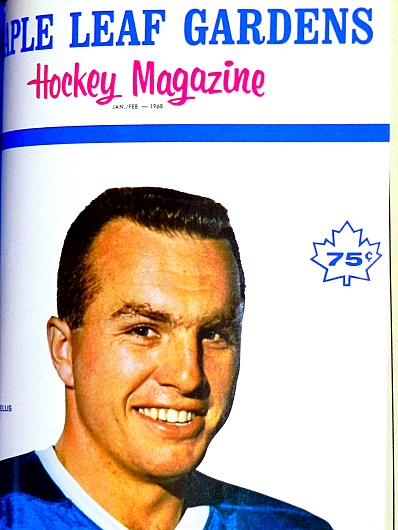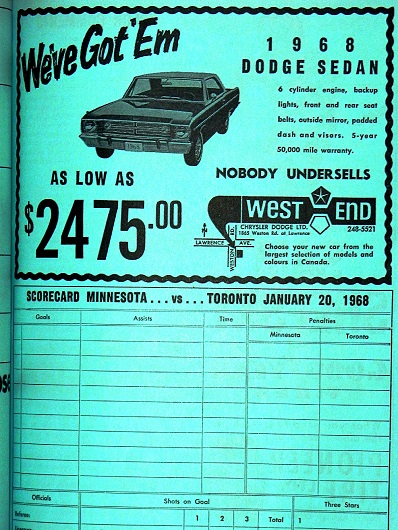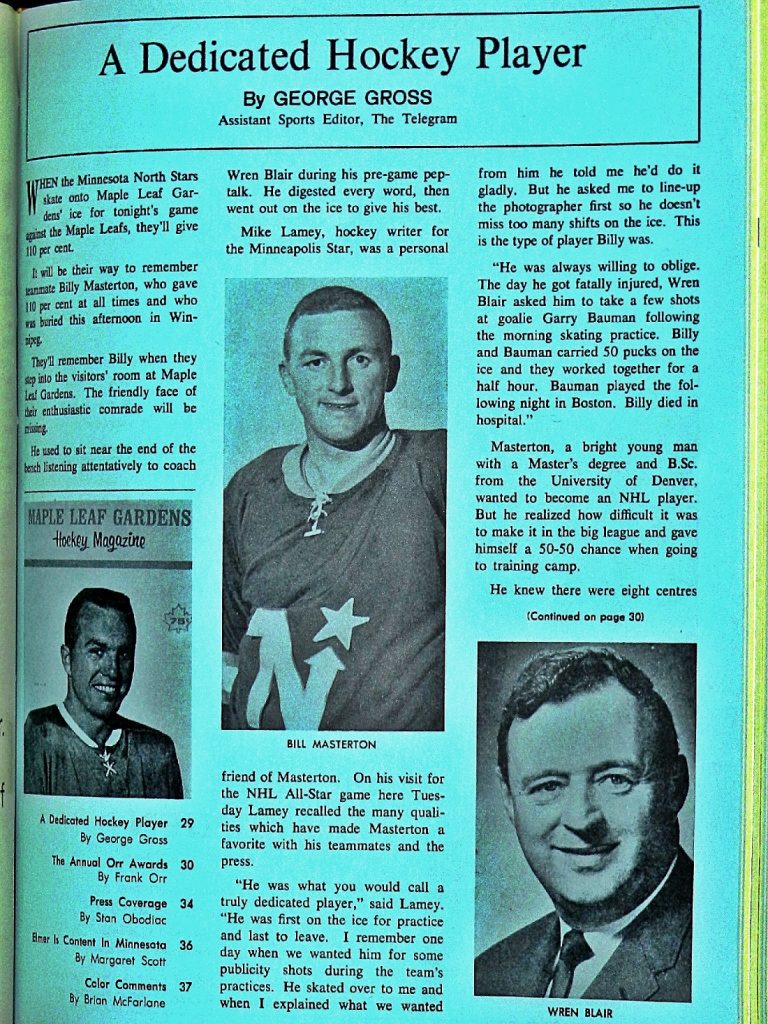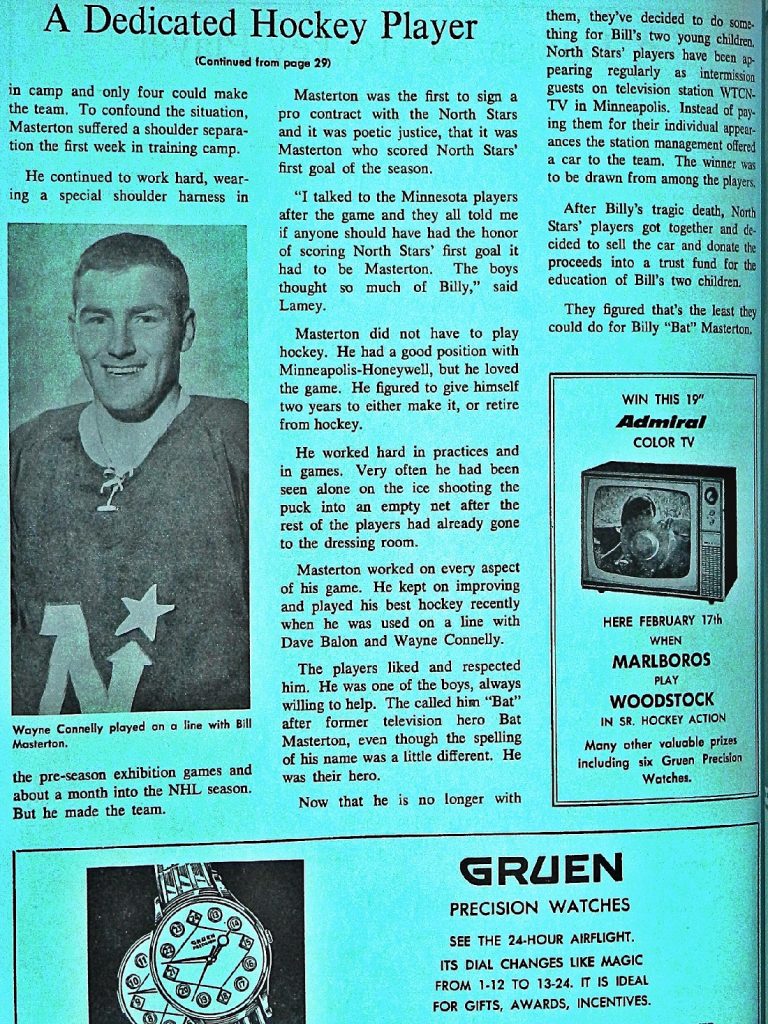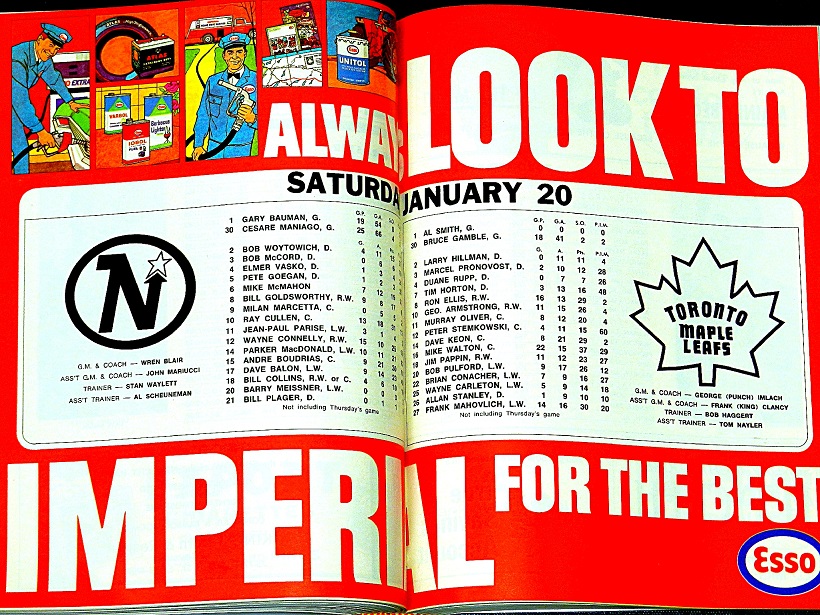 NOTICEABLE FOR ITS ABSENCE WAS BILL MASTERTON'S NO. 19 IN THE NORTH STARS LINE–UP.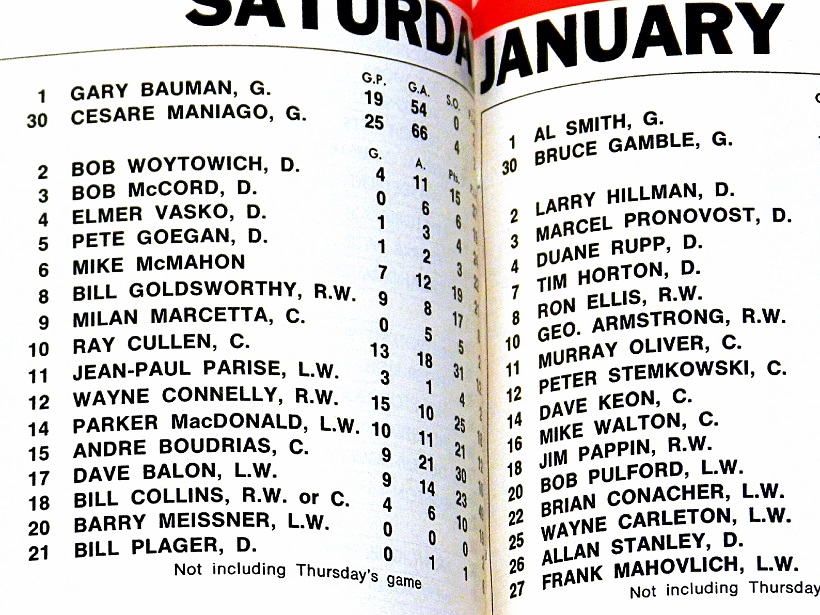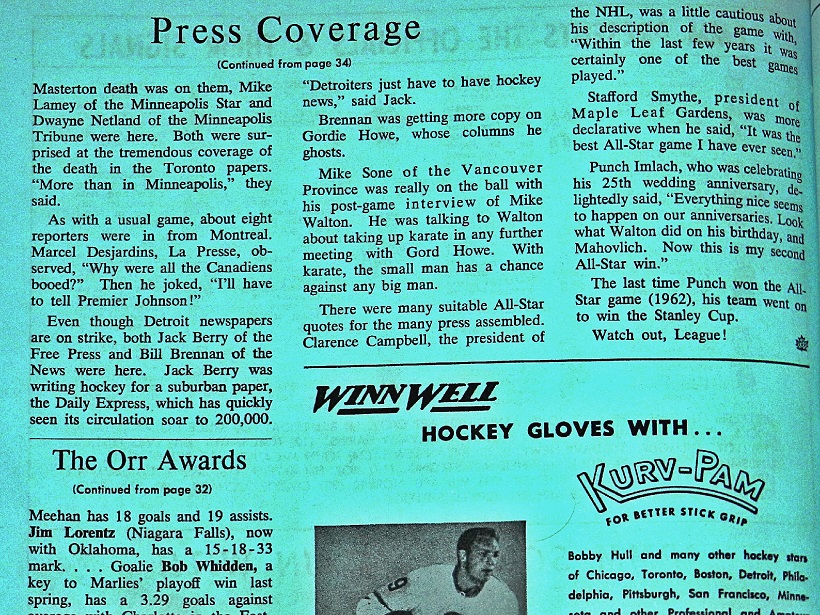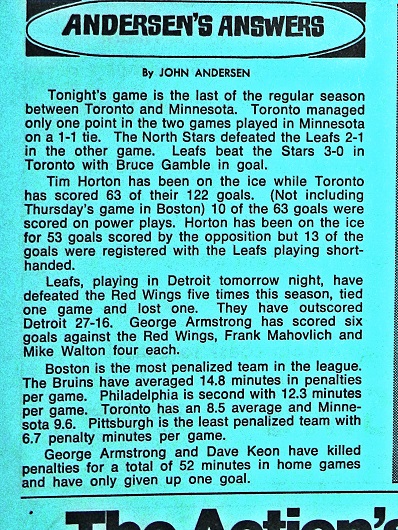 THE FOLLOWING YEAR…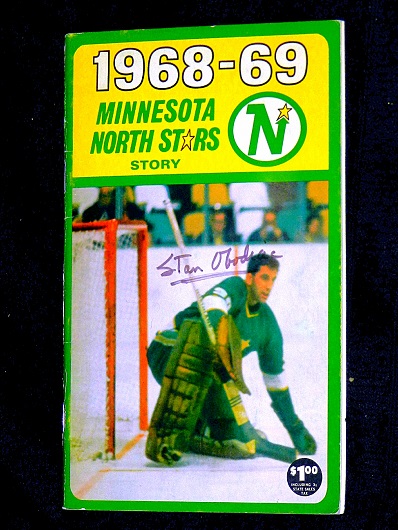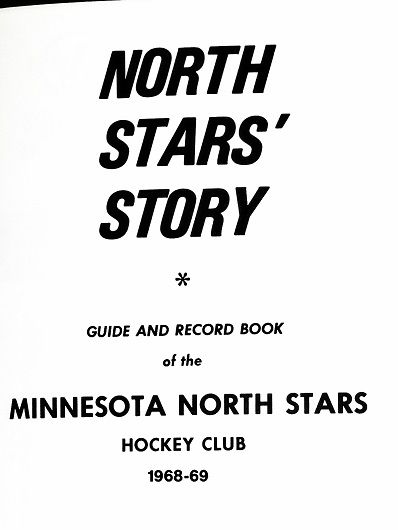 INTERESTINGLY — AND RATHER SURPRISINGLY — THERE WAS NO TRIBUTE TO BILL MASTERTON IN THE NORTH STARS SECOND MEDIA GUIDE (1968–69). NOT EVEN A MENTION OF THE INJURY THAT TOOK HIS LIFE. YOU HAD TO GAZE THROUGH THE STATISTICAL SECTION (BELOW) TO FIND MASTERTON'S NAME.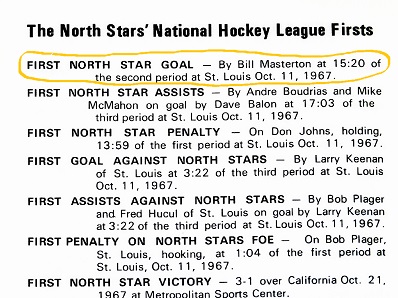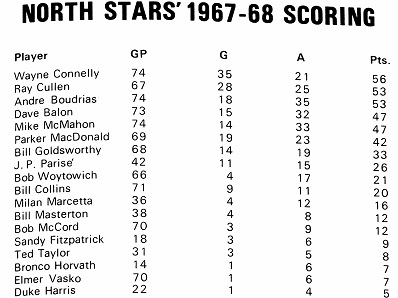 RED FISHER: 1926—2018
The fraternity of hockey writers lost a true giant on Friday when Red Fisher died at 91. Fisher began covering the Canadiens for the old Montreal Star (1869–1979) in 1955, four years prior to my birth. Then afterward, until 2012, for the Montreal Gazette. As such, he was hardly a contemporary of mine. Yet, I did have the privilege, several times, to sit and talk hockey with the man that covered 17 of the Canadiens' record 24 Stanley Cup titles. One such occasion was in a Calgary hotel lobby during the 1989 Stanley Cup final between the Habs and Flames; the first of 16 finals I covered during my 23–year term as a reporter at The FAN–590.
Fisher, then 63, recalled the story of how former St. Louis Blues defenseman Noel Picard was removed as lead analyst from the club's radio broadcast after his playing career. Picard spoke with a thick French–Canadian accent and became very popular with Blues' fans on KMOX in St. Louis. The Blues were owned, originally, by Sid Saloman Jr. and his son — commonly known as "Sid the Third".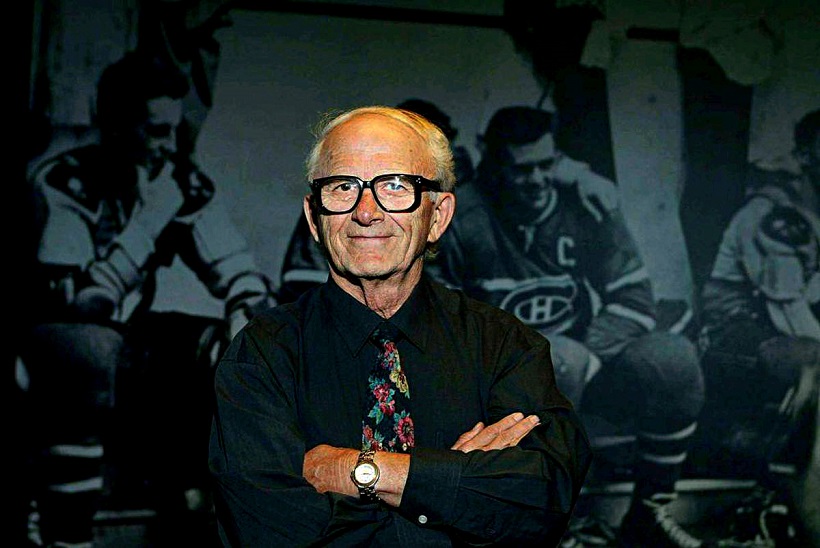 MONTREAL HOCKEY SCRIBE RED FISHER PASSED AWAY ON FRIDAY AT 91 YEARS OF AGE.
"As it happened," Fisher told me that day in Calgary, "Sid III grew increasingly annoyed when hearing Picard refer to him as 'Sid de Turd'. After awhile, he couldn't take it anymore and Picard was replaced."
The next day, I walked past Fisher in the hotel on the way to breakfast. "Good morning, Red de Turd," I said with a wave. He never slowed down but laughed out loud for several seconds.
In the press box one night at Maple Leaf Gardens, I was sitting with the late Toronto Star columnist, Jim Proudfoot. We heard footsteps behind us as another media wag passed by. Proudfoot, known as "Chester", nudged me and pointed at Fisher. "There goes Saul," he said and then cackled, as only Proudfoot could.
Saul was Fisher's given name.
I am proud and privileged to have known both Chester and Saul.
This wonderful tribute to Fisher (http://bit.ly/2rkpgIa) appeared in today's Montreal Gazette.
EMAIL: HOWARDLBERGER@GMAIL.COM