TORONTO (Jan. 6) — In mid–November, as he lay struggling with cancer at a Guelph, Ont. hospital, Bruce Hood received a surprise visit from one of his favorite people on Earth.
Today — and sadly — Bruce and Johnny Bower are together again.
Ten days after the legendary and beloved Toronto Maple Leafs goalie succumbed to pneumonia at 93 years of age, the first National Hockey League referee to work 1,000 games lost his 4½–year battle with prostate cancer. Bruce Hood was 81 when he died just after 1 p.m. EST on Friday.
"Dad and Johnny became close friends after their careers in the NHL," said Bruce's son, Kevin Hood, over the phone late Friday. "Dad was so thrilled when Johnny visited him in the hospital. Then, later in November, Dad was too sick to attend his induction into the Milton [Ont.] Sports Hall of Fame (tribute video here: http://bit.ly/2m2YJcC). But, guess who came to the event by himself? Yup… Johnny. In fact, the day Johnny died (Dec. 26), he was supposed to visit Dad once again. That plan had been made several weeks earlier. When we got the phone call that Johnny had passed, you could see the shock and sadness in Dad's eyes."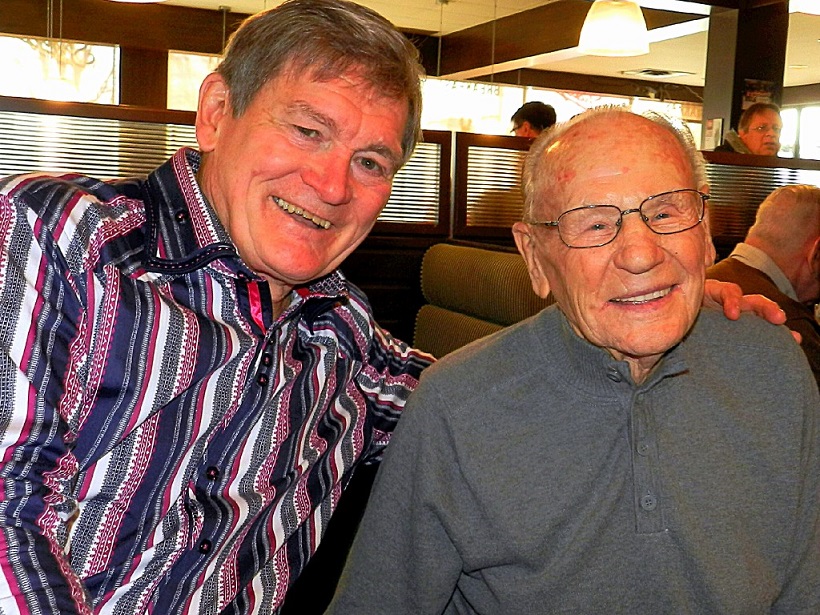 MY PHOTO OF BRUCE HOOD (LEFT) AND JOHNNY BOWER ON DEC. 1, 2014.
There was sadness all over the hockey world on Friday when word of Hood's passing spread through social media. During his 20–year career as a referee in the NHL (1964–84), Bruce worked 1,033 regular–season and 157 Stanley Cup playoff games. He was the first ref to wear No. 1 on his striped jersey and among the last to work in all six of the pre–expansion NHL arenas (Boston Garden, Chicago Stadium, Detroit Olympia, Montreal Forum, Madison Square Garden and Maple Leaf Gardens). His most–notable assignment was the Mother's Day matinee in Boston on May 10, 1970 — Game 4 of the Stanley Cup final between the Bruins and St. Louis Blues that ended 40 seconds into overtime when Bobby Orr slammed Derek Sanderson's feed past Glenn Hall to provide Boston its first NHL title since 1941. The photo snapped from behind the net by Ray Lussier of the Boston Herald–American (below) is among the most iconic in the annals of professional sport (Orr being flung into the air by the stick of St. Louis defenseman Noel Picard as Hall clings to the crossbar).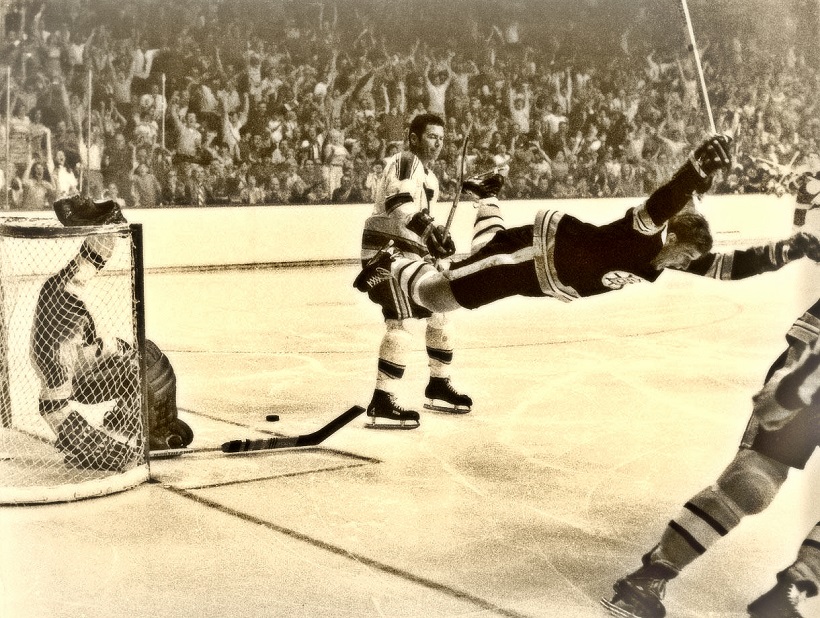 I got to know Bruce just after his career ended. He and I spent many hours together forming the basis for the autobiography (Calling The Shots) he would write with Murray Townsend and release in 1988. Several times, we traveled up to Kevin's cottage in Wasaga Beach (145 kilometers northwest of Toronto) to work on the book overnight. One–such occasion (Oct. 29, 1986 according to the diary I kept back then) stands out to this day. Bruce and I arrived mid–afternoon and had a rest. We recorded some of his hockey memories then went for supper at the "Apollo 11" diner. On the way back, Bruce drove along the shore of Georgian Bay but didn't realize, at night, how deep the water had become. We were nearly carried out to sea. Bruce's car sputtered but, thankfully, did not stall. It's a moment he and I laughed about many times in the ensuing years. Another day, while driving north, a low–flying bird slammed into the back of Bruce's rear–view mirror and scared the hell out of us. There were feathers and fowl–carcass all over the place when we arrived.
Those are my favorite memories of spending time with Bruce. I loved hearing his stories of the Bobby Orr game; of working at Maple Leaf Gardens on Mar. 7, 1968 when the expansion Philadelphia Flyers played a "home" game against Boston. Gusty winds had torn a hole in the roof of the Philadelphia Spectrum and the building was closed indefinitely (it would re–open for the 1968 Stanley Cup playoffs). The Flyers played the Maple Leafs on Mar. 6 then stayed over to "host" the Bruins. During the match, Eddie Shack of Boston and Larry Zeidel of Philadelphia engaged in a wild, stick–swinging dual that bloodied both men about the face and neck. Shack was suspended for three games; Zeidel four. There was a game in Oakland on Oct. 13, 1968 between the Seals and Los Angeles Kings. Carol Vadnais of Oakland and Dale Rolfe of Los Angeles jostled one another and Rolfe gave Vadnais a slash. Bruce called an additional minor penalty on the L.A. defenseman. While walking to the officials' dressing room after the game, more than 90 minutes later, his path was blocked by Kings' general manager, Larry Regan, who hauled off and smacked him in the mouth.
Less of a memory for Bruce — but unforgettable for those that watched — was the playoff debacle at the Montreal Forum on Apr. 20, 1984. In what became known as the "Good Friday Massacre", the Canadiens and Quebec Nordiques brawled at the end of the second period. None of the off–ice officials elected to inform the teams of players that were ejected and all skaters returned for the start of the third. Before the puck could be dropped, a second (and wilder) brawl erupted. Bob Cole and Mickey Redmond called the game on Hockey Night In Canada (video of the brawls here: http://bit.ly/2kk6Zol). Entitled "The Wildest Night Of All", it became the first chapter in Bruce's 1988 autobiography.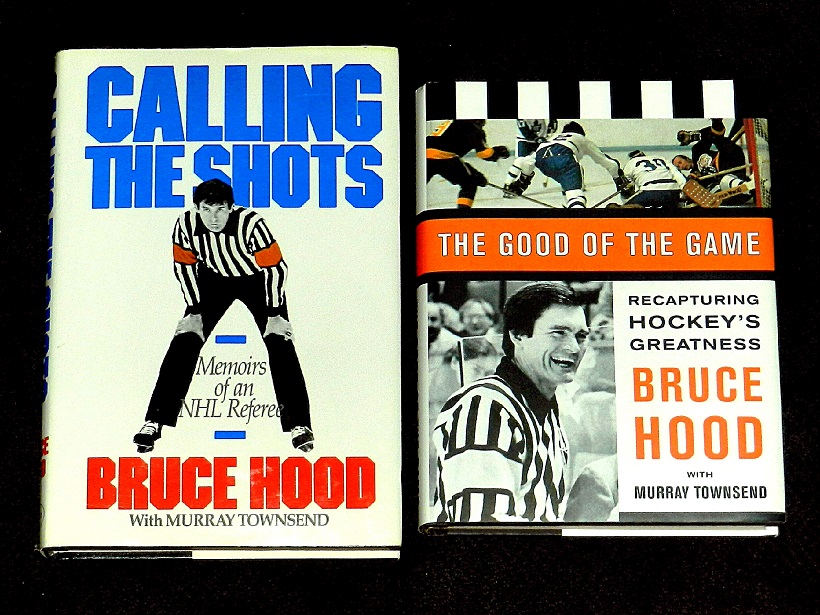 BRUCE HOOD WROTE TWO BOOKS AFTER HIS 21–YEAR OFFICIATING CAREER IN THE NHL. IN THE MID–TO–LATE–80's, HE PENNED A WEEKLY Q&A COLUMN (BELOW) FOR THE HOCKEY NEWS.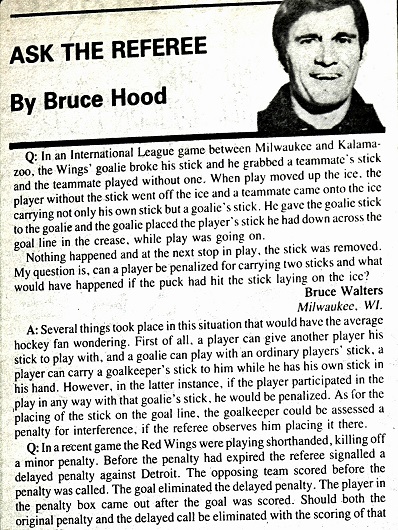 BRUCE AND RON
Though I ran into Bruce quite frequently during my 23–year term as a hockey reporter at The FAN–590, we didn't spend time together until 2015, when Bruce and his best officiating pal, Ron Wicks, began to attend a monthly gathering of NHL alumni at a Shopsy's restaurant north of Toronto. The luncheon meetings, which continue, brought together a number of hockey people that have since died, including Bruce, Ron, Johnny Bower, Wally Stanowski (the oldest surviving member of the Maple Leafs when he passed at 95 on June 28, 2015) and Howie Morenz Jr. (d. Oct. 9, 2015), son of the fabled Montreal star of the 1930's. Hood introduced me to Wicks, who officiated in the NHL from 1960–86, and Ron informed me of his battle with stomach cancer (he was in a brief remission). He was a terrific story–teller that pulled no punches. Not to mention a wonderful husband (to Barb) and father (to Brian and Lisa). In January 2016, Ron called me to his car after a Shopsy's luncheon and handed me a box full of programs and magazines from his officiating career. I noticed he had become thinner but didn't read much into it. "I'd like you to have these items for your blog," Ron told me, smiling. Several days later, I realized it was a "good–bye" gift from my special friend. The cancer had returned and spread to his liver. He quickly deteriorated and succumbed at 75 on Apr. 1, 2016.

MY PHOTO OF BRUCE HOOD (LEFT) AND RON WICKS AT A SHOPSY'S ALUMNI LUNCHEON NORTH OF TORONTO IN NOVEMBER 2015. RON WAS IN REMISSION BUT WOULD SOON BEGIN TO DECLINE. HE WAS NOTICEABLY THINNER (BELOW) IN JANUARY 2016 AFTER HANDING ME A BOX OF PROGRAMS AND MAGAZINES FROM HIS NHL CAREER. BRUCE HAD DIFFICULTY WITH THE BRIGHT SUN THAT DAY.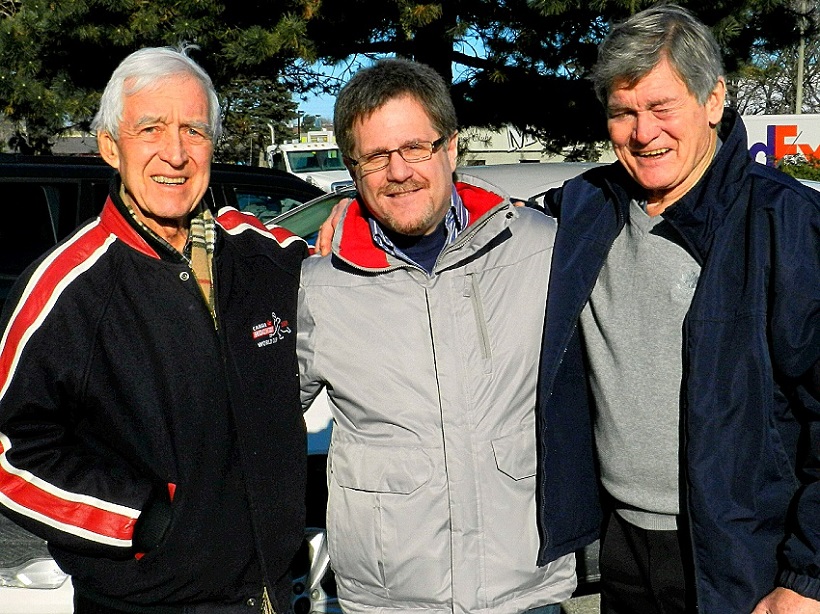 Among my lasting memories is a trip to Brampton Civic Hospital on Mar. 28, 2016. I joined Bruce and long–time NHL linesman Ron Asselstine at Wicks' bedside. Though he knew his days and hours were numbered, Wicks remained in good spirits and encouraged me to snap the photos, below, with his officiating pals. I wish, today, I could have recorded the hockey tales swapped that afternoon among those three remarkable men. Ron died four days later and was commemorated at a large "celebration of life" on Apr. 16 at his second "home" (the Brampton Golf and Country Club). It was Bruce, his best pal, who emceed the event that brought together numerous NHL colleagues; among them Asselstine, Bill Friday, Ron Ego, Willard Norris, Bob Myers, Leon Stickle, Ray Scapinello, Bryan Lewis, Terry Gregson and Jim Gregory.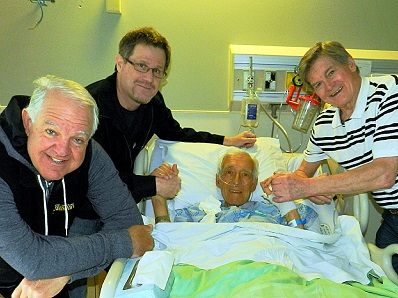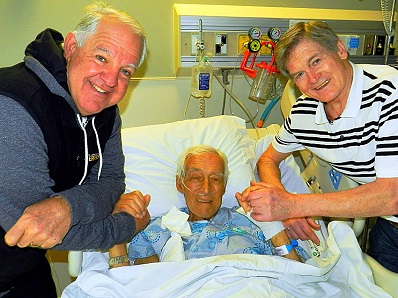 RON ASSELSTINE (LEFT), MYSELF AND BRUCE HOOD AT RON WICKS' BEDSIDE ON MAR. 28, 2016.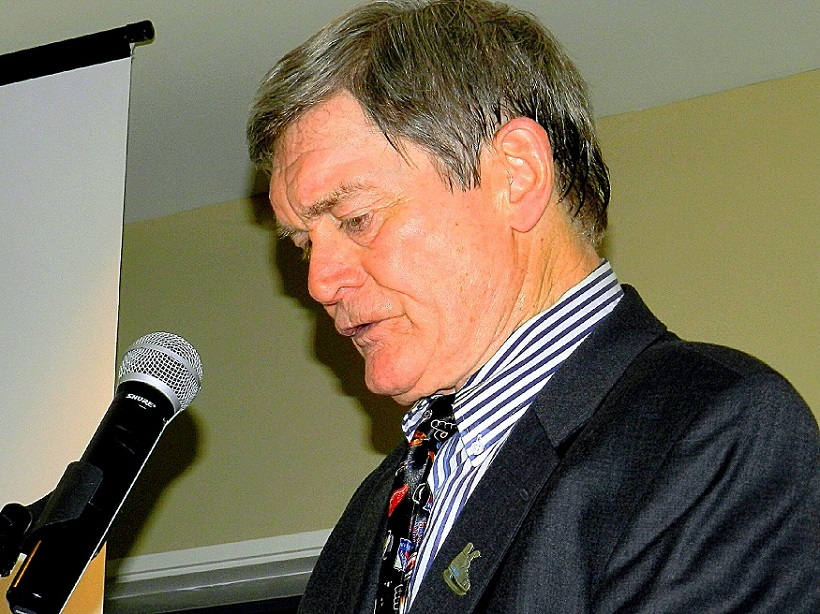 BRUCE HOOD (ABOVE AND BELOW) EMCEED THE LARGE MEMORIAL GATHERING FOR RON WICKS AT THE BRAMPTON GOLF AND COUNTRY CLUB ON APR. 16, 2016. HE ALSO ENJOYED THE SPEAKERS.

THE FINAL VISIT
Last summer, I received a telephone call from Bruce saying he had a stack of old Hockey News issues for me. He and wife, Daphne, were selling their country home in Erin, Ont. and moving to a condominium in nearby Guelph. I drove up to the house in Erin on July 17, a rainy afternoon, and went through boxes of memorabilia with Bruce in his basement. I noticed that Bruce had lost some weight, but when I inquired about his health, he merely spoke of a recent fall and "getting older". Later that night, while in the press box at BMO Field during a football game between the Toronto Argonauts and Ottawa RedBlacks, I was apprised by a mutual friend that Bruce had cancer… and was terminal. "That's funny, you know he did look rather pale today but said nothing about being ill." When I emailed Bruce, discreetly, a few days later — wondering if anything else had "gone amiss" with his health — my referee pal again responded generally.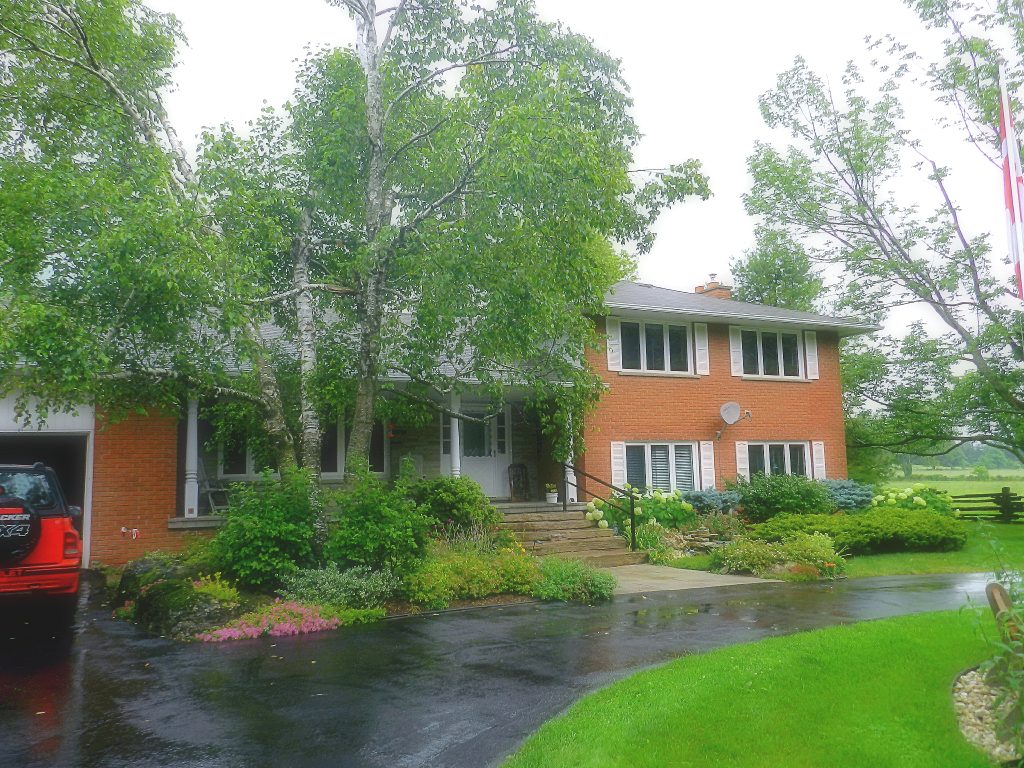 VISITING THE COUNTRY HOME OF BRUCE AND DAPHNE HOOD ON JULY 17 OF LAST SUMMER. BRUCE — MUCH THINNER THAN I'D KNOWN HIM TO BE — POSED (BELOW) WITH A REFEREE "FRIEND".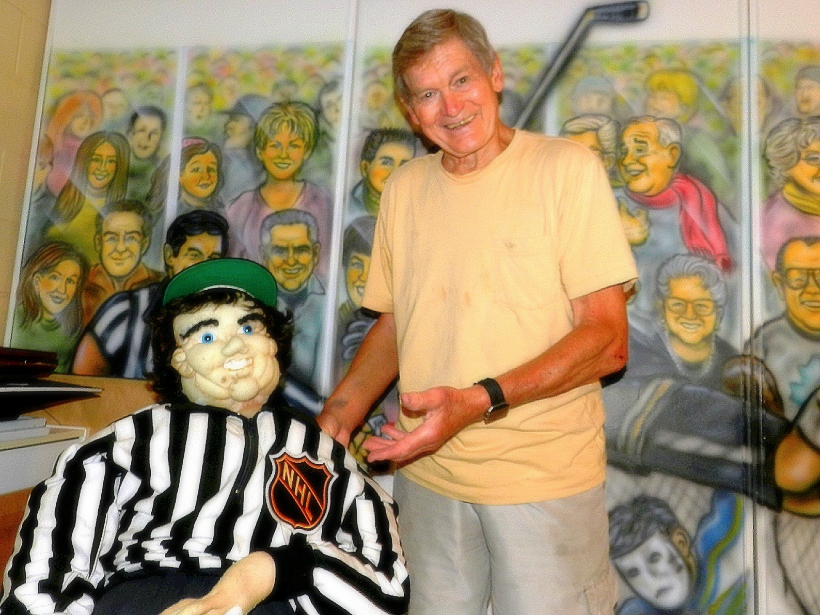 AFTER A "SELFIE" IN HIS GARAGE, BRUCE PRESENTED ME A PAIR OF GREAT SOUVENIRS: GAME–USED PUCKS FROM MINNESOTA AND OAKLAND DURING THE EXPANSION SEASON OF 1967–68 IN THE NHL. ITEMS HE HAD KEPT FOR NEARLY HALF–A–CENTURY. IT WAS THE LAST TIME I SAW THE LEGENDARY REF.
It wasn't until Aug. 16 that Bruce spilled the beans in a group email to friends:
For some of you this comes as a surprise as for the most part we have not talked about my health situation with everyone – only really with 'family'. Most of you have inquired as to my health over these past weeks – just as I had questions since Daphne drove me here to Emerg. at Guelph General Hospital in the wee small hours of the night on Thursday July 27th with severe pain in my lower abdomen.
So here it is in a nutshell – it turns out that the big 'C' has caused the problem along with other pain points in my body that I have had over the past weeks. As of today I've been to Grand River Hospital in Kitchener for five radiation treatments in a row to hopefully stop the cancer in its tracks. This all started from prostate cancer I dealt with a few years back where the cancer got outside the prostate and has kept going. Plus earlier today I was down to Toronto General Hospital for an MRI on my heart.
Anyway we go on living and doing and being and enjoying life to its fullest each day… expect you are doing the same. Do keep Daphne and I in your daily prayers and wishes for an OK outcome to all this – that would be wonderful of you… and therefore no need for phone calls nor email or visits – we know you love and care about us and thank you ever so much for this.
Meanwhile – be well – sending warm hugs to all.
A second update arrived via email on Nov. 9:
As for my health problems, it all started with cancer in the prostate and we didn't catch it in time there so it has run all over the place in this old body with me having chemo to trace it down. About as easy a way to explain it for me. Along with that came two Nephrostomys that means an ongoing change to life. YOU GUYS OUT THERE – GET YOUR PSA CHECKED – LADIES INSIST ON IT FOR YOUR HUSBANDS!!!  You' ll understand why –  it's so you won't end up like my situation… Beyond that I have a great heart but it is overworked a lot of the time due to amyloid that take up space – wonderful ain't it!
So that's it from this corner as the sun sets here in the west on  a lovely day….but in a hospital bed….give me a break! See you along  the way….eh! Hugs 'round to all.
In the ensuing weeks, Ron Asselstine kept me abreast of Bruce's situation; Ron and his wife, Wendy, visited Bruce quite often. Late Wednesday morning, while at work, I received an email from Ron. "Please call me," it read. Fearing the worst, I dialed Ron's number only to be told that Bruce had been moved into a hospice for his "final days". On Friday, late–afternoon, came the sad but expected news, also from Ron: "Hi Howard. So sorry to inform you that Bruce Hood died today. He passed around 1 p.m."
—————————————————
After writing a blog in 2016 about Ron Wicks' illness, hockey's greatest all–time star — and biggest heart — phoned me to get Ron's number. Bobby Orr spoke to Ron several times during the referee's final weeks. When Bruce belatedly informed us of his losing battle with cancer, I asked Bobby if he would make a similar call. Which, of course, he did. I emailed Bobby again on Friday after hearing from Asselstine. Not surprisingly, he replied that he had already spoken to Daphne Hood.
"It's been a terrible week," Orr emailed, in reference to Bruce and Johnny Bower.

BOBBY ORR (RIGHT) IN ACTION WITH THE BOSTON BRUINS AGAINST ANDRE (MOOSE) DUPONT OF PHILADELPHIA.
Later, while speaking to Kevin Hood, I learned that Bruce was originally diagnosed with prostate cancer in mid–2013, but had chosen to keep the news private. He underwent several rounds of chemotherapy and radiation before attaining remission, which endured until last summer. "My dad was a great guy," said Kevin. I was heartened to learn that Bruce and Kevin's mother — Joanne — had made peace after their divorce more than 15 years ago… and that Joanne had visited Bruce during his illness.
Ron Asselstine sent me this email about his late friend:
Bruce and I hadn't seen much of one another for many years after we retired, but grew closer over the last couple of years beginning with Ron Wicks' final journey, and just lately as he fought his own battle with cancer right to the end. He was always good to me when we worked together for the first five years of my NHL career, until he retired in 1984. We had some epic racquetball matches together on our days off during the NHL season. Both of us hated to lose. Then you wager on the match, and it got ugly a few times. But always a firm handshake and hug at the end. That's how it was when I said my last goodbye to him. 'A firm handshake and a hug '. I also remember how well he treated my late father, Reg, when Dad accompanied me on a road trip to NYC to see the Rangers and Islanders. Bruce was referee both games, and was just great to us. He  made my Dad feel so welcome. Dad said when we got home: "You know son, that Hood fella is not too bad a guy….. for a ref". Coming from Reg that was a great compliment. Those are the times and memories I have of Bruce. An outstanding official, and a credit to our game. I'll miss him a lot. Ron.
Funeral arrangements for Bruce are pending, but there will be visitations in both Erin and Milton, where Bruce grew up and lived during his NHL years.
Rest easy, my friend. 🙂
EMAIL: HOWARDLBERGER@GMAIL.COM