TORONTO (Jan. 13) — Only one question truly remains to be answered about the 2017–18 Toronto Maple Leafs: Can they defeat the Boston Bruins in a best–of–seven Stanley Cup playoff series?
Though 37 games are left on the schedule, beginning at home against St. Louis Tuesday night, the Leafs already know what they'll be doing in the second week of April. Barring an absolute miracle, Toronto and Boston will hook up in the post–season for the first time since the Causeway St. Collapse of May 2013.
Almost never in the century–long history of Toronto's National Hockey League team has it been locked into position just beyond the halfway mark of the schedule. At the moment, however, the Maple Leafs and Bruins are each 11 points behind first–place Tampa Bay in the Atlantic Division and 11 points ahead of fourth–place Florida. Given the top three teams in each division qualify for the playoffs — with the second and third–place finishers going head–to–head in the opening round — the Leafs and Bruins will almost–certainly clash (though the Lightning suffered a major blow on Thursday night against Calgary when defenseman Victor Hedman was lost for three–to–six weeks with a lower–body ailment). Still to be determined is home–ice advantage. Right now, the Maple Leafs and Bruins are deadlocked at 53 points but Boston has a ridiculous five games in hand. That will be cut to three by the time Toronto's CBA–mandated respite ends on Tuesday, as the Bruins play at Montreal tonight; then host Dallas on Monday.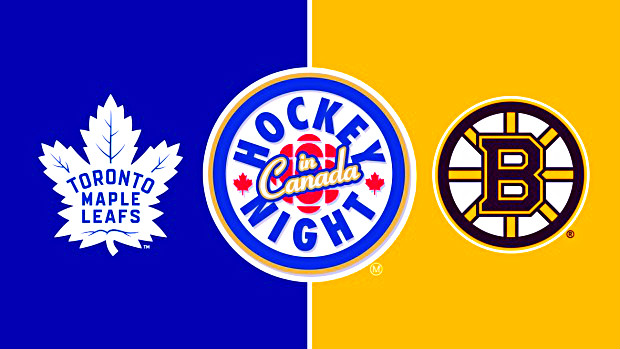 Perhaps being in playoff–limbo can explain why the Leafs are 8–9–2 since the beginning of December and 5–7–2 in their past 14 games. Perhaps it cannot. Though Lou Lamoriello — like clockwork — says he "likes his team" at the halfway point (he does the same every year), I wonder if the general manager is truly sold on this group. The slow, methodical "Shanaplan" sustained a fracture when Patrick Marleau, 37, was signed last summer to a three–year, no–movement contract. Far greater temptation awaits Lamoriello in the next 18 months, with such franchise types as John Tavares, Erik Karlsson, Drew Doughty and (to a slightly lesser extent) Oliver Ekman–Larsson perhaps on the open market. And, very much perhaps available for trade.
Can you enision the Maple Leafs doing a pirouette by adding Tavares and Karlsson to the roster? Sounds a bit kooky right now, but the combination of a rising salary cap and expiring contracts allows for the potential. At least one of William Nylander or Mitch Marner would have to be sacrificed in such a plan and the club would need to ride out the final year of Marleau's contract. Otherwise, a dramatic re–make could materialize — providing, of course, the mega–stars heading toward free agency wish to play here in Toronto.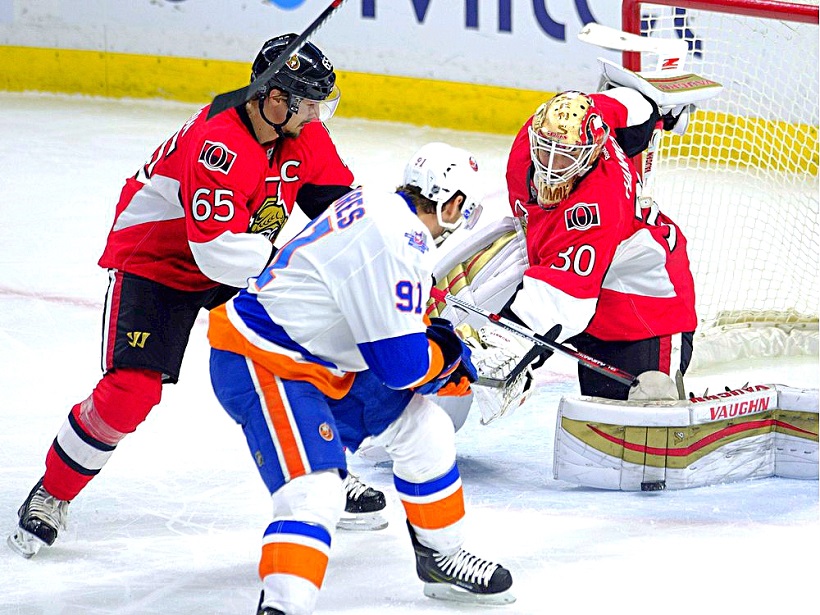 ERIK KARLSSON (65) AND JOHN TAVARES BATTLE DURING A GAME BETWEEN THE OTTAWA SENATORS AND NEW YORK ISLANDERS. IMAGINE BOTH SUPERSTARS IN TORONTO BLUE–AND–WHITE. OTTAWA CITIZEN PHOTO
Tavares, 27, grew up in our city and is currently the big fish in a small Brooklyn pond. It's wonderful to be captain of a team in the NHL and to play all the important minutes. It is less–wonderful to be going nowhere each year with the Islanders. Through the annals of hockey, Stanley Cup contenders have been strong up the middle. Imagine the Maple Leafs with a tandem of Tavares and Auston Matthews at center. Supported by Nazem Kadri and Connor Brown. Or Brown and another player were Kadri required as a trading chip. Either way, Tavares and Matthews would give Toronto the NHL's best best one–two punch up the middle.
Karlsson, also 27, finished last season as maybe the best hockey player on Earth. He was sensational in leading Ottawa past the Rangers and Boston to a surprise appearance in the Eastern Conference final. Accordingly, the Senators (15–18–9 and wallowing 27th in the NHL standings) have been the biggest disappointment of the 2017–18 schedule and attendance is plummeting at the Canadian Tire Centre. At the moment, it is difficult to envision beleaguered owner Eugene Melnyk doling out the money, cap space and term that would keep Karlsson on the Ottawa blue line for remainder of his Hall–of–Fame career.
The Leafs, on the other hand, have been seeking a Karlsson clone for nearly 40 years; since pioneering Swede Borje Salming was in his prime. Evidence shows (as I've indicated a gazillion times) that teams almost never win the Stanley Cup in the absence of a Norris Trophy type. Karlsson, likely to be had via trade before the end of next season, would fill that enormous gap in the Leafs roster. To afford such an acquisition, with respect to personnel and cap space, it would cost Lamoriello Travis Dermott and one of Nylander or Marner.
But, the Toronto GM would brilliantly solve his biggest problem.
Though the Chicago Blackhawks have flattened out, they enjoyed a glorious half–decade — winning three Stanley Cups by loading up at the top (Jonathan Toews, Patrick Kane, Duncan Keith, Marian Hossa) and deploying cheaper, interchangeable parts elsewhere. The Leafs could well do the same.
In this scenario, Toronto would possess the mandatory ingredients for a Stanley Cup run: solid goaltending (from Frederik Andersen); an elite, Top–5 blue–liner (Karlsson) and remarkable skill at center (Matthews and Tavares). As such, Lamoriello has to determine whether the current team — its 2018 playoff standing all–but settled — is on cruise–control, or if it lacks the aforementioned components.
Temptation will surely abound in the not–too–distant future.
50 YEARS AGO THIS WEEK
         at Maple Leaf Gardens
Wednesday, Jan. 10, 1968 — Detroit 1 at Toronto 2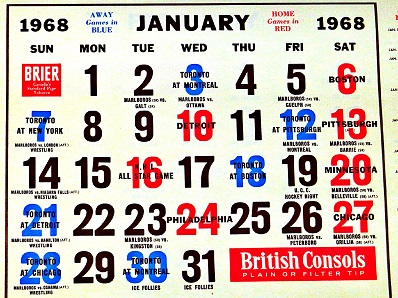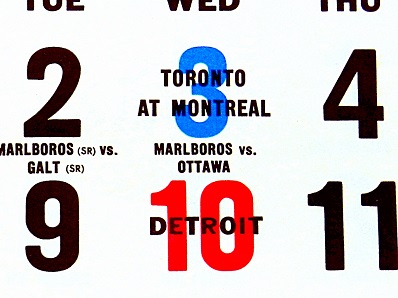 When the Maple Leafs and Detroit faced off at the Gardens on Jan. 10, 1968 (as per the EXPORT Gardens calendar, above, from 1967–68), no one could have imagined that Frank Mahovlich was playing his final home game against the team to which he'd be shockingly traded less than two months later. This was the last time Detroit came to town with Norm Ullman, Paul Henderson and Floyd Smith wearing white and red (though Henderson, injured, did not dress). The trio became Maple Leafs on Mar. 3, 1968 in exchange for Mahovlich, Peter Stemkowski, Garry Unger and the NHL rights to then–retired defenseman Carl Brewer.
Here are contents from the MLG program that night, 50 years ago this week: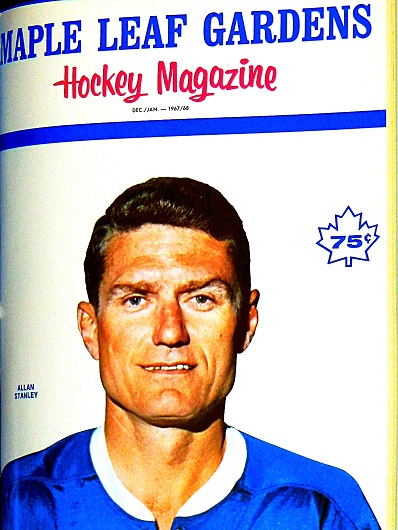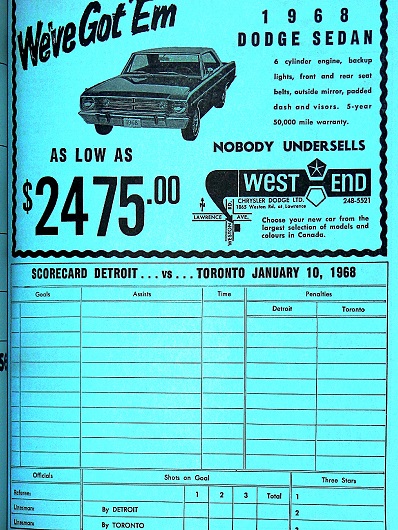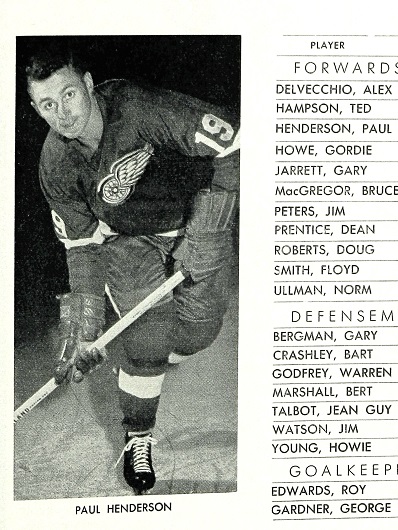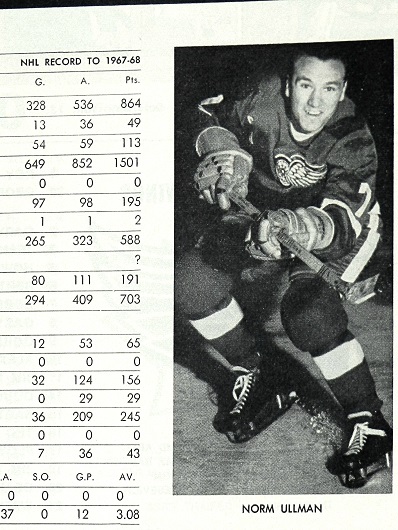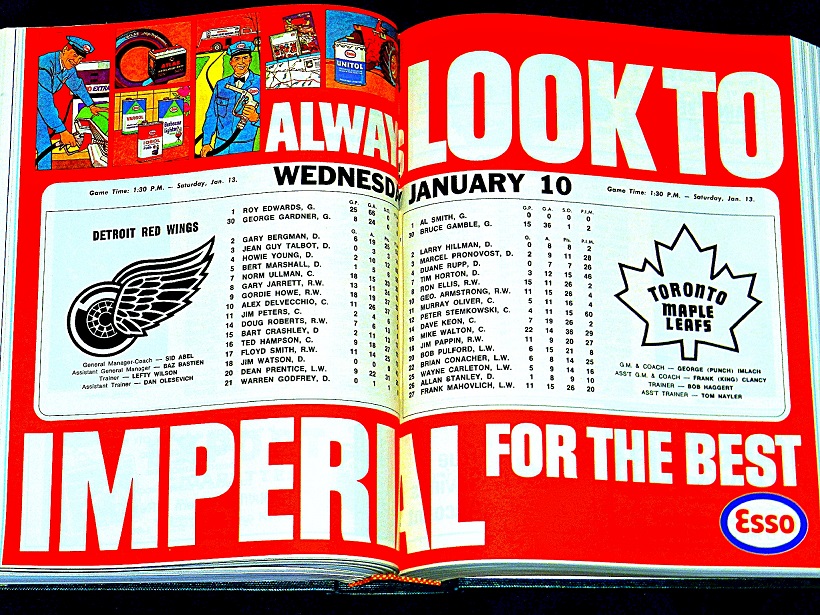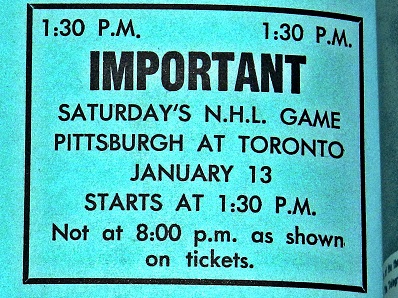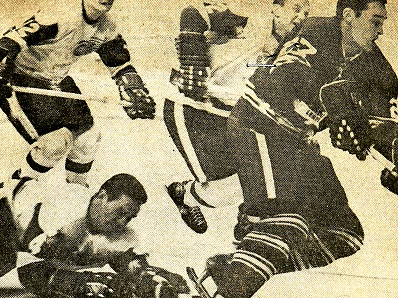 IN A TORONTO STAR PHOTO (TOP–RIGHT) FROM THE GAME, FRANK MAHOVLICH (27) ELUDES DETROIT DEFENSEMAN HOWIE YOUNG (4). THE LEAFS' NEXT HOME GAME (AGAINST PITTSBURGH), THREE DAYS LATER, WAS SWITCHED FROM THE NORMAL 8 P.M. START TO A 1:30 P.M. MATINEE.
Saturday, Jan. 13, 1968 — Pittsburgh 0 at Toronto 7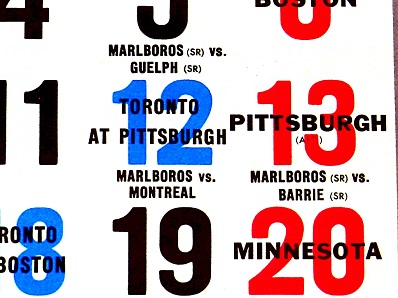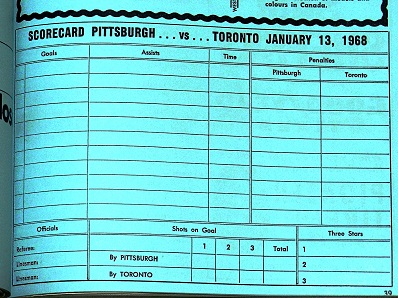 BELIEVE IT OR NOT, THE LEAFS AGREED TO CHANGE THE START OF THE PITTSBURGH GAME, 50 YEARS AGO TODAY, TO THE AFTERNOON BECAUSE THE SENIOR TORONTO MARLBOROS HAD BOOKED AN 8 P.M. MATCH AGAINST THE BARRIE FLYERS BEFORE THE 1967–68 NHL SCHEDULE CAME OUT (TOP–LEFT).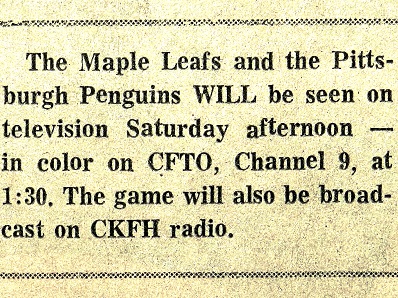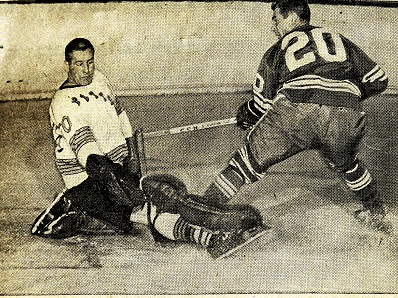 THE LEAFS THROTTLED PITTSBURGH, 7–0, AVENGING A 2–1 LOSS IN THE PENGUINS' FIRST–EVER VISIT TO THE GARDENS EXACTLY ONE MONTH EARLIER (DEC. 13, 1967). NOT TO MENTION A 4–3 SET–BACK AT THE CIVIC ARENA THE PREVIOUS NIGHT (JAN. 12, 1968) IN TORONTO'S FIRST–EVER VISIT TO PITTSBURGH. AS TV VIEWERS WATCHED ON CHANNEL 9, PENGUINS' GOALIE LES BINKLEY WAS BEATEN (TOP–RIGHT) BY LEAFS FORWARD BOB PULFORD.
PROGRAM CONTENTS FROM THE GAME, HALF–A–CENTURY AGO THIS AFTERNOON: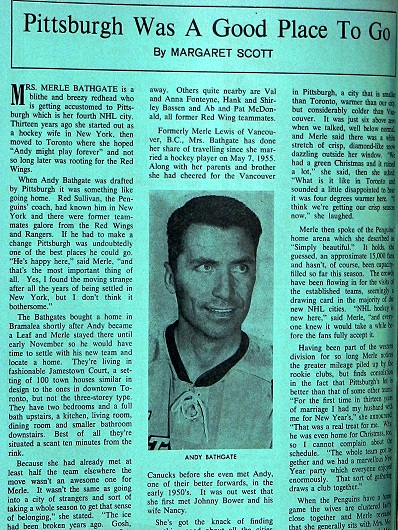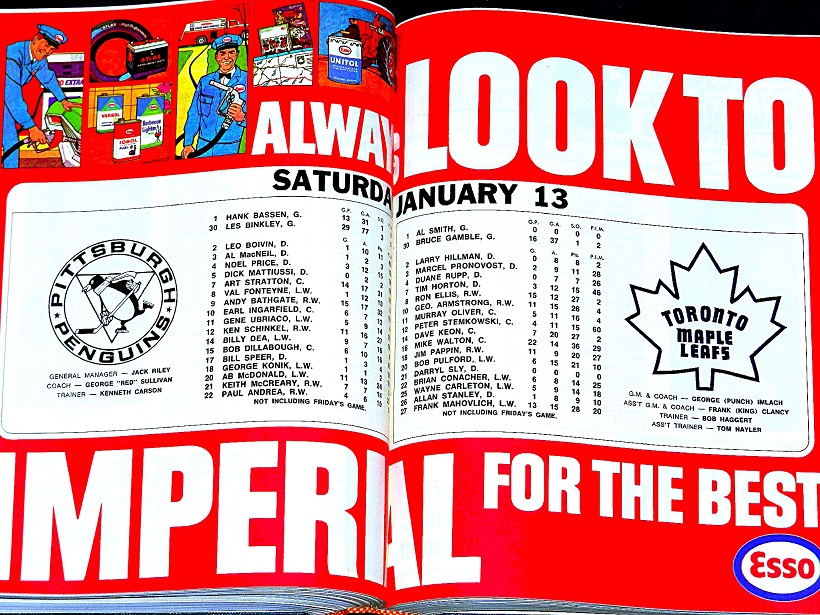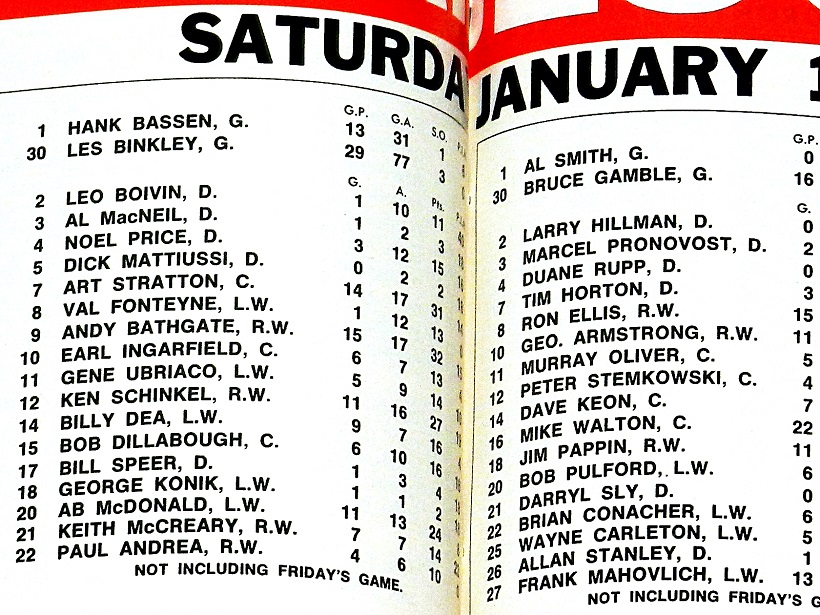 JANUARY 13, 1968 — The NHL's First (and only) Death
Who could have imagined, while watching the Pittsburgh–Toronto game 50 years ago today, that the biggest tragedy in NHL history would unfold later that night in Bloomington, Minnesota? Sadly for the expansion North Stars and the entire hockey world, forward Bill Masterton suffered a fatal injury in a game at the Metropolitan Sports Center against Oakland. While being checked simultaneously by Seals' defensemen Ron Harris and Larry Cahan, Masterton catapulted backward and struck his head on the ice. Less than 48 hours later, he became the first (and, to date, only) NHL player to die as the result of an incident during a game.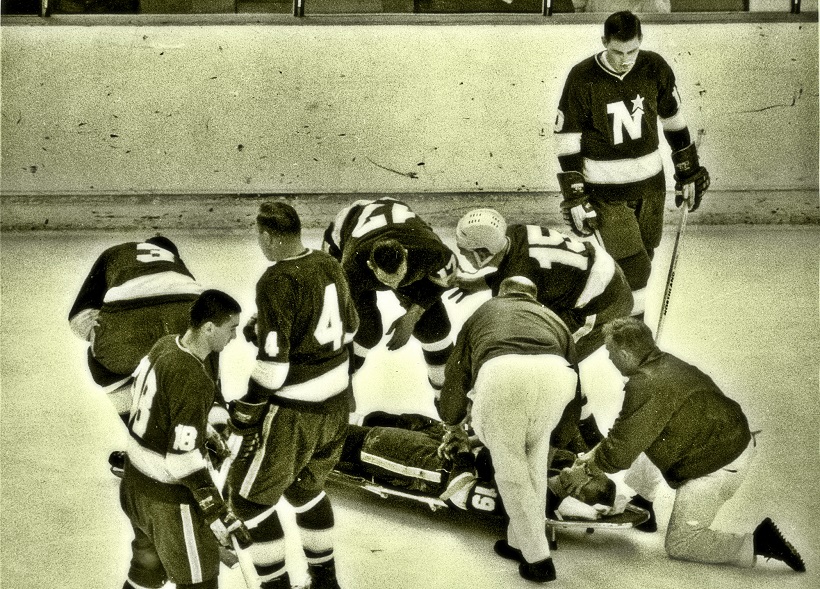 THIS WIDELY–CIRCULATED IMAGE IS THE ONLY PHOTOGRAPH OF THE IMMEDIATE MOMENTS FOLLOWING BILL MASTERTON'S FATAL INJURY. HERE, NORTH STAR TRAINERS DICK ROSE (KNEELING) AND STAN WAYLETT ATTEND TO THE UNCONSCIOUS MASTERTON. TEAMMATE BOB McCORD (3) HELPS TO WHEEL THE STRETCHER. HELMETED ANDRE BOUDRIAS (15) TALKS TO PARKER MacDONALD (17) WHILE RAY CULLEN (10), ELMER VASKO (4) AND BILL COLLINS (18) LOOK ON.

Much has been written about the Masterton injury in the past 50 years, but nothing more informative than a feature story in the Toronto Star on May 28, 2011. The late Randy Starkman (a high–school friend of mine; he died, tragically, at 51 on Apr. 16, 2012) penned a terrific article (portions here):
It's the most gruesome distinction in hockey: Only one player has ever died from injuries directly suffered in an NHL game. When Bill Masterton's limp body collapsed to the ice on Jan. 13, 1968, the Minnesota North Stars centre appeared to be the victim of an innocuous hit. Thirty hours later, he was dead in hospital. Today his story is nearly forgotten, but for an annual NHL award that bears his name.
What happened in the days leading up to that fatal moment in Minneapolis, when Masterton played his 38th and final NHL game, has been largely a mystery. "I've never said this to anyone before," said Wren Blair, Masterton's coach and general manager, now 85. "I've never thought that it had anything to do with that hit. I think he had a (pre–existing) cerebral brain hemorrhage."
Those closest to Masterton concur he was suffering from a brain injury before he stepped on to the ice that night, as does a medical expert who reviewed an autopsy report obtained by the Star. Minnesota goalie Cesare Maniago's wife, Mavis, had a clear view of Masterton's fall from her seat in the stands. She, too, believes something else was wrong with Masterton that night, something that explains why the routine bodycheck left him unconscious even before he hit the ice. "I saw Bill's head after he was just checked from behind and it just looked like his eyes were in the back of his head," she said. 
The night before the fatal game against Oakland, Masterton was at Maniago's house with his family — Scott was 3 and Sally, 1 — helping the genial goaltender celebrate his 29th birthday with teammates. In a quiet moment, Masterton made a rare admission to Maniago: He was struggling with the effects of a head check into the glass during a recent game.
"He had been complaining of headaches," said Maniago. "He'd got hit and even that night he said 'Gee, I've really been getting these migraines and they've been with me for about a week.'"
In several games prior to the tragedy, Blair had also noticed something strange. "I'd said to our trainer, 'Do you ever look at Billy when the game's on?'" Blair recalled. "His face is blood red, almost purple. (The trainer) said, 'Yeah, I notice that too.' I said, 'I wonder if we could have him checked. There's something wrong.'"
When he suffered the final hit of his career, Masterton was making his patented move — crossing the opposing blueline and cutting to one side before passing the puck to a teammate. Oakland defencemen Larry Cahan and Ron Harris moved in to check Masterton, who wound up falling on the back of his head. One account holds that Masterton regained consciousness for a few moments and repeated the words, "Never again, never again," before closing his eyes for the final time.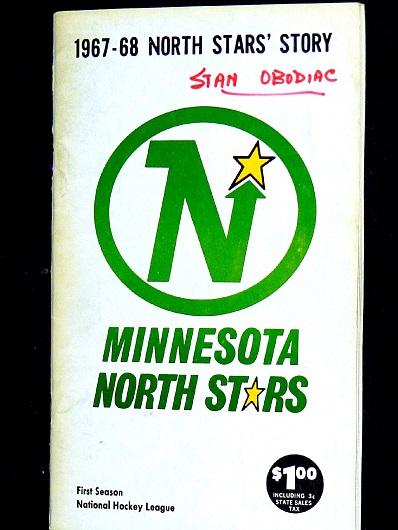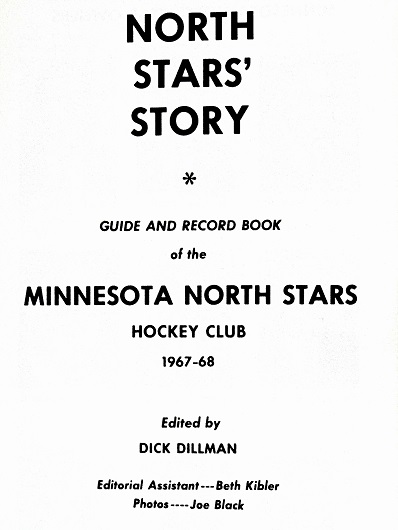 BILL MASTERTON'S LONE NHL BIO (BELOW) — IN THE '67–68 NORTH STARS MEDIA GUIDE.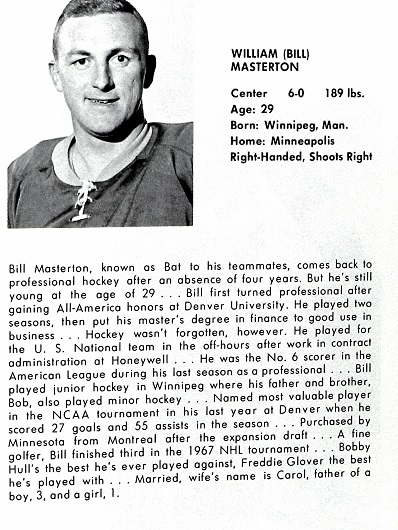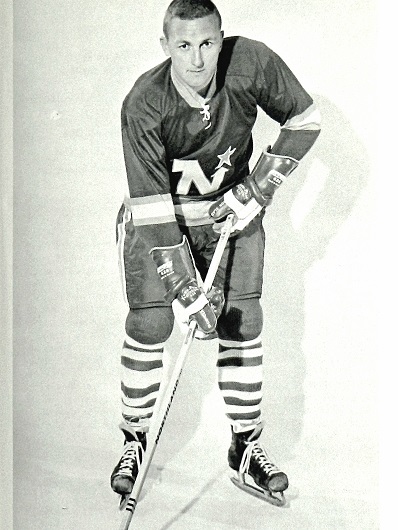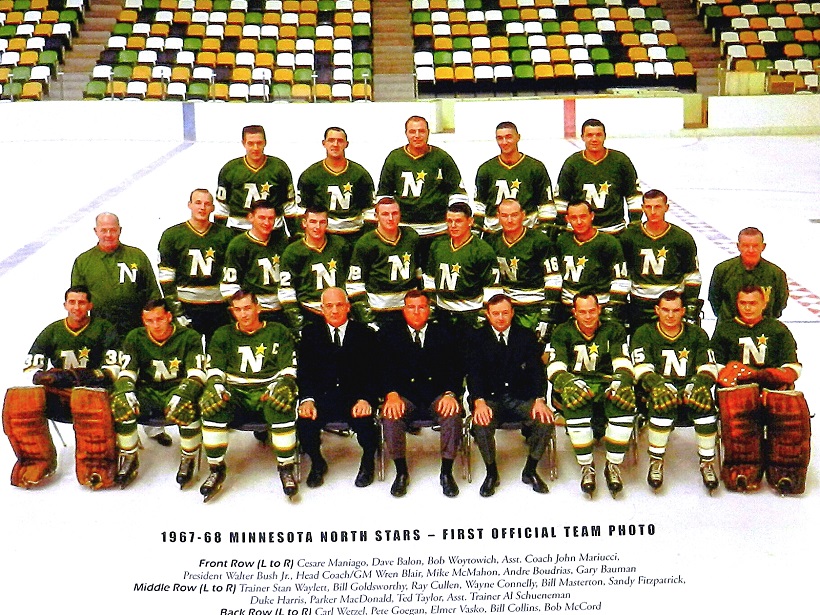 MASTERTON (19) WAS IN THE MIDDLE OF THE SECOND ROW (ABOVE; CLOSE–UP BOTTOM–LEFT) WHEN THE 1967–68 NORTH STARS GATHERED AT THE MET CENTER IN BLOOMINGTON FOR THEIR FIRST TEAM PHOTO. THIS IMAGE COMES FROM A BOOK (BOTTOM–RIGHT) THAT WAS RELEASED IN SEPTEMBER 2007; WRITTEN BY EX–NORTH STARS PLAYER AND EXECUTIVE, LOU NANNE.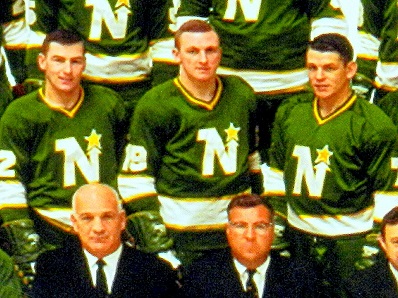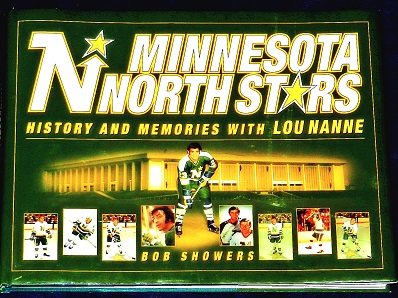 THE FIRST GOAL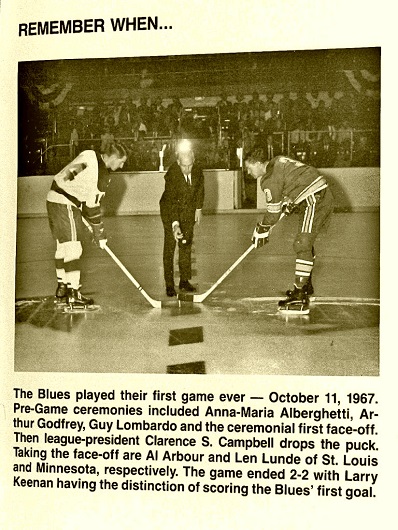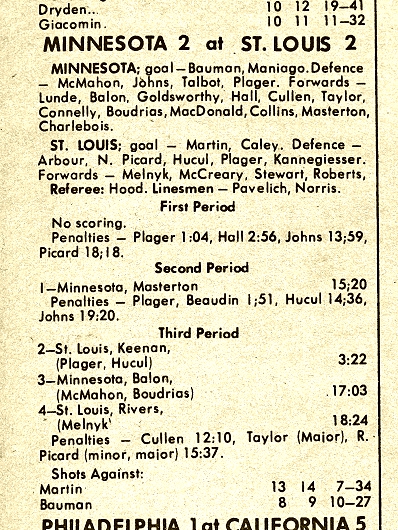 BILL MASTERTON WILL FOREVER HAVE THE DISTINCTION OF SCORING THE FIRST GOAL IN THE HISTORY OF THE MINNESOTA NORTH STARS/DALLAS STARS FRANCHISE. MASTERTON BEAT ST. LOUIS GOALIE SETH MARTIN (BELOW) FOR THE HISTORIC TALLY ON OCT. 11, 1967. IT OCCURRED (AS PER SUMMARY, TOP–RIGHT), UNASSISTED, AT 15:20 OF THE SECOND PERIOD IN THE ST. LOUIS ARENA. IT WAS ALSO THE BLUES' FIRST NHL GAME — REFEREED BY MY LATE FRIEND, BRUCE HOOD.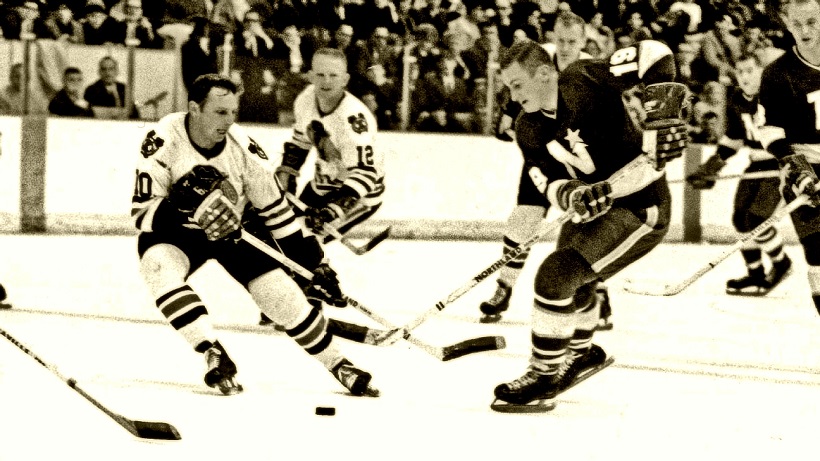 MASTERTON (19) IS CHECKED BY DENNIS HULL (10) OF CHICAGO DURING THE BLACK HAWKS' FIRST GAME AT THE MET CENTER: OCT. 28, 1967. DEFENSEMAN PAT STAPLETON (12) IS IN BACKGROUND.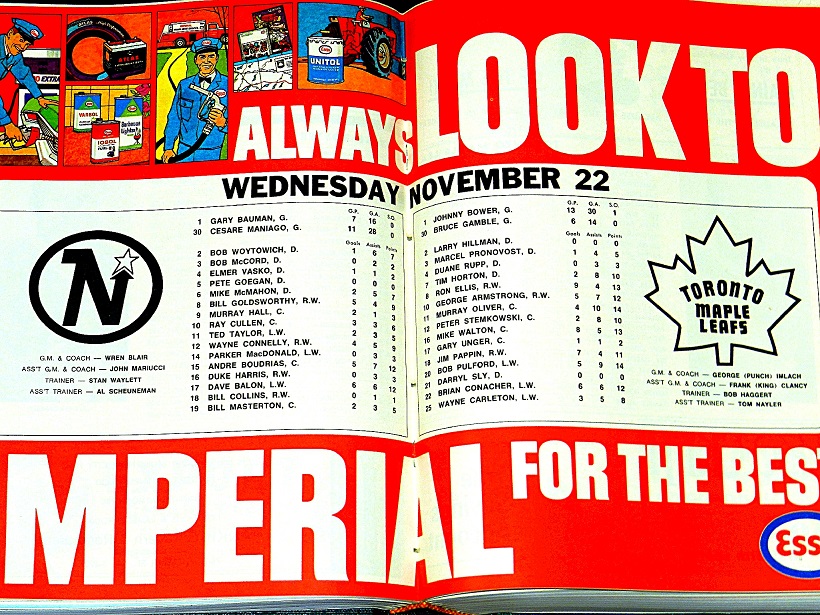 MASTERTON PLAYED ONE GAME AT MAPLE LEAF GARDENS (PROGRAM LINE–UPS ABOVE AND BELOW) — NOV. 22, 1967, WHEN THE NORTH STARS MADE THEIR FIRST VISIT TO TORONTO. LEAFS WON, 3–0.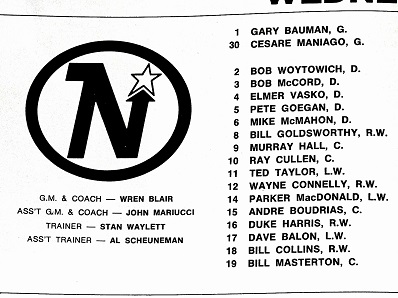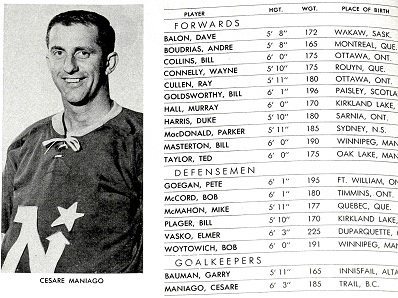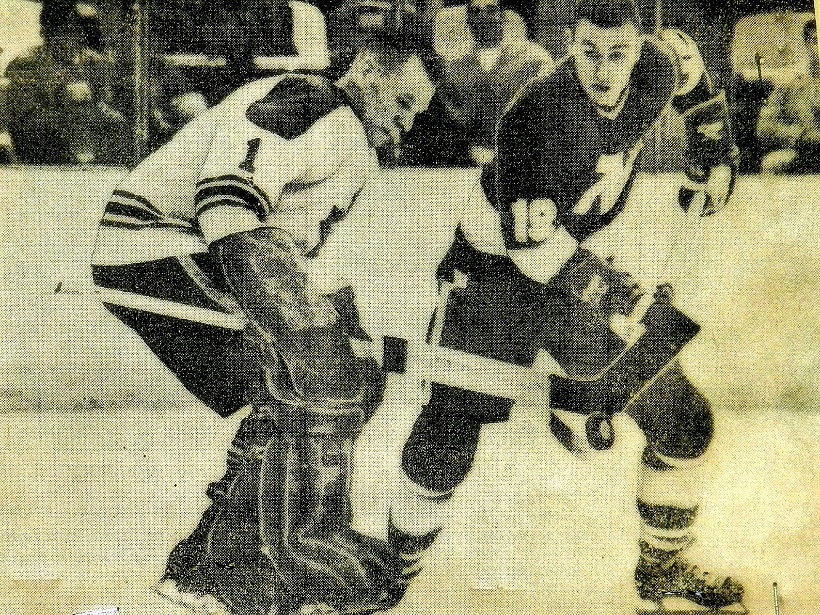 PHOTO FROM THE OLD TORONTO TELEGRAM OF MASTERTON IN FRONT OF JOHNNY BOWER DURING A 1–1 TIE BETWEEN THE LEAFS AND NORTH STARS IN BLOOMINGTON: DEC. 6, 1967.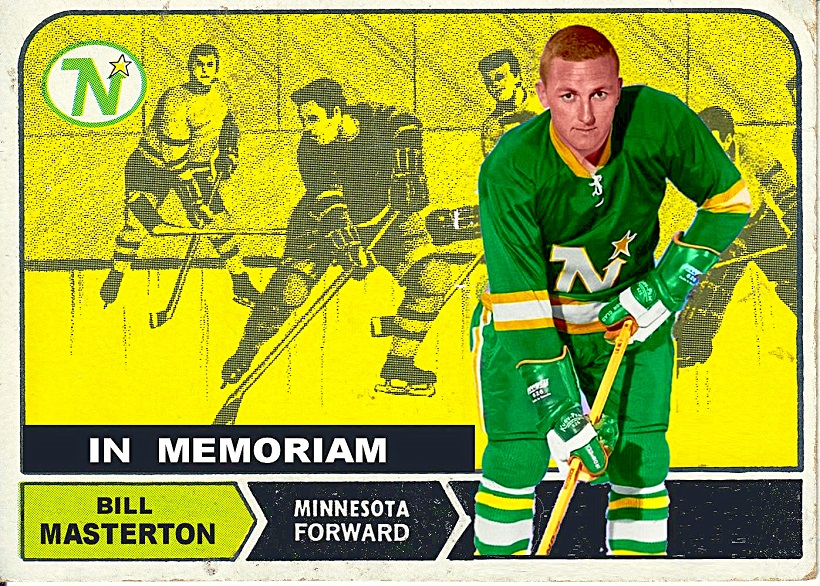 COMMEMORATIVE BILL MASTERTON CARD IN THE 1968–69 O–PEE–CHEE NHL SET.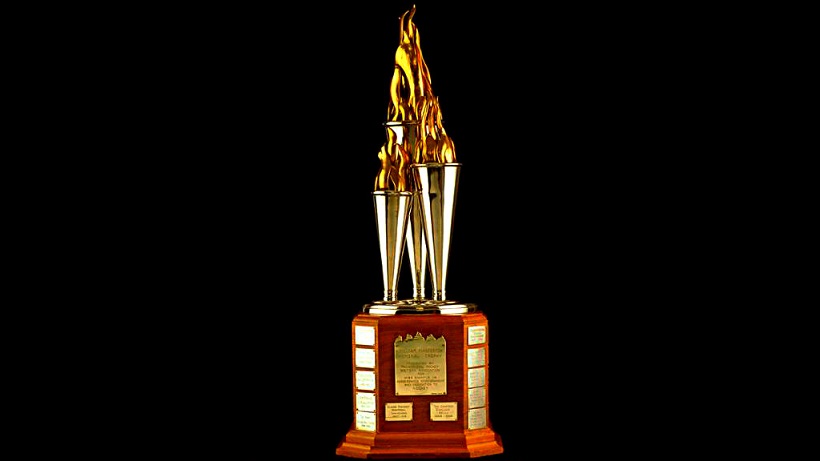 THE BILL MASTERTON MEMORIAL TROPHY, AWARDED SINCE 1967–68 TO THE NHL PLAYER THAT BEST EXEMPLIFIES THE QUALITIES OF PERSEVERANCE, SPORTSMANSHIP AND DEDICATION TO HOCKEY.
LOTS OF

 LEAFS 

BIRTHDAYS
A week full of celebration and commemoration among Toronto hockey legends: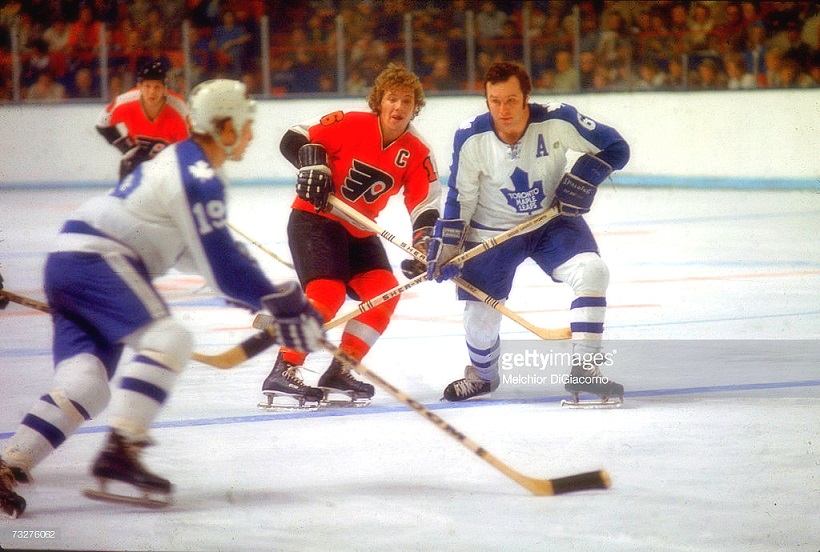 RON ELLIS, IN MY VIEW THE MOST UNDER–APPRECIATED LEAF OF THE MODERN ERA, TURNED 73 ON MONDAY (JAN. 8) — A BIT DIFFICULT TO COMPREHEND FOR THOSE THAT REMEMBER THE CREW–CUT KID ON THE LEAFS 1967 STANLEY CUP TEAM. ELLIS WENT UP AND DOWN HIS WING; HARDLY EVER MISSED A GAME… AND SCORED 332 GOALS FOR THE BLUE–AND–WHITE. HE WAS ALSO A KEY FIGURE ON THE FABLED TEAM CANADA 1972. IN THE ABOVE PHOTO, ELLIS (6) AND LINE–MATE PAUL HENDERSON (19) ARE WATCHED — COINCIDENTALLY — BY BOBBY CLARKE OF PHILADELPHIA DURING A 1973–74 GAME AT MAPLE LEAF GARDENS. CLARKE, HENDERSON AND ELLIS FORMED CANADA'S MOST EFFECTIVE LINE IN THE '72 SUMMIT SERIES AGAINST THE RUSSIANS.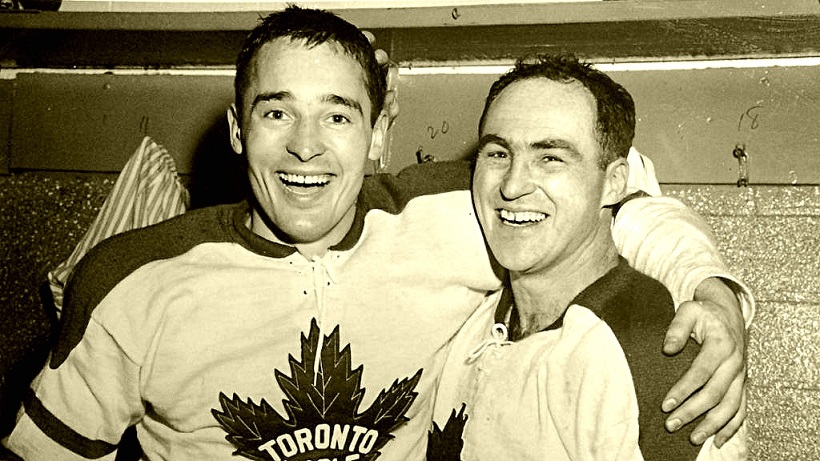 WEDNESDAY (JAN. 10) OFFERED ANOTHER MILESTONE AS THE "BIG M" — FRANK MAHOVLICH — TURNED 80. IN THIS PHOTO, MAHOVLICH (LEFT) CELEBRATES WINNING THE 1962 STANLEY CUP AT CHICAGO STADIUM WITH TEAMMATE RED KELLY. THE "BIG M" SCORED 296 GOALS FOR TORONTO BETWEEN 1956 AND 1968. HE PLAYED ON ALL FOUR CHAMPIONSHIP TEAMS UNDER PUNCH IMLACH.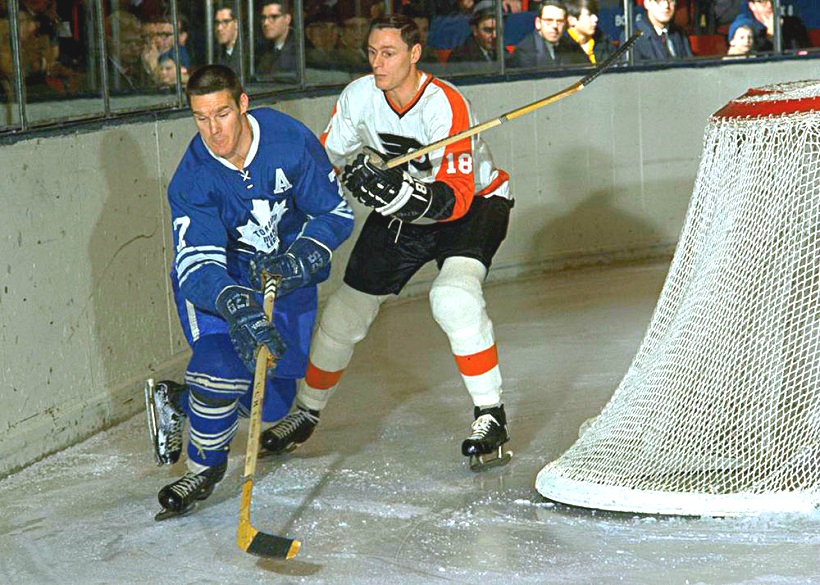 HAD HE NOT PERISHED IN A SINGLE–CAR ACCIDENT ON FEB. 21, 1974, TIM HORTON MAY HAVE TURNED 88 ON FRIDAY (JAN. 12). CONSIDERED ALONGSIDE BORJE SALMING AS THE GREATEST DEFENSEMAN IN LEAFS HISTORY, HORTON IS BETTER–KNOWN TODAY FOR THE STRING OF DONUT/COFFEE SHOPS THAT BEARS HIS NAME. HE PLAYED FOR THE LEAFS FROM 1949 TO 1970 AND IS THE LAST TORONTO BLUE–LINER TO MAKE THE NHL's FIRST ALL–STAR TEAM (IN 1968–69). IN THIS PHOTO, HE IS CHASED BY ED HOEKSTRA OF PHILADELPHIA DURING A 1967–68 MATCH AT MAPLE LEAF GARDENS.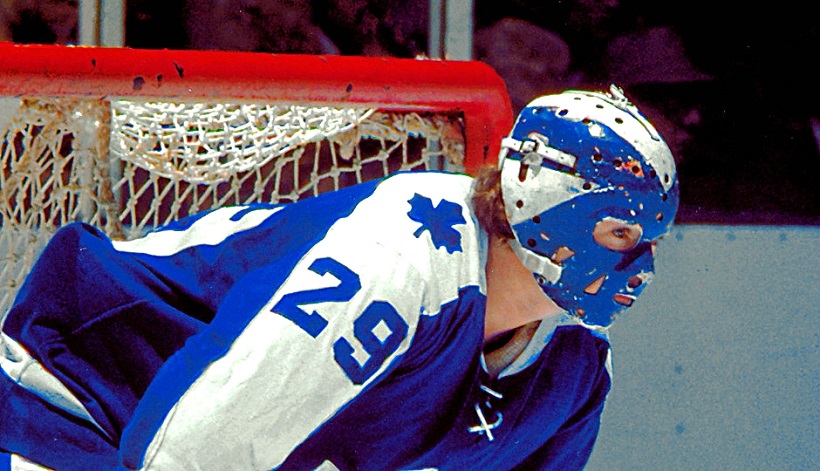 THEY CALLED HIM THE "POPCORN KID" AND HE REMAINS AMONG THE MOST–POPULAR LEAFS OF THE POST–1967 ERA. MIKE PALMATEER, THE BRAZEN, FLAMBOYANT GOALIE, IS 64 TODAY. HE BURST ON THE NHL SCENE EARLY IN THE 1976–77 SEASON AND RESCUED THE LEAFS FROM A CALAMITOUS 1–5–2 START. HE WAS BRILLIANT IN THE LEAFS' 1978 QUARTERFINAL UPSET OF THE NEW YORK ISLANDERS — DECIDED BY LANNY McDONALD IN OVERTIME OF GAME 7 AT THE NASSAU COLISEUM.
REMEMBERING BRUCE HOOD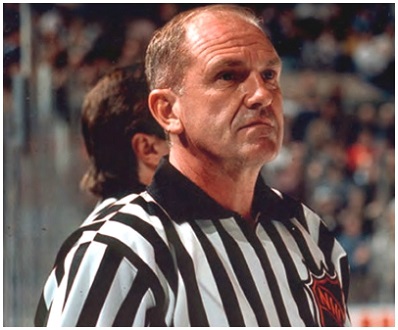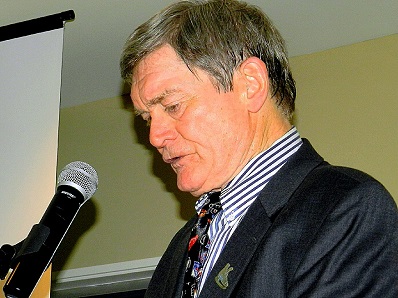 I received an email on Thursday from one of the most–respected linesmen in NHL history. Galt, Ont. native Bob Hodges (top–left) worked in the league from 1972–73 to 1996–97, encompassing 1,701 regular–season and 157 playoff games. He appeared in the Stanley Cup final on three occasions; the 1990 All–Star Game in Pittsburgh and the '97 Game in San Jose. Now 73, Hodges sent me a note about his long–time officiating colleague, Bruce Hood (top–right), who died of cancer on Jan. 5:
I get your blog on the tablet every week. That was good of you to give Bruce a nice tribute. I kept silent about his illness because that is what he wanted. I will miss his friendship dearly. I have known Bruce for 53 years. I worked at the referee school for him in Milton. We worked many games together over the years in the NHL. I worked the hardest game of my career with Bruce and John D'Amico in Montreal in 1984 — the so called "Good Friday Massacre". I could not have been on the ice with two better guys. I was with Bruce just before he passed. I will miss him. Thanks again for the nice words. All the Best, Bob Hodges.
EMAIL: HOWARDLBERGER@GMAIL.COM