TORONTO (Jan. 24) — The Maple Leafs play the Blackhawks tonight in Chicago, which may not be a good thing. The last Toronto victory at the United Center was so long ago, I covered it for The FAN–590. That would be Feb. 12, 2003, under the Big Irishman, Pat Quinn. Incredible that nearly 15 years have passed. Alexander Mogilny was the leading Toronto scorer and ex–Blackhawk Ed Belfour stood between the pipes. It began a five–game win streak for the Leafs in a 98–point season that ended, unceremoniously, against Philadelphia in the opening round of the playoffs — a 6–1 Flyers rout in Game 7 at the Wells Fargo Center.
As for today, it's probably better that the Leafs are away from home… and how many times have we heard that in the half–century since 1967? I am hardly a prognosticator, but it was easy to provide you this line in a blog here from Jan. 2: Opportunity does abound with a 25/17 home/road split in the second half of the schedule; the Maple Leafs are an impressive 11–5–0 thus far at the Air Canada Centre. But, opportunity must be availed of, and the Leafs have traditionally aborted such circumstances while playing at home.
Old habits, I suppose, die hard.
Seven of the 25 Air Canada Centre dates that were on the schedule at the beginning of this month have been contested. The home team's response? A somnolent 2–3–2 mark. Six of 14 available points in the standings. Grand total of 15 goals scored. And a much–diminished chance of beginning the playoffs with — are you ready? — home–ice advantage. While the Leafs slumber (6–8–4 overall in 18 games since Dec. 10), the scorching Boston Bruins have soared into contention for the Atlantic Division lead. It seemed like a given, just two weeks ago, that Boston and Toronto would meet in the first round of the Stanley Cup tournament. The pre–expansion rivals were deadlocked in the standings, each 11 points behind first–place Tampa Bay. Then, the Lightning lost blue–line anchor Victor Hedman to injury and the Bruins continued the hottest streak in the National Hockey League this season — currently 13–0–4 in 17 games since Dec. 16.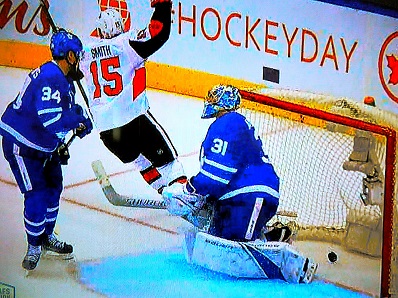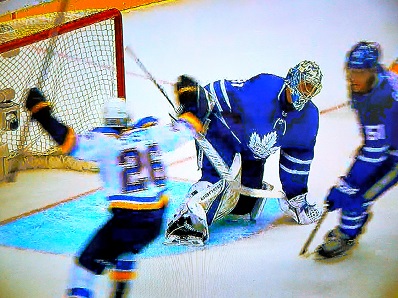 WITH AN OPPORTUNITY TO CLIMB IN THE STANDINGS, THE LEAFS HAVE FOUNDERED ON HOME ICE SINCE THE NEW YEAR BEGAN — LOSING FIVE OF SEVEN GAMES… INCLUDING 4–2, TUESDAY NIGHT, TO THE FAST–RISING COLORADO AVALANCHE (BELOW). SPORTSNET/CBC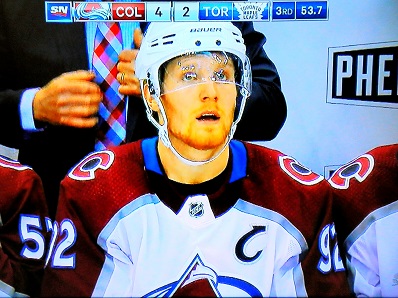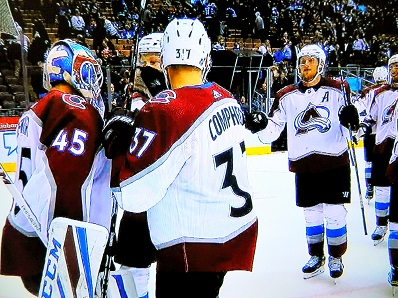 As such, Boston is now seven points clear of third–place Toronto with a 25–22 edge in ROW's (regulation or overtime wins; first tie–breaker in the standings) and three games–in–hand. The Bruins are only five points in back of Tampa Bay, with two games–in–hand. The rapid separation between Boston and Toronto is largely the result of the Maple Leafs falling flat, again, on home ice — a bugaboo that dates to Maple Leaf Gardens… and maybe even the Mutual Street Arena. Certainly to the advent of television and particularly in the post–expansion era, as the NHL ballooned from six to 31 teams. How many of us 50–somethings have heard — time and again — about the challenge of performing as a Leaf… "because games from Toronto are on national TV and players born in Ontario want to look good in front of friends and family." Now that all games are on TV everywhere, it remains an issue for the Leafs to capitalize in front of their sold–out audiences.
Perhaps the name change will help. Maple Leaf Gardens was "Maple Leaf Gardens" through its entire history — from November 1931 to February 1999. Air Canada Centre has been the "Air Canada Centre" since it opened 19 years ago next month. This July, however, the home of the Maple Leafs becomes Scotiabank Arena; its nickname changing from the "hangar" to the "vault". I mean, something has to rise up and alter the interminable pattern of the Leafs — regardless of era, decade or caliber of team — coming up small and frittering away opportunity on home ice. It is happening again this season… perhaps irrelevantly.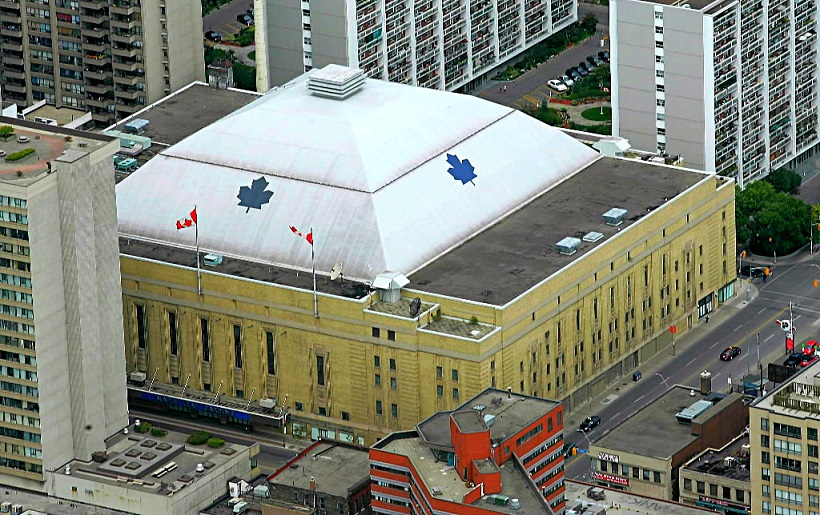 STRUGGLING AT KEY TIMES ON HOME ICE IS A LEAFS' PATTERN THAT DATES TO THE MAJORITY OF THEIR POST–EXPANSION SEASONS (1967–1999) AT MAPLE LEAF GARDENS (ABOVE).
Beyond the top three teams — all of which qualify for the playoffs — the Atlantic Division is so decrepit that only another "18–wheeler" (thanks again, Burkie) in the remaining 33 games could jeopardize Toronto. As of today, and even after winning six of their past 18, the Leafs are perched nine points ahead of Detroit and Montreal. The home/road split is now virtually even, with 17 games left at the ACC; 16 on the road. So, the big damage had already occurred, even with an upcoming five–game stretch on Bay St. (Feb. 5–14) against Anaheim, Ottawa, Nashville, Tampa Bay and Columbus.
It's an old, tired refrain for the Leafs. And, one that never changes.
FALLING LIKE A ROCK? In the heady days of October and November, the Leafs were challenging, for a time, near the top of the NHL overall standings. But, not anymore. At the moment, with 57 points, Toronto stands a disappointing 12th in the 31–team aggregate… and only three points removed from 20th place. Few, if anyone, predicted prior to the season that Vegas, Winnipeg, Dallas and Colorado would rank higher than the Leafs in late–January. Or, that Toronto's 18 regulation–time losses would be tied for most (with St. Louis and Los Angeles) among the NHL's top 16 clubs. The Leafs are 13–8–2 at the Air Canada Centre, having won fewer home games than Tampa Bay, Vegas, Winnipeg, Boston, Nashville, Washington, St. Louis, Dallas, San Jose, Colorado, Minnesota, Columbus, Pittsburgh and the New York Rangers; Toronto is tied in home wins with New Jersey, Philadelphia, Anaheim and the New York Islanders. Simply not up to standard.
50 YEARS AGO TONIGHT
    PHILADELPHIA at TORONTO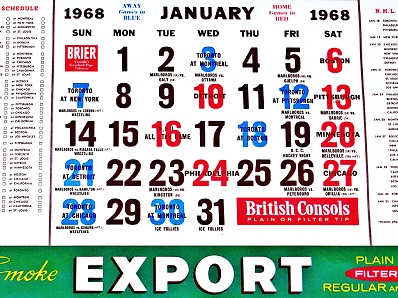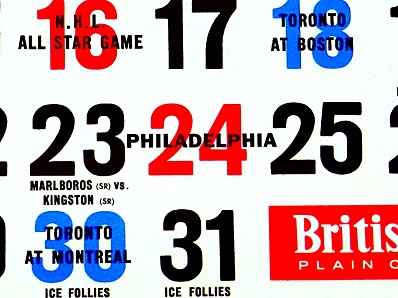 Though the Leafs are still awaiting their first Stanley Cup of the post–expansion era — and have missed the playoffs 21 times since their 1967 championship — they have developed some post–season rivalries. Arguably the most intense involves the Philadelphia Flyers; playoff opponent in 1974, 1975, 1976, 1999, 2003 and 2004. The 1976 series, in particular, remains prominent in Leafs lore for its unbridled acrimony — a seven–game, brawl–filled quarterfinal in which the home team held serve. The Flyers, or Broad St. Bullies, were the two–time defending champion and the Leafs nearly pulled off a colossal upset. In Game 6 of that series, at Maple Leaf Gardens, Toronto captain Darryl Sittler scored five goals on Hall–of–Fame netminder Bernie Parent; still the most–ever in a Stanley Cup match, tied with four others (Newsy Lalonde 1919; Maurice Richard 1944; Reggie Leach 1976, exactly two weeks after Sittler, and Mario Lemieux 1989).
The first–ever meeting between the Leafs and Flyers took place at the Gardens 50 years ago tonight: Jan. 24, 1968. Philadelphia was the last of the six expansion teams (others being the California Seals, Los Angeles Kings, Minnesota North Stars, Pittsburgh Penguins and St. Louis Blues) to encounter the Leafs. And, the Flyers prevailed, 2–1, as Toronto continued its struggle against the new, West Division clubs.
In my collection, I have the program from that game (Leafs' Peter Stemkowski on the cover). Inside, were stories about George Armstrong, Milt Schmidt, Duane Rupp, Flyers' GM Bud Poile (father of Nashville Predators GM David Poile)… and a wonderful photo–feature on the construction of Maple Leaf Gardens: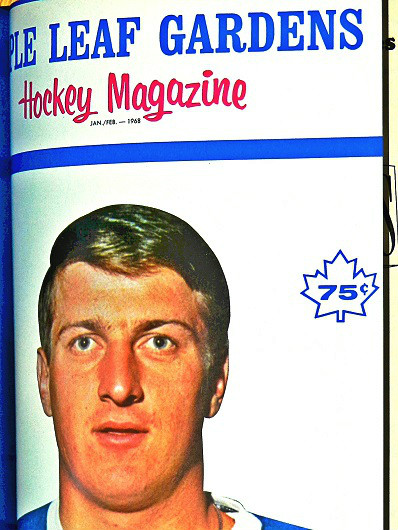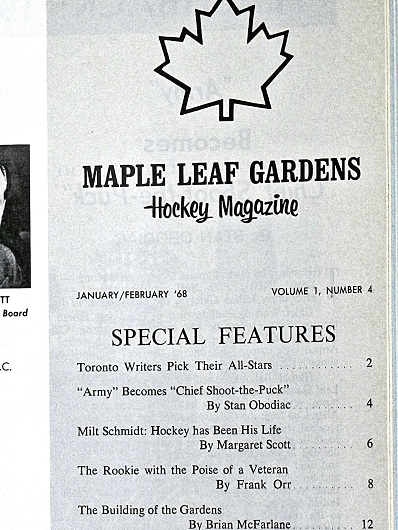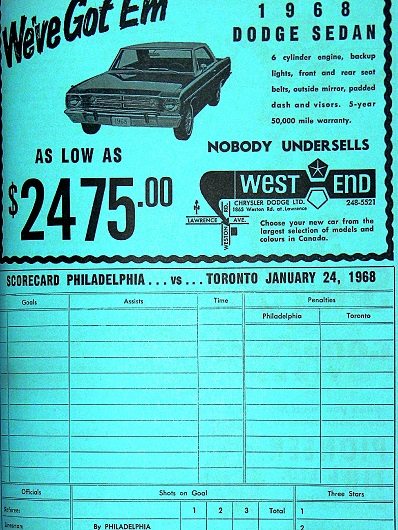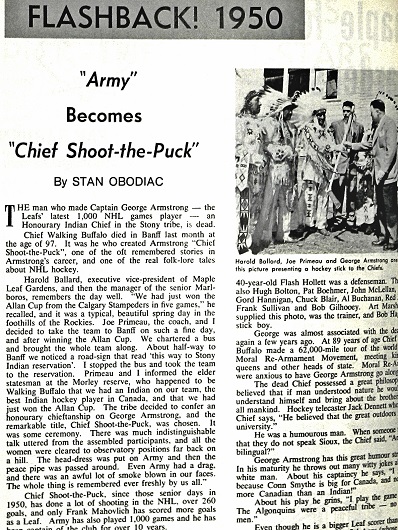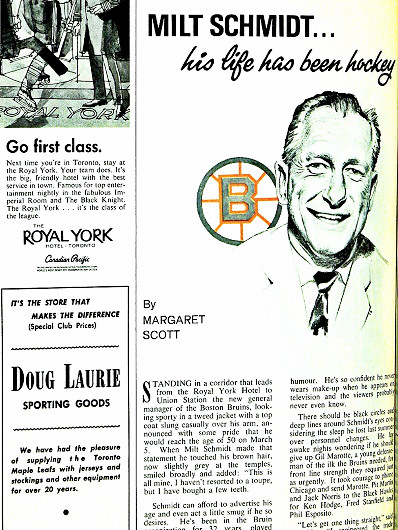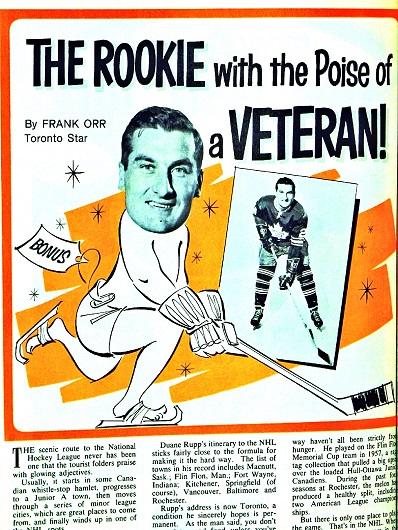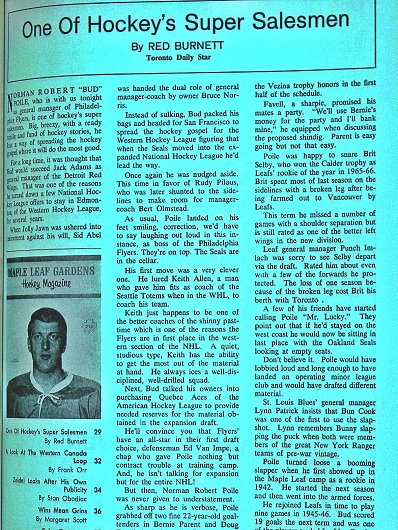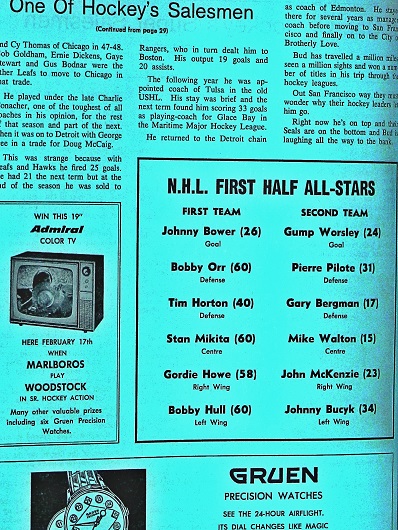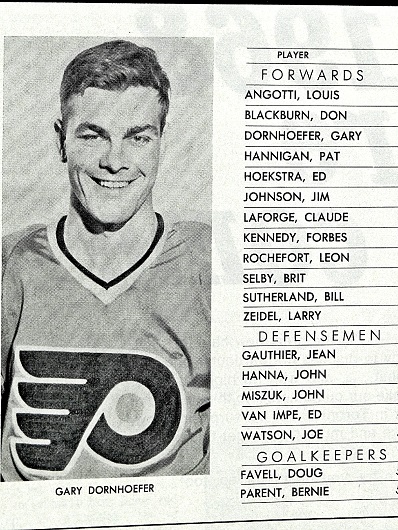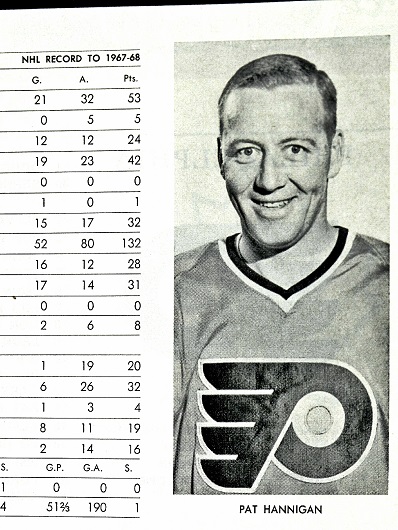 ORIGINAL FLYER GARY DORNHOEFER (LEFT) WAS A MEMBER OF BOTH PHILADELPHIA STANLEY CUP TEAMS — IN 1974 AND 1975. IF YOU REMEMBER THE EARLY DAYS OF THE BUFFALO SABRES IN THE 70's, YOU MAY RECALL PAT HANNIGAN (RIGHT) AS TV ANALYST ALONGSIDE PLAY–CALLER TED DARLING ON WKBW–TV, CHANNEL 7, WHICH AIRED ROUGHLY A DOZEN SABRES' ROAD GAMES PER SEASON. A NATIVE OF TIMMINS, ONT., HANNIGAN HAD PLAYED FIVE YEARS (1963–64 TO 1968–69) WITH THE AMERICAN HOCKEY LEAGUE BUFFALO BISONS AND WAS A FAMILIAR FACE. DARLING AND HANNIGAN ARE BOTH DECEASED. THE FORMER DIED OF ALZHEIMER'S AT 61 ON DEC. 19, 1996; HANNIGAN AT 71 ON DEC. 11, 2007.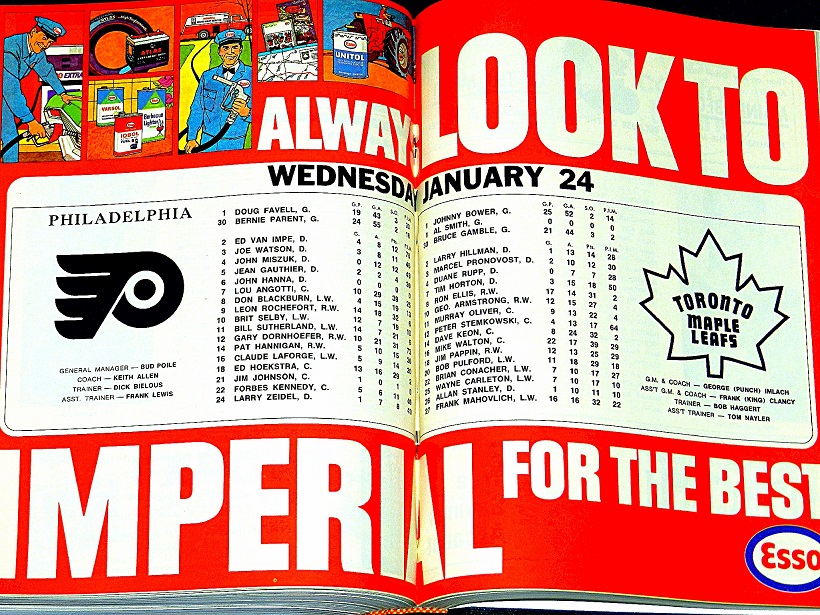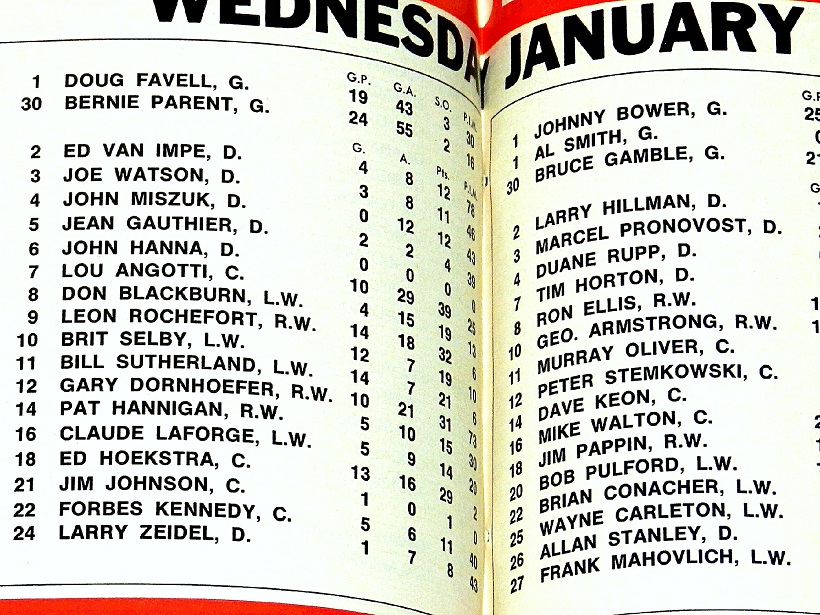 AMONG THE ORIGINAL FLYERS, ONLY FOUR — BERNIE PARENT, ED VAN IMPE, JOE WATSON AND GARY DORNHOEFER — WOULD STILL BE WITH THE CLUB FOR THE BACK–TO–BACK STANLEY CUP TITLES IN '74 AND '75.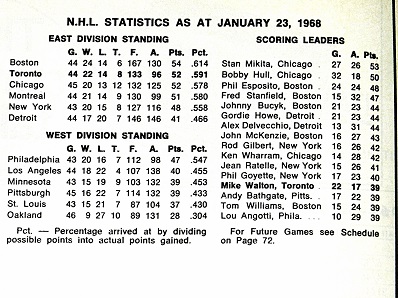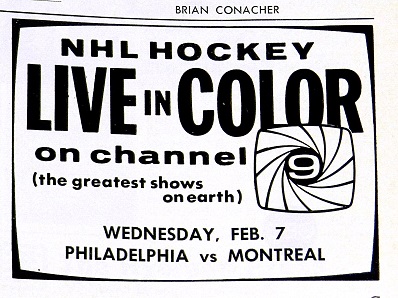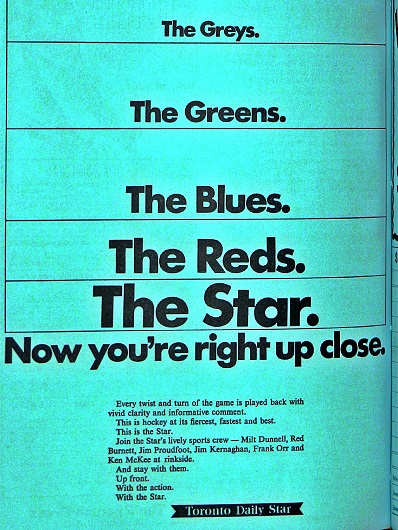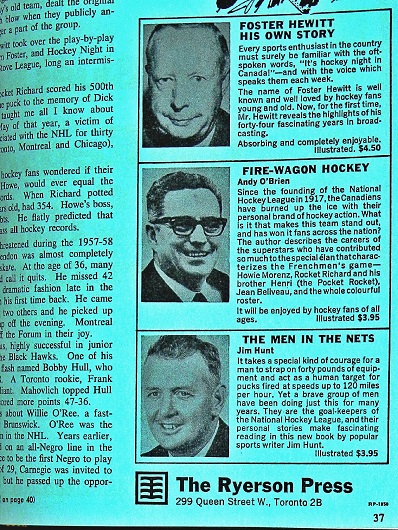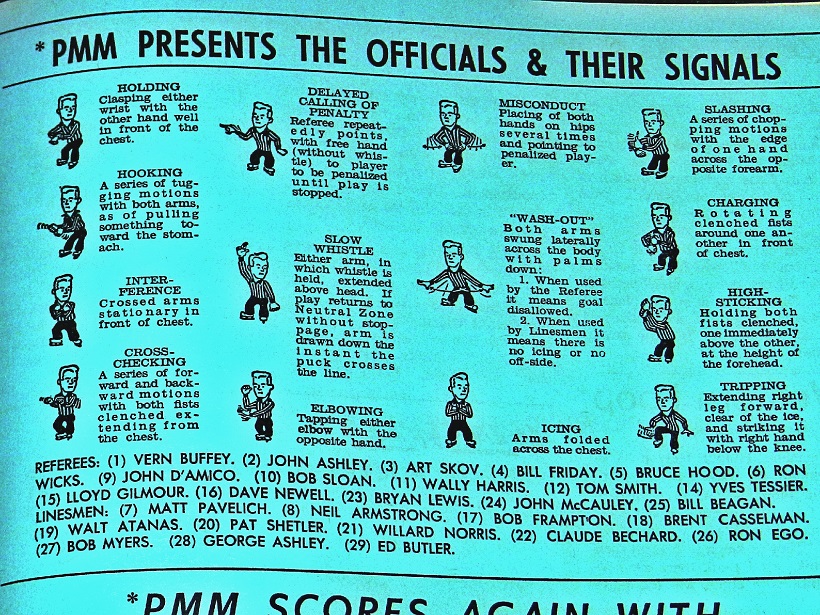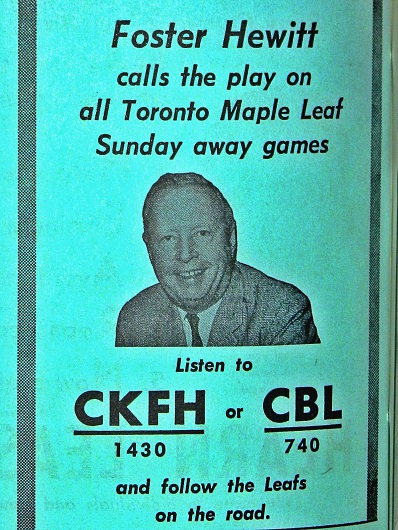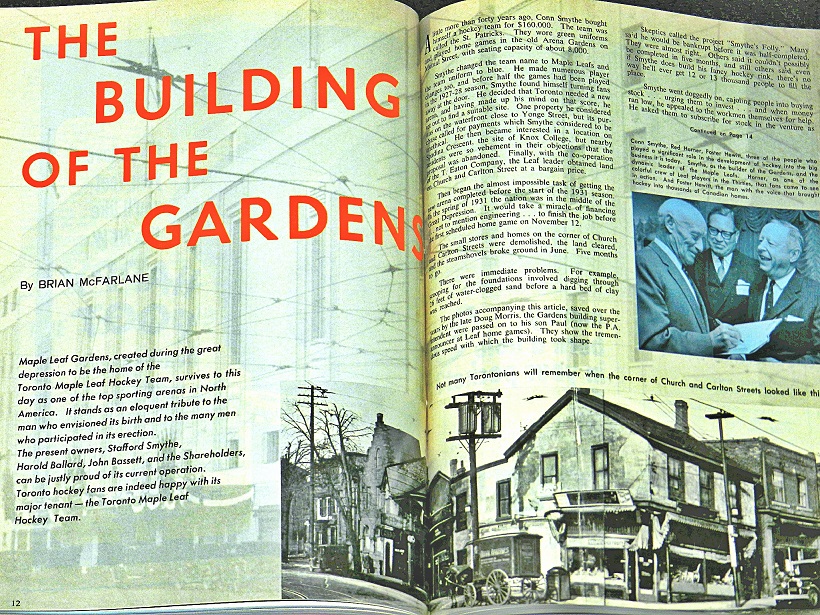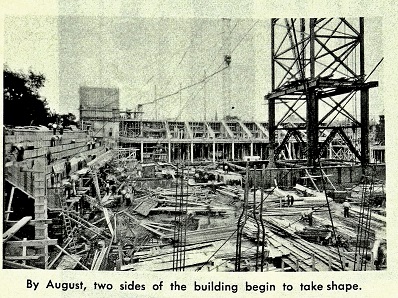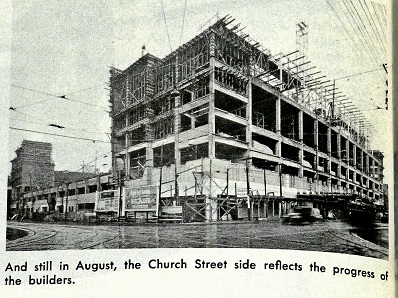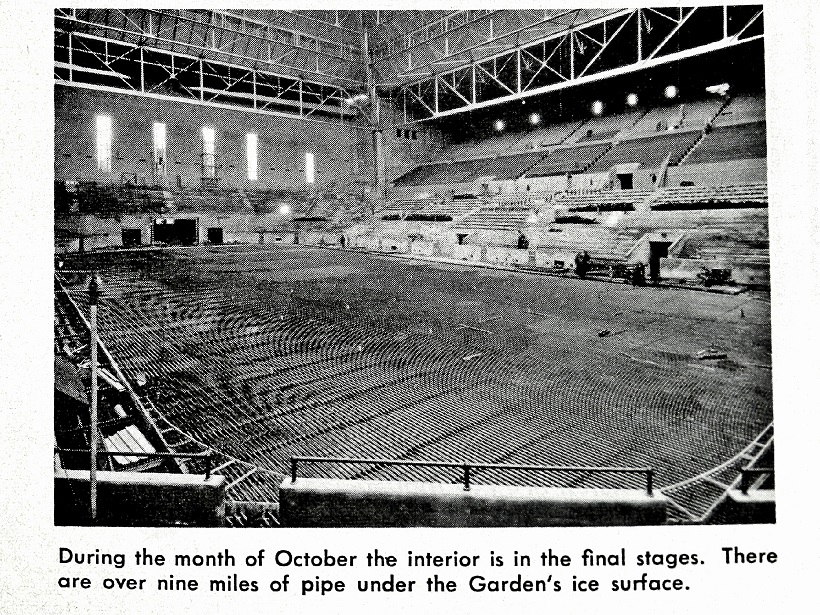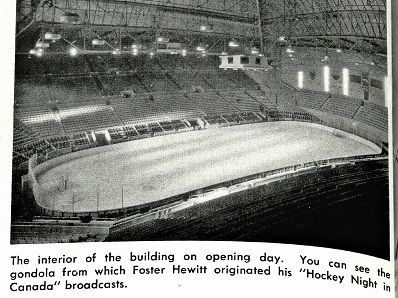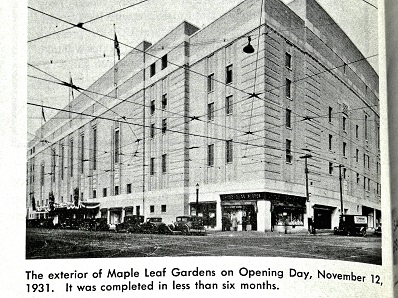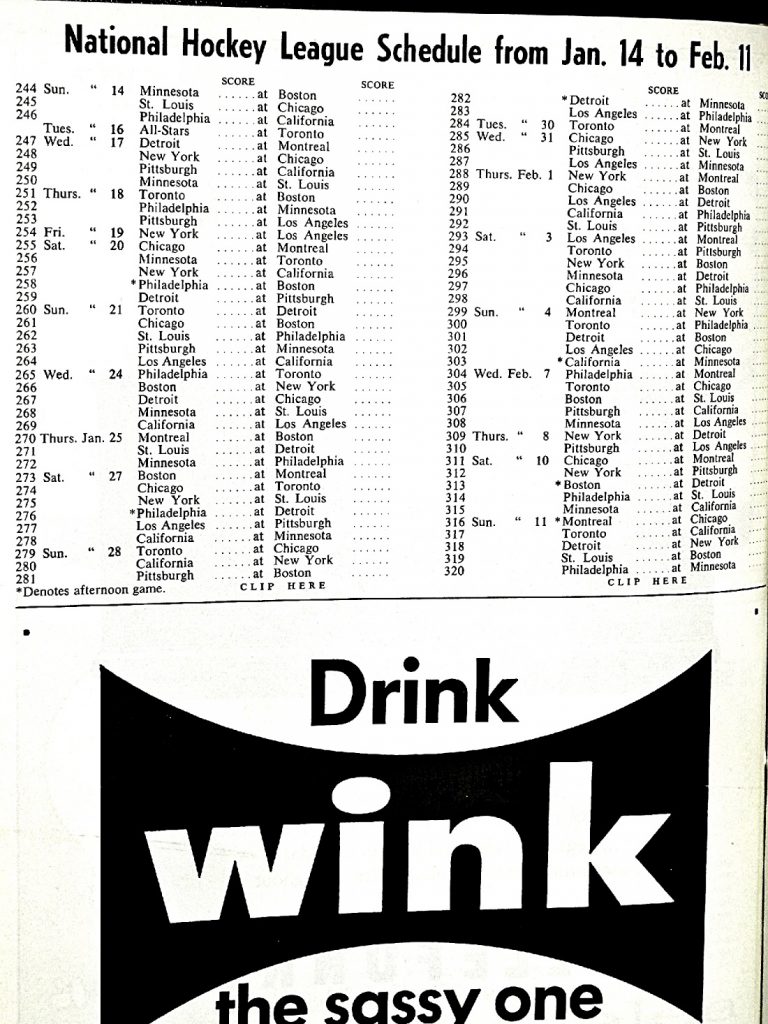 FROM THE OLD TORONTO TELEGRAM OF JAN. 25, 1968…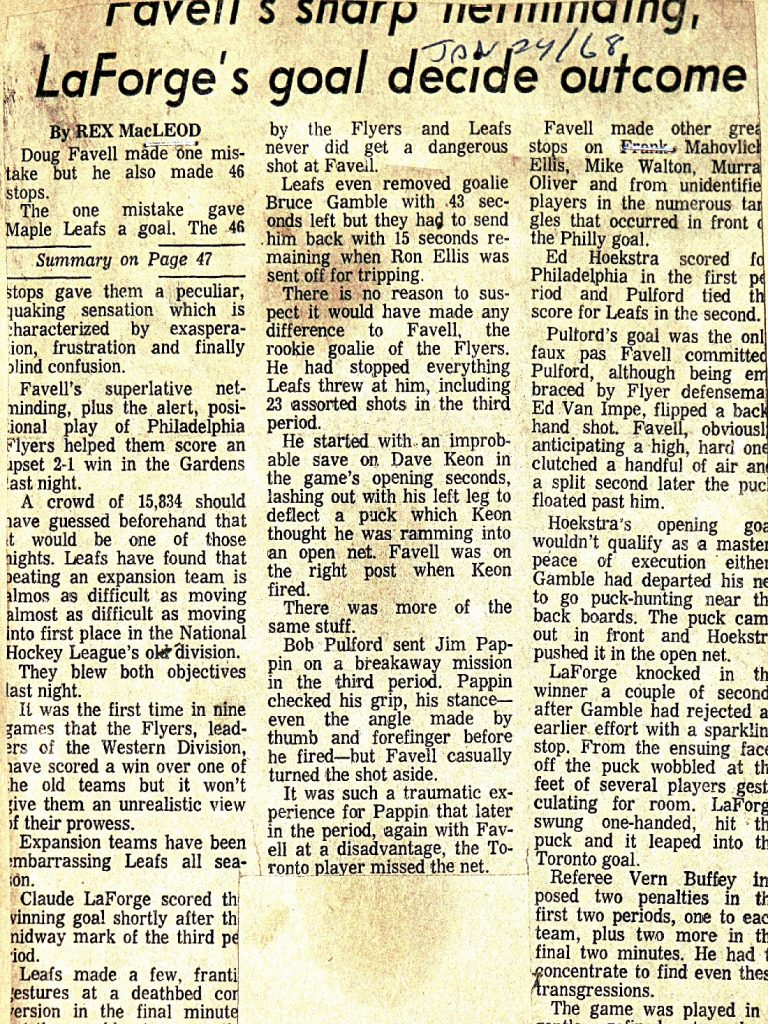 TIME ON MY HANDS…
When there are two weeks between the National Football League Conference championships and the Super Bowl, it provides ample opportunity to consider a trivial matter such as… distance.
For no particular reason, I checked the two cities (Foxborough MA and Philadelphia) that will hook up in Super Bowl LII at Minneapolis, Feb. 4, and found it is a 301.4–mile drive between Gilette Stadium (New England Patriots) and Lincoln Financial Field (Philadelphia Eagles). Or, 243 nautical (flying) miles between Logan International Airport (Boston) and Philadelphia International Airport. See what I mean about time?
Once on a cerebral roll, I got thinking about the farthest and closest distances between teams in professional sport today. The former belongs to the National Hockey League: Vancouver to Sunrise FL. A drive of 3,406 miles (5,481.8 kilometers) or a flight between Vancouver International Airport and Hollywood/Fort Lauderdale International Airport of 2,427 nautical miles. The closest distance between two teams in the same sport is obviously the New York Giants and New York Jets, who share Met Life Stadium in East Rutherford NJ. In different sports, any hockey and basketball team that shares the same arena (i.e. Toronto Maple Leafs and Toronto Raptors; Boston Bruins and Boston Celtics). The shortest distance, however, between teams in the same sport playing in different venues is a draw between the New York Rangers/New York Knicks (Madison Square Garden) and the New York Islanders/Brooklyn Nets (Barclays Center): 5.4 miles by car. It is 9.7 miles between Yankee Stadium (New York Yankees) and Citi Field (New York Mets) and 10.1 miles from Wrigley Field (Chicago Cubs) to Guaranteed Rate Field (Chicago White Sox).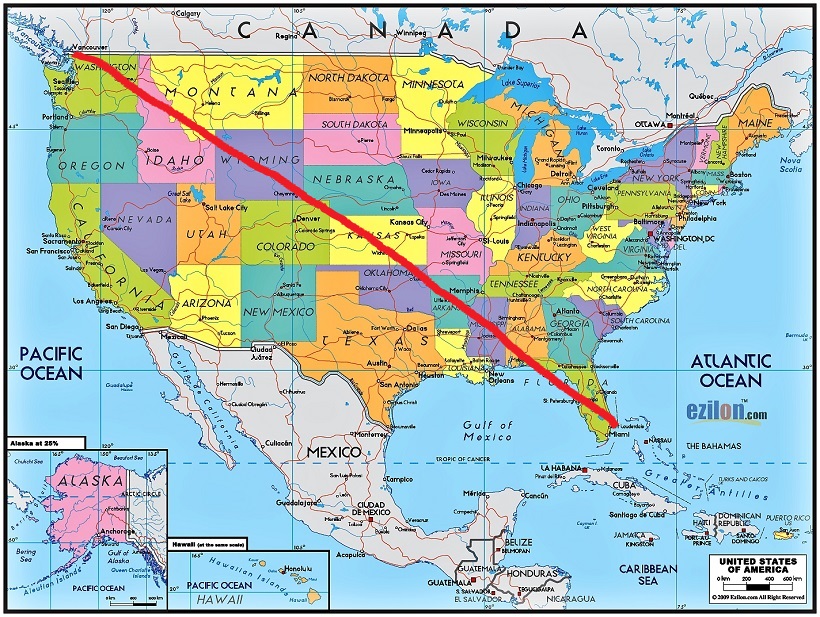 NORTH AMERICAN MAP WITH LINE INDICATING THE FARTHEST DISTANCE BETWEEN TEAMS IN ANY OF THE FOUR MAJOR PROFESSIONAL SPORTS: VANCOUVER TO SUNRISE (OR FORT LAUDERDALE) FLA.
With no reason to stop, I then considered the longest and shortest distances between cities (and/or clubs) meeting for the championship of the four major North American sports: World Series (baseball); Super Bowl (NFL); Stanley Cup (NHL) and the Larry O'Brien Trophy (NBA). As a starting point, I chose 1967 — the year of Super Bowl I between the Green Bay Packers and Kansas City Chiefs (623.8–mile drive, for those interested).
WORLD SERIES: The farthest distance between teams competing for the Major League Baseball championship since 1967 occurred in 1973 when the New York Mets clashed with the Oakland A's. It is 2,232 nautical miles between LaGuardia Airport and Oakland International Airport. Shortest travel distance was in 2000 when the Yankees defeated the Mets (9.7 miles between Yankee Stadium and Shea Stadium, which sat next to the Mets' current home, Citi Field). In a title round featuring different cities, the "Earthquake Series" of 1987 between Oakland and San Francisco garnered the least amount of travel. It was a 21.8–mile drive (10 nautical miles) from old Candlestick Park to the Oakland Coliseum.
SUPER BOWL: The farthest distance among teams competing for the Vince Lombardi Trophy was Super Bowl XV (Jan. 25, 1981): Eagles vs. Raiders. It is 2,182 nautical miles between Philadelphia and Oakland International Airports. Which ever–so–slightly edged the cities competing in Super Bowl XLIX (Feb. 5, 2015): New England and Seattle. It is 2,169 nautical miles from Logan Airport in Boston to Seattle–Tacoma International Airport. Shortest distance occurred in Super Bowl XLI (Feb. 4, 2007) between the Bears and Colts. It is only 154 nautical miles from O'Hare Airport in Chicago to Indianapolis International.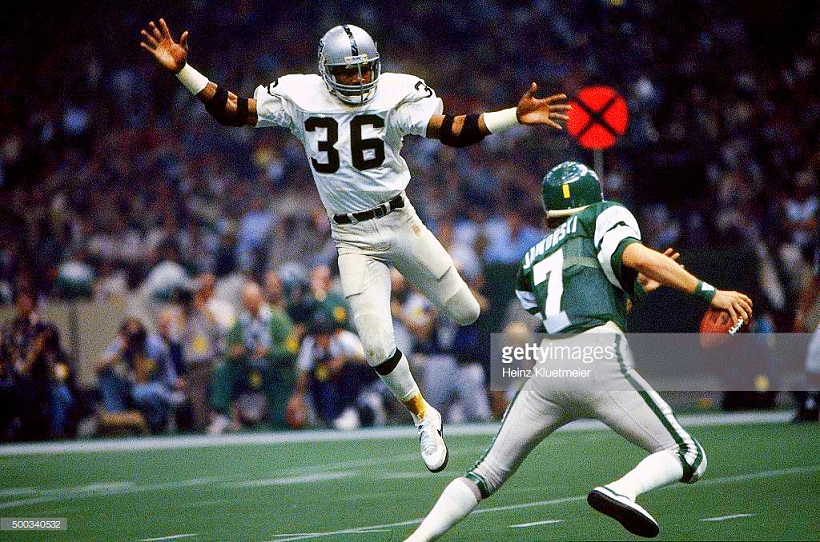 QUARTERBACK RON JAWORSKI OF PHILADELPHIA IS HOUNDED BY MIKE DAVIS (36) OF OAKLAND DURING SUPER BOWL XV AT THE LOUISIANA (NOW MERCEDES BENZ) SUPERDOME IN NEW ORLEANS.
LARRY O'BRIEN TROPHY: We have to go all the way back to 1967 to find the longest distance between cities competing for the NBA championship. The San Francisco Warriors — playing at the Cow Palace in Daly City CA before moving to Oakland in 1971 and becoming the Golden State Warriors — took on the Philadelphia 76ers. It is 2,191 nautical miles between San Francisco and Philadelphia International Airports. Shortest distance was in 1995, when the Houston Rockets faced the Orlando Magic. It is 742 nautical miles between Houston–George Bush Intercontinental Airport and Orlando International in Florida.
STANLEY CUP FINAL: The 2011 NHL championship holds the record for farthest travel — 2,184 nautical miles between Logan Airport in Boston and Vancouver International (the Bruins defeated the Canucks). That was 51 nautical miles better than the 2012 series between New Jersey and Los Angeles (2,133 nautical miles from Newark International to L–A–X). Shortest distance by air and road was in 1980 between the Philadelphia Flyers and New York Islanders. It is merely 83 nautical miles from Philadelphia International to LaGuardia Airport; it was a 127.5–mile drive between the old Spectrum and the Nassau Coliseum.