TORONTO (Feb. 21) — According to a long–time Western Conference scout with whom I check every year at this juncture, the Toronto Maple Leafs will bolster their blue line before Monday's National Hockey League trade deadline. "Based on the rumblings I'm hearing, it wouldn't surprise me if [general manager] Lou Lamoriello added at least one defenseman," said the scout. "If you look at Toronto's depth chart, you can see who the top four guys are. I think Lou wants to improve on the bottom two for the playoffs."
Even that assessment, however, can be challenged. Most would suggest that Morgan Rielly, Jake Gardiner, Nikita Zaitsev and Ron Hainsey comprise the top four blue–liners, with Roman Polak, Connor Carrick and rookie Travis Dermott rounding out the group. Others will contend — and I may be among them — that Dermott has worked his way into the top four. As with the majority of NHL teams, the Leafs are heavily favoring skill and speed over finesse and muscle. Dermott, therefore, may have ascended in the ranks with his confident work through 19 games. Regardless, Lamoriello has to be looking to improve on Polak and Carrick among the top six Toronto defensemen. And, likely before the trade cut–off on Monday afternoon.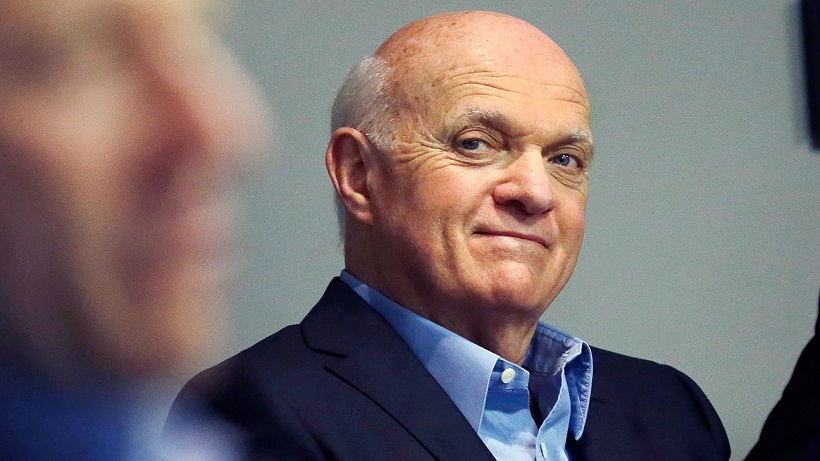 WILL LEAFS GM LOU LAMORIELLO BE GRINNING PROUDLY AFTER MONDAY'S NHL TRADE DEADLINE?
Whether or not such improvement becomes dramatic is the issue many will watch for. My scouting friend, however, warns Maple Leaf fans to stay grounded. "Yes, [Erik] Karlsson is available for the right price, but I'd be really surprised if Lamoriello is willing to give up what [the Senators] are probably looking for," he opined. "I mean, why trade a good kid like [Mitch] Marner when the Leafs are playing so well… and while not knowing if Karlsson is still hampered by the [foot] surgery he had last year? There are other options if clubs want to add established defensemen, but the cost at the deadline is often too steep. And, again, if your team is already playing well, like the Leafs, how much do you want to upset the mix so late in the season?"
Tossing around names is often a fool's paradise. Yes, Karlsson will likely change teams before the final year of his contract next season. But, don't expect such a move until the summer. Oliver Ekman–Larsson also has one season remaining on his pact with forever–foundering Arizona. So, he, too, could be in play at some point. Drew Doughty will almost–surely sign a contract extension with Los Angeles that will carry him toward the end of his Hall–of–Fame career. The Hockey News picks Ryan McDonagh (New York Rangers) and Mike Green (Detroit) as the two likeliest defensemen to be traded before the deadline… and suggests the Leafs are interested in both (Green, though coveted as a right–handed shot, can become an unrestricted free agent in July). Jack Johnson (Columbus), Danny DeKeyser (Detroit), 36–year–old Johnny Oduya (Ottawa) and ex–Leaf Matt Hunwick (Pittsburgh) are other names to potentially watch for prior to Monday.
The Leafs are deep and solid up front, which minimizes the need, and likelihood, of adding a forward.
TEAM MARKS TO FALL? With a record of 37–20–5 for 79 points, and with 20 games left to play, the Leafs are on pace to reasonably eclipse franchise marks for wins and points in one season. On three occasions under Pat Quinn between 1998–99 and 2003–04, the Leafs compiled 45 victories. Only a late–season slump would prevent the current Toronto club from bettering that number. Quinn's 2003–04 team accrued a franchise–best 103 points. Mike Babcock's crew needs 24 of 40 available points to match the record; 25 to beat it. Again, rather attainable should the Leafs continue to perform anywhere near their recent pace (11–2–0 in the past 13 games). Also a threat to tumble is the franchise mark of 26 home–ice wins in one season, set by the 2005–06 club. The Maple Leafs have 20 victories at the Air Canada Centre with 11 dates remaining.
The New York Islanders (and pending UFA John Tavares) are here in town Thursday night.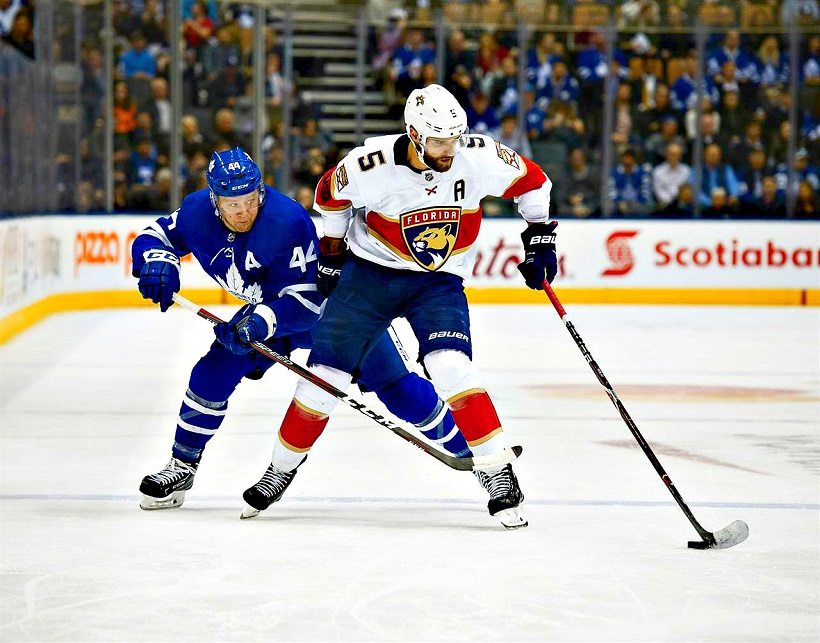 MORGAN RIELLY (44, ABOVE) AND THE LEAFS WON FOR THE 11th TIME IN 13 GAMES ON TUESDAY NIGHT, BLANKING FLORIDA, 1–0, AT THE AIR CANADA CENTRE. AUSTON MATTHEWS (BELOW) WAS ALL SMILES WHEN GREETING FREDERIK ANDERSEN, WHO RECORDED HIS FIFTH SHUTOUT OF THE SEASON. CHRISTOPHER KATSAROV THE CANADIAN PRESS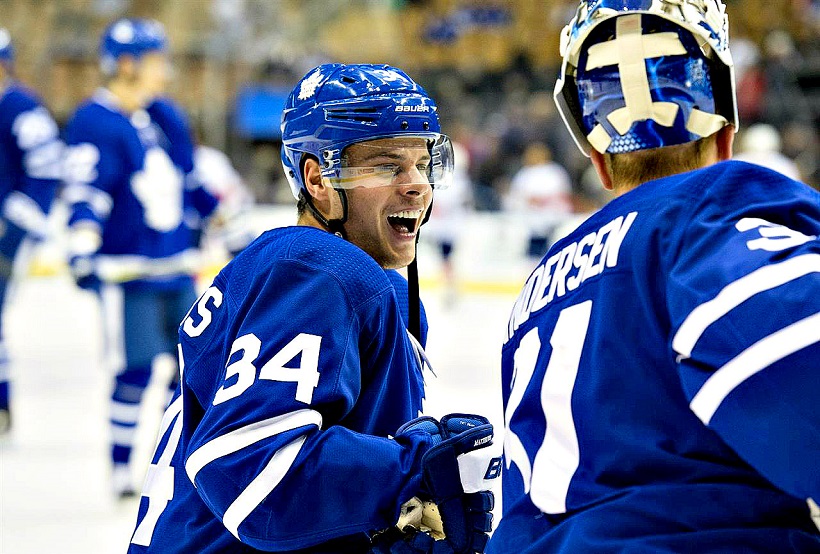 LIKELY NEVER AGAIN
Still largely underplayed is one of the biggest stories in the century–long history of the NHL. The Vegas Golden Knights (39–16–4 for 82 points prior to Wednesday's home game against Calgary) are in the process of annihilating every meaningful record for expansion teams and have been among the top three clubs in the overall standings throughout the season. It's been said the Golden Knights' remarkable first season is a "once–in–a–lifetime" event. To which I respond, "who's lifetime?" Given this has never come close to happening before, it probably will not happen again. It's much more of a "one–time–forever" event. Not just in hockey, but in all of professional sport. The current issue of The Hockey News (below) features the Vegas phenomenon on its cover, with senior writer Ken Campbell detailing the story inside.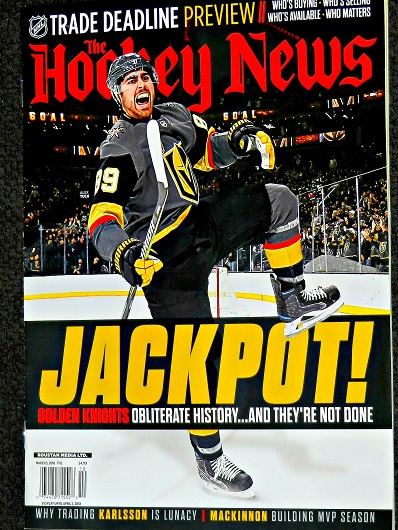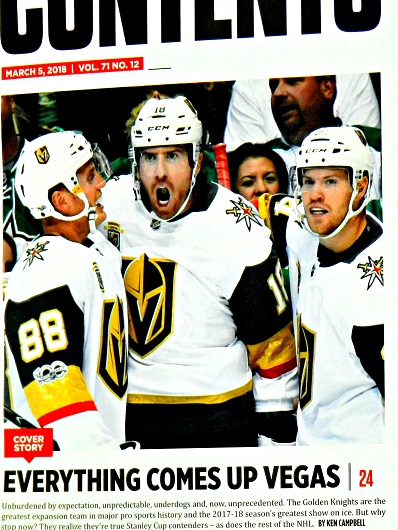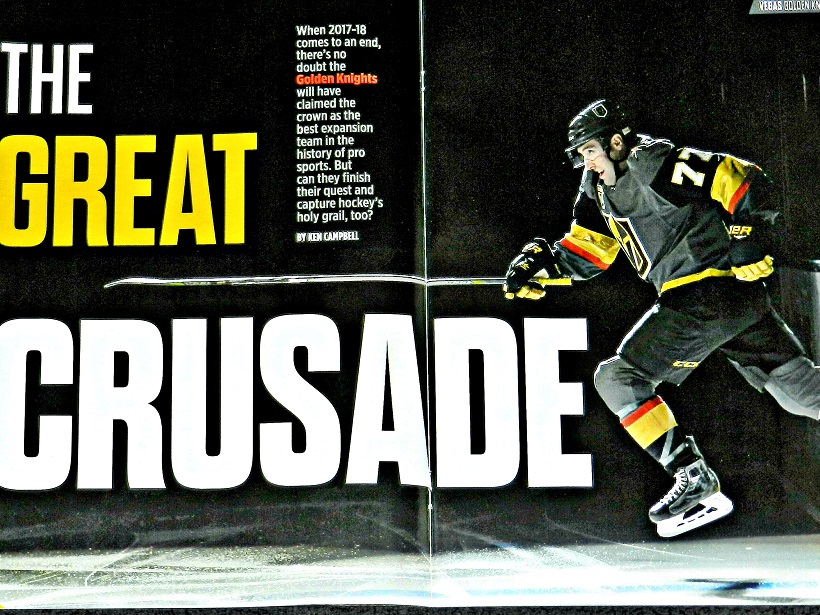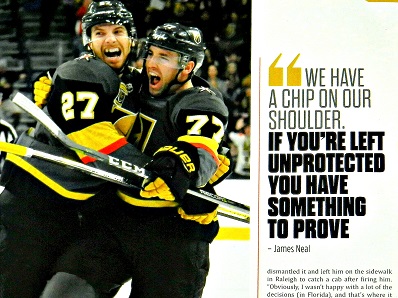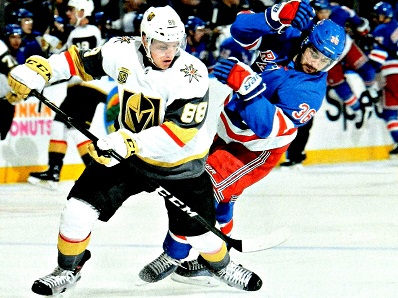 MILESTONE FOR SCOTTY BOWMAN
50 YEARS AGO TONIGHT at Maple Leaf Gardens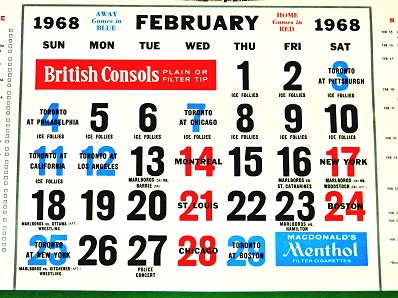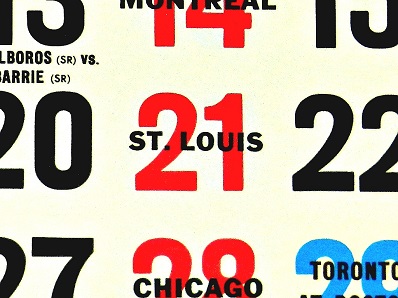 The greatest coach in NHL history (11 Stanley Cups) recorded his first of numerous victories here in Toronto on this date 50 years ago. Guiding the expansion St. Louis Blues, Scotty Bowman reveled in a 5–1 rout at Maple Leaf Gardens on Feb. 21, 1968. It avenged an 8–1 embarrassment in the Blues' first visit to the Gardens nearly two months earlier (Dec. 30, 1967). Bowman, of course, would win aplenty here in town, and abroad, while coaching the legendary Montreal teams of the late–70's to four consecutive NHL titles.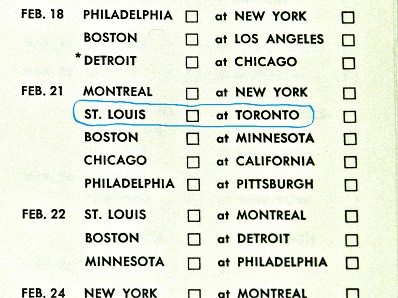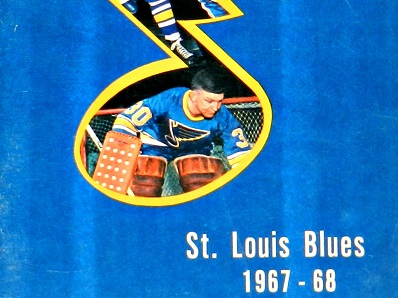 In my collection (below), the last of 16 hockey programs from Maple Leaf Gardens during the year of the Great Expansion, 1967–68. Defenseman Allan Stanley graced the cover and the headline to the lead story (by Lou Cauz of the Globe and Mail) was rhetorical. Yes, the Leafs — defending Stanley Cup champions — were "dead", trailing fourth–place Boston by nine points for the final playoff spot in the new East Division. Toronto would ultimately miss by four points. There's a story on the Junior A Toronto Marlboros (by Frank Orr of the Toronto Star). And, of course, the line–ups from the Leafs–St. Louis game.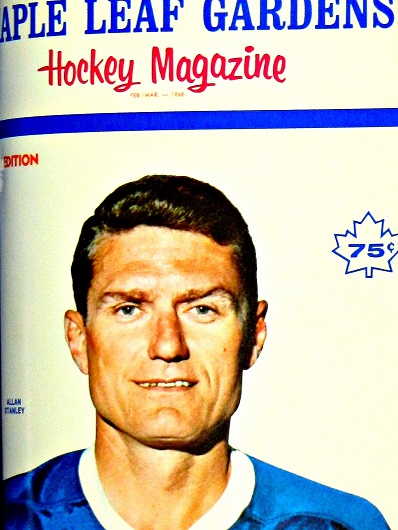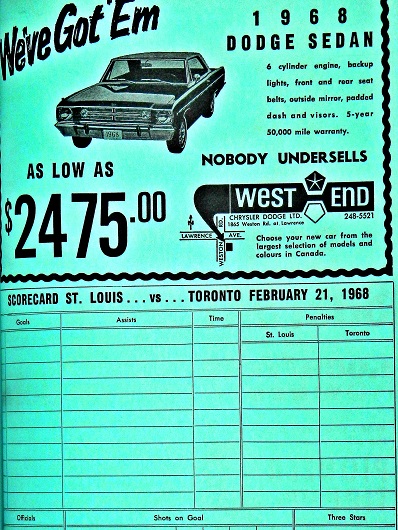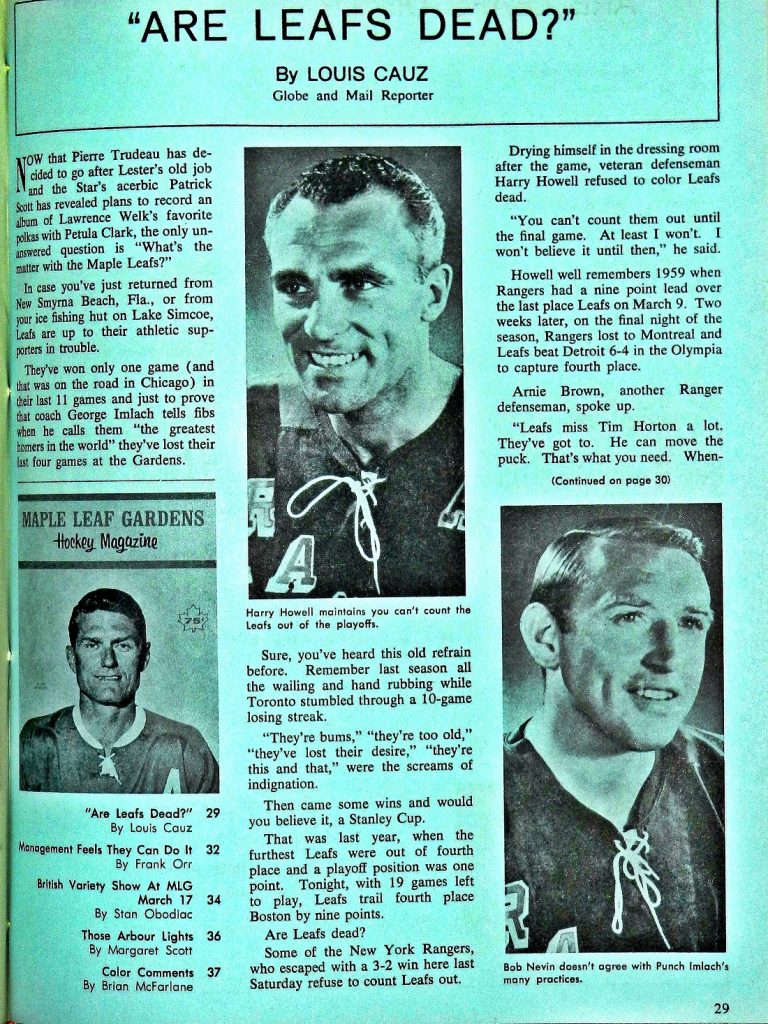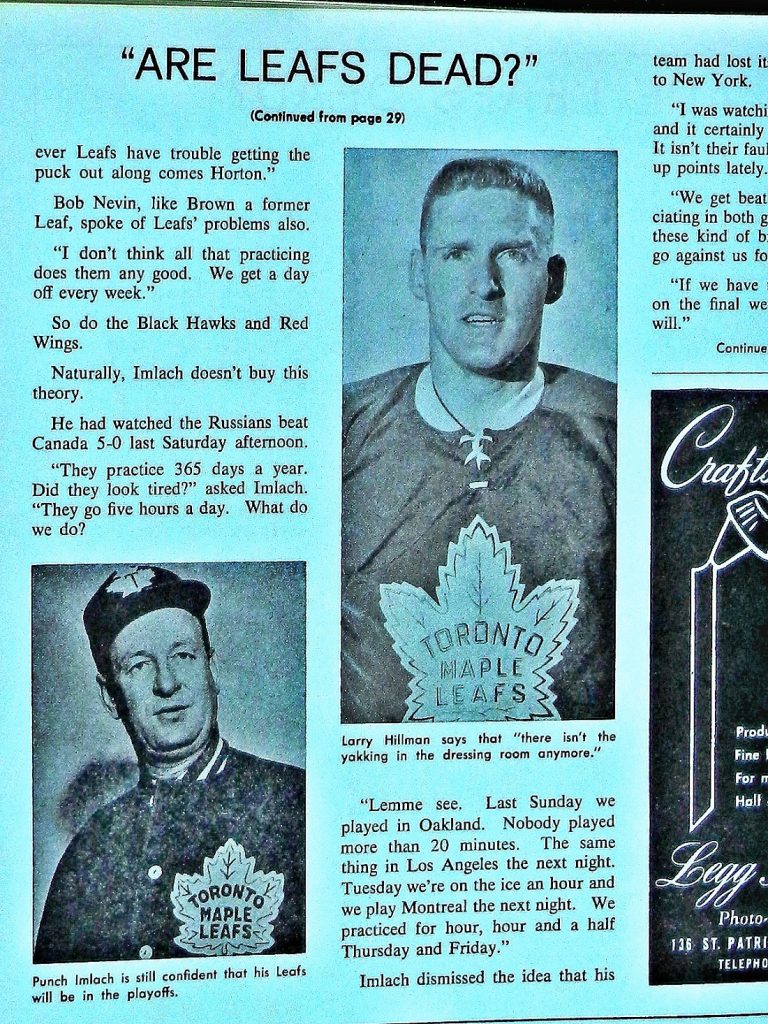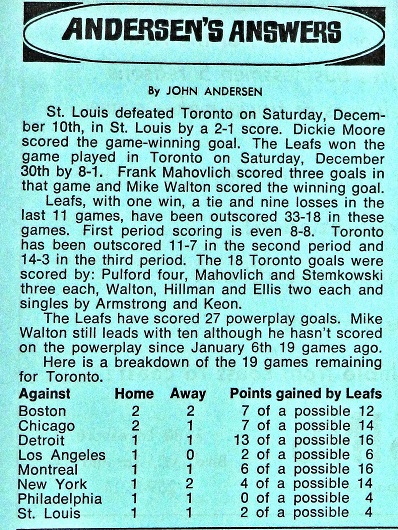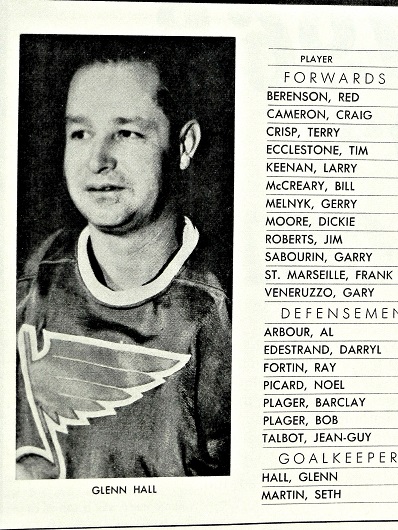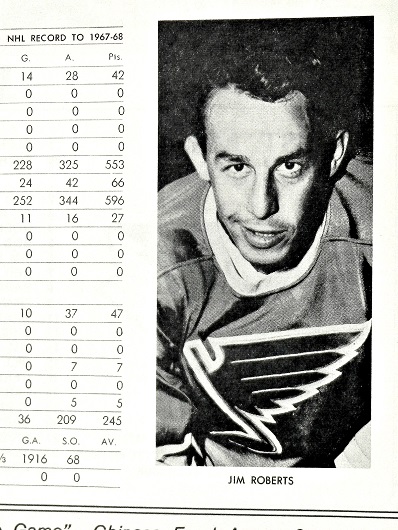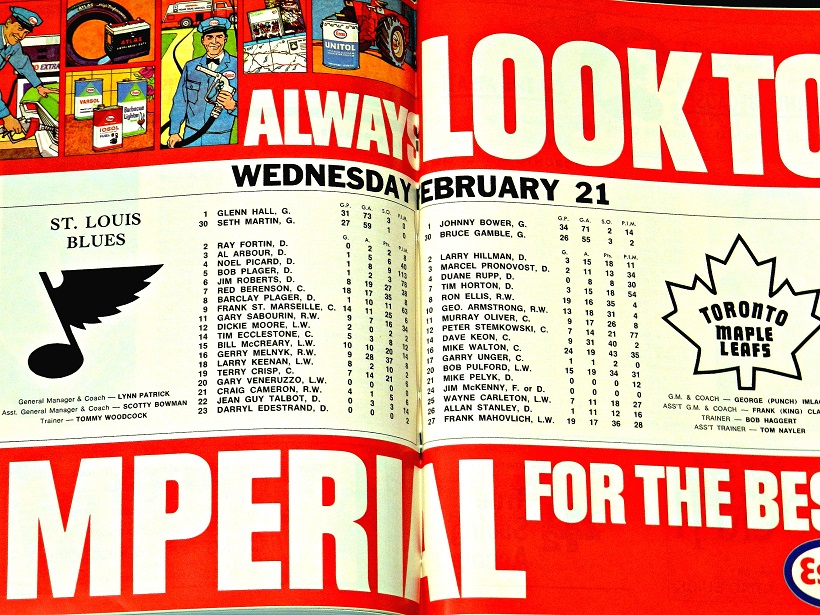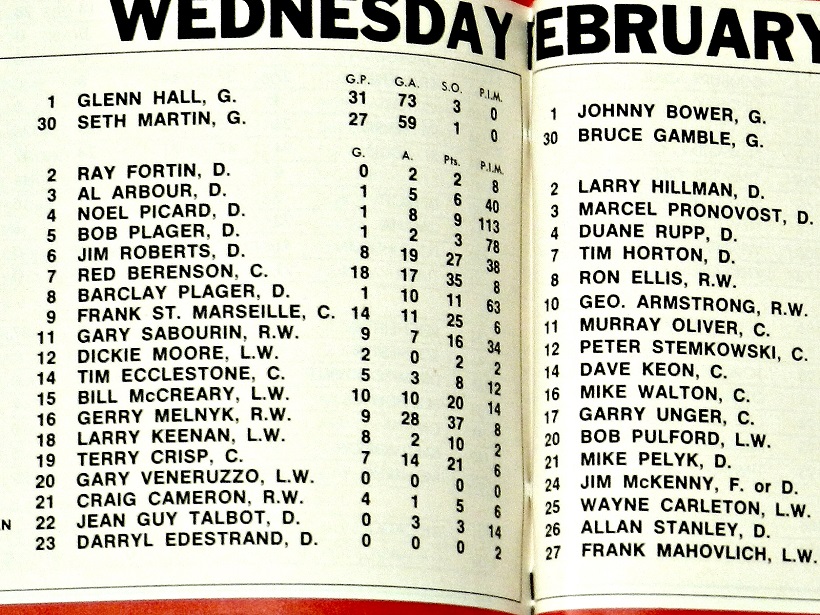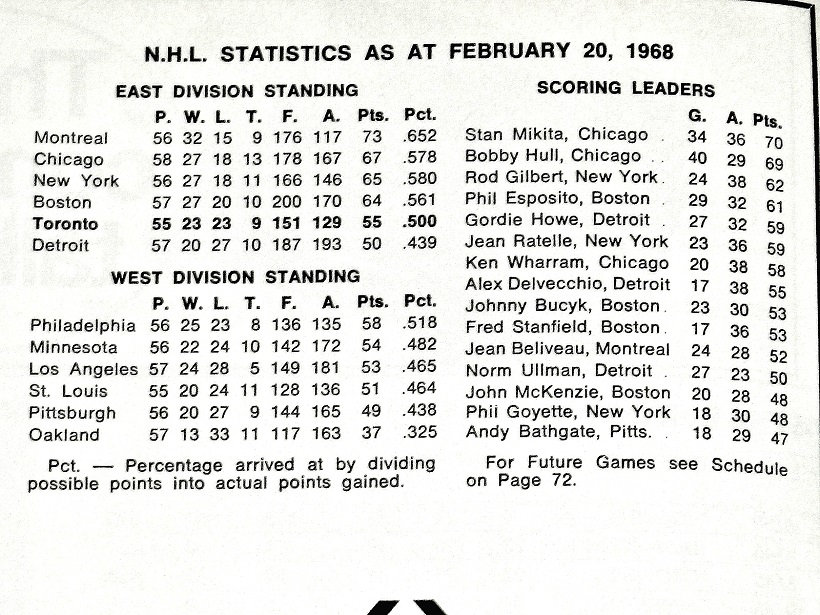 FROM THE OLD TORONTO TELEGRAM…

ST. LOUIS DEFENSEMAN BOB PLAGER (5) TAKES RON ELLIS OF TORONTO TO THE ICE AT MAPLE LEAF GARDENS 50 YEARS AGO TONIGHT. THE EXPANSION BLUES DRUBBED THE LEAFS, 5–1.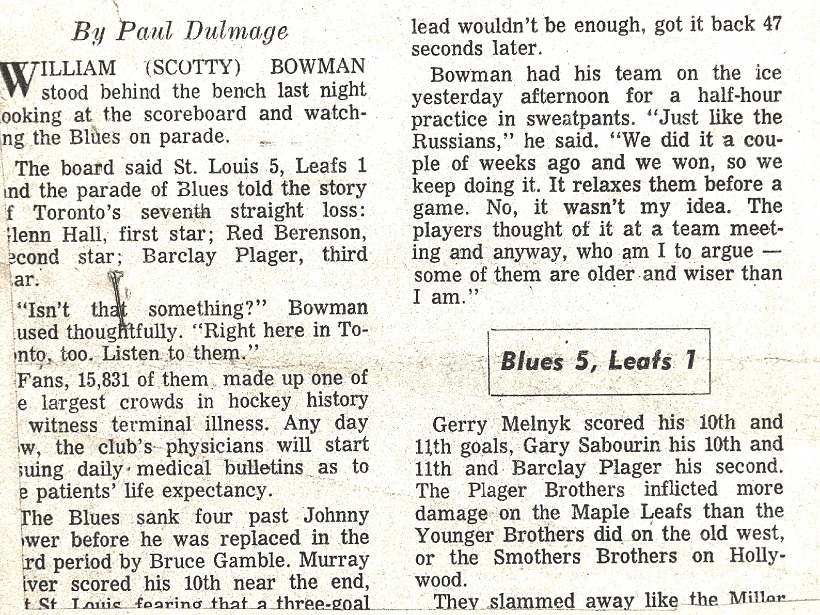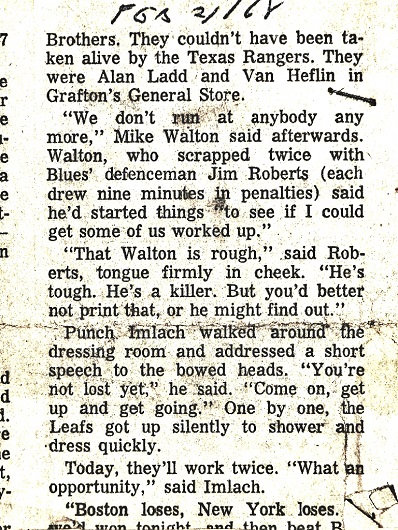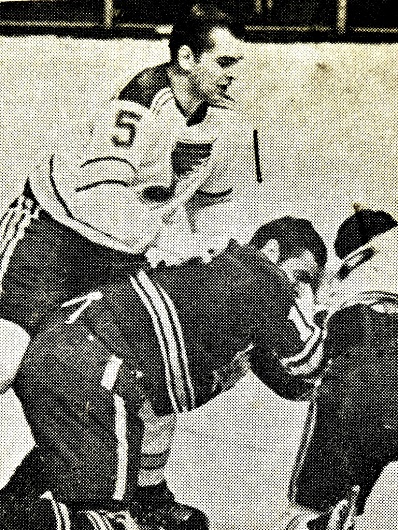 EMAIL: HOWARDLBERGER@GMAIL.COM