TORONTO (Feb. 24) — A prediction here as it pertains to the Toronto Maple Leafs for Monday's National Hockey League trade deadline (and one that won't likely stun readers): General manager Lou Lamoriello will make a medium–level acquisition, at best, adding depth to his blue line and, potentially, at the center–ice position. My sense is that Lamoriello is quite enamored of the group that has won 12 of its past 14 games and is happy with the progress of late–season addition Travis Dermott. Though several elite players are certainly available, Lamoriello won't upset the apple–cart. He'll leave well–enough alone.
On the flip–side is a loud media voice from New York that has covered the Rangers for many years… and tells me "the Leafs can have (captain) Ryan McDonagh before Monday without selling the farm. He's a very good defenseman and an excellent teammate, but he's not been quite the same since [defense–mate] Dan Girardi left for Tampa Bay (as an unrestricted free agent last summer). With a good, progressive team like Toronto, McDonagh could be a perfect fit. It wouldn't surprise me at all if the Maple Leafs acquired him."
McDonagh has been sidelined since Feb. 8 with a mysterious "upper–body" ailment, but the Rangers could be holding him back, to some extent, as a precaution before the trade deadline.
He is also linked to Tampa Bay, where he'd be reunited with Girardi.
Given that Lamoriello will not unload Mitch Marner or William Nylander in any–such deal, what could the Leafs offer that would satisfy New York GM Jeff Gorton? "I think the Rangers are asking for [Nazem] Kadri and a prospect," opined my media source. "Gorton's been looking to solidify center–ice since he took the job (July 1, 2015). He really doesn't have a No. 1 guy in the middle. Kadri would upgrade the position."

NAZEM KADRI DIVES FOR PUCK AGAINST RANGERS DEFENSEMAN RYAN McDONAGH (27) AT MADISON SQUARE GARDEN. COULD THE PLAYERS BE DEALT FOR ONE ANOTHER? BRUCE BENNETT GETTY IMAGES
Would this be an equitable transaction? Consider that McDonagh, 28, is 16 months older than Kadri and has one year remaining on a contract with a reasonable cap–hit of $4.7 million. Kadri is under control for the next four seasons at a $4.5 million cap–hit. So, advantage Rangers in that regard. McDonagh, however, is entering his hockey prime and would upgrade the Toronto blue–line (good defensemen are always tougher to land than good forwards); the Leafs also would be dealing from a position of depth up front. McDonagh has been a Ranger since Jan. 7, 2011 and possesses some offensive flair. His best NHL season, to date, was 2013–14 when he recorded 14 goals and 43 points (both career highs). In 49 games this season, he has two goals and 26 points. Jake Gardiner leads Toronto defensemen with 38 points in 63 games. If acquired by New York, Kadri (with 42 points) would rank second in team–scoring, one point behind Mats Zuccarello.
In any–such transaction, Lamoriello needs to consider that McDonagh will likely seek in the neighborhood of seven years and $50 million as an unrestricted free agent after next season. Signing the native of St. Paul MN would preclude the Leafs from going after  blue line mega–stars Erik Karlsson, Drew Doughty or Oliver Ekman–Larsson — who can also become UFA's in the summer of 2019. If looking long–term, however, perhaps Lamoriello envisions a highly–skilled Toronto defense unit of Morgan Rielly, McDonagh, Gardiner, Nikita Zaitsev, Dermott and Tim Liljegren, last summer's first–round draft choice.
But, again, my sense is that Lamoriello will not make such a significant trade before Monday's deadline. Instead, he'll bring aboard a veteran blue–liner to add depth and experience for the playoffs — perhaps Johnny Oduya, 36, of the Ottawa Senators. Lamoriello, when still managing New Jersey, brought Oduya into the NHL as a free agent in 2006 and the Stockholm native played four seasons for the Devils. Of intrigue, Oduya was a healthy scratch for today's game against Philadelphia. Maybe as a pre–deadline precaution.
NAGAN–NO! 20 YEARS AGO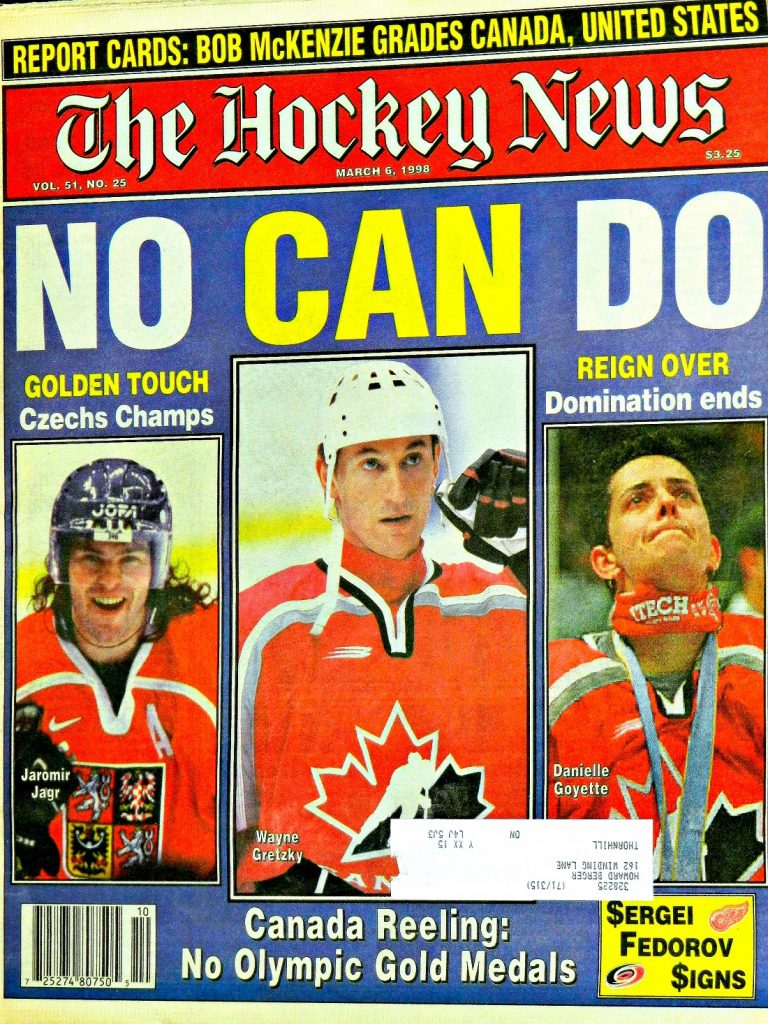 The men's hockey tournament at the PyeongChang Winter Olympics has paled (competition and attendance) in relation to the five Winter Games (1998–2002–2006–2010–2014) that involved NHL players. The first–such event took place 20 years ago in Nagano, Japan and proved a grave disappointing for Canadian fans. Hugely favored to win a gold medal, Team Canada '98 came home empty–handed after a fourth–place finish (behind the Czech Republic, Russia and Finland). Most memorable was a 2–1 semifinal loss to the pending champions, during which Robert Reichel scored the lone goal during a shootout. For however long he lives, and fairly or otherwise, Canadian coach Marc Crawford will be haunted by his decision to bench Wayne Gretzky for the penalty–shot competition. In the end, however, the '98 event belonged to Czech netminder (and 2014 Hockey Hall of Fame inductee) Dominik Hasek, whose 0.97 goals–against average could not be overcome. Here (above and below), in the Mar. 6, 1998 issue of THE HOCKEY NEWS, is a full tournament recap, with associate–editor Bob McKenzie (now of TSN) as the star contributor: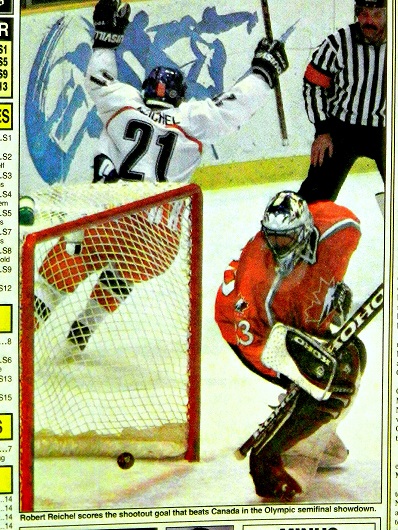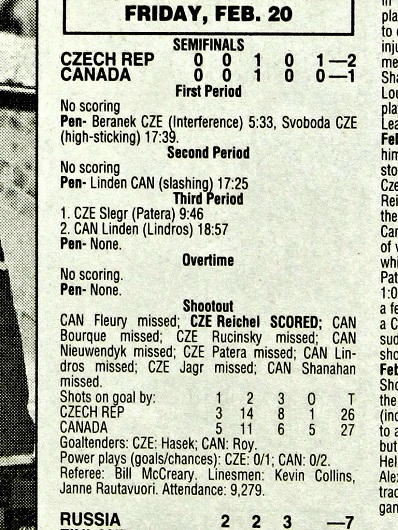 DECISIVE GOAL (LEFT) AND SUMMARY (RIGHT) OF THE CANADA—CZECH SEMIFINAL.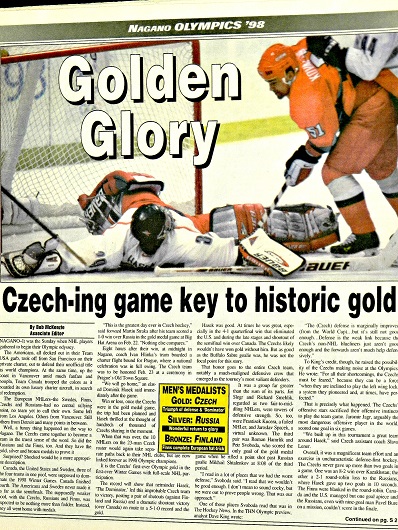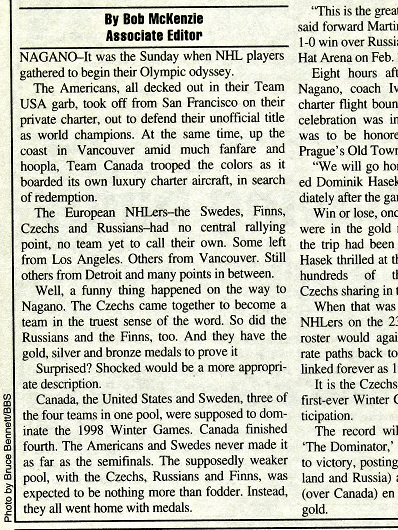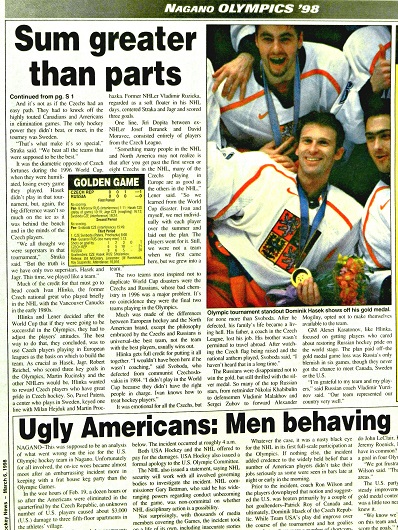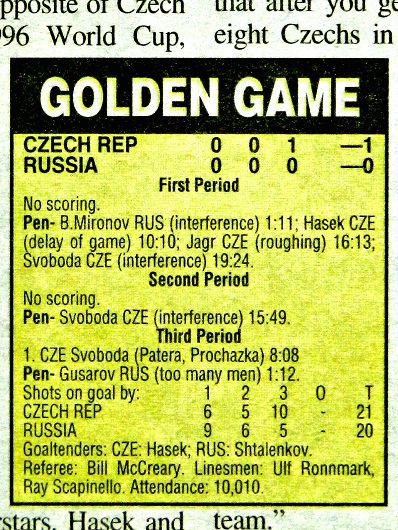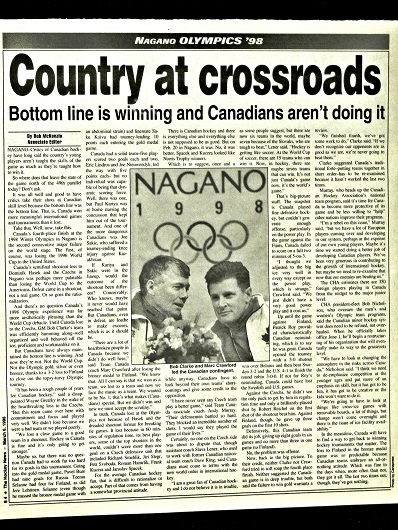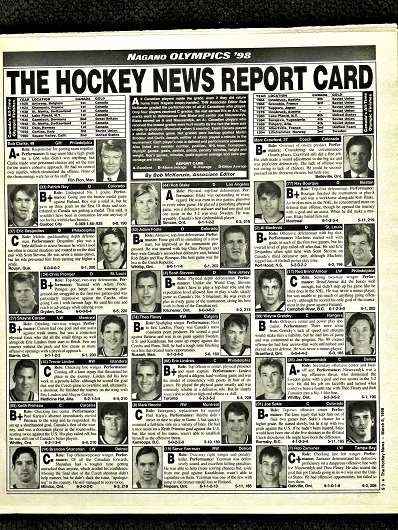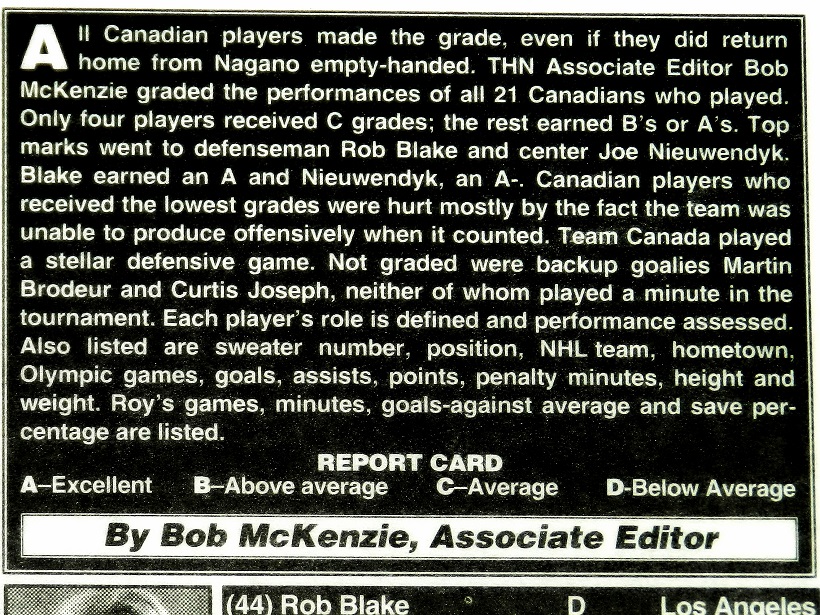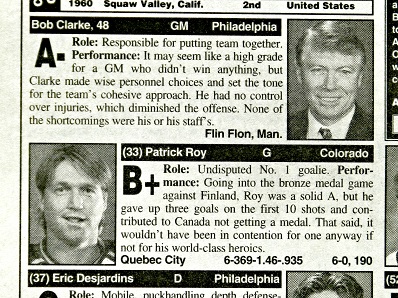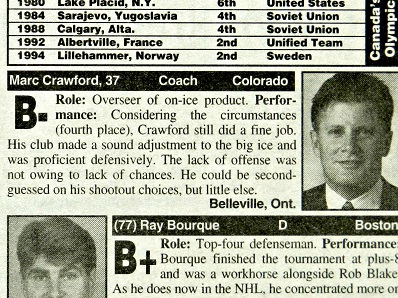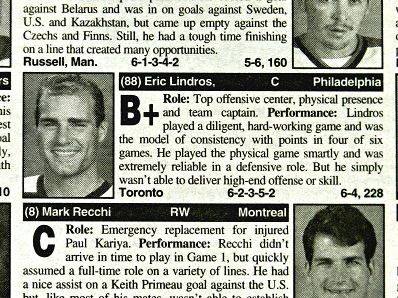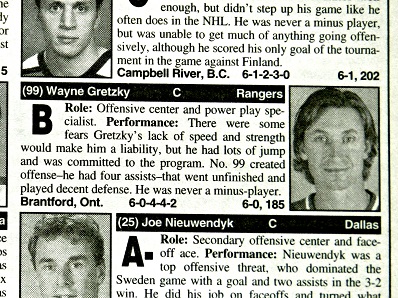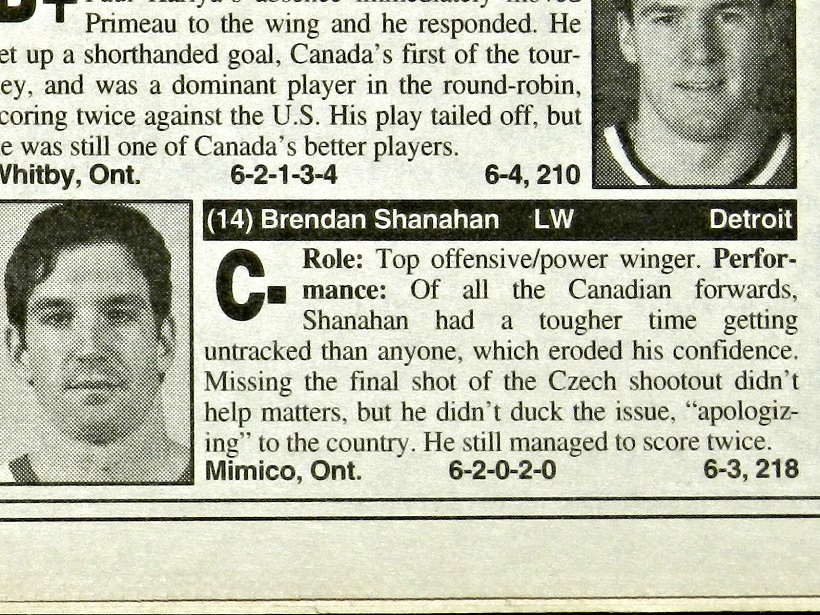 TEAM CANADA FORWARD BRENDAN SHANAHAN, NOW PRESIDENT OF THE MAPLE LEAFS, FLUBBED HIS SHOOTOUT ATTEMPT AGAINST DOMINIK HASEK AND RECEIVED BOB McKENZIE'S LOWEST GRADE.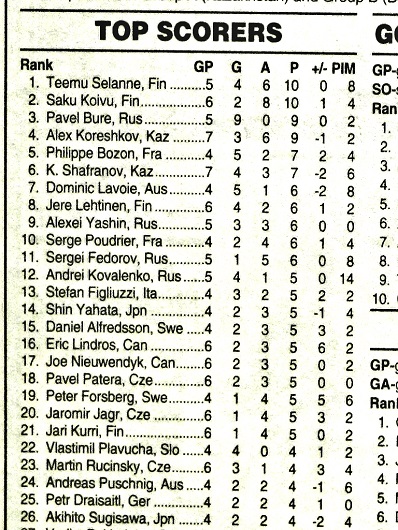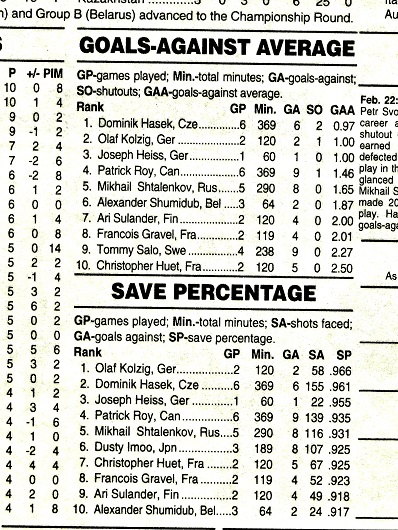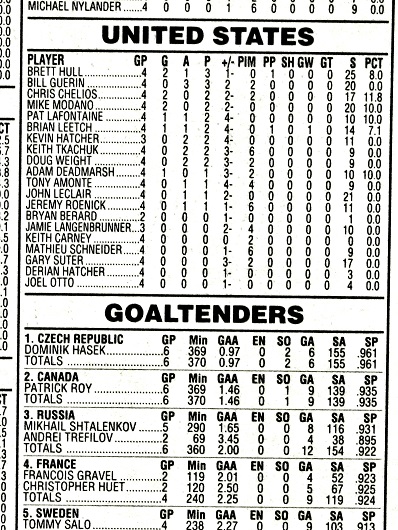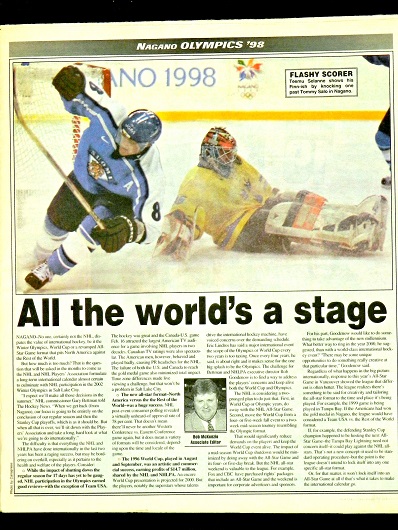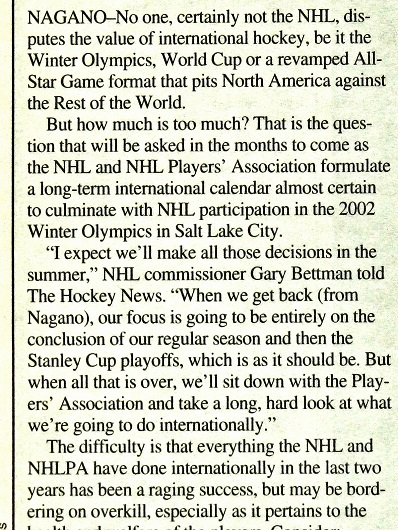 EMAIL: HOWARDLBERGER@GMAIL.COM