TORONTO (Feb. 17) — As the Toronto Maple Leafs soar through the most stellar and meaningful hockey at this juncture of a season in 25 years, there remains the urge from within to allay expectation. To fundamentally minimize a remarkable, timely streak of results that has the club nearing the apex of the National Hockey League standings. It's as if such capability spawns apprehension and fear rather than determination and belief. Barack Obama, still a United States Senator, nailed it in the title of his 2006 book THE AUDACITY OF HOPE. No four words better summarize the hockey climate in this city.
Suggest to Mike Babcock that the Leafs have never performed more competently than right now under his stewardship — which undoubtedly is true — and he'll fill your ears with the coaching–claptrap version of "we haven't accomplished anything yet." Thanks for the bulletin, Mike. There it was, in fact, starting at me boldly in the Toronto Sun prior to Wednesday night's trouncing of Columbus at the Air Canada Centre: MAPLE LEAFS LOOKING TO AVOID THE 'SUCCESS DISEASE' clamored the headline to an article by Lance Hornby.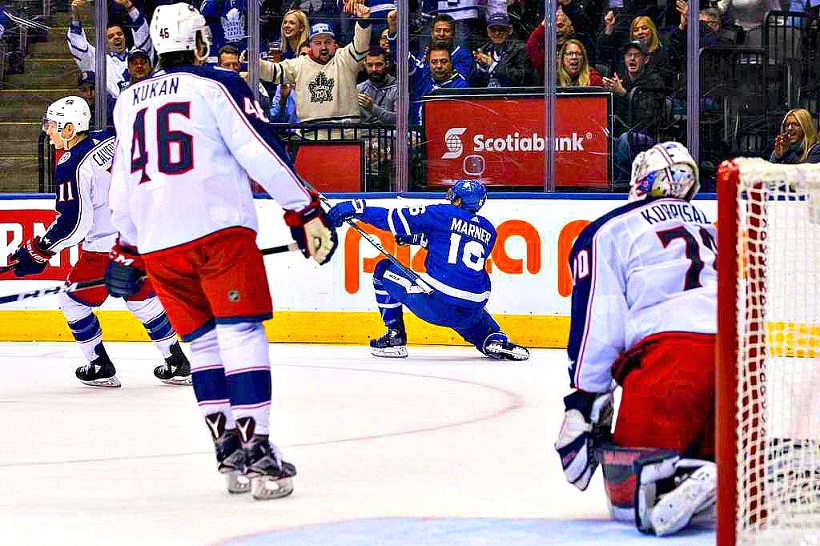 MITCH MARNER (16) CELEBRATES HIS GOAL AT 10:17 OF THE SECOND PERIOD WEDNESDAY NIGHT AT THE AIR CANADA CENTRE. IT PROVIDED THE MAPLE LEAFS A 4–3 LEAD AND STOOD AS THE GAME–WINNER IN A 6–3 TRIUMPH OVER THE COLUMBUS BLUE JACKETS. CHRIS YOUNG THE CANADIAN PRESS
Said the NHL's highest–paid coach: "We haven't beaten Columbus this year (0–1–1); they smacked us around a couple of times; they have 50 shots the past two games. I know (Toronto's recent home record and eight wins the past nine games) and that it's a great day to be alive. But, the team we're playing today… I just checked the standings and they're right there (on the cusp of a playoff spot)… complacency sets in for all people; it's the success disease. If you have enough grinders, it doesn't set in as fast."
Now, there's a plan. Prior to the NHL trade deadline in nine days (Feb. 26), Lou Lamoriello should look to deal Auston Matthews, William Nylander, Mitch Marner, Nazem Kadri, Morgan Rielly and Jake Gardiner for a bunch of Daniel Winnick's. The Leafs can "grind" their way to oblivion and avoid having to worry about the "success disease". Nothing like a half–dozen elite, massively–skilled players to mess up a team, huh?
Another Sun headline appeared on Thursday: THE LEAFS' TOP 5 REASONS FOR CONCERN.
If you're a fan of the Blue and White, you must believe that Babcock is speaking a fair–bit more boldly behind closed doors than in front of the media. Clearly, something from the coach has resonated in the past three weeks. The Leafs, in fact, are coming off one of their most antithetical accomplishments — the clean sweep of a five–game home–stand. Merely 24 days ago, I filed a blog in this corner (http://bit.ly/2Dw7vYc) entitled WE'VE SEEN IT ALL BEFORE (SIGH). It detailed a 2–3–2 misadventure in the first seven Air Canada Centre dates of January… so typical of how the Leafs — for decades — have goofed up opportunity on home ice. Lurking therefore ominously was a five–game stretch at the ACC against Anaheim, Ottawa, Nashville, Tampa Bay and Columbus; with one exception, fairly choice opposition. The result? How about all 10 available points in the standings while outscoring visiting clubs 26–15? Does that sound frightening to you?
From my perspective, the 4–3 victory over Tampa Bay last Monday night was the most significant non–playoff win for the Leafs in years. Not the biggest — defeating Pittsburgh in Game 81 at the ACC last season clinched a playoff spot — but one that spoke volumes about the club's potential. Toronto coughed up a 3–0 lead to the first–place Lightning, yet prevailed on a third–period goal by James van Riemsdyk.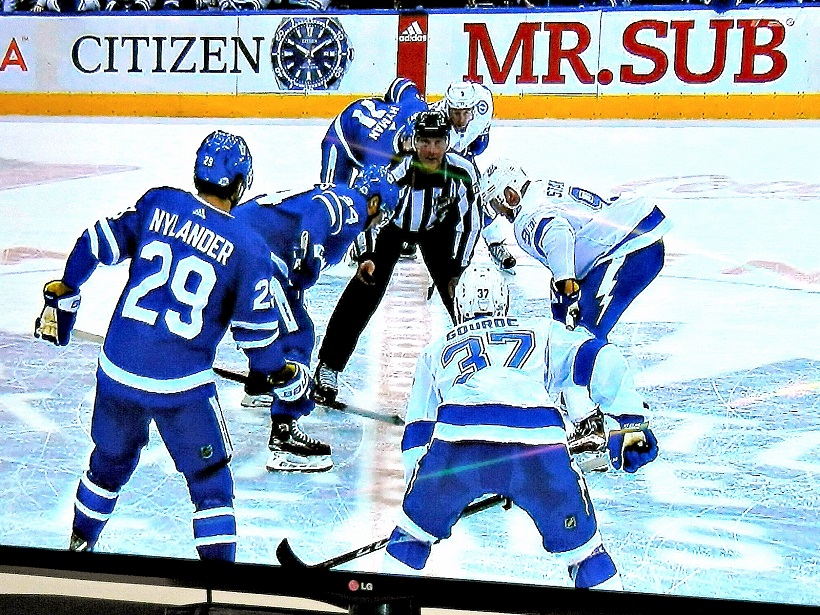 WILLIAM NYLANDER (29) HAD TWO GOALS AND AN ASSIST IN THE WIN OVER TAMPA BAY ON MONDAY. TSN IMAGE
Not since February of the 1992–93 season — the heyday of the Pat Burns–Doug Gilmour–Dave Andreychuk–Wendel Clark–Felix Potvin era — has a playoff–bound Leafs team performed so exceptionally. That club turned a big corner in early–January and hit full stride during a 10–1–1 romp between Feb. 11 and Mar. 6 (part of an 18–3–3 run in 24 games that ended on Apr. 3). For those that are unaware, or have forgotten, the '92–93 Leafs came the closest of any Toronto club in the post–1967 era to playing for the NHL title — losing to Wayne Gretzky and the Los Angeles Kings in Game 7 of the Stanley Cup semifinals at Maple Leaf Gardens.
With one exception — only Mario Lemieux performed more brilliantly than Gilmour down the stretch in '92–93 — the current Leafs team is deeper and more talented. Sure, the club is yielding too many shots; 57 against the Blue Jackets on Wednesday came within eight of the franchise record (65, at Hartford, on Mar. 15, 1984). Still, the Leafs won 6–3 and are 9–1–0 in their past 10 games. One might assume Babcock will prompt his team to clamp down defensively as the playoffs approach. Achieving a balance between that and thwarting creativity will be his biggest challenge. The biggest concern is that Frederik Andersen could be a basket case before the Stanley Cup tournament begins. Methinks Babcock will deploy him less frequently in the final 23 games, knowing how well back–up Curtis McElhinney has fared (10–6–4, 2.27 GAA, .932 SV%).
Andersen will start tonight in Pittsburgh; McElhinney tomorrow night in Detroit.
Looming not too–distantly now is the contract crunch of 2019, when Nylander, Marner and Matthews are past entry–level salary restriction, along with the final year of Patrick Marleau's guaranteed $6.25–million deal. Should the Leafs pursue (via trade or free agency) one of the yet–unsigned trio of elite defensemen to potentially hit the market in 2019 — Drew Doughty (Los Angeles), Erik Karlsson (Ottawa), Oliver Ekman–Larsson (Arizona) — the cap conundrum will intensify.
So, phooey on all the "we haven't accomplished anything yet" stuff. This is the best Toronto team since '93… and there ain't no Gretzky out there to spoil the party. Rather than cowering to the notion that "something may go wrong", the Leafs and their fans should swagger, knowing this could be the year the Stanley Cup drought finally ends. Lamoriello should approach the trade deadline with similar verve and not worry about "making a mistake". Windows of opportunity in professional sport slam shut rather quickly. Without much of a breeze. Today's Stanley Cup challenger can be tomorrow's dog… witness the Ottawa Senators.
For as long as most can remember, the Nervous Nellies in Leafs Land have prevailed.
Now it's time to go for the jugular. To cradle the audacity of hope.
VALENTINE'S NIGHT — 50 YEARS AGO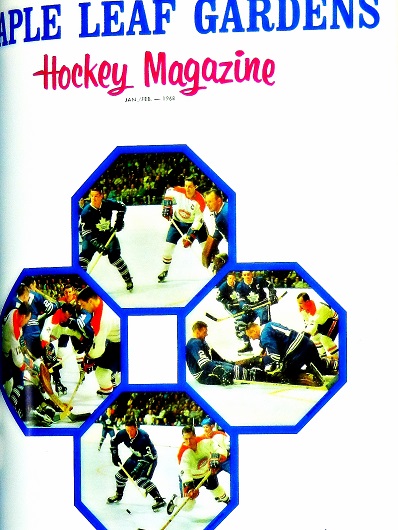 Circumstances were far–less rosy for the Maple Leafs 50 years ago this week when Montreal came to town and rolled to a 4–2 victory. The Leafs were in the midst of a 2–13–1 slide between Jan. 24 and Feb. 29, 1968 that sealed their fate in the year of the Great Expansion. Though the defending Stanley Cup champion, the 1967–68 Maple Leafs did not make the playoffs. The Montreal team that doubled the Leafs on Valentine's Night went on to win the NHL championship in a four–game sweep of the first–year St. Louis Blues.
Legendary coach Toe Blake retired after his ninth Stanley Cup behind the Canadiens bench.
From my collection, the program cover (above) and line–ups (below):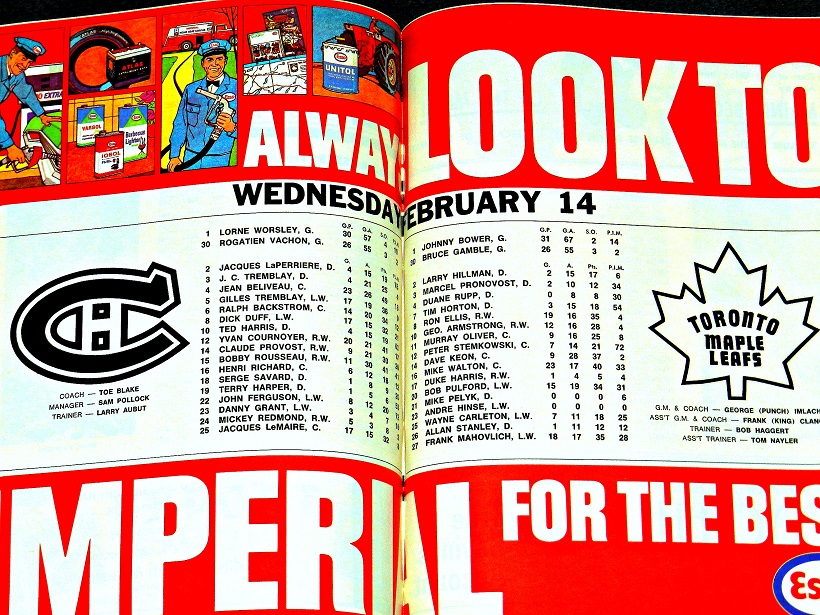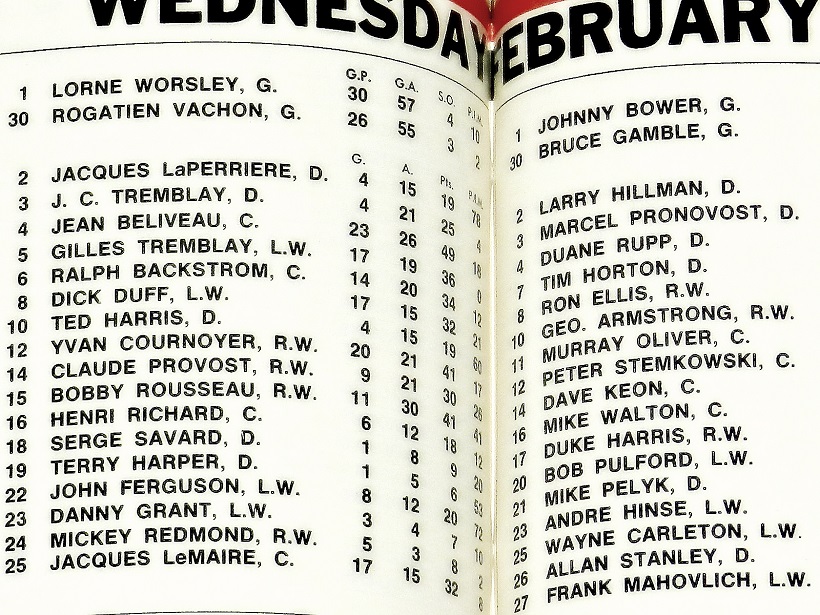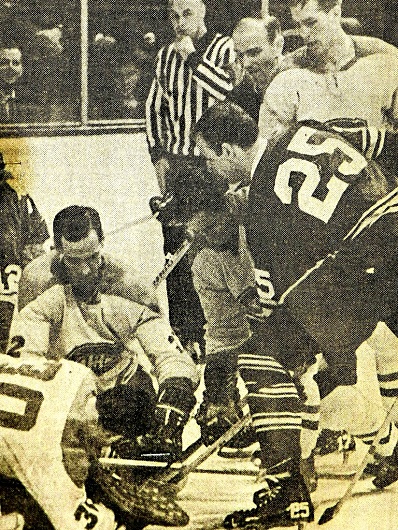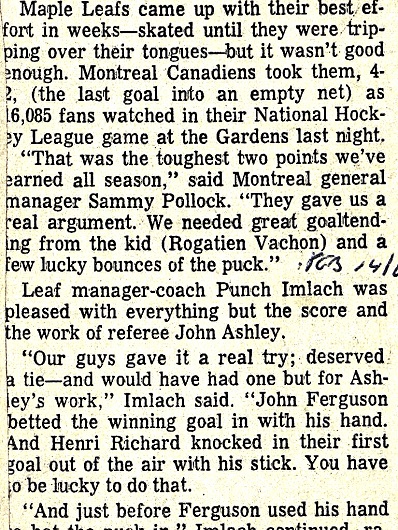 TORONTO STAR PHOTO FROM THE LEAFS–CANADIENS GAME OF FEB. 14, 1968 SHOWS WAYNE CARLETON (25) OF TORONTO BEING STYMIED BY MONTREAL GOALIE ROGATIEN VACHON (30) AND DEFENSEMAN JACQUES LAPERRIERE (2).
LEO CAHILL: 1928—2018
He was coach of the team that will forever provide me the fondest memories of my boyhood. Between 1967 and 1972, Leo Cahill and the Toronto Argonauts were as fashionable and beloved as any Maple Leafs club of the modern era. Young sports fans in this city may have difficulty believing that, given how the Argos, today, rank well beneath the Leafs, Blue Jays and Raptors on the popularity scale. But, it's an indisputable fact.
Prior to being enlarged and renovated for the arrival of Major League Baseball, the old CNE Stadium here in town held 33,135 seats. In the Canadian Football League seasons of 1969, 1970 and 1971, it was nearly impossible to finagle a ticket to an Argonauts home game. When my dad finally came up with a pair — for a clash with Russ Jackson and the Ottawa Rough Riders on Sep. 20, 1969 — we were 53 rows up in the corner of the covered grandstand, 20 yards deep in the west end zone. And, felt darned privileged to be there.
That is why news of Leo Cahill's death on Friday — though hardly surprising — choked me up for a time. He was the largest, loudest and most polarizing sports figure in our city during the late–60's and early–70's. When Leo guided the Argos to the Grey Cup game (against Calgary) in 1971, ending an absurd 19–year drought in a nine–team league, he could have run for mayor of Toronto and prevailed with nary a struggle.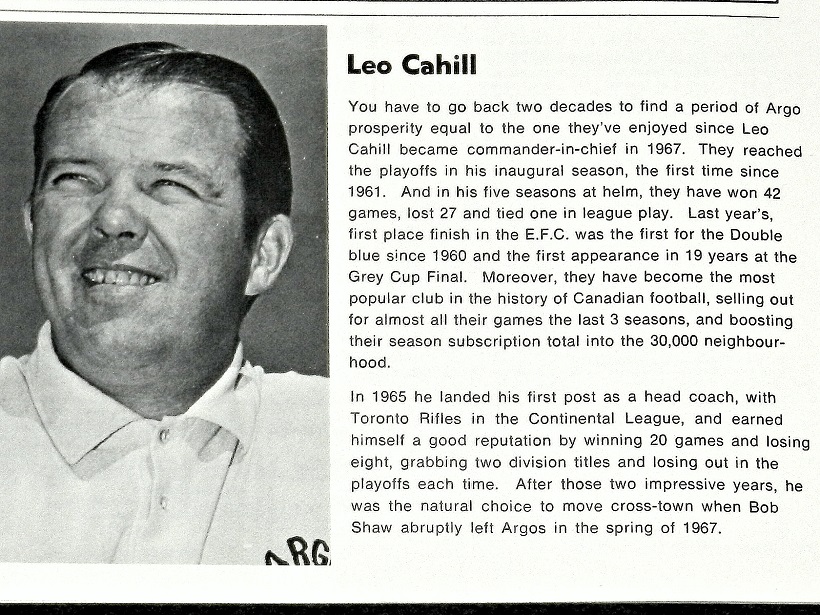 BIOGRAPHY OF LEO CAHILL (ABOVE) FROM A 1972 ARGONAUTS PROGRAM. LEO'S ARGO TEAMS (BELOW) — FEATURING THE LIKES OF TOM WILKINSON (19), BILL SYMONS (33) AND DAVE RAIMEY (14) — BUILT A RABID FOLLOWING IN THE CITY. IT WAS EVERY–BIT EQUIVALENT TO LEAFS NATION TODAY.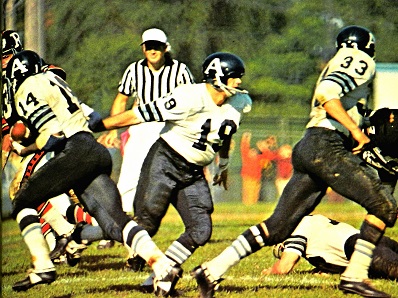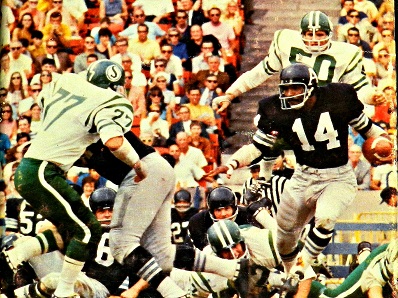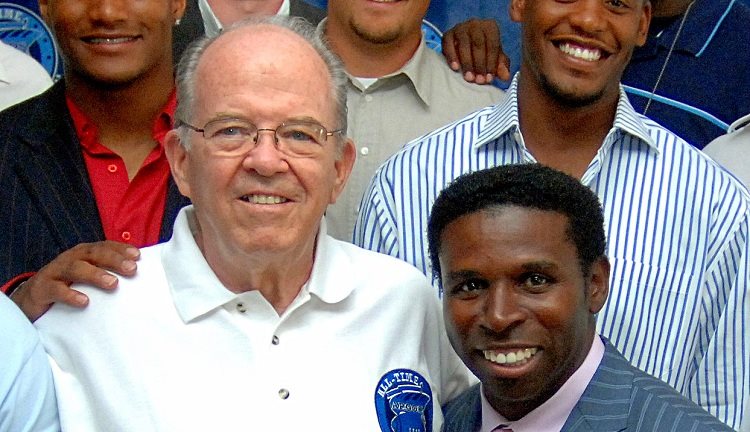 LEO CAHILL (LEFT) IN A 2011 PHOTO WITH ARGOS LEGEND MIKE (PINBALL) CLEMONS.
I got to know Leo after his football days ended. When I started my radio career (in May 1988), he frequently co–hosted with Bob McCown on Talking of Sports — a call–in show that preceded Prime Time Sports. When Prime Time began in October 1989, with McCown and Bill Watters in studio; yours truly as producer, Leo would occasionally sub for Bill. It was rather cool working with the old Argo coach. I spent hours talking with Cahill off the air about all the characters and terrific players that were part of the Argonaut teams in the late–60's and early–70's. The names still roll off my tongue: Dick Thornton, Bobby Taylor, Mel Profit, Marv Luster, Ed Learn, Jim Corrigall, Jim Stillwagon, Joe Theismann, Leon McQuay. Boyhood heroes, all.
KODAK CAMERA AND NO SECURITY
As a tribute to Leo, here are photos I snapped from the 1971 and 1972 Argo seasons with my KODAK flash–camera… and, then, the technological wonder of that era: the KODAK Pocket–Instamatic, a rectangular device that could, quite literally, be placed in the pocket of your pants or coat. These photos, of course, do not resemble the sharp, digital images of today, yet they were rather spectacular for the time. I was 12 and 13 years of age; going to the games in the season tickets Dad bought for 1971 — the best available — on the west goal–line of the old uncovered bleacher–stand that framed the south end of CNE Stadium.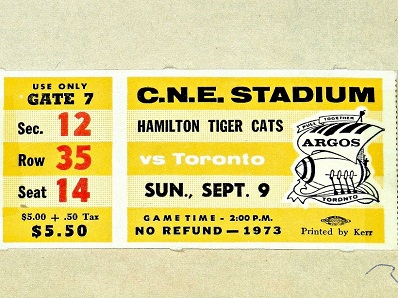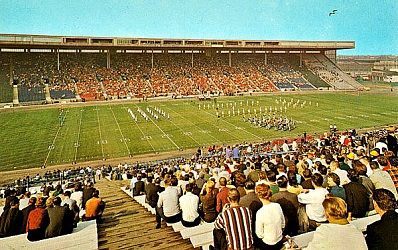 TICKET–STUB FROM AN ARGOS GAME AT CNE STADIUM IN 1973. AND, VIEW (IN THE 60's) FROM THE 12,000–SEAT BLEACHER–STAND THAT FRAMED THE SOUTH END OF THE STADIUM.
MY ARGO GAME–PHOTOS FROM 1971 AND 1972:

AUG. 6, 1971: JUST PRIOR TO KICKOFF BETWEEN THE ARGOS AND SASKATCHEWAN, I STOOD BEHIND THE ROUGHRIDERS BENCH. AS YOU'LL NOTICE, THE SEATS IN THE NORTH GRANDSTAND WERE ROUTINELY FILLED DURING MUCH OF THE LEO CAHILL ERA. ALL HOME GAMES (33,135 SEATS) WERE SOLD OUT IN 1969, 1970 AND 1971 AS THE ARGOS BUILT TOWARD APPEARING IN THE '71 GREY CUP.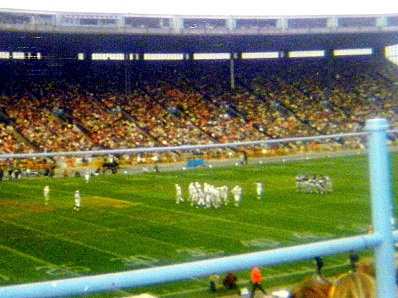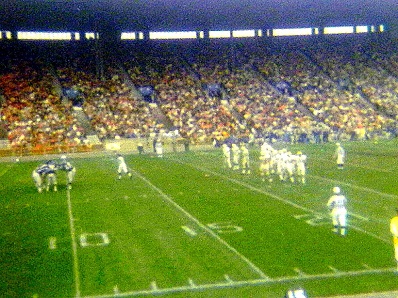 OCT. 17, 1971: ONE DRAWBACK TO THE SEASON TICKETS WE HAD (TOP–LEFT) WAS LOOKING THROUGH A BLUE–PAINTED GIRDER AT THE TOP OF ROW 34 IN THE SOUTH–SIDE BLEACHER. WE WERE IN ROW 35. EVIDENTLY, I WALKED DOWN TO FIELD–LEVEL SEATS (TOP–RIGHT) SOMETIME DURING THIS GAME BETWEEN THE ARGOS AND MONTREAL ALOUETTES. THE OLD STADIUM STILL HAD A GRASS FIELD.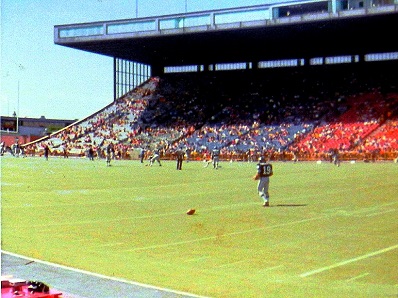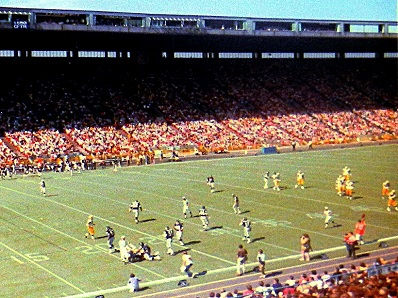 SEP. 10, 1972: FOR THE 1972 CFL SEASON, METROPOLITAN TORONTO INSTALLED TARTAN TURF AT CNE STADIUM. THE NORTH GRANDSTAND BEGAN TO FILL UP (TOP–LEFT) DURING THE PRE–GAME WARM–UP. THE ARGOS AND HAMILTON TIGER–CATS (TOP–RIGHT) FROM MY SEASON TICKETS.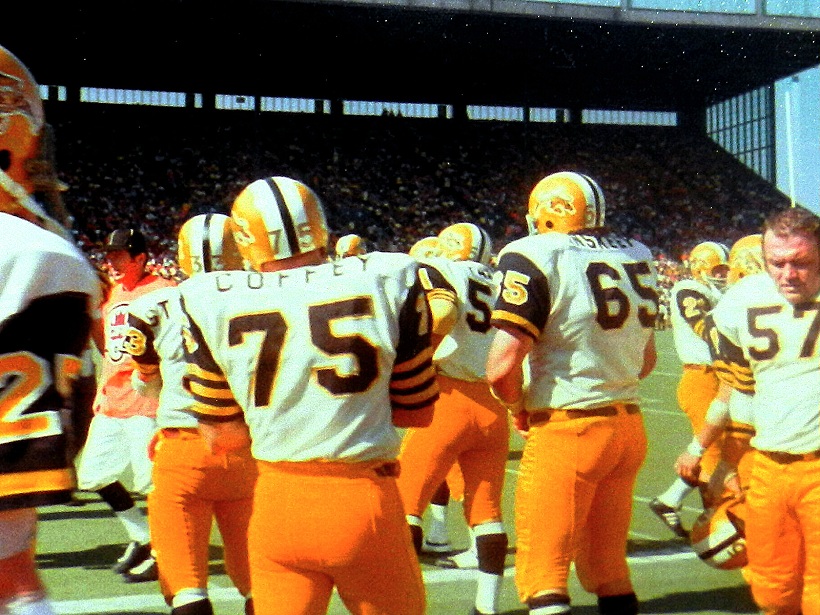 SEP. 10, 1972: SECURITY WAS SO LAX IN 1972 THAT A 13–YEAR–OLD KID WITH A KODAK POCKET–CAMERA COULD WALK ONTO THE SIDELINE DURING A GAME. HERE I AM WITH THE HAMILTON TIGER–CATS, WHO WOULD WIN THE GREY CUP THAT SEASON. TOMMY–JOE COFFEY (75, TOP) WAS AN ELITE RECEIVER AND KICKER IN THE CFL. MIKE BLUM (70, BOTTOM–LEFT) HAD PLAYED LINEBACKER FOR CAHILL WITH THE ARGOS IN 1969 AND 1970. AND, I CAN ONLY IMAGINE WHAT VETERAN LINEMAN BILL DANYCHUK (BOTTOM–RIGHT) WAS THINKING WHEN I CALLED HIS NAME FOR THIS PHOTO.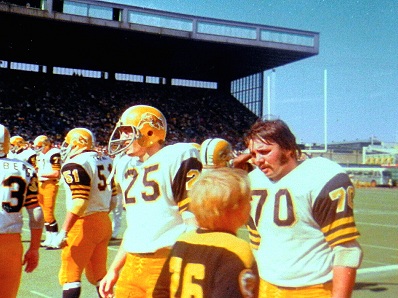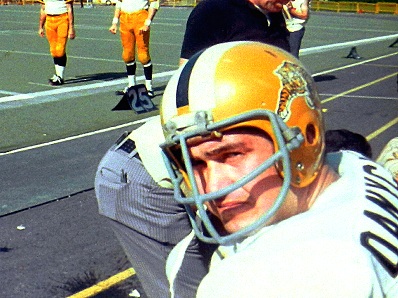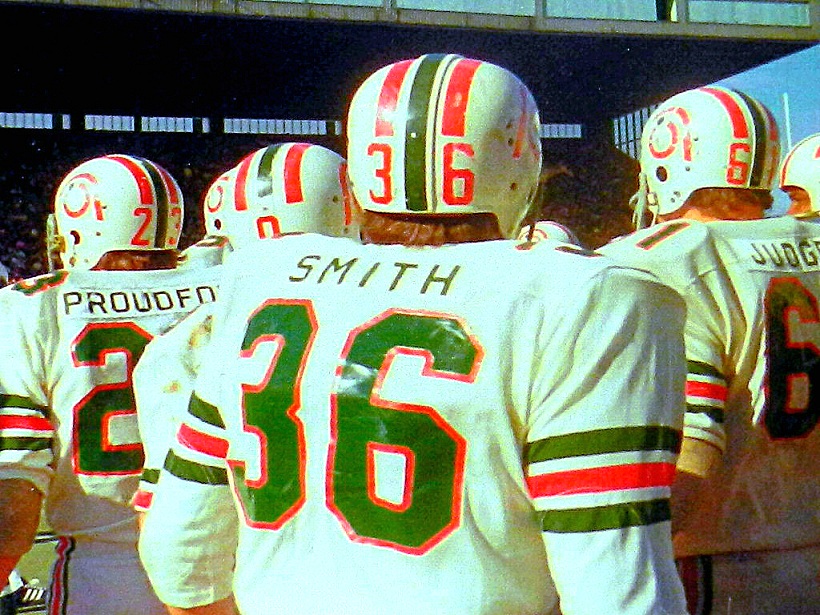 OCT. 8, 1972: HEY, IF IT WORKED BEFORE, WHY COULDN'T IT WORK AGAIN? THIS TIME, I INVADED THE SIDELINE OF THE MONTREAL ALOUETTES. RUNNING BACK LARRY SMITH (36, ABOVE) WOULD SERVE AS COMMISSIONER OF THE CFL (FROM 1992–97) AFTER HIS PLAYING DAYS. HE IS CURRENTLY A MEMBER OF THE CANADIAN SENATE. TONY PROUDFOOT (23) DIED OF "LOU GEHRIG'S DISEASE" IN 2010.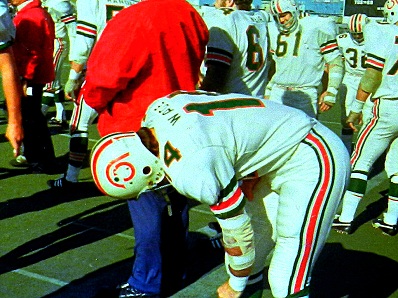 OCT. 8, 1972: SONNY WADE (14, TOP) WAS THE ALOUETTES NO. 1 QUARTERBACK FROM 1969 TO 1977. HE WON THE GREY CUP WITH MONTREAL IN 1970, 1974 AND 1977. THE ACTION WAS CLOSE TO ME (BOTTOM–LEFT), AS JUNIOR AH–YOU (62) OF THE ALOUETTES MADE A TACKLE. DEFENSIVE LINEMAN GORDON JUDGES (61, BOTTOM–RIGHT) HAD BEGUN HIS CFL CAREER WITH CAHILL'S ARGOS IN 1968.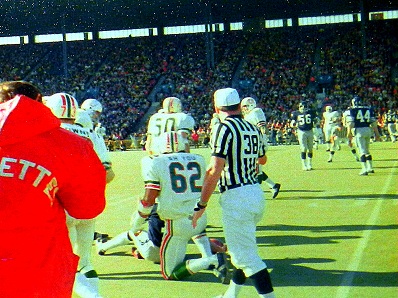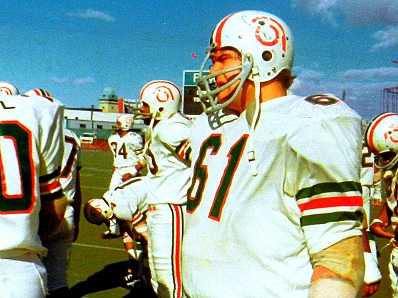 EMAIL: HOWARDLBERGER@GMAIL.COM