TORONTO (Feb. 9) — As you settle into my Friday blog, pause for a moment and ask yourself this question: Do the Toronto Maple Leafs have a reasonable chance of winning the Stanley Cup this season?
When I say "reasonable", I mean within the realm of possibility; not something the club would be expected to achieve, yet one that would hardly flabbergast those that follow the National Hockey League. I suspect the answer is "yes". The Leafs of 2017–18, though not favored, are probably skilled enough to get on a roll and capture their first NHL title since 1967. You can be sure the poobah's at 60 Bay Street are thinking along such lines. My contention is that anything shy of advancement to the Eastern Conference final would be a disappointment for Brendan Shanahan, Lou Lamoriello, Mike Babcock and Co. Sure, the Leafs would need to oust Boston and Tampa Bay in the playoffs, but neither Atlantic Division foe is immeasurably superior.
There is no reason, in my view (and I doubt I'm alone), for Toronto to aim lower than the summit.
Why, then, would the Leafs attempt to trade their second–leading scorer? Only Auston Matthews, with 25 goals, is ahead of the 21–goal output of James van Riemsdyk. Should he remain healthy, JVR is almost certain to match or exceed his 29 tallies from last season. Unloading the veteran winger before the Feb. 26 NHL trade deadline simply because his contract is up for renewal in July would markedly weaken the hockey club. While offsetting much of what Leaf fans have been cheering (and hoping) for since the opening–night victory at Winnipeg more than four months ago. For as long as most can remember, the Leafs have been aiming toward a future than never arrives. Removing van Riemsdyk from the picture before the trade deadline in 2½ weeks would undoubtedly — and needlessly — extend that future by another year. At the very least.

THE LEAFS NEED JVR CHEWING HIS GREEN MOUTH–PROTECTOR BEYOND THE FEB. 26 NHL TRADE DEADLINE.
So, why go there?
Yes, the skittish among you will invoke van Riemsdyk's contract status. As such, let's skip directly to the worst–case scenario: JVR remains a Leaf after Feb. 26 and walks away for nothing as an unrestricted free agent in July. There… I said it. And, you read it. Big deal. How dreadfully would the Leafs be set back without the second or third–round draft pick perhaps attainable for JVR at the deadline? Anyone thinking first–round pick should go for counseling. It won't happen. Not for an expiring contract. So, I ask again: Isn't van Riemsdyk more valuable to the Leafs for what he could potentially contribute to a Stanley Cup push this spring? Whether or not he walks in July? To me, it's a no–brainer. A team seventh in the NHL standings on Feb. 9 (eight points out of first) does not trade its top–scoring winger 17 days later. Contract or no contract.
20 YEARS AGO — Nagano, Japan:
BOUNDLESS HOPE, EXCITEMENT FOR NHL
Yes, two decades is a fair chunk of clock. But, for those old enough to remember the 1998 Winter Olympics, does it not seem like yesterday that NHL players were preparing to compete in the Games for the first time? And, isn't the contrast to the upcoming Olympic hockey tournament in PyeongChang rather poignant?
For the first time since the 1994 Winter Olympics in Lillehammer, Norway, the best hockey players in the world are staying home. The NHL has chosen to skip the 2018 Winter Games over a variety of issues — none of which will matter when it returns for the 2022 event in Beijing. Under no circumstance would the NHL not attend an Olympics in the country (China) and amid the vast population (1.379 billion) it most covets.
By comparison, South Korea (51.25 million) is a mere suburb.
I had the privilege of covering the 1998 Winter Olympics as a reporter for The FAN-590. A quick flight from Toronto to Chicago — and change of planes — preceded a 12–hour, trans–Pacific marathon from Chicago to Tokyo. Then came two lengthy train rides and a bumpy trek on a shuttle–bus to my accommodation in Hakuba: 345.5 kilometers northwest of Narita International Airport (Hakuba was site of the skiing competitions). Each day necessitated a hotel–shuttle to a nearby grocery/convenience store; then transfer to a media bus into Nagano, 43.2 kilometers east. The travel was rather onerous, but I quickly got used to it.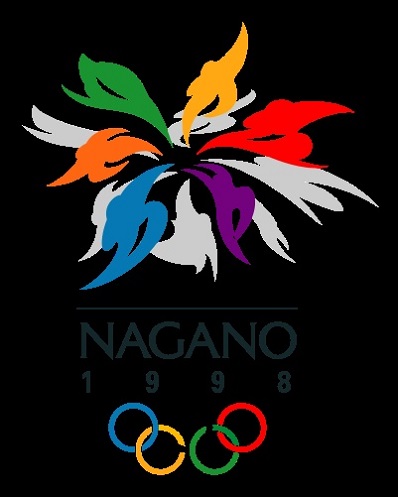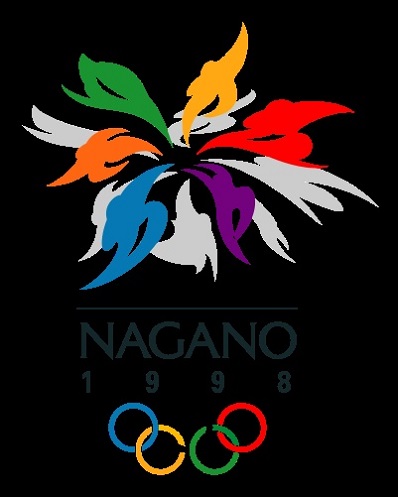 There was boundless excitement throughout hockey as the Nagano Olympics approached. Unlike today, the NHL was fully invested in its top players competing on the world's foremost athletic stage. I will never forget covering the remarkable mob–scene at the train station in Nagano when Wayne Gretzky and the Canadian men's hockey team arrived. No. 99 appeared to be as well–known in the Far East as anywhere in North America. The Japanese people clamored to touch him and take his photo; it reminded me of the iconic, black–and–white film of The Beatles arriving at Kennedy Airport in New York for the first time (in 1964).
And, it all happened 20 years ago this week.
Far–less memorable than the event itself was the performance of Gretzky and Co., as the Canadian hockey club — profoundly favored to win Gold — finished fourth and out of the medal standings altogether. The '98 Winter Olympic tournament ultimately (and perhaps fittingly) belonged to the best hockey player on Earth at the time: Czech Republic goalie Dominik Hasek. But, more on that in my next blog. Today, we look at contents of THE HOCKEY NEWS from Feb. 13, 1998, as it previewed the inaugural Olympic event involving NHL players. The passage of time is best–represented by the names on the hockey teams of Canada, Czech Republic, U.S.A., Russia, Sweden and Finland — all posted in this photo–display: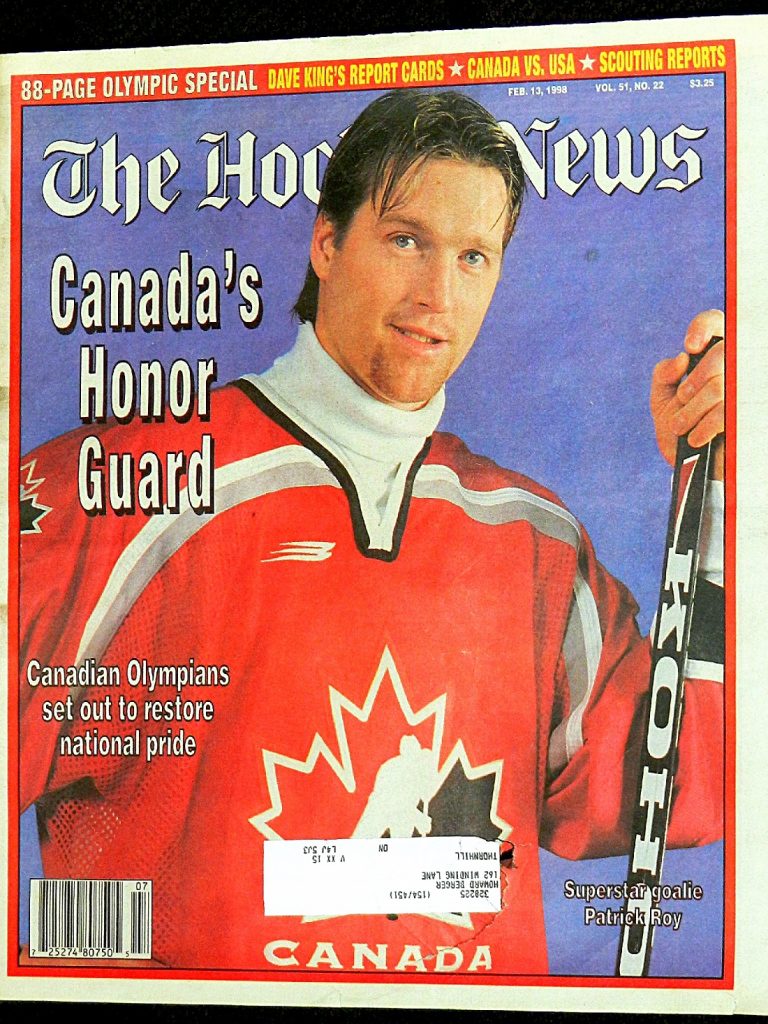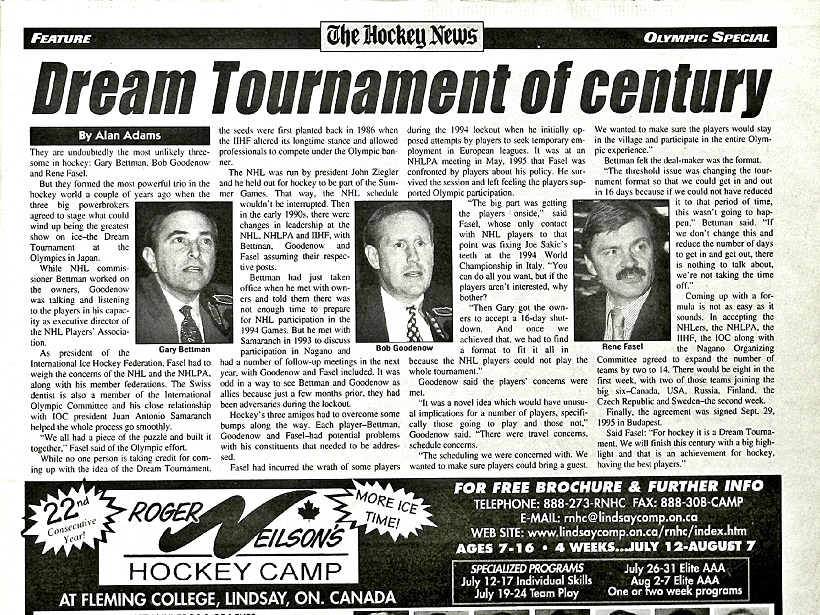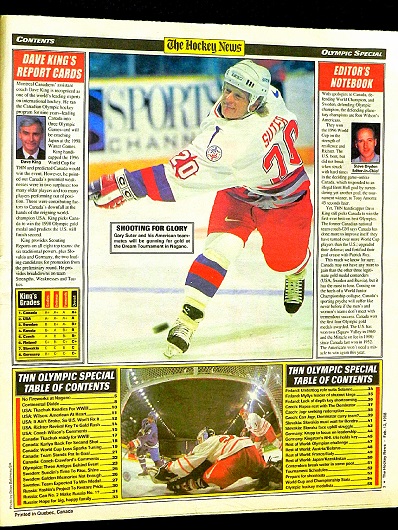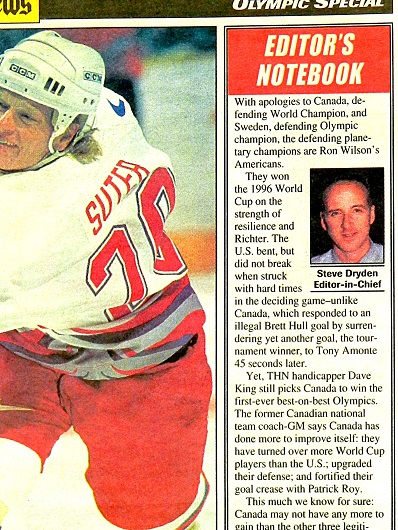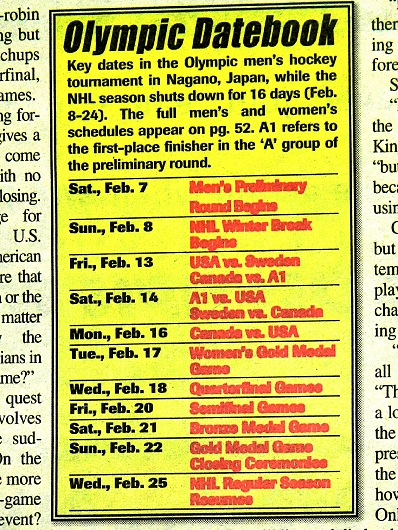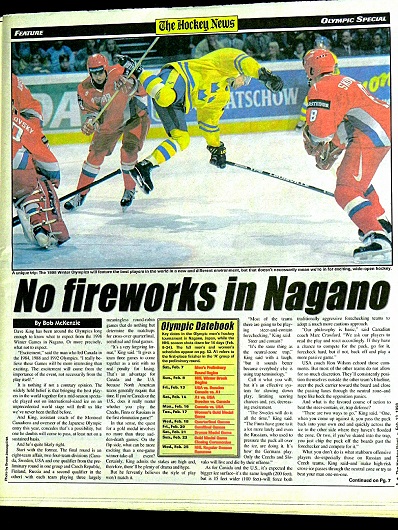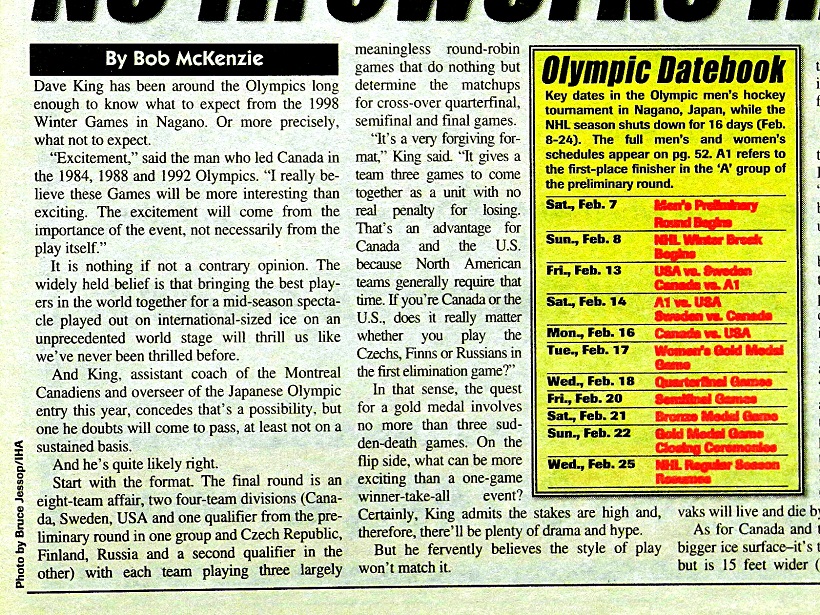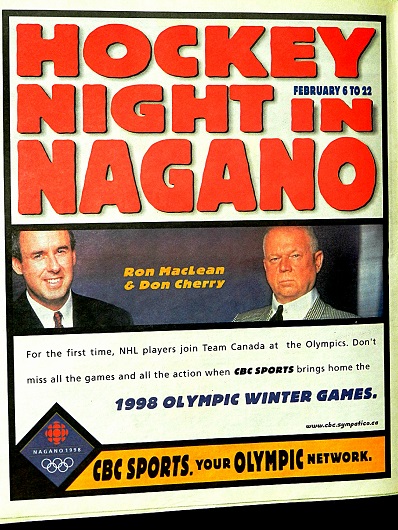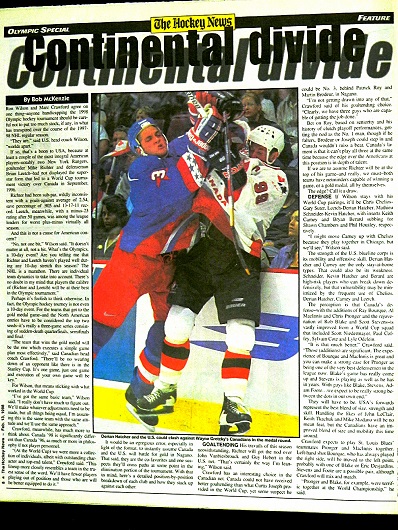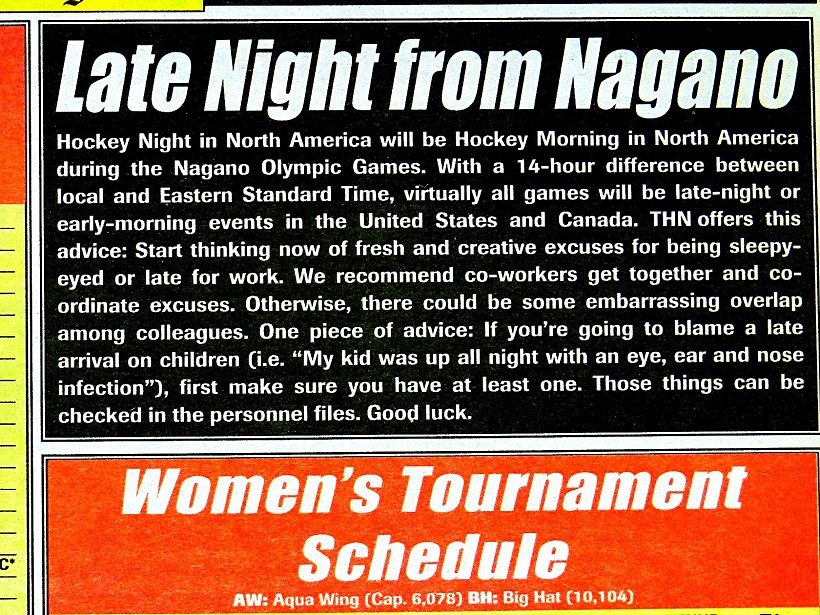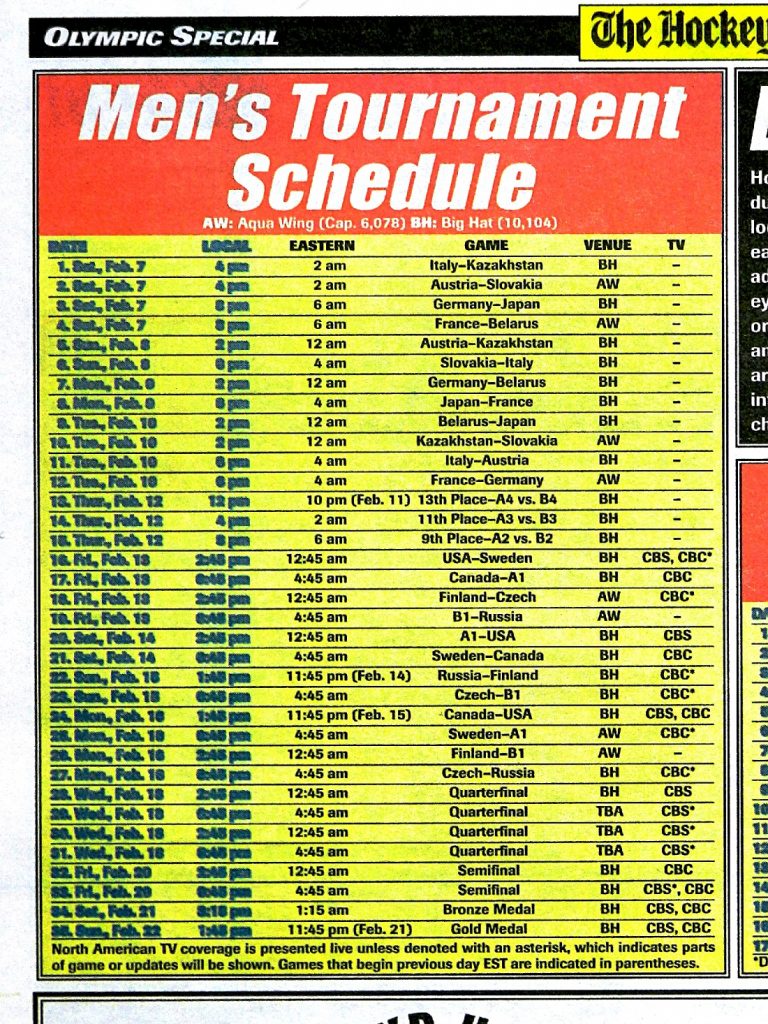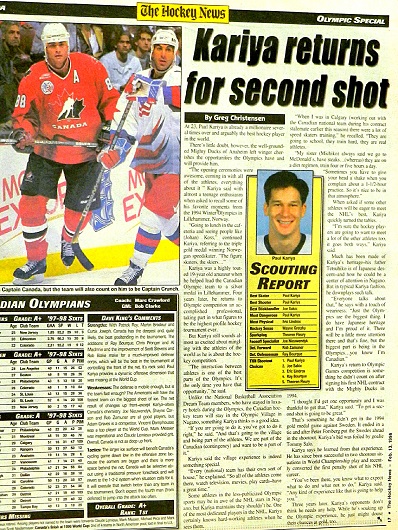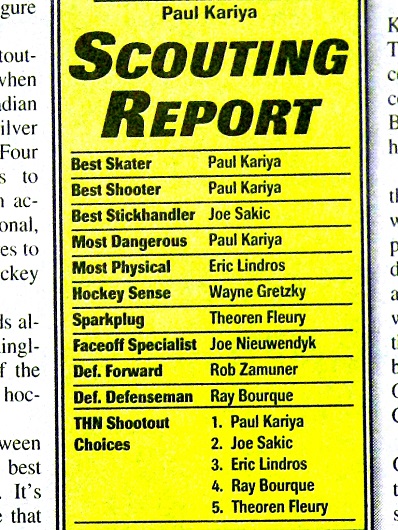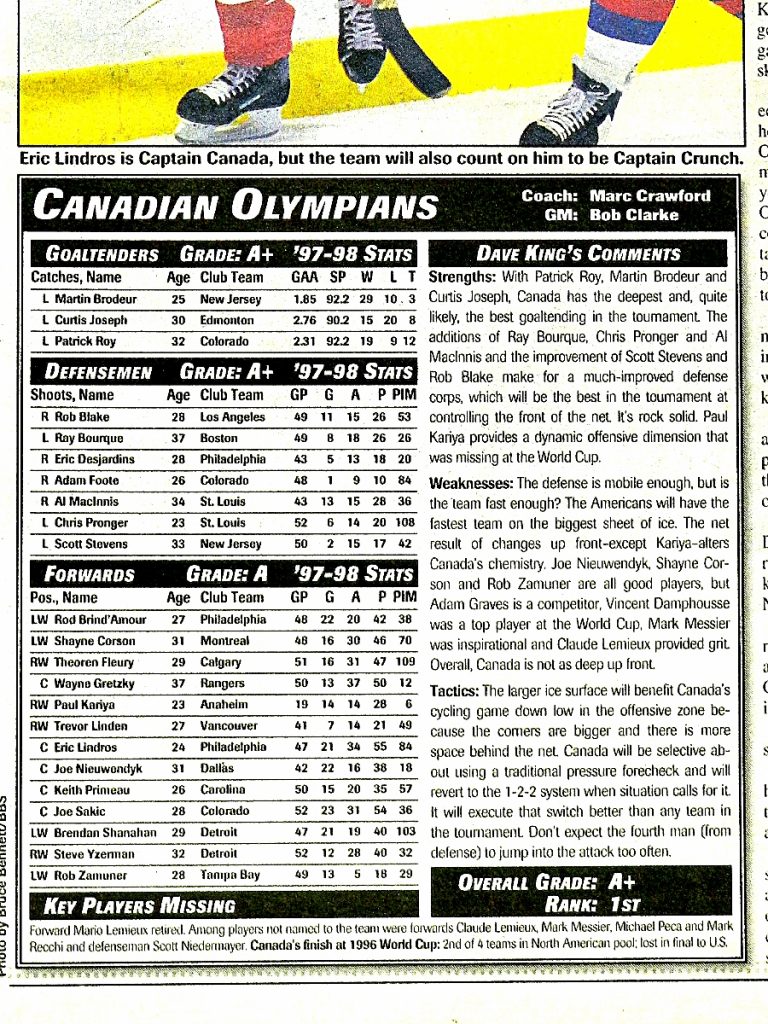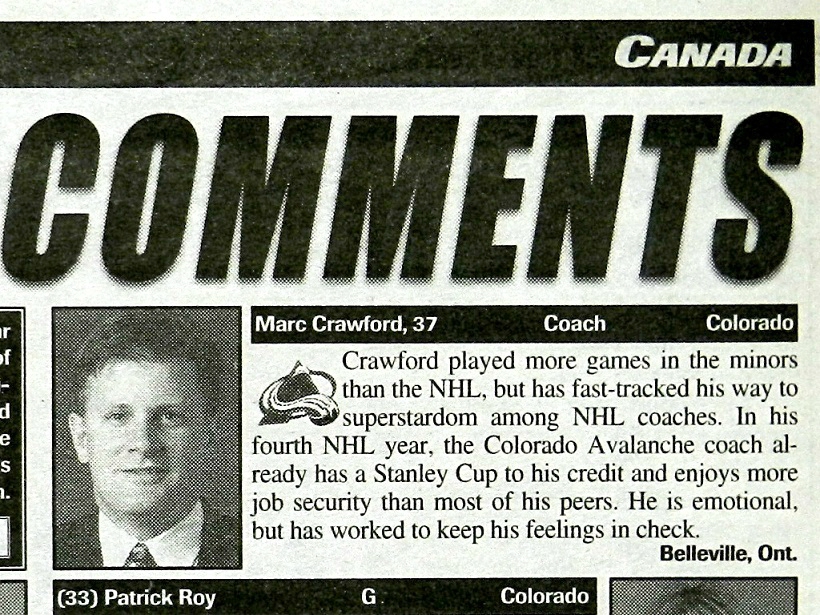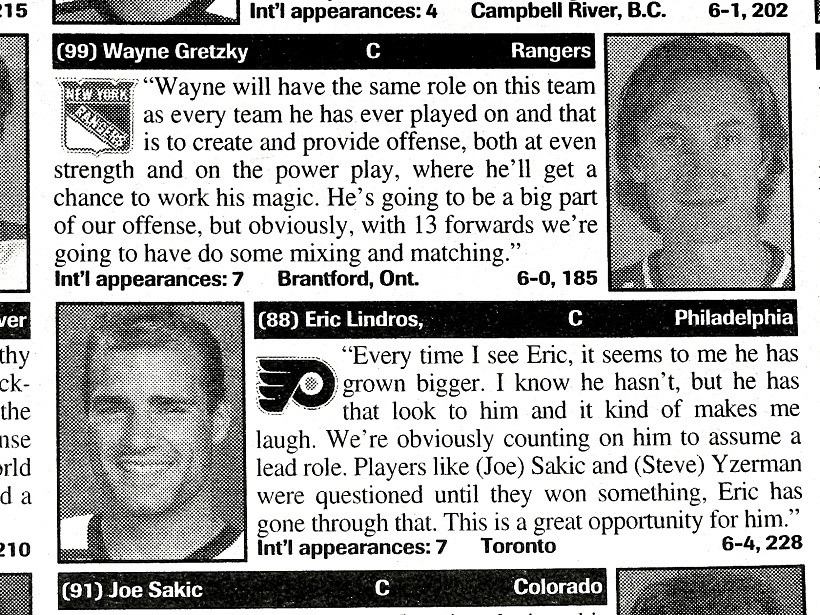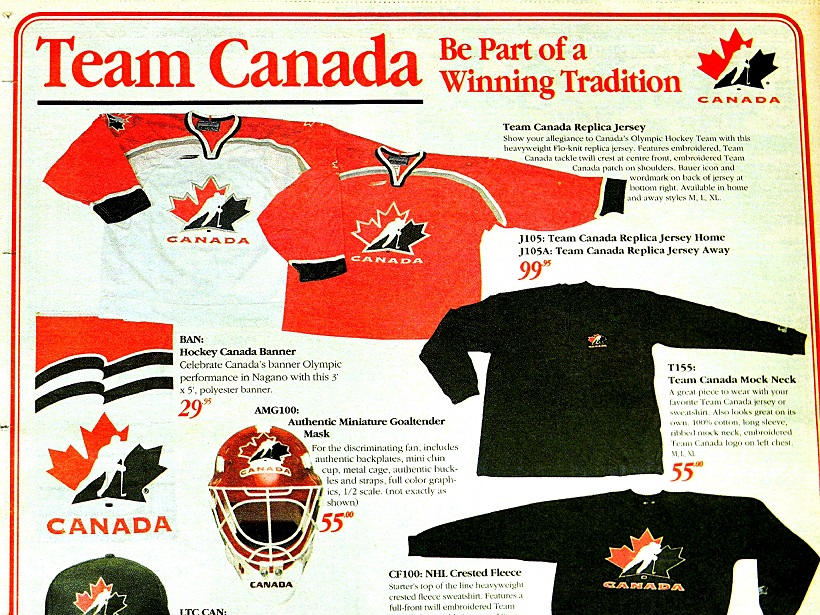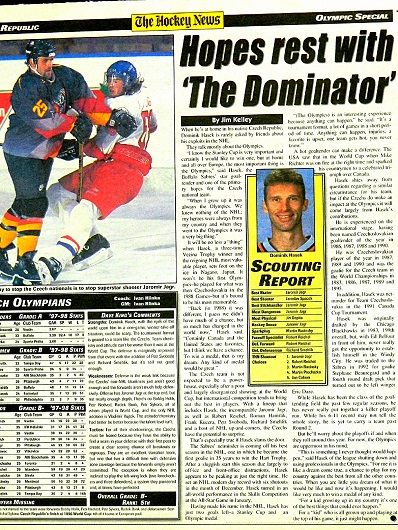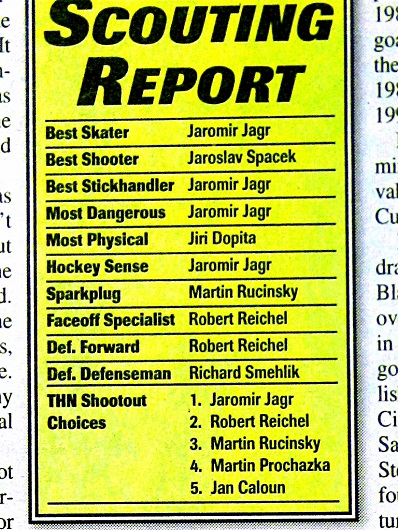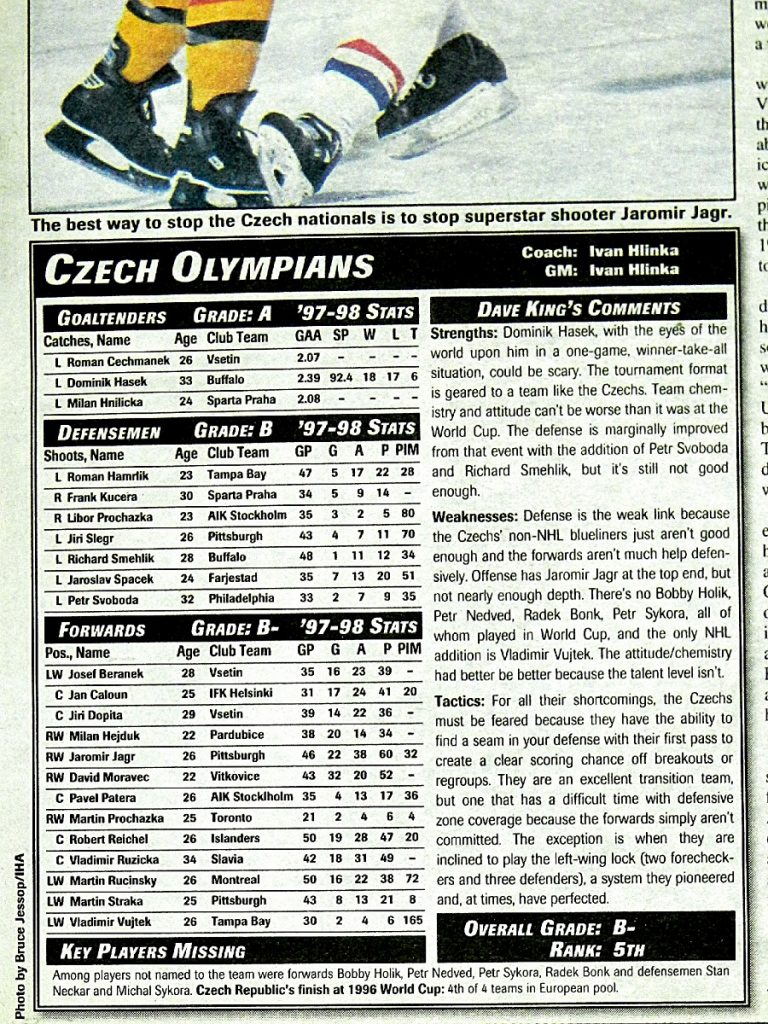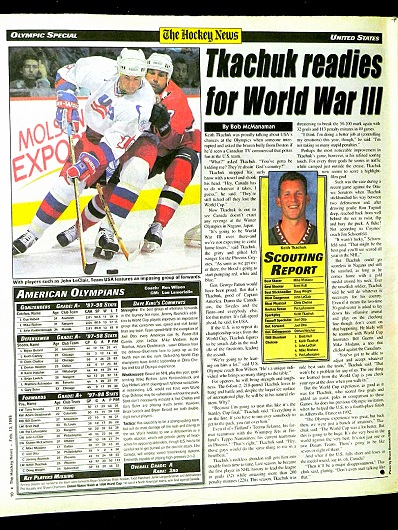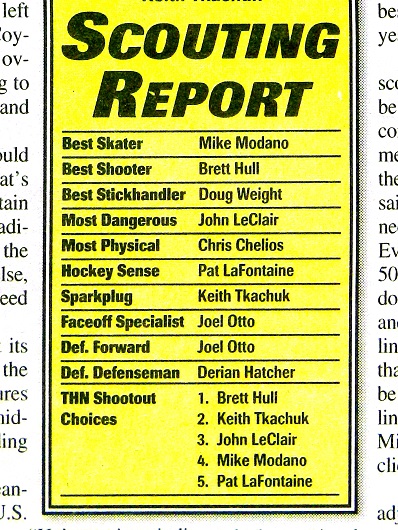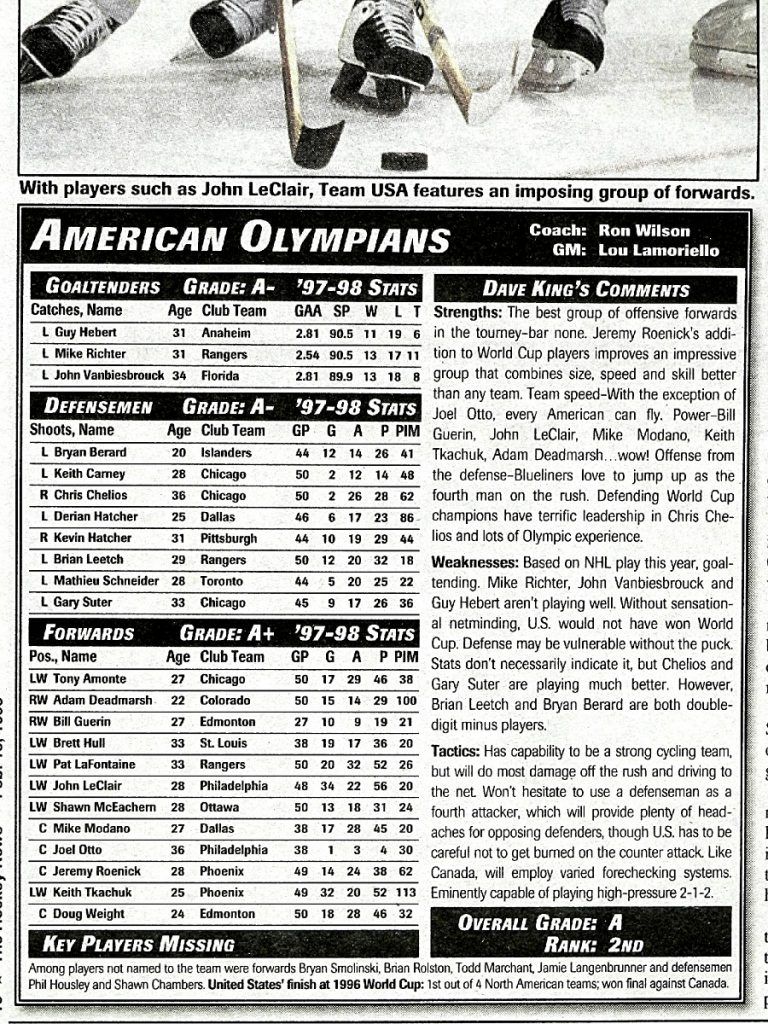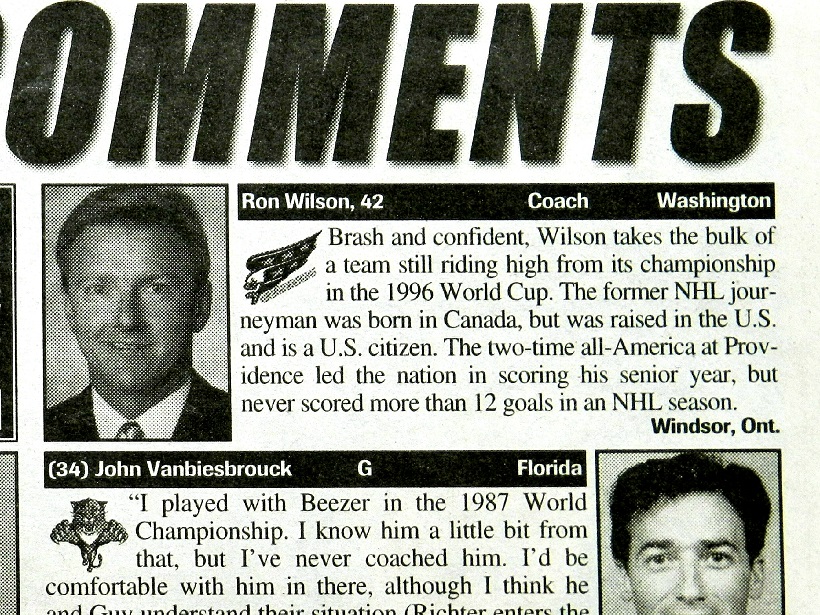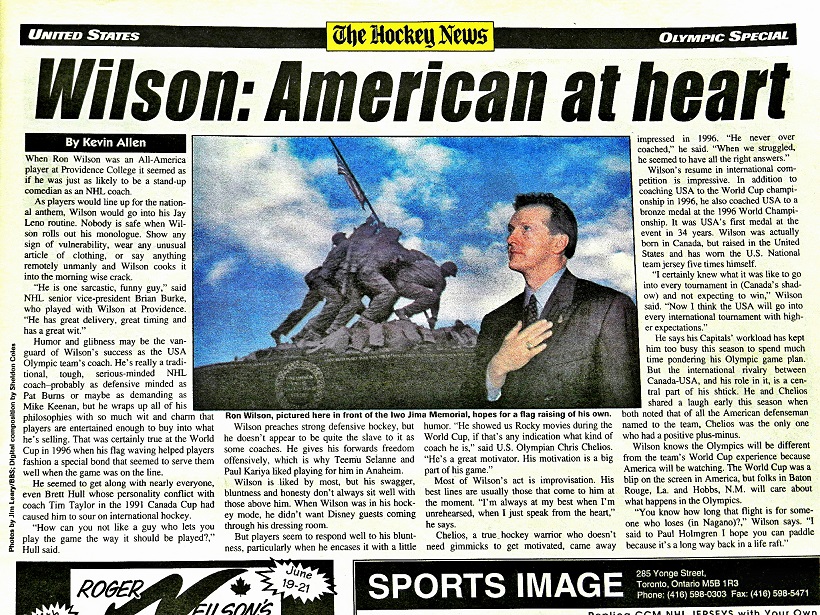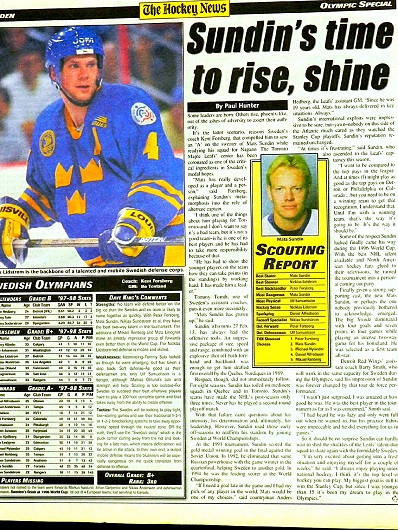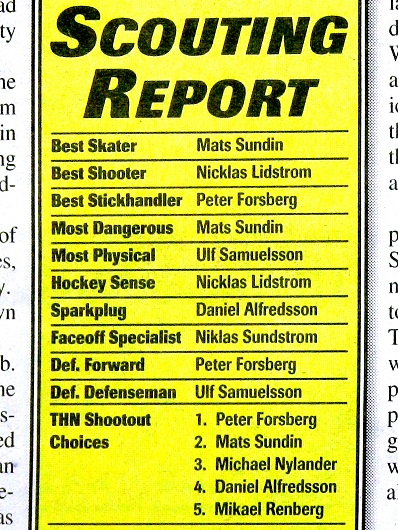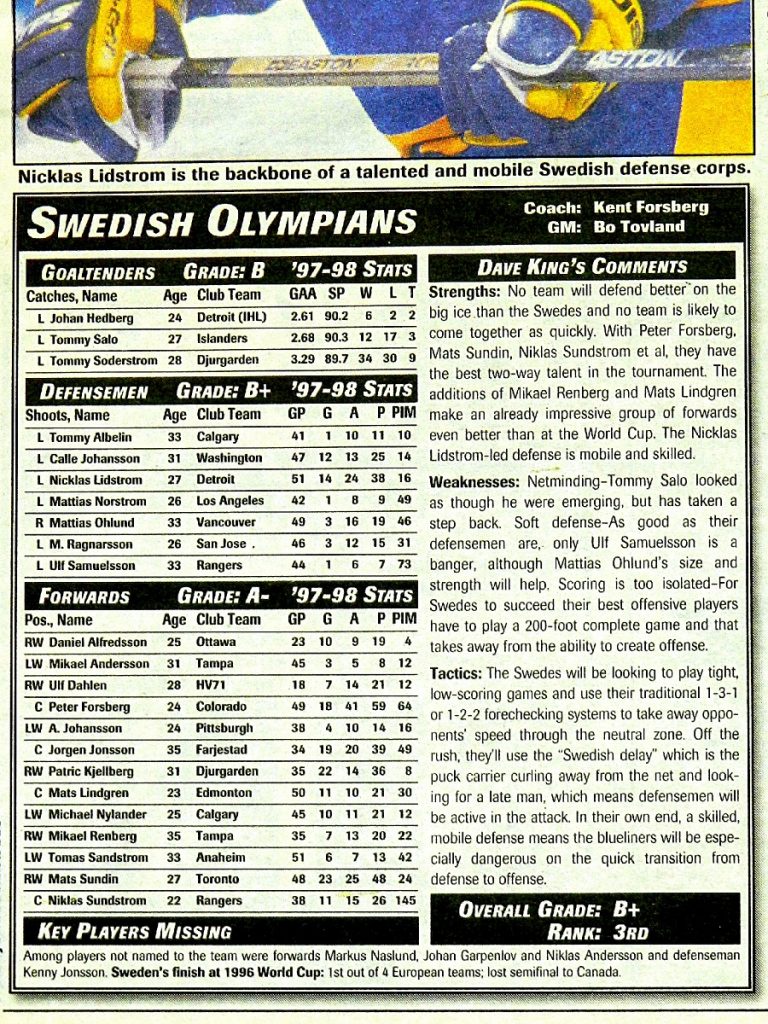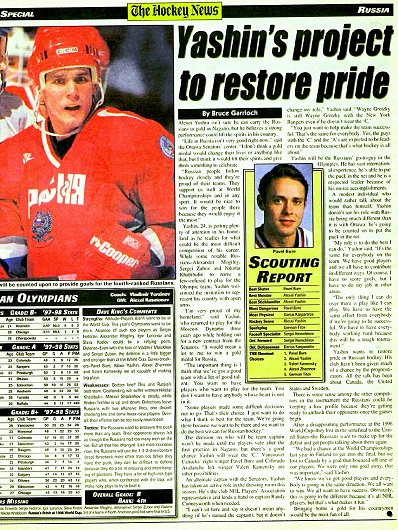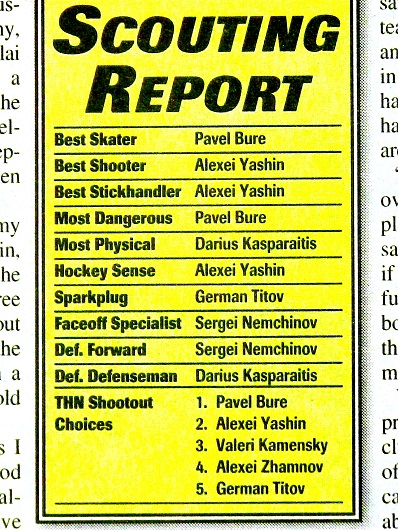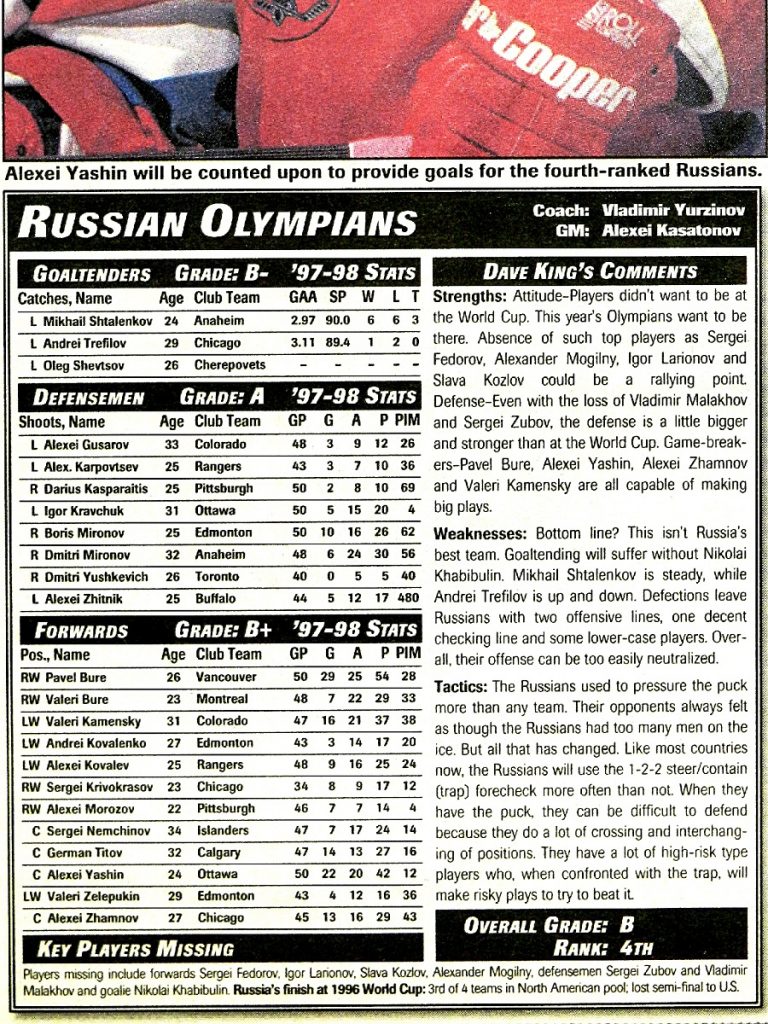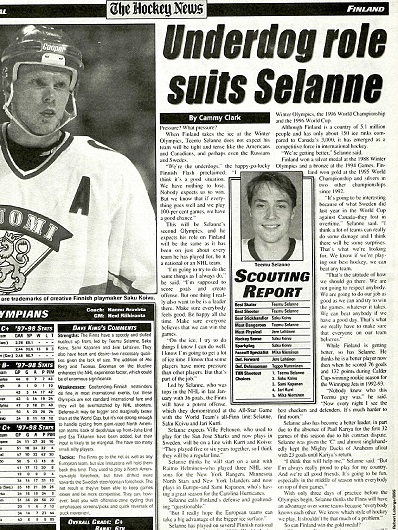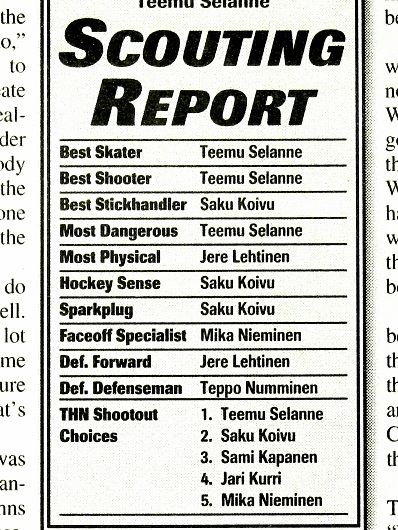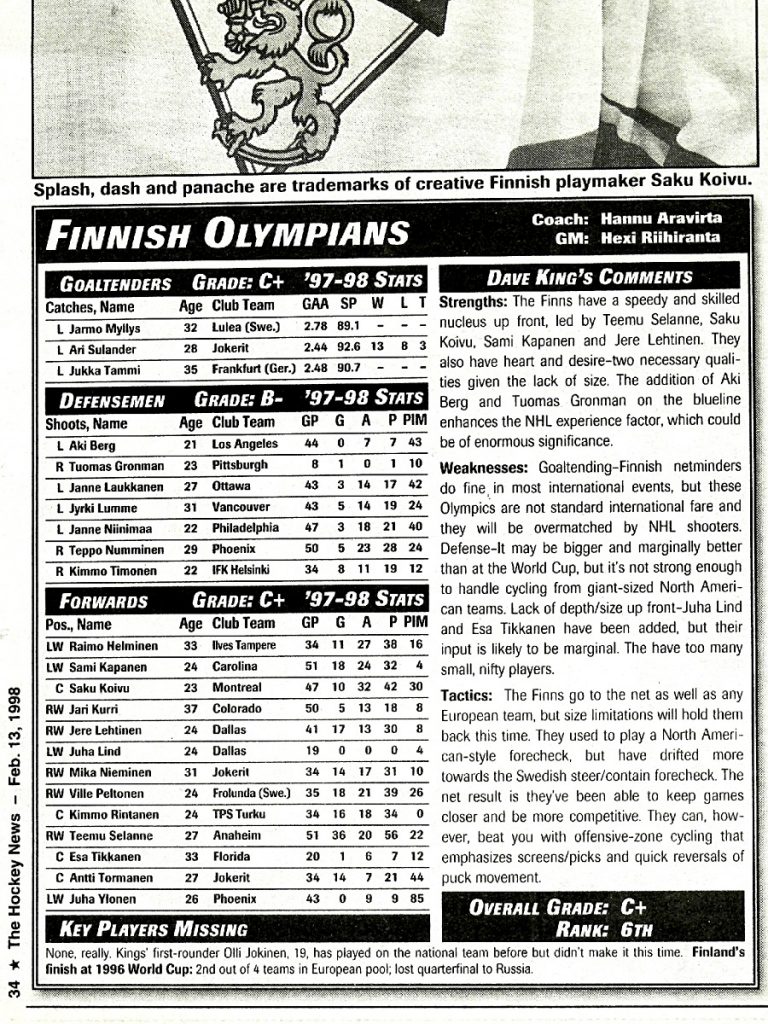 AN ARGONAUT SHOCKER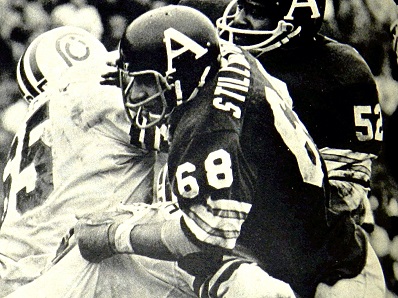 I was at work last week when my cellphone rang. It was Peter Martin — an old broadcasting friend who played linebacker for the Toronto Argonauts of the Canadian Football League from 1965–72. Peter keeps me abreast of the Argonaut alumni and I thought he was calling to tell me his old coach in Toronto, Leo Cahill, had succumbed to a long illness. Leo, now 87, has been at death's door several times in the past year only to rally. Instead, Peter wondered if I knew that Jim Stillwagon had passed away. Jim Stillwagon? The Ohio State legend who quickly became the premier defensive lineman in the CFL with the Argo team that famously lost the 1971 Grey Cup to Calgary? How could that be true? The Wagon, as he was known, had been here in town, looking great, on several recent occasions and was still two years shy of his 70th birthday. But, alas, he had apparently incurred heart disease in the final months of his life and died last Saturday in Columbus.
His alma mater issued this release:
COLUMBUS, Ohio — The Ohio State University department of athletics mourns the loss of Jim Stillwagon, one of the all-time great football players of the Woody Hayes era and in Ohio State history. Stillwagon, who was 68, passed away Saturday. 
Stillwagon, from Mount Vernon, Ohio, was a three–year starter on Hayes's Buckeye teams from 1968 through 1970, during which time Ohio State went 27–2 overall, won two national championships including the consensus national title in 1968, and three consecutive Big Ten Conference championships. In 1970, Ohio State was named national champion by the National Football Foundation. He also played in two Rose Bowl games. 
Stillwagon was the 1970 team Most Valuable Player and played in the middle of Ohio State defenses that simply shut down its opponents. In 1969, the Buckeyes gave up just 93 total points. In 1970, only two opponents scored more than 13 points and seven were held to 10 points or less.
Stillwagon was the first player to win the Lombardi Award in 1970, and he also won the Outland Trophy that same season. He was named a consensus All–American in 1969 and a unanimous All–American in 1970, along with being honored as the UPI's defensive lineman of the year. He was all–Big Ten Conference both seasons.
After graduation, Stillwagon was drafted by the Green Bay Packers. He chose, instead, to play in the Canadian Football League with the Toronto Argonauts, and he was one of the premier defensive linemen in that league until he retired after the 1975 season. A three–time CFL all-star, he was runner–up for the league's outstanding defensive player award in 1972.
Stillwagon is a member of the College Football Hall of Fame (1991) and the Ohio State Sports Hall of Fame (1979).
Stillwagon will be buried in Columbus tomorrow.
EMAIL: HOWARDLBERGER@GMAIL.COM